Pat Schultz
Coach of the Year Recognition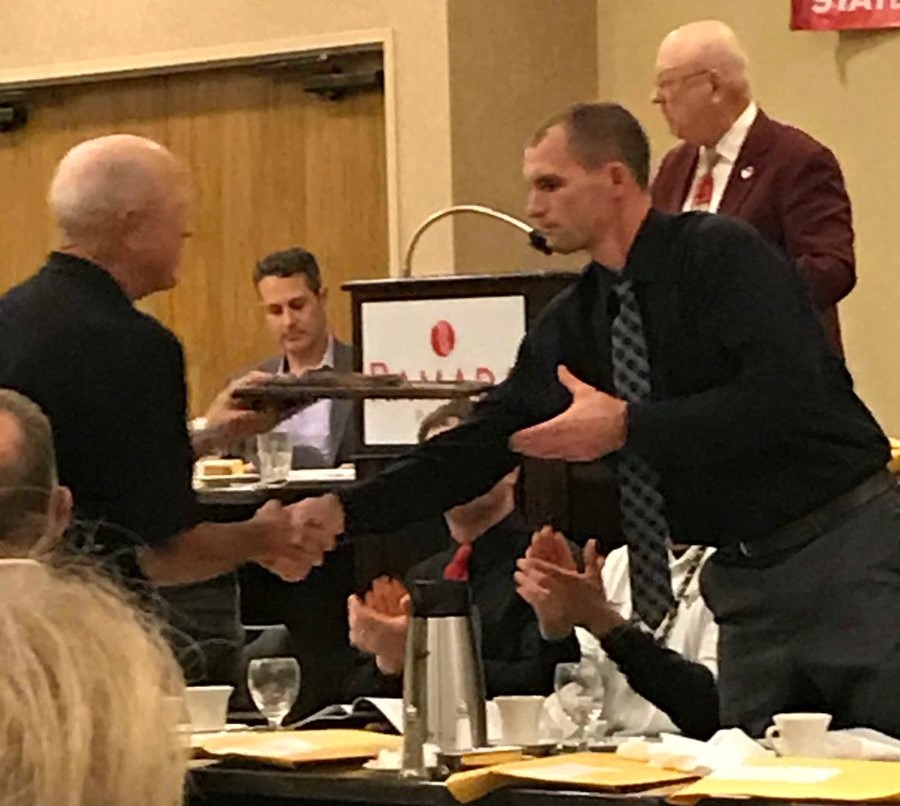 I am pleased to recognize Pat Schultz as the MN State HS Baseball Coaches' Association Class 2A Coach of the Year. Pat will be honored at their annual banquet this Saturday night.
Receiving such a designation is a supreme honor. Pat has lead the Tigers to back-to-back state tournament appearances and Belle Plaine is currently the 4 time defending MN River Conference Champions.
Pat is certainly more than a baseball coach, as he contributes so much to our students, our community, and our district.
Here are some perspectives of those who know him well:
Former Players
****Miah Fogarty, Class of 2011
As a student and athlete who was taught by Coach Schultz, I believe no one deserves it more. After spending countless hours with Pat throughout my time at Belle Plaine High, including summers weightlifting, falls on the football field, and springs on the baseball fields, I know his time dedicated to Belle Plaine sports is something that deserves recognition. There was no better person to look up too as a young adult. He was someone you can trust to help you improve your game, education and lifestyle every day. Congratulations Coach. Thanks for everything.
****Derek Dahlke, Class of 2014
Pat is what you look for in a coach. He has the passion and love for the game and the desire to win just as any athlete would. He takes countless amount of hours out of his day to help his athletes get better whether that be on the field, in the weight room or in the classroom. However, Pats biggest accomplishments don't happen on the field, even with the big results he has seen over the last few years. The big success he has is the impact he has on the athletes he is coaching. The relationships he builds with every athlete and how he spends time getting to know everyone plays a huge role on how the athletes respond to him and to how they perform. I know from experience that I wouldn't be the athlete, but more importantly the man I am today if it weren't for the everyday lessons Pat has taught me throughout my career. There is no doubt in my mind I wouldn't be where I am today if it weren't for him. Thanks Coach.
Teaching Colleagues
****Sara Geller, Phy Ed Colleague
"A person who is quietly confident makes the best leader"
Working with Pat for the last few years, I feel that this quotes speaks volumes about him and his quiet nature. I have come to realize that when Pat does have something to say it's important and people listen. Obviously with the success of his programs, his students and players have been listening as well. Pat always is dedicating his time to athletes and students on a personal level, whether it's taking time in the mornings working on baseball skills in the gym or running the weight program after school. He's not only dedicated to athletes in his program, but the new student trying out lifting for the first time. He truly is one of the nicest, most patient, and helpful teachers we have here on staff.
****Melissa Hollnagel, English Colleague and Fellow BP Graduate
Pat has always been extremely humble. He doesn't like to be praised or spotlighted for his hard work, as what he does is out of genuine passion for working with kids. He is a wonderful asset to the community of Belle Plaine and our school district.
Fellow Coaches
****Dennis Lawson, BP Assistant for 11 years
When the head baseball coaching position became available after the departure of Dave Kreft, I had already been the Varsity Assistant coach for 7 years and Pat had only been on staff for a few years. I approached Pat one day after practice and told him that I would not apply for the position and that he needed to. He being Pat was somewhat reluctant say "Are you sure? You have been around a lot longer." I think that is the kind of person Pat is always looking out for everyone around him. I continued on staff for four more years as Pat's assistant and enjoyed every day of it. Pat is a great person and I know Belle Plaine Baseball on all levels has benefited with his leadership.
****Justin Johnston, FB and Baseball Coaching Colleague
I've worked with Pat for over 10 years, he works tirelessly to make sure ever detail is attended to. In football we miss his ability and connection he makes with the kids. In baseball he has devoted more time to make sure every piece of the program is working perfectly. Pat is deserving of this honor because no coach I know gives more to his athletes and program.
Teammate
****Brett Kruschke, Amateur Teammate
Pat and I were town-team baseball teammates for 15 years, and have been friends for much longer. Perhaps the greatest compliment I can offer is that I've long thought Pat would have made the best battlefield soldier of anyone I know. He's clear-minded, responsible, leads by example, and is never out-hustled or out-worked; he's fearless, tough yet reasonable, loyal, trustworthy and humble. He's exactly the type of person I would want a son or daughter being taught under on the field or in the classroom.
Administrators
****John Bergs, Current AD, Former Teacher and Coach Of Pat's
I have had the pleasure to work with Pat Schultz on many different levels, as his teacher/coach, co-worker, teaching and coaching and as a friend. The one constant with Pat is his maximum effort! In all of my years of coaching, I have never coached a player that worked harder to be his best than Pat Schultz! He has carried that into his professional life as he works tirelessly to improve the programs that he has been a part of. On a personal level, I could not me more proud of the person he is. Pat is a tremendous community member, husband and PARENT. I am very fortunate to have been able to cross paths with him and I cherish the personal and professional experiences we've shared.
****Mindy Chevalier, Current Asst. Principal, Former AD
Pat Schultz has a passion and dedication for coaching the game of baseball that has contributed directly to the success of the Belle Plaine Baseball program. Like all great coaches, Pat cares about all of his players in the program, from the youth that play the game to his varsity players. His love for the game is evident in the way he coaches and plays, and his players come first. As a teacher he cares about all of his students and works to assure that they are being successful! The State Coach of the Year award for Baseball is a well deserved honor, congratulations Pat and thanks for all you do!
Please join in congratulating Pat Schultz on this honor!

Dave Kreft - High School Principal
Belle Plaine High School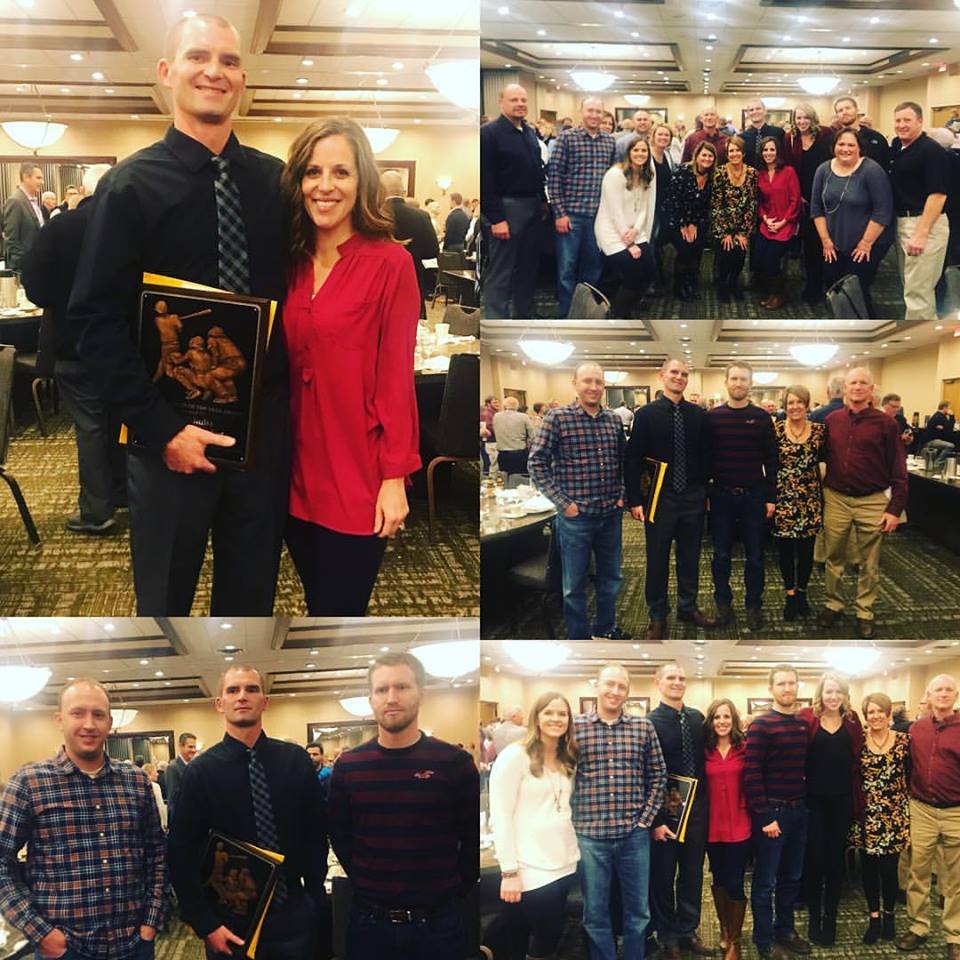 Pat Schultz Honored as State
Class AA 'Coach of the Year'
Courtesy Belle Plaine Herald
It was during the fall of his junior year at St. Thomas University when Pat Schultz faced the reality he wasn't quite good enough a baseball player to make the school's varsity team. From that disappointment, the Belle Plaine catcher took advantage of an opportunity to coach.
Apparently, Pat Schultz is a very good baseball coach.
He was recently named the Minnesota Coaches' Association Class 2A Coach of the Year for the 2016-17 season. His BPHS Tigers won a fourth consecutive Minnesota River Conference championship last spring and returned to the state baseball tournament. Schultz's teams have finished sub-.500 only once.
Schultz took the award in his typical understated style. The trophy is home, someplace in the garage, he said. The coach isn't big on personal honors.
"This is a nice award for the program," Schultz said. "We've had the benefit of good players."
The two medals for section and state tournament success the past few years hang from a hook on the whiteboard in his classroom. "That's as good a place for them as any," he said.
Schultz graduated from Belle Plaine High School in 2001. He played on the St. Thomas junior varsity baseball team for two years for coach Dennis Denning. The legendary St. Thomas coach took a liking to the tall, quiet catcher from a small town. Denning, whose teams won national titles in 2001 and 2009 and finished second nationally in 1999 and 2000, noticed the walk-on catcher from Belle Plaine.
"He did a lot of things right and you could tell he was always listening. The kids from small towns generally have better attitudes. They come in ready to work and ready to play," Denning said. "I like the guys who were always listening, paying attention. Pat was like that. He never missed a beat."
But St. Thomas had plenty of talent and Schultz realized he had a brighter future coaching and teaching. After the fall of his junior year in college, Schultz started helping the Tommies' younger catchers and position players hone their fielding and hitting skills.

The 'Right Way'
Denning was confident Schultz would help younger players develop properly. "I never liked the flashy guys. I liked the guys who do things the right way," he said.
Schultz graduated from St. Thomas with degrees in physical education and health. He has since earned a master's degree.
After graduation, teaching and coaching in his hometown were on the short list of places he wanted to find a job. Schultz started coaching football in Belle Plaine in the fall of 2006. He started working with the baseball team in the spring of 2007. The following fall, Schultz was hired as a full-time teacher.
"It's fun to work with kids," he said. "It's fun to work with them over time and see them progress."
Schultz's calm demeanor was on display last spring as his team battled St. Peter for a berth in the state tournament. With players and coaches on edge, Schultz quietly sat on the bench watching, contemplating ways to help his team. His philosophy centers on controlling what players can control and not letting a mistake impact future plays.
"You're going to swing and miss a lot in baseball," he said.
Schultz has backed off coaching some to spend time with his wife, Jen, and their children -- Luke CeCe and Charlie.
He misses coaching football and the build-up to one game, but baseball is his choice. Schultz works with youth players during the off-season, learning and teaching new ways to help them improve. The stage of the junior-senior high school's North Gym is a makeshift training center and warehouse for training aids to help players improve.
"He takes countless amount of hours out of his day to help his athletes get better, whether that be on the field, in the weight room or in the classroom," said Derek Dahlke, one of Schultz's former players and teammates on the Town Tigers. "Pat's biggest accomplishments don't happen on the field, even with the big results he has seen over the last few years. The big success he has is the impact he has on the athletes he is coaching. The relationship he builds with every athlete and how he spends time getting to know everyone plays a huge role on how the athletes respond to him and to how they perform."
Schultz wants to keep playing baseball and coaching. He completed his 20th season on the Town Tigers this past summer. He doesn't play as often as he used to, saving playing time for the youngsters he once coached. "It's a slightly more relaxed setting," Schultz said.