SEASON ENDS IN LORETTO
Maple Plain Holds Off Tigers, 6-4


Belle Plaine first baseman Mike Milam (with ball) and catcher Pat Schultz were both at the site of an off-target throw to home, during a season-ending loss to Maple Plain at Loretto Friday night. (Photo courtesy of Belle Plaine Herald)



The Tigers ended the 2009 campaign with their best record in 15 seasons – 26-10 – but fell short of a third consecutive State Tournament appearance, losing 6-4 to Maple Plain on Friday night, in Region 6C action at Loretto. Team Tigertown committed four errors and left 14 men on base, including the bases loaded in both the 7th and 9th innings.
Belle Plaine left 13 stranded in their Region-opening 10-4 loss to Loretto, who defeated Arlington 6-1 in the championship game Saturday and outscored their three foes by a combined 31-7. Earlier in the day, Arlington defeated Maple Plain 7-2 to clinch a state tourney berth. The Larks selected Maple Plain's Adam Gregg, while the A's drafted BP lefthander Adam Johnson.
The Tigers trailed in 20 of the 27 innings of the Region tournament, most of it against the two aforementioned powers of the Northstar League – East Division. (The locals' other game was a 7-5 defeat of Winthrop; not like that was a piece of cake, either.)
Baseball fans, the three best weekends of the year remain – be sure to check out the Class 'B' and 'C' State Tournaments, being held in nearby Gaylord and Arlington. It will also be covered thoroughly at www.minnesotabaseball.org. Aside from Arlington in 'C', the Shakopee Indians and Prior Lake Jays will represent the RVL in the 'B' tournament. Congrats to all, and best of luck!
Thus concludes another exciting season of town team baseball, Tigertown-style, and we hope to see you all back in May for another summer of fun. In the meantime, swing by www.bptigertown.com once in a while for your offseason baseball fix.
Maple Plain 6 vs. Tigers 4, at Loretto (Friday, August 14 – Region 6C)
Maple Plain's Adam Gregg is regarded by many as one of the state's top pitchers, and that is fully whom the Tigers expected to see on Friday night. However it was fresh-faced righty Billy Soule, Jr., en route to the University of Minnesota, who got the starting nod. The year this 18-year old wunderkind was born, his uncle was busy kicking me and six classmates off the high school baseball team for playing men's league softball. Aah, the memories!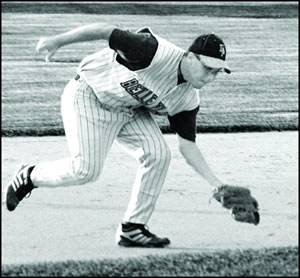 With Belle Plaine the home team on the scoreboard as the higher seed, the Diamond Devils touched Tiger starter Adam Johnson for two runs in the 2nd inning. Soule, Jr., who began the game reaching on an error – only to get picked off – delivered a two-out, two-RBI single.

In the third, the D-Devils plated two more on a towering, two-out home run to left from first baseman Lee Gregg.
Matt Schultz continued his fine defensive play in the Region, gunning down Soule, Jr. at third base to end the 4th. That was not before the Maple Plainers added a fifth run off Johnson, once again with two gone.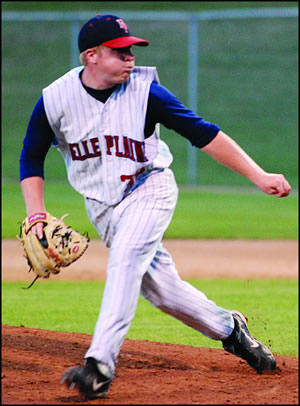 In the bottom of the 4th, with the bases loaded and two down, Gran Tigerino was finally heard from. Shawn Larson blooped a two-RBI single to center, and also made it safely to second on a rundown, allowing a third run to score on the play. Suddenly it was 5-3 Maple Plain, and the Tigers and their fans came to life.
Johnson was his own worst enemy (hey – I sang that song at karaoke later that night) on a pair of errant pick-off attempts in the 4th and 7th innings, the latter leading to the Diamond Devils adding their sixth and final run on a suicide squeeze. Tiger fielders also contributed a pair of miscues over the first two innings, giving them an ugly four for the game.
"AJ" finished strong, however, giving up just two singles and a run over the last five frames. He topped out at 144 pitches in the complete game effort, yielding nine hits and four walks while punching out seven. In short, he kept the Tigers in the game despite the early struggles.
In the 7th, with Soule, Jr. still on the hill and holding a 6-3 lead, El Tigre loaded the bases with one out. Jeff Miller and Matt Schultz went down on strikeouts, however, Soule, Jr.'s 10th and 11th of the game, to finish his night as a moundsman.
In the 9th, Tim Huber started the inning by getting plunked, but two more strikeouts put the Tigers on the ropes. After Miller lifted a popper to second that was dropped, Matt Schultz and Mike Milam walked, forcing Huber across to make it 6-4.
With Scotty Johnson up, two outs and a full count, the runners were off with the pitch; a base hit would certainly tie it. Johnson chopped one that the pitcher fielded to the 3rd-base side of the mound, and his perfect toss to first sent the Tigers packing.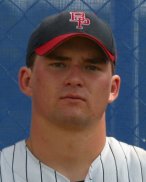 Belle Plaine recorded only six hits on the evening, three of them by Pat Schultz. Schultz was a house-afire in the Region, going 8-for-14 (.571). In the playoffs, he hit 12-for-26 (.462) with 7 RBI.
If you're wondering how the Tigers left 14 runners on base, they induced seven walks, three hit-batsmen, and reached once by error.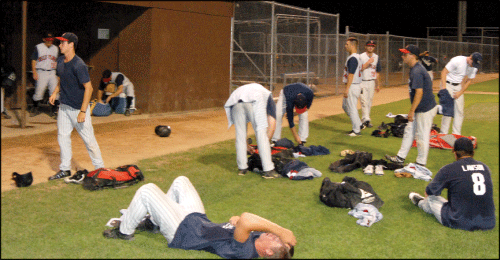 At the conclusion of Friday night's season-ending 6-4 loss to Maple Plain, the Tigers were left to ponder what may have been had they not left the bases loaded in both the seventh and ninth innings. (Photo courtesy of Belle Plaine Herald)
2009 SEASON IN REVIEW
The Tigers got out of the gates strong, moving to 7-1 when Brad Lawson no-hit the Jordan Brewers, 1-0 over 8 innings, for the Black Sox Tournament championship in Freeport.
They closed out May by dropping 25 runs on Henderson, behind 28 hits. Shortly thereafter, the Chatfield Choo-Choo suffered a three-game losing streak, all by one run. After that, the Tigers reeled off 10 of the next 11, improving to 21-6.
The Tigers sent four players to the RVL-DRS All-Star Game in New Prague, on July 10: catcher Pat Schultz, pitcher Adam Johnson, shortstop Shawn Carlson, and designated hitter (and manager) Jeff Miller.
Belle Plaine entered the RVL-Central playoffs as the #1-seed, and went 3-0 to pair their regular season title with the postseason crown. The Tigers beat Le Sueur 6-2 before handling Henderson twice, 5-2 and 10-0.
In Region 6C, Loretto sent BP to the loser's bracket behind 7 first-inning runs, a 10-4 setback, and after a 7-5 win over Winthrop, the season came to a close with a frenzied 6-4 loss to Maple Plain.
As a team this year, the Tigers hit .309 – their highest mark since 2001, the last year of the aluminum bat, when they hit .323. Compare that to .259 and .262 during the last two state tournament years, and a .264 composite average over the seven previous years of the wood bat era.
The locals outscored their opponents this year by an even 100 runs – 245 to 145. However, they outscored them just 50-48 over the season's final nine games.
Pat Schultz came on down the stretch to claim his third career team batting title, finishing a personal-best .381 (51-for-134). Edged for the title were Jeff Miller and Shawn Carlson, both at .368. The team walloped 10 home runs, and was paced by Tim Huber's three – the third straight year he has led the team in long balls.
The Roaring Tigros finished with a 3.28 team ERA – their best mark since the anomaly of 2004, when they wrapped up at 2.73. The team's composite ERA over the previous seven years of wood bat baseball is 3.85.
Over the previous decade, Tiger pitching posted 20 shutouts. This year alone, the Tigers had ten.
Adam Johnson led the team in wins (9), ERA (2.46), and innings pitched (106.1), and likely most other pitching categories you could come up with.
Defensively, the Big Grr posted 62 errors; compare that to a painfully round 100 last season.
Be sure to check the Tiger website for all the season-ending stats, sometime hopefully within the next few weeks.
CLICK HERE FOR NEW PHOTOS FROM CAYCIE VOLEK!
TIGERS SPLIT, MUST WIN TWICE
3rd Consecutive State Tourney Appearance On the Line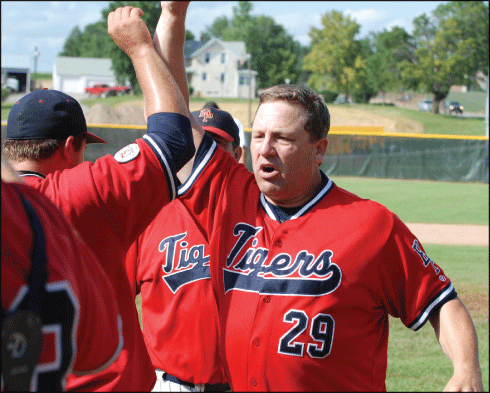 Belle Plaine player/manager Jeff Miller was greeted by teammates in front of the dugout shortly after driving in the tying run during Sunday's 7-5 victory over Winthrop at Loretto.
(
Photo Courtesy of Belle Plaine Herald)


Region 6C saw a lot of action before the first pitch was even thrown last weekend, and Mother Nature had a hand in keeping things on-the-fly throughout.
On Thursday morning, shocking news broke that Henderson was ruled out of Region 6C play – thereby ending their season – due to having used a player who wasn't signed to a current contract. Note: it was a clerical / paperwork oversight, and not something intentionally underhanded; on top of this, Henderson turned themselves in when they discovered the gaffe. Nonetheless, the state board's hammer fell swiftly (if not justly) upon the heads of the Hendersonians.
This meant a restructuring of Region 6C, and it worked out well (relatively speaking) for Belle Plaine: instead of opening against Winthrop on Friday night with the winner facing Loretto on Saturday, the Tigers would face Loretto right off the bat. (Winthrop and Maple Plain, the two lowest remaining seeds, matched up with the victor taking on the overall #1-seed, Arlington.)
The game was scheduled for 2:00 pm but was pushed back to 5:00 pm, as overnight rains soaked Arnold Klaers Baseball Field. Once underway, the Larks blasted ace starter Adam Johnson and the Tigers with seven first inning runs, on the way to a 10-4 triumph.
On Sunday, the game time was again pushed back an hour, as Saturday night's Maple Plain – Arlington game was postponed due to heavy rains. The Tigers started slowly again as well, trailing 5-1 mid-game, before storming back to win 7-5.
Now, the 26-9 Tigers must win twice more, or call it a season. First up is a talented Maple Plain squad, holders of a 21-10 record, and the team our hometown heroes beat in last year's Region 6C Championship (5-1 was the score). The game will take place Friday night at 7:30 pm, in Loretto.
Should Team Tigertown pass that test, all the marbles will ride on a 2:00 pm Saturday tilt against fellow-RVL'ers, Arlington. The winner goes to State, while the loser goes home. It doesn't get much bigger than that, especially between rivals.
Whoever wins that shooting match will face Loretto at 5:00 pm for the Region championship, and if the loser's bracket team wins, a second game will be played on Sunday to determine the champion.
I'm definitely getting ahead of things, but why stop now – the top two teams from Region 6C will open State Tournament play on Sunday, August 23 in Arlington, at 5:00 pm or 7:30 pm, depending on the seed.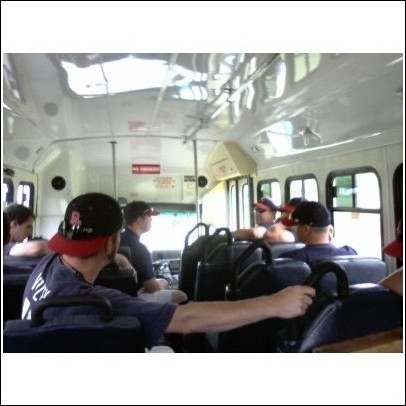 Tigers 4 vs. Loretto 10, at Loretto (Saturday, August 8 – Region 6C)
Tiger ace Adam Johnson entered Saturday's big matchup against Loretto with sterling credentials: an 8-2 record, and a scant 17 earned runs in 91.1 innings – good for a 1.68 ERA. What happened next was as stunning as it was devastating.
Loretto's first eight batters reach base against the lefty – five via hit and three by walk – before leadoff hitter Brandon Scanlon delivered the crushing blow: a two-out, bases-loaded, bases-clearing triple, to expand the lead from 4-0 to 7-0, and send Johnson to the showers.
Fortunately, right fielder Matt Schultz hosed a runner at the plate in the midst of it all, or the carnage could have been worse.
Draftee Rob Wagener of Waconia came in and recorded a flyout, but the damage was done. The Tigers would spend the rest of the day fighting an uphill battle that in the end, couldn't be won.
Notice I said uphill, and not over-the-hill – as in Loretto legend Tom Traen, who at age 48 can still bring it. Now, the former minor leaguer and brother of KQRS' Terri Traen didn't have the cleanest of pitching lines: in 7 innings, he allowed nine hits, four runs (three earned) and five walks, not to mention a Steve Carlton-esque three balks.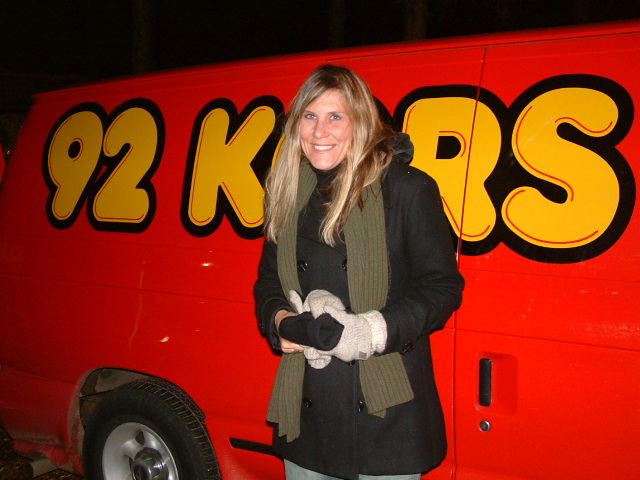 KQRS' Terri Traen
However, the erstwhile lefty recorded eight punchouts, including four over his last two frames, and didn't give up a run after Tim Huber's 3-run homer in the 3rd. That occurred with nobody out, so essentially Traen threw five scoreless from that point forward, denying multiple Tiger threats along the way.
Despite a dozen hits in the ballgame, the Plainesmen stayed at four runs, and left them loaded in the 9th off Albertville draftee Tod Klaers, who worked the final two stanzas.
Brad Lawson had a perfect day at the plate, going 3-for-3 with a double and a pair of walks. Pat Schultz also collected three hits in five trips, while Tim Huber drove in three on his long ball, and also added a single to finish 2-for-5.
Wagener did a yeoman's job keeping the Tigers in the game, providing 5.1 innings of two-run relief. Shane Hofmann finished up and yielded one tally in two frames.
Winthrop 5 vs. Tigers 7, at Loretto (Sunday, August 9 – Region 6C)
The recent playoff history of BP and Winthrop has long been chronicled in these pages, and in short, the Eagles scare the living daylights out of the Tigers (at least those old enough to remember).
Why? Winthrop ended the Tigers' season in 2003 with a 10-3 defeat in Region 4C; in 2004, they pasted the Red Caps 15-4 in the CCL playoffs en route to a quick exit; and in 2005, the Eagles ended BP's season once again, with a 5-4 loss in the CCL playoffs. Maybe it's been four years, but the memories are still fresh (and painful).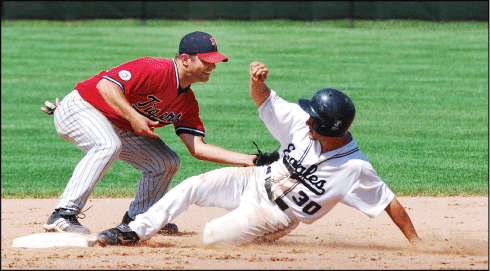 A Winthrop base runner was able to get his foot on the bag just before Belle Plaine second baseman Dan Huber could apply the tag during Sunday's regional playoff game at Loretto. (Photo Courtesy of Belle Plaine Herald)
The Winthrop Lumber Company got the band back together for another playoff tour, featuring sluggers up-and-down the lineup and the names you've come to know. On lead vocals was Dan Anderson, #3-hitter and opposing mound presence on this muggy afternoon.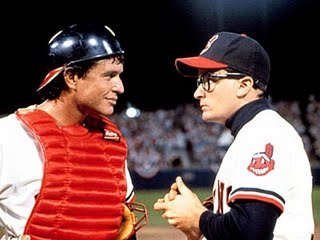 Pick up the action in the 4th, and Tiger starter Brad Lawson gave up a two-out, two-run single to Fairfax draftee Adam Buboltz, making it 4-1 Winthrop. That chased Lawson, and in a semi-surprising "You want Vaughn?" move, yesterday's discarded starter, Adam Johnson, came in from the pen.
Johnson recorded a strikeout to end the frame, but gave up a run in the 5th to make it 5-1 Eagles, thanks to two hits, a walk, and a hit-by-pitch. Things were looking d-i-r-e DIRE for the Tigertown Express.
In the bottom of the 5th, Pat Schultz delivered a huge two-run double to the right field gap, pulling the Tigers to within 5-3.
With the score holding steady 'til the 7th, El Tigre finally broke out, plating four to take a 7-5 lead. With two outs, Jeff Miller tied it up with a single, Matt Schultz drove in the go-ahead run with another single, and Scott Johnson and Josh Terrio pulled off a double-steal to add an insurance run.
Meanwhile, something special was in progress. Johnson, who had set down eight straight since yielding a bases-loaded walk in the 5th, set down the next six men as well – all by strikeout. In all, "AJ" recorded 11 of his 16 outs via whiffs, including 9 of his last 11, 8 of his last 9, and the final six.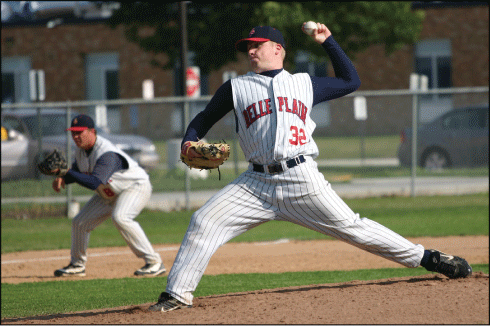 File Photo - Adam Johnson (courtesy of the Belle Plaine Herald)
What a performance, considering not only how poorly the day before went, but based on the fact that his 39 pitches and a full bullpen 22 hours ago probably would have ruled most pitchers out of consideration to begin with.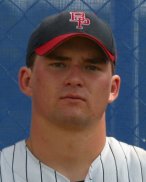 Winthrop tallied just six hits, while the home team had eight. Pat Schultz was The Man, driving in four on a single, a double, and a fielder's choice. He is 7 for his last 13 (.539), just when the Tigers need it most.
Shawn Carlson also collected a pair of tallies, and drew a walk.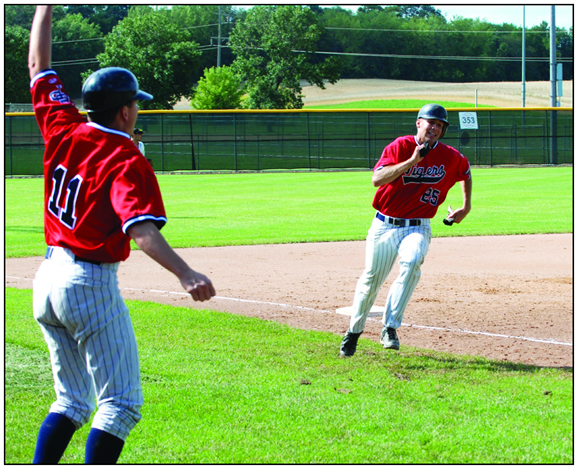 In the bottom of the 5th, Pat Schultz delivered a huge two-run double to the right field gap, pulling the Tigers to within 5-3.
*BREAKING NEWS*
Region 6C bracket reset; Tigers now open Saturday, 2pm vs. Loretto
Henderson has been removed from Region 6C and any remaining playoffs due to an illegal player on their roster, the state board ruled Thursday morning. After a meeting of participating teams and Region 6C Commissioner Brent Meyer Thursday night, here is what the new bracket looks like:
TIGERS RVL-CENTRAL CHAMPS,
OPEN REGION 6C FRIDAY VS. WINTHROP


Team Tigertown beat Henderson twice this past week – 5-2 on Tuesday and 10-0 on Saturday – to claim their 2nd consecutive RVL-Central postseason crown. The BP Nine has won four straight and 12 of 14, to improve to 25-8 on the season.
The Tigers will begin Region 6C action on Friday against Winthrop, 7:30 pm at Loretto. (Fans may recall that it was a 2-1 win over Winthrop last August 3rd that put the local nine into the state tournament.)
The winner will face the hometown Loretto Larks, who beat Maple Plain 9-0 and 8-0 on Sunday to claim the Northstar League East's #1-seed, and drew a first-round bye. The loser will be cast to the loser's bracket and forced to win three straight, or perish.
The Plainesmen could clinch a state tourney berth this weekend, should they win three in a row. Of course, the season could also end with a pair of losses. The Region tournament – hosted solely by Loretto – will conclude next Friday and Saturday, August 14 and 15.
For all possible scenarios, please see the accompanying bracket. Also make sure to check www.bptigertown.com over the weekend for updates via our Twitter feed.
The teams and seeds making up Region 6C are, from the RVL-Central: #1 Belle Plaine and #2 Henderson; from the RVL-West, #1 Arlington and #2 Winthrop; and from the Northstar League East, #1 Loretto and #2 Maple Plain. The top two will advance to the 2009 State Tournament in Arlington and Gaylord, with each opening on August 23rd.
Tiger draftees
Belle Plaine selected a pair of right-handed pitchers in the divisional playoffs player draft, nabbing Waconia's Rob Wagener first overall, and Le Sueur's Darron Culbert third. Henderson chose slingers as well, both from Le Sueur: Ryan McPartland and D.J. "Master of the Pick-off" Damberger.
Henderson 2 @ Tigers 5 (Tuesday, July 28)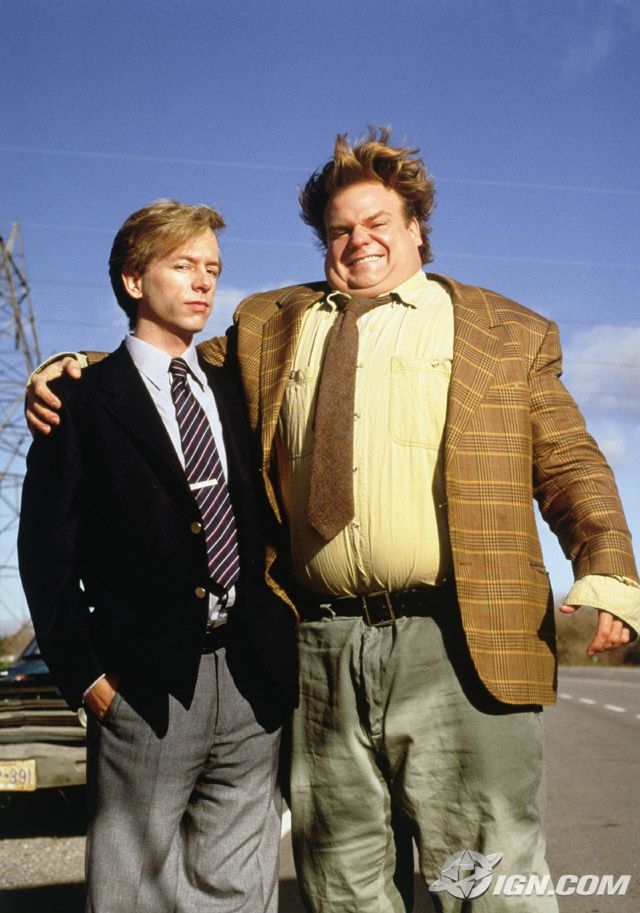 Shane Hofmann matched up against Cole Boelter and playoff electricity filled the air, thanks in large part to a strident Henderson following. The over/under was also a matter of conjecture coming in: the BP boys put up a total of 35 in two wins earlier this season, and Koesterville is well-known for their ability to put runs on the board themselves, as well as "bring it" for all nine innings.
Fresh off a dramatic 7-6 victory in Waconia, Henderson continued the momentum when Luke Frauendienst and Dan Dahn singled to start the game. That brought up the dangerous Mitch Hammes, who merely clubbed a pair of two-run homers against Waconia.
Hammes struck the ball well, but on the ground to third baseman Brad Lawson, who started a 5-3 double play. A popout later, and the Belle Plaines were out of the inning, scot-free.
Tigertown also began with a pair of safeties – a booming double from Dan Huber, and a single from Shawn "Vegas, baby" Carlson. After a pair of popouts, Lawson watched a potential strike three called a ball, then reached out and dropped a hit to center, scoring two.
The lead held until the BP 5th, when the Tigers' 1-2 punch struck again. Huber stroked his 2nd tater of the year over the left-field fence, while Carlson followed up with a double. Jeff Miller traded places with Carlson, lining a double, good for a 4-0 lead.
Cole Boelter left for brother Cody, and after an out and a brief embrace (cuz brothers gotta hug), Lawson spanked the home team's fourth extra-base hit of the inning, another two-bagger to plate pinch-runner Brett Kruschke.
Even though a pitcher never wants to give up runs, Hofmann broke one of Manager Miller's primary edicts when he gave back runs (two, in this case) in an inning after we scored. Although one was unearned, Hofmann hit the showers after finishing out the frame.
On came Lawson, and it was zeroes for both teams the rest of the way. Lawson was sharper than a warning track thistle, setting down all nine men he faced, including three via strikeout.
Tiger table setters Huber and Carlson each went 3-for-4, while Miller and Lawson put up 2-for-4 nights. Lawson also drove in three of the team's five runs.
Henderson 0 @ Tigers 10 (Saturday, August 1 ~ RVL-Central Championship)
Henderson and Waconia were rained out Friday night in the 7th, with the 1983 girls basketball champs leading 2-0. A phone call to Belle Plaine was made to resume the game at Tiger Park, 2:00 pm Saturday, and H-Town steamrolled from there to win 9-1. Would it carry over to the championship game against the T-Train?
No. Instead, the BP Bombers picked up where Henderson left off, blitzing them with runs in each of the first four innings – 4, 2, 1, and 1. With ace Adam Johnson on the hill, this was more than enough to snag the victory.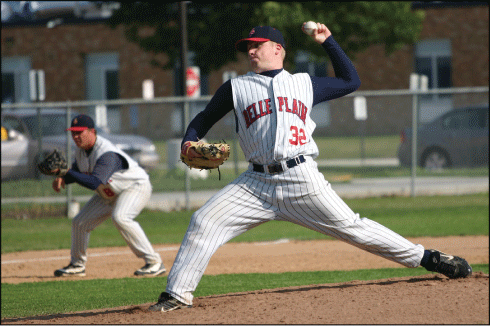 Adam Johnson pitched seven shutout innings in Belle Plaine's 10-0 victory over Henderson Saturday at Tiger Park. (courtesy of the Belle Plaine Herald)
In the first, five of the first six BP batters had a hit, including a triple by Tim Huber and a double by Brad Lawson. Pat Schultz provided a key blow with a two-run, two-out single.
In the second, Tim Huber delivered again, stroking a two-run single. By this point HD TIGER starter Cody Boelter was already chased from the game.
Seven shutout frames from Johnson lowered his ERA to 1.68, and his workday was done as BP TIGER took an 8-0 lead into the home half of the 7th. However, with Jonny Schulz warmed and ready to come in, Johnson got credit for the complete game shutout when the Chatfielders scored twice to put the 10-run rule into effect.

The Tigers' Dan Huber scored one of his three runs on this play at the plate against Henderson Saturday at Tiger Park. (courtesy of the Belle Plaine Herald)
El Tigre lashed out 15 hits in 35 at-bats, and every Tiger starter but one notched a hit. Tim Huber and Pat Schultz both drove in three, on a pair of hits.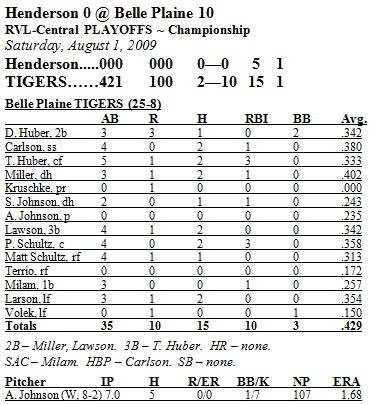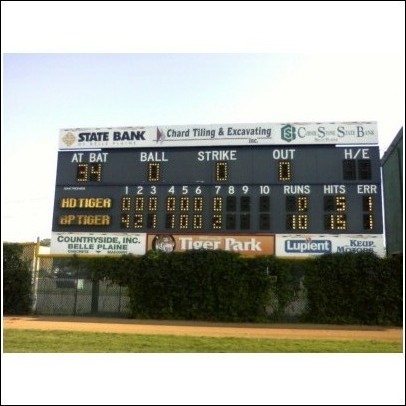 The Belle Plaine Tigers slogged their way through an opening-round playoff victory over Le Sueur on Sunday, winning 6-2, despite a myriad of baserunning blunders. Last night (Tuesday, July 28) the 23-8 Tigros hosted Henderson; the winner advances to Saturday's RVL-Central championship and will have secured their spot in Region 6C.
If the tranquilized Tigers lost last night, they will play Friday at home, in an elimination game. Again, the winner of that contest will advance to Saturday's 4:00 pm championship, to be played at the unbeaten team's home park.
Check www.bptigertown.com for all of these life-and-death results.
If Team Tigertown is the #1-seed from the RVL-Central, they will open Region play on Friday, August 7th, at Loretto. (The entire Region tourney is at Loretto.) If the Tigers are the #2-seed, their first game will be Thursday, August 6th. Both start times would be 7:30 pm.
A full bracket will be in the Herald next week, should it be pertinent; or, you can once again check the team website where it is currently viewable.
Anybody out there tweeting? You can now follow the Tigers on Twitter, where the team answers that eternal question: "What are you doing?" No, for the most part it gives us the ability to get scores and details to you quicker, that's all. So check it out. You only need to click the link on the Tiger page; you don't need to be a registered user (although you most certainly may be).
Last Tuesday, on Fan Appreciation Night, the locals posted their 9th shutout of the year, 7-0 against St. Benedict. There were many prize winners, among the biggest being: $25 2010 season tickets for Nathan Muehlenhardt and Jean Mata; a $50 "Dugout Club" 2010 season ticket for Jackie Hillstrom; and a $50-$75 value free entry into the 2010 Tiger Open for Jeff Thaves.
Congrats to all, and thanks for your tremendous support so far in 2009 and hopefully, for a ways to go yet. The best part of the season lies ahead.
St. Benedict 0 @ Tigers 7 (Tuesday, July 21)
The final game of the regular season was a tune-up for the team's top four pitchers: Adam Johnson, Shane Hofmann, Jonny Schulz, and Brad Lawson. That is also the order in which they appeared, going 3 innings, 3 innings, 1 inning, and 2 innings.
Hofmann got the enviable second slot – meaning he got the win – as a starter must go five for the victory. (Tough hop, Adam.) Both chuckers allowed just one hit over their time.
Schulz threw a hitless seventh, and Lawson gave up a pair of knocks but punched out three in closing it out.
Matt Schultz (2-for-3) and Mike Milam (2-for-4, 2 RBI) paced the 11-hit attack, and Pat Schultz also drove in two on a 1-for-3 performance.
The most exciting play of the evening came when, with the bases loaded in the 7th, Dan Huber broke from 3rd in an attempt to steal home. Huber had it stolen easily, but forced the pitcher to balk in the process, so unfortunately was not credited with this rarest of baseball feats.
Le Sueur 2 @ Tigers 6 (Sunday, July 26)
Tiger manager Jeff Miller said several times over the previous week, "As long as we pitch and play defense, we will be fine." Well, the Tigers got a gem from Adam Johnson and didn't post an error – but he didn't say nothin' about baserunnin'.

The hijinks started early, when leadoff hitter Dan Huber, who began the game with a single, was picked off 3rd base by pitcher D.J. Damberger to end the inning. This, after a near pick-off just moments before. Ugh.
Brad Lawson got to take a free trot around the bases to open the second, when he drilled his second home run of the year over the left-field wall. The hometown nine added one more in the third, when a pair of 4-3 putouts drove in Shawn Larson after his leadoff double.
The Tigers started the 4th with a pair of singles, but a sacrifice bunt attempt was fielded quickly enough to nullify the purpose – lead runner Pat Schultz was thrown out at third. A pair of groundouts ended the inning.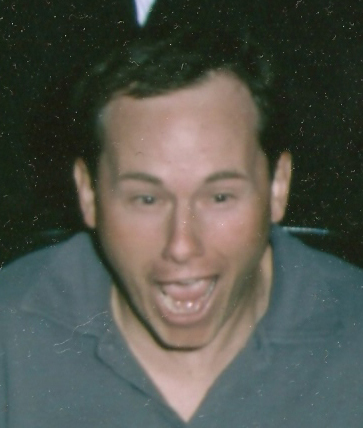 The Chatfielders added another in the 5th and then had the baserunning inning from heck (well, somewhere not good) in the 6th. Lawson walked, stole 2nd and advanced to third on the errant throw. In eerily similar fashion to the first inning, he was then picked off third base by Damberger, the Andy Pettitte of righthanders.
To paraphrase Blazing Saddles, "Dock that Tiger a day's pay for nappin' on the job."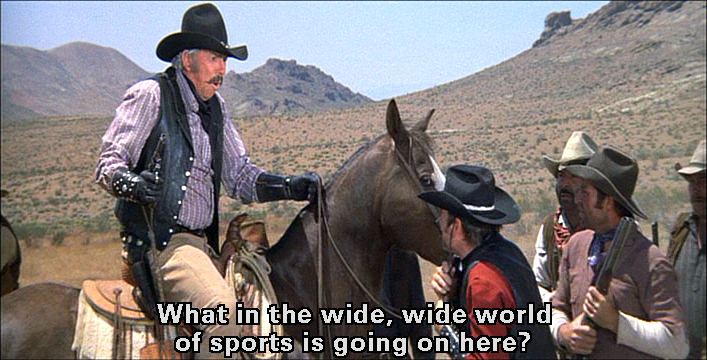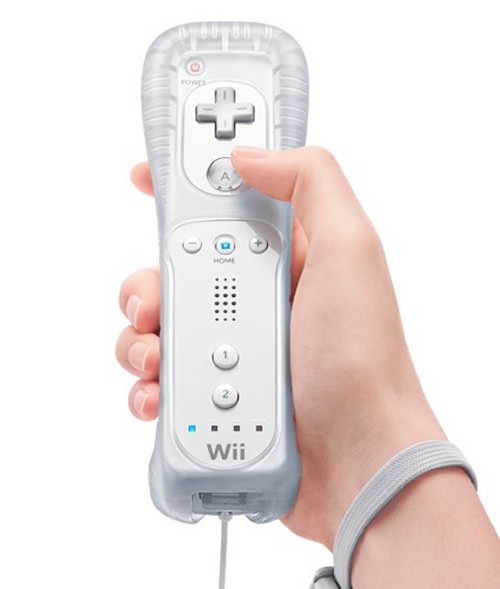 I haven't tweeted on this yet, but I would like to update the fans that as 3rd-base coach, it should be known that my Tiger baserunner remote control (the device I control every movement of the Tiger baserunners with) has recently gone missing. Right now the best we can come up with is a taped-up Nintendo Wii paddle we found at a garage sale, and it's a bit fritzy, at best. So godspeed, all of you – if you find it, please return it soon.
Out #2 was recorded when Matt Schultz decided to try to take an extra base on a Milam single, and he was hung out to dry at third like Saturday afternoon laundry.
Out #3 was again recorded on the basepaths, completing the hat trick, although this one was actually a heady play by the Tigers' Scott Johnson. Shawn Larson stroked his third consecutive hit and, with two outs, Milam was aggressively waved home. Johnson's getting caught off distracted the defense and allowed the run to score, whereas otherwise it well might not have.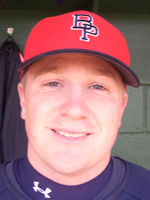 Lost in all this madness, of course, is the usual ho-hum excellence of Adam Johnson. Without him, the Tigertown Express might be eyeing up the back side of the bracket. But Johnson carried a shutout two outs into the 7th, before a double and single put Le Sueur on the board.
Belle Plaine added two more in the 8th, providing a little breathing room. Johnson trotted back out for the 9th, but appeared to be running out of steam as he plunked a guy, gave up a hit and a base on balls.
143 pitches into his day, the ace lefty gave way to Jonny Schulz, who inherited a bases-loaded situation. After a bloop RBI single over shortstop and with the tying run at the plate, an infield pop-up ended the game.
Johnson struck out 10 and improved to 7-2, while Schulz garnered what is surprisingly his first save of the '09 campaign.
Offensively, the Tigers hit .406 on the day (13-for-32). Shawn "Pop Tart" Larson led the way out of the #9-hole, with a 3-for-4 effort, including a double, an RBI, and two runs. The effort raised his average to a sparkling .347 on the season.
Lawson had a perfect day at the dish, reaching base in all four plate appearances. He went 2-for-2 with the aforementioned home run, walked twice and even stole a base. Milam and Pat Schultz also went 2-for-4 on the day.
Stats & Such
The Tigers are currently trotting out an order where the top six spots go: .327, .360, .388, .366, .330, and .330. On top of that, the Tigers 9th hitter is sitting at .347.
The team average currently resides at .311, while the team ERA is 3.15.
BP's 23 wins are the most they have posted since at least '95, and likely since the state championship season of '94.
TIGERS START PLAYOFFS
WITH HOME-FIELD ADVANTAGE
Le Sueur Braves Here Sunday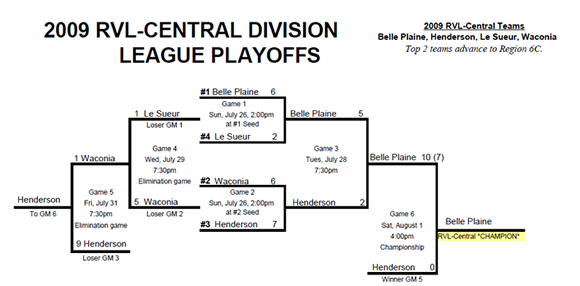 The Tigertown Express had a rough week with a pair of losses, but hopes to put it behind them when the RVL-Central playoffs open Sunday at Tiger Park. The #1-seeded Tigers (21-8, 11-5 RVL) will host the #4-seed Le Sueur Braves (5-11 RVL) at 2:00 pm.
The Tigers beat Le Sueur 8-0 and 9-3 within the last month, but as any ball fan knows, anything can happen in the playoffs.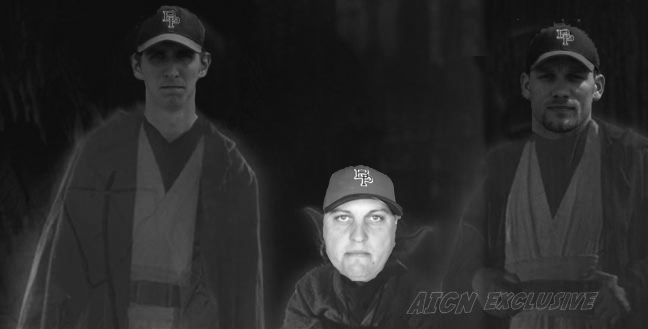 Also at 2:00 pm Sunday, #3-seed Henderson (5-11 RVL) will travel to #2-seed Waconia (6-10 RVL).
The high-seed is the home team in Games 1-5 (with Game 6 at the unbeaten team), in this double-elimination, four-team tourney. Therefore the Tigers will be at home, 7:30 pm, on either Tuesday (July 28) or Wednesday (July 29). Please see the accompanying bracket for all remaining scenarios, and follow www.bptigertown.com for updates.
The top two teams from the RVL-Central playoffs will meet Saturday in the championship, and both will advance to Region 6C play, which begins August 6th in Loretto.
Last week the Tigers were peppered at Prior Lake, 15-1, and victimized at Veseli, 8-6. Last night (Tuesday, July 21), the St. Benedict Saints paid a visit to Tiger Park for the locals' last contest of the regular season. Check the team website for the score and more.
Come on out to Tiger Park for some playoff baseball this week, and boost the Tigers home-field advantage!
Tigers 1 @ Prior Lake Jays 15 (Tuesday, July 14)


The Tigers entered this showdown with a 21-6 record and winners of eight straight, while the Jays of Prior Lake came in equally hot at 17-6, victors of five in a row and 11 of their last 12. Tony Eicher took the hill for the home team, while Brad Lawson put his undefeated record (6-0) on the line.
So much for the dramatic first paragraph: this game was all Prior Lake, and Team Tigertown flat-out stunk. Add 'em up and you get a 15-1 thrashing in seven innings, aided by four Tiger errors.
Lawson lasted just two-plus innings, yielding five runs on as many hits, and did not strike out a batter. Shawn Larson came on in relief, as was treated much the same – in three-plus frames, he was spanked for seven hits and six runs (three earned). Mike Schultz gave up four runs in one inning of work, although none were earned.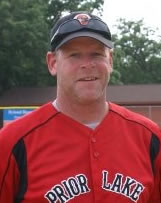 Tex Chapman's juggernaut Jays scored 8 of their 15 in a nightmarish sixth inning for the Tigers, sending a dozen to the dish. Two errors, a walk, and a hit-by-pitch contributed to the carnage.
Belle Plaine recorded just seven hits, and no Tiger had more than one. No Tigers drew a walk, either, the fourth game in a row they have failed to coax more than three.
Tigers 6 @ Veseli 8 (Thursday, July 16)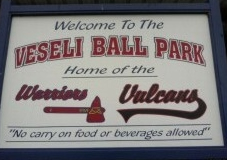 The Tigers made a long-overdue road trip to Veseli – I don't recall playing there in my 19 years, anyways – and got to check out their new lights, which were just installed last year. Unfortunately Los Tigros were dim for the second game in a row, and lost 8-6 in a frantic finish.
Shane Hofmann, like Lawson in Tuesday's game, took a perfect record (4-0) into the contest. Afer 3 ½, the T-Train led 1-0, thanks to a 3rd inning RBI single from Shawn Carlson.
The Veseli Warriors scored twice in the 4th, though, on a two-RBI double from leadoff hitter Justin Scheffler. After BP knotted things with another run in the 5th – again on an RBI single from Carlson – it was Scheffler with yet another two-RBI double. The Warriors scored three in all, grabbing a 5-2 lead.
There was some controversy in the 7th with two down, two on, and a run in for the Tigers. Lawson drove a ball down the left-field foul line, in the corner, that would have tied things up, but it was ruled foul. Pinch-runner Brett Kruschke, in fact, starting at first, was halfway home before anyone bothered to tell him. Lawson then flew out to left to end the inning.
Pat Schultz doubled to start the 8th, and after two were gone, scored on an RBI single from Shawn Larson. Attempting to get into scoring position, Larson was thrown out stealing in another disputed call, ending the 8th.
With two gone in the bottom of the 8th, Jonny Schulz on the mound and the Warriors threatening, Luke Giesen delivered what would be the fatal blow to Tiger hopes. He tripled into the left-centerfield gap, plating two, and soon scored on an RBI single from Nick Herthaus to make it 8-4.
The Tigers weren't done, however. Nick Volek started the inning with his second consecutive walk, and Hulk Huber (aka Dan) was plunked by a pitch. After a pair of groundouts, Lawson and Pat Schultz followed with base rips, and the go-ahead run was at the plate in the form of Matt Schultz.
It was not to be, however, as a groundout to second ended the game.
The Chatfield Choo-Choo lashed 13 hits, led by Pat Schultz's 3-for-5, two-double effort. Dan Huber, Shawn Carlson, Jeff Miller, and Shawn Larson all tallied two each.
TIGERS WIN 8TH STRAIGHT;
CLAIM RVL-CENTRAL #1 SEED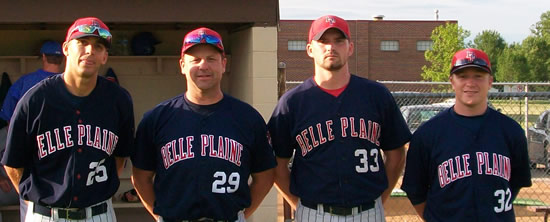 The Tigers sent four players to this year's RVL-DRS All-Star Game, from left to right: shortstop Shawn Carlson, DH-MGR Jeff Miller, catcher Pat Schultz, pitcher Adam Johnson. The RVL defeated the DRS, 9-1.

Team Bar B-Q Town ripped off three more wins this week – over Henderson, Victoria, and Le Sueur – to run their win streak to eight and claim the RVL-Central Division regular season title in the process. That means the Tigers will open the RVL-Central playoffs at home, as the #1 seed, on Sunday, July 26.
The Tigers are 21-6 overall, 11-4 in the league. The locals haven't lost since a 3-2 setback at St. Peter on June 21. Last night (Tuesday, July 14), Dog's Disciples played at the Prior Lake Jays; check www.bptigertown.com for the score and summary.
On Friday, the RVL evened the All-Star Series with the DRS, posting a 9-1 win in New Prague. (The series is tied at one each, despite reports from the RVL Commissioner's Office involving last year's rainout.) Shawn Carlson, Jeff Miller, Pat Schultz and Adam Johnson all played and therefore contributed to the winning cause.
The RVL also won the home run derby (no jacks for Carlson – bummer), and word is it was a packed house in New Prague. The All-Star exhibition should be returning to a RVL park next year.
Tomorrow night (Thursday, July 16), the Tigers travel to Veseli for a special 8:00 pm start time. The hardballers will not play over Bar B-Q Days weekend (that's good scheduling), then resume action on Tuesday (July 21) with the final game of the regular season: the always popular "Fan Appreciation Night", 7:30 pm against St. Benedict. There will be a variety of free prizes every inning, including 2010 season tickets, so be sure to make it out to Tiger Park!
Henderson 3 @ Tigers 10 (Tuesday, July 7)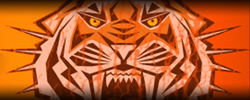 The Tigers (BP version) were locked in a 3-3 tie until erupting for six in the 6th, sending starting pitcher Brad Lawson to his – yes – sixth victory. He has yet to be tagged with a loss. Law-dog went 6.2 IP, yielding three runs and five hits.
Jonny Schulz chucked the remainder, and blazed through the Henderson bats with six of his seven outs coming via punchout. In 20.2 innings this year, Schulz has allowed four earned runs, good for a 1.74 ERA. He has been Mgr. Miller's bullpen ace all season long.
Offensively, Shawn Larson and Tim Huber led the way with three hits each. Larson went 3-for-3 with two runs, two RBI and a pair of doubles, while Huber went 3-for-5 with two runs, an RBI, and three stolen bases. Shortstop Shawn Carlson drove in three, thanks to a pair of singles.
Victoria 0 @ Tigers 3 (Thursday, July 9)
Shane Hofmann, who traditionally fares better as the season wears on, threw his best game of the year in a 10-hit shutout of Victoria. Hofmann's control was pinpoint, issuing nary a walk while sitting down seven Vics via strikeout. The veteran righty threw 144 pitches, a season-high for Tiger hurlers.
All of the hometown scoring took place in the 3rd inning. Shawn Larson began the inning with a double, and scored on Dan Huber's two-bagger. Huber advanced to third on an error, and scored on Carlson's sac fly. Tim Huber walked, gained second and third on a throwing miscue, and scored on Jeff Miller's RBI single.
Things got interesting late, as the Vics brought the tying run to the plate in the 9th, after a two-out Tiger error and a single. But Hofmann induced a fielder's choice from Clark Poppitz, and that was the ballgame.
There were some feisty exchanges early in the game, but thank goodness, things settled down shortly thereafter and cooler heads prevailed.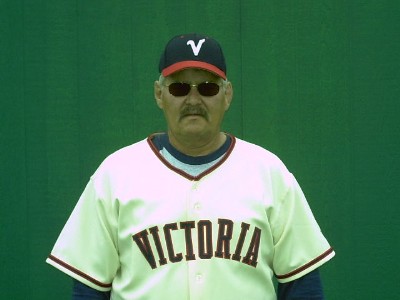 One note: the city of Victoria has officially voted on changing the name of their Lions Park to Mike Poppitz Field, in honor of their long-time manager's many contributions. The field dedication ceremony is to take place on July 14th vs. Shakopee. Congratulations, Mike!
Tigers 6 @ Waconia 0 (Sunday, July 12)
Adam Johnson extended the pitching staff's consecutive scoreless innings streak to 22, with a complete game, five-hit masterpiece over Waconia. Johnson fanned a season-high 13, allowed just one free pass, and improved to 6-2 on year. His ERA is a dead ball era-like 1.86.
The Tiger lead was a scant 1-0 until the 7th, when three came in. Two more came across in the 8th, for the final margin of victory. Jesse Maistrovich took the loss, working the first five frames and allowing a run, while Blaine Walstrom went the rest of the way for the Lakers.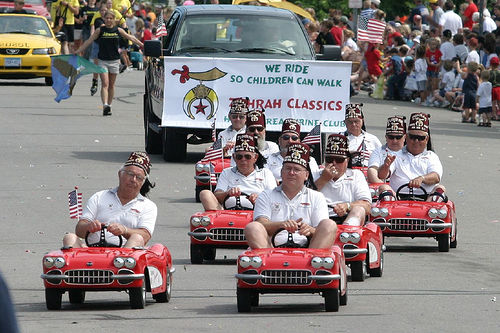 If you love the Shriner crazy cars that will be at Saturday's parade, you would have loved the Tiger base-running tactics in the 3rd inning. It was an exhibition that would make your mother blush, turning a leadoff double and a walk into a big fat zero.
As bookkeeper, I gave my first-ever two exclamation point marking, an F-7!! putout for lead Tiger Shriner, left-fielder Shawn Larson. It was a full-speed, full-extension, sprawling catch in the sixth inning. Larson also punctuated the day with a sensational diving catch for the 27th and final out of the afternoon.
Dan Huber was a monster out of the leadoff hole, going 5-for-5 with a double, two RBI, and two stolen bases, raising his average to .340. It's the first five hit game for a Tiger this year.
Stats and Such
The team average is up to .307, and the team ERA has snuck under three at 2.97.
The Tigers have outscored their opponents this year 195-97, all-the-more impressive when you consider the 22-2 drubbing by Savage on May 13th.
Of BP's six losses this year, one was by 20 runs (the Savage debacle), one was by two runs, and four were by one run.
Over the last decade, Tiger pitchers have posted 20 shutouts. This year so far, Tiger moundsmen have eight. (Their high for any season in the last ten was four, in 2006.)
Jeff Miller continues to lead the team in hitting, at .423 (30-for-71). Adam Johnson (6-2) and Brad Lawson (6-0) lead the staff in wins.
Tigers Heating Up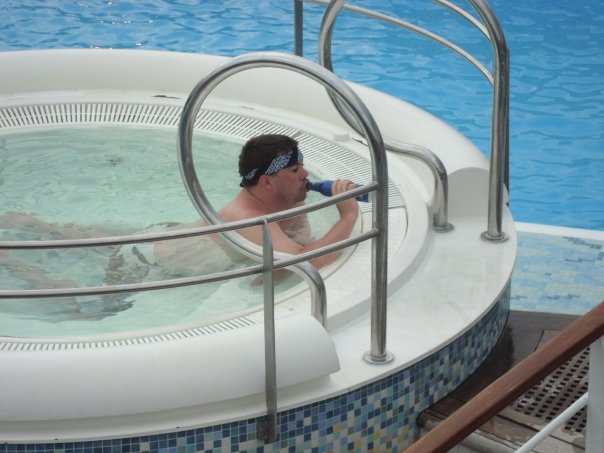 El Tigre put two more in the 'W' column to match a season-high five game winning streak, thrashing New Prague 13-0 and Le Sueur by a 9-3 count. Belle Plaine is 8-4 in RVL action, 18-6 overall. The Tigers hosted Henderson last night (Tuesday, July 7); visit www.bptigertown.com in case you missed it.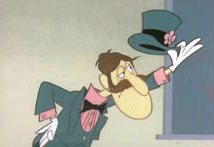 As Professor Hinkle said in the Frosty the Snowman Christmas special, "Busy, busy, busy!" is the upcoming schedule for the Tigers. Tomorrow night (Thursday, July 9) league legend Mike Poppitz and his Victoria Vics come to Tiger Park – first pitch, 7:30 pm.
On Friday night, it's the "Late-Summer Classic", the 3rd annual RVL-DRS All-Star Game in New Prague. Representing the Tigers will be All-Star manager and player Jeff Miller, shortstop Shawn Carlson, pitcher Adam Johnson, and catcher Pat Schultz. Carlson will also compete in the Home Run Derby, set for 7:30 pm, with the game at 8:00 pm. Come on out and support your Tiger All-Stars! DRS All-Star Roster | RVL All-Star Roster
Please note that the broadcast is expected to be on 95.5 FM – KRDS. And if it's not, you will have some boom-rollickin' polka to listen to, so really you're a winner either way.
On Sunday, the Tigers are at Waconia, 2:00 pm, in a game that could well decide the #1 seed for the RVL-Central. Currently BP holds a two-game lead over 6-6 Waconia, who beat the Tigers 3-2 at Tiger Park on June 12. Meanwhile, Henderson is 3-9 and Le Sueur 3-10.
On Tuesday (July 14), the T-Train will play their final regular season league game, with a visit to Tex Chapman's Prior Lake Jays. As usual, festivities engage at 7:30 pm.
Tigers 13 @ New Prague 0 (Wednesday, July 1)


Absent manager Jeff Miller, the Tigers jumped to a 7-0 first inning lead and never looked back. The Big Grrr lashed three doubles in the inning among their five hits, with Dan Huber and Adam Johnson both driving in two.
Shawn "Pop Tart" Larson was efficient in five innings of work, needing just 64 pitches for his fifteen outs. He allowed but two hits, and struck out four, improving to 2-2 on the year.
When Shane Hofmann started the sixth inning on the mound, Belle Plaine's lead was at 11-0. The savvy veteran induced a pair of double plays over his two frames, and completed the shutout. In fact, make it back-to-back shutouts after last week's 8-0 victory over Le Sueur – the sixth whitewash of the year for the Tiger pitching staff.
The Chatfield Choo-Choo's 16-hit attack was balanced, with every starter notching at least one safety. Scotty Johnson, Dan Huber, Brad Lawson, and Adam Johnson all enjoyed multi-hit efforts.
Tigers 9 @ Le Sueur 3 (Sunday, July 5)
Tim Huber jump-started the Tiger offense with a home run in his first at-bat in almost a month, the Tigers swiped nine bases, and Adam Johnson carried a no-hitter into the 7th to give the Red Caps their second win over Le Sueur in a week.
Johnson worked eight for the victory, raising his record to 5-2. He threw six hitless until the Le Sueur Buntin' Braves raised a few eyebrows by dropping down a clean bunt single to open the 7th. (Of course, on Wednesday the Tigers stole when up 11-0, so who are we to talk. J)
The Bravos scored three in the inning and loaded the bases with two outs, brining the tying run to the plate in #3-hitter Darron Culbert. However, Johnson punched out Culbert for the 4th time on the afternoon, ending the threat.
The Tigers ran wild on the bases, pilfering nine bags, with two each from Tim Huber and Nick Volek. Huber's second swipe was a straight steal of home, after reaching via error to start the 7th.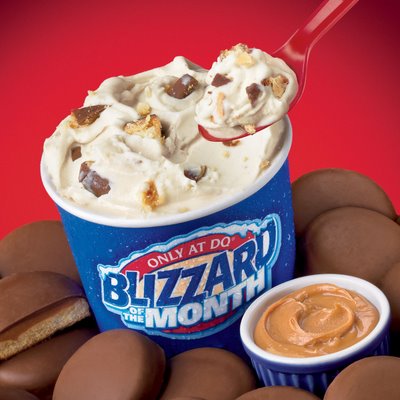 Huber drove in three on the afternoon and scored three times, while Jeff Miller continued his storybook season with another three knocks. Miller now sits at .441, and treated himself to a Dairy Queen Tagalong Peanut Butter Patties Diet Blizzard after the game.
Pat Schultz also deserves mention for his 2-for-4, two RBI afternoon; he added a steal and a walk to boot.
Team Stats
Belle Plaine's batting average is .302, and the team ERA 3.22. For comparison, last year's state tournament squad hit .259 with a 4.44 ERA. 2007's state tournament team was at .262 and 3.79.
The team ERA hasn't been this low since 2004 (and 50 of the 111 runs allowed that year were unearned), while the team batting average hasn't been topped since the 2001 state tourney, aluminum bat squad.
For the record, all of these numbers are available on the Stats tab at www.bptigertown.com.
Enjoy the 4th!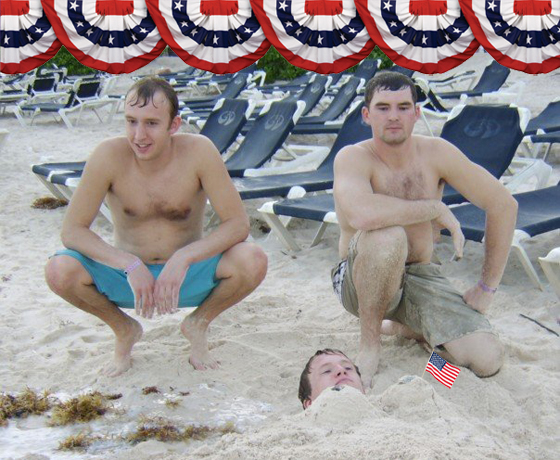 Tigers Put Strangle Hold on 1st Place
The Local 9 had a big week this week, as they played 3 River Valley League contests, all at the friendly confines of Tiger Park. Tuesday night they downed Fairfax 7-1, behind a strong performance by Brad Lawson. Friday night El Tigre put on their hitting shoes and won 12-6 over Winthrop. Sunday the rivals from Le Sueur came to town and the Tigers won this battle 8-0. With the 3 league wins, the Tigers moved to 16-6 overall and 7-4 in the River Valley League.

On the schedule this week is tonight's contest at New Prague, 7:30pm. On Sunday, the Tigers travel down 169 to face Le Sueur again, this time in Le Sueur. With the holiday weekend, we have a special start time of 6:00pm. Come on down to Le Sueur to catch the action. Next Tuesday, Henderson makes it's way to town for a 7:30pm tilt on Little League night at Tiger Park. Come on out and support your Tigers.

As always, check out www.bptigertown.com for up-to-date scores and highlights. We just can't pump up the website enough.
Fairfax 1 @ Belle Plaine 7 (Tuesday, June 23rd)
A couple youngsters faced up in this pitching matchup, as Fairfax's 19 year old ace Bryce Rippentrop faced Belle Plaine's own 19 year old, Brad Lawson. Lawson would get the best of this matchup, as he pitched a complete game 2-hitter. Lawson walked two and fanned 7, in his 126-pitch effort.
The Tigers started off the scoring in the 3rd, as Rippentrop faced some control issues, walking the 1st three men of the inning. After a strikeout, Shawn Carlson delivered the big blow, a 2-run single to left field. Fairfax answered back with their only run on the night in the 4th, as a long double to left from Adam Buboltz scored Rippentrop, who had walked to start the inning. Lawson got a fielder's choice and flyout to end the threat.

BP answered back in the bottom of the 4th with the help of 3 base hits off the bats of Mike Milam, Scott Johnson and Adam Johnson. That put an end to the night for Rippentrop.

In the 8th, the Tigers got a leadoff double from Carlson and another big base hit from Scott Johnson, as they scored 3 runs to put the game out of reach. Leading the Tigers at the plate on the evening was Shawn Carlson, who went 2 for 4 with a double and 2 RBI's. Scott Johnson also had a big night, going 2 for 3 with 2 RBI's. Lawson improved to 5-0 on the hill, with a sparkling 2.17 ERA.
Winthrop 6 @ Belle Plaine 12 (Friday, June 26th)
Shane Hofmann got the call from Manager Miller on Friday night, only about the 75th time he has thrown against Winthrop over the years. The veteran right-hander got off to a slow start, as 4 ground ball singles in the first inning led to 2 Winthrop runs.
The theme of the night was the Tiger bats, as they responded in the bottom of the 1st with 3 runs of their own. Adam Johnson got on the dish on an error by the 3rd basemen. With 2 outs, the Tigers got 4 consecutive singles from Miller, Milam, Dan Huber and Lawson to plate 3 runs. As Dog would say, "win every inning!" Hofmann would settle down after the rough beginning and put up 4 straight zeros on the board for the visitors.
In the meantime, the roaring Tigers were scoring in every inning except the 3rd. In the 2nd inning, a double by Carlson plated 2 runs. In the 4th, a leadoff double by Adam Johnson led to a run on a 2-out RBI single by Miller. 2 more runs were pushed across in the 5th, highlighted by consecutive singles from Huber, Lawson and Eric Lyons.
Winthrop would come storming back in the 6th, as Ben Melius hit a 2-out bases-clearing double to get Winthrop within 8-5. Hofmann would get a ground ball to end the inning and his night was complete after 6. The Tigers answered back quickly in the bottom of the 6th on a solo homerun by Dan Huber put them up 9-5. A single run in the 7th and a 2 spot in the 8th finished the scoring on the night for Belle Plaine. Hofmann improved to 3-0 on the year, with a 3.85 ERA. Shawn Carlson provided solid relief, as he gave up 1 run over the final 3 frames to pick up the save.
The Tigers pounded out 14 hits on the night, with a number of players having multi-hit games. Jeff Miller continued to swing a hot bat, as he went 2-4 on the night with an RBI. Mike Milam also collected 2 hits, along with Eric Lyons, who had a big 2 RBI double in the 8th. Dan Huber was the star though, as he went 3-5 with a HR and 2 RBI.
Le Sueur 0 @ Belle Plaine 8 (Sunday, June 28th)
The story of this ballgame was the pitching of Adam Johnson. The rookie lefthander picked up his 4th win of the year in impressive fashion, as he sent down 11 Braves via the strikeout. Only a strict pitch count by Manager Miller would stop AJ from pitching the complete game, as Mike Schultz threw a scorless 9th inning to secure the shutout.

The scoring started for the Tigers in the 3rd, as Nick Volek basically manufactured a run all by himself. After walking with 1 out, Volek stole 2nd, advanced to 3rd on a wild pitch and scored on a fielder's choice. 0 hits and 1 run for the Tigers.

Belle Plaine would put up 3 runs in the 4th, with Pat Schultz doing most of the damage with a 2 RBI triple to center. It's also worth noting, Jeff Miller stole his first base in 5 years in this inning. "Hot Wheels Miller" we call him.

The local 9 would put the game out of reach in the 7th, as they put up 4 runs. Jeff Miller showed off his power with a MASSIVE blast to left-center, a 3-run bomb.
Recap
After recently losing 3 league games by a total of 3 runs, the Tigers got back on their winning ways this past week. The 3 league wins pushed their league record to 7-4, 16-6 overall. With Waconia losing Friday night to Shakopee, El Tigre has a 2 game lead in the division with 5 to play.

Through 22 games, the Tigers have a number of regulars hitting over .300. Jeff Miller is leading the way at .426, followed by Shawn Carlson at .388, Brad Lawson .338, Pat Schultz .337, Matt Schultz .328, Shawn Larson .325, Mike Milam .324 and Dan Huber at .299. As a team, the locals are hitting .297 on the season.

Most of the mound duties have been shared by Lawson, Johnson and Hofmann. The 3 have combined for 12 wins, 3 saves and a sparkling 2.59 ERA. See you at Tiger Park!
Tigers Losing Grip on First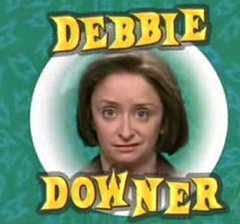 After downing St. Patrick 7-3 on Saturday, the Tigers lost 3-2 to St. Peter on Sunday, their third consecutive RVL loss by one run. The setback puts the BP Nine at 4-4 in league play (13-6 overall), tying them with 5-5 Waconia, winners of four straight league contests.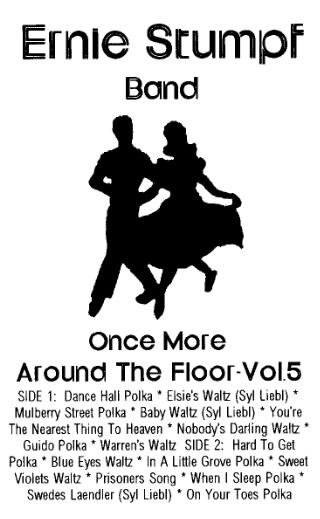 Little League Night, washed out last Tuesday (June 16), has been rescheduled for Tuesday, July 7 versus Henderson. The game against the East Side Merchants will not be rescheduled, the fourth such rainout for the Tigers in 2009.
The locals hosted Fairfax last night (Tuesday, June 23) – check www.bptigertown.com for the score and more. Another web reminder: be sure to visit www.rivervalleyleague.com, the new-and-improved league website, with scores, standings, and game summaries updated daily.
Tiger Park will host two more RVL teams this weekend: Winthrop on Friday at 7:30 pm, and Le Sueur, Sunday at 2:00 pm. Sunday is Senior Citizen's Day, where seniors will be admitted free and Ernie Stumpf will provide the oom-pah music.
Tigers 7 @ St. Patrick 3 (Saturday, June 20)
You know how almost every golf course in the state advertises itself as "Minnesota's hidden gem"? When it comes to amateur ball fields, I think St. Patrick gets my vote.
Belle Plaine and St. Patrick last tangled in the 2007 Region 6C playoffs, with the Tigers beating the Irish twice in ten days – the latter setting off a champagne celebration and trip to State. But in this scribe's 19 years, not once have we ventured to St. Patrick's version of Minnesota amateur baseball Americana: a church, a bar, and a ball field.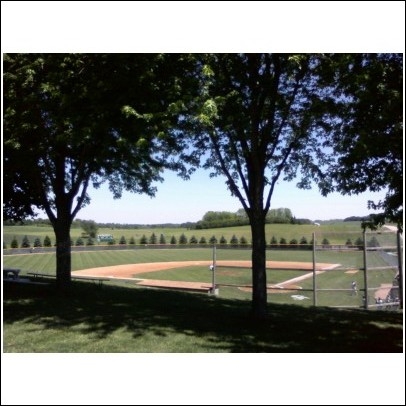 When Shane Hofmann first climbed the mound, the Tigers led 2-0. In the third, the Irish answered with their biggest uprising, using five singles to notch two runs. However, Hofmann left the bases juiced, three of fourteen that the home team would leave stranded on the afternoon.
The Tiger Train added two more runs in the 4th and 5th, one coming on a fairly rare Matt Schultz triple.
The 6-2 lead held until the Irish 7th, when a run came in and Hofmann departed for Mike Schultz. Schultz induced a double play, then did the same in the 8th after loading the bases, the latter recorded 1-2-3 in the scorebook.
The Chatfield Sensations added a bonus run in the 9th, and closed out the victory.
Brad Lawson and Mike Milam stayed hot of late, collecting two hits apiece. Matt Schultz drove in a pair, and stole one of two Tiger bases on the day.
Aside from leaving a horde of countrymen on base, the Irish lost the battle of the scoreboard's third primary column, posting four errors to the Tigers' one.
Tigers 2 @ St. Peter 3 (Sunday, June 21)
Sunday's game was the first of four league games in seven days for the Tigers, and Adam Johnson got the call from manager Jeff Miller. The Saints struck first, however, on a two-out RBI single from cleanup hitter Tim Hoffman.
The Red Caps responded in the 2nd, when after Mike Milam doubled with two away, Matt Schultz singled him in.
It would be a see-saw affair, St. Peter striking next in the 5th to go up 2-1. Belle Plaine's third double play of the weekend halted the rally, much to the amazement of their salty sea captain.
El Tigre started the 8th inning with a pair of singles, putting runners at first and third. Two infield pop ups put the Tigers on the edge of desperation, until an infield single from Milam allowed a collective exhale, tying the duel at two.
Adam Johnson recorded his 12th strikeout for the second out of the 8th, with runners at first and third. Almost out of it, Adam Bren delivered an RBI single that would prove to be the game-winner.
After a walk, Johnson left and Jonny Schulz escaped a bases-loaded situation, needing just three pitches to induce a fly out.
Lawson and Milam collected two hits each for the third game in a row, raising their averages to .349 and .375, respectively.
Tigers Snap Losing Streak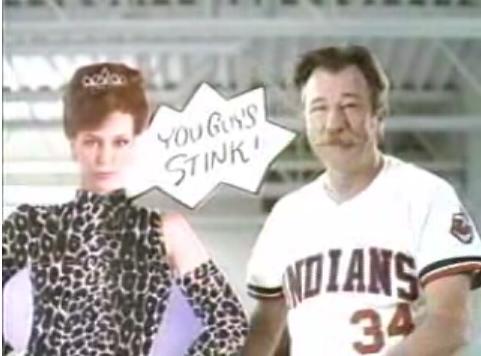 The Tigers suffered their third consecutive last-inning, one-run loss after dropping league games to Chaska (4-3) and Waconia (3-2), but rebounded to beat fellow league-mate Gaylord 10-2 on Sunday. The local nine is 12-5 overall, 4-3 in the River Valley League.
Last night (Tuesday, June 16) the Tigers hosted the East Side Merchants, a Class 'A' team from the St. Paul League. Check www.bptigertown.com for the score and more.
The Traveling Tiger Fun Show will hit the road this weekend for 2:00 pm games at St. Patrick (Saturday) and St. Peter (Sunday). On Tuesday, Tiger Park will open its friendly gates when Fairfax visits at 7:30 pm.
Tigers 3 @ Chaska 4 (Tuesday, June 9)


The Tigers took a 3-2 lead to the bottom of the 9th against the best team in the league (11-1, RVL), only to lose 4-3 when Eric Oscarson singled to left with two outs. Oscarson's single was the fourth of the inning for the KleinBank Cubs, and made a winner out of Andy Durwalter, who went the distance.
The BP Nine broke a 2-2 tie in the 7th, when Matt Schultz and Scott Johnson started the inning with base hits, and were sacrificed to second by Eric Lyons. Shawn Larson then drove in his third run of the game on a fielder's choice, the first two having scored on his fifth-inning single.
Brad Lawson worked 6.1 innings for Mama Tiger, allowing one earned run and six hits. Jonny Schulz finished up in relief and was hung with the loss, dropping him to 2-2 on the season.
The Tigers collected only five hits – two by Matt Schultz – but also matched a season-high by drawing seven bases on balls.
Waconia 3 @ Tigers 2 (Friday, June 12)


In one of the RVL's most common pitching matchups of recent years, Waconia's Rob Wagener lined up against Belle Plaine's Shane Hofmann. Hofmann, typically a control artist, walked the first three batters of the game. The home bench felt fairly fortunate, therefore, when the damage was limited to just one run.
The Lakers added another tally in the 5th to make it 2-0, and after six that remained the score.
Jeff Miller opened the 7th with his second hit of the game, and pinch-runner Travis Latzke eventually scored on a sac fly from Dan Huber, ending Wagener's shutout bid.
After the first two Tigers were set down in the 8th, Wagener had faced just three men over the minimum. He looked as sharp and crisp as a freshly ironed and overly starched dress shirt.
Even after Eric Lyons singled, Wagener picked him off while attempting to steal. However, the relay throw to 2nd was for no-one in particular, and Lyons arrived safely into scoring position.
Shawn Larson delivered a single to right, and just like that the Tigers were even with the Waconia ace. After a walk to Brad Lawson, Wagener semi-surprisingly departed, much to the relief of Team Tigertown and its fans.
Candon Honebrink came in and issued another free pass, loading the bases. With cleanup hitter Pat Schultz up, it felt like this might be the Tigers time to steal a victory from their RVL-Central rivals. Schultz lined a full count fastball to short, however, ending the Tiger rally.
Shane Hofmann issued an uncharacteristic seven walks on the night, but just two runs over his eight innings. The 9th was turned over to Shawn Larson, and just like the Tiger 8th, the first two men were set down.
However, a 2-out walk to Jeremy Salden proved costly, as consecutive singles plated the winning run. The Tigers went quietly in the 9th, 1-2-3.
Team Tigertown collected a menial five hits for the second game in a row, led by Jeff Miller's 2-for-3 effort.
Gaylord 2 @ Tigers 10 (Sunday, June 14)


Gaylord led 2-0 after 2 ½, but the Red Caps scored the final ten runs of the game, thanks to a 16-hit attack. Pat Schultz went 3-for-5 with 2 RBI and a steal, and Shawn Larson also collected three hits in five trips.
Mike Milam went 2-for-4 with 3 RBI, Matt Schultz went 2-for-2 with 2 RBI and a double, Brad Lawson went 2-for-4 with an RBI, a walk and a steal, and Dan Huber was the sixth Tiger to enjoy a multi-hit game.
On the mound, Brad Lawson labored through five innings, issuing five walks and needing 112 pitches to qualify for the win. But pick up the win he did, limiting the Islanders to two runs over five innings, with five strikeouts.
Shawn Larson tossed four shutout innings of relief, getting his first save in a Tiger uniform. He yielded just two hits, walked none and struck out three.
For Gaylord, Trevor Vaubel threw two shutout innings before leaving due to injury in the 3rd, and was tabbed with the loss. Chris Severin went the rest of the way on Pulled Pork Sandwich Day at Tiger Park.
Union Hill Wins Third Tigertown Classic
Rain Means Just One Game for Tigers, a 13-Inning Loss to Freeport


Union Hill beat Blue Earth 12-5 for the 11th annual Tigertown Classic championship, in a weekend mostly marred by wet and cool weather. One of the aforementioned teams has won the tournament each of the past five years, with the Bulldogs also winning in 2006 and 2007, and Blue Earth in 2005 and 2008.
Friday night was pleasant, weather-wise, but the Tigers lost a 10-9 marathon to Freeport, in 13 innings. With the lengthy first game, Union Hill and Fairmont didn't wrap up until 12:36 am, a 6-5 victory for the eventual champs.
Le Sueur was able to outlast Lonsdale 9-4 in Saturday's opening contest, before rain washed out the remaining four games on the docket. With only Sunday left to determine a winner, the three loser's bracket games were cancelled, while the Blue Earth – New Germany game was pushed up to a 10:00 am start time the next day.
Sunday was chilly but otherwise cooperative, with Blue Earth beating New Germany 7-2 and Le Sueur 2-1, Union Hill dropping Freeport 8-2 and then the championship game, as mentioned.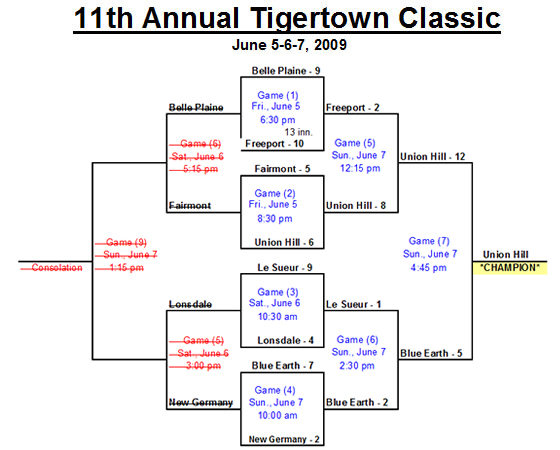 Last Wednesday (June 3), the locals beat Young America 6-3 at Tiger Park.
Last night, Belle Plaine travelled to Chaska – check www.bptigertown.com for a score and details. You can also check the team website for pictures from Friday's BP-Freeport game, thanks to Caycie Volek. CLICK FOR PHOTOS!
The Tigers have a three-game homestand on tap: Friday against Waconia, 7:30 pm; Pulled Pork Sandwich Day on Sunday against Gaylord, at 2:00 pm; and Little League Night on Tuesday against the East Side Merchants. First pitch is at 7:30 pm, and all Little Leaguers who wear their uniform to the ballpark are entitled to a free hot dog. (As a reminder, kids age 12-and-under are always free.)
The season is whizzing past – come out and watch your 11-3 Tigers (3-1, RVL) while the going is good!

Young America 3 @ Tigers 6 (Wednesday, June 3)
Starting pitcher Shawn Carlson went 4-for-4 with two doubles, a leadoff home run, and two RBI, powering the Tigers past Young America 6-3. Carlson raised his average to a sizzling .429, and has recorded 8 hits in his last 9 at-bats.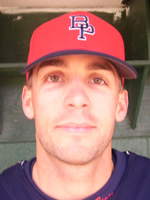 On the mound, Carlson received less support than a Jeff Miller jock strap. No less than four miscues were committed behind the lanky righty, before he departed after an inning-opening error and three straight hits in the 5th. One of those knocks was a two-run shot from Clint Aretz, and the third run came in off a fielder's choice against reliever Jonny Schulz.
Schulz was sharp, and picked up the win with three innings of shutout ball. The right-hander has now chucked 10 scoreless frames on the year, and even pitched in with a run-scoring single in the 6th. Go Jonny, go.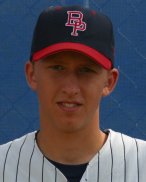 May isn't his month, but Mike Schultz finally made his first mound appearance of the year, and looked crisp in picking up the two-inning save. Schultz set down all six men he faced, except for the Tigers fifth error to open the 9th.
Brad Lawson continued to swing a hot stick with a 2-for-2, 2 RBI performance, and is 10 for his last 19 (.526). Pat Schultz is in the same boat, 12 for his last 23 (.522) after a 2-for-4 night.
The Tigro Train out-hit their opponent for the eighth straight game, and has done so in all but two games this year. The Tiger team average is up to .323, thanks to going 76-for-195 (.434) over their last five contests.
Freeport 10 @ Tigers 9, 13 innings (Friday, June 5 ~ Tigertown Classic)
Freeport and Belle Plaine met May 16th in the Freeport Tournament, a 3-2 win for Shane Hofmann and the Tigers en route to claiming the tourney championship. With this the likely final meeting of 2009 for these two teams with a veritable man-crush on each other, they wound up making it a slow goodbye.
Adam Johnson matched up against the Black Sox's Danny Beste, but neither pitcher had what they'd probably consider a routine night. Beste was gone after four innings, giving up four runs before yielding to Nathan Hunter, who went the rest of the way.
Johnson was tagged for three tallies in both the 1st and 3rd innings, but got comfortable after that, lasting eight innings despite using a season-high 140 pitches to do so. "AJ" came in with six earned runs over 32 innings, but gave up five earnies to the Sox.
Team Tigertown trailed 6-4 heading into their final cracks in the 7th, when Shawn Carlson started the inning with a single. After a fly-out, Tim Huber doubled off the wall to drive home Carlson. Another fly-out put the Tigers down to their last out, but Jeff Miller doubled to score Huber and send the game to extra innings.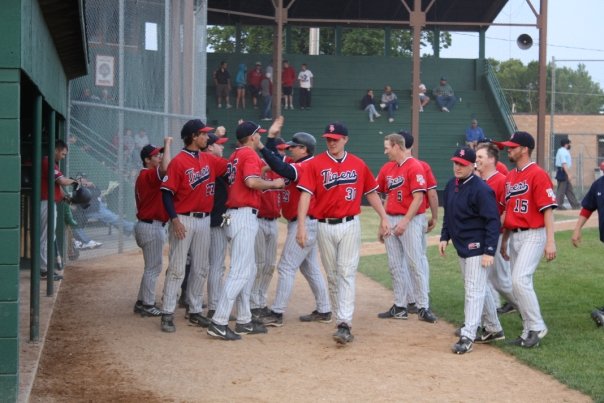 Jeff Miller is greeted in the dugout after his game-tying double in the 7th. Miller left for a pinch-runner.
Jonny Schulz started the 9th for the Tigers, and traded zeroes with Hunter through twelve, giving him 14 innings without an earned run this season. In the 13th inning, he left with two gone and runners at second and third. Shawn Larson came in from left field, and walked the first batter to fill 'em up.
Freeport's Brad Wiethoff delivered a bases-clearing double to the left-centerfield gap, the last run coming on an instant replay-worthy play at the plate. A wild pitch followed, scoring Wiethoff and making the outlook ever-bleaker for the home team.
Just like the 7th, however, Carlson started the inning with a hit. After a fielder's choice, another RBI double from Tim Huber scored Larson, and Pat Schultz followed with an RBI single to plate Huber. 10-8.
After a fly-out, Brad Lawson singled to put runners at first and third, and a wild pitch scored Schultz to make it 10-9. With the tying run at 2nd, this time the Tigers ran out of magic and grounded out to end the game.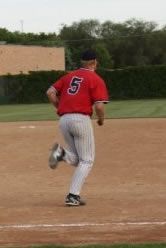 Tim Huber (pictured left) stuffed the stat sheet like only he can, going 3-for-6 with 4 RBI, 3 runs scored, two doubles, a homer, a walk and a steal. He also rescued a cat from a tree and baked an apple pie that he donated to a bake sale, with all proceeds going to charity. It was Belle Plaine's third consecutive game with a long ball after going 11 games without one.
Dan Huber went 3-for-6 to raise his average to an even .300, while Carlson and Miller were the other Tigers with multiple hits.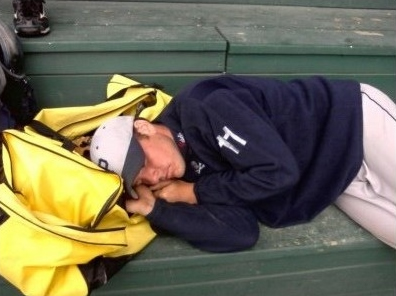 Summer Wind Means Tigertown Classic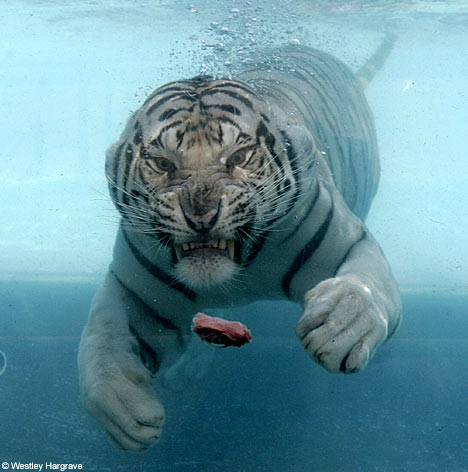 Dollar Burger Night This Friday

You know summer has arrived when it's time for the Tigertown Classic, and the 11th annual tournament fundraiser takes place this weekend. The Tigers will kick off the proceedings against a familiar friend and foe, the Freeport Black Sox, at 6:30 pm Friday.
At 8:30 pm, Fairmont and two-time champ Union Hill will lock horns. For the duration of both games Friday, it will be Dollar Burger Night – so come early, and stay late!
On Saturday, the action begins with Le Sueur and Lonsdale at 10:30 am, the first of five games on the day. At 12:45 pm, two-time and defending champion Blue Earth will take on the New Germany Dutchmen.
Saturday's other games are set for 3:00 pm, 5:15 pm, and 7:30 pm, with the Tigers playing the earlier slot with a Friday loss, the latter with a Friday win.
Sunday wraps up the tournament with a semi-final game at 11:00 am, the consolation championship at 1:15 pm, and the trophy game at 3:30 pm. Come on out and enjoy the Classic this weekend.
Last Friday, Team Tigertown traveled to Jordan and came away 5-3 losers, suffering their first league setback. On Sunday, the locals stayed on the road but righted the ship in a big way, hammering Henderson 25-10. That puts the BP Nine at 3-1 in RVL play, 10-2 overall.

On Saturday, the Tiger Open was held at Valley View Golf Course. The winning team shot a 61, and consisted of Kirk Gloege, Casey Gloege, Ray Von Bank, and Gregg Anderson. Congrats to them, and thanks to all who participated!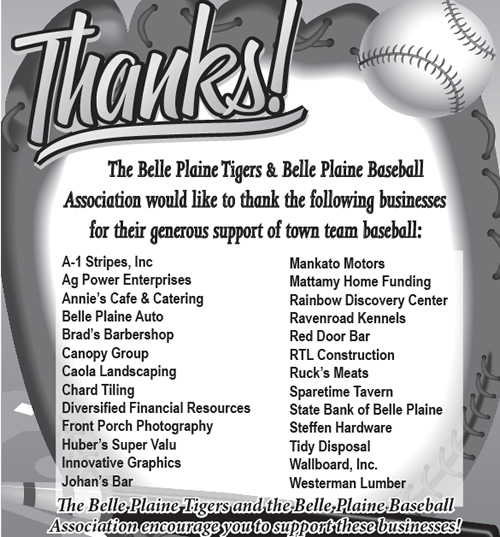 Tonight (Wednesday, June 3) Young America visits Tiger Park, first pitch 7:30 pm. The other bookend of the Tigertown Classic is a trip to Chaska, Tuesday (June 9) at 7:30 pm. Just take the Hwy. 41 river bridge, and the next thing you know, you'll be in right field! (Sorry, bad joke.)

Tigers 3 @ Jordan 5 (Friday, May 29)
When last these teams met – because it's always prudent to revisit the recent past – Brad Lawson no-hit the Brewers in the championship game of the Freeport Tournament, 1-0. Taking the ball for El Tigre and hoping to duplicate the feat on this night was Adam Johnson, he of the 3-0 record and 1.13 ERA.
Belle Plaine struck first, when Dan Huber started the 2nd inning with a single and came around to score on an infield groundout. In the bottom half of the frame, longtime Brewer Trent Simek knotted it up quickly with a leadoff blast over the left field wall.
Jordan got right back to brewin' again in the 3rd, sending nine to the plate and pushing four across before Johnson could escape the inning. It didn't seem possible at the time, but the Tiger ace would go the distance as he settled down and issued five J-Town goose eggs the rest of the way.
The Red Caps added single runs in the 6th and 8th, both thanks in part to doubles from Jeff Miller, who at age 40-something seems to have found the fountain of youth. The Dog-Man went 3-for-4, raising his average to .529 (9-for-17) on the season.
However, that would be the end of it for the Tiger Train, as Mike Beckius came on for the final four outs to save the win for starter Nick Dolan.
After the game, the Tigers reasoned it out and determined that the loss was an obvious fluke, since Travis Latzke, Jonny Schulz, Mike Milam, Tim Huber, Shawn Larson, and Jake Scherer weren't there. Yes! Still undefeated in the league!!
Tigers 25 @ Henderson 10 (Sunday, May 31)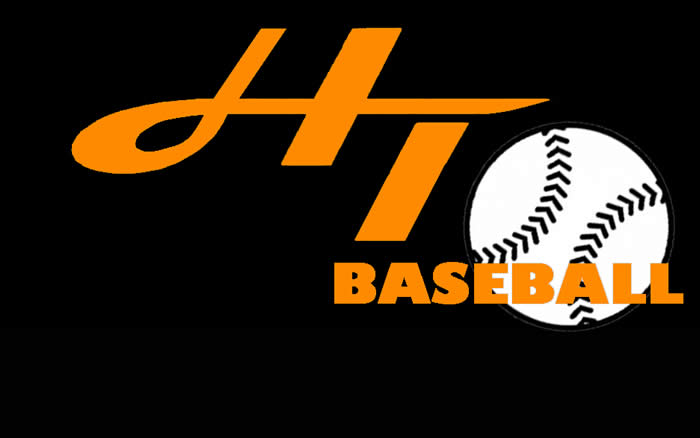 New Yankee Stadium ain't got nothin' on the ballpark in Henderson – at least not when the wind is blowing out like it was on Sunday. The conditions weren't just ripe for diminutive Tiger third basemen Eric Lyons to hit a home run, they were ripe for Eric Lyons to be a home run.
Brad Lawson took the ball in this slopfest, laboring through five innings and a woeful 115 pitches. He surrendered only four hits, but five earned runs thanks in large part to as many walks. Maybe the air is a little thinner atop Mount Henderson, the pitching mound once used as a Spanish lookout in the 1800's.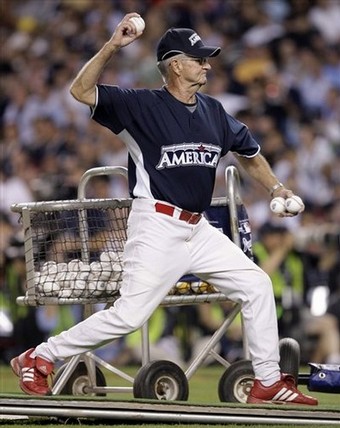 Shane Hofmann came on in relief and worked the final four frames, picking up the save. But it was a battle as well for him, needing 71 pitches to record 12 outs.
Offensively, the Tigers treated the trio of Henderson pitchers like Josh Hamilton's elderly batting practice pitcher in last year's All-Star Game. They lashed out 28 hits in a staggering 59 at-bats (.475), including eight doubles and their first two home runs of the year (congrats Pat Schultz, Brad Lawson). There were also a couple of near-homers that hit off the fence.
The Tigers raised their team batting average 28 points, to .316 for the season. They scored in every inning except the 4th, and put up nine in the 9th.
One more amazing stat, Shawn Carlson and Lawson both had eight plate appearances in the game. Carlson went 5-for-8 with 4 RBI, while Lawson went 4-for-7 with 3 RBI. Both scored three runs, batting out of the top two spots in the order.
Pat Schultz also had a monster day at the dish, going 4-for-6 with 5 RBI. Jeff Miller, Dan Huber, and Eric Lyons pitched in with three hits each in the contest.
It was the most runs Belle Plaine has scored since putting up two dozen in a 24-7 win at Waconia on June 5, 1999. That was the day I hit my one-and-only home run, except that day the wind was blowing just as hard, but in, as I recall.
Tigers Keep Winning, Move to 9-1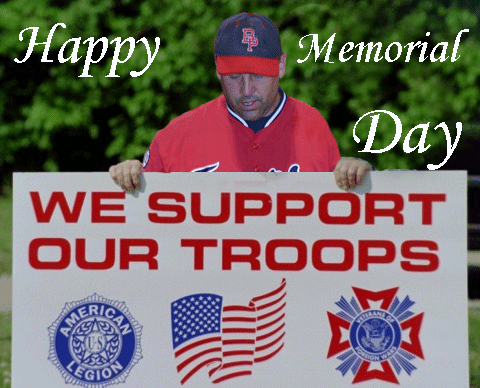 Tiger Open Golf Tourney Fundraiser This Saturday

The Tigertown Express continued their finest start in approximately 15 years, defeating a pair of non-league teams at home: Carver 9-5 on Tuesday (May 19), and the Prior Lake Mudcats 10-9 on Friday.
The Tigers are just 2-0 in league play as the month comes to a close, but will get back into RVL action this weekend with a pair of road games. (Note: The Wednesday, May 27th game at Montgomery has been CANCELLED due to a scheduling conflict at Montgomery's ballpark. This game will not be made up.)
On Friday night, the Red Caps will get their second look at Jordan, after beating them 1-0 in the Freeport Tournament championship just ten days ago. First pitch in Brew-Town, 7:30 pm. On Sunday, the Tigers will face their namesake from Henderson at 2:00 pm.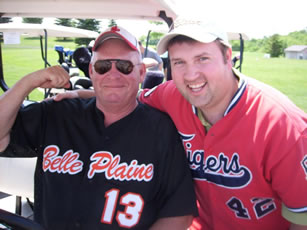 Good people of the borough, the Tiger Open is this Saturday, and I'm here to tell ya it ain't too late. Come on out Saturday to our beloved Valley View Golf Course – first shank at one o'clock. Either call Shane Hofmann (952-484-2319), or show up about noon on Saturday and we will get you squared away. Again, single golfers can be paired up, so save the excuses for the 19th hole.
Carver 5 @ Tigers 9 (Tuesday, May 19)
Starter Shawn Larson picked up his first win in a Tiger uniform, and helped run the pitching staff's consecutive hitless innings streak to 14.2. The streak began in the sixth inning of the Freeport game in Freeport, added 8 innings with Lawson's no-no against Jordan, and ended when Carver's Rob Engmark doubled with one out in the sixth.

Thanks to a five-run fifth, the T-Train led handily after seven, 8-1. The big blow in that frame was a two-out, bases-loaded, bases-clearing double from Eric Lyons, who drove in (let's just assume) a career-high five on the night.
However, the Black Sox mounted a late rally, pestering reliever Jonny Schulz for four unearned runs over the last two stanzas and bringing the tying run to the plate with two down in the 9th. Jonny Dangerously slithered out, though, inducing a ground ball to third to end it.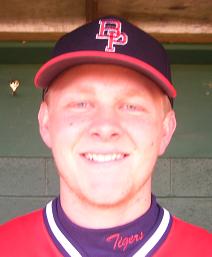 The locals lashed out 14 hits on the night, with Lyons, Adam Johnson, Dan Huber, and Pat Schultz all collecting two. Jake "Shears" Scherer (pictured) also recorded his first town team safety.
Prior Lake Mudcats 9 @ Tigers 10 (Friday, May 22)


Dollar Beer Night included a few more hoots 'n hollers than usual, as the Tigers and their guests combined for a dragged-out 19 run, 22 hit affair. That may come as a surprise when you hear the BP starter was Adam Johnson, he of the 0.00 ERA through 18 innings coming in. But apparently the lefty does put his pants on one-leg-at-a-time after all.
Much like the Carver game, Tigertown led comfortably, late – this time holding an 8-4 lead after six complete. That is when Johnson checked out, having given up four hits and four runs (three earned), along with six punchouts.
Shane Hofmann started the 7th but would not finish it, yielding five runs before three outs could be recorded. Brad Lawson came in from third base to put out the fire, keeping runners at 2nd and 3rd.
With two gone in the eighth, a pair of walks (note: will haunt) brought up the resurgent Jeff Miller, who drove one off the top of the fence in right-center to plate two, giving the Tigers the lead back at 10-9.
That's where it would remain, as Lawson retired the side in order in the 9th.
The Chatfield Warriors clubbed out 13 hits, with three each from their leading hitters of the season so far: Miller (.462 in 13 AB's), Matt Schultz (.407 in 27 AB's), and Pat Schultz (.400 in 30 AB's).
Lawson No-Hits Jordan for
Freeport Tourney Championship

BACK ROW (L to R): Mgr. Jeff Miller, Corey Schaaf, Josh Terrio, Jonny Schulz, Pat Schultz, Matt Schultz, Tim Huber, Nick Volek.
FRONT ROW (L to R): Scott Johnson, Eric Lyons, Brad Lawson, Brett Kruschke, Shane Hofmann, Adam Johnson, Shawn Carlson, Dan Huber.
NOT PICTURED:
Travis Latzke, Mike Milam, Shawn Larson, Jake Scherer, Mike Schultz.

Belle Plaine defeated three previously unbeaten teams in Freeport this weekend, to take home the Black Sox Tournament championship while raising their record to 7-1 (2-0, River Valley League).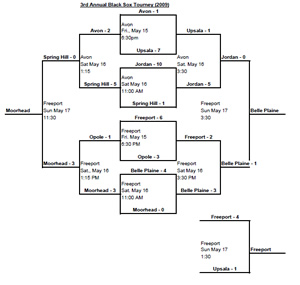 On Saturday, the Tigers beat the Moorhead Brewers 4-0 and host Freeport 3-2, before riding an eight-inning no-hitter from Brad Lawson in a 1-0 win Sunday against RVL-rival Jordan. (Note: tournament games were 7 innings, so this one went extras.) Lawson's no-no is the first for a Belle Plaine Tiger in at least a dozen years.
Last Wednesday, the Savage Outlaws used a 14-run 7th to turn an 8-1 lead into a 22-2 laugher, giving the Red Caps their lone loss of the season. Unfortunately for the previously pristine team ERA, 21 of those were earned!
Still, the team mark sits at a respectable 3.57 for the season, thanks to just four earned runs over the other 48 innings this year (0.75 ERA). Make no mistake: pitching has carried the Tigers thus far in '09. In fact, the Savage game is the only one in which El Tigre has yielded more than two runs.
Last night (Tuesday, May 19), Carver came to town for a non-league battle; check www.bptigertown.com for the score and details.
Before taking the remainder of Memorial Day Weekend off, it's "Dollar Beer Night" on Friday as the Tigers host the Prior Lake Mudcats at 7:30 pm. Kick off the holiday weekend with a little Friday night baseball at Tiger Park!
The Tiger Open golf tournament fundraiser is next Saturday, May 30. Put your team together today! The registration form is available on the Tiger website, or, contact Shane Hofmann at 952-484-2319. Businesses, you may also contact Shane or any player or board member for details about sponsoring a hole.
Savage 22 @ Tigers 2 (Wednesday, May 13)
The Tigers didn't expect to go undefeated this year, but they sure didn't guess their season-opening four-game winning streak would end like this, either. The Outlaws offense posted more runs than outs – 22 to 21 – and it seemed like the only Outlaw not to get a hit was Josey Wales.
Tony Peterson started the scoring with a 1st-inning laser-shot homer off the scoreboard in left, and Adam Evanoff capped a 14-run 7th with a three-run bomb off the light-tower in right. It was "one of those nights" for the hometown nine.
Shawn Larson started and surrendered six runs in five innings, while the tag-team duo of Corey Schaaf and Eric Lyons were pounded for 16 earned over the final two frames. You know how they talk about the national deficit being a stack of dollar bills all the way to the moon? Well, that's kind of what their ERA's now look like. Hang in there, fellas!
Shawn Carlson led the Red Caps with two hits, while a pair of Tigers earned the Sombrero (the "award" for striking out three times in a game).
Moorhead Brewers 0 vs. Tigers 4 @ Freeport (Saturday, May 16)
Adam Johnson went six scoreless innings for the third time in as many starts, running his season-opening scoreless innings streak to 18. Improving to 3-0, the lefty scattered five hits and three walks, while posting six punchouts.
Brad Lawson came on for the final inning, keeping the shutout intact.
Offensively, eight different Tigers collected a hit, including Tim Huber who made his '09 debut. Four different Tigers drove in a run, and three different stole a base.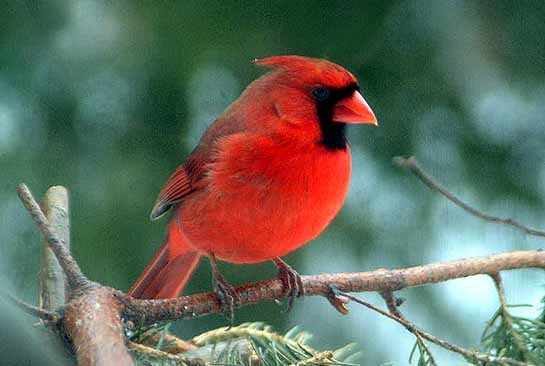 "Gawd them are a pretty bird!"
Tigers 3 @ Freeport 2 (Saturday, May 16)
Belle Plaine and Freeport (formerly Melrose) have faced off many times over the last decade, and it seems like in most of those, it's been Shane Hofmann and Nate Klaphake matching wits on the mound, respectively. And so it was again.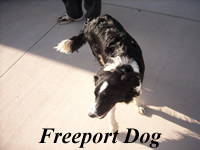 Shawn Carlson led off the game with a single, and came in to score on a two-out knock from Dan "Flipper" Huber. In the third and fourth, Freeport grabbed single runs to take the lead.
Hofmann's work was done after five stanzas, but a two-run Tiger rally in the top of the sixth put him in line for the win. Jonny Schulz came on for two razor-sharp innings, picking up the save and propelling the Tigers into the championship game.
Lawson, Tim Huber, and Matt "Frog Dance" Schultz led the way with two hits apiece.
Tigers 1 vs. Jordan 0 @ Freeport (Sunday, May 17)
Team Tigertown has been in the Freeport Tournament each of its first three years, and league-mate Jordan must have heard good things as they decided to join the fray. And in a neat little twist, the two long-time foes from the Hwy. 169 corridor faced off in the championship.
Scott Hollingsworth got the ball for Jordan, and Brad Lawson for Belle Plaine. Both pitchers would go the distance.
The tone was set early, as each pitcher carried a no-hitter through four. With one out in the 5th, manager Jeff Miller dumped a clean single into left for the first safety against Hollingsworth.
Visitors on the scoreboard, the Tigers put runners at second and third in the 5th and 7th innings, but couldn't get the big hit they needed. Lawson worked out of a likewise jam in the 6th, and after a scoreless and yet-again hitless 7th, it was on to extra innings.
Shawn Carlson led off the 8th with a well-struck double, and Lawson moved him over to third with a ground ball to the right side. After Tim Huber was intentionally walked, Pat Schultz delivered a deep sac fly to center, scoring Carlson. Could Lawson hold on for the win – and the no-hitter?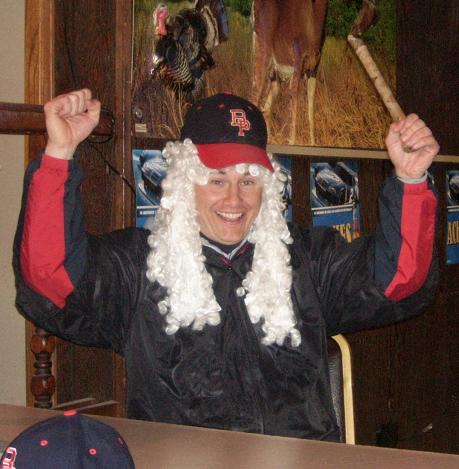 The inning began with a pair of ground ball comebackers to the mound – one out to go. Speedster Jeremy Heitkamp sent a ground ball to third… and an error! The throw skipped past first base, giving the Brewers life and Manager Miller a heart attack. But Lawson's 93rd pitch was popped up foul and caught by third baseman Eric Lyons, sending the Tigers and their faithful into a jubilant group hug.
Lawson walked five on the day, with three strikeouts. He has now thrown ten scoreless innings on the year.
The Tigers have not won a mid-season tournament since the New Prague Tournament in the mid-90's. Each team that Belle Plaine beat this weekend was previously undefeated entering their game with the Tigers, a combined 10-0.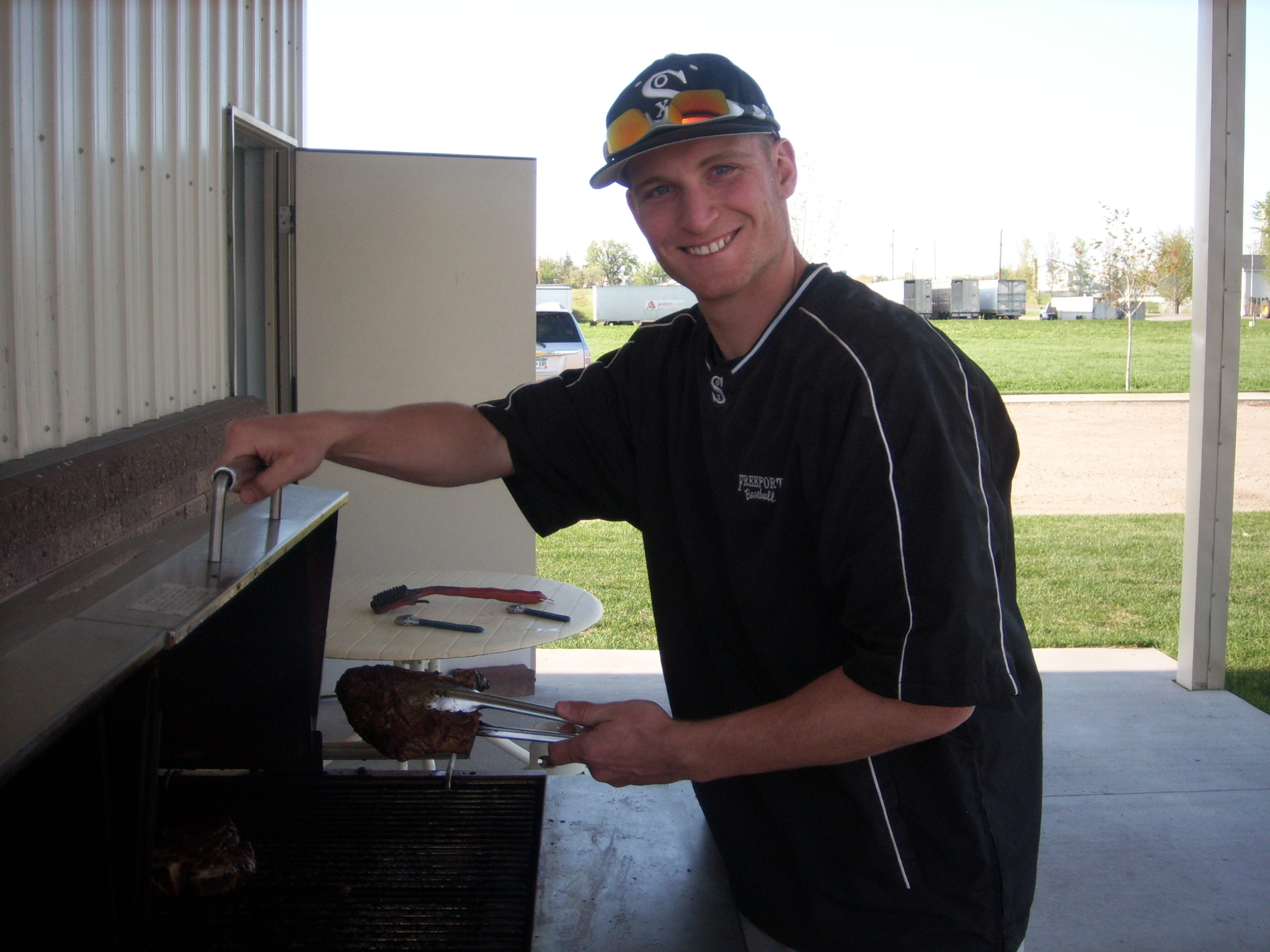 Grillmaster Ryan Tschida
Tigers Trounce Arlington, Move to 4-0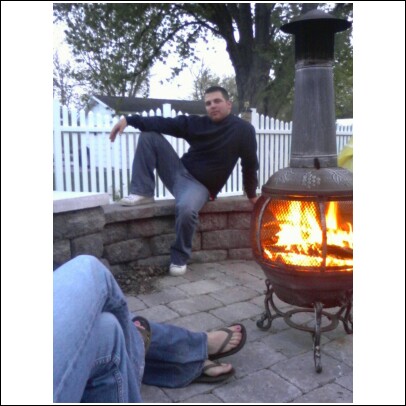 Team Tigertown continued their finest start in at least a decade, moving to 4-0 with a 5-1 win over Stewartville-Racine on Wednesday, and a 9-0 whitewashing of a talented Arlington A's club on Sunday. Friday's game at Brownton was rained out, and will not be rescheduled.
Pitching has led the way for the Tigers, with just three earned runs in 34 innings pitched (0.79 ERA). The defense has also been stout, committing but a pair of errors. The bats have endured some rough patches, yet have combined for a .294 average.
Wednesday the locals look to keep the train rolling, and will have their hands full with the Class 'B' Savage Outlaws, who have made the State Tournament two of the last three years (2006, 2008). First pitch, 7:30 pm.
Saturday will bring another staunch Class 'B' opponent to the schedule, as the Tiger Nine faces off against the Moorhead Brewers in the 3rd annual Black Sox Tournament in Freeport. Game time is 11:00 am, with a second game to follow at either 1:15 or 3:30 pm, against Freeport or Opole.
If the Tigers win one or both of their first two games, they will play one game Sunday, start time depending on how the cookie crumbles. For a look at the full bracket, head to www.bptigertown.com and click on the Schedule/Results page. Other teams in the tournament are Avon, Upsala, Jordan, and Spring Hill.
On Tuesday, the ol' Carver Black Sox will visit the Belle Plaine ballyard, reaquainting with their former league foes at 7:30 pm. Come on out and see the new-look Tigers!
Folks, a reminder about the Tiger Open golf tournament fundraiser – it's coming quickly on Saturday, May 30, at Valley View Golf Course. Get your team together today! A registration form is available on the team website. Early registration is encouraged, and we can pair up individual players if you are looking for a team to join.
Stewartville-Racine 1 @ Tigers 5 (Wednesday, May 6)


Despite running their scoreless innings streak to 14 innings over the last two games – including a 12.3 inning span with just one hit – the resourceful Tigers managed to pour it on late and come away with a 5-1 win over Stewartville-Racine.

Scott Johnson drove in the tying run with two gone in the 7th, after Eric Lyons began the inning with a double. With two gone in the 8th, five consecutive Tigers reached base, capped by "Hot Dog" Miller's pinch-hit, bases-loaded, bases-clearing double. A batter earlier, Josh Terrio walked with the bases juiced to force in the go-ahead run.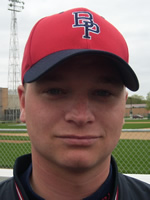 Shawn Larson (pictured left) started on the hill for El Tigre and provided a sound effort, limiting the Sharks to one run over six innings, with five K's. Jonny Schulz came on for the final three frames, all hitless, and gained the victory. Stewartville-Racine, out of the Twin Rivers League, was 21-4 last year and made the Class 'C' State Tournament.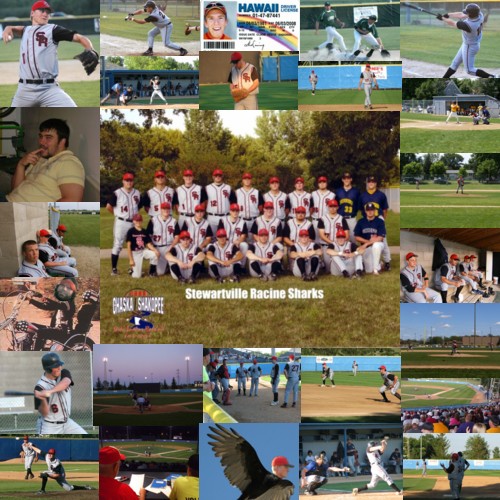 Tom Bendzick started for the Sharks and hurled six scoreless, but reliever Brian Parlin didn't fare quite as well, and was tagged with the loss and all five Tiger runs.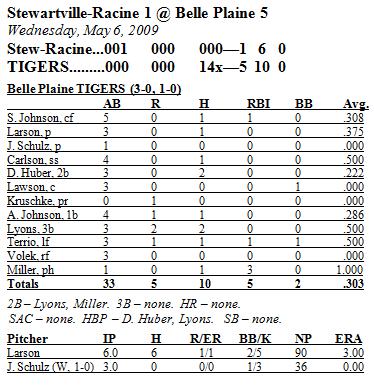 Tigers 9 @ Arlington 0 (Sunday, May 10)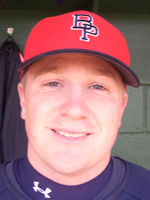 This game had the makings of an early-season classic, as both teams have high hopes in '09 thanks in part to a respective pair of pitching newcomers: Joe Lucas for the A's, and Adam Johnson (pictured right) for the Tigers. Both gunslingers came out firing bullets, punching out seven over the game's first two scoreless innings.
In the 3rd, however, the Tigers unleashed the rabbits, stealing four bases on their way to as many runs. Two-RBI singles came courtesy of the red, white, and blue, namely Shawn Larson and Shawn "Slick" Carlson.
In the 4th, the bunnies kept on a-runnin', using three more swipes to plate three more runs. The highlight was a first and third double-steal, with Josh Terrio taking 2nd and Brad Lawson scurrying home on the back end.
Lucas's day ended with the 4th, giving way to Shane Henke, who went the rest of the way.
Meanwhile, Adam "Happy Feet" Johnson was on his way to six shutout innings for the second time this year – he did the same in a 1-0 win over Shakopee and therefore has a 0.00 ERA, with just seven hits allowed and 13 strikeouts. In the old days when "everything was better", fans would have been carrying Johnson off the field and to the nearest saloon for a night of revelry and merry-making.
With Friday's rainout at Brownton, Shane Hofmann was available for relief work, and picked up the save with three scoreless innings. The crusty Tiger vet allowed just one hit, giving him five scoreless stanzas on the young season.
"Wedding Bells" Larson was the player of the game offensively, going 2-for-5 with 3 RBI and a pair of thefts. Carlson and Lawson were the other Tigers with multi-hit games.
As you know, all games since 2003 have been the "Battle for the Red Helmet", which the hometown team retained for the 8th time in ten series meetings. The last time these teams met was a memorable 9-8 Tiger win in 11 innings, at Arlington in Region 6C, a first-round win that spurred the Tigers on to (the) State.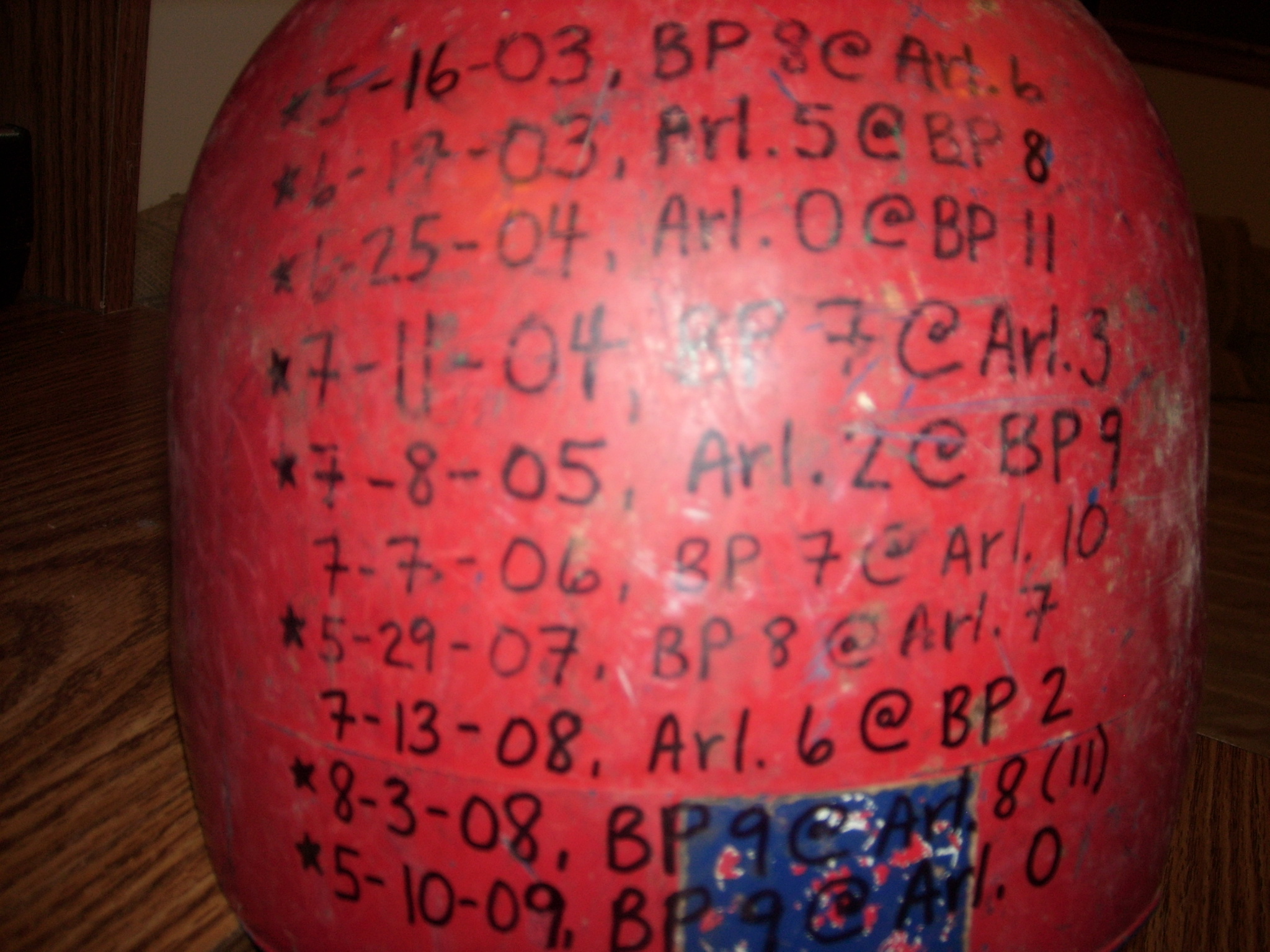 Tigers Take Two Different Routes to 2-0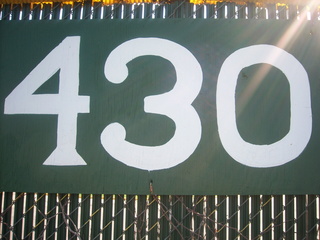 BPBA board member Dennis Lawson recently re-measured the distances at Tiger Park, and the famed 435 in dead-center is now 430. Also, down the right field line is now 300, not 305.

Team Tigertown blitzed New Germany 16-2 on Friday night before squeaking by the Shakopee Indians in thrilling fashion on Sunday, 1-0. Last year the Tigers started 2-15, so sitting at 2-0 feels pretty good right now!
Up next for El Tigre is 2008 State Tournament participant Stewartville-Racine, 7:30 pm tonight (Wednesday) at Tiger Park. On Friday, the locals will hit the road with a visit to former league-mate Brownton – game time once again 7:30 pm. On Sunday it's back to league play, with a trip to 2009 State Tournament co-host, Arlington. The first pitch is slated for 2 bells.
Folks, RVL Commissioner Ron Beckman is proud to present the league's new website: www.rivervalleyleague.com. It's in the early stages, so a little patience would be prudent, but you can check out game scores as they're reported, game write-ups, and standings. This link is also available from the Tiger website, say it with me now: www.bptigertown.com.
New Germany 2 @ Tigers 16 (Friday, May 1)
The Dutchmen tabbed two in the first inning but starter Shawn Larson left the bases loaded, and from there on it was Tigers, Tigers, Tigers. The Red Caps posted 3, 2, and 8 runs over their first three cracks, and coasted home with a 7-inning win. The shortened game may have been a slight disappointment to those enjoying "Dollar Dog Night".
Larson went three innings, and calmed down after a case of Tiger Park jitters in the first inning. Fellow newbie Shawn Carlson came in from shortstop and looked sharp, hurling the final four frames while allowing just one hit and no runs. He also K'd five, and scooped up the win.
Hitting heroes were many for the hometown team, led by Pat Schultz's 3-for-4, 3 RBI effort and Scott Johnson's 3-for-5, 3 run performance. Carlson and Josh Terrio had 2-for-2 nights, while Larson and Matt Schultz also kicked in a pair of hits.
Carlson, Larson, and the Johnson boys (Scott and Adam) aren't just an ordinary flip through the Minnesota phone book, but are poised to be big contributors to the Tiger Train all season long. Come on out and get to know 'em…
The best news of all for the Tigers was a zero in the error column, something that plagued the locals last year to no end.
Shakopee Indians 0 @ Tigers 1 (Sunday, May 3)
Shakopee's Troy Wasiloski was thrown out at the plate on a game-ending double play, as Tiger right-fielder Shawn Larson threw a perfect strike to catcher Pat Schultz. A botched pickoff attempt helped the Indians into a first and third, one out situation. It was so botched, in fact, the Tigros had two errors on the play.

As the ball drifted to medium-deep right field, Larson – a four-handicapper, by the way – unleashed a pinpoint throw that perhaps caught Wasiloski by surprise, as he didn't slide and was instead tagged out. The Tiger dugout emptied in mass hysteria (and relief) to celebrate what was a gorgeous day for baseball.
Belle Plaine didn't get a hit until the 8th inning and finished with just one – a clean single to left from Josh Terrio – but a first-inning run off losing pitcher Kyle Voltin held up. Tim Piechowski split the workload with Voltin, going the final four frames.
Voltin walked the first two batters of the game and one (Scott Johnson) came around to score, but after that he and Piechowski faced the minimum the rest of the way, other than two that reached by error. After going 15-for-33 on Friday night, the Tigers limped to a 1-for-26 afternoon.
Newcomer Adam Johnson won his mound debut for Belle Plaine, scattering four hits over six shutout innings. Johnson flashed ace-like potential and sat down seven men via strikeout. Shane Hofmann worked two perfect innings of relief, and Brad Lawson came on for a roller coaster ride of a save.
Town Tigers Home Opener Friday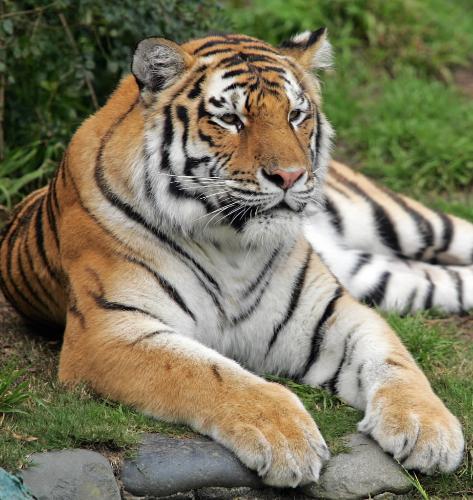 Season Opener? Home Opener? Dollar Dog Night?! 'Nuff said. Be there Friday night at 7:30 pm, when the New Germany Dutchmen visit manager Jeff Miller and his new-look Tigers.
On Sunday, the locals delve into league play as hosts to the Shakopee Indians – game time 2:00 pm. Belle Plaine will look for their 3rd straight win against the Class 'B' powder blues, having toppled the Tribe 13-3 in 2007, and 4-3 last year.
Six newcomers will don the Tiger uni in '09 – OF/P Shawn Larson, previously with Dassel-Cokato; SS/P Shawn Carlson, Duluth Xpress; P/1B Adam Johnson, who pitched at St. John's University and for Brandon-Evansville; OF Scott Johnson, previously with Le Sueur; P/3B Brad Lawson, traded last year to St. Benedict for a handful of Laffy Taffys; and BPHS rookie P Jake Scherer.
The Tigers have 17 returning lettermen: SS/OF Travis Latzke, P Jonny Schulz, 1B Mike Milam, 3B/P Eric Lyons, OF Tim Huber, INF Josh Wolf, OF Josh Terrio, PR Brett Kruschke, OF Nick Volek, 3B Dylan Nyberg, 1B/OF/C Matt Schultz, P/OF Shane Hofmann, 2B/OF Dan Huber, P/INF Corey Schaaf, P/PH/MGR Jeff Miller, C Pat Schultz, and P Mike Schultz.
There's also a lot of talent not returning, among them some all-time Tiger greats. The list includes Jeff Bruder, Trace Selly, Adam Hoffman, Dan Weldon, Dave Feldt, Jason Krause, and holder of the most hallowed of Tiger records, hot dog eating champ (14, at Green Isle) Erik Tharaldson. And last but not least Manager Johnny Miller, who led the Tigers to back-to-back State Tournament appearances, plus, he taught son Jeff everything he ever knew! Thanks to all for their tremendous contributions over the years. "Once a Tiger, always a Tiger."
You can pick up your season ticket at the gate or at Brad's Barber Shop – the $25 or $50 Dugout Club variety are both available. Tiger baseball – "Watch the Stars Shine in '09!" (Sorry, We Fest.)
2009 Schedule & Promotions Released

The Belle Plaine Tigers town team has released their 2009 schedule, and promotions. The Tigers are coming off back-to-back state tournament appearances, the first time that has happened since making five straight from 1991 – 1995. Jeff Miller will take the managerial reigns from his father, Johnny, who is stepping aside after a successful two-year run.
This year's slate contains up to 35 regular season games, plus playoffs. The regular season & home opener is Friday, May 1, 7:30 pm against the New Germany Dutchmen.
This year's promotions are Dollar Dog Night (May 1), Dollar Beer Night (May 22), Dollar Burger Night (June 5), Little League Night (June 16 – free hot dog to all Little Leaguers), Senior Citizens Day (June 28 – Seniors free admission, plus Ernie Stumpf will provide music), and Fan Appreciation Day (July 21 – free prizes every inning). The wizardly marketing minds have added Pulled Pork Sandwiches Day (June 14), the early leader on a www.bptigertown.com poll for "Favorite Promotion of 2009".
The Tigers will partake in two tournaments this year – their third consecutive trek to the Black Sox Tournament in Freeport & Avon, May 16-17, and the 11th annual Tigertown Classic, June 5-6-7. The field for this year's Classic contains: Belle Plaine, defending champion Blue Earth, Fairmont, Freeport, Le Sueur, Lonsdale, New Germany, and Union Hill.
The Tiger Open Golf Tournament – the team's primary fundraiser along with the Tigertown Classic – will be held Saturday, May 30, at Valley View Golf Club in Belle Plaine. A registration form is available on the team website, but fear not, you will be hearing more about it. "Spaulding, you're playing golf today, and you're going to like it!"
The Tigers will once again be in the River Valley League – Central Division, joined by Henderson, Le Sueur, and Waconia. The playoffs begin on Sunday, July 26.
Season tickets will be available shortly at Brad's Barber Shop. There are two options, both of which include free weekend admission to the Tigertown Classic: a $25 ticket, which gets you a front-row seat to each of the Tigers' 17 home games; or a $50 "Dugout Club" ticket, which also gets you a free hot dog or beverage at every game! (Weigh that against single-game prices of $3 for adults, and $2 for students & seniors. Kids 12-and-under are always free, by the way.)
We will return at the end of the month with a brief Season Preview, touching on the new faces for '09, as well as those who have hung up the cleats. There will also be a special four-page pull-out section on this year's base coaches. If you get itchy before then, however, head to the Tiger website and sneak a peek at the roster page.