Tigers Waylaid by Waterville,
Finish a Game Short of State

--by Brett Kruschke
& Rachel Miller
For the second year in a row, a very good season for the Belle Plaine Tigers came to an end at the hands of the 13-60 League's Waterville Indians in the Region 6C Tournament.
Last year, Team Tigertown led the Indians by a run with six outs to go before falling, 5-4; this year, a pitcher's duel carried a scoreless game into the sixth inning before Waterville broke through and kept the pedal down, 8-0.
Adding to the pain of Saturday's season-ending loss is that the Tigers opened this year's region playoffs with a 5-2 win over this same Waterville squad. But the Indians would once again have the last word.
Of course, each of the last two years also included a region semifinals loss to Jordan – last year, 6-0, and this year – on Tuesday, August 8 – 10-0. In between those contests was a rousing 15-5 triumph over Morristown at Mankato's ISG Field, the first of BP's two games on Saturday – with Waterville the second contest of the day.
One Tiger was taken in the Region 6C draft: Derek Dahlke, to the Blue Earth Pirates.
The Plainesmen took second place in the West Division of the River Valley League, with their 8-4 record trailing only the perennially first-place Jordan Brewers. The Tigers' final record was 16-11 – with the most memorable event an 8-2 win over Jordan to snap its 25-game winning streak over your local nine.
This year is the 100th Minnesota State Amateur Baseball Tournament, and it will be played over the next three weekends in Dassel, Delano, Litchfield, and Waconia. Check out these beautiful ballparks and be sure to follow along at mnbaseball.org and twitter.com/MinnBaseball.
In 2024, Belle Plaine will be under the spotlight as it will host the state tournament with Jordan and Green Isle. You can find us on Facebook at facebook.com/BPJordan2014 and on Twitter at BPJGI2024 – and don't forget the familiar hub, bptigertown.com.
See you at the ballpark next spring!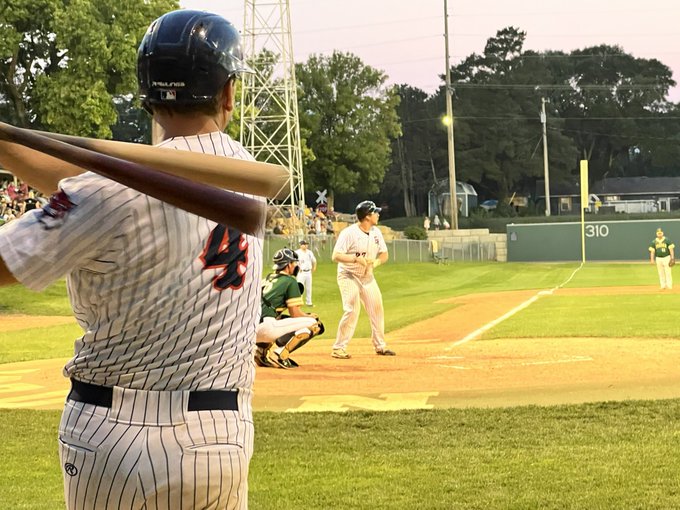 BP 0 @ Jordan 10
(Tuesday, August 8 – 7 innings, Region 6C semifinals)
Jordan was the favorite going into the game, as they have only lost one game out of 26 to the Tigers, and the one loss occurred this season, when the Tigers beat them 8-2 on June 24.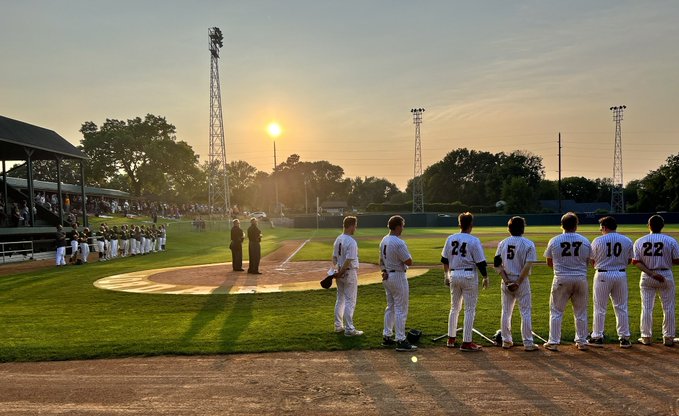 Jordan opened Tuesday night's game by scoring single runs in the first and second innings. The Tigers unfortunately struggled on offense, and never sent more than four batters to the plate in any given inning. They did however, manage to hold the Brewers to a 2-0 lead through the fifth inning.
The sixth, however, saw the Brewers extend the lead with six runs. The inning started good, with the Tigers getting outs on the first two batters. But the game quickly got away from them, and the Brewers would send 11 more batters to the plate before the Tigers nabbed a flyout to end the inning.
The Tigers walked Steve Beckman, and what followed was a hitting marathon, as Brewers Afton Koch, Brandon Arnold, Joe Lucas, Dylan Peterson and Nate Beckman all hit singles. Jonathan Draheim followed up with a double, and the next two batters were walked and hit by a pitch.
The Tigers gave up six runs that inning, including one unearned run, to fall behind 8-0.
The Brewers ended the game early in the seventh via the 10-run rule, as Peterson and Nate Beckman each earned an RBI, and extended the lead to 10-0.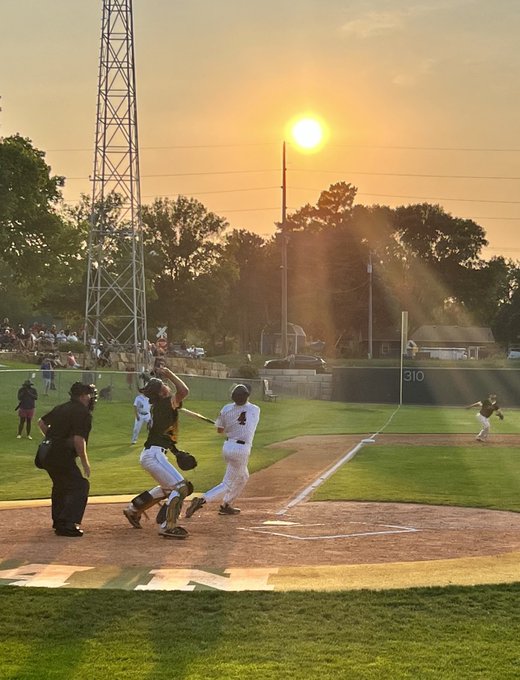 BP 15 vs. Morristown 5 at Mankato
(Saturday, August 12 – 8 innings, Region 6C)
To reach the rematch with the Indians, the Tigers first had to go through Morristown.
This time, the Tigers dominated early, using 19 hits, four walks or hit batters and three errors to earn a big 15-5 win over Morristown early Saturday afternoon.
The Tigers wasted little time, and used hits from O'Brien, Curtiss and Campbell, along with two hit batters, a sacrifice fly from Terrio and a Morristown error to jump to a 5-0 lead in the bottom of the second inning.
Morristown closed the lead to 5-3 after the third, and 5-4 after the top of the fourth, but Belle Plaine responded by quickly pulling away. An error, walk to Terrio, sacrifice from Derek Hoffman and Campbell single helped push two more runs across, extending the lead to 7-3.
The Tigers held Morristown in the fourth, then tacked on four more runs in the bottom of the fourth, largely unearned.
Belle Plaine sent 10 batters to the plate this inning, but only had one hit. Morristown's pitcher was really struggling, and walked six batters for three runs. Hoffman hit an RBI single to score the one earned run.
Now leading 10-4, the Tigers gave up one final run in the sixth to Morristown, but scored once in the seventh and four more times in the eighth to end the game via the 10-run rule.
While the fourth was primarily unearned runs, the eighth was the opposite. O'Brien opened with a double, Ladd and Dahlke sandwiched singles in between a flyout from Curtiss, and Terrio hit a game-winning double.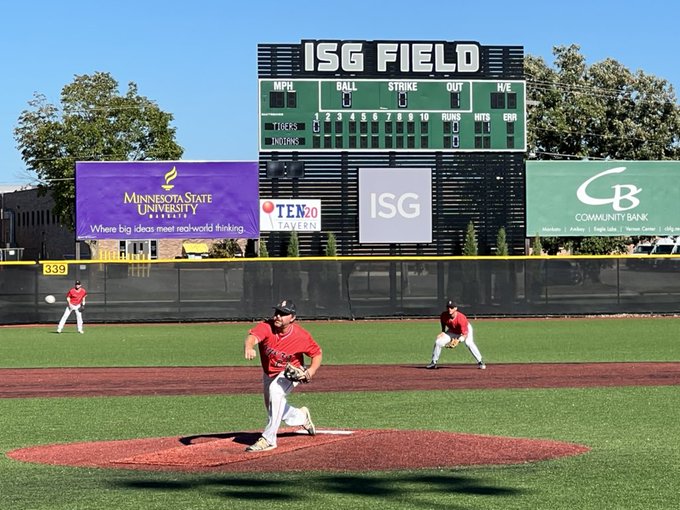 BP 0 vs. Waterville 8 at Mankato
(Saturday, August 12, Region 6C)
The Tigers opened the Region 6C playoffs against Waterville Aug. 5, and earned a 5-2 victory. But Waterville appeared to have learned its lesson and were much tougher in Saturday's rematch. So tough, that the first five innings passed without a single run being scored.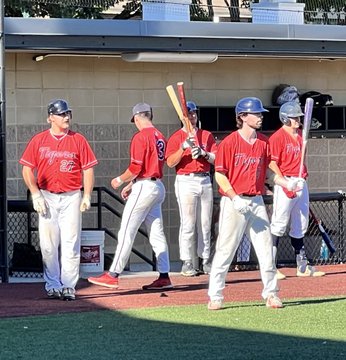 That isn't to say the Tigers didn't try. They came close in the top of the third, as Waterville walked Tyler O'Brien, and gave up a single to Carsen Ladd to put runners on first and second with one out. The hard-hitting Brody Curtiss then stepped to the plate, and a fielder's choice resulted in Ladd being out at second, although Curtiss and O'Brien were safe at first and third. Unfortunately, Derek Dahlke struck out, ending the inning.
The Tigers were in a similar position in the sixth inning, as Dahlke was walked, advanced to second when Josh Terrio was hit by a pitch, and slid into third ahead of the throw on a Derek Hoffman flyout. Terrio stole second, but Jac Campbell struck out looking, again leaving the Tigers one hit shy of scoring.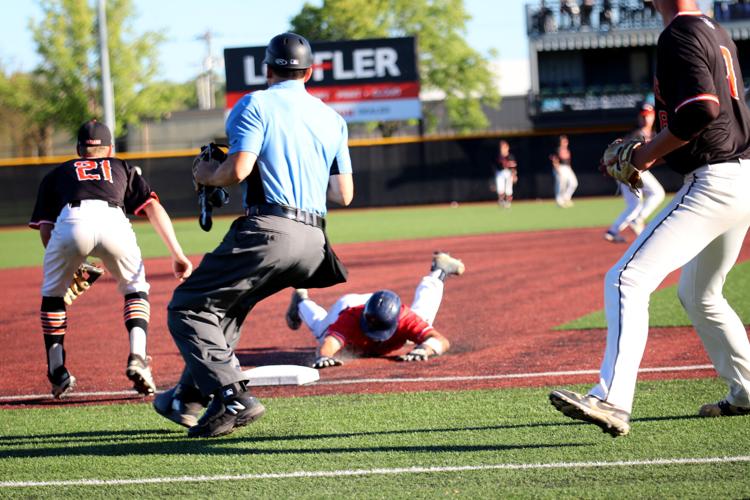 The Indians followed that up by breaking the stalemate in the bottom of the sixth inning. They used four hits, including two doubles and a two-RBI single, a walk and stolen base to take a 4-0 lead.
Waterville went on to score two more runs in both the seventh and eighth innings to secure the win and the #3 seed for the state tournament.
"We are a young team, we have a few things to figure out, but hopefully we can return and make a run next year," Coach Jason Ladd said of his team's performance.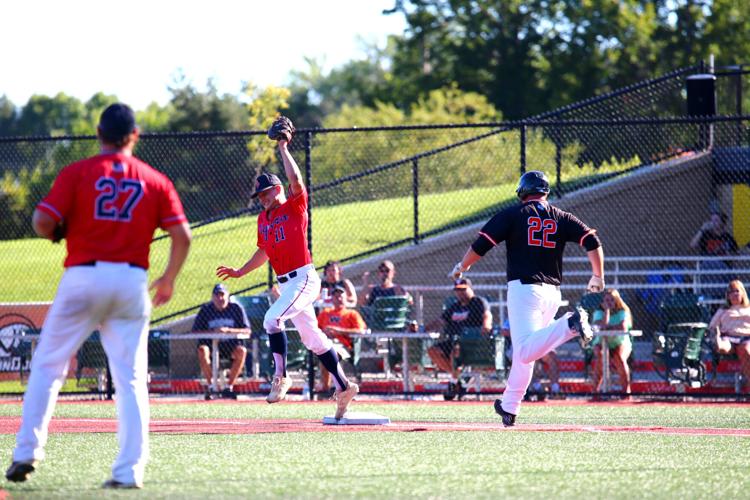 Tigers Top Waterville,
Face Jordan for State Berth

--by Brett Kruschke
The Tigers have slayed some demons this season, so to speak, defeating Jordan for the first time in a decade in June before whisking past Waterville on Saturday – a team that had beaten Belle Plaine in three straight postseason meetings, including ending the locals' season in 2020 and 2022 (5-4 both times).
After Saturday's 5-2 win over Waterville – thanks to three two-out, ninth-inning runs – the Tigers advanced to face Jordan on Sunday at the Mini Met. The full day of games was washed out, however, pushing the game to Tuesday night (August 8).
After 25 straight losses and 3,639 days before it last beat the Brewers, could Team Tigertown slay the dragon for a second straight time this season – which would also clinch a state tournament berth? If you haven't heard the result since reading this, visit "BPTigertown" on the web or social media.
If Belle Plaine won on Tuesday night, it will be playing in Saturday night's Region 6C championship game (7:00 pm) against Blue Earth or Gaylord at ISG Field in Mankato. With a loss, the Tigers will play at 11 am Saturday at ISG Field – and it will need a second win that day, at 4 pm, to make the state tournament.
Since starting the season with a 2-4 record, El Tigre has gone 13-5. Since June 22, the Tigers are 10-3 – with each loss coming by one run (Gaylord, St. Peter, Le Sueur) while outscoring their opponents 99-50.
Belle Plaine's overall season record entering Tuesday's tilt at Jordan is 15-9.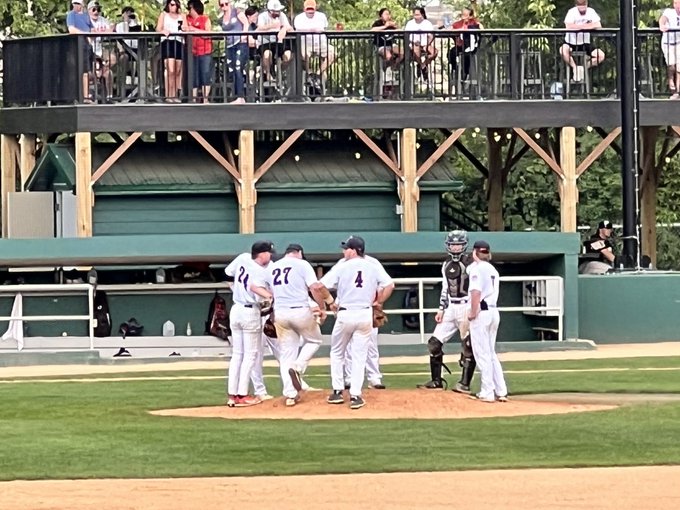 BP 5 vs. Waterville 2 @ Jordan (Saturday, August 5 – Region 6C Tournament)
In last year's season-ending loss to Waterville, the pitching matchup was Indians big left-hander Dalton Grose against BP's big-game ace Brody Curtiss. And so it was once again on this fine afternoon at Jordan's revamped Mini Met.
The Tigers started fast, scoring twice in the first inning. Leadoff hitter Tyler O'Brien doubled and was soon knocked in on a Curtiss single. After Jake Brandenburg plated Derek Dahlke, it was 2-0 for the visiting team according to Jay, the Mini Met's dependable scoreboard keeper for 35 years running.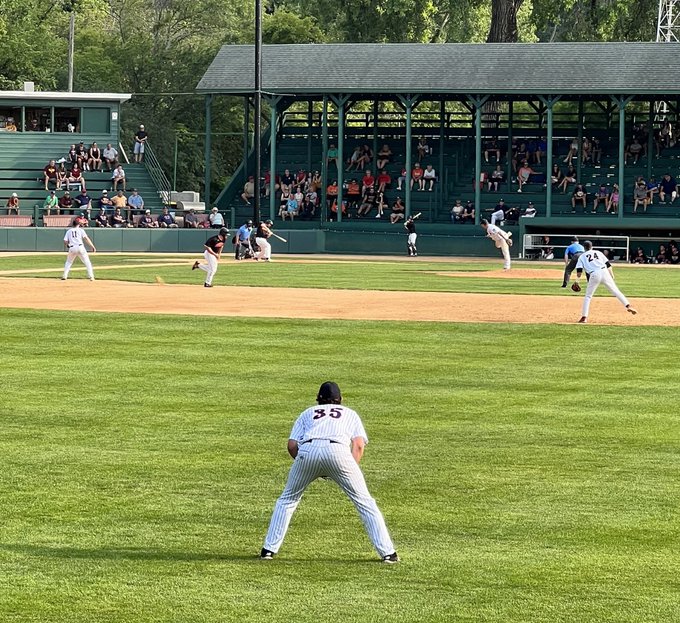 The Tiger Train had six hits through three innings, with right fielder Derek Hoffman keeping Waterville at zero in the scoring column thanks a tremendous run-saving catch to end the third.
The Indians got their first run off Curtiss in the fourth and bagged another in the fifth to tie the score at 2-2. After a mound conference, the Tiger right-hander reached back for a little extra to strand runners at second and third.
Curtiss tossed one more scoreless frame before turning it over to "Every Game" Colton Kerkow, who was once again rock-solid with two scoreless stanzas.
With two outs in the top of the ninth and the score still tied at two, Dahlke delivered a base hit to the outfield. Curtiss advanced to third base, then scampered home just in time as the ball slipped out of the defender's hand as he attempted to throw it.
A Jared Miller triple scored Dahlke, with a Jake Brandenburg base hit pushing the lead to 5-2. Dahlke worked the ninth for his second straight save – and just his second of the year.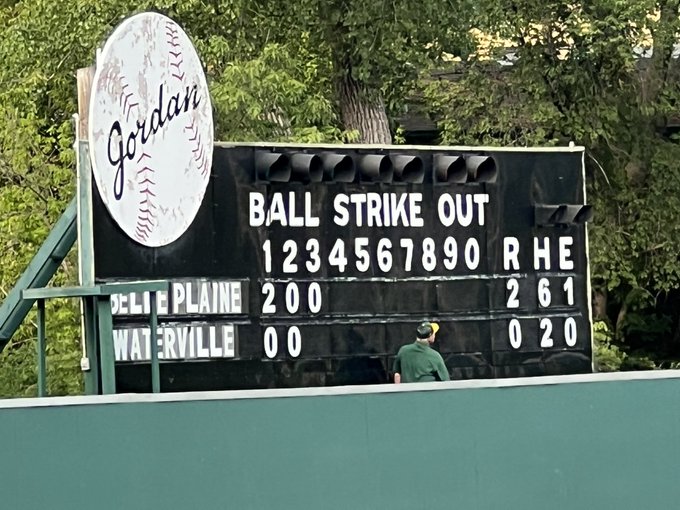 Tigers Advance After
Squeaking Past St. Peter
--by Brett Kruschke
The RVL playoffs were one heck of a roller coaster ride, but at the end of the day, the Tigers found a way to advance to the Region 6C Tournament.
Belle Plaine opened the seven-team RVL West playoffs last Wednesday as the No. 2 seed, but were tripped up in the opening round, 6-5, by the No. 7-seed Le Sueur Braves. That meant the Tigers had to win twice to keep their season alive.
First came a 3-1 win over St. Clair on Friday, followed by a 6-5 nailbiter over St. Peter – after leading 6-0 entering the eighth inning, not to mention escaping the frame with the bases juiced.
Thanks to their No. 2 seed, however, all three of BP's RVL West playoff games came at Tiger Park – an advantage that shouldn't be forgotten.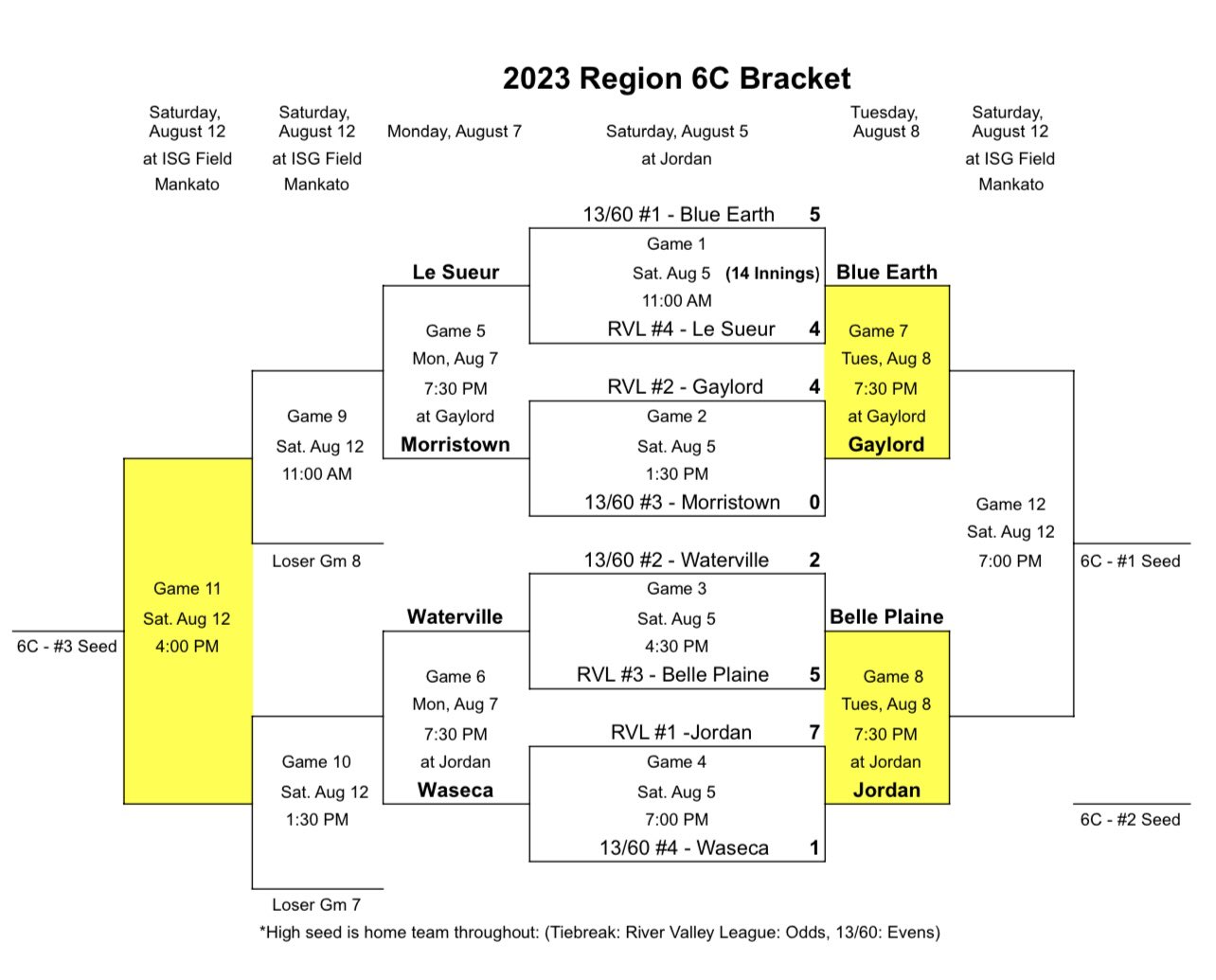 The four RVL teams advancing to the Region 6C tournament are: No. 1 Jordan, No. 2 Gaylord, No. 3 Belle Plaine, and No. 4 Le Sueur. The four 13-60 League seeds are No. 1 Blue Earth, No. 2 Waterville, No. 3 Morristown, and No. 4 Waseca.
Team Tigertown will carry its 14-9 record into Saturday's 4:30 pm matchup against the Waterville Indians at Jordan's Mini Met. Belle Plaine will also play at Jordan on Sunday: with a win on Saturday, at 7 pm against the Brewers or the Waseca Braves; with a loss on Saturday, at 1:30 pm against the aforementioned loser.
Follow @BPTigertown and @RVLBaseball on Twitter for updates throughout the weekend – and don't forget the mothership: bptigertown.com.
The Region 6C Tournament will conclude on Saturday, August 12, with all four games at ISG Field in Mankato. The top three seeds from eight-team Region 6C will advance to the 100th state tournament in Dassel, Delano, and Litchfield.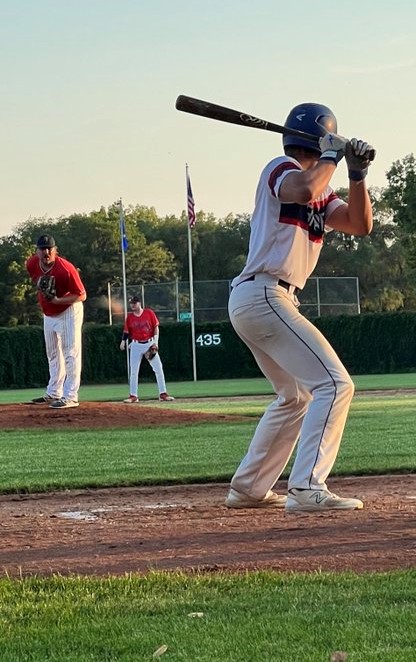 Le Sueur 6 @ BP 5 (Wednesday, July 26)
Brody Curtiss got the ball for Belle Plaine while Mitch Casperson took it for Le Sueur. The Tigertown Express smoked Le Sueur twice during the regular season, 13-4 and 15-5, so they had to be feeling pretty good after taking a 3-0 lead in the second inning when Derek Dahlke, Jared Miller, and Josh Terrio opened the frame with consecutive singles.
The Braves trailed 3-0 after three innings but in similar fashion, they started the fourth inning with four straight hits. Highlighted by a two-run single just inside the first-base bag by Tommy Gupton, Le Sueur snatched a 4-3 lead.
Casperson delivered what proved to be the decisive blow with a two-run double in the fifth inning, which proved to be Curtiss' final frame. Colton Kerkow threw three scoreless innings and Dahkle, one, to keep things at bay.
The BP bats added runs in the fifth and seventh, but couldn't push a sixth run across. The Tigers played error-free ball on the night but were outhit, 15-7. Dahlke, Miller, and Tyler O'Brien each had two hits.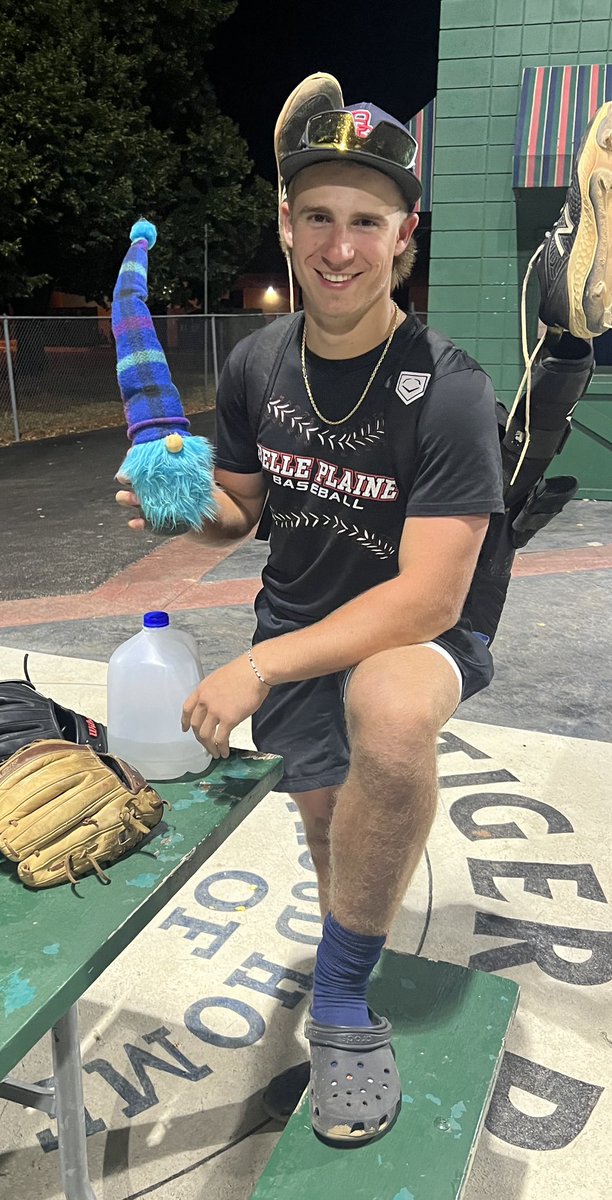 St. Clair 1 @ BP 3 (Friday, July 28)
While the Gray Tigers were rewriting the history books in Le Center, sane people gathered at Tiger Park for some do-or-die playoff baseball. El Tigre had an ace up its old sleeveless jerseys in Hunter Hoen, and the young buck once again delivered a much-needed gem.
Hoen worked 6.1 innings of one-run ball, striking out 11 en route to the win. Kerkow closed things out, and has found that game planning is so much easier when you know you're going to pitch every game. Chalk up save No. 2 for Blakeley's best.
Curtiss contributed the game's biggest hit, a two-run single, while Jake Brandenburg went 2-for-2 with a pair of runs scored.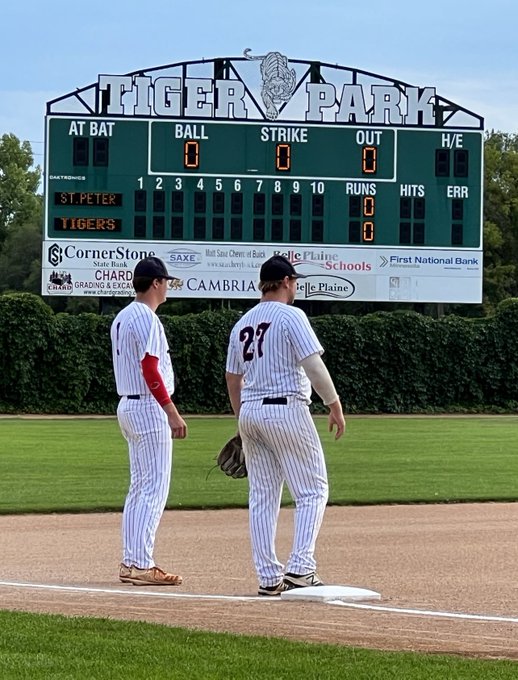 St. Peter 5 @ BP 6 (Sunday, July 30)
The Tigers and Saints split a pair of one-run games during the regular season – a 10-9 BP win at home, and a 4-3 loss at St. Peter – and this one proved to be more of the same high-level drama.
Jared Miller got the call for the locals while St. Peter handed the ball to lanky right-hander Christian Ash, the latter of whom was greeted in the first by a two-run Dahlke double. The Tigers stranded runners at second and third, however – the first of a soon-to-be trend.
The Tiger Train left the bases loaded in the second inning, scoring no runs, and in the fourth frame, when they grabbed a pair of tallies. One of those runs came in on a Dahlke RBI single.
The striped warriors took a 6-0 lead in the sixth when – guess who? – Derek Dahlke, delivered his third circuit clout of the season, a two-run shot.
Jared Miller was on cruise control and carried a shutout into the eighth inning when, after starting the inning with a routine 6-3 groundout, the Saints suddenly got religion. It went like this: error, walk, hit batsman, hit batsman, single – and a pitching change, Kerkow for Miller. After Kerkow's first batter walked with the bases loaded, Dahlke was summoned to put out the fire.
After a strikeout, Josh Robb ripped a two-run single to cut the Tiger lead to 6-5. After another St. Peter single, a bases-loaded strikeout finally ended the inning – but not before the Saints scored five runs while sending 11 men to the plate.
Dahlke allowed a one-out single in the ninth but struck out the side, allowing Tiger fans to exhale, survive and advance.
Tigers Open Playoffs with Pair of Home Games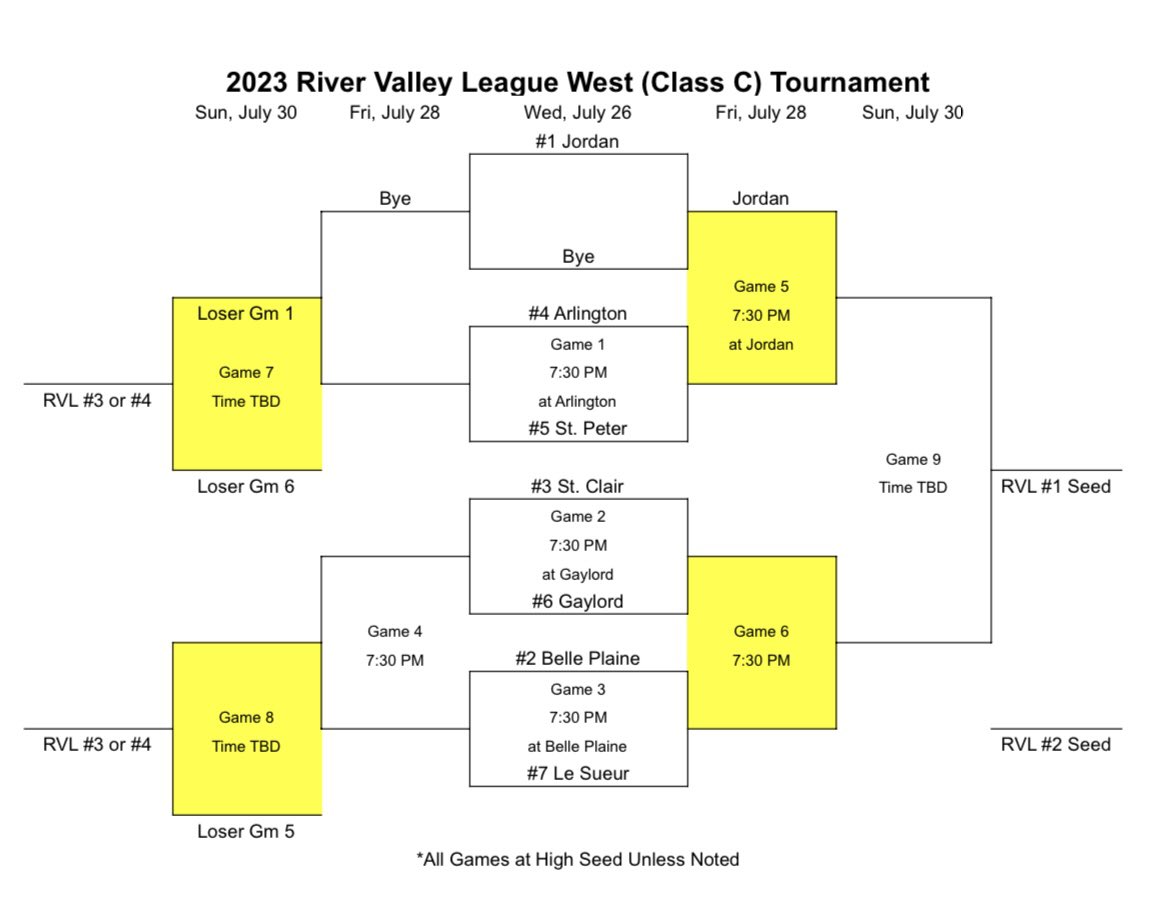 --by Brett Kruschke
The Town Tigers closed out the regular season last weekend with two narrow league wins, over Arlington and Le Sueur, securing the No. 2 seed in the RVL playoffs – and a pair of home games.
The first contest is tonight, on Wednesday (July 26), as the No. 7-seed Le Sueur Braves will visit Tiger Park at 7:30 pm. Win or lose, the Tigers will play at home again on Friday at 7:30 pm, against either No. 3 St. Clair or No. 6 Gaylord. (The high seed is the home team through the double-elimination RVL playoffs.)
Sunday is the final day of the RVL West (Class C) Playoffs; those games are scheduled for 6 pm unless the home team doesn't have lights. Check "RVLBaseball" on Twitter for an update.
The top four teams from this playoff will advance to the Region 6C Tournament, which begins August 5, and is joined by four teams from the 13-60 League. The RVL West playoffs have seven teams instead of eight, it should be noted, since the Henderson Tigers folded earlier this season.
The Tigers will carry a 12-8 record (8-4) into the playoffs. The final RVL standings: Jordan 11-1 (only loss to the Tigers), Belle Plaine 8-4, St. Clair 7-5, Arlington 5-7, St. Peter 5-7, Gaylord 3-9, Le Sueur 3-9.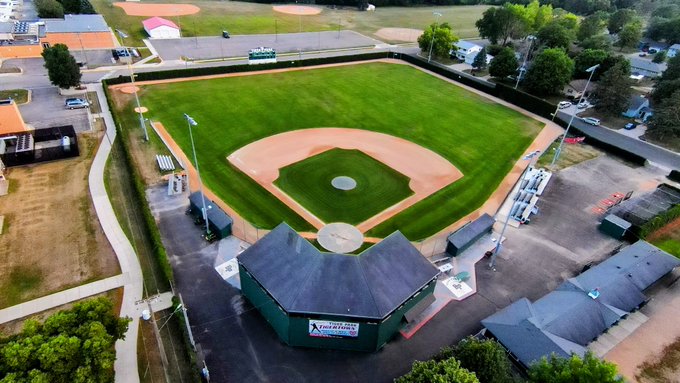 BP 5 @ Gaylord 3 (Friday, July 21)
The Tigers came into Friday's game at Gaylord seeking revenge for a 3-2 setback on June 29 – a game that began on June 18 but was suspended due to rain. On this fine night, however, both teams picked up two runs and two hits in an eventful first inning at Walsh Field.
Brody Curtiss started and didn't allow another run over the next six frames, finishing with 7.0 innings pitched and 10 strikeouts to pick up the win. Colton Kerkow swooped in for the save, tossing two scoreless frames with a pair of punchouts.
Hitting heroes for Team Tigertown were Carsen Ladd, who collected three hits in four trips, and Curtiss, who helped his own cause with a pair of safeties.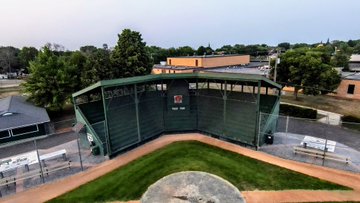 Arlington 3 @ BP 4 (Sunday, July 23)
The background for the regular-season finale between the A's and Tigers is that Belle Plaine dropped a 20-spot on Arlington in a 20-5 win on June 25. Coach Reichenbach, one of the fine young minds in the RVL, had his lads ready for the road rematch.
The A's started Lucas Dorton on the hill while the Tigers countered with rookie fireballer Hunter Hoen, the latter of whom tossed three scoreless innings – with just one hit allowed – before departing.
The Tiger Train scored runs in the first and second innings to carry a 2-0 lead into the fourth, when reliever Derek Hoffman was touched for a run. Jared Miller started the fifth and also gave up a tally, tying the score at 2-2. Miller, however, followed with three scoreless stanzas before giving the ninth to his brother, Josh Terrio.
Arlington nicked Terrio for a run to tie the score at 3-3. In the bottom of the ninth, Tyler O'Brien soon delivered a game-winning, walk-off single to send the fans home happy.
O'Brien was one of four Tigritos with multiple hits; he was joined by Miller, Derek Dahlke, and Jake Brandenburg.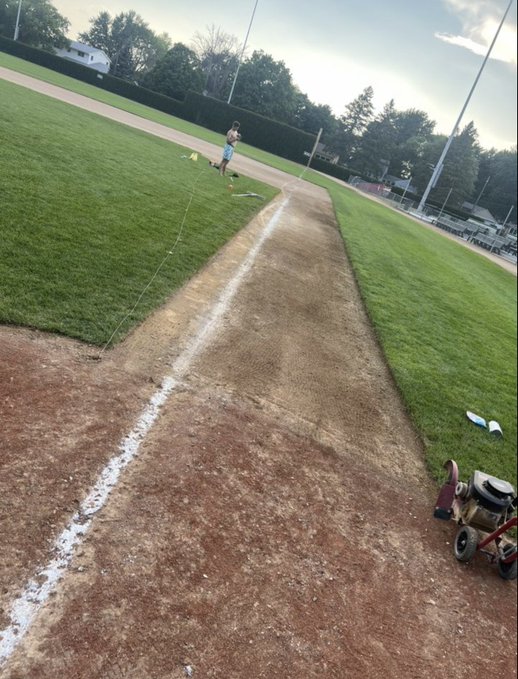 Tigers Angling for No. 2 Seed in RVL Playoffs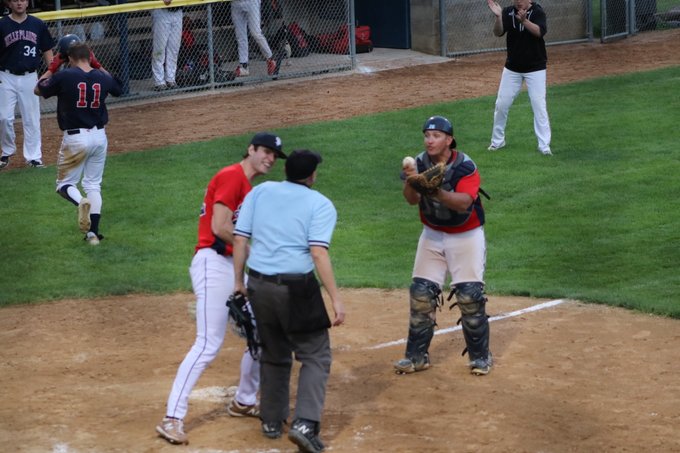 --by Brett Kruschke
It was a quiet past week for the Tigers – last playing on July 11 while taking Bar-B-Q Days weekend off – but the playoff storm is fast approaching on the horizon.
Belle Plaine's ninth-inning blown lead loss to St. Peter on July 11 means that, while still in the driver's chair for the River Valley's No. 2 playoff seed, there is work yet to be done.
Jordan sits atop the RVL C teams at 9-1, while Team Tigertown is 6-4 (10-8 overall). Arlington, St. Clair, and St. Peter are all 5-5, while Gaylord is 3-7. Le Sueur is bringing up the rear at 2-8.
The Brewers will be the No. 1 seed in the playoffs that start on July 26, and the Islanders and Braves will sort out the 6-7 seeds this weekend. The other four teams will fill in spots 2-5, pending the results of this final weekend of ball.
Tonight's home game against Victoria has been cancelled, as the Vics had to squeeze in a Section 3B game here in the regular season's waning days. It will not be rescheduled.
The Tiger Train will work on the playoff seeding assignments first on Friday, when it travels to Gaylord for a 7:30 pm affair. Sunday will close out the regular season with Arlington paying a visit to Tiger Park at 6:00 pm – on Fan Appreciation Night, with drawings held throughout the game.
Keep up with the Tigers at bptigertown.com and on Facebook and Twitter by the same handle. And follow the RVL playoff seeding picture at Twitter.com/RVLbaseball.
BP 3 @ St. Peter 4 (Tuesday, July 11)
Hunter Hoen got the starting nod, coming off his previous stellar appearance against Gaylord when he struck out 11 batters over 6.0 innings of one-hit, shutout-ball. The young right-hander was good once again, giving up two runs in 5.2 innings of work.
Colton Kerkow came on in relief and carried a 3-2 lead into the ninth inning. That's when things unfolded in nightmare fashion, as the Saints went walk, sacrifice bunt, an RBI double, a Tiger error, and a walk-off sacrifice fly for the 4-3 comeback win.
The Tigers outhit the Saints, 5-4, but committed a whopping five errors while St. Peter had none.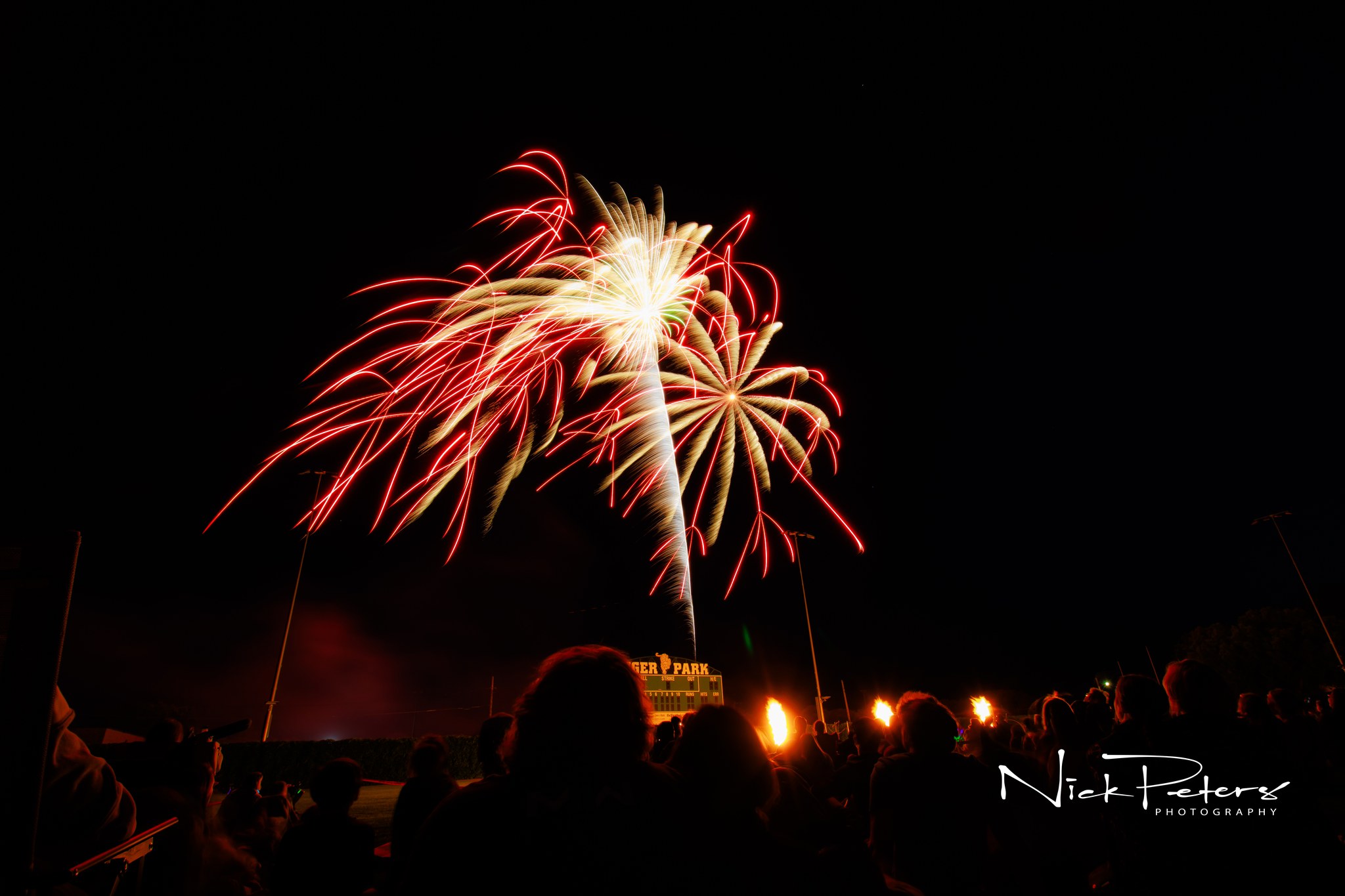 Tigers 10-Run Pair of RVL Foes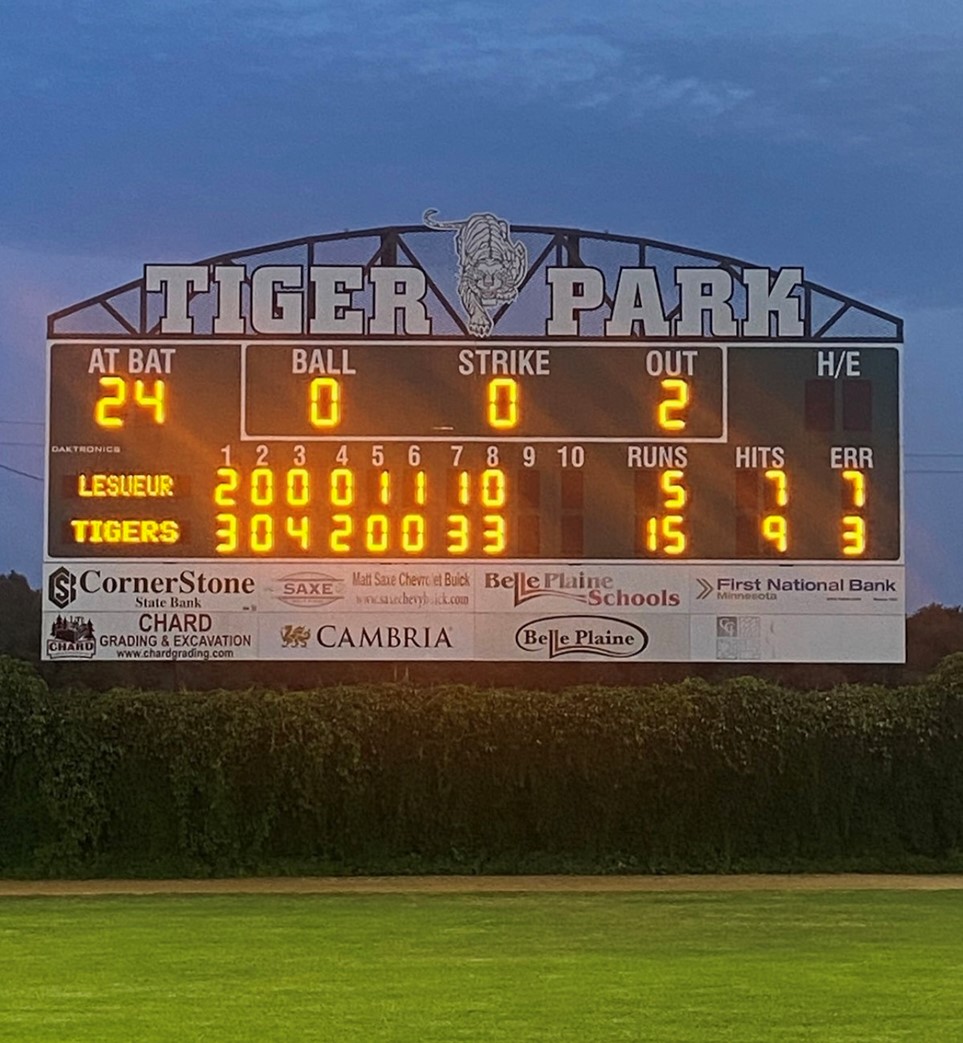 --by Brett Kruschke
Just in time for Bar-B-Q Days fireworks, the Belle Plaine bats are booming. The town Tigers, which have won five of their last six games, ten-runned a pair of River Valley League opponents last weekend.

On Friday, BP bested the Le Sueur Braves, 15-5 in eight innings. Sunday saw more of the same at St. Clair, drubbing the Wood Ducks, 14-3 in seven frames.

The Growlers were at St. Peter last evening (July 11); check your BPTigerTown social media channels for details.

Jordan, as per always, sits in first place with an 8-1 record (18-2 overall) while Team Tigertown ranks second at 6-3 (10-7). The rest of the RVL C standings: Arlington 5-5 (8-8), St. Clair 4-5 (5-5), Gaylord (6-8) and St. Peter 3-5 (5-6) with Le Sueur at 2-7 (2-14).

El Tigre is off for Bar-B-Q Days weekend with the next scheduled game on July 19 against Victoria -- but that game has been cancelled. It's possible a new opponent may be found so stay tuned. Otherwise, the regular season will finish with a roadie at Gaylord on July 21 and Fan Appreciation Night at Tiger Park (vs. Arlington) on July 23.

Le Sueur 5 @ BP 15 (Friday, July 7 - 8 innings)

The Braves struck for a couple of first-inning runs off starter Colton Kerkow but after responding with three tallies in the home half of the first, the Tigers wouldn't trail again.

Belle Plaine's "fight at the bat rack" meant multiple runs in five different frames: the first (3), the third (4), the fourth (2), with three runs in the seventh and eighth to enact the 10-run rule.

Kerkow got through three more innings without further damage and picked up the win, striking out five. Lucas O'Brien and Matt Johnson closed up with two stanzas each, with "OB" allowing two runs and Johnson one.

The big guns of the game were Carsen Ladd, who went 4-for-6 with three RBI, and Brody Curtiss, who knocked home four runs behind a 2-for-3 showing.

BP 14 @ St. Clair 3 (Sunday, July 9 - 7 innings)

With these recaps coming to you from Max Kepler land, artificial intelligence articles can't be far behind. All that the Information age, a seven-hour time differential, and newspaper deadlines could produce was that Curtiss' standout performance on the mound earned him the Busch Latte "Player of the Game" honors by the Wood Ducks themselves.

And as Baron von Raschke used to say, "And that is all the people need to know!"
Gaylord Grounds Tigers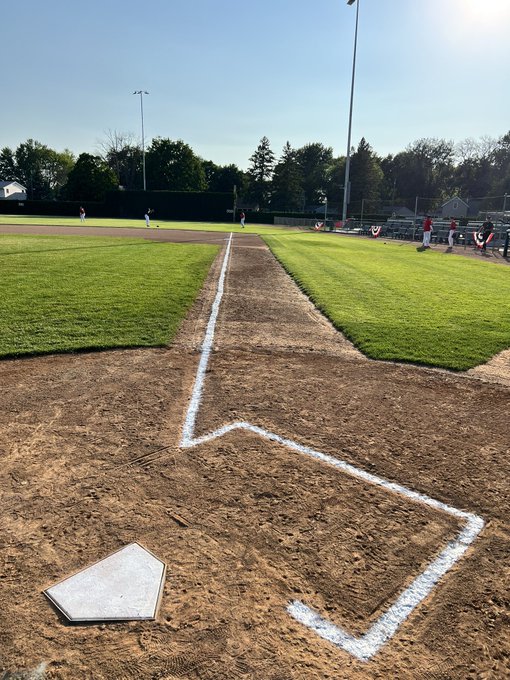 --by Brett Kruschke
The Belle Plaine Tigers were cooled off by the Gaylord Islanders in their final game before extended time off for Independence Day Weekend, falling 3-2 on June 29 in the resumption of a previously suspended game. That ended Tigertown's second three-game winning streak of the season, dropping their record to 8-7 overall and 4-3 in River Valley League play.
The well-rested locals will return to action on Friday (July 7), as the Le Sueur Braves pay a visit to Tiger Park with a 7:00 pm start time. The game is sponsored by RTL Construction, which will provide a free hot dog, chips, and pop for all fans in attendance!
On Sunday, the Tigertown Express will visit St. Clair for a 4:00 pm RVL tussle. And on Tuesday, the Tiger Train will trek to St. Peter – first pitch, 7:30 pm.
Stay in touch with all things Tigers at bptigertown.com, and by the same handle on Facebook and Twitter.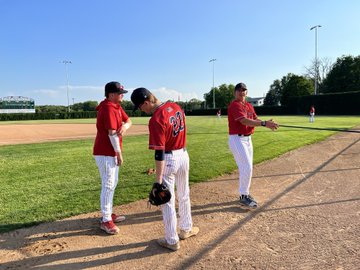 Gaylord 3 @ BP 2 (Thursday, June 29)
The Tigers came into the Gaylord game with a full head of steam in the form of a three-game winning streak, having scored 20 runs in their most recent game, against Arlington. So, #BecauseBaseball, of course the Tigers could hardly scratch out a hit or run against the RVL basement-dwelling Islanders.
This game originally began on Sunday, June 18, but was suspended after 2 1/2 innings due to rain. Gaylord got a three-run homer from Sam Ebert, giving it a 3-1 lead. The homer came off of Jack Kruger, who was replaced in this game by youngster Hunter Hoen, who began the original game as the third baseman.
Gaylord's Jake Schmidt, a young yet crafty lefty, was terrific in working seven innings of one-run, two-hit ball with eight punchouts. Though the winner, he was outdone by Hoen.
The young Tiger right-hander loaded the bases in his first inning – the fourth – but wriggled out of it, striking out the side when he retired leadoff hitter Collin Grams. Hoen completed the game and didn't face more than four batters in an inning the rest of the way, while also striking out the side in the eighth.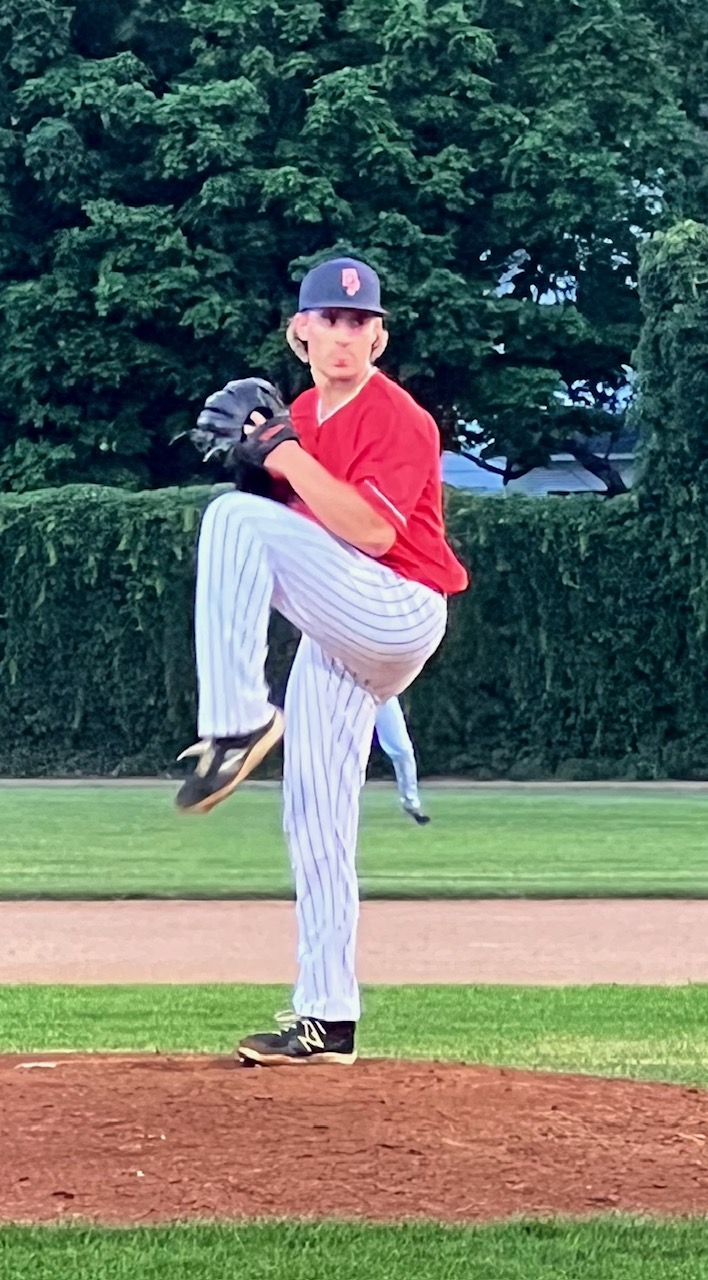 Hoen's final line was six innings pitched, one hit and zero runs allowed, with 11 strikeouts.
Jac Campbell, who drove in the first run of the game on June 18, drove in the second on a bases-loaded walk in the sixth. The T-Train left the bases loaded that inning, however.
The Plainesmen were mostly quiet the rest of the way, but put the tying run in scoring position with two outs in the ninth. Derek Dahlke hit a ball on the screws but right at the Gaylord center fielder in deep left-center.
Carsen Ladd and Brody Curtiss joined Campbell in claiming Belle Plaine's three measly hits.
Tigers Snap Streak vs. Jordan,
Drop 20 Runs on Arlington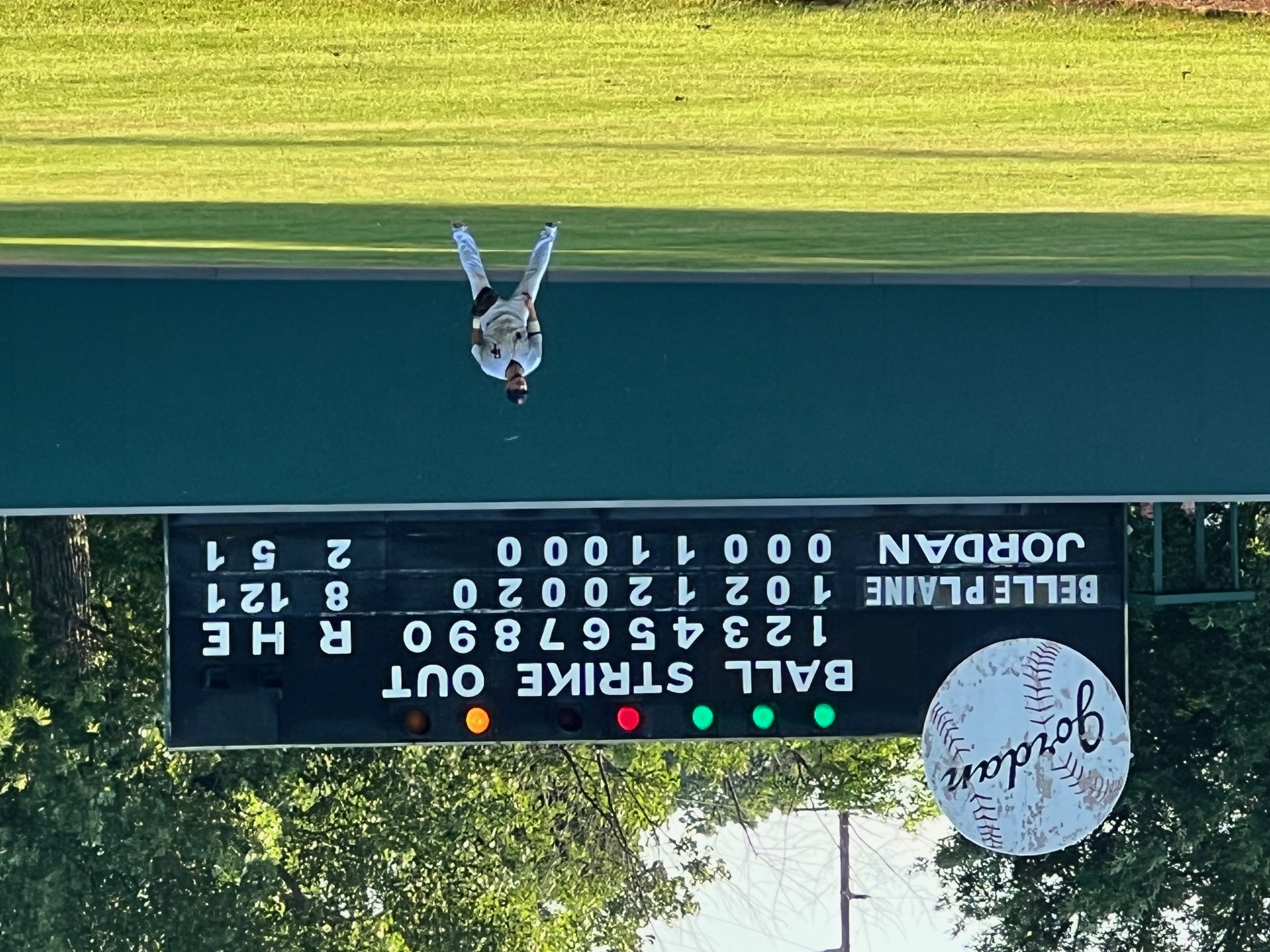 --by Brett Kruschke
It was a very good week to be a Tiger. One of the best weeks in years, in fact, thanks to three impressive victories: a ninth-inning comeback over Cologne, a historic streak-ending gorilla off the back at Jordan, and a 20-run explosion at Arlington.
Heck, even the Gray Tigers (35-and-older team) grabbed their first win of the season on Saturday over the Jordan Millers, 3-2, setting the stage and softening up Jordan fans for the town-team triumph to come. 😊
After a 1-2 start in River Valley League play, three straight league wins bumps the Tigers to 4-2 and a second-place standing. Jordan is 8-1, while every other RVL C team is below .500: St. Clair (3-4), Arlington (3-4), St. Peter (3-4), Le Sueur (2-4), and Gaylord (1-4), with Henderson having folded.
The Tiger Train, 8-6 on the season overall, will have to climb out of a hole on Thursday when the Gaylord Islanders visit to resume a suspended game from June 18. The Tigers are trailing 3-1 and will be coming to bat in the third inning. This rescheduled game will begin at 7:30 pm and has bumped the originally scheduled New Germany Dutchmen; a makeup date is being sought.
After Thursday's game, the Plainesmen will celebrating American freedom until Friday, July 7, when the Le Sueur Braves stop by at 7:00 pm to kick off the home stretch of the regular season. The game promotion is a free hot dog, chips, and pop for every fan, courtesy of RTL Construction.
Cologne 8 @ BP 9 (Thursday, June 22)
Cologne, famous for their cheese-curd shack, made its "whey" to Tiger Park, with Lucas O'Brien getting the ball from field manager Jason Ladd for his first mound start of the season. "LOB" got off to a notorious start, with the first four Hollanders collecting singles en route to two first-inning tallies.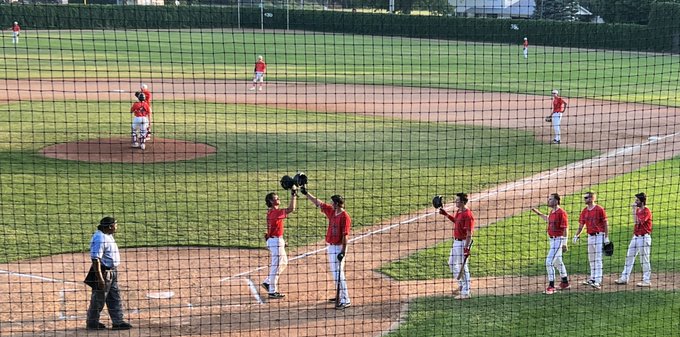 The BP boys scored 1-2-2 in the first three innings, highlighted by the first career town-team homer for catcher Jake Brandenburg – a "Brandy Bomb," if you will (or even if you won't), over the left-field wall in the second inning.
The Tigers led 7-2 until Cologne scored three runs in the sixth to narrow the gap. Neither team scored again until the ninth, which began with a 7-5 Tiger lead. But Carter Clemensen clobbered a three-run, no-doubt blast over the wall for a stunning 8-7 Hollanders lead.
Jared Miller yielded the seemingly fateful long ball, but with one out he doubled into the left-field corner and after a couple of wild pitches, he scampered home with the tying run. Brandenburg walked, stole second base, then raced home on Derek Hoffman's game-winning single, a slicer to left field.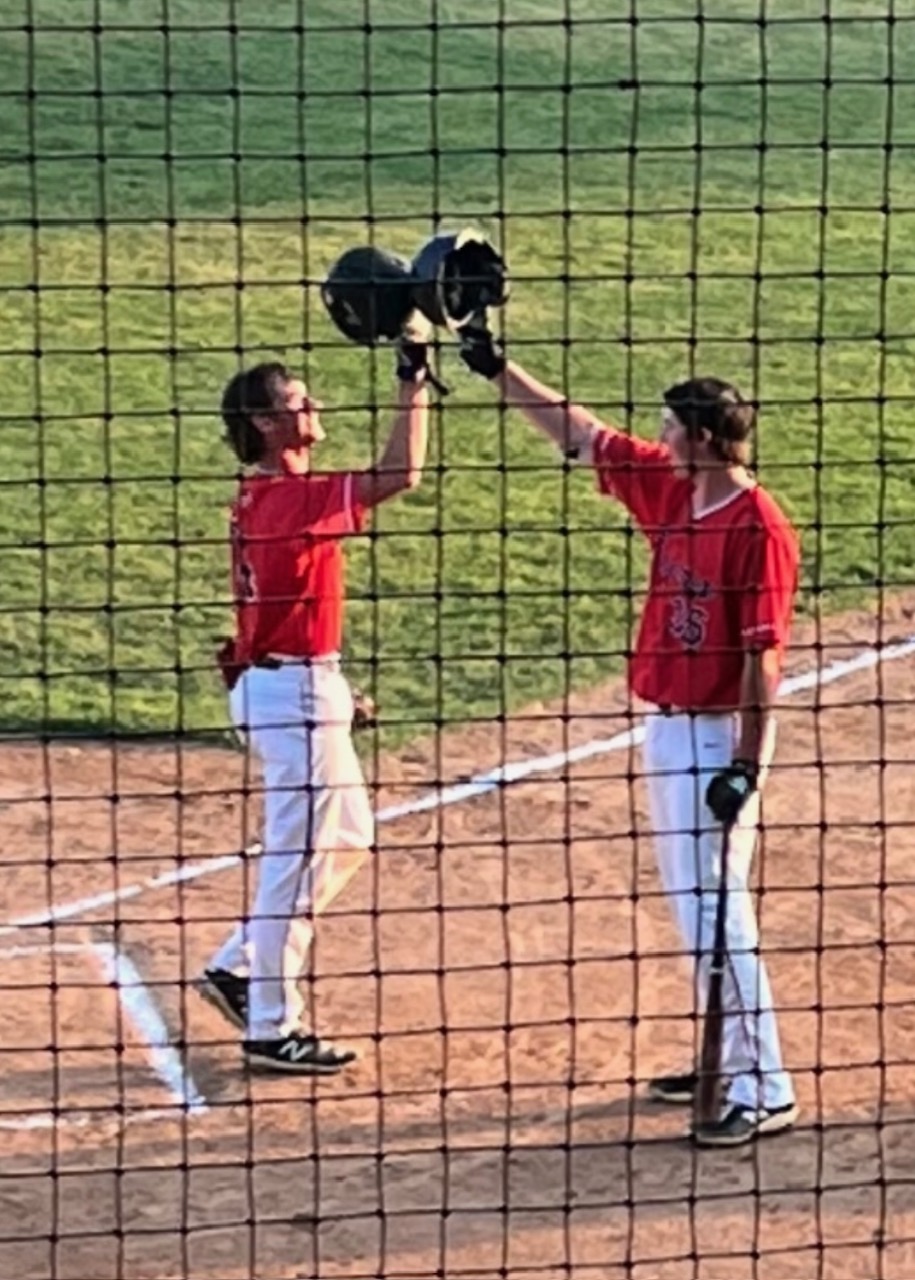 Hoffman led the way offensively with a 3-for-4 effort and three RBI, while Brandenburg went 2-for-4 with three RBI and a home run. Brody Curtiss and Tyler O'Brien both notched multiple hits.
BP 8 @ Jordan 2 (Saturday, June 24)
As KFAN radio's Dan "The Common Man" Cole likes to say, "I'm not proud of my past but I don't run from it." Belle Plaine entered Saturday's assignment at Jordan with 25 consecutive losses to the Brewers, dating back to July 7, 2013 – a 7-2 win for a Tiger team that made it all the way to the state championship game later that season. Ryan Diers dominated on that night, throwing seven no-hit innings before being removed (he had seven strikeouts but also seven walks).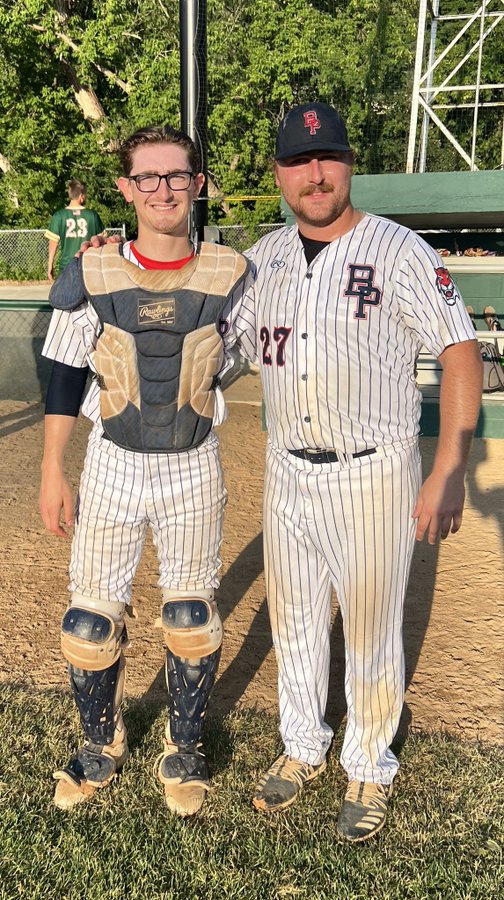 The losing streak could have earned a silver anniversary patch for Jordan's "Day of Baseball," with three games on tap for the day, having reached a pride-crushing 25 consecutive games. And let's be honest: not too many of them were very close.
Adding to the challenge was Jordan carrying a 15-0 record (8-0 RVL) into the contest, probably underrated at No. 3 in the latest MBA state rankings. But Brody Curtiss said give me the ball, and let's see what happens – with his catching brother, Garrett Boblitt, on the receiving end.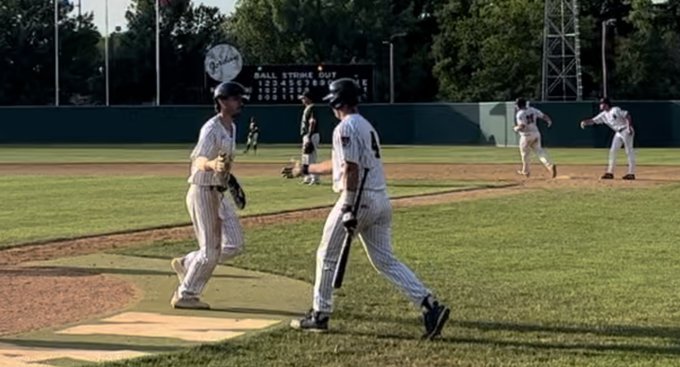 Former Chanhassen Redbird Tommy Thompson started on the hill for Jordan, but Belle Plaine broke through in the first inning on Derek Dahlke's RBI single to score Carsen Ladd – although runners were stranded at second and third. Miller then delivered a two-out, two-run single in the third for a 3-0 BP lead.
In the fourth, Tyler O'Brien rolled a double to the left-field wall for a 4-0 advantage. When Jordan got its first run of the game off Curtiss in the bottom of the fourth, Colton Kerkow, the Tigers' No. 9 stick, responded top five with the biggest hit of his town-team career: a two-run double that toasted the center fielder, a momentum-securer (beyond a shifter) that for all practical purposes, was the dagger.
Although Curtiss gave up another run in the fifth, he wouldn't be touched again in completing the seemingly impossible: a streak-ending, complete-game five-hitter to slay the beastly Brewers.
After a scant 3,639 days – yes, really – the Tigers finally reined victorious once again over their Highway 169 "rivals," the Jordan Brew-ha-has.
BP 20 @ Arlington 5 (Sunday, June 25)
Sunday night at Arlington, after the home-team grounds crew dried out a wet field, was a classic opportunity for a let-down game. Instead, the Tigers kept their foot on the gas pedal with a five-run first inning – the highlight being Jake Mercado's first long ball of the year.
The A's chipped away at the lead and cut their deficit to 7-5 after four innings. That's as close as the A-Train would get, as a game still within reach through the middle innings was put out of its misery in the latter stages, with four BP runs in the eighth and six more in the ninth.
Tiger pitching was divided up as such: Kerkow 2 IP, Boblitt 3 IP, Dahlke 3 IP (and the win), Lucas O'Brien 1 IP. Meanwhile, the hitting heroes were many: Curtiss went 4-for-6 with two doubles and four RBI; Carsen Ladd went 3-for-5 with a double and three RBI; Tyler O'Brien was 3-for-6; Miller smacked two doubles with three RBI, and Mercado went yard.
The 20 runs scored by the Tigertown Express was their most in a game since a 25-10 win at Henderson on May 31, 2009, which featured home runs by established sluggers Pat Schultz and Brad Lawson.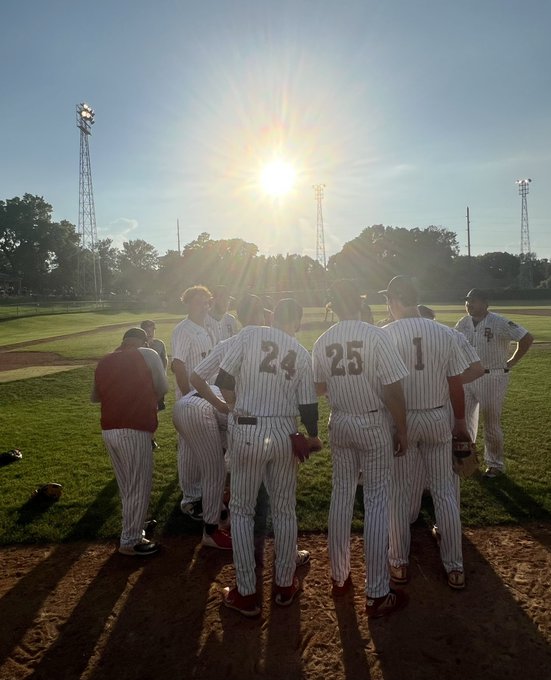 Tigers Set to Stray from Den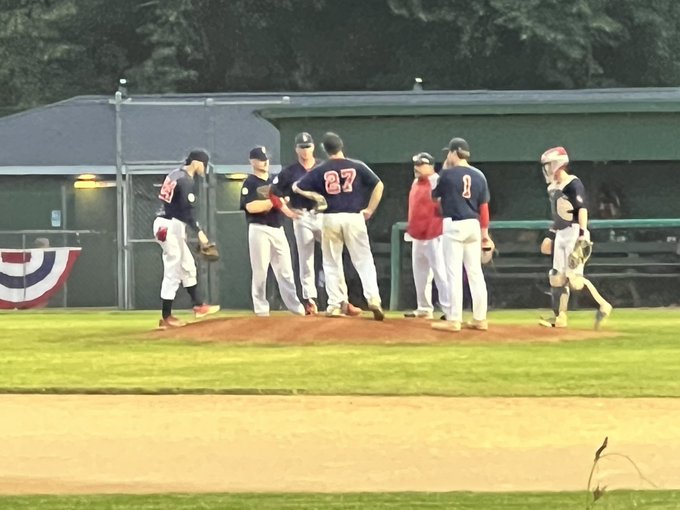 --by Brett Kruschke
After a busy time at the Tigertown Classic, the normal pace of ballgames resumed this past weekend.
The Tigers hung with Plymouth on Friday until the seventh when Hitdawg turned it on late to secure a 10-run triumph. On Sunday, Gaylord led 3-1 after 2 1/2 innings when rain forced a suspension of the game. A makeup date is still being finalized, but more music from the Trinity Trio will have to wait until next year.
Belle Plaine's sixth consecutive home game will take place on Thursday when the Cologne Hollanders stop by at 7:30 pm. Edina Realty & Edina Realty Mortgage are sponsoring the game and will be handing out free root-beer floats, as usual, plus a few prize giveaways – including a pair of Minnesota Twins tickets!
The Tiger Train will hit the road on Saturday – finally – as part of Jordan's "Baseball Day" schedule. The Gray Tigers will soften things up at 3:00 pm with the Tiger town team slated to follow at approximately 5:00 pm. (The way things have gone for the Grays this season, finishing up in under two hours shouldn't be a problem.)
Team Tigertown will keep the RVL show on the road on Sunday night when they visit the Arlington Ball Park to take on the A's at 6:00 pm.
Keep up with your favorite ballclub at bptigertown.com and on social media, namely Facebook and Twitter. About halfway through the regular-season schedule, El Tigre owns a 5-6 record (2-2 RVL).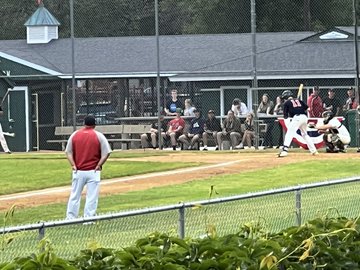 Plymouth Hitdawg 12 @ BP 2 (Friday, June 16 – 8 innings)
The Plymouth Hit Dawg came into Friday's contest fresh off a 27-hit, five home run, 27-0 victory over an MBA team now safely under the Witness Protection Program. Belle Plaine knew little about its opponent other than that the challenge would be stiff.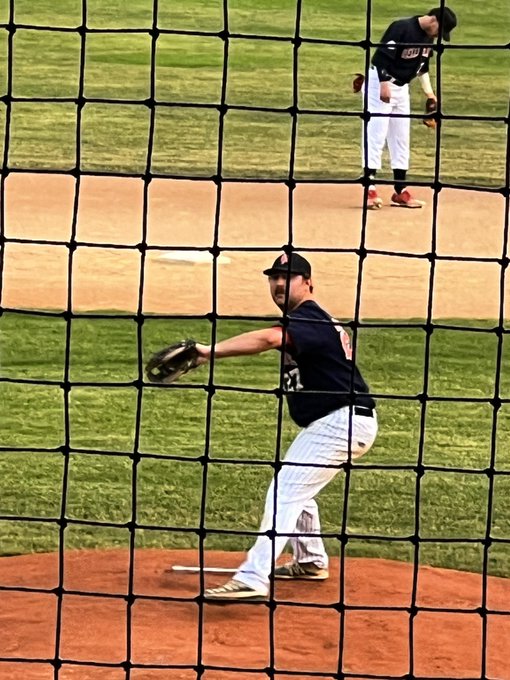 Behind starting pitcher Brody Curtiss, the Plainesmen held a 1-0 lead after two innings – with the lead coming courtesy of Curtiss and a first-inning RBI triple.
Plymouth took a 2-1 lead in the third but Belle Plaine responded with a run to tie the score. In the fourth inning, the Hit Dawg's Lane Vugtuveen blasted a three-run shot over the right-field wall for a 5-2 advantage.
Curtiss finished up with goose eggs in the fifth and sixth innings before turning it over to the bullpen. Plymouth was none too kind to Jake Mercado and Matt Johnson, however, adding seven runs to their tally over their final two at-bats.
The Tigers collected just three hits, with Carsen Ladd and Tyler O'Brien also contributing to the cause.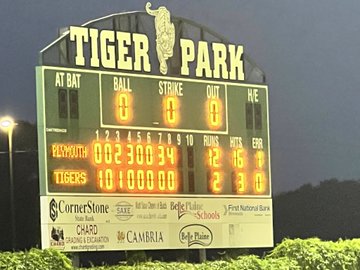 Tigers Show Well at Classic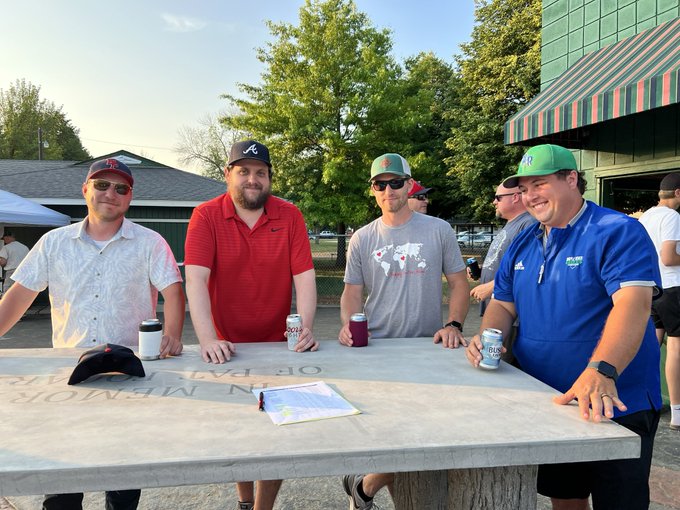 --by Brett Kruschke
It was a busy weekend of baseball at Tiger Park, with 10 games over three days – including a lengthy rain delay on Saturday – at the 24th Tigertown Classic tournament. But all in all, things went well.
The Marshall A's, who escaped by the skin of their teeth against the Belle Plaine Tigers in a 5-4 semifinal win, also edged the Minneapolis Mudcats by a run Sunday for their third-ever Tigertown Classic title (2010, 2011). Marshall never led in the game until Logan Tomasek's two-run single in the eighth (extra) inning produced a 7-6 walkoff victory. The Mudcats, meanwhile, lost their second straight Classic title game by one run.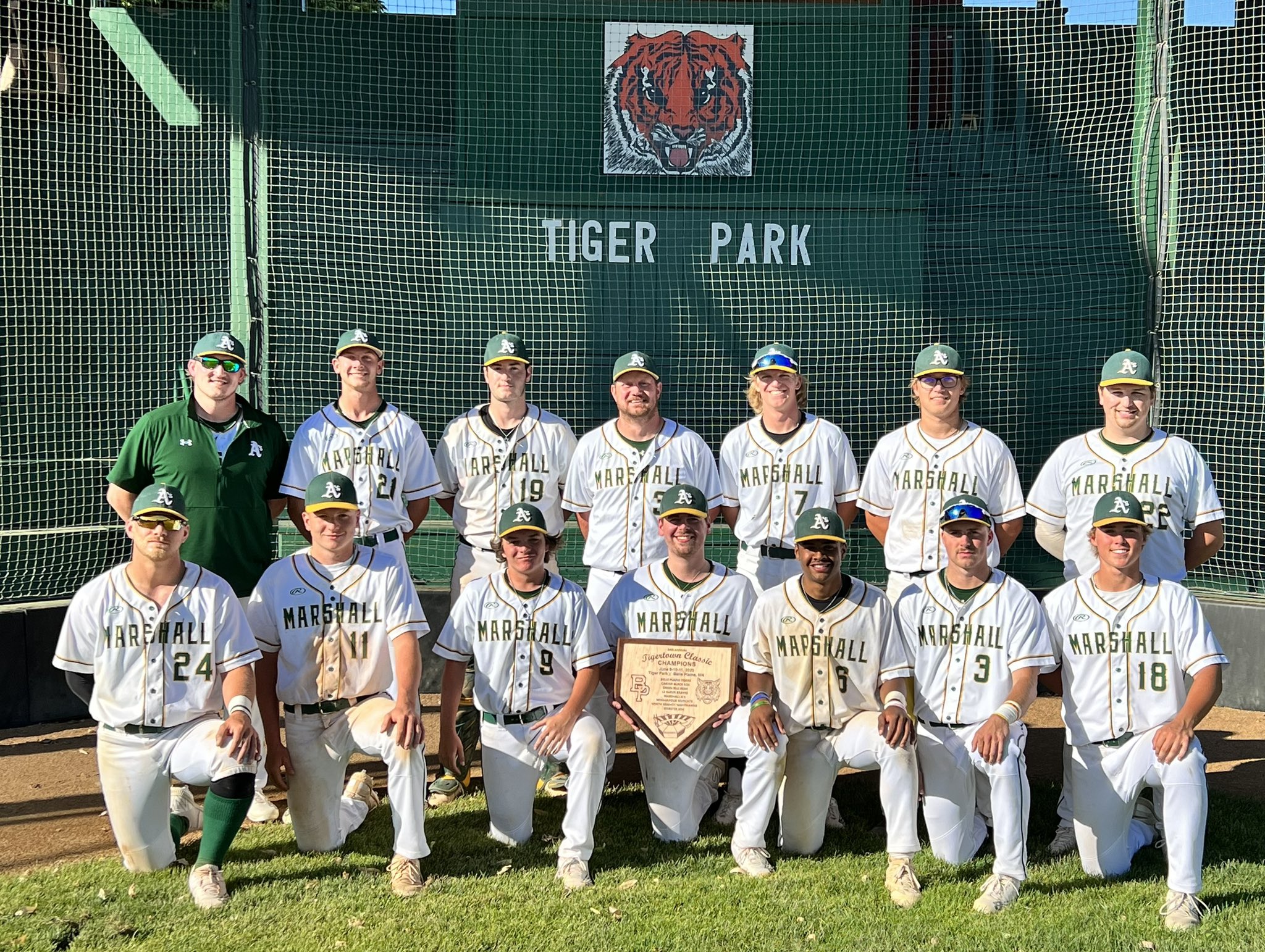 Your host Tigers opened the tourney on Friday night with a crisp 6-1 triumph over the Green Isle Irish, but because the Classic isn't true double elimination, they bowed out after Saturday's semifinal loss.
Last Tuesday, June 6, Team Tigertown had a tight game turn in their favor as they clipped St. Peter with a walkoff victory of their own, 10-9. Details are available below and at twitter.com/bptigertown, where the full weekend of baseball was documented in text, photo, and video form.
Please note: the home game against Union Hill has been cancelled and will not be rescheduled.
Also, it was announced last week that the River Valley League's Henderson Tigers folded due to a lack of player availability. That means that the games against Henderson on June 17 (away) and June 22 (home) are both cancelled.
Replacement opponents were found, however. The Tigers will host Plymouth Hitdawg, a team sponsored by a player development academy, on Friday, June 16, at 7:30 pm. The game promotions are Matt Saxe Chevrolet, Belle Plaine Community Education, and Little League Night all rolled into one.
On Sunday, the Gaylord Islanders will visit Tiger Park at 6:00 pm on Senior Citizens Night. The polka tradition will continue as "Butch" Herrmann, Bobby "Cash" Kahle, and Bob Schroeder – aka, "The Trinity Trio," will play live music between innings.
See you at the ballpark for a pair of games this weekend!
St. Peter 9 @ BP 10 (Tuesday, June 6)
Belle Plaine felt good sending stud pitcher Jack Kruger to the mound, but St. Peter provided a rude awakening as their first five batters of the game all reached and scored. To quote Clark Griswold, "Ed, this is not the car I ordered …"
The Tigers seemed poised to respond, opening the game with a Tyler O'Brien double and a Carsen Ladd single. But both runners were stranded, and the Tiger Train didn't get on the board until a two-run single from Brody Curtiss in the third inning.
Saints starting pitcher Tom Carlson departed with a 6-2 lead after four innings, but after a reliever known only as "#2" went hit batsman – walk – walk – walk, Carlson came back in! The Tigers batted around in the fateful fifth, trimming the deficit to 6-5.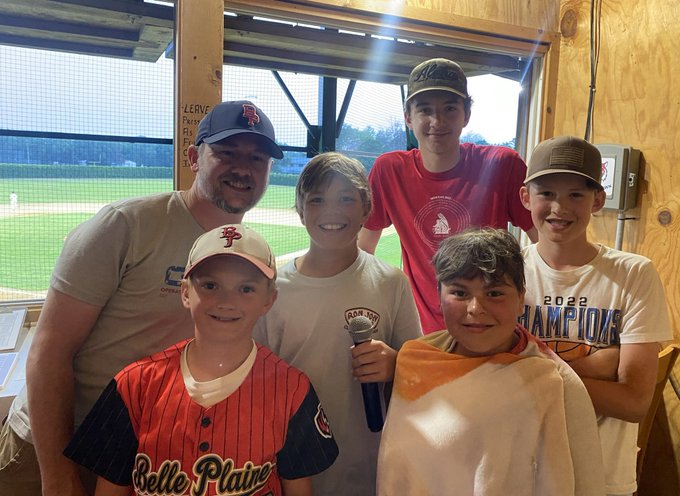 The locals took a 7-6 lead with two more runs in the sixth, but St. Peter tied it with a run in the seventh. Both teams scored twice in the eighth, and after a scoreless top of the ninth, heroics unfolded.
Brody Curtiss walked with two outs and stole second base. Jared Miller then lifted a sinking liner to center field, and the outfielder dove and seemingly caught it – before it popped out of his glove! Just like that, the comeback was complete and the Tigers pocketed an important league win, 10-9.
Kruger recovered from the rough start and lasted seven innings, while Colton Kerkow swooped in for the win after throwing the final two frames.
The Tigers' top hitters were Miller going 3-for-4 with three RBI – including the game-winning hit – Curtiss going 1-for-2, with three runs scored – including the game-winner – two RBI, and four walks; Carsen Ladd 2-for-4 with three runs scored and two stolen bases, and Derek Dahlke going 2-for-5 with three runs.
Green Isle 1 @ BP 6 (Friday, June 9 – 7 innings, Tigertown Classic)
The late, great Dark Star once said of his radio show's philosophy: "What can the next three hours do for me?" and the philosophy of the Tigertown Classic is when possible, have former Tigers and friends reunite, such as with the Green Isle Irish and their field manager, Nate Hartmann.
Nate was also a member of the 2013 state runner-up Tigers that shocked the world – or at least, themselves – and was able not only to be present for that team's 10-year mini reunion on Friday night, but he even got to fill out a lineup card and flash some fancy hand signals.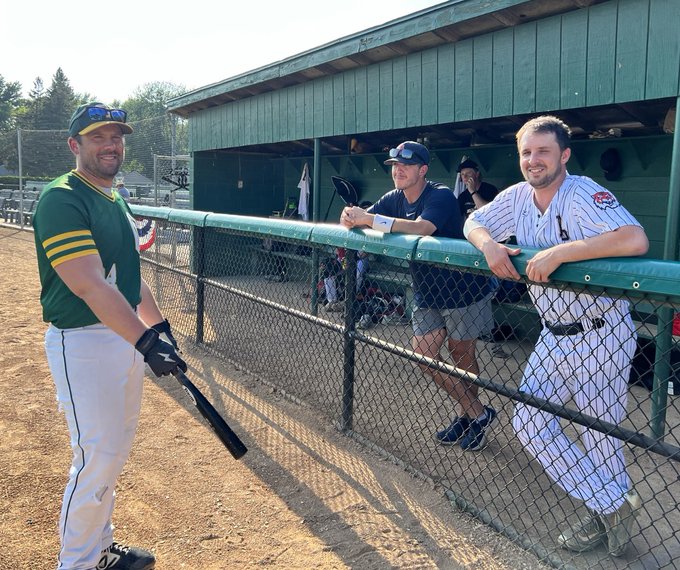 "Summer Catch" Josh Terrio took the ball from manager Jason Ladd, and the 17-year veteran couldn't have looked more at home if it was Bar-B-Q Days Saturday morning. The Tigers, serving as visitors due to a random draw, grabbed a run in the top of the first before Terrio helped himself with a two-run single in the third – on an 0-2 count – for a 3-0 cushion.
It was more than enough, but the BP Boppers added three more tallies in the fifth, including one on a standup triple by Jake Mercado. Terrio got the 'W' with five-plus frames and one run allowed, while Kerkow closed up.
Marshall 5 @ BP 4 (Saturday, June 10 – 7 innings, Tigertown Classic)
Jared Miller matched up against Marshall's Hunter Wienhoff in this semifinal affair. It wasn't Miller's sharpest night while Wienhoff was very good, but sometimes in baseball you've got to stick around to the end and see what happens.
The Tigers were once again guests on the scoreboard, and the A's struck first with a run in the bottom of the first. They extended the lead to 4-0 before Belle Plaine finally got on the board with a lone tally in the fourth, thanks to an RBI groundout from Jac Campbell.
The score remained the same until Curtiss opened the sixth with a ringing double, with a pair of wild pitches quickly bringing home courtesy runner Chase Emmers to make it 4-2.
After three laborious innings, Miller gave way to a crisp Curtiss who went the rest of the way and kept the A's in check.
The Tigers entered the final inning – the seventh – down 5-2 and without many signs of life when things finally got interesting. Technically the first three Tiger batters of the seventh inning struck out, but the second of those, Emmers, reached first after the third strike wasn't caught. Back-to-back singles by O'Brien and Carsen Ladd was followed by a walk.
With the score 5-4 and two outs, Wienhoff gave way to Matt Hmielewski, who promptly plunked the first batter. Now with the bases loaded, Terrio smacked a ball to medium-deep left field, causing a moment of excitement and an instant flopsweat for Tweetin' Billy T before it found a home in the left-fielder's glove.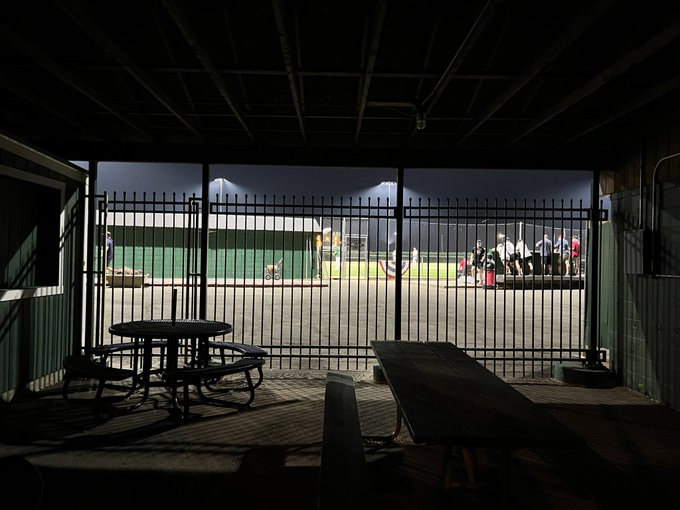 Tigertown Classic Arrives
Tigers Lambaste Le Sueur, Snap Skid

--by Brett Kruschke
Team Tigertown took out their frustrations at Le Sueur on Sunday, posting a 13-4 win to snap a four-game losing streak. Prior to that, the Tigers fell on May 30 at New Prague, 7-5, and at home on Friday against Jordan, 12-7.
Belle Plaine's overall record is 3-4, with a 1-2 mark in the River Valley League. Last night (June 6) the locals played host to St. Peter, one of two RVL Class C teams with a perfect record in league action (3-0; Jordan, 4-0). Visit the tigerwebs for results and details at bptigertown.com or on social media.
THIS WEEKEND the 24th annual Tigertown Classic is upon us, with 10 games over three days at Tiger Park. Your hometown nine will open the tournament at 6:30 pm on Friday against former Tiger Nate Hartmann – presently the field manager – and the Green Isle Irish. The Marshall A's and Webster Sox will follow with Game 2 at approximately 8:30 pm.
Saturday begins bright and early at 10:30 am with the Carver Black Sox squaring off against the defending tournament champions, the North Branch Nighthawks. The RVL's Le Sueur Braves are back in the Classic and will take on last year's tournament runner-up, the Minneapolis Melchior Mudcats.
Belle Plaine will also play on Saturday – at 7:30 pm if it won on Friday and at 5:15 pm if it lost. For the rest of tournament schedule, please see the bracket published here and/or available online. Please note: one admission charge is good for an entire day of games!
BP 5 @ New Prague 7 (Tuesday, May 30)
Nine of the game's 12 runs came in the first 1 1/2 innings. Unfortunately for Belle Plaine, five of those tallies belonged to New Prague against starting pitcher Jake Mercado.
The Tigers responded in like fashion with three second-inning runs to cut the deficit to 5-4. Among the highlights were back-to-back doubles from Tyler O'Brien and Carsen Ladd.
Matt Johnson started the second on the hill for the visitors, and he put up three scoreless frames before coughing up a pair of runs in the fifth. The Tigers tied the score with a run in the fourth, making Johnson the pitcher of record.
No runs came across for either team during the final four innings of the contest. Mercado and Carsen Ladd both went 2-for-4 with an RBI, while Josh Terrio joined the fun with a pair of hits.
It was a long night at the ball yard, as a backup umpire was needed which pushed the start time to around 8:00 pm. Town Ball Tuesdays was in attendance and did a bang-up job providing updates to the Tiger internet faithful.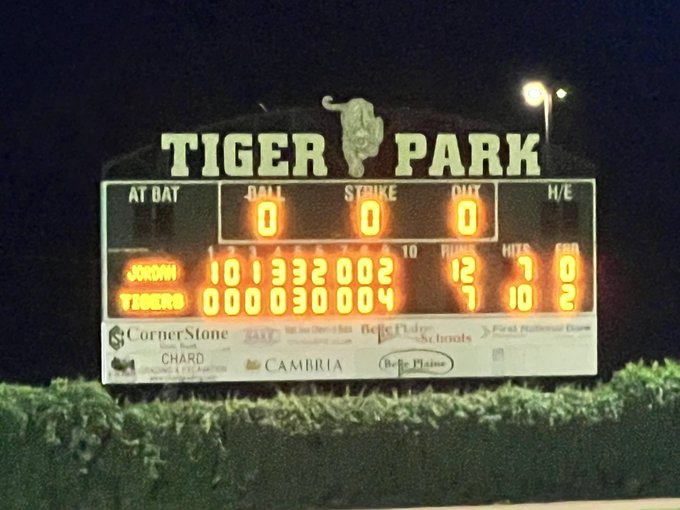 Jordan 12 @ BP 7 (Friday, June 2)
Garrett Boblitt took the ball from manager Jason Ladd while Jordan countered with a fellow college ballplayer, Jonathan Draheim.
The Brewers grabbed a run in the first inning before turning Nate Beckman's RBI single in the third into a 2-0 lead after three. That was when Jordan really went to work, putting the game out of reach with crooked numbers 3, 3, and 2 in innings four, five, and six – the latter runs coming in on a two-run double from "The Antelope," Joe Lucas.
The Tigers scored their runs in bunches, plating three in the third and four in their last cracks. Five Plainesmen enjoyed two-hit games: Miller (2-for-4, 2B), Dahlke (2B, RBI), Curtiss (2-for-4, BB), Carsen Ladd (2-for-5, 2 RBI), and O'Brien (2-for-4, 2B, 3 RBI).
Boblitt was saddled with the loss, tossing 3 1/3 innings. Terrio, Colton Kerkow, and O'Brien also pitched.
BP 13 @ Le Sueur 4 (Sunday, June 4)
Brody Curtiss gave Belle Plaine the game it needed on the mound, chucking seven innings of two-run ball (zero earned) with four strikeouts. Johnson closed out the final two stanzas.
A pair of Tigers had three-hit nights in Mercado (3-for-4, 2B, 3 RBI) and Miller (3-for-5, 2 RBI). Dahlke took one over the boards – his second home run of the season – as part of a 2-for-4, 3-RBI night. O'Brien (2-for-5, 3 RBI) and Carsen Ladd (2-for-4, 2 RBI) contributed to the offensive onslaught.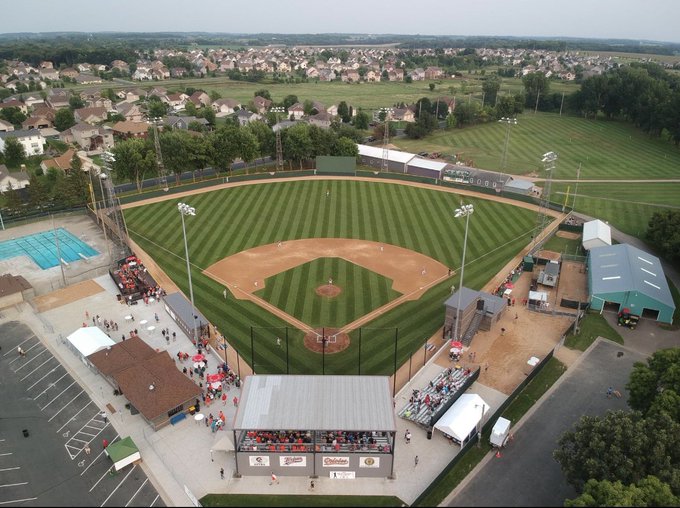 Town Tigers to Open June with
3 RVL Games

--by Brett Kruschke
The Belle Plaine Tigers' first 2-0 start since 2012 quickly faded to a 2-2 start, with last night's (May 30) game at New Prague yet to be played at print time. The Tigers lost their first game of the season on Tuesday to St. Clair, 7-3, before a Thursday visit to Lonsdale resulted in a 10-7 setback.
Check bptigertown.com or "BP Tigertown" on Facebook or Twitter for last night's result against the Orioles, who entered the contest with a perfect 5-0 record.
The Jordan Brewers – off to a 6-0 start themselves – will be in town on Friday night for a 7:00 pm first pitch. Team Tigertown will be looking to snap a 23-game losing skid against their historic Highway 169 rivals.
River Valley League action will continue on Sunday with a 6:00 pm trip to Le Sueur, followed by a Tuesday trip to Tiger Park by the St. Peter Saints. Once again, that start time is a family-friendly 7:00 pm.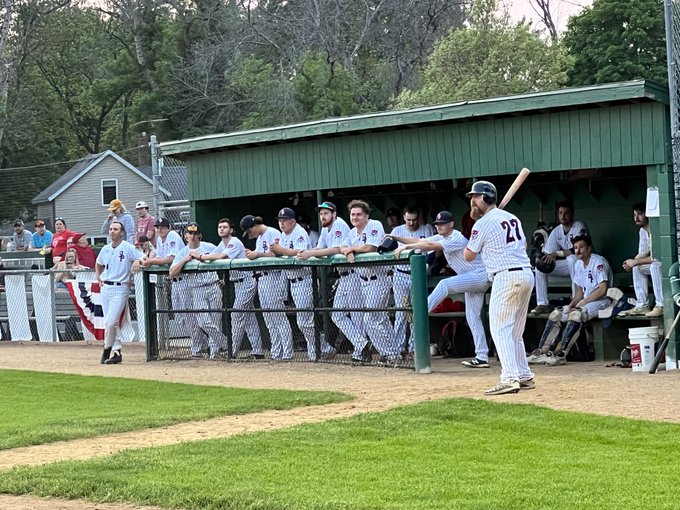 St. Clair 7 @ BP 3 (Tuesday, May 23)
St. Clair started fast on Dollar Dog Night, putting up a two-spot in the first frame. The Wood Ducks added to the lead with one run in the third and two more in the fourth for a 5-0 lead after 3 1/2.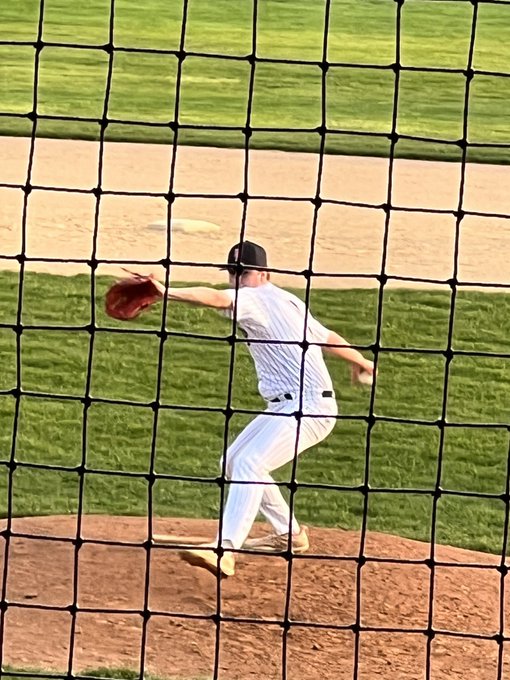 That was more than enough support for right-hander Taylor Schumacher, who spun a complete-game six-hitter with 10 strikeouts. Derek Hoffman started for the T-Train but worked just two innings before giving way to Colton Kerkow, who tossed three frames and gave up as many runs.
Jared Miller was next, chucking 3.1 innings before Derek Dahlke took the mound for the final two outs.
The biggest hit of the game came from Hoffman, who drilled a two-out, two-run double in the seventh to trim the deficit to 5-3. But that was as close as the Tigers would get. Aidan Ladd went 2-for-4 with an RBI in his season debut, while Brody Curtiss also went 2-for-4. Miller, meanwhile, belted a triple.
The biggest thorn in the Tigers' side from St. Clair was Eric Carpenter, who collected four hits and four RBI.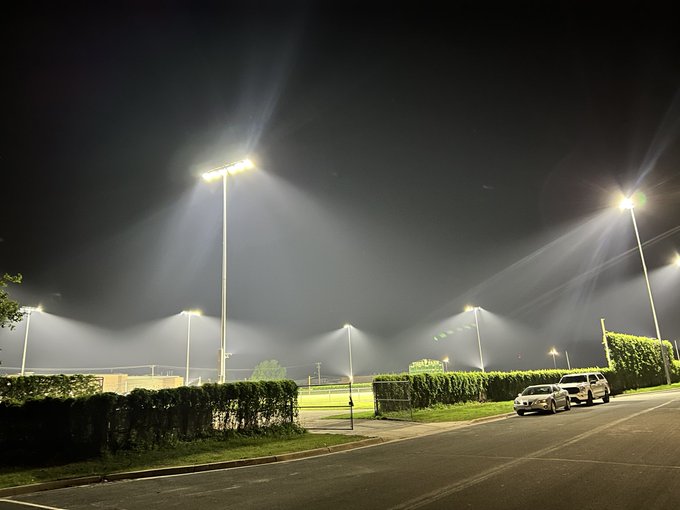 BP 7 @ Lonsdale 10 (Thursday, May 25)
Even in this golden age of technology, information can be difficult to come by at times – particularly, it seems, when your local nine hits the road for a friendly.
What we know: in what seems to be a slowly increasing trend of recent years, Minnesota town teams are choosing to play seven innings instead of nine for exhibition (non-league) games. And such was the case for this contest at Trenda Memorial Park.
Garrett Boblitt took the loss for Tigertown, throwing three innings. Tyler O'Brien worked a pair of frames while Matt Johnson threw one.
Hitting heroes for the BP boys were Dahlke, who went 2-for-4 with two RBI, and O'Brien, who went 2-for-4 with a double. Other Tigers collecting hits were Carsen Ladd, Miller, and Curtiss.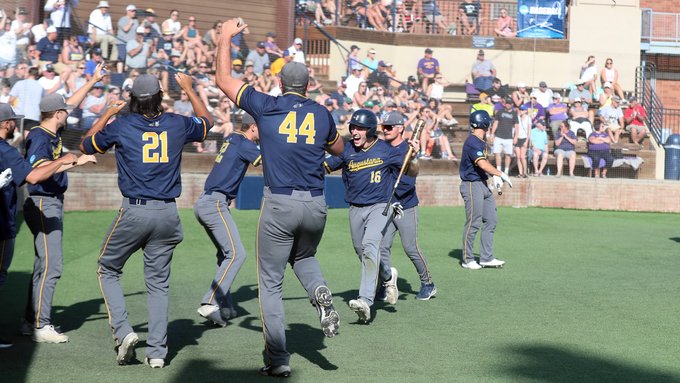 Town Tigers Mash Montgomery,
Move to 2-0

--by Brett Kruschke
The Belle Plaine Tigers are 2-0 for the first time since 2012 after an 8-1 dismissal of the Montgomery Mallards on Friday. The Tigers' only 3-0 start this century came in 2009 – a season that finished with a 26-10 record.
El Tigre opened league play last night (May 23) against St. Clair; check for results and details on bptigertown.com or on the team's social media channels, BP Tigertown on Facebook and Twitter.
The Tigers will bookend Memorial Day Weekend with a Thursday night tilt at Lonsdale and a Tuesday night trip to New Prague – both games are at 7:30 pm. Thursday's game against the Aces is slated for a shortened seven innings.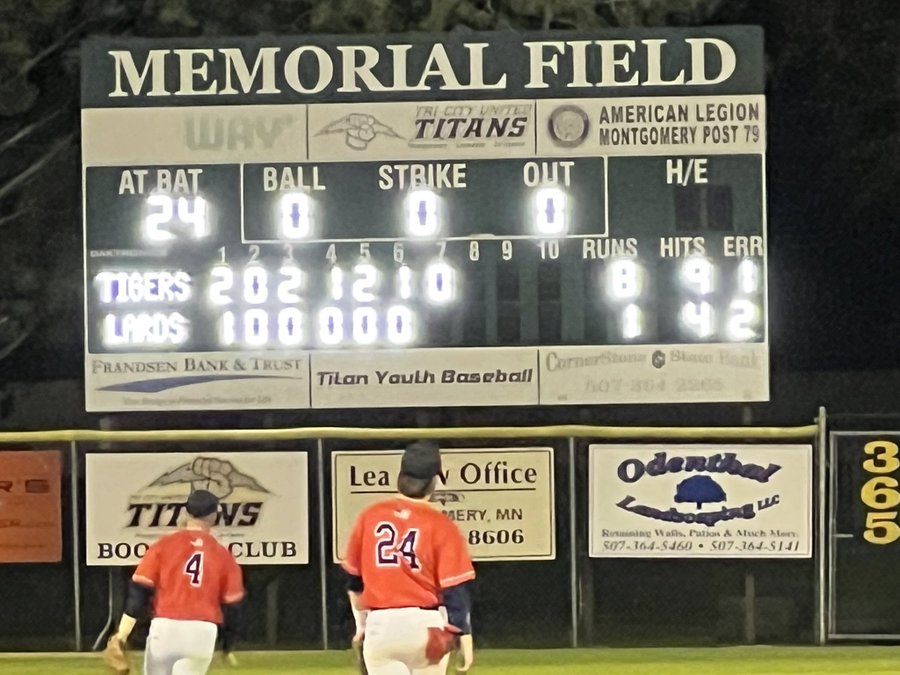 BP 8 @ Montgomery 1 (Friday, May 19 – 7 innings)
The Tigers agreed to Montgomery's proposal of a 7-inning game and an 8 pm start time. Even so, manager Jason Ladd found work for five different Tiger arms: Derek Hoffman, Colton Kerkow, Matt Johnson, Tyler O'Brien, and Jared Miller.
O'Brien and Derek Dahlke got the Tiger Train rolling right away with solo home runs in the first inning. The BP boys ended up scoring in five of the contest's seven innings.
The Mallards scored their lone run in the first off Hoffman, who worked three frames while fanning four batters. The rest of the righties went an inning apiece, with Miller shutting it down.
O'Brien went 3-for-4 with a home run and two RBI, while Carsen Ladd also went 3-for-4 with a double and two RBI. Dahlke had a pair of hits – including the aforementioned bomb – and as many RBI.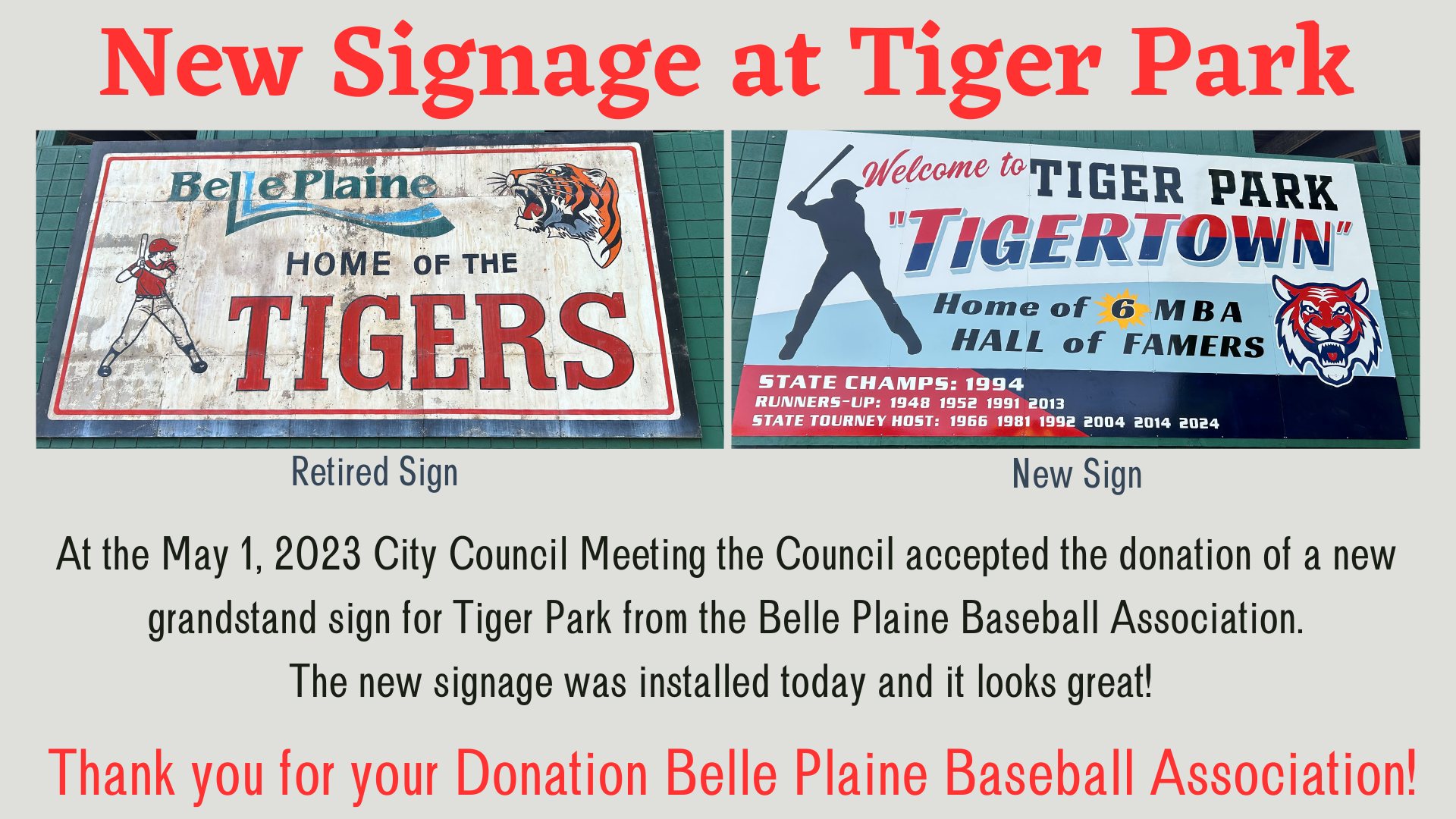 Town Tigers Outslug
St. Benedict

--by Brett Kruschke
The Belle Plaine Tigers dug out of a deep pit against the St. Benedict Saints during Friday's season opener, closing the contest with 16 unanswered runs to notch a 17-7 triumph in seven innings. Last year, the BP boys opened the season with a similarly wild 16-15 walk-off win over the Bennies.
The Tigers will carry a 1-0 record into Montgomery this Friday night as they take on the Mallards of the Dakota-Scott-Rice League at 7:30 pm.
Belle Plaine's first River Valley League game of the season will follow on Tuesday, May 23, when the St. Clair Wood Ducks visit Tiger Park on Dollar (Hot) Dog Night – 7:00 pm first pitch. That's right: all-you-care-to-eat $1 hot dogs from your hometown butcher shop, Ruck's Meats, and allow me to testify that they are bigger and better than ever.
Spice up your social media feeds by following the Tigers at "BP Tigertown" on Facebook and Twitter. And be sure to bookmark the primary hub, bptigertown.com, on your favorite scrolling device.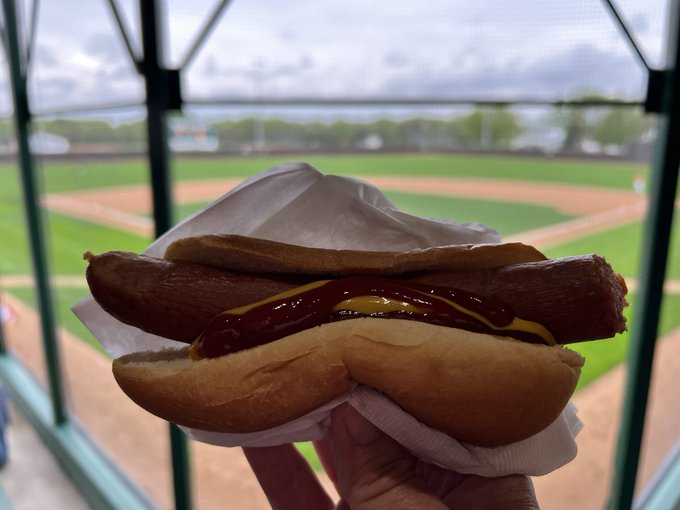 St. Benedict 7 @ BP 17 (7 innings – Friday, May 12)
Matt Johnson just missed the cutoff date for playing in Tigertown last season, so after spending the 2022 campaign as a coach, he made up for lost time by taking the ball from manager Jason Ladd on Opening Night. It drizzled all day but Tiger Park was greened up and ready to go, thanks to the tarps and grounds crew.
Johnson put up a goose egg in his debut frame and took a 1-0 lead into the second inning thanks to leadoff hitter Tyler O'Brien scoring a run after swiping both second and third base. However, Johnson was chased with just one out in the second stanza – an inning that saw St. Benedict score six runs thanks in large part to three Tiger errors.
Jonathan "A Country Boy Can Survive" Schmidt finished the second inning and allowed one more run before calling it a day after three, but the home fans found themselves trailing 7-1 almost before they could finish their first dollar beer.
Belle Plaine picked up another run behind an O'Brien stolen base in the third inning, then batted eight men in the fourth inning to plate four runs. Once again, O'Brien provided the key blow with a two-run double – and he also came around to score his third run in as many at-bats.
Derek Hoffman worked a scoreless fourth for the locals before giving way to Jared Miller in the fifth, the latter of whom went the rest of the way and kept the Bennies off the board to eventually earn the win.
The Tiger Train tied the game at 7-7 in the fifth, then broke it open and surprisingly sent the folks home early behind five-spots in both the sixth and seventh innings. Belle Plaine started the sixth with three straight hits and the seventh with two in a row, setting the table for the carnage that unfolded.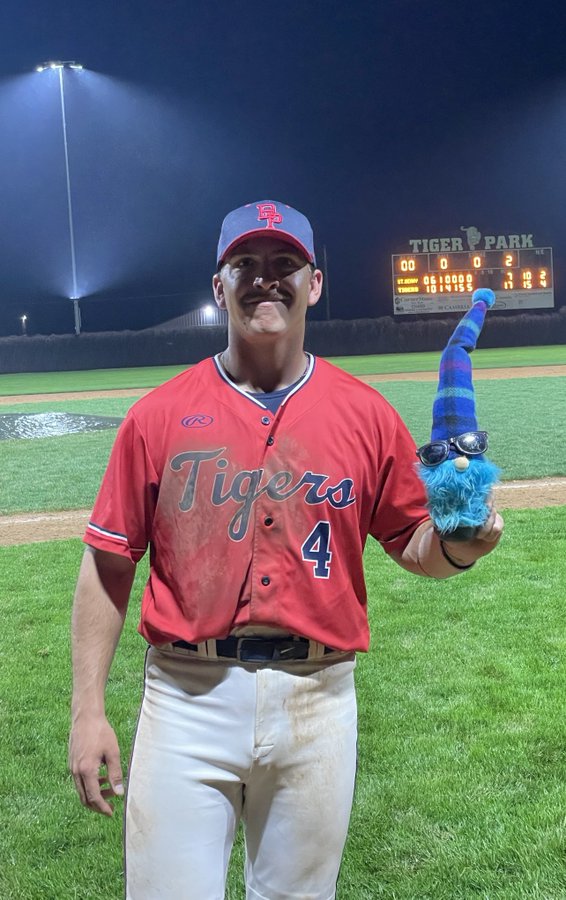 O'Brien was joined in the multi-hit party by Schmidt, Carsen Ladd, Jake Mercado, and your grinning "Gremlin of the Game," Derek Dahlke, who reached base in all five plate appearances and had three hits, including a triple. The Tigers collected 15 hits in all.
Town Tigers Open Season
at Home on Friday
--by Brett Kruschke
"Baseball in Belle Plaine since 1885," and here comes another season of Tigers Men's Amateur Town-Team Baseball. Your local lads – and Ladds – will entertain our traditional opening-night foe on Friday, when the St. Benedict Saints swoop into Tiger Park for a 7:00 pm first pitch.
Friday's game promotion is Dollar Beer Night – yes, inflation be darned, the board has spoken (or more accurately, failed to speak) and it shall be $1 beers for the duration of the evening. No, there'll be no pesky pitch clock to cut your night short, and no, we didn't recently cut a deal for a truckload of discounted Bud Light. (Keystone Light? Perhaps.)
Jason Ladd is back for season No. 2 at the helm as Tigers skipper, as well as his right-hand man, Josh Terrio, returning as his trusty sounding board (lead assistant coach) and player. For the sake of accuracy we'll make you have to check a game program for the 2023 Opening Day roster, but we'll throw you a nugget in that Derek Dahlke is returning to his Tiger homeland this summer.
Here's a few other things to look forward to at Tiger Park: a new drink rail and seating area has been added just past the third-base dugout. The "Home of the Tigers" sign on the back of the grandstand, after lasting nearly 20 years, will soon be replaced. Also, pinstripe pants and uniform tops are back, as well as an additional new-look "BP" ballcap.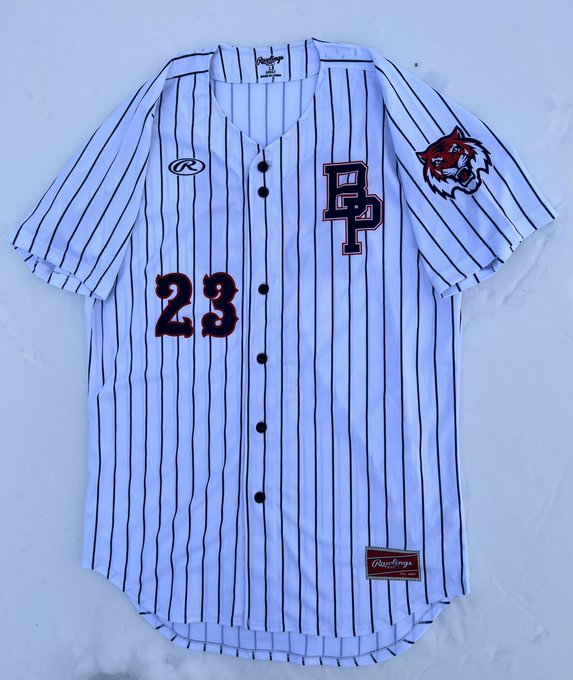 Team Tigertown is intentionally easing into this season – more than usual, anyway – to allow for a more representative roster when the River Valley League games start counting. So, Belle Plaine is playing just five games in May – with just two of those coming at home and with four of the five of the non-league variety. (St. Clair will be Belle Plaine's only league opponent in May, on the 23rd at Tiger Park.)
Don't you worry none: June is loaded with at least 12 games, including the Tigertown Classic tournament on June 9-11. And six regular-season contests are scheduled in July before the league playoffs start at the end of the month.
Find the full schedule and game promotions listed at our long-running website – since 1885, believe it or not – bptigertown.com. And find us also on Facebook and Twitter at "BP Tigertown."
Season tickets are available for $35 and will be available at the ticket gate and Brad's Barber Shop. Single-game ticket prices are $4 for ages 18-64, $2 for ages 12-17 and 65-plus, and no admission charge for ages 11 and younger.
See you at the ballpark!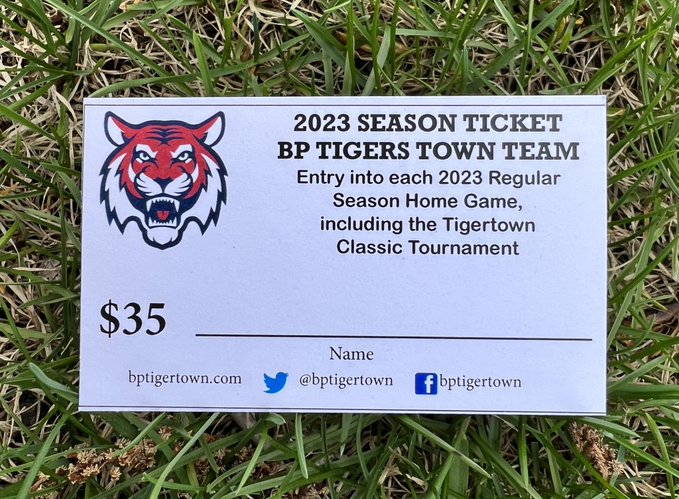 Tom Melchior Named Glenn Carlson Award Winner

Former Town Ball Player Chronicles Its History
Tom Melchior was born in Belle Plaine, Minnesota in 1936. His family moved to Gaylord, and then to Garden City where Tom played youth baseball and his first two years of high school ball. In 1952, the family returned to Belle Plaine for Tom's junior and senior years. During the summer of his junior year, Tom began his amateur career as a shortstop for the Carver Black Sox.
After graduating, he joined the Belle Plaine Tigers for three seasons. In 1954, Tom enrolled at St. John's University, where he was a four-year starter as an outfielder, and co-captain as a senior. After his junior year in 1957, he was hired as the Benson Braves player-manager for one season.
After graduating college in 1958, Tom played one year for the Le Sueur Giants. He then taught in New Prague in 1959 and played for the New Prague Robins. He spent 1960 in Puerto Rico, teaching and coaching at Colegio San Antonio Abad before returning in 1961 to teach in Montgomery. He played for and managed the Montgomery Redbirds for two seasons. In 1962, Tom began a 31-year teaching career at Burnsville High School, including a decade as the baseball coach. He was named Minnesota Teacher of the Year in 1971 and retired in 1993. Shortly thereafter, he became one of the first inductees into the Burnsville High School Hall of Fame.
After accepting the post in Burnsville, Tom and his wife, Sue, settled in rural Shakopee, where they raised their three children, Paul, Marty and Meg. Tom finished his playing career with the Shakopee Indians in 1967, and by the mid-1970s, he retired from high school coaching. Tom then coached a Shakopee Babe Ruth team from 1976-1981.
When Tom retired from teaching, he began a second career as an author and regional historian. In 1997, he published "They Called Me Teacher," which recounts the history and stories of Minnesota's one-room schoolhouse teachers. The book won the 1997-98 Merit Award from the Minnesota Independent Publishers Association. This was followed by a memoir, "From Both Sides of the Desk" and "Never Forgotten," which chronicles stories of World War II veterans.
By the late 1990s, Tom's focus was back to his first love, baseball. Over the next decade, Tom researched and interviewed dozens of former amateur baseball players from the region. The result was "Belle Plaine Baseball: 1884 – 1960," and later, "Scott County Baseball." These books detail the rich history of townball in Scott County. Both titles sold out their first printing and have been widely used by other researchers, writers, and fans of Minnesota's amateur game. Tom's endeavors, on and off the field, have positively influenced the lives of thousands of Minnesotans including his family and friends, his students, and generations of baseball players, coaches and fans.
When We the
Boys of Summer Played
In 1948,
We roamed all day without a care,
And never thought of fate.
When we the boys of summer played,
So many years ago,
The sun burned down on sandlot fields,
The pace of time was slow.
We played where grass would never grow,
Sometimes on city streets.
We had no cell phones way back then,
But we knew when to meet.
Our caps were flat with bills that crowned
With logos of favorite teams.
They played on diamonds far away
Where we just played in dreams.
We lugged no big equipment bags
To carry all our stuff.
Just a bat and a trusty glove,
We thought it was enough.
We never wore those shoes with spikes.
Our pants were Levi jeans.
We rode our bikes to pick-up games.
We were a motely team
When we the boys of summer played,
The basepaths were not lined.
We had no way to buy the lime.
No batters' box you'd find.
When we the boys of summer played,
There was fire in our eyes
Lightning shot from finger tips,
And home plate was the prize.
No umpire ever called a pitch.
Arbitration was our game.
We could argue with the best
My gosh, how we complained!
No parents ever bothered us
Or organized our play.
We were the ones who ruled the game
And frolicked time away.
When we the boys of summer played,
We hit line drives with glee.
We scooped up every hot ground ball
With spirits wild and free.
We dug right in for every pitch
And waved our trusty bats.
The pitchers seldom threw a strike
And whizzed some past our hats.
One day we rode to Arlington
To play a Series game.
Balloon tires crunched the gravel road,
Singing out our fame.
We taped the bats to handle bars.
Our gloves all hung there, too.
We played four innings; then we fought.
'tis the best that we could do.
When we the boys of summer played,
Our heroes were Ted and Joe.
They hit homeruns we read about.
And put on quite a show.
Our favorite bat was Louisville
Slugger was its name.
Robinson swung a hefty log.
Duke Snider gave it fame.
We had no TV games to watch.
We turned the Plilco dial.
Play-by-play from distant parks
Made summer nights worthwhile.
Where have my boys of summer gone,
Who once stood strong and tall?
In old age now I often think
Were they ever here at all?
Those years slipped by, so now I dream
Of games I played with friends.
Some now play among the clouds.
Where games will never end.