TIGERS SEASON RUNS OUT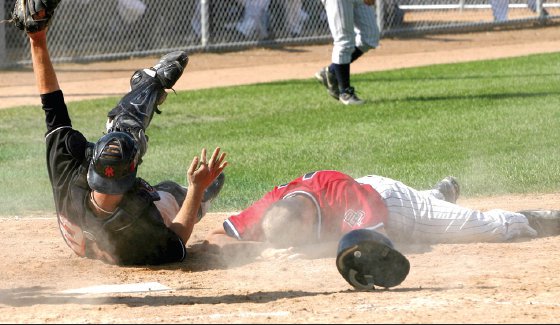 Pinch-runner Ryan Witt was thrown out at the plate to end the 8th inning.
PHOTO COURTESY OF BELLE PLAINE HERALD

A season of high hopes and wild success came to a stumbling end Saturday in Willmar, when the Sacred Heart Saints beat the Tigers 6 to 3. Belle Plaine trailed 4-3 in the bottom of the 8th with runners at 2nd and 3rd and one away, but consecutive outs on the basepaths left the locals with no runs and a bitter pill to swallow.
A 2-out, 2-run homer in the top of the 9th provided the final margin of victory for Sacred Heart, before the Tigers went quietly (well, sort of) in a 1-2-3 bottom of the frame.
The teams combined for 27 hits in what was expected to be more of a pitcher's duel, but Belle Plaine committed four costly errors against none for the Saints.
Sacred Heart went on to win Sunday, 3-0 over Lastrup, and is one of four undefeated teams remaining (four teams with one loss each also remain) as the Class 'C' tournament heads to the final weekend.

Meanwhile the RVL's Shakopee Indians are alive and well in Class 'B', as they look to defend last year's state title. Visit www.minnesotabaseball.org for current brackets and real-time updates, or throw caution to the wind and venture to Bird Island and Willmar this holiday weekend.
The 2010 campaign comes to a close at 31-9, the most wins since the early to mid-90's Tigers of lore (records are a tad scattershot at this point). Combined with last year's 26-10 mark, El Tigre is 57-19 (.750) over the last two seasons. Compare that to a 161-173 (.482) compilation over the previous decade, and it's safe to say the bar has been raised.
The Plainesmen have made 12 state tourney appearances since 1885, and three of those have come in the last four years.
The wounds are still too fresh to sweep the 2010 season under the rug just yet, but expectations are that the ball team will return largely intact for another run at postseason glory in 2011. Enjoy the off-season and we'll see you in the spring!
Sacred Heart 6 vs. Tigers 3, at Willmar (Saturday, August 28 ~ Class 'C' State Tournament, Second Round)
Sacred Heart is a team not unlike Belle Plaine, in that they can fill their lineup with many of the same names. BP can throw three Schultzes and two Hubers at you, while the Saints offer four Hebrinks and two Hinderks'.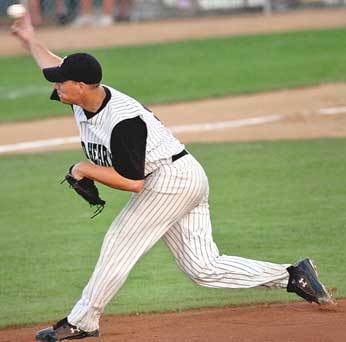 Shortstop Ryan Hebrink led off the game with a single, but was picked off by Adam Johnson and retired 1-3-4-3. Tyler Kleinhulzen doubled, and with two outs pitcher Jeremy Hinderks singled in the first run of the game.
The Chatfield Choo-Choo answered back when Shawn Larson delivered another two-out RBI single in the bottom of the frame, scoring Matt Schultz.
A real highlight of the game came when Nate Hebrink singled to right field in the second, but Shawn "Let's Get It Tarted" Larson fired a strike to the trailing Pat Schultz to erase the runner.
Sacred Heart grabbed a pair in the 4th for a 3-1 lead, thanks in large part to a pair of Tiger errors and a sacrifice fly the wind wreaked havoc with, that otherwise might have resulted in a contested play at the plate.
Larson and Jeff Miller singled to open the home half of the 4th, and after Brad Lawson lined out to third, Jim Buesgens drew a walk to load the bases. Speedy Travis Latzke then grounded into a "controversial" double play to end the inning – I think even the first base umpire's mother would have told you it was a blown call. So instead of at least one run, the Tigers were forced to settle for none.
In the 5th with two gone, Tim Huber reached on a wind-aided double to centerfield. Pat Schultz lined the first of three consecutive singles to score Huber, scoring soon after as Larson and Miller followed his lead.
The 6th inning could have been the "can't stands ya" stanza as two more Tiger errors broke the tie and contributed towards a fourth run for the Saints. The go-ahead run came in when 9-hitter Mike Johnson singled with two outs.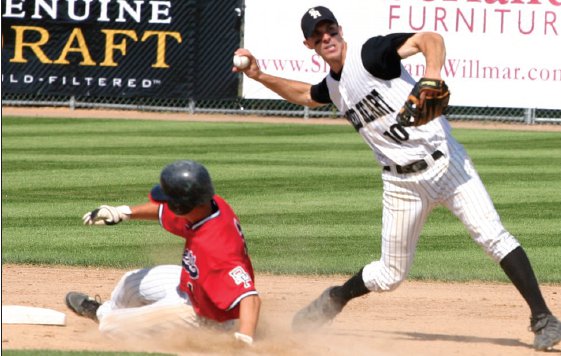 Sacred Heart loaded the bases with two down in the 7th, but with Nate Hebrink already 3-for-3 off starter Adam Johnson, manager Miller summoned Brad Lawson to come in and pitch. The first offering was grounded to defensive replacement Josh Terrio at third, who threw to second baseman Buesgens to end the inning.
The nightmare 8th started promisingly. After Miller drew a leadoff walk and Lawson failed to get a bunt down, he faked bunt and lined a single into left field, putting runners at first and second. Buesgens sacrificed, and the Tigers had the tying and go-ahead runs in scoring position with one out.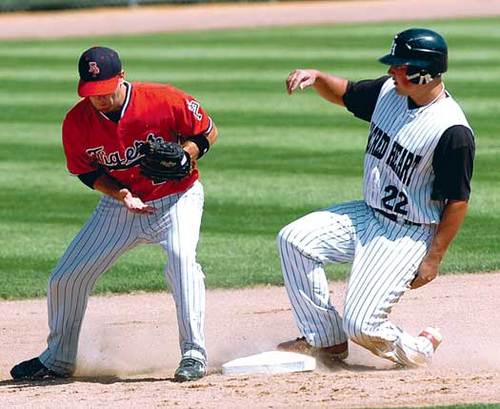 Sacred Heart's Tyler Kleinhuizen, right, pulls into second base with a first-inning double as Belle Plaine's Jim Buesgens cradles the throw from the outfield in the Class C state amateur tournament Saturday at Bill Taunton Stadium in Willmar.
West Central Tribune photo by Rand Middleton
Latzke stepped into the box 2-for-3 on the afternoon, and sent a grounder to second base. Pinch-runner Nick Volek broke toward home but got caught in a rundown, and was tagged out.
With pinch-runner Ryan Witt remaining at second, Latzke at first, and two away, Dan Huber ripped a base hit to left. Witt was furiously waved home, but lost balance a bit along the way and was thrown out at the plate on a dead-on throw from Nate Hebrink.
With two gone in the top of the 9th and the Tigers just about ready to come in and scrap for their run, Lawson yielded a walk and Jeff Hinderks made him pay with a no-doubt-about-it blast to left-centerfield, making it 6-3.
The Tigertown Express was retired in order for the final outs, and their suspended state of disbelief became reality.
Five Tigers posted multiple hits, led by Shawn Larson's second consecutive three-hit game at 3-for-4 with an RBI. Jeff Miller went 2-for-3 with an RBI, finishing off a sizzling playoff run (10-for-21, .476).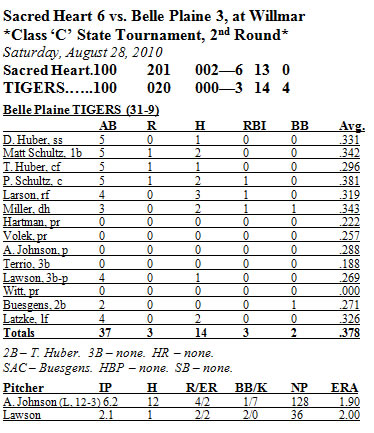 2010 SEASON IN REVIEW
The Tigers started out 5-4 against some stiff competition, including a thrilling 6-5 win (with five in the 9th) against the defending Class 'B' state champion Shakopee Indians.
BP went 19-4 over the rest of the regular season, and took 3rd place in the Black Sox Tourney in Freeport and Avon. They also sent Pat Schultz, Tim Huber, and Brad Lawson to the DRS-RVL All-Star Game in Belle Plaine on July 9th.
El Tigerino clinched the RVL-Central regular season division title with a 14-4 mark.
The Tigers won their first seven playoff games – including RVL-Central and Region 6C crowns – before succumbing to Sacred Heart 6-3 in the 2nd round of the Class 'C' State Tournament. The Red Caps dismissed the Mankato Mets 4-0 in 1st round action.
The Tigers beat Chanhassen 11-1 for the RVL-Central title, and St. Peter 7-2 for the Region championship along the way.
For the season, the Chatfield Nine outscored their opponents by a combined 254 to 136. During the playoffs, the total was 62 to 16.
The Tigers batted .300 as a team this year – including six regulars over .300 – and the individual batting champ goes to Pat Schultz, who hit exactly .381 for the second year in a row. It's the fourth time in Schultz's career he has led the team in hitting.
The team slugged 10 homers for the second consecutive year, and Pat Schultz also led the way in that department with three.
The pitching staff posted a dead-ball era ERA of 2.70, their best collective mark in at least sixteen years. While 123-inning ace Adam Johnson posted an impressive 1.90 ERA with 12 wins and 166 K's, it was hard to top Rob Wagener's 0.00 ERA in 39.2 innings. Wagener was only charged with one total run on the year, as he worked his way back from off-season arm surgery.
The Tigers posted nine shutouts this year, after posting ten in 2009. Over the previous ten years, BP pitching recorded 20.
Dan Huber and Matt Schultz were Tiger iron men, playing in all 40 games.
The Tiger defense regressed from 2009's 62 errors and finished with 83.
Full season stats should be posted to www.bptigertown.com in the coming weeks.
TIGERS BLANK MANKATO
SACRED HEART UP NEXT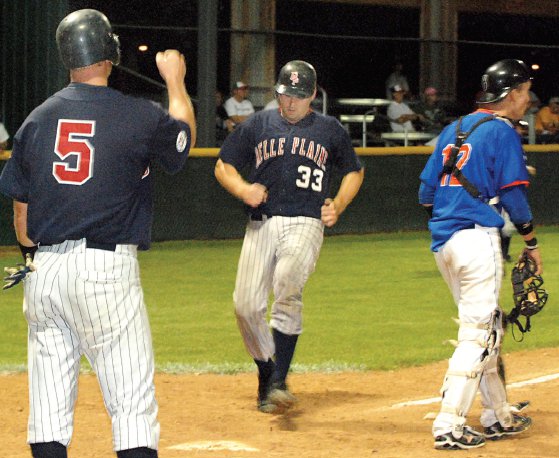 Belle Plaine won its second State Tournament game since 1995 with a 4-0 dismissal of the Mankato Mets Saturday night in Spicer. Adam Johnson tossed a four-hit shutout and Shawn Larson was "the man" at the plate, going 3-for-4 with three two-out RBI.
Up next for the 31-8 Tigertown Express is 27-13 Sacred Heart, at 1:30 pm Saturday in Willmar. If the Tigers lose, the season is over; if they win, they will play again Sunday at 1:30 pm in Bird Island against Lastrup or Luverne.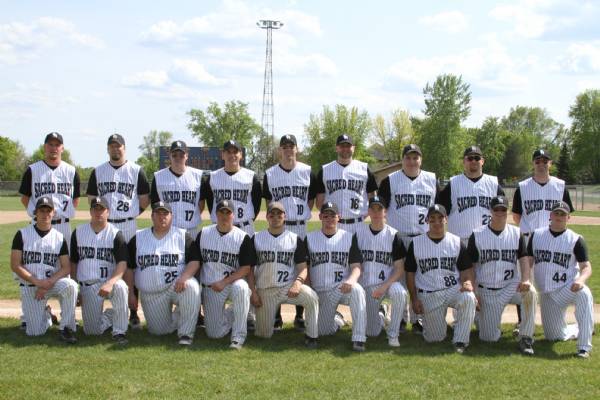 A win Saturday also would guarantee the locals a game in Bird Island on Friday, September 3rd, as the tournament switches to double-elimination format for the final eight teams.
Adam Johnson improved to 12-2 on the year and lowered his ERA to 1.86, with a whopping 159 strikeouts in 116.1 innings. He is expected to face off against Saints ace Jeremy Hinderks, who is 11-4 with a 1.50 ERA and 123 K's in 120.1 innings pitched, and coming off a shutout of his own with a 10-0 victory over St. Martin.
Sacred Heart is making their third state tournament appearance in a row, while the Plainesmen have qualified three of the last four years. The Saints have outscored their opponents 38-6 over their last four games, while the Tigers are now a perfect 7-0 in the postseason and outscored their foes 59-10 over that span.
The stage is set for a hard-fought battle. See you in Willmar!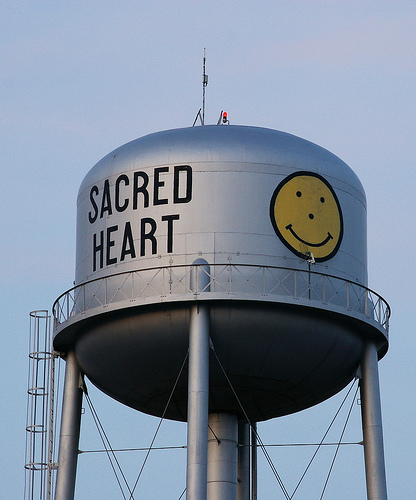 Mankato Mets 0 vs. Tigers 4, at Spicer (Sat., August 21 ~ Class 'C' State Tourney, 1st Round)
CLICK FOR PHOTOS!
The Tigers knew what they had in chucker extraordinaire Adam Johnson, but what they didn't know much about was Mankato's lefty stud Ashton Dorris. Numbers-wise, Dorris entered with a 6-0 record and microscopic 0.50 ERA in 54 innings, along with 70 strikeouts.
El Tigre got things rolling immediately when Dan Huber singled and Matt Schultz doubled, putting runners at second and third with nobody out. Tim Huber reached on an error to shortstop, but a pop-out and punchout followed. Fortunately a wild pitch allowed one to score for the Tigers before another strikeout ended the inning.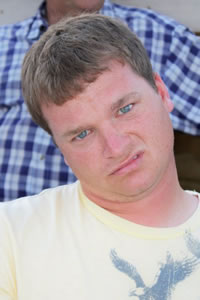 In the third, the Tigers loaded the bases again with one out, only to witness another infield pop-out. However this time Shawn Larson delivered a clutch two-run single, giving BP a 3-0 cushion.
With Johnson keeping the Mets at bay, it was Larson again in the 7th with a two-out RBI single.
"AJ" battled himself a bit with five walks and allowed at least one baserunner in every inning except the 9th. But time after time he worked out of trouble, and ended the game on his 140th pitch with his 11th strikeout.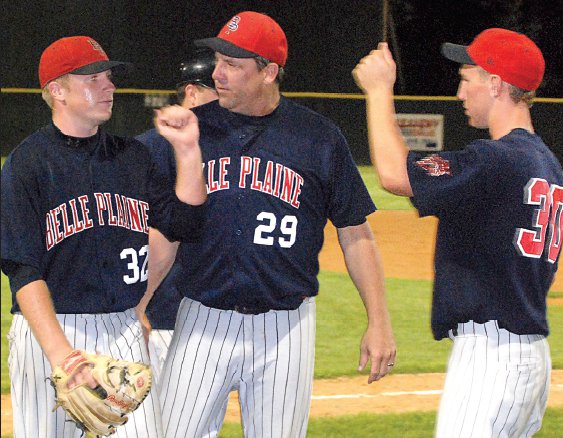 The Tiger fan bus loaded up and could enjoy a happy return trip to Tigertown.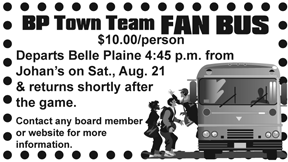 TIGERS OFF TO STATE
REGION 6C CHAMPS OPEN IN SPICER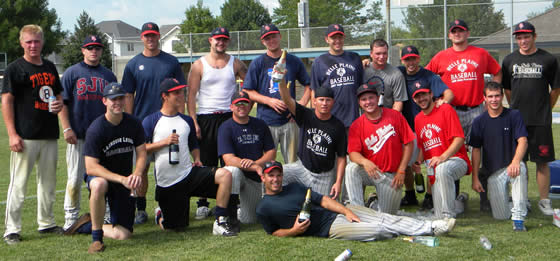 Tigertown's finest won the Region 6C Championship 7-2 over St. Peter on Sunday – their sixth straight playoff victory without a loss. During that time, they've outscored their opponents by a combined 55-10. The Tigers have won 15 of their last 16, are 30-8 on the season, and have only lost twice in Class 'C' this year.
All that is fine and dandy, but the focus has immediately shifted to Saturday's heavyweight bout with the Mankato Mets of the Southern Minny League, where all that will matter is what each team does with its 27 outs that night. The game will be played in Spicer at 7:30 pm.
The 2nd-year Mets are one of three Mankato teams, and were Region 4C runners-up to long-time Class 'C' powerhouse Blue Earth. Their team consists largely of players from Bethany Lutheran College.
If the Tigers lose, the season is over; if they win, they will next play Saturday, August 28, 1:30 pm at Willmar against the winner of St. Martin and Sacred Heart. The 32-team Class 'C' state tournament is single elimination for the first two rounds, then double elimination for the final eight teams.
As I write this article, plans are underway for a fan bus to depart from Johan's at approximately 4:45 pm Saturday. Cost is expected to be in the $10-15 range and the bus will return to Belle Plaine shortly after the conclusion of the Tiger game. Since details are still being finalized, contact any board member with further questions or check www.bptigertown.com.
Also for those not making the trek, the game is expected to be on KNUJ radio – 107.3 FM and 860 AM.
Thanks to the Tigers winning the Region title, they got to select the first draftee and chose New Market's Derek Bergstrom, a left-handed pitcher. St. Peter chose second and picked Arlington's Scott Dose.
A special congratulations to the St. Peter Saints, who secured their first state tournament berth since 1980. It is great to be sending two RVL teams on to the state tournament. See you in Spicer!!
St. Peter 2 @ Tigers 7 (Sunday, August 15 ~ Region 6C Championship)
Adam Johnson wasn't quite his normal nasty self, but was still plenty good as he won his eleventh straight decision in leading the Tigers to the Region 6C Championship.
St. Peter scored one in the first and led 2-0 after 2 ½, before Belle Plaine shot back with two of their own to tie it up. Brad Lawson provided clout out of the 9-hole with his first tater tot trot of the season. Dan Huber also ignited the rally by leading a double steal, and scored on the errant throw to third.
Nursing a 3-2 lead into the home half of the 7th, the Tiger Train finally got on track and put three more in the run column. One more tally in the 8th provided the final margin of victory.
The locals spanked 10 hits and also drew 10 walks. Dan Huber (2-for-4, 3 runs, a walk and a steal) and Matt Schultz (3-for-5, a run and a steal) did damage at the top of the Tiger order, and 3-4-5 hitters Tim Huber, Pat Schultz, and Jeff Miller drew a whopping eight walks between them.
Pat Schultz reached in all five trips, going 2-for-2 with three walks and raising his average to a Rod Carew-esque .388.
Johnson went 8 innings on the mound, yielding as many hits and just one walk while punching out five. Brad Lawson came in and slammed the screen door in the 9th.
After 38 games, the Tiger Nine has compiled a 2.73 ERA and a .298 batting average.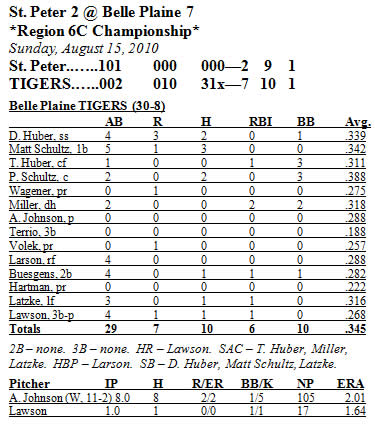 TIGERS CLINCH STATE BERTH
HOST REGION 6C TITLE GAME SATURDAY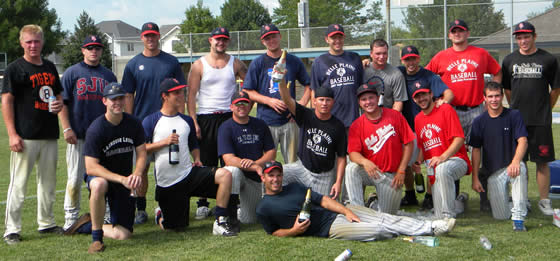 Things couldn't have went better for the hometown nine this past weekend, as the Tigers took care of business with a pair of resounding victories and got the help they needed elsewhere, clinching a State Tourney berth for Belle Plaine.
After beating Winthrop 11-4 on Friday and St. Peter 10-0 on Sunday, Winthrop beat New Market 3-1 Sunday afternoon which meant that five teams would remain in the Region 6C tourney, guaranteeing the Tigers a state tourney slot according to the variable bracket set-up.
New Market, St. Peter, Winthrop and St. Benedict will vie for the remaining state tourney bid tonight and Friday, with the survivor advancing to face Belle Plaine at 2:00 pm Saturday for the Region 6C championship. Chanhassen was eliminated after losing their first two games.
Please see the accompanying bracket for the matchups and pay special attention to the game locations; you can visit www.bptigertown.com for updates.
Team Tigertown will open State Tournament play on Saturday, August 21 in Spicer, at either 5:00 pm or 7:30 pm, depending on which seed they get in the Region title game. Look for a full State Tourney bracket in next week's Herald, and it is also currently posted at the Tiger website.
Come on out to the final home game of the 2010 season this Saturday at Tiger Park, and send the boys off in style!

Winthrop 4 @ Tigers 11 (Friday, August 6 ~ Region 6C Playoffs)
The 27-8 Tigers, playing at home, might have looked like a mismatch against the 13-19 Eagles, at least if you went by records alone. But not too many in Tigertown have forgotten that BP entered the game 2-3 in playoff action against Winthrop since 2003, even if the locals have won the last two of those.
And after Adam Johnson retired the first two batters of the game, it soon felt like old times again when a single, a double and an error, and another single gave Winthrop a 2-0 lead.
Back roared the Tigers in the bottom of the first, however, nabbing three runs on one hit after the inning began with a hit-batsman and a walk.
After a scoreless second, BP chased starter Scott Palmer in the third and rang up seven runs before it ended, sending 12 to the dish. Six Belle Plaine hits, a pair of sacrifice flies, and two Eagle errors were the recipe for success.
Johnson, as he is prone to do, worked through early struggles before settling into lock-down mode. Along the way he was helped with defensive gems from centerfielder Tim Huber and right-fielder Shawn "Pop Tart" Larson, but he also did a lot of work himself, setting down ten via strikeout. When AJ departed after eight innings, it was 11-2 in favor of the home team.
In the 9th, Le Sueur draftee Darron Culbert took the hill, and the inning began walk, error, walk, error, sacrifice fly, making it 11-4 with two on and only one out. Those old familiar feelings might have started tapping Tiger fans on the shoulder one more time. But instead, a pair of fly outs ended it and the Plainesmen were soon bumping fists.
Matt Schultz had a huge game, reaching base in 4 of his 5 plate appearances; he went 2-for-3 with two runs and two walks.
Jeff Miller is also heating up – now 6 for his last 12 – after going 2-for-4 with 3 RBIs. His average is up to .328 on the season.
The Red Caps collected a relatively paltry eight hits on the night, none for extra bases.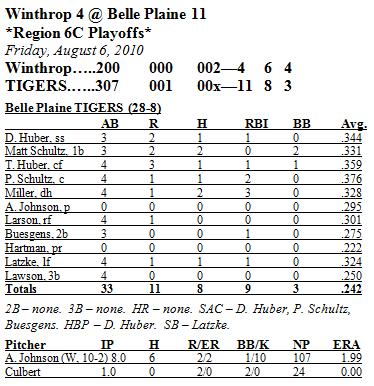 Tigers 10 @ St. Peter 0 (7 innings – Sunday, August 8 ~ Region 6C Playoffs)
The operative word for the day was HOT. I've been through some serious scorchers in my day, but this one had to rank right at the top of the list. Sweat dripped onto the lineup card as I filled it out; that just shouldn't happen.
Getting the ball for BP was Rob "Marathon Man" Wagener, and for the Saints it fellow right-hander and husky brute, Grant Nelson.
The Tigerapple Express scored thrice in the second, thanks to two singles, a walk, and a costly pair of St. Peter miscues. That would be more than enough for Wagener, although the Tigers added solo runs in the 4th and 5th innings.
The bearded wonder hardly broke a sweat until two were gone in the 6th, when he threw a pitch and grimaced in pain, threw one more test pitch, then departed for precautionary reasons. No Saints baserunner made it past first all day, as Wagener scattered three singles and issued zero walks. He also extended his season-long consecutive innings streak without an earned run to an amazing 39.2.
In the 7th El Tigerino broke it wide open, plating five as they batted around. Jim Buesgens delivered a two-RBI single, and Brad Lawson did the same a few batters later, his third hit of the day in four trips.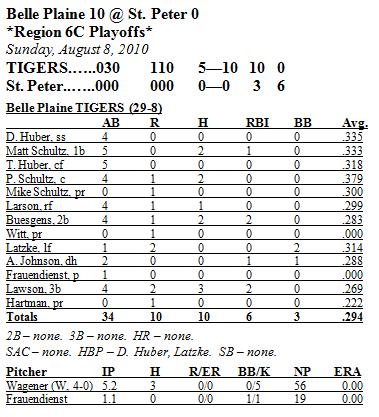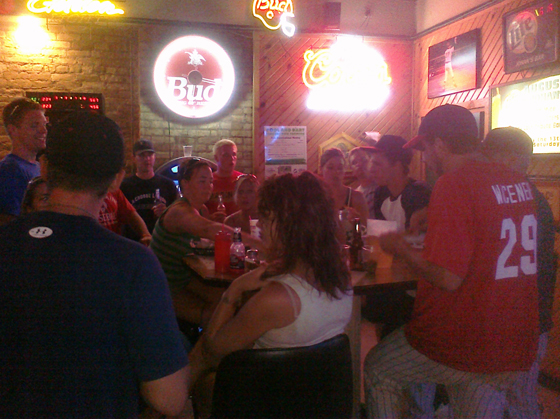 TIGERS WIN RVL-CENTRAL;

HOST REGION OPENER FRIDAY NIGHT

The Tigertown Express won the RVL-Central championship by the 10-run rule for the second year in a row, charring Chanhassen 11-1 Saturday afternoon in 7 innings.
27-8 Belle Plaine enters Region 6C play as the #1-seed from the RVL-Central, and will face off against the #2-seed from the RVL-West, Winthrop, at 8:00 pm Friday night in BP.
Win or lose, the Tigers will be on the road Sunday at 2:00 pm, but the opponent and location are yet to be determined. It will be at St. Peter or St. Benedict if the Tigers win, New Market or Chanhassen if the Tigers lose.
If the locals win both games this weekend, it could clinch a State Tournament berth, but only if the loser of Game #3 (which would be Winthrop, in this scenario) would defeat the victor of New Market / Chanhassen in Game #4.
Confused? I feel ya. But stick with the twitter link at www.bptigertown.com, and we will keep you on top of things.
As long as the Tigers don't lose twice this weekend, Region 6C will roll on Wednesday, August 11th. Look for all the essentials in next week's paper, and please see the accompanying Region 6C bracket in lieu of this week's Sudoku puzzle.
In the RVL-Central playoffs last week, Chanhassen eliminated Henderson 4-2 on Wednesday and Le Sueur 6-3 on Thursday.
Here's how the RVL-Central draft went: Belle Plaine took Le Sueur's Darron Culbert (pitcher) first and Henderson's Luke Frauendienst (pitcher/catcher) third, while Chanhassen countered with Waconia's Jeremy Salden and Henderson's Mat Peot.
In the RVL-West, Winthrop ended Gaylord's season 11-3 on Tuesday and did the same to Arlington on Thursday night, 11-1. St. Peter beat Winthrop 4-3 in the RVL-West championship game on Saturday.
The RVL-West draft unfolded with St. Peter nabbing Arlington's Joe Lucas #1 overall and Gaylord's Brad Walsh, while Winthrop selected Arlington's Scott Dose and Cody Loverude of Fairfax.
Chanhassen 1 @ Tigers 11 (7 innings – Saturday, July 31 ~ RVL-Central Championship)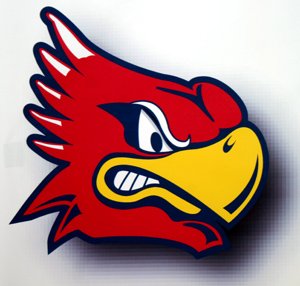 Belle Plaine entered the division championship game well-rested, enjoying the fruits of victories the previous Friday and Sunday. Chanhassen played Friday and Sunday as well, but also played Tuesday (several innings before rain intervened), Wednesday (to complete the suspended game), and Thursday.
Cory McLaughlin took the ball for the upstart Red Birds, while manager Miller once again countered with lefty ace Adam Johnson. The Tigers struck first blood, notching three in the second behind four stolen bases.
The T-Train put another big dent in the scoreboard in the 4th, plating five consecutive batters thanks to five hits and two more thieveries. Dan Huber started and ended the inning, as eight Tigers brought the pain in-between.
The Borough Bombers almost hit for the cycle in the 5th inning, tallying another two, as Tim Huber tripled, "Pop Tart" Larson doubled to score a run, and Jeff Miller singled to make it 10-0.
Johnson was motoring along on the mound, never facing more than four batters in any inning all day. After surrendering a one-out homer in the 7th to John Gulden, "AJ" recorded strikeouts number 12 and 13 on the afternoon – the last batter he would face.
Matt Schultz started the 7th with a single and was lifted for pinch-runner Johnny Egan. After a Tim Huber single, Pat Schultz sent one to the right-centerfield gap to score Egan, ending the ballgame early via the 10-run rule.
BP smoked 14 hits in 31 trips (.452), walked six times and swiped a total of seven bags. Tim Huber led the way with three hits, while Matt Schultz, Shawn Larson, "Hot Dog" Miller and Brad Lawson all had two.
Johnson yielded only 3 hits and one free pass, and garnered his seventh complete game of the season. He improved his mark to 9-2, dropped his ERA to 1.97, and is currently working on a cure for world hunger.
For the season, Belle Plaine has a staff ERA of 2.84, and a team batting average of .298.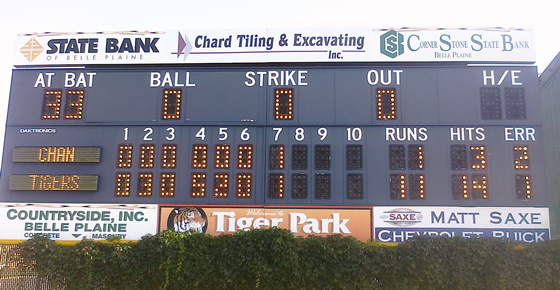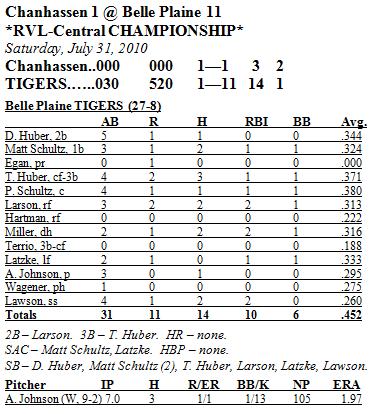 Tigers Clinch Region Berth;
Host RVL-Central Championship Saturday


Team Tigertown beat Henderson 13-3 on Friday and Le Sueur 3-0 on Sunday, putting them in the RVL-Central championship game on Saturday at 4:00 pm. The opponent is yet to be determined – check www.bptigertown.com for updates – but the location will once again be Tiger Park.
Most importantly, the Tigers have already secured a spot in the Region 6C playoffs. Whether they are the #1 or #2 seed from the RVL-Central will be determined on Saturday.
Belle Plaine's next game will be Friday, August 6th, at 8:00 pm, and they will also play Sunday, August 8th, at 2:00 pm. The opponents and locations are yet to be determined, and a full bracket will appear in next week's Herald.
If you'd like to check out the bracket seedings before then, visit the Tiger website. Oh wait...You already did.
East Side Merchants 8 @ Tigers 0 (Tuesday, July 20)
Winners of nine straight and 13 of 14, the Tigers welcomed the East Side Merchants – a Class 'A' team from St. Paul – to Tiger Park for a final tune-up before Friday's playoff opener. Unfortunately the local nine would not be "movin' on up" to topple the East Side, as suggested in "The Jeffersons" theme song.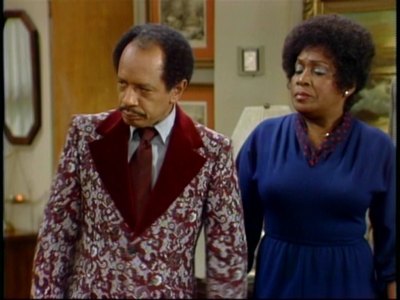 The Tigers turned in a couple sterling defensive plays early, with Josh Terrio making a sliding catch in front of the Merchants dugout in the 1st, and centerfielder Tim Huber laying out to make a sprawling catch in the 2nd. "Country" Matt Schultz even pitched in with a shoe-string snag in the 4th. After four frames, things were scoreless.
That's when the East Siders plated four runs, all with two outs, and batted around against starter Dan Huber. A pair of two-run doubles did the damage, and led to Huber's exit after the inning concluded.
Meanwhile, the Merchants' Brian Olson was dealing, and on his way to a complete game, six-hit shutout. It was the third blanking of El Tigre this year. Olson walked two and struck out seven in a masterful effort.
Tim Huber was the only Tiger to solve Olson, going 3-for-4 with a walk and a stolen base. The three hits raised Huber's average to .370 in 27 at-bats this year.
Shawn Larson worked the final four innings, and suffered Dan Huber's fate in yielding a four-run frame, this time the 7th. It's a good thing it was Fan Appreciation Night, or I'm not sure anyone would have been left by the time the 9th inning rolled around.
The Tigers tried shaking off the loss by telling themselves, "Now we're up in the big leagues / getting our turn at-bat / as long as we live / it's you and me baby / there ain't nothing wrong with that".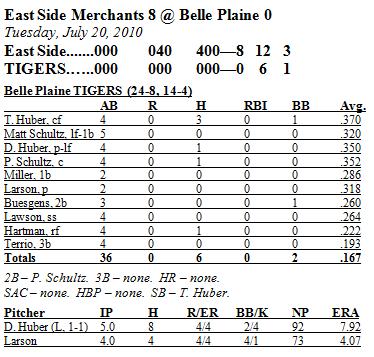 Henderson 3 @ Tigers 13 (8 innings – Friday, July 23 ~ RVL-Central Playoffs)
#4 Henderson beat #5 Waconia two nights earlier, and their reward was Adam Johnson and company on Friday night at Tiger Park. After a one-out error in the first, though, Luke Frauendienst lost one over the right-field wall, and it was suddenly 2-0 as the H-Town faithful hooted for joy.
Pat Schultz delivered a corresponding blow in the bottom of the frame to tie it at two, scoring brother Matt, who had walked.
Through 3 ½ innings the local nine looked more tense than a hostage negotiation in posting four errors, as another unearned run in the third made it 3-2, visitors.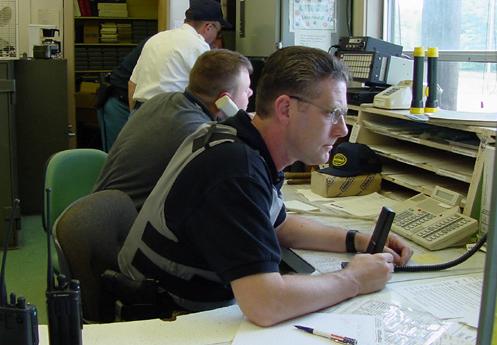 It was all BP from that point forward, however, as Pat Schultz highlighted a six-run 4th with a three-run, two-out double. 11 men batted in the inning, chasing starter Cody Boelter.
The Tigers put up another three in the 6th, with Pat Schultz driving in his sixth run of the game on a sacrifice fly, and Travis Latzke scoring two on a double.
Meanwhile A.J. was hitting his stride, and struck out nine of the last 11 men he faced. In all, he hung up 14 K's. In a strange twist, Frauendienst collected the only three hits Johnson gave up.
The game ended prematurely when two Tiger runs in the 8th put the 10-run rule into effect.
Each BP starter but one collected at least one hit, but Pat Schultz and Travis Latzke were men among boys. Pat the Elder went 4-for-4 with a home run, a sacrifice fly, and six RBI, while Travis the Younger went 4-for-4 with a double, a hit-by-pitch, and three RBI.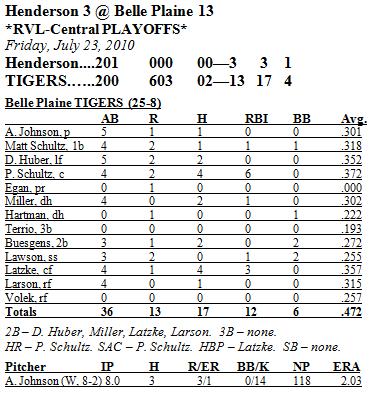 Le Sueur 0 @ Tigers 3 (Sunday, July 25 ~ RVL-Central Playoffs)
#2 Le Sueur pounded #3 Chanhassen 15-5 in 8 innings on Friday night, much as #1 BP did #4 Henderson. With a berth in the Region playoffs at stake, pesky D.J. Damberger faced off against the Tigers' Rob Wagener, he of 27 innings and no earned runs on the season.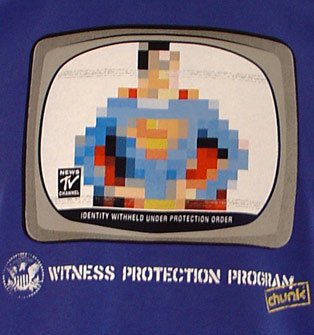 "Wags" would be tested early and often as in each of the first five frames, a Tiger defender committed an error. (It may or may not have been the same player, but due to the Fielder Protection Act of 1973, no further information will be released at this time.)
So far a lone Tiger run was standing up – a two-out double from Jim Buesgens in the 2nd, just barely scoring Matt Schultz all the way from first – but the sixth would pose as Wagener's biggest escape act yet.
With the bases loaded and two gone, the right-hander unleashed a wild pitch and Mike Koller dashed home from third. Catcher Pat Schultz's throw beat the runner and the tag was applied, but after an initial 'out' call, the home plate umpire determined for some reason that Wagener didn't have control of the ball, and called him safe.
Wagener gave a look of bearded disbelief and pleaded his case for another opinion – from the base ump – and to Belle Plaine's surprise and Le Sueur's dismay, the call was yet again reversed and the inning was over. The Braves put up a lengthy protest, as any team would have, but the call stood.
After a one-out double by Ed Fahey in the 7th, Wagener got two more outs and his work was done for the day: seven scoreless innings, with no walks and six strikeouts; and an amazing, if not improbable extension, of his consecutive innings streak without an earned run to 34.
In the 7th Dan Huber doubled with two outs, but pinch-runner Jonny Schulz was thrown out at the dish after trying to score all the way from first. Those tight hammies have to be feeling a little bit looser today!
After Brad Lawson worked a scoreless 8th – leaving the tying run at third when he struck out Darron Culbert – the Tigers finally got some insurance off Damberger, who'd kept them at bay all afternoon.
Pat Schultz doubled with one out – his third hit, raising his average to .384 – and pinch-runner brother Mike scored an out later on brother Matt's single. Buesgens then provided additional breathing room with his second RBI knock of the day.
In the 9th, "Rabbit Ears" Lawson brought the tying run to the plate with two outs, but got ex-Tiger Mike Milam to fly out to center, to the fielder that shall not be named.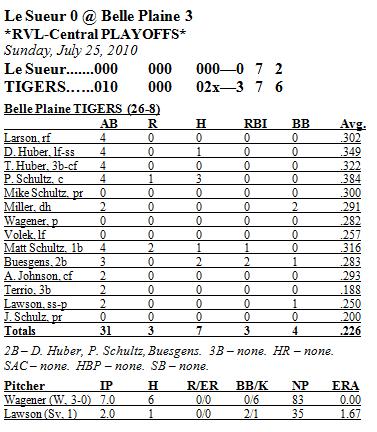 Tigers Rolling, Host Playoff Opener Friday


The Tigertown Express is red hot as the playoffs arrive, winners of nine in a row and 13 of their last 14 (the only loss in that span a 7-6 setback to Jordan on June 25). Gaylord and Young America fell victim this week, and the Tigers are now 24-7, 14-4 in the RVL.
#5 Waconia and #4 Henderson will lock horns tonight (Wednesday) at 7:30 pm, at Green Isle, with Henderson serving as home team. The winner will then travel to Tiger Park on Friday, for a 7:30 pm affair.
The high-seed is the home team in Games 1-7, so if the Tigers win Friday night, they will host either #3 Chanhassen or #2 Le Sueur on Sunday, at 2 o'clock, for a berth in Region 6C and a spot in the RVL-Central championship game next weekend.
Should the Tigers lose Friday, they will next play Tuesday, 7:30 pm at home, in an elimination game. Follow the twitter link at www.bptigertown.com for the quickest updates. You can also visit www.rivervalleyleague.com for scores from the RVL-West playoffs as well.
Come on out to Tiger Park for some playoff baseball this week, and boost the Tigers' home-field advantage!
Tigers 14 @ Gaylord 5 (Tuesday, July 13)
The T-Train headed to Gaylord for their final league game of the regular season, and Dan Huber got the nod. BP came out firing, scoring in each of the first four innings to go up 10-0 after 3 ½. Highlighting the outburst was Adam Johnson's three-run circuit clout in the 2nd, his first tater since Legion ball.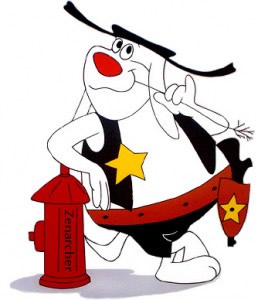 The Islanders struck back and made it interesting, grabbing three in the 4th and two in the 5th to halve the lead. However, Gaylord wouldn't dent the scoreboard again thanks in large part to three shutout innings from Mike Schultz. The save was Deputy Dawg's first of the campaign.
Every starter had a hit, and in fact every starter but two had multiple hits. Johnson and Matt Schultz both drove home three, and Pat Schultz led the 18-hit parade with a trifecta of his own.
The Tigers lashed six doubles, with Dan "The Man" Huber accounting for a pair in his first two at-bats.
Collin Grams was a one-man wrecking crew for the home team, going 4-for-5 with a double, a homer, and a steal.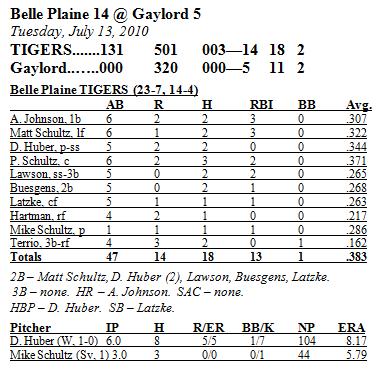 Tigers 8 @ Young America 3 (Thursday, July 15)
BP rolled into the Dutch hamlet that is Young America's ballpark, one of this writer's personal faves. It also proved to be Josh Terrio's numero uno, as the future grand marshal busted out with a 4-hit game and the first home run of his town team career.
Dan Huber went deep as well – one of six extra-base knocks for the Tigers – and 19 safeties donned the hit column. Over the last four games, the Borough Bashers went 62-for-169 (.367) to raise their team average 14 points, to .295. Also included in that span are 19 extra-base hits, five of them long balls.
Brett Kruschke filled in for an ailing Jeff Miller for the second game in a row, and the Tigers stuffed the boxscore with well wishes. Matt Schultz joined Dan Huber with three hits, and Dan also swiped two of five BP bags on the day.
Adam Johnson went 2-for-6 with a triple and a steal, and oh yeah pitched seven innings of three-run (two earned) ball, striking out 12. Brad Lawson finished up on the hill, throwing two scoreless while working out of a bases-loaded, nobody-out jam in the 8th.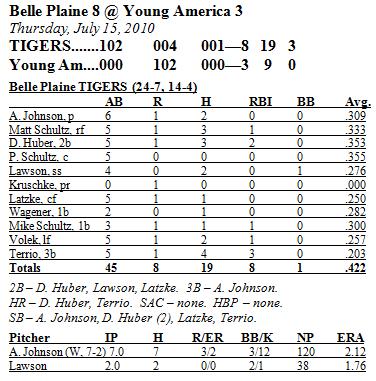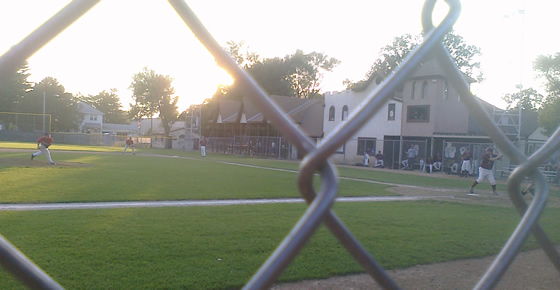 Tigers Clinch RVL-Central Title


The Tigertown Express extended their winning streak to seven and 11 of their last 12, in the process securing the #1-seed in the upcoming River Valley League – Central Division playoffs. Belle Plaine will open at home next Friday, July 23, 7:30 pm against either Waconia or Henderson. More details, and a full bracket, will be in next week's Herald.
Last night, El Tigre played their last league game of the regular season at Gaylord – check the Tiger website, www.bptigertown.com, for the data.
Tomorrow night (Thursday) at 7:30 pm, the local nine will play their fourth straight road game, at Young America.
On Tuesday night, it's the last regular season home game of the year and "Fan Appreciation Night" – you can bet the Belle Plaine Baseball Association will whip up some popular giveaways, as has become the custom in recent years. The East Side Merchants will be here at 7:30 pm – don't ya dare miss it!, as 'Mean' Gene Okerlund used to say.
A summary of the game is below, but special thanks to those who helped out and made the DRS-RVL All-Star Game on Friday night a success. The game was well-attended and seemed to be enjoyed by all, and the RVL won a hard-fought battle by a 2-0 count.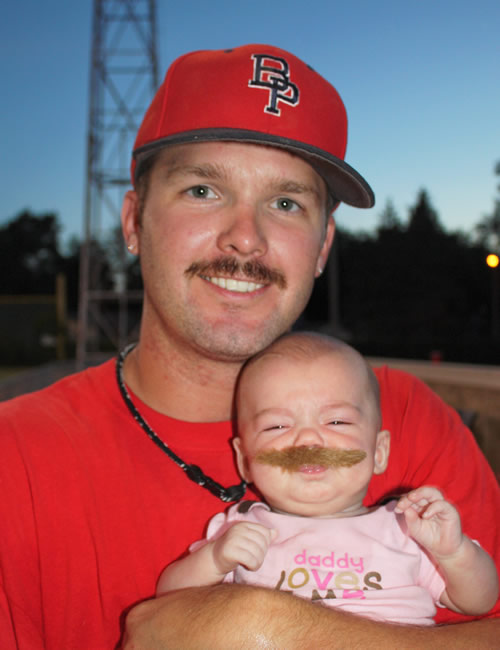 St. Peter 1 @ Tigers 4 (Tuesday, July 6)
St. Peter came to town on "Mustache Night" (45 MUSTACHE NIGHT PICS) in the Tiger dugout, and got taken for quite a ride by left-hander Adam "Cookie Duster" Johnson. In fact, Johnson has gone streaking since beginning the year 0-2 through his first three starts.
In his last six starts (including the St. Peter game), "AJ" has yielded just six earned runs in 53 innings (1.02 ERA). He has also surrendered just 21 hits and six free passes, while ringing up a whopping 78 strikeouts. Unable to pitch in the DRS-RVL All-Star Game due to this Tuesday night nod, #32 has certainly stated a sound case. 91 DRS-RVL ALL-STAR GAME PICS!
Shawn "Soup Strainer" Larson led off the home-half of the first with a double, and after Pat "Pushbroom" Schultz did likewise it was quickly 2-0, Tigers.
In the 4th, Billy Hanson stroked a one-out triple and scored on a sac fly from All-Star Ben Mikelson, but the three-bagger would be the last hit of the night for the Saints.
Belle Plaine answered the call in the bottom of the 4th, slugging two more doubles – by Jim "Dr. Fuzzenstein" Buesgens and Johnson – and extending the lead to 4-1, where it would end.
Johnson struck out the side in the 3rd, 5th, and 8th innings, and faced the minimum number of batters after the 4th inning sac fly.
Pat Schultz led the way with a 3-for-4 performance, including a double, an RBI, and a 2nd place finish in the mustache contest. Rob "Lip Tickler" Wagener took 3rd, and Nick "Nose Neighbor" Volek was the proud champion. Many others competed and used eye black where family genes failed them.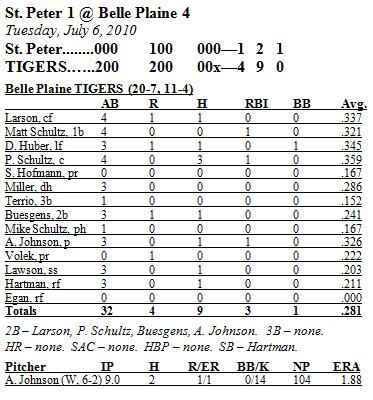 DRS All-Stars 0 vs. RVL All-Stars 2, at Belle Plaine (Friday, July 9)
DRS-RVL ALL-STAR GAME PROGRAM!
(As posted at www.rivervalleyleague.com)
Single runs in the 1st and 3rd innings were enough offense as five RVL pitchers combined on a three-hit shutout to defeat the DRS 2-0 in Belle Plaine. Scott Hollingsworth (Jordan) pitched the first four frames and would notch the win. Ryan Seifert (Chaska), Brad Lawson (Belle Plaine), Ryan McPartland (Le Sueur) and Mike Beckius (Jordan) pitched the balance of the game, with Beckius earning a save.
Offensively, the RVL was led by game MVP Kyle Geason of Chaska. Geason doubled home the first run with a line-shot double down the leftfield line and into the corner vines. A Geason sacrifice fly plated the second run in the 3rd inning, and he also doubled in the 5th. The River Valley League now leads the series two games to one. Losing 6-0 in Shakopee in 2007, the RVL has bounced back with a 9-1 win in New Prague in 2008 and the 2-0 blanking in 2010. The 2009 game was rained out in Arlington.
In the pre-game homerun derby, Justin Johnson of Chaska swatted five as the RVL won, 10 -5. Belle Plaine's Tim Huber swatted three long balls for good measure in the RVL's final at-bat.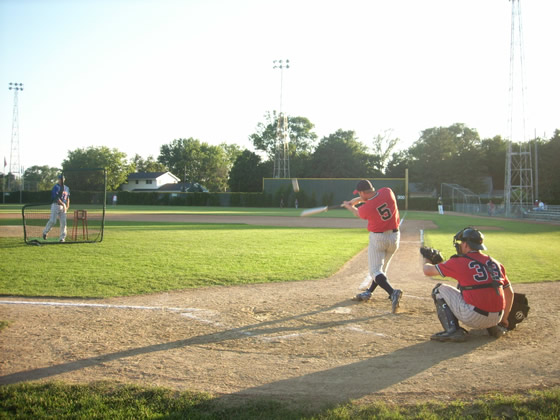 DRS HOME RUNS – 5
Dustin Steinhoff (New Prague) 2, John Krocak (Montgomery) 2, Dave Sherry (St. Benedict) 1, Tyler Bednar (Lonsdale) 0
RVL HOME RUNS – 10
Justin Johnson (Chaska) 5, Tim Huber (Belle Plaine) 3, Aaron Olson (Shakopee) 2, Kyle Geason (Chaska) 0
TIGER ALL-STARS: Tim Huber started in centerfield, and went 0-for-2 with a hit-by-pitch. Pat Schultz caught the final four frames for the RVL and grounded out to first base in his only at-bat. Brad Lawson pitched a scoreless 7th, walked one and struck out one. Manager Jeff Miller brought it all together and became the first manager in baseball history to shun the DH option in an All-Star Game.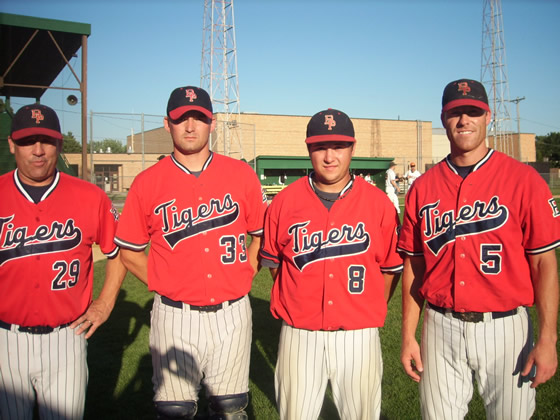 Tigers 5 @ Winthrop 3 (Saturday, July 10)
Rob Wagener extended his season-opening, consecutive innings streak without an earned run to 27, and the Tigers celebrated another league victory amid the fervor of Farm City Fun Fest in Winthrop.
Wagener, the kind of guy who would give you the shirt off his back, did allow an unearned run in the sixth. However, that would be all the mighty Eagles could muster in his 7 innings, as he scattered as many hits and walked nary a man.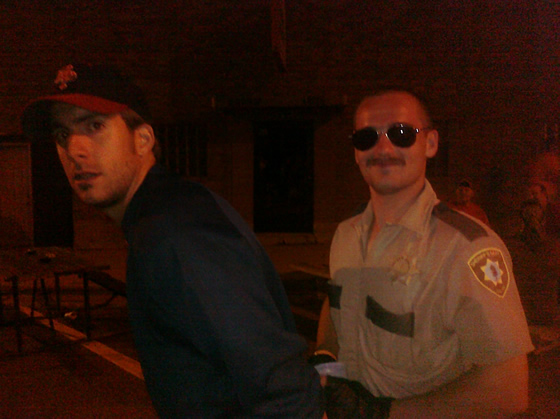 Jonny Schulz relieved Wagener but got into some 9th inning trouble, and it was 5-3 when Adam Johnson was summoned from centerfield to get the final out. With a 4-pitch strikeout of Winthrop All-Star Pat O'Malley, Johnson notched the first save of his BP career.
Brad Lawson led the Tiger charge with a 3-for-5 night, and four other homies had two hits apiece. Pat Schultz pegged his 2nd homer of the season, a towering shot to right-centerfield.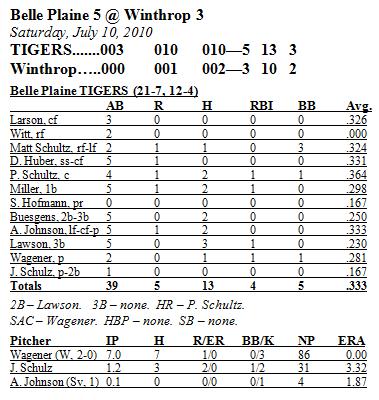 Tigers 5 @ Victoria 3 (Sunday, July 10)
Saturday night's 6:00 pm game at Winthrop and Sunday night's 6:00 pm game at Victoria were eerily similar, beyond their unusual weekend start times. In both, the Tigers led 5-1 entering the 9th, allowed two runs, and won 5-3. In both, Adam Johnson picked up a save. In both, the previously slump-ridden Brad Lawson paced the offense with 3 hits.
On Saturday night, the Tigers lashed out 13 hits; on Sunday, a cool dozen. In both games, the Borough Bombers slugged a home run: on Saturday night, Pat Schultz; on Sunday, a "blast from the past" with Jim "Crash Davis" Buesgens dialing deep from his formerly familiar catcher position.
Often times defense doesn't fit into the flow of an article, but centerfielder Adam Johnson's catch in the 5th must be mentioned: with the Tigers up 2-1 in the 5th, one out and one on, Johnson out-ran a ball destined for the right-centerfield gap and made a diving catch, then sprang up and fired to first to complete a double play.
Brad Lawson was stingy on the mound, as he has been all year (1.85 ERA), limiting the Vics to just three singles and one run in 7 frames. Johnson threw the last two innings and picked up the save, but struggled – giving up two runs – and needed 43 pitches to do so.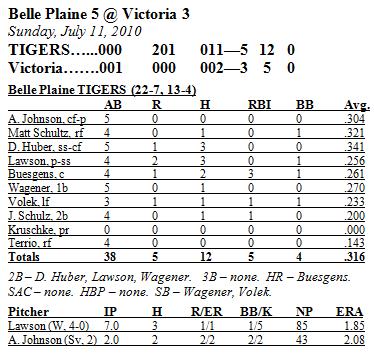 Tigers Take Control of RVL-Central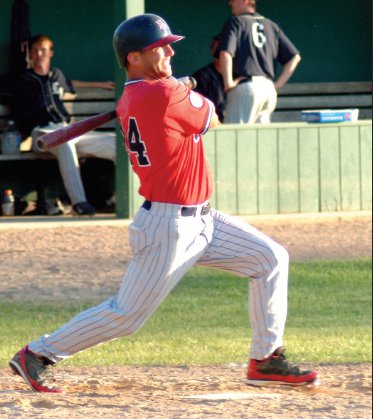 The Tigertown Express won two more games, including one at Le Sueur that puts them in the driver's seat for the RVL-Central crown and #1 playoff seed. With four league games remaining, Belle Plaine is 10-4 in RVL play, while Le Sueur is 9-6. The teams split the regular season series.
The rest of the Central division has Chanhassen and Waconia at 4-9, and Henderson at 4-10.
Monday night's game against the Mankato Cubs was cancelled, due to an unfortunate lack of available players for the home team Tigers. Last night our mustachioed warriors hosted St. Peter; check www.bptigertown.com for a twitter update.
FRIDAY NIGHT is a big one at Tiger Park, and should be a lot of fun as the Tigers host the DRS-RVL All-Star Game. A home run contest at 7:30 pm will feature Belle Plaine's own Tim Huber, and the game is scheduled to begin at 8:00 pm. Pat Schultz and Brad Lawson will join Huber and co-manager Jeff Miller in defending the RVL's honor. Don't miss this gala event!
| | |
| --- | --- |
| | |
| 2009 RVL All-Star Team | 2009 DRS All-Star Team |
River Valley League All-Star Game Press Release
River Valley League All-Star Game Rosters
The T-Train will then gear up for three straight road contests, starting Saturday night at Winthrop, 6:00 pm. Sunday will feature another 6:00 pm battle, this time at Victoria.
On Tuesday, the usual mid-July trek to Gaylord will commence at 7:30 pm.
Especially as we come down the stretch, don't forget to check www.rivervalleyleague.com for scores, game highlights, and up-to-date standings.
Rochester Blues 2 @ Tigers 10 (Tuesday, June 29)
Rochester is a long drive and it showed, as they arrived about 20 minutes prior to game time. Adam Johnson was making his first mound appearance in 13 days, and was paired up against the Blues' side-slinging Garett Benson.
Things were scoreless until the 4th, when Belle Plaine's leading hitter, Dan Huber, started the inning with a single. He would eventually score on an RBI groundout from Johnson, and the 1-0 lead held through five.
In the 6th pitcher Benson led off with a triple against his counterpart. He soon scored, tying it up at one, but the next two innings would be all Tigers.
The Borough Bashers laced four consecutive hits in the sixth to help plate three, then used three hits and a bevy of Blues errors to tack on six in the 7th. The highlight of the inning was "Green Light" Johnson whacking a 3-0 pitch for a two-run triple.
"AJ" allowed one more run in the 8th, but it was merely trivial, as he polished off the Rochester squad with a complete game five-hitter. He walked none and struck out eight, throwing only 82 pitches (at least according to the attention-deficit challenged pitch chart keeper of the night, Jimmy Buesgens).
Every Tiger starter had a hit, with Dan Huber and Travis Latzke both going 2-for-5.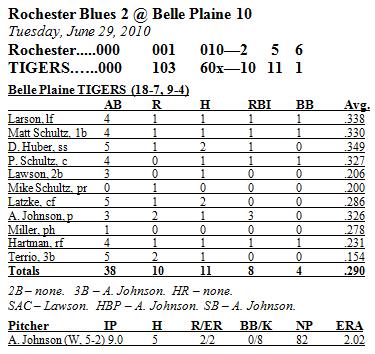 Tigers 4 @ Le Sueur 0 (Thursday, July 1)
Thursday's game in the Valley was about as big as regular season games come: first place was on the line as the Tigers held just a half-game lead over the hard-charging Braves, winners of 7 of their last 8 league games. Among those wins was an 8-3 handling of Belle Plaine, in Tigertown, on June 15.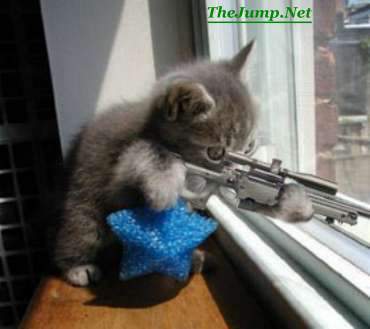 Rob Wagener got the nod against Le Sueur manager and sniper extraordinaire, D.J. Damberger (he claimed another base-running victim in this game, by the way). Tiger Pride struck first in the 4th, when Dan Huber led off with a triple and scored one out later on Jeff Miller's RBI single.
Still held captive by the nuances of his surgically-repaired right arm, Wagener departed after four frames but extended his consecutive innings scoreless streak to 20 in the process. Quite the "hello" from Mr. Wagener to the Tiger faithful.
Belle Plaine scored their second run in similar fashion to the first, when Matt Schultz led off the 6th with a triple, and scored on Dan Huber's sacrifice fly.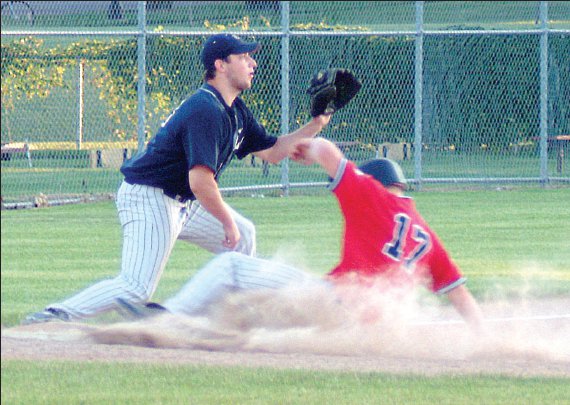 In the 8th another sac fly – from Miller, scoring Matt Schultz – made it 3-0.
Meanwhile Shawn Larson was cruising along in relief, and worked the final five innings yielding two hits and no runs – the latter two statistics exactly as Wagener had done. "Pop Tart" picked up the victory, his second of the campaign.
Hitting heroes were plenty for BP: Pat Schultz went 3-for-4, Jeff Miller went 2-for-3 with 2 RBI, and Matt Schultz and Larson garnered two hits in five trips.
The Tigers have a heck of a team batting race going on, from the top four spots in their order (respectively): Shawn Larson .342, Matt Schultz .333, Dan Huber .345, and Pat Schultz, .343.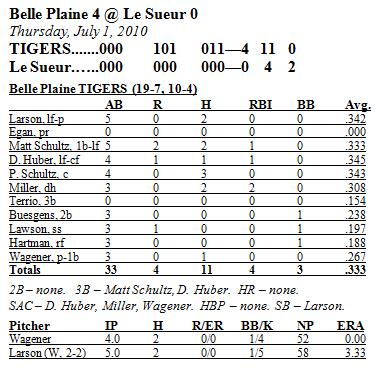 Tiger Train Rolling Again

Baseball is in the eye of the beholder: are the Tigers rolling because they've won 12 of 15, with two of those losses coming by just a run? Or are they deceiving, since five of those wins have come by the slimmest of margins? Is it "just win" or "not so fast, my friend"?

The playoffs may reveal those answers, or it all may be just random chance, but for now, the season marches on.
The town team is 17-7, 9-4 RVL after taking 3 of 4 this past week, with wins over St. Boni and a pair against Chanhassen. On Friday, Jordan's Brewers squeaked by the home nine, 7-6.
Last night (Tuesday, June 29) the Chatfielders hosted the Rochester Blues; check www.bptigertown.com for the vitals.
Thursday will see the Tigers traveling to the land of the Jolly Green Giant in search of vengeance for an 8-3 setback just a couple weeks ago, and first place in the RVL-Central is on the line against the upstart Le Sueur Braves. First pitch, 7:30 pm.
After a few days off for the 4th of July, a rare Monday game kicks off the week as the Mankato Cubs visit. Then on Tuesday, St. Peter will be here. Both game times are once again at 7:30 pm.
St. Boni 4 @ Tigers 5 (Wednesday, June 23)
St. Boni came into Tiger Park losers of ten straight, and sporting a 1-11 mark overall. For the season they'd been outscored 117-36, and yet after four and a half innings, led the (14-6) Tigers by a score of 4-0. Huh?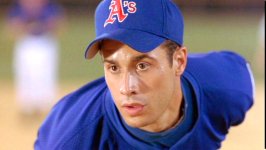 Josh "Summer Catch" Terrio got the nod on the hill from Manager Miller, his first mound appearance of the year. He fared well until the fifth – his last inning – when he walked his only two batters of the game, plunked a guy, and allowed a three-run, two-out double to #3-hitter Ryan Bollinger.
It would be generous to say the Tigers flipped a switch, because nothing came easy. But they batted around in the 5th, getting back the runs they had just surrendered. The highlight was a two-RBI triple from Shawn Larson, who scored a few batters later on a Jeff Miller RBI single.
In the 7th, Team Tigertown pushed two across, taking a 5-4 lead. Both runs came on bases-loaded walks, two of four drawn in the inning.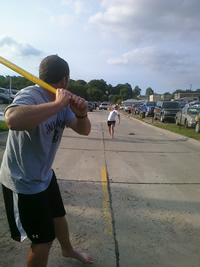 The game-winner went to Adam Johnson, who worked three free passes from the 9-hole just as DH Jeff Miller did from the #8 – over half of the eleven issued by St. Boni pitching.
Jonny Schulz relieved Terrio, and was lights out. He faced the minimum number of batters – his only blemish was a two-out walk in the 7th, whom catcher Pat Schultz promptly picked off, anyway.
Schulz treated the Saints as if they were swinging wiffleball bats, and gave up nary a hit over four innings en route to his second win.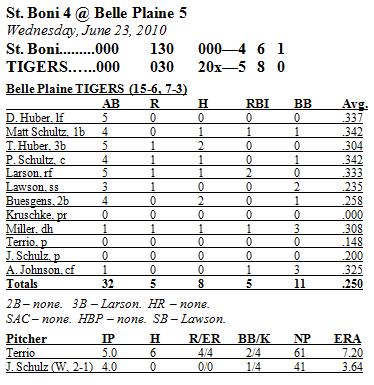 Jordan 7 @ Tigers 6 (Friday, June 25)
I don't know this for a fact, but Tiger Park may have been the scene of the only completed ballgame in the Twin Cities for the stormy night of Friday, June 25th. After a 15-minute delay and a rainy first inning, the rest of the evening was picturesque and playable. (Sorry if the rain kept you from getting to try a pulled pork sandwich – they were delicious.)
Jordan scored two and batted seven in that soggy first inning, off starter Dan Huber. After Trent Simek homered to lead off the 5th – the second Brewer long ball, after Jacob Pauly's in the 3rd – the visitors were in command by a 6-2 count.
The Red Caps rallied Little League-style in the 6th, starting the inning walk, hit-batsman, walk, balk, and error. Matt Schultz's blooper to right with two away scored two, and the next thing you know, we were tied at six.
Ryan Witt worked a perilous 7th, walking the bases full while inducing a pair of strikeouts and a pop out to emerge unscathed. Shawn Larson was summoned for the 8th, and a one-out walk haunted after consecutive doubles gave J-Town a 7-6 lead.
BP loaded the bases with nobody gone in the 8th, when former Gopher and Tampa Bay Ray farmhand, Tyler Oakes, came on. After a strikeout with his nasty slider, he got Pat Schultz to bound into a 4-6-3 double play, quelling the Tiger rally.
In the 9th, Oakes struck out two more and set the Tigers down 1-2-3, and it was time to bag up the helmets.
Matt Schultz went 2-for-3 with 2 RBI, a walk, and a sacrifice, and brother Pat went 2-for-5 with a double and an RBI.
The home team had no answer for Simek, who went 2-for-2 with a home run, a double, three walks and a steal for the despised Brew Crew.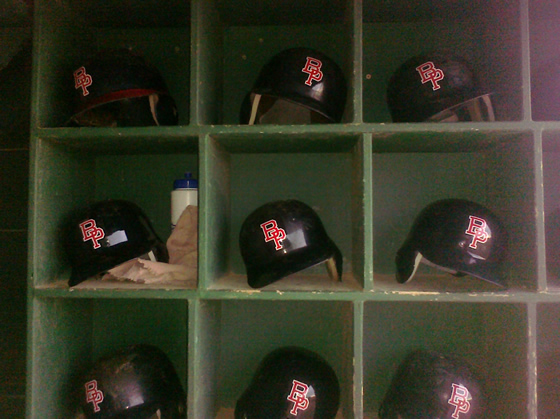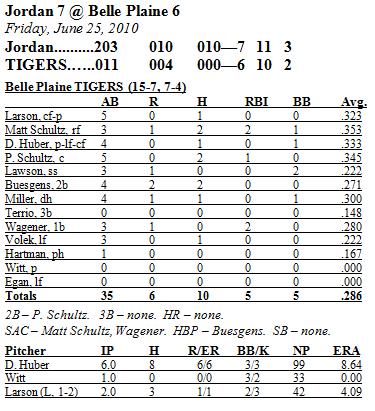 Tigers 5 @ Chanhassen 0 (Saturday, June 26 – 7 innings)
The Tigers stormed the Red Birds castle in this unusual Saturday night contest, plating the first three men of the night on the way to a 3-0 lead. Le Tigro batted around, but left the bases full against Chanhassen starter Cory McLaughlin.
This was the first look at the new league-mates' home park, and aside from a mound that would make Bob Gibson blush, most had a favorable take on "The Sauna" (called so not necessarily because it was hot, but for the grandstand's likeness to a giant, walk-in sauna).
Rob Wagener, still ramping up after offseason arm surgery, was sharp for Belle Plaine and would go the distance. However, the distance was only 6.1 innings, because with one out in the bottom of the 7th and the Tigers on top 5-0, the game was called due to lightning.
Wagener extended his season-long scoreless streak to 16 innings, and earned his first win as a Tiger.
He was buoyed by some tremendous defensive plays, one a diving, sno-cone catch from Dan Huber in left field, and another an Omar Vizquel-like, over-the-head catch by third baseman Josh Terrio. Hooray, defense!
Shawn Larson and Dan Huber carried the offensive load – Larson went 2-for-2 with two walks and two runs scored, while Huber went 2-for-4 with 3 RBI. Both stole a bag to boot.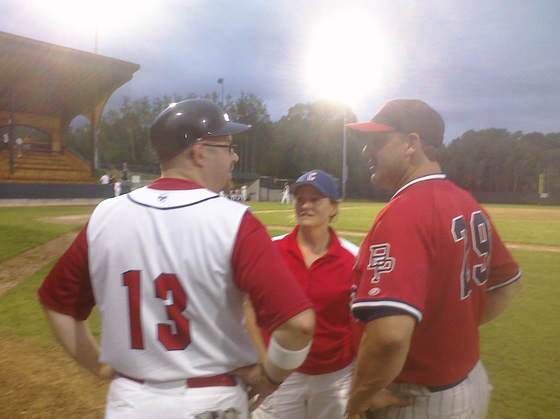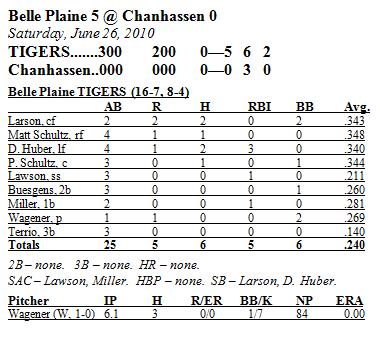 Chanhassen 1 @ Tigers 2 (Sunday, June 27)
Brad Lawson picked up where Rob Wagener left off the night before, extending Chanhassen's scoreless streak against Tiger pitching to 14.1 innings until Tony Morengo singled to lead off the 9th.
Belle Plaine led 1-0 thanks to Pop Tart Larson's scamper home from third in the first inning, after Dan Huber successfully stole second and the ball got away.
Lawson was going for the complete game, but after his 14th strikeout Nick Brenner lashed his second double of the day, and tied the game at one. Lawson would induce one more 'K' and a groundout to keep it tied.
With one out in the 9th, Jeff Miller singled but soon disappointed the Senior Citizen's Day crowd, who all thought it would have been fitting for him to run and inspire our guests of honor. But instead Brett Kruschke was summoned to run from the 3rd base coach's box.
With Ernie Stumpf playing "Charge!" on his concertina (not really) and a second out in the books, Tyler Hartman worked an important walk to put the go-ahead run in scoring position.
9-hitter Josh Terrio then split the left-centerfield gap, allowing Kruschke to race around with the winning run and giving the Tigers a regular-season (and 22-hour) sweep of the Chan Red Birds.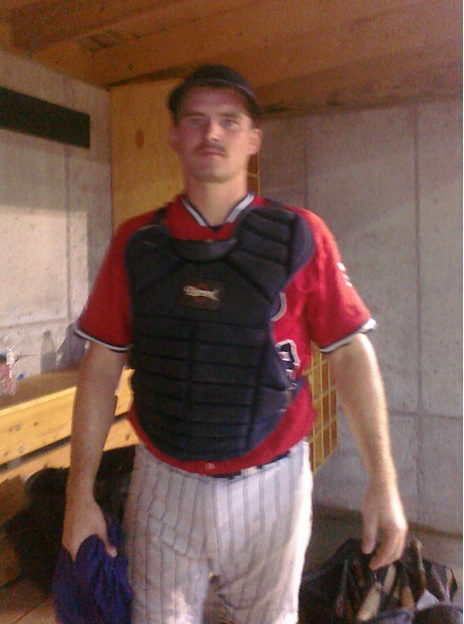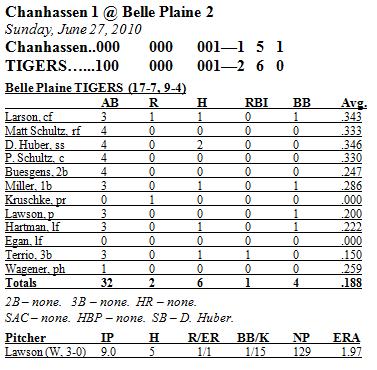 Tigers Take 3 of 4 in Busy Week

The Tigers were busy this past week, playing four games in five days. Tigertown took the week full of games well and won three out of the four, with the lone loss coming against the LeSueur Braves.
After losing to the Braves last Tuesday, the tigers put together a three game winning streak beating Arlington 3-1, Henderson 7-6, and Waconia 12-3.
Belle Plaine will have yet another busy week with five games set to be played within the next week. It starts with a non-league home game against St. Boni Wednesday night, and then continues on when Jordan will visit Tiger Park Friday night, Saturday night the Tigers will travel to Chanhassen with a 6 pm start time, after the game both the Tigers and Redbirds will hop in their cars and travel back to Belle Plaine to play a 2 pm Sunday afternoon game here in town. Next Tuesday will be the last of the five games played which is against the Rochester Blues with a 7:30 start time.
Friday June 25th will be Dollar Beer Night, as well as Pulled Pork Sandwich Night at the ballpark as the Tigers will play host to the Brewers of Jordan.
Another promotion happening this week is on Sunday June 27th, when Ernie Stumpf will be playing some music for Senior Citizens Day at the park.
You can visit www.bptigertown.com on the internet machine, to see the upcoming games and promotions as well as to keep up on the recent scores and stats.
LeSueur 8 @ Tigers 3, (Tuesday June 15th)
Shawn Larson took the mound for the local nine, and didn't have the start that he had hoped for. LeSueur wasted no time scoring, as they posted one run in the 1st inning, 4 in the 3rd, and 1 in the 4th to take an early lead.
The Tigers had no problem getting on base with hits as they had just as many as the Braves did. However defense was yet another problem for the Tigers as they committed 4 errors in the field for the second game in a row.
Former Tiger Mike Milam had three hits on the night leading the way for the Braves.
Larson and Pat Schultz led the way for the Tigers each getting three hits leading the way for the Tigers.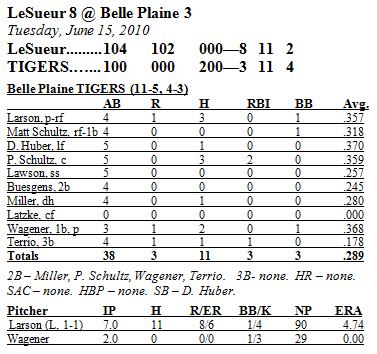 Arlington 1 @ Tigers 3, (Wednesday June 16th)
With the traveling trophy "Red Helmet" on the line the Tigers sent out ace Adam Johnson on the mound who continued his dominance for the Tigers throwing all nine innings only giving up one run while striking out 11.
In Johnsons last four starts he has gone 33 innings while giving up only three earned runs. Johnson helped himself out at the plate as well going 2-4 with 2 rbi's.
One of the highlights of the night was when Tim Huber hit a shot to the flag poles in centerfield for a triple, and then straight stole home three pitches later for the Tigers third and final run of the game. This is the third year in a row now that Huber has stole home against Arlington, both of the previous stolen bases took place in Arlington.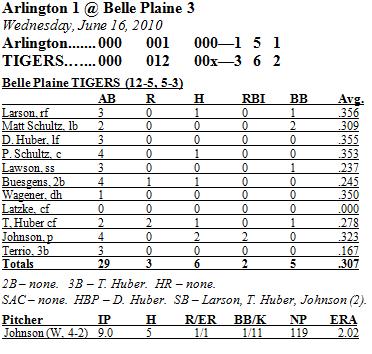 Tigers 7 @ Henderson 6, (Saturday June 19th)
Team Tigertown hoped in their cars and headed to Henderson to take on the other Tigers in the league in an unusual start time for a Saturday game (4 pm.)
After four scoreless innings the Tigers finally pushed across two runs in the fifth to take the lead. It wasn't long before Henderson tied it up though and after 6 complete the scored was tied up again.
Rob Wagener made his first start on the mound in a Tiger uniform, and continued his scoreless inning streak, extending it to 9.2 innings. Not only did Wagener make his first start on the mound, but Dan Huber made his first appearance on the mound of the year.
Tiger Dan Huber thought that what ever his brother Tim could do, he could do to and tried to steal home; but fell short and was tagged out by Henderson's catcher Danny Endres.
Both Matt Schultz and Dan Huber had two hits for the Tigers and lead the way for the local nine. Mike Schultz picked up the win in relief, while Shawn Larson picked up the save on the mound, throwing the final 2.2 innings while striking out the last five hitters.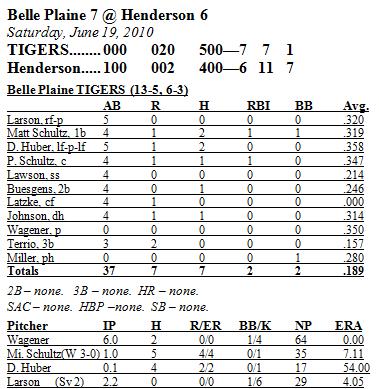 Tigers 12 @ Waconia 3, (Sunday June 20th)
Belle Plaine hit the road again for another division game in the River Valley League. It didn't take long for the bats to wake up as the Tigers tallied 4 runs in the first inning.
Matt Schultz continued his hot hitting and had four hits leading the Tigers hit parade which ended at 19 total hits for the game. Both Brad Lawson and Shawn Larson had three a piece.
For the first time all year every single starter scored at least one run in the game, with Larson leading the way with 3.
In the two games that the Tigers have played against Waconia this year they have outscored the Lakers 27-5.
Lawson started on the mound for the Tigers and went 7 innings getting the win before handing the ball off to Dan Huber who tossed the last two innings.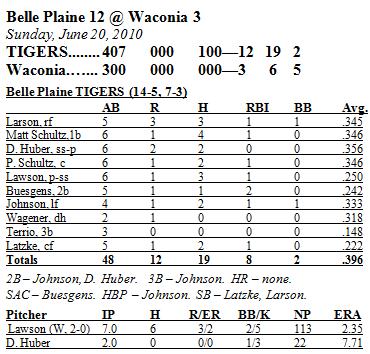 'Classic' Meltdown for Tigers
Extra-Inning Loss Propels Marshall to Title


The Tigers' six-game winning streak was snapped in a most painful way, blowing a four-run lead with three outs to go in an 11-10 loss Saturday night to eventual tournament champion, Marshall.
Belle Plaine beat Freeport 3-2 on Friday night to reach the semis, and Marshall defeated Blue Earth 8-2 on Sunday to take home their first Tigertown Classic title. Freeport beat Upsala 4-3 in the consolation game; please visit www.bptigertown.com for all the results.
On Tuesday night the June monsoon claimed another washout, this time with the squad scheduled to play at the Prior Lake Mudcats. As with all non-league games, this one will not be rescheduled in 2010.
Belle Plaine returned to league action last night, hosting Le Sueur; check the Tiger twitter link at www.bptigertown.com for details. Tonight Arlington visits in a game that was originally scheduled for May 7, with the first pitch at 7:30 pm.
The RVL madness continues this weekend, with road games at Henderson and Waconia Saturday and Sunday, at 4:00 pm and 2:00 pm, respectively.
Great news: the Belle Plaine Baseball Association found out Saturday that their bid was successful and they will co-host the 2014 State Tournament with Jordan, with Le Sueur serving as the 3rd site!
A friendly midseason reminder, baseball fans: aside from the well-plugged Tiger website, don't forget about the league website at www.rivervalleyleague.com, and the state site at www.minnesotabaseball.org. The Tigers haven't yet started tweeting in-game updates like the Marshall A's, but without a doubt there are more ways to follow your team than ever.
Freeport 2 @ Tigers 3, 7 innings (Friday, June 11 ~ Tigertown Classic)
With Chief Wannawin – a wooden Indian statue that was kidnapped from Freeport during the Black Sox Tournament – planted in the far corner of the Tiger dugout, Adam Johnson took to the hill in hopes of maintaining his recent string of dominance. In his previous three appearances "AJ" went 21 innings with no earned runs, five hits and one walk allowed, and 34 punchouts.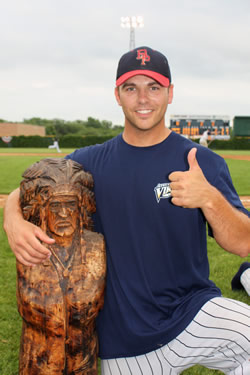 So naturally Johnson walked the first two Black Sox batters of the game and both came around to score, ending his scoreless innings streak. Fortunately, though, the southpaw left the bases juiced in the 1st to keep the locals within reach.
All was quiet on the Tiger front until Nick Volek led off the 5th with a hit-by-pitch. One batter later Dan Huber walked, and the red-hot Matt Schultz singled in Volek from his new home in the batting order, the #2-hole. Tim Huber then delivered a sac fly to left and brother Dan scampered home with the tying run.
In the 6th, Brad Lawson opened with a base on balls, and was bunted to second by Shawn Larson. Jeff Miller then drove a ball to the right-centerfield gap, doubling and scoring Lawson with the go-ahead run. One year ago at the Tigertown Classic, versus Freeport, it was also Miller who delivered the game-tying double with two outs in the 7th – and both times the fans received a Hulkster flex before he left for fleeter feet.
Johnson was on lock-down pretty much since the first inning trouble, and wrapped up the game by striking out his 11th batter. The win was the pitcher's third in a row, putting him at 3-2 on the season.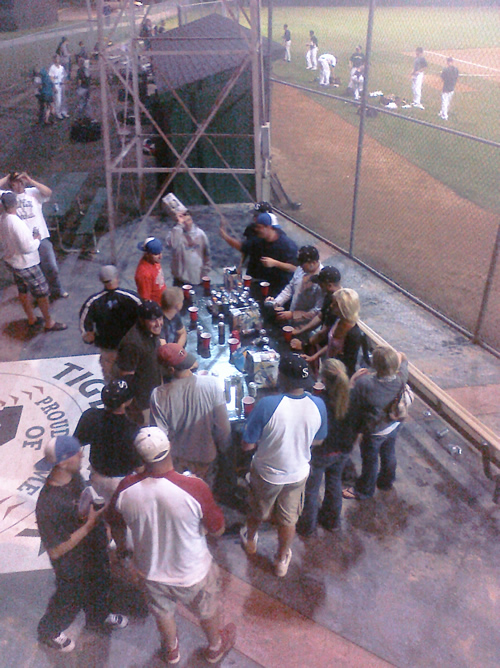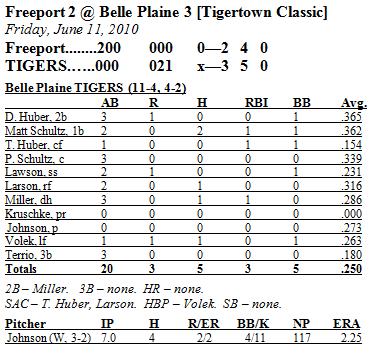 Tigers 10 vs. Marshall 11 @ Belle Plaine, 9 innings (Saturday, June 12 ~ Tigertown Classic)
Our records for the Tigertown Classic go back to 2001, and in that time the tournament's namesake has not made it to the championship game. (Draw your own conclusions.) Saturday night – Game #5 of #5 on the day – presented another such opportunity, and the task was a daunting one against Kelly Loft's Division II, er, Class 'B' Marshall Mustangs, er, A's.
Due to the fair nature of Mama Tiger and the Classic, Marshall won the coin toss and was home team on the scoreboard, but trailed to Brad Lawson and the Tigers 3-0 after three complete. Tim Huber drove in the second of those runs with a booming triple to the flagpoles in the 3rd, and scored immediately thereafter on a sacrifice fly from Pat Schultz.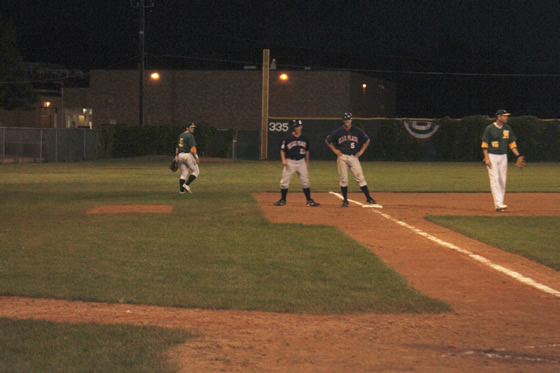 Lawson left the bases loaded in the 3rd, but it was a bad omen, as the A's took advantage of two walks and hit batsman for the second straight inning and threw up a four spot.
BP nabbed two in the 5th to go back on top, 5-4, and reliever Jonny Schulz pulled off a feat that's rarely been seen: he plunked three more A's in the 5th, but didn't allow a run.
With tournament games just seven stanzas long, the Red Caps picked up what seemed like a big run at the time when Dan Huber doubled in the 6th to make it 6-4. However, Mustang Pride answered right back with two, knotting it up at six.
It stayed that way 'til the 8th, when Pat Schultz highlighted a four-run outburst with a two-run double. With just three outs to go, the Tigers had it… didn't they?
The inning began with back-to-back errors, and I'm assuming I don't have to tell you the rest. The A's went on to bat around and score four times, tying the score at 8. They actually left runners at 2nd and 3rd, but might as well have won it then and put the Tigers out of their misery.
Instead it took a one out, 3-base error in the 9th and a wild pitch to give the T-Train a walk-off loss.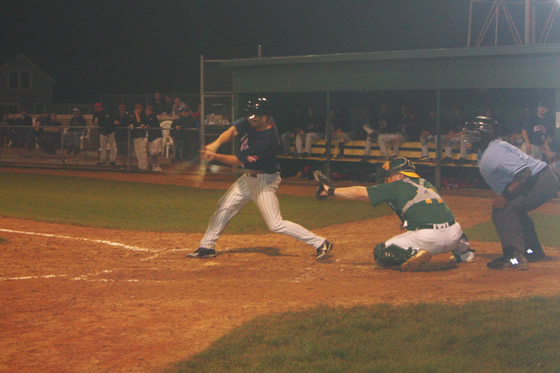 Team Tigertown outhit the A's 12-10, but five errors and too many free passes (5 walks and 5 hit batsman by Tiger pitching) led to their downfall.
Dan Huber and Brad Lawson both collected three hits to set the pace. Pat Schultz drove in three, Adam Johnson doubled twice, and Tim Huber tripled and drove in a pair.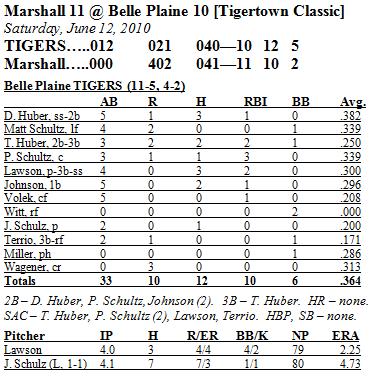 Win Streak at 5 as
Tigertown Classic Arrives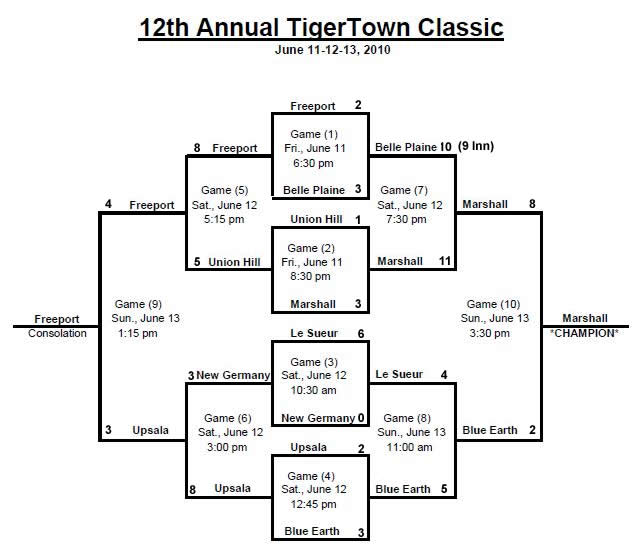 Team Tigertown won their fifth straight ballgame on Sunday and 7th in their last 8, beating Waconia 15-5 in 7 innings after blanking Henderson 7-0 on Wednesday.
The Tuesday, June 1 game at Chanhassen was postponed due to field conditions, and has been rescheduled for Saturday, June 26, at 6:00 pm.
Last night BP paid a visit to the Prior Lake Mudcats; check "The Latest" at www.bptigertown.com for the low-down.
Tiger pitching allowed only one combined run in their previous four games before the Waconia tilt, helping push their overall record to 10-4, and 4-2 in the RVL – putting them percentage points behind 3-1 Chanhassen. Le Sueur is 4-4, while Henderson is 2-7 and Waconia 1-8.
THIS WEEKEND is the big – and quickly becoming famous – Tigertown Classic, the 12th annual in fact, and will feature eight teams competing over three days for the coveted hardware.
The host Tigers will open up with Freeport for the third consecutive year, at 6:30 pm, and will be looking to break the "Freeport hex". Since the befuddling Randy Stender beat then-Melrose in the 3rd place game in 2002, the Tigers are 0-4 in the Classic against the Traveling Hess Brothers Circus of Freeport. Last year was a 10-9 thriller in 13 innings, so the table is set.
And speaking of that, it will be "Dollar Burger Night" for the duration of the BP-Freeport pow-wow and the Union Hill-Marshall game to follow.
Le Sueur, Upsala, Blue Earth, and New Germany make up the rest of the field; please see the accompanying bracket for all the matchups and game times. The Tigers second game of the weekend will be at either 5:15 or 7:30 pm Saturday, depending on Friday's result – one of five games on the day.
Sunday will feature Games #8, #9, and #10 of the jam-packed weekend. Again, we will be tweeting updates all three days so keep in touch to stay on top of things.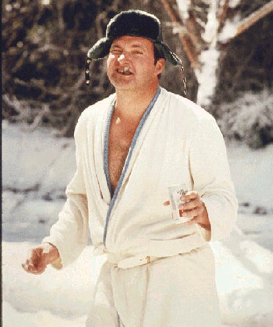 Le Sueur may just camp outside the gates as they will be right back on Tuesday night for a 7:30 pm battle, kicking off a run of 19 games in 38 days for the Tigers. See you at the ballpark? Heck, you might see me in my bathrobe! (For the record, I'd like to verify that I do not own one.)
Also note, it will be "Little League Night #2" on Tuesday, meaning another free hot dog for all Little Leaguers.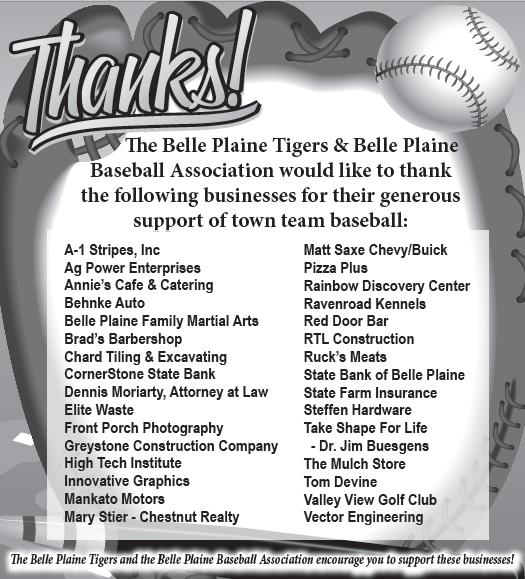 Henderson 0 @ Tigers 7 (Wednesday, June 2)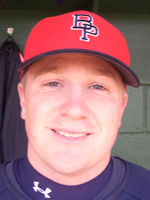 Adam Johnson was dominant for a second straight start, blanking Henderson for seven frames while yielding just one hit and one walk against 13 strikeouts. Combined with his previous start against Fairfax, Johnson is 2-0 in 17 innings, with five hits allowed, no runs, one walk, and a whopping 29 punchouts. Pretty heady stuff from the ace left-hander.
Things didn't get a lot easier for the Hendersonians in the last two stanzas, as Brad Lawson whiffed five of the last six outs.
Offensively Team Tigertown lashed 16 hits, although they only scored one run after the second inning. A five-spot in the second proved more than enough, though, as the Tiger Train sent ten men to the plate against starter Mat Peot.
Leading the way with the bats was "Pop Tart" Larson – 3-for-4 with a double – and Matt Schultz, who went 3-for-5 with two RBI. Three other Tigers recorded multi-hit games, and each starter but one recorded a hit.
Brett Kruschke received a free tube steak at the end of the game, but would like to think it had nothing to do with the Little League Night promotion.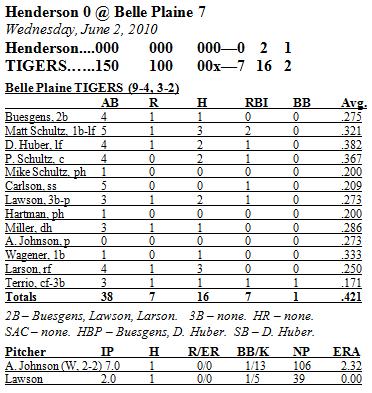 Waconia 5 @ Tigers 15 (Sunday, June 6 – 7 innings)
"P.A. and Scoreboard Night" saw the Tigers light it up early and often, scoring in every inning but one in a 15-5, 7-inning drubbing of Waconia at Tiger Park. After posting 2, 4, and 1 runs in the first three innings, the Red Caps officially put matters out of reach with a seven-run 4th.
The 4th inning outburst was highlighted by a three-run bomb to right field from Tim "You Might Have Heard I'm Running a Baseball Camp This Week" Huber.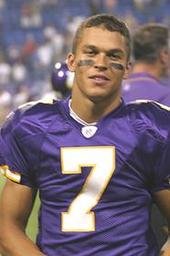 One frame earlier, Waconia made some noise when the just-married Shane Hofmann served up a third-inning home run to 2008 "The Bachelorette" contestant, Ryan Hoag. Hoag was the last pick of the 2003 NFL Draft (aka "Mr. Irrelevant") and wore Viking purple from 2004-2006, so probably did well to avoid an autograph (or a tackle) from Vikes superfan Jeff Miller.
Hofmann left after warming up in the 5th, feeling elbow discomfort. However he still snagged the win when the game ended prematurely after seven, thanks to the 10-run rule. Shawn Carlson was pressed into relief and just didn't have it, but Adam Johnson bailed out his brother-in-law when he worked out of a bases-loaded, no-out situation, limiting the damage to two runs.
Johnson whiffed five in his two innings of work, and Brad Lawson chucked his 12th straight scoreless stanza of the season to close it out.
Rob "Jellylegs" Wagener, who ran a marathon earlier in the day, got a late at-bat against his former club in the 6th inning and was forced to try to beat out an infield hit, unsuccessfully and much to the delight of his current mates.
Shawn Larson recorded his second consecutive 3-for-4 effort, and drove in a pair while finishing just a home run short of the cycle.
The Tigers swiped five bags on the day and drew nine walks, and didn't strike out a single time. That is not the type of news the new vintage red Salazar Yepez Latin Mariachi sombrero hat likes to hear!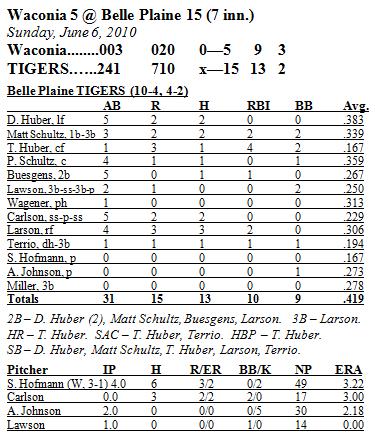 Tigers Get Cooking

The Town 9 headed into the Memorial Weekend holiday winners of five of their last six, after beating Fairfax 1-0 on Tuesday and Fairmont 5-1 on Saturday.
Last night El Tigre played their first game against the first place upstarts from Chanhassen, the Redbirds – check the twitter link at www.bptigertown.com for the result and details.
Belle Plaine's record now sits at 8-4, 2-2 in the River Valley League.
Wednesday is "Little League Night #1" against Henderson, 7:30 pm at Tiger Park. All Little Leaguers will receive a free hot dog and are encouraged to wear their uniform t-shirt, as well as chase after every foul ball as if their life depended on it.
Mama Tiger will take a few days off as one of her litter celebrates a wedding, but will return to Tiger Park at 6:00 pm Sunday night for a battle against Waconia.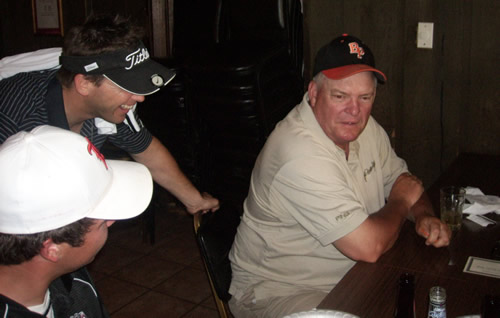 On Tuesday, the Juniors (former team nickname, 1900) will venture to Prior Lake to take on the Mudcats. They are Prior Lake's Class 'C' entry, along with the Class 'B' Jays. First missed call at 7:30 pm.
The Tiger Open golf tourney was held on Friday at Valley View, and your new champions are the team of Jim Buesgens, Jeff Bruder, Jeff Johnson, and Matt Fogarty (score: -14, 57). Three are former Tigers, and one a former adult batboy. Hail to the victors, and many thanks to the golfers and sponsors that made the 2010 Open a rousing success! Photos coming soon!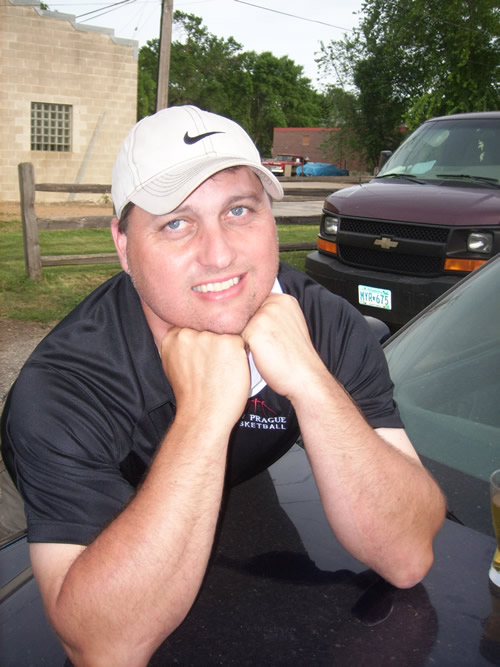 This week's game write-ups are brought to you by the agile noodle of pitcher and infielder Brad Lawson.
Tigers 1 @ Fairfax 0 (10 innings, Tuesday, May 25)
Team Tigertown hit the road and headed to Fairfax in hope of getting a nine inning game in before the rain got the best of them. Well 9 innings were in the books, and it still wasn't enough for the Tigers as they needed 10 to beat "Them pretty bird cardinals" 1-0.
Adam Johnson had a stellar performance on the mound for the Tigers going the distance while striking out a season and maybe even career high 16, while only giving up 4 hits.
The bats came alive in the 10th inning when Pat Schultz led off the inning with a base hit. After a sac bunt by Shawn Larson, Dan Huber hit a triple to deep right field scoring Schultz for the only run of the game.
The Tigers only collected six hits on the night with Huber and Schultz combining for five of those (3 and 2 respectively), with the other coming off of the bat of Brad Lawson.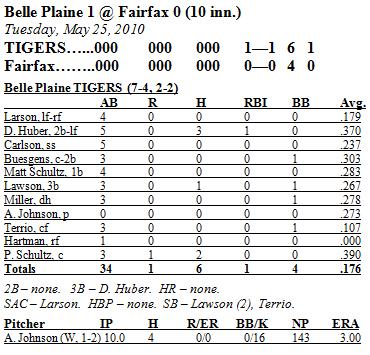 Fairmont 1 @ Tigers 5 (Saturday, May 29)
Saturday afternoon was a day of firsts. Rob Wagener made his first appearance on the mound of the year, while Ryan Diers made his first start for Tigertown, and Tyler Hartmann collected his first hit of his early Tiger career.
Mike Schultz started on the bump for the Tigers and threw 5 innings before giving the ball off to Wagener who eventually gave it up to Jonny Schulz for his first save of the year.
Dan Huber continued his hot hitting by extending his hitting streak to 11 games with a 2-5 day at the plate, while Josh Terrio also collected two hits in four at bats.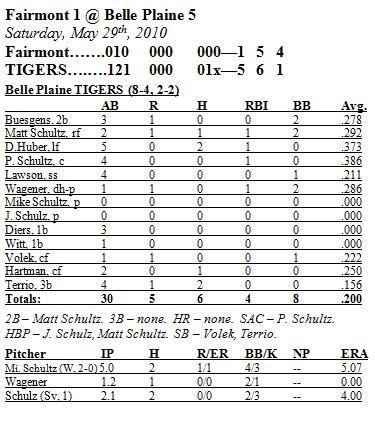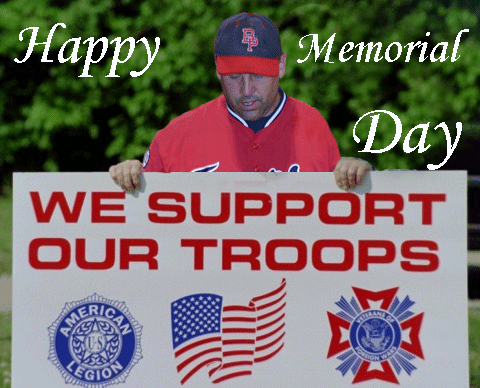 Tigers Take 3rd in Black Sox Tourney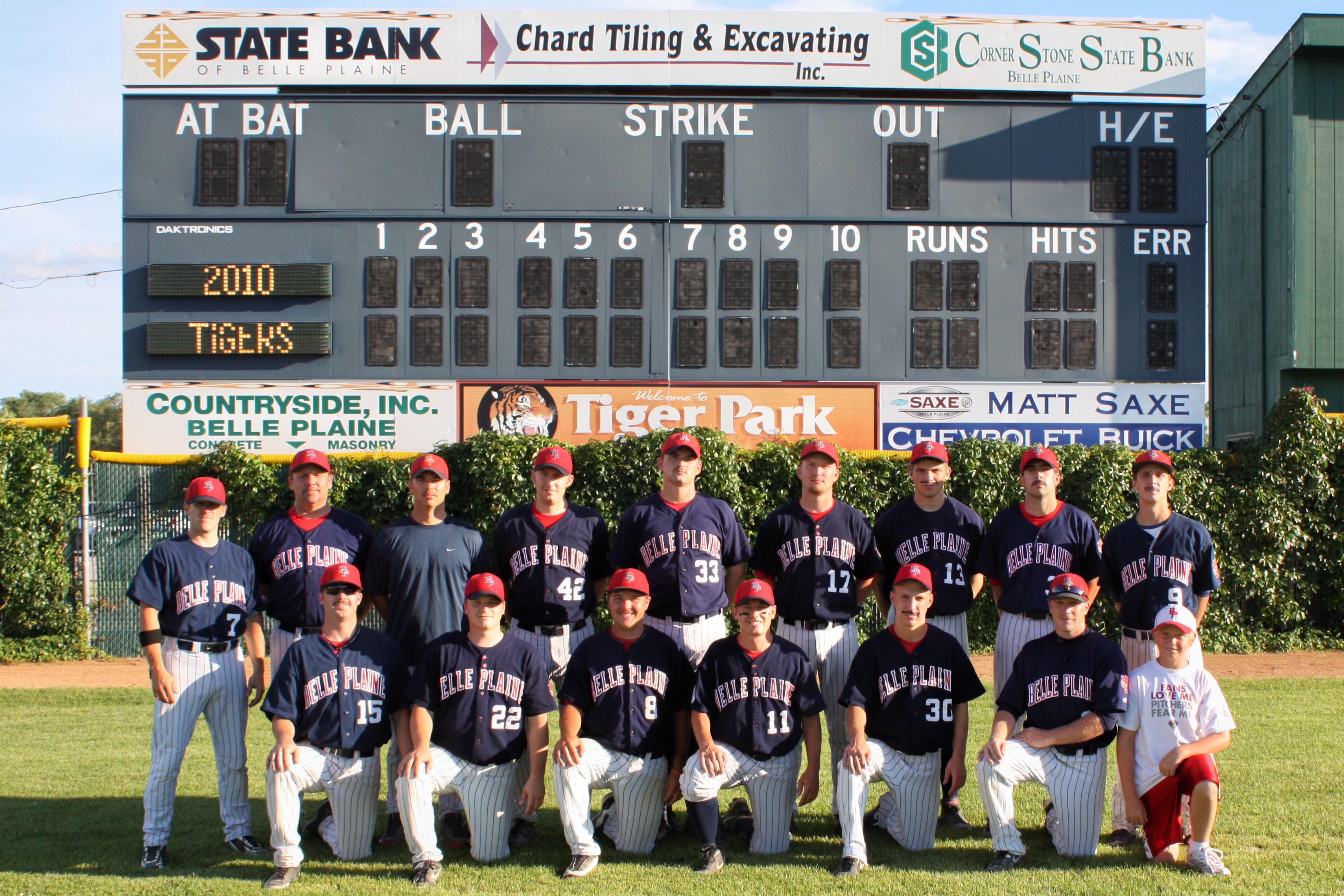 Team Tigertown had a good last week, pounding Veseli 14-5 on Wednesday before winning two of three and taking 3rd place at the Black Sox Tournament in Avon and Freeport over the weekend.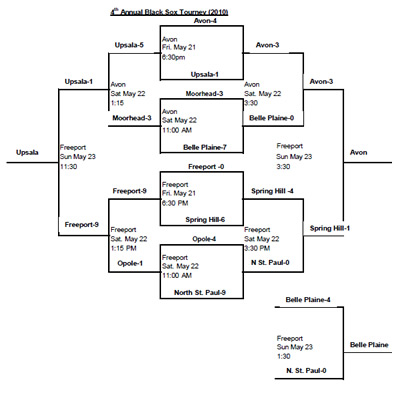 The Tigers opened with the Moorhead Brewers for the third year in a row and triumphed, 7-3. Avon shut out the T-Train 3-0 in the semifinals, and in the 3rd place game, the locals blanked North St. Paul 4-0.
Last night the White Lilies moseyed to Fairfax; click the Twitter button at www.bptigertown.com for the result and a brief recap.
Belle Plaine's record is 6-4 overall, but just 1-2 in league games. However, starting last night, four of the next five games will be against league foes.
Friday is the Tiger Open golf tourney at Valley View – and it's not too late to join the fray! Call Shane Hofmann at 952-484-2319.
On Saturday, Fairmont visits for the "Memorial Weekend Special" at 1:00 pm. Then it's off for the remainder of the weekend, until venturing to Chanhassen on Tuesday for the first look at their much-ballyhooed ballpark. The evening game time, as usual, is 7:30 pm.
Veseli 5 @ Tigers 14 (Wednesday, May 19)
There's a scene in Bull Durham where pitcher "Nuke" LaLoosh talks about getting bombed by the opposition – each hit harder than the last – and that's kind of what it was like for Warriors youngster Travis Scheffler. When he left with one out in the 2nd, the Tigers led 8-0 and had a pair on.
Pat Schultz highlighted the carnage with his first home run in almost a year, a three-run shot over the double-link fence in right field. In the first two innings alone, Belle Plaine collected 10 hits, including four for extra bases.
Mike Schultz was the benefactor of this outburst, and cruised into the 4th with that eight-run cushion, until the tables turned. The right-hander would not make it out of the inning, and it was 8-5 as Shawn Larson recorded the third out on a screaming line drive to shortstop.
Larson was stellar in relief, chucking 3.1 innings of one-hit ball, with seven strikeouts and no walks. He would earn the win for his efforts, with Brad Lawson seeing his first mound action of the year and continuing the shutout relief with two scoreless frames of his own.
The Tiger bats heated back up in the middle innings, plating two in the 5th and three more in the sixth – including Pat Schultz's sixth RBI of the game. The star catcher picked up his fourth hit in the 8th to cap a monster night at the dish.
El Tigre posted a season-high 19 hits, with Dan Huber and Jeff Miller each tallying three.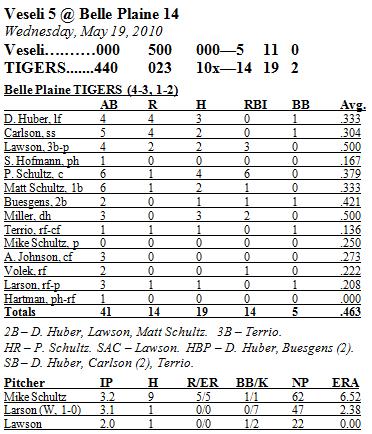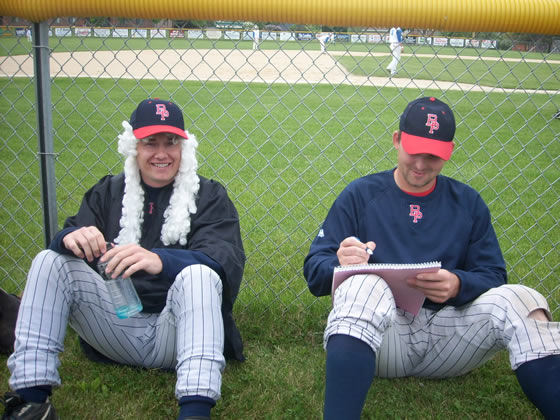 Moorhead Brewers 3 vs. Tigers 7 @ Avon (Saturday, May 22)
Last year I mistakenly called the Moorhead Brewers a Class 'B' team, when in fact they are one of four 'C' teams out of Moorhead. That said, they're still pretty good – a state tournament qualifier in '09.
This game was completely Moorhead's through one-and-a-half innings, and fully Belle Plaine's from thereon.
Shane Hofmann issued two first inning walks and wriggled out of a bases-loaded, no-out situation with only one run scoring thanks largely to a line drive double play started by centerfielder Josh Terrio. Another would score in the top of the 2nd to make it 2-0, Brewers.
In the bottom of the frame, however, the Tigers exploded for five two-out runs: two driven in on a single by Nick Volek, one on a single from Dan Huber, and two more on a double by ageless wonder Jim Buesgens.
In the third, two more came across for "BP" to make it 7-1, and Hofmann would close things out on the mound en route to the complete game (7 inning) victory.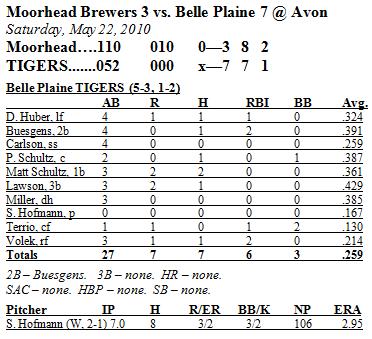 Tigers 0 @ Avon 3 (Saturday, May 22)
Really, these stories write themselves, but the Tigers failed the Wunderlich test – Troy Wunderlich, that is – in a 3-0 loss to the tournament co-host.
The sneaky lefty hurled a complete game two-hitter against the Chatfield Pride, with Dan Huber and Volek collecting the only hits (both singles).
Shawn Carlson was the tough-luck loser on the mound for Manager Miller, going the distance while allowing just five hits and two earned runs.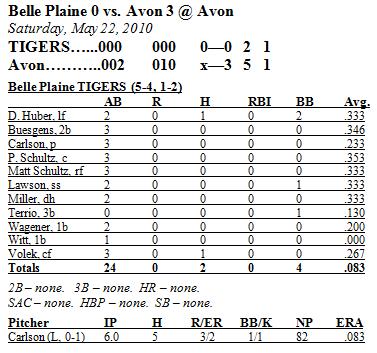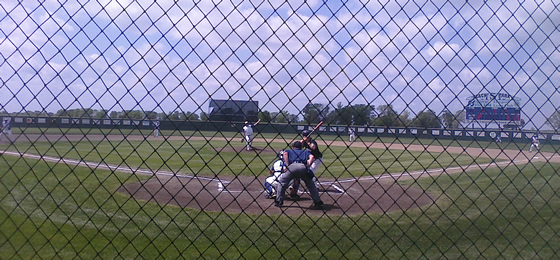 Tigers 4 vs. North St. Paul 0 @ Freeport (Sunday, May 23)
With the Tigers really wanting a win and a full night's rest, they turned to prodigal son Brad Lawson, who merely tossed a no-hitter in his Sunday Freeport appearance last year. Hits were allowable but runs were not, as the game was scoreless after six.
In the top of the 7th, Volek coaxed a leadoff walk and was sacrificed to second – with two strikes, no less – by Terrio. After a Rob Wagener fly out, Dan Huber also walked.
Buesgens then broke the scoreless tie with an RBI single, and Carlson followed suit to make it 2-0. Pat Schultz provided breathing room with a two-RBI single and for a 4-0 Tiger lead, and that's how it would finish as Lawson closed out the 3rd Place championship.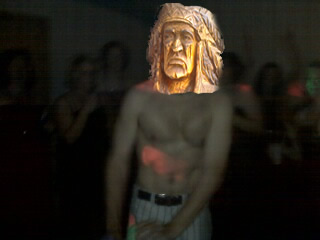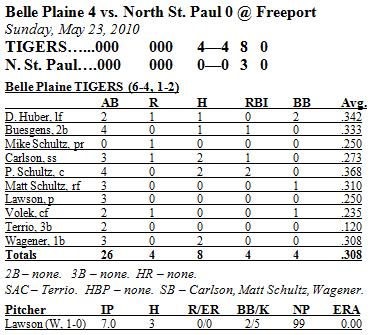 TIGERS FALL FLAT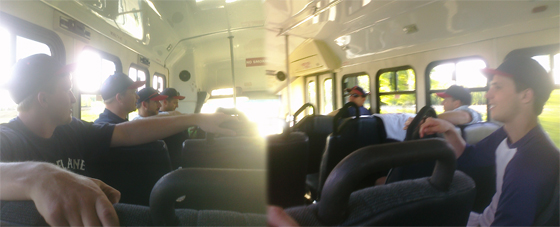 Team Tigertown had a tough weekend against high-quality competition, losing 9-2 at Dassel-Cokato Friday before getting biffed 10-5 by Chaska (and it wasn't that close) on Sunday.
Last Tuesday (May 11), the Tigers were scheduled to play Morristown but the game was cancelled due to poor weather conditions; the teams will try to lock horns again in 2011 but will not make up the game this season.
Belle Plaine carries a 3-3 (1-2 RVL) record into tonight's game against Veseli, slated to get underway 7:30 pm at Tiger Park.
This weekend marks the 4th annual trip to the Black Sox Tournament in Freeport and Avon. El Tigre will open Saturday at 11:00 am vs. the Moorhead Brewers, a team they beat 4-0 last year behind the stellar pitching of Adam Johnson, en route to three straight wins and the tourney championship.
El Tigro will play again Saturday – at 3:30 pm if they win, or 1:15 pm if they lose – vs. Avon or Upsala. Both of the Saturday games will be played in Avon.
Unless Belle Plaine loses their first two, they will also play one game Sunday in Freeport at a time to be determined.
On Tuesday, it's "head West, young man" and back to league action with a 7:30 pm trip to Fairfax.
A couple housekeeping announcements: the May 7 rainout, Arlington at Belle Plaine, has been rescheduled for Wednesday, June 16 at 7:30 pm. Also, Dollar Beer Night has been moved to Friday, June 25th and will combine with Pulled Pork Sandwich Night, against Jordan.
Finally, don't forget about the Tiger Golf Open – details at www.bptigertown.com. We could still squeeze you in there (that's sarcasm) if you want to play!

Tigers 2 @ Dassel-Cokato 9 (Friday, May 14)
A police escort awaited the Tigers as they approached the Dassel city limits, as former Saint Shawn "Pop Tart" Larson returned in glory to his old stomping grounds. Or not. Still, the Ronnie Bus had much the same effect.
Shane Hofmann took to the hill, and wasn't his usual self. With two gone in the 4th, Hofmann exited trailing 4-1, having surrendered eight hits and an uncharacteristic four free passes to the Class 'B' juggernaut.
Jonny Schulz saw one more run come in on a fielder's choice to make it 5-1, but was pounded for four more runs in the 5th and the game was officially out of hand.
Shawn Carlson finished up on the hill, flashing mostly impeccable control and didn't give up a run or hit in three innings. He also drove in Belle Plaine's second and final run with a sac fly in the 6th.
Jim Buesgens was the player of the night at the plate, lashing two doubles in three charged at-bats, and drew a walk. Larson and Matt Schultz both went 2-for-5.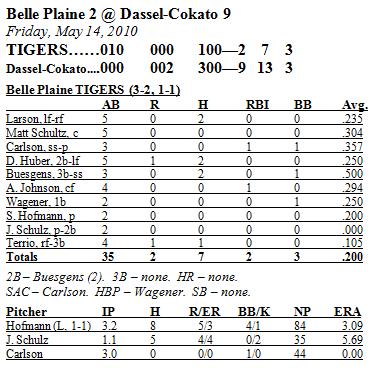 Chaska 10 @ Tigers 5 (Sunday, May 16)
Chaska is a perennial heavyweight in the RVL and Class 'B' in general, and the Tigers looked like super flyweights for the second time in three days.
A tip of the cap goes out to the sneaky-fast Andy Dauwalter, who went the first five innings on the mound for the visitors, yielding nary a hit. The lefty did allow a run, but it was unearned, and he also struck out seven.
Adam Johnson toed the hill for the home nine, and was tagged for seven runs in four innings. While the port-sider did invite trouble with four bases on balls, the defense was also less than air-tight behind him: just three of his runs were earned.
Shawn Larson came in from left field to pitch the rest of the way, and gave up three tallies, all in the 6th. Justin Johnson began the uprising with a home run over the right-field wall.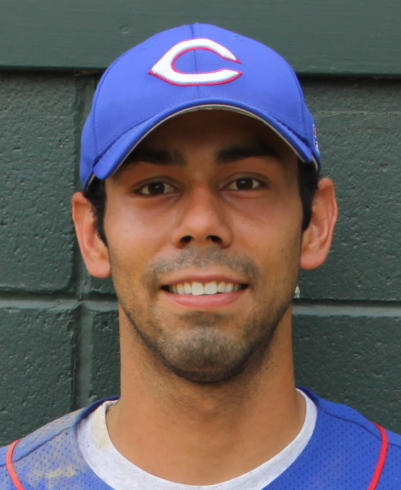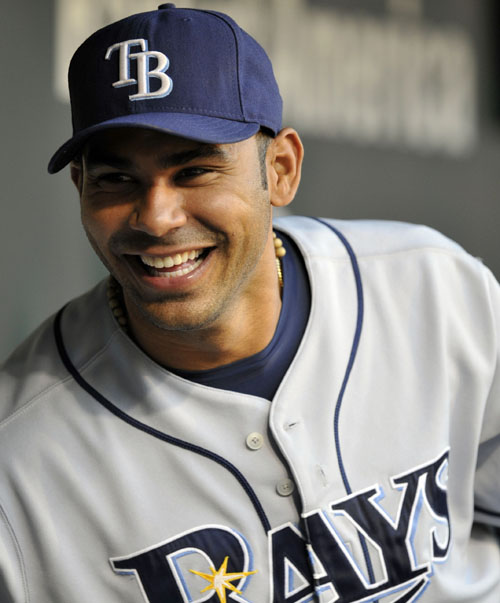 As long as I'm dropping Cubs names left-and-right, you might be interested to know that their new #3-hitter, Pedro Pena, is the brother of Tampa Bay Rays first baseman, slugger Carlos Pena. What a relief – manager John Seifert finally has some talent to work with!
The Tigers put together a Carver Comeback in the 8th, plating three and leaving two stranded, but that was the last of it.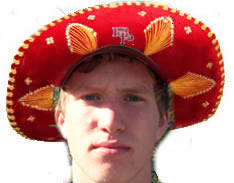 Matt Schultz and Dan Huber both collected two safeties, and Buesgens clocked his third double of the weekend.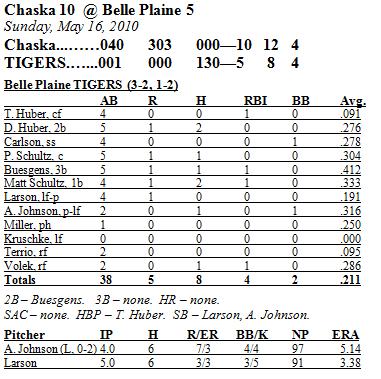 TIGERS STUN CLASS 'B' CHAMPS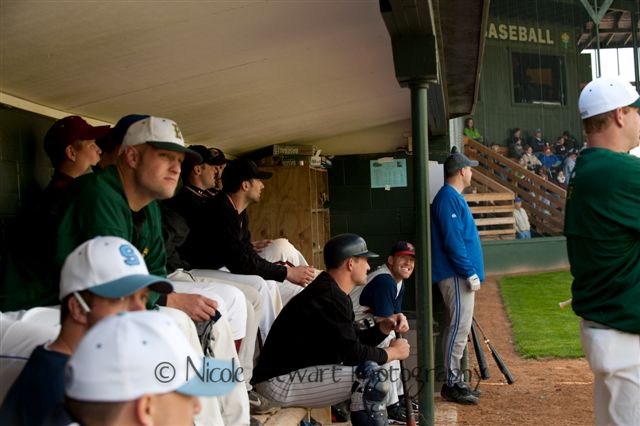 MORE ST. PAUL SAINTS / RVL ALL-STAR PICS AT www.chaskacubs.com / Photos

Through BP's first four games, they've played the 2009 3rd-place finisher in Class 'C' (Cannon Falls), the 2009 runners-up (Prior Lake Jays) and champions in Class 'B' (Shakopee Indians). Not to mention America's Team – St. Benedict.
On Wednesday, the Tigers knocked around Cannon Falls to the tune of 14-5, and Sunday they plated five runs in the 9th to steal one at Shakopee, 6-5.
Friday's game against Arlington was rained out (no make-up date yet), so Team Tigertown sits with a 3-1 record, 1-1 in the RVL.
Saturday night in Chaska the RVL All-Stars lost a 7-3 decision to the St. Paul Saints, with a huge crowd reportedly on hand. Both Tigers received two plate appearances – Tim Huber had a walk and a strikeout, while Pat Schultz had a pair of K's.
Last night the T-Train hosted Morristown; check www.twitter.com/bptigertown for the result and all the details 140 characters will allow.
On Friday, the "Ronnie Bus" is heading to the former home of "Pop Tart" Larson, Dassel-Cokato. Please note that the start time has been changed to 8:00 pm.
Sunday will see another Class 'B' powerhouse, Chaska, invading the Tigerly confines. Start time for that doozy is 2:00 pm.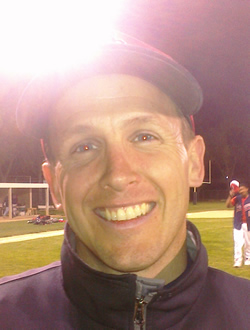 TIGERS 14 @ Cannon Falls 5 (Wednesday, May 5)
With 24 sets of jerseys handed out, you wouldn't think any games would feature just 11 players, but that's what happened Wednesday night in Cannon Falls. Three were playing their first game of the season, and big pieces of the puzzle at that: shortstop Shawn Carlson, centerfielder Tim Huber, and new, yet long-time Tiger, third baseman Jim Buesgens.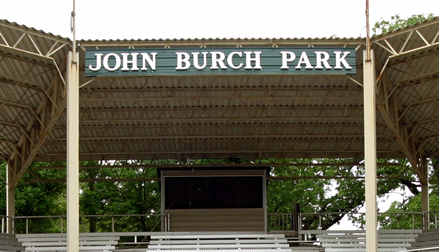 First let me say, John Burch Park is one of my favorites. Maybe that's influenced by fond memories of early-90's state tourney games there for the local nine, but it's hard to argue with a river beyond your left-field fence and the classic rock wall all the way down the right-field line.

Mike Schultz toed the rubber for Manager Miller, and had one goal in mind: to surpass last season's innings-pitched total (6.2) in this lone start. Could he do it?
Gran Tigerino hit early and often, picking up one in the 2nd, two in the 3rd, and four in the 4th – three coming on a prodigious clout off the bat of Shawn "Vroom, Vroom" Carlson. That's right: he lofted one into the night, over the 290-foot double-wall in left field. It was too dark to tell if it went into the river, but let's go with it.
Meanwhile Officer Schultz was dispatching Cannon Falls hitters like he was working the late Saturday shift at the Bar B-Q Days Beer Garden. He took a comfy 9-0 lead into the 6th and finally yielded two runs, his work done but a good season – I mean, night – had been turned in.
In the 7th, Carlson came on to pitch and watched the first three batters all reach by infield error. Did someone pop in a tape of the Prior Lake game, or what the heck was going on?!
Three runs came in thanks to the Tiger miscues, but the visitors got them right back in the 8th. The last two of these came on Buesgens' third hit of the night, simply proving what a mistake it was for him to ever leave Tigertown in the first place.
Three other Red Caps posted three-hit nights: Carlson, Pat Schultz, and Adam Johnson. The Tiger Train lashed out 18 total, after combining for just 13 over the first two games. Matt Schultz, the early-season star of the Tiger twitter page, matched Buesgens and Carlson by driving home three runs.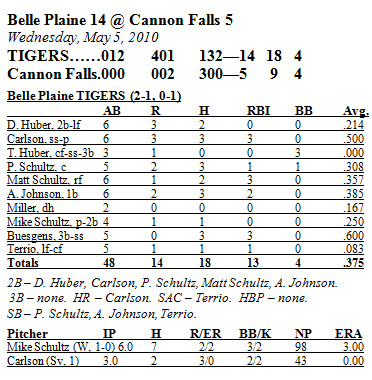 TIGERS 6 @ Shakopee Indians 5 (Sunday, May 9)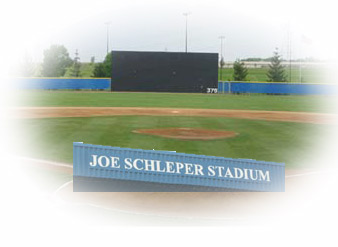 It's not just cotton candy prose to suggest that the River Valley League is proud to have the champion and runner-up from Class 'B' last year in Shakopee and Prior Lake, respectively. Of course, that just gives the rest of the league that-much more incentive to try and knock them off in the new season.
Tied 1-1 after two, the Indians laced three straight singles off starter Adam Johnson to open the third. That's when #5-stick Brannon Weigel sliced a bases-clearing double down the left-field line.
The Wahoo Maniacs threatened again in the 5th, but centerfielder Tim Huber fired a strike to the plate to end the inning and close the book on Johnson.
In the sixth, reliever Shane Hofmann was touched for a run to make it 5-1. Jonny Schulz was on in the 8th and yet again a Tiger outfielder nailed a runner at the plate to end the inning, this time Shawn Larson.
Struggling to get something going all day, the defensive gems were great but didn't seem like difference-makers at the time. That was before Dan Huber got a little 9th-inning magic started with a leadoff double, however.
Ryan Witt pinch-hit, and smoked a comebacker to the pitcher that was caught for the first out. After that, the Tigers went E-5, single, and a bases-loaded walk to Tim Huber to force in a run.
Pat Schultz singled to score a pair, making it 5-4, and the game was knotted after Matt Schultz's grounder was mishandled at second.
After a pop-out from Buesgens, Manager Miller decided the best option was himself, and right he was as his pinch-hit single gave the Tigros a 6-5 advantage.
Jonny Schulz started the bottom of the 9th in frightening fashion, yielding a walk and a single. He wriggled out from there, however, preserving the surprise comeback and securing a nice feather in the Tiger cap.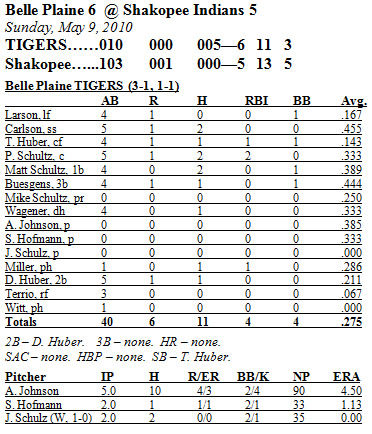 TIGERS ON BOTH SIDES OF SHUTOUTS

Belle Plaine tasted each end of a 6-0 shutout on Opening Weekend, starting with a win over St. Benedict on Friday and ending with a loss to the Prior Lake Jays on Sunday.
At 1-1 (0-1 River Valley League), the Tigers will head to one of the more scenic ballparks in the state tonight when they visit Cannon Falls at 7:30 pm.
Friday it's back to league action when the Arlington A's invade Tiger Park on what's sure to be a raucous "Dollar Beer Night". The first pitch is at 7:30 pm, as per usual.
On Saturday the RVL All-Stars will face off against the fabled St. Paul Saints, at 6:00 pm in Chaska. The home run contest is at 5:00 pm and as a heads-up, Tim Huber may compete. He will be joined in the game by teammate Pat Schultz; see the accompanying article or visit www.rivervalleyleague.com and www.bptigertown.com for more details.
Sunday will see the locals facing another league powerhouse in the defending Class 'B' champion Shakopee Indians. The start time is 2:00 pm at Shakopee's Joe Schleper Stadium.
Finally a busy week wraps up on Tuesday when the Tigers host hated Morristown at 7:30 pm. See you at the ballpark!
St. Benedict 0 @ TIGERS 6 (Friday, April 30)
As a former manager of the Tigers, I used to tell myself that the real goal of Opening Night is just to get the game started. There's a lot of extras that need to be taken care of before the first pitch is thrown: from releases and contracts and lineup cards, to uniform handouts and field prep and figuring out this year's signs, to new faces and missing bodies.
And as we've long maintained in Tigertown, "Weird things happen on Opening Night."
So naturally, Friday night went about as slick as a fellow could hope: the Tigers breezed by the Bennies in 6-0 fashion, with starter Shane Hofmann (6 innings) and Shawn Larson (3 innings) combining for the 3-hit shutout – in front of a large and festive crowd, no less.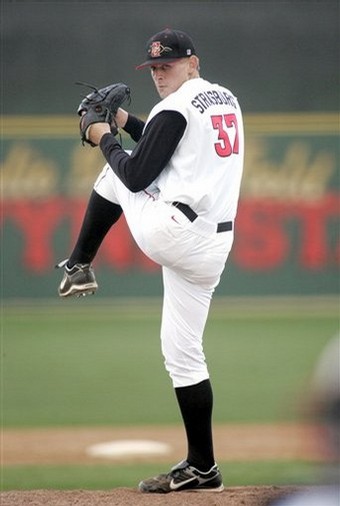 Hofmann gave up just three singles in notching the win, and despite walking three, Larson blew the Saints away by recording all nine of his outs via strikeout. Last year Larson struck out nearly a batter per inning (33 in 34.1 IP), but in earning the save on this night he flashed Stephen Strasburg-type stuff.
The hometown nine collected seven hits and no Tiger had more than one on Dollar Dog Night, but the boys were advantageous as the first five runs all came with two outs. Nick Volek delivered a two-run single in the 2nd, and back-to-back-to-back hits by Pat Schultz, Matt Schultz, and Jeff Miller in the 5th each drove in a run.
El Tigre was also active on the base-paths, pilfering four bags, including a brilliantly-executed double steal in the 4th (Matt Schultz and Rob Wagener the benefactors of the Kruschke master stroke).
Speaking of Wagener, the newcomer notched hit #1 as a non-drafted Tiger in his first at-bat in the 2nd. "Welcome to Tigertown."
Ryan Witt also returned to the Tiger fold for the first time since 2006, and should be complimented on his Brett Favre-like decision process: he decided to come out just this week, thus avoiding Dog's rigorous 4-month training camp. Played like a true veteran!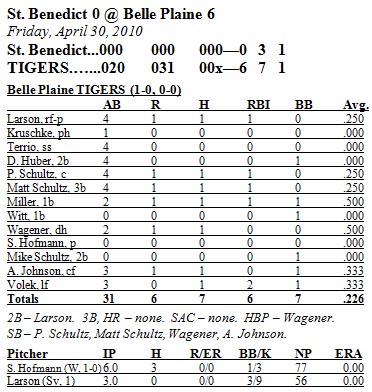 Prior Lake Jays 6 @ TIGERS 0 (Sunday, May 2)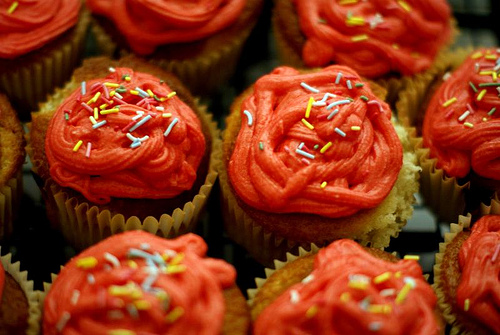 Rumor has it that in honor of a player's birthday, the Jays had a couple Tupperware tins of cupcakes sitting on their dugout bench Sunday. (Momentarily unguarded for some reason, I might add.) But the biggest cupcake of all for the Jays was the team in red frosting calling itself "Tigers", as the home team committed a whopping nine errors en route to an uninspired 6-0 loss.
Adam Johnson got the nod on the hill for the Striped Felines, but it was obvious early on that he was on his own. He managed five innings and allowed four runs (two earned), but was hung with the loss as the home nine couldn't push across a run all afternoon.
Matt Schultz went 2-for-4 in posting the only multi-hit performance of the weekend for El Tigre. Collectively, the Tigers went a paltry 13-for-63 (.206) over the two games, with a Larson "hustle double" being the lone extra-base hit.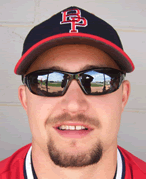 Jonny Schulz worked three snappy innings, yielding one hit and an unearned run. Ryan Witt, just out of hibernation, worked the final inning on the mound and also allowed an unearned run.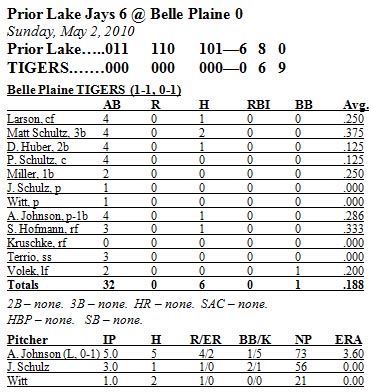 TOWN TIGERS HOME OPENER FRIDAY

The wonder of it all gets underway this Friday at 7:30 pm, when the St. Benedict Saints invade Tiger Park. Dollar Dog Night will greet those who venture out, not to mention the usual Opening Night fanfare (military flyover still pending).
There's no time like the now to be a Tiger season ticket holder – and you can pick it up at the gate. $50 Dugout Club (free hot dog & beverage of choice) or $25 'regular' season pass cover you for all 19 home games.. maybe you couldn't pull off Twins season tickets, but Mama Tiger's arms are wide open. How 'bout a hug?!
On Sunday, the Prior Lake Jays – merely the runners-up in Class 'B' last year and our RVL brethren – will stop by at 2:00 pm for an orderly tussle.
RVL Commissioner Ron Beckman – if he hasn't already spoken to you personally about it, he soon will – would like to remind you of the RVL All-Stars vs. the Saint Paul Saints, to be played Saturday, May 8th at Chaska. First pitch, 6:00 pm.
Pat Schultz will represent Belle Plaine, and so will Tim Huber – if his coaching schedule allows. Tickets are just $5 in advance, and available at Brad's Barber Shop, Annie's Café, and Tiger Park. All presale ticket proceeds go directly to the Tigers!
The State Board recently announced the state's Region pairings, and 6C will consist of the RVL-Central (Belle Plaine, Chanhassen, Henderson, Le Sueur, Waconia), RVL-White (Arlington, Fairfax, Gaylord, St. Peter, Winthrop), and the DRS-White (New Market, St. Benedict, Shakopee Coyotes, Union Hill).
The "Tiger Open" Golf Tournament will be held Friday, May 28th, at Valley View Golf Club in Belle Plaine. A registration form is available at www.bptigertown.com, or contact Shane Hofmann (952-484-2319). It might not be Mama Tiger, but some Tiger will hug you if you get a foursome together.
Finally, look for the new "celebration" sign at Tiger Park: Belle Plaine's Minnie and Paul – groundskeepers Johnny Miller and Dave Gnan – will shake hands and slam a beer every time the Tigers hit a home run!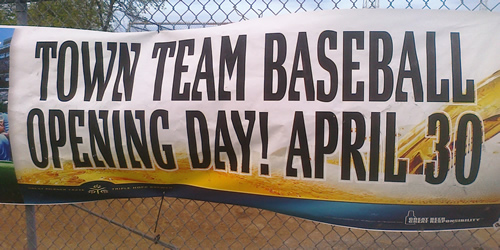 TOWN TIGERS RELEASE 2010 SCHEDULE, PROMOTIONS

Team Tigertown, coming off their best record in fifteen years (26-10), has released their 2010 schedule and promotions.
Managed once again by Jeff Miller, the Tigers are scheduled for a minimum of 36 games, with the potential for more based on a pair of tournaments and whatever the postseason might bring.
The campaign will get underway on Friday, April 30th, when St. Benedict visits Tiger Park. It will also be Dollar Dog Night, the first of eight home-game promotions.
The others are: Dollar Beer Night (May 7), Little League Night #1 (June 2), Dollar Burger Night (June 11), Little League Night #2 (June 15), Pulled Pork Sandwich Night (June 25), Senior Citizens Day / Ernie Stumpf (June 27), and Fan Appreciation Night (July 20).
The tournaments Belle Plaine is participating in is the Black Sox Tourney in Freeport and Avon, May 22-23, and the 12th annual Tigertown Classic, June 11-13.
Two all-star games are on the docket for 2010: on May 8 in Chaska, the RVL All-Stars will take on the St. Paul Saints; Tim Huber and Pat Schultz are expected to represent the BP Nine. Pre-sale tickets will be on sale for $5 at Brad's Barber Shop and Annie's Café, with all proceeds going directly to the Tigers. Visit www.rivervalleyleague.com for more information.
Also, on Friday, July 9, Belle Plaine will serve as proud hosts of the 4th annual RVL-DRS All-Star Game.
The "Tiger Open" Golf Tournament – the team's primary fundraiser along with the Tigertown Classic – will be held Friday, May 28th, at Valley View Golf Club in Belle Plaine. A registration form is available at www.bptigertown.com, or contact Shane Hofmann (952-484-2319).
The Chanhassen Redbirds are new to the River Valley League in 2010, giving the league 15 teams, and will compete with the Tigers, Henderson, Le Sueur, and Waconia in the RVL-Central.
Season tickets will be available soon at Brad's Barber Shop, or from any Belle Plaine Baseball Association board member. There are two options, both of which include free weekend admission to the Tigertown Classic: a $25 ticket, which gets you a front-row seat to each of the Tigers' 19 regular-season home games; or a $50 "Dugout Club" ticket, which also gets you a free hot dog and beverage of choice at each of those games!
Returning for the Red Caps in 2010 will be Travis Latzke, Jonny Schulz, Mike Milam, Eric Lyons, Tim Huber, Brad Lawson, Josh Terrio, Brett Kruschke, Nick Volek, Dylan Nyberg, Matt Schultz, Shane Hofmann, Shawn Larson, Dan Huber, Shawn Carlson, Corey Schaaf, Jeff Miller, Adam Johnson, Pat Schultz, Scott Johnson, and Mike Schultz.
New to the squad is former Tiger great Jim Buesgens, and Waconia pitching ace Rob Wagener.
Finally, pocket schedules will be available at Brad's Barber Shop, and a printable season schedule is available at www.bptigertown.com/schedule10.pdf – Where Baseball Is Always On!