9TH INNING NIGHTMARE
One Out Away, Miltona Stuns Tigers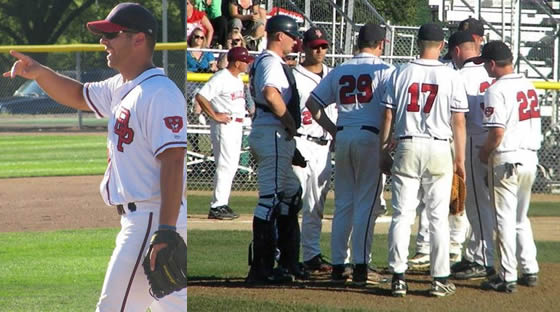 Belle Plaine led Miltona 2-1 with two outs – and two strikes, at one point – in the 9th, but four consecutive batters reached base to hand the Tigers the most gut-wrenching of defeats, a 4-2 loss to end their season Sunday in the Class 'C' State Tournament at Glencoe.
The State Tourney appearance was BP's fourth in the last five seasons. In 2007 and 2008, the Tigers' ran into a budding state power in the Sauk Rapids Cyclones, who finished second in Class 'C' each of those years. The Tigers lost a first-round matchup in 2007 before falling to them again in 2008's second round, after first dismissing Albertville.
The Cyclones have since been bumped up to Class 'B' and are currently one of two undefeated teams (along with the Mankato Twins) remaining in the 'B' State Tourney bracket. They're the real deal.
Last year, the Tiger Train opened with a shutout win against the Mankato Mets before dropping a closer-than-the-final-score-might-indicate 6-3 decision to Sacred Heart. In that game, Belle Plaine trailed 4-3 in the 8th and had runners at 2nd and 3rd with one out, but consecutive outs on the bases and a two-run homer in the 9th provided the final margin of defeat. Sacred Heart went on to qualify for the tournament's final weekend.
A pitch or a play away against Miltona is no solace to a team that's gone 83-30 (.735) over the last three years – including 13-2 in the playoffs the last two seasons, while outscoring their opponents in those two playoffs by a combined total of 93-22. But as George Costanza once said, "You can stuff your sorrys in a sack, mister!"
The Tigers' final record for 2011 is 26 wins and 11 losses.
Forget Fan Appreciation Night for a minute – we'd like to take this valuable inch of Herald space to thank you for once again supporting us; hopefully you have as much fun coming out to the ballpark as we do playing.
Don't forget you can follow everything to do with the ballclub at bptigertown.com, and the Tiger Twitter account will really be the hot-spot for whatever off-season activity there may be.
Minnesotabaseball.org will keep you posted on the remainder of the Class 'B' and 'C' tournaments. Chaska is the lone River Valley League team still playing, and they square off Friday against Savage at 5:00 pm, in Glencoe.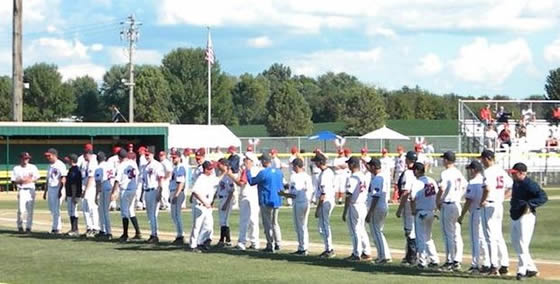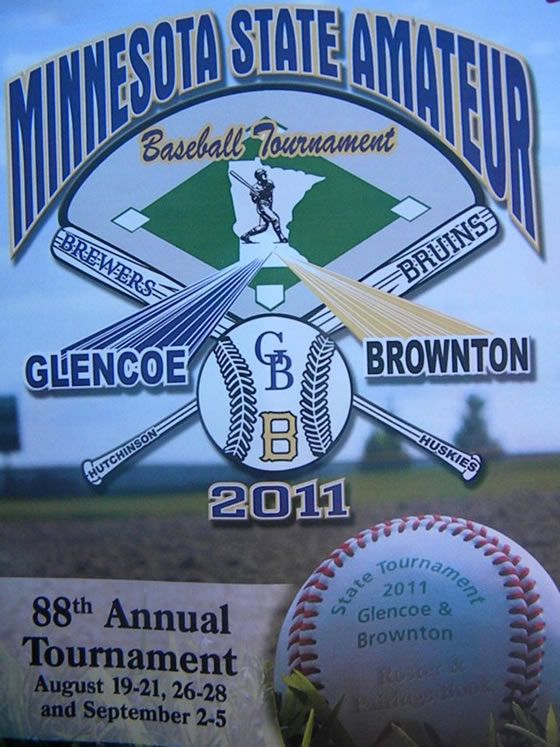 Miltona 4 vs. BP 2 @ Glencoe (Sunday, August 21 ~ Class 'C' State Tournament, First Round)
26 NEW PICS!
20 MORE NEW PICS
When you heard BP was playing Region 14C Runner-Up Miltona, the first response was, "Who?" A trip to the Mapquest was in order. It turns out 17 of their 20 man roster attended Alexandria High School, and they have some pretty good talent – led by former 'U of M' Golden Gophers Tom and Sam Steidl, and ex-Iowa Hawkeye, Caleb Curry.
Lefty Adam Johnson – who else? – would get the task of keeping the Miltona Tigers off the board, and he entered with the finest of credentials: an 8-1 record, a 0.91 ERA, and 127 strikeouts in 89.1 innings pitched.
Travis Latzke started off the 3rd inning with a double and gained third base when Miah Fogarty sacrificed so successfully, he beat it out for a hit. Dan Huber delivered a sacrifice fly, and the Region 6C Champs had an early 1-0 lead.
In the 4th Belle Plaine added another run, thanks again to the leadoff man getting on. Pat Schultz opened with a single and was bunted to second by Shawn Larson. After a Matt Schultz ground out, the Tigers received a gift when Jim Buesgens' ground ball was thrown away and Schultz came around to score.
The 5th inning offered some controversy when DH Jake Leuschke, with a man on, mashed a line drive down the left-field line that would have been a homer if it had been fair, but it was ruled foul. It was very close. Miltona objected, was told, "Listen here, String Bean!" by the first-base dugout, and play resumed shortly thereafter.
In the 7th, Miltona started the inning by going double, single, and single, which plated one and made it a 2-1 game. Johnson retired the next three batters in order, however, quelling the rally and leaving runners stranded at first and third.

Miltona starter Chris Koep worked seven innings of four-hit ball, then gave way to fellow lefty Colin Erickson. The Tigers went 1-2-3 against Erickson in the 8th, and the stage was set for the fateful 9th.
Johnson struck out the first batter, Cody Curry, his sixth punchout of the game. Tom Steidl singled to right, and home run threat Lueschke popped up to shortstop. Two away, and the Tigers were almost home.
On a full count, #8-hitter Kevin Engebretson took a close pitch inside for ball four. With runners at first and second, #9-stick Trey Thompson sent a ground ball to the left side. It was a tough play and brought third baseman Dan Huber to his knees; he recovered quickly and threw to second for the force, but it was a tad late.
With the bases loaded and Johnson still seeking the final out, Ryan Emter, who twice robbed the Tigers with fine defensive plays in centerfield earlier on, drilled a base hit to left-center to score a pair and make it 3-2. The hearts of Tiger fans and players sank alike as the ball safely reached the grass.

The next batter hit a routine grounder to shortstop, but steady Brad Lawson booted it, allowing another run to come in. Johnson then induced a pop-out to end the inning.
"Pop Tart" Larson began the home-half of the 9th with a walk, and after two consecutive outs scampered all the way to third when Ryan Diers reached on an infield error.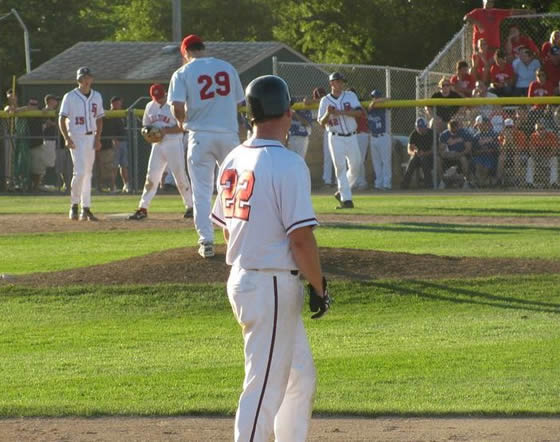 With the winning run at the plate in the form of Travis Latzke, Erickson got him swinging and the surreal late-inning collapse officially stung.
Belle Plaine was out-hit nine to four in the contest, with two coming from Pat Schultz. The veteran catcher recorded a hit in every playoff game, going 10-for-26 (.385).
Erickson picked up the win for Miltona, working two hitless frames.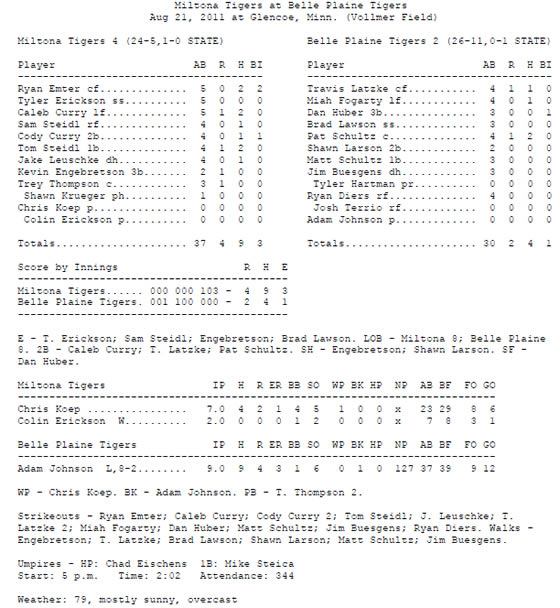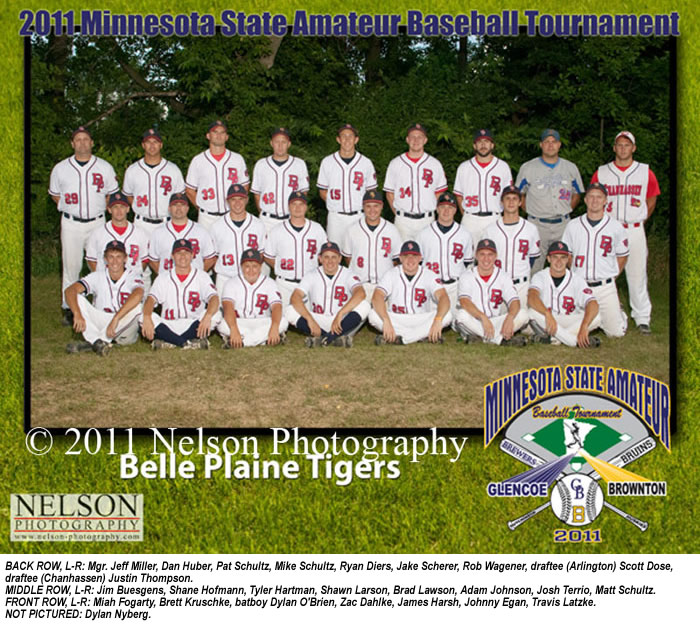 2011 SEASON-IN-REVIEW
The Tigers unveiled new white uniform tops and pants, but rain quickly became the story of May. BP was 4-2 after a 14-1 thrashing of Opole in the Black Sox Tournament in Freeport and Spring Hill, but not even the Fairy Godmother and her magic wand could keep the rest of the weekend from being a washout.
The Tigers had some eight rainouts and three cancellations on the season, not to mention a five-inning affair that was just squeezed in at Henderson, winning 1-0 before tornado sirens sent people scrambling. The game at Arlington was postponed twice before it was finally made up during the last week of the regular season.
In June, the locals made it to championship game of the Tigertown Classic for the first time in 13 years, but were nipped 4-3 by the Marshall A's.
Early July saw four Tigers head to the RVL-DRS All-Star Game in Union Hill: Dan Huber, Brad Lawson, Adam Johnson, and Brett Kruschke as a fill-in manager for Jeff Miller. Johnson ended up working the final two innings for the save, and Huber finished third in the home run hitting contest.
A rare feat was accomplished the following day at St. Benedict – Adam Johnson slugged not one, not two, but three home runs in a 13-8 win at The Ben.
The Tigers ran their win streak to eight before hitting a three-game skid heading into the playoffs. BP won the RVL-Central division with an 11-1 record against 'C' teams, and posted a 12-4 overall mark in the RVL.
The Red Caps won the RVL-Central postseason crown as well, this time in dramatic fashion as they scored twice in the bottom of the 10th to defeat Chanhassen 2-1.
El Tigre rolled through Region 6C capped by a 6-1 win over Fairfax in the championship game, and the pitching staff allowed only one earned run (two total) through the first six playoff games.
The State Tournament was not as kind to the Tigers, as a 2-1 lead with two outs in the 9th turned into a 4-2 season-ending loss to Miltona of Region 14C.
For the season, the Chatfielders outscored their opponents 217-141, including 31-6 in the playoffs.
The team batting average was .273, down considerably from the .300 mark last year. Brad Lawson took home his first batting title, settling in at .323. There were several other hitters worth mentioning who just didn't have enough at-bats to qualify: Zac Dahlke hit .381 in 42 at-bats, Miah Fogarty .357 in 42 at-bats, and Tyler Hartman .339 in 62 AB's.
Dan Huber slugged five of the team's 12 home runs, and led the team in games played with 35.
The pitching staff compiled a 2.82 ERA, not far off from last year's stellar 2.70 mark. Both of those numbers were driven largely by Adam Johnson, who posted an insane 1.10 ERA for the season, and also led the staff with eight wins and 98.1 innings.
Rob Wagener turned in another ridiculously stingy campaign in somewhat limited action, putting up a 0.58 ERA in 31 innings on the heels of not allowed an earned run last year in 39.2 innings. The old dog Shane Hofmann proved there's plenty of life left in that rubber right wing of his, sporting a 2.38 ERA in 45.1 frames, while Brad Lawson checked in at 2.06 in 35 innings.
Lawson and Huber each recorded two saves in the Matt Capps role.
After recording ten and nine shutouts the previous two years, the team hurled seven whitewashings this year.
Finally, the Tiger defense left room for improvement by posting 83 errors for a second consecutive campaign.
Complete season statistics should be posted to the team website within a few weeks. Check back every three minutes or so; we could use the web hits.
Tigers Win Region for 2nd Straight Year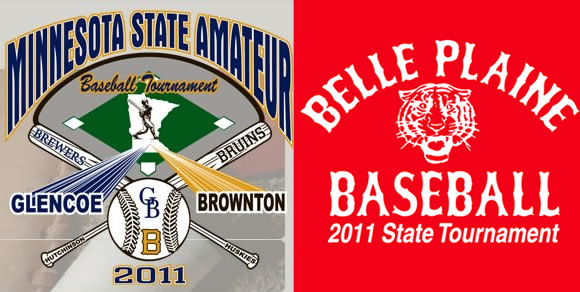 Tigertown won Region 6C for the second straight year on Saturday afternoon by defeating the pretty bird Cardinals from Fairfax 6-1. With the win the Tigers secured the number-one seed out of the region going into state which will be held in Glencoe/Brownton/Hutchinson. The Tigers will face off with the Miltona Tigers – the Region 14 runners-up – on Sunday at 5 p.m. in Glencoe.
Continue to keep up to date with updates on Twitter and www.bptigertown.com. If the Tigers win on Sunday, they will continue the next weekend on Saturday (August 27) at 5 p.m. in Glencoe against the winner of Hanska/Hayfield. Look for all the necessary details, as needed, in next week's Herald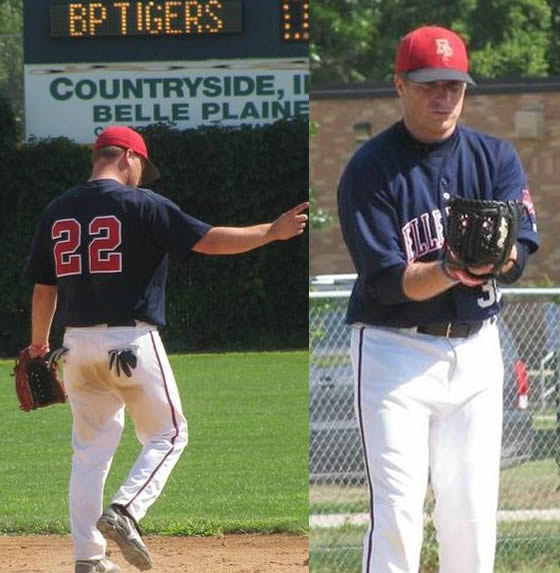 Fairfax 1 @ BP 6 (Saturday, August 13 ~ Region 6C Championship) 22 NEW PICS!
The Tigers fell behind early giving up a run in the top of the first inning, but scored two runs in the bottom of the 5th to take the lead and never gave it up. The run that the Tigers gave up in the first inning was the first earned run of the playoffs, and to this point the Tigers pitching staff has an ERA of 0.17 in the 2011 playoffs.
Tiger ace Adam Johnson threw 8 strong innings fanning 16 while hitting three. It wasn't until the top of the 9th inning when both teams were warned during the bean ball marathon. Shane Hofmann came into close the game for the Tigers and threw a shutout inning in relief.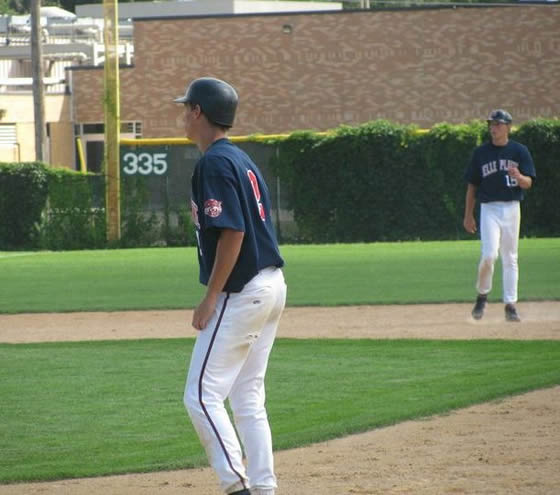 Tigertown was led by rookie Ryan Diers who reached base safely in all four of his plate appearances. Diers finished the day 2-for-2 with a walk, two runs scored, and was hit by a pitch. Other Tiger hitters worth noting were Tiger 3rd baseman Dan "Super Man" Huber with three RBI, and Tiger shortstop Brad Lawson who had two hits.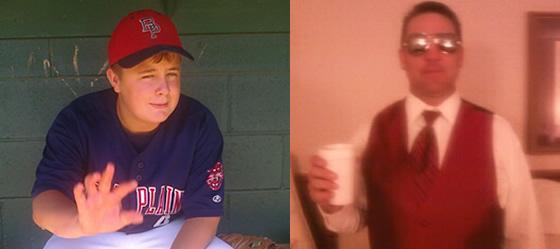 TIGERS 'ON TO THE STATE'
FOR 4TH TIME IN LAST 5 YEARS

Team Tigertown clinched a spot into the state tournament with wins over Fairfax on Friday night and Chanhassen on Sunday afternoon. The Tigers beat Fairfax 7-0 and Chanhassen 3-0. Belle Plaine will play the winner of Chanhassen/Fairfax for the Region 6C Championship on Saturday at 2 PM at Tiger Park.
If the Tigers happen to lose on Saturday they will have to travel to either Chanhassen or Fairfax for an (if necessary) game on Sunday to determine who will get the number 1 seed going into the State Tournament. Chanhassen will travel to Fairfax on Friday night when the first pitch is slated for 8 PM.
The Tiger pitching staff has yet to give up an earned run in the playoffs, thus making it 45 straight innings without an earned run given up. Tigertown has also outscored their opponents in playoffs by a score of 23-1 in five games.
The Tigers first State Tournament game will be on Sunday August, 21st at either 5 PM or 7:30 PM in Glencoe. Visit www.bptigertown.com to see pictures and more detailed information on the State Tournament and Region 6C Playoffs.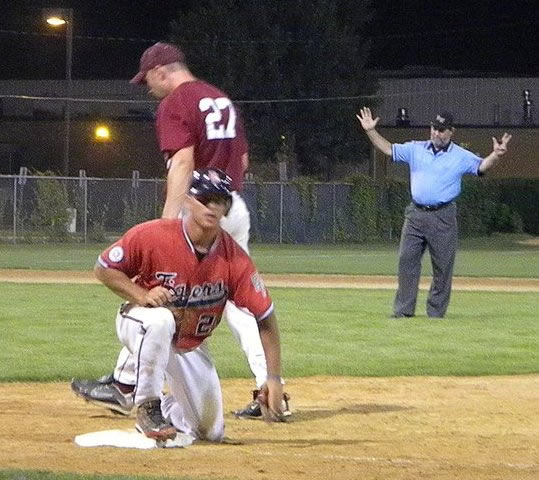 Fairfax 0 @ BP 7 (Friday, August 5 ~ Region 6C Playoffs) 14 GAME PICS!
Tigers ace Adam Johnson took the hill for the Tigers and continued his dominance going the distance while striking out 12 and giving up only 4 hits. With the win Johnson improved his record on the year to 7-1.
Tigertown got on the board early with a run in the 1st inning thanks to a leadoff single from Travis Latzke and a two-out single by Brad Lawson. Once again in the 3rd inning the Tigers scored three more runs with two outs in the inning when Dan Huber reached base safely on an error and then three straight hits by the Tigers 4-5-6 hitters.
The Tigers were led offensively by Brad Lawson 3-for-5 with two RBI, Pat Schultz 2-for-4 with two RBI, and Miah Fogarty 2-for-4.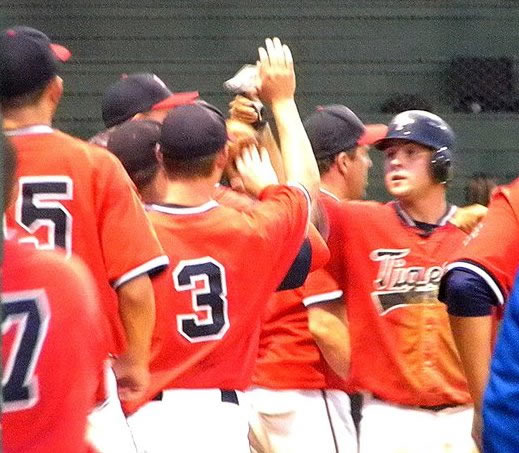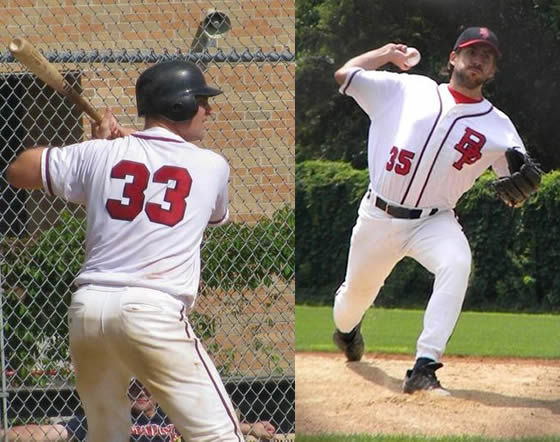 Chanhassen 0 @ BP 3 (Sunday, August 7 ~ Region 6C Playoffs)
90 GAME PICS! ..and 55 MORE GAME PICS!
Manager Jeff Miller gave the nod to veteran Rob Wagener for the second consecutive year with a chance to clinch a spot into the state tournament. Wagener went 4 1/3 strong innings before giving the ball to draftee Scott Dose from Arlington who threw the next 3 2/3 innings without giving up a run.
After a tailor-made 1-6-3 double play in the top of the 6th the Tigers bats finally woke up, and scored two runs in the bottom half of the inning. Rookie Miah Fogarty led the inning off with a double and was later knocked in by Pat Schultz.
Fogarty and Schultz lead the team in hitting having three and two hits respectively with Dan Huber also contributing two hits in the game.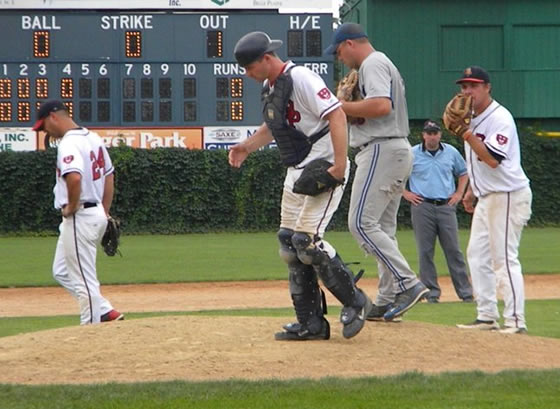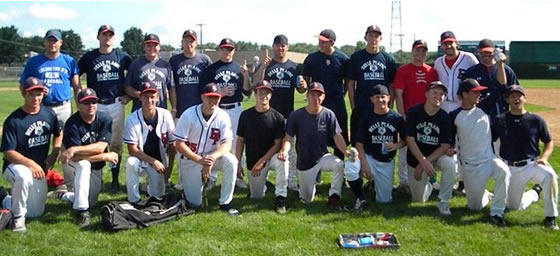 TIGERS RVL-CENTRAL CHAMPS;
OPEN REGION 6C FRIDAY AT HOME

After romping through the RVL-Central during the regular season, the Tigers eked out the postseason division title in a dramatic 2-1 win over Chanhassen in 10 innings Saturday night. The Red Birds pushed one across in the 10th before watching Team Tigertown score twice with two outs, thanks to a stolen base from Miah Fogarty, a base hit from Brad Lawson to tie it and a game-winning single from Pat Schultz to end it.
The victory means 23-10 Belle Plaine will enjoy home-field advantage through most – if not all – of the Region 6C playoffs, beginning Friday night at 8:00 pm when the #2-seed from the RVL-West, Fairfax, comes to town. Fairfax was defeated 6-5 by St. Peter on Saturday.
Win or lose the Plainesmen will host again on Sunday at 2:00 pm, against either St. Peter or Chanhassen. The Tigers could clinch a State Tourney berth Sunday if they win their first two games; either way, Region play will conclude next weekend. More details will follow as necessary in next week's Herald; you may also visit www.bptigertown.com.
The top two teams from the four-team region will fast-forward to Glencoe on August 21 for their first state tournament games. Brownton and Hutchinson are also sharing as host sites for the late-summer spectacular.
Rules have changed regarding draftees in Class 'C' this year: each team can select only one pitcher after the league playoffs, and pitchers are no longer allowed to hit. Belle Plaine took Arlington's Scott Dose first, with Chan following with Le Sueur's Darron Culbert; in the West, St. Peter took Gaylord's Brad Walsh and fellow Islander Josh Gasow was selected by Fairfax.
Chanhassen 1 @ BP 2, 10 innings (Saturday, July 30 ~ RVL-Central Championship)
24 GAME PICS!
34 MORE GAME PICS!
Since Chanhassen joined the RVL last year, the Tiger Train answered all five challenges. With a 6-4 win this June 17th and a 6-5 triumph in 10 innings on July 10, could the Tigers make it six for six?
The Red Birds were victors of three do-or-die games over the last week and had All-Star ace Justin Thompson on the mound, so their confidence had to be high. Then again, they were going to have to put some pucks past Adam Johnson – the toughest net-minder in the league.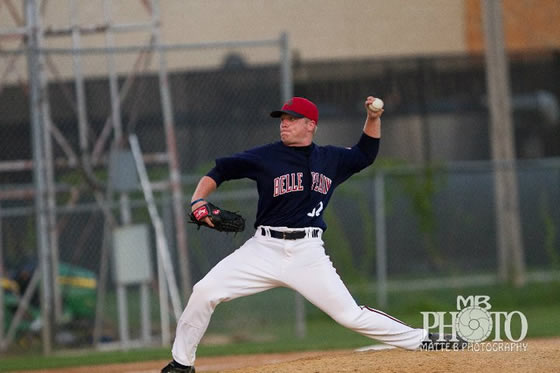 There was a whole lot of nothin'-doin' for both teams until some excitement popped up in the home-half of the 6th. With runners at first and second and two away, Dr. Jim Buesgens sent a low liner to right field. It appeared to be a short-hop trap, but apparently the only two people in the house who saw otherwise were the men in blue.
That said, to be fair the right-fielder rose quickly and fired a strike to home, and would have nailed baserunner Brad Lawson by at least 30 feet had there be a play. So, there's that.
With both pitchers cruising, the question became, "Who will blink first?" or more likely, which manager would pull the pin first on his well-oiled Cadillac?
After 27.1 scoreless playoff innings, the Tiger pitching staff finally yielded a run in the 10th. Johnson left after 140 pitches and 15 strikeouts, and after a pair of errors put runners at the corners with one out. Lawson's first batter, Johnny "Guns" Gulden, delivered a clean single to left and the Red Birds had what looked like enough.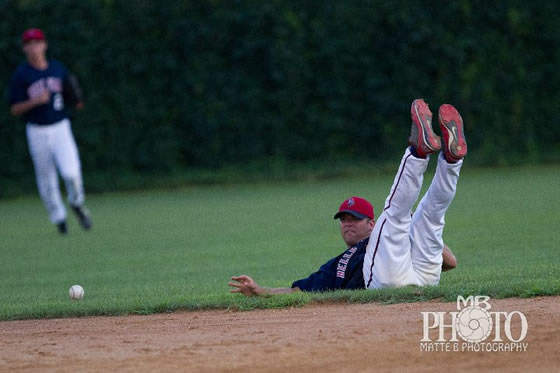 In the 10th however, Thompson did not come back out – instead it was shortstop Nate Swenson who got the call for the final three outs. Leadoff man Travis Latzke went down before Miah Fogarty worked a one-out walk. After a Dan Huber fly-out, Fogarty stole second in true Dave Roberts-like fashion.

Lawson then redeemed himself with a single to center, plating Fogarty while importantly advancing to second on the throw home. Pat Schultz – a long-time stalwart but batting only .163 in half-time duty this season – came through like days of old with a single to left that scored a just-fast-enough, cheese-eatin' Lawson.
A team that went 5-for-35 for the bulk of the evening went two-for-their-last-two when it mattered most.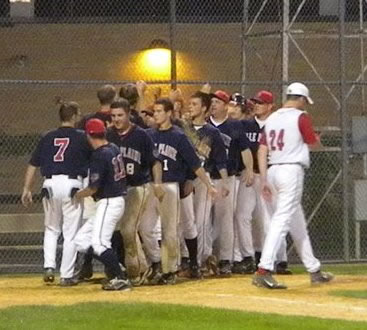 TIGERS TOSS 18 SCORELESS;
CLINCH REGION 6C BERTH
Host RVL-Central Championship Saturday Night

Pitching was the name of the game in Tigertown this weekend, as four BP hurlers combined to shut out the Le Sueur Braves on Friday (7-0) and the Arlington A's on Sunday (4-0).
Sunday's win clinched a Region 6C berth for the Tigers, who will host Le Sueur, Chanhassen, or Arlington Saturday night at 7:30 pm in the RVL-Central championship. The winner gets the Central's #1-seed and an opening home game in Region 6C on Friday, August 5th, against the #2-seed from the RVL-West; the Central's #2-seed will have to travel to the #1-seed from the West that same evening.
More details on the Region tourney will appear in next week's Herald; in the meantime, head to www.bptigertown.com where you can view the Region bracket and much more.
Last Tuesday night, July 19th, the Plainesmen lost 5-3 to the Shakopee Indians. Belle Plaine's overall record is 22-10, the fourth time in the last five years that the Tigers have won 20 or more games.
Shakopee Indians 5 @ BP 3 (Tuesday, July 19) 23 GAME PICS!
As someone told me after the game, "Maybe you shouldn't schedule the back-to-back (Class 'B') state champs for Fan Appreciation Night..." But oh contraire, mu frère: the Tigers had taken the Indians to the mat four years in a row!
In 2010, BP rallied for five in the 9th in a shocking 6-5 win; in 2009, the Tigers were one-hit but Shawn Larson threw out Troy Wasiloski at home, from right field, for a game-ending double play; in 2008, it was another one-run victory, 4-3, for a Tiger team that entered the game 6-17; and in 2007 it wasn't even close – a 13-3 drubbing in 7 innings behind a Dan Weldon homer, 17 hits, and a Shane Hofmann complete game. Are you kidding me? This was like the Globetrotters scheduling the Washington Generals!
The Generals tipped over a couple buckets of confetti early to take a 4-0 lead after two, and that was it for starter Shane Hofmann, who hoped his 44-pitch playoff tune-up would last another inning or two. Josh Terrio came on and merely turned in his finest pitching performance as a town baller, chucking five innings of 4-hit ball with no runs and a pair of strikeouts. Was the magic back?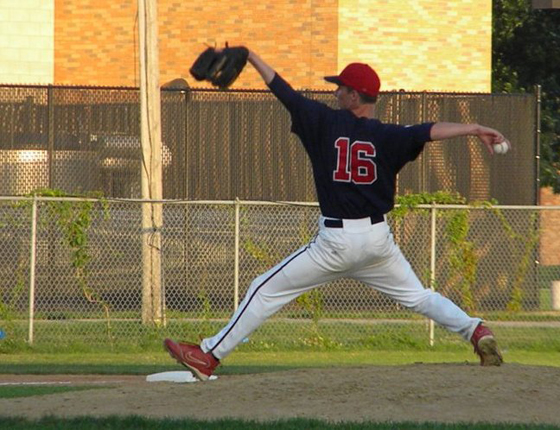 A Tiger run in the 4th and two more in the 7th made it 4-3, and after a double steal from Miah Fogarty and Travis Latzke, the Go-Go Growlers had runners at 2nd and 3rd with nobody out. But a major opportunity was soon squandered, as three straight balls didn't leave the infield and the score held at 4-3.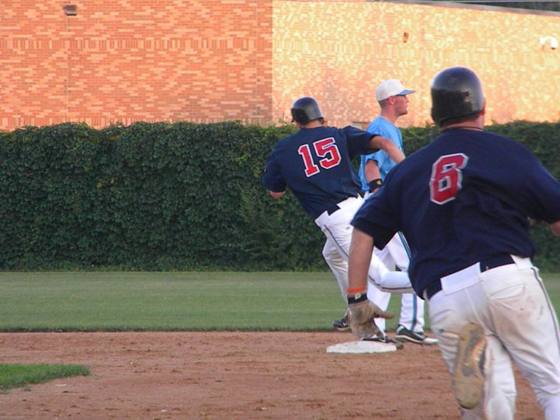 An insurance run for the visitors paired with some major league cheddar from Sam Anderson in the 9th – he struck out the side – put an end to the Tigers' strange but impressive mini-hex.
Tyler "Harty" Hartman notched his sixth consecutive multi-hit game (in which he's received at least one at-bat), going 13-for-26 to raise his average to a robust .351 on the season.
Le Sueur 0 @ BP 7 (Friday, July 22 ~ RVL-Central Playoffs) 21 GAME PICS!
Adam Johnson and Jake Scherer combined to one-hit the Braves, sending the Tigers to a relatively stress-free opening-round victory. The first three BP batters of the night scored, and that was more than enough for the Tiger ace.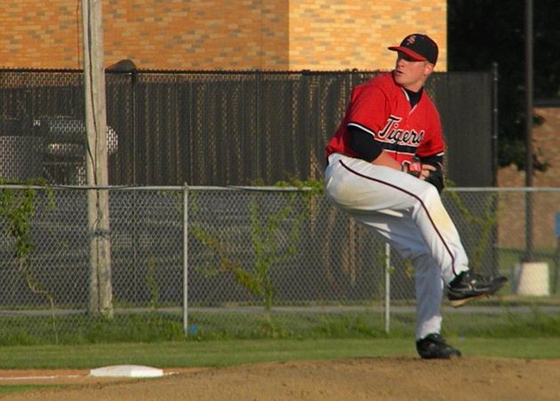 Going seven innings, Johnson faced just two batters over the minimum – in the 2nd, when Colin McCoy lead off with a clean single, and the 6th, when Brandon Culbert reached on a "The sky is falling!" pop-fly error from first baseman temp Rob Wagener. The port-sider struck out 11 and lowered his ERA to a mind-boggling 1.14.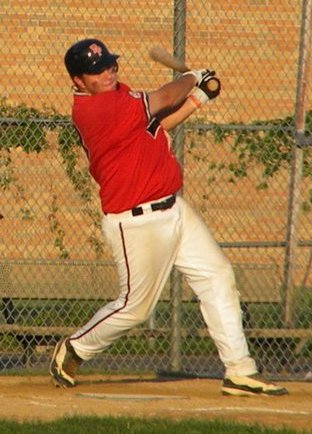 While Johnson could have kept going, the decision was made to save some bullets for another day and Jake Scherer was given the "keys" to victory. "Shears" looked fantastic, going six-up and six-down with three punchouts. Between the two hurlers, they never issued more than four balls in any inning.
The home team offense was meager, lashing just seven hits. Two runs came in thanks to a 4th inning error, and two more generously scored in the sixth when Dan Huber's fly ball was lost in the lights for a double.
Huber finished 2-for-4 with a walk and two RBI, while Brad Lawson also collected two safeties. Pat Schultz drove in two on a bases-loaded single in the first.
Arlington 0 @ BP 4 (Sunday, July 24 ~ RVL-Central Playoffs) 56 GAME PICS!
Sunday's game was a lot like Friday's – it was played at home, the Tigers scored three in the first and struggled greatly thereafter, and BP pitching was once again stellar.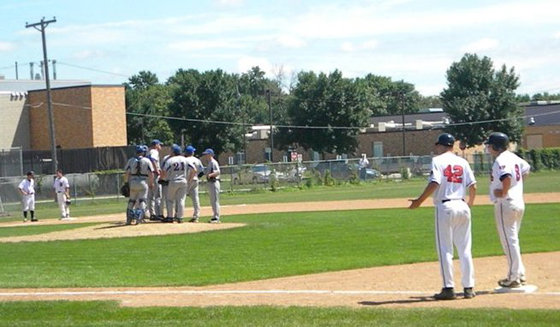 Rob Wagener went six frames, yielding four hits and a walk against seven strikeouts. His biggest escape act was in the 4th, when a Brett Pioske single followed a Nate Hartmann double with one down. With runners at 2nd and 3rd, Wags dug deep and K'd Jake Lucas and Bryce Eggert to end the inning.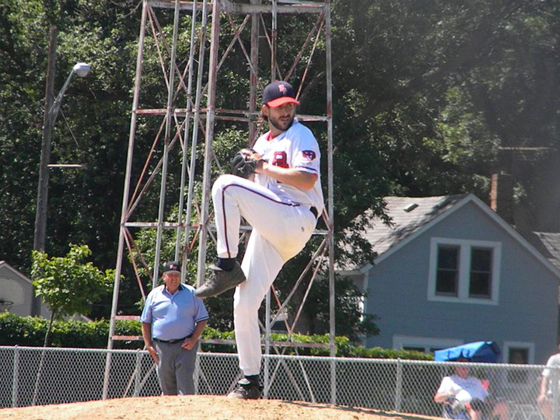 The BP bats offered a paltry three singles on the day, but again just like Friday, one was a two-RBI single in the 1st from Pat Schultz. A's starter Scott Husfeldt otherwise handed it to the Tigers, walking three and hitting two in the 1st before leaving that same inning with two gone.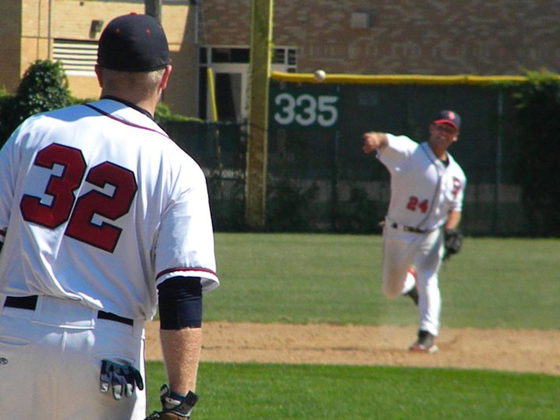 Michael "The Baffler" Bullert relieved and was fantastic, going the rest of the way while giving up only two hits and an unearned run. He struck out four.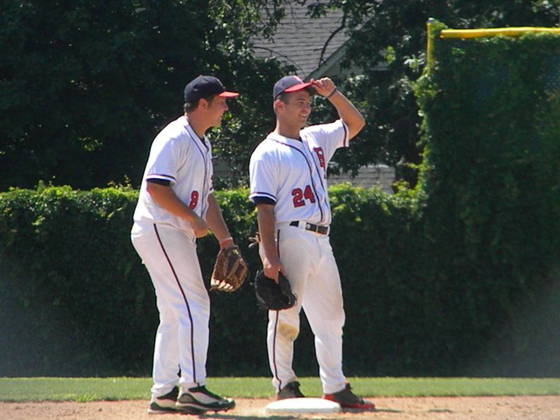 Brad Lawson locked up the Arlington bats for the final three innings, however, interrupted only for a one-out single in the 9th. He earned the save, his first of the campaign.
The locals used other avenues to generate offense, coaxing six walks while pilfering five bags. Latzke swiped three, putting him at 27 for the year.

TIGERS HOST PLAYOFF
OPENER FRIDAY
Will Face Henderson / Le Sueur Winner

A season of rainouts is in the rearview mirror and the playoffs are here once again. The #1-seeded Tigers (20-9, 11-1 RVL 'C') will host the winner of Wednesday night's #5 Henderson at #4 Le Sueur game at 7:30 pm on Friday. In other action Friday, #3 Arlington travels to #2 Chanhassen.
If the Tigers win their first matchup, they will host the Arlington-Chan winner at 2:00 pm on Sunday with the chance to clinch a Region berth; should they lose Friday, their next soiree will be hosting an elimination game at 7:30 pm Tuesday. Visit the Tiger website, www.bptigertown.com, for updates – or just drive down Main Street and look for the sign.
Last week the Big Red Machine played three straight road games: a 6-4 win at St. Peter on Tuesday; a 6-5 loss in 10 innings to Arlington on Wednesday; and an 8-2 defeat at the hands of the Chaska Cubs on Thursday, the latter of these a non-leaguer.
Last night the BPT entertained the Shakopee Indians in another non-league affair; again, check the team website for the pertinents.
There's no time like playoff time – come out and support your local nine!
BP 6 @ St. Peter 4 (Tuesday, July 12)


The Tiger Train won their eighth straight, but had to battle back from a 4-0 deficit after just one inning. BP starter Brad Lawson allowed the Saints to bat around in their first ups, then clamped down and ended up going the distance.
After one in the 2nd four straight hits in the 4th pushed two across, but the Tigers left the bases juiced against Saints starter Grant Nelsen. Three more consecutive hits in the 5th added another, thanks to an RBI single by Lawson.
In the 7th Travis Latzke singled, stole second, moved to third on a ground out and scored on Dan Huber's sacrifice fly to center. The 8th inning saw Miah Fogarty do likewise with a single, a steal, and a run scored thanks to the bat of Tyler Hartman.
As has been the case a lot this year, the bottom of the order provided a boost – Fogarty went 3-for-4 with a double, an RBI and a steal from the #7-spot, while Hartman was 2-for-4 with two knocked in from the #8-hole.
BP 5 @ Arlington 6 (Wednesday, July 13 – 10 innings)
Josh Terrio got his first starting assignment of the year on the hill, and went four-plus frames while being charged for four runs (three earned) and five hits. He walked five and struck out three.
Shawn Larson came on in relief and would go the rest of the way, as the Tigers tried to keep their claim to the Red Helmet.
Down to their last strike with two outs in the 9th and trailing by a run, Fogarty came up huge with a base hit to left to plate Johnny Egan and tie things up at five. After an intentional walk to Huber to load the bases, ace Scotty Dose came on and induced a groundout to escape the jam. Dose then blew away the Tigers in the 10th, striking out the side.
The bottom of the 10th was cruel to Larson, who would get saddled with a tough loss. After two were out, an error allowed Shane Henke to reach, and a passed ball advanced him to second. #9-hitter Blake Henke then delivered his fourth hit of the game, a base hit to left that was misplayed and allowed the winning run to scamper home.
BP 2 @ Chaska 8 (Thursday, July 14) - 28 GAME PICS!
Facing their sixth game in six days, all hands were on deck for this one – even those that are better left to flashing signs. Third-base coach Brett Kruschke was once again threatened with playing time – the start on the hill, no less – but thanks to the lefty's chance to also make out the lineup card, the nod instead went to second-year lol'er Jake Scherer.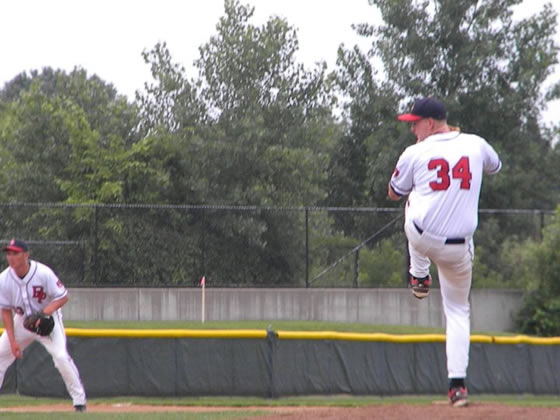 "Shears" was a victim of bad defense behind him, and actually acquitted himself quite nicely in his first start of the season. While the walk to strikeout ratio could use a little work at 5:1, the right-hander allowed only four hits and three earned runs (seven total) to one of the powerhouse 'B' teams in the state.
Cory Glieden, captain of "The Greatest Show-offs on Dirt" (hey – just seeing if we have any Chaska readership!) stole second in the 1st, then 2nd, 3rd, and home in the 3rd, each time on his first opportunity to do so. So it was with much delight when the Tigers picked him off 2nd base in the 4th after he delivered a two-out, two-RBI single to make it 4-1 Cubs.
Shane Hofmann got in some work out of the pen, looking sharp in his 2.2 innings with one walk and four strikeouts against just two hits and one run allowed.

In the 8th, at teammates' urging, Kruschke tore out of the bullpen Heath Bell-style and scaled the mound. Despite the second pitch of the inning unintentionally sailing behind the hitter, the first two men flew out and the craftsman uttered a mock "This is easy!" to third baseman Hartman. Sure enough, the next two batters walked.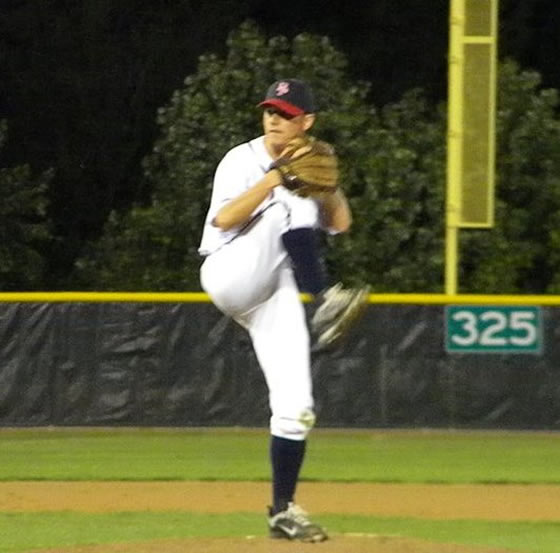 After a brief prayer, the baseball gods smiled down on ol' #11 (or maybe they were just laughing?) when a diving stab was made by Lawson at second base and a 4-3 putout and scoreless inning went into the (history) books. Forget the 12:6 ball to strike ratio; this was progress after the Mankato Meltdown of three years ago.
Hartman and Jim Buesgens paced a 7-hit attack with 2-for-4 performances. Latzke also nabbed a couple more steals, drew a walk and drove in a run to go along with his 1-for-3 effort.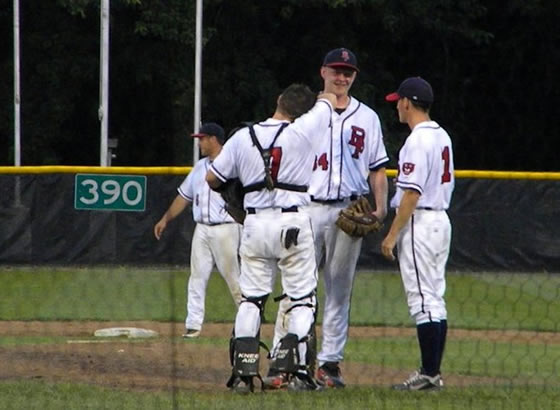 Okay, well, uh... candlesticks always make a nice gift, and uh, maybe you could find out where she's registered and maybe a place-setting or maybe a silverware pattern. Okay, let's get two! Go get 'em.
Tigers Win 7th Straight
as Playoffs Approach

The Tiger Train rolled on this past week, winning three RVL 'C' games and four overall, running their record to 19-7 on the year. In league play, the Tigers are 11-3 with a 10-0 mark against RVL 'C' foes.
That standing has clinched a home game for Friday, July 22nd, against the winner of the #4-#5 matchup that will be played two nights earlier on Wednesday, July 20th. Full details on the RVL-Central bracket pairings will appear in next week's Herald.
Last night the Tiger Tweeters traveled to St. Peter; pull up www.bptigertown.com to find out the result.
Tonight the El Tigros will amble to Arlington for a 7:30 pm renewal of acquaintances. On Thursday night it's another 7:30 pm affair when the Tigers bare their stockings and wade into Chaska's Athletic Park.
Tuesday night will be one you don't wanna miss, as it will be the ever-popular Fan Appreciation Night at Tiger Park – first pitch 7:30 pm. A team autographed bat, baseballs, 2012 season tickets and merchandise will highlight the giveaways.
Henderson 0 @ BP 3 (Tuesday, July 5)
When last these teams met on May 28th, the Hendersonians could legitimately gripe that they didn't receive their "fair ups" as tornadic weather resulted in an immediate calling of the game after 5 ½ innings.
On that day Adam Johnson was on the hill and allowed nary a run, and even with 27 outs on this good night the story would remain the same. The May storm cloud may have followed the guests to BP as a hard, short burst of rain led to a 45-minute delay and the formation of Lake Henderson in front of the visitors' dugout.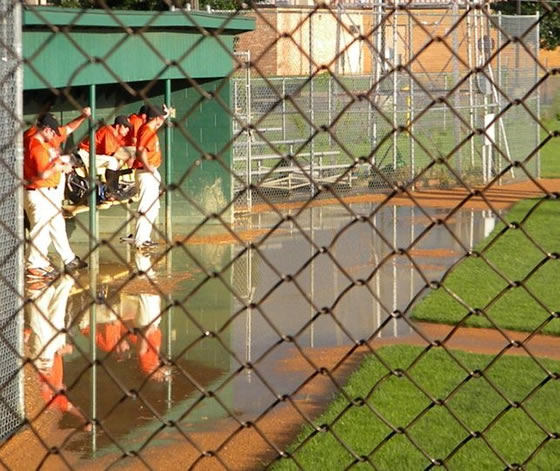 Belle Plaine scrounged a run in the 1st when Dan Huber reached by error with two gone, stole second, and eventually scored on a wild pitch by Henderson hurler Mat Peot. The right-handed Peot would go the distance to equal his cohort, Johnson.
The home half of the 5th was the last uprising, as El Tigre struck twice thanks in part again to an error and a stolen base. Huber drove in one of the runs with an RBI single.
Johnson was in control throughout and never faced more than four batters in any frame. He struck out at least one batter in every inning but the 3rd, K'd the side in the 5th, and finished with 14 set-downs. His ERA shrank to a miniscule 1.29 with the complete-game effort.
No Tiger had more than one hit and the team collected only six in all. Tyler Hartman went 0-for-1 with a sacrifice bunt but earned the MVP Award thanks to bringing an economy-sized bottle of Skin So Soft to ward off the gnats.
RVL All-Stars 2 vs. DRS All-Stars 1, at Union Hill (Friday, July 8)
The River Valley League won their third straight in the series, with Commissioner Ron Beckman lining up for handshakes immediately following the game. Four Tigers participated in the gala event at a decked-out Union Hill Ballpark. All-Star Photos (Bill Kruschke & Molly Lawson
All-Star photos (Union Hill Bulldogs)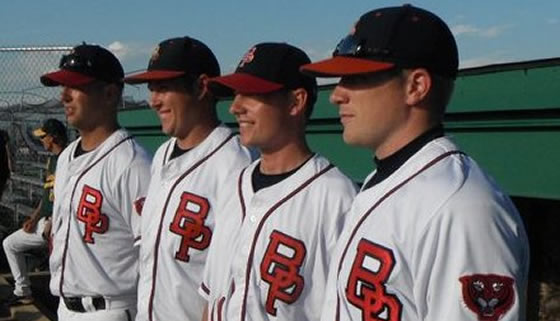 Brad Lawson started at shortstop and went 1-for-2, while Dan Huber came in midway through the contest at second base and took an 0-for-2. Adam Johnson worked the final two innings on the hill to pick up the save, giving up no runs or hits with two walks and three strikeouts. Brett Kruschke, filling in for manager Jeff Miller, co-managed the RVL'ers with Gaylord skipper Mike Walsh.
MVP Dusty Olynyk of Prior Lake went 2-for-3 with a walk and a two-run dinger in the 5th. Olynyk also belted 13 long balls in the home run contest, edging out Faribault's Nick Rost by one in the finals. Huber started slow but represented well, popping the 3rd-most homers in the contest with four.
BP 13 @ St. Benedict 8 (Saturday, July 9)
As the Tigers have done on more than one occasion this year, they sent a split squad to St. Benedict to take on South America's Team. In case you're not aware, the ball tends to fly out of "The Ben" – the distance to right field is listed at 241 feet and 319 to the right-field power alley, but both might be generous listings.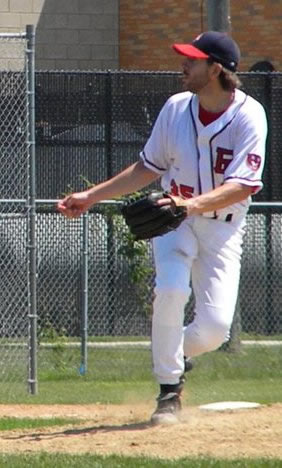 That's not to take anything away from the new Babe Ruth of the Tigers, Adam "Slugger" Johnson – the ace pitcher and half-time batter socked not one, not two, but three home runs, and they were all of the no-doubt variety. Johnson hit a 3-run bomb in the first, doubled in the 4th, lined out to center in the 5th, and walloped solo homers in the 7th and 9th. Not bad for a guy with 29 at-bats entering the game.
Tyler Hartman bopped his first career town team home run as well, a three-run blast in the 5th. Central America's Team held a hog roast on the afternoon but no-one turned on the spit quite like the pitching trio of the Pauly brothers (assumed) and Alhoff (first names omitted as part of the Pitcher Protection Program).
The ever-crafty Mike Schultz gutted out five innings on five hits and one unearned run, with no walks and a strikeout. The effort earned him his second win of the year against one loss.
Dan Huber is a bonafide All-Star, but it sure ain't for his pitchin' – he "saved" the game for Schultz with four innings of relief, allowing seven runs (all earned) on eight hits and a pair of walks. Fire that ball!
Jeff Miller enjoyed a perfect day at the plate, going 3-for-3 with a walk. Matt "Meet me at the pool" Schultz went 3-for-5 with 2 RBI and a couple of doubles.
Winthrop 1 @ BP 5 (Sunday, July 10)
Because the Tigers have no lives outside of baseball, it worked well to play a doubleheader Sunday starting at 1:00 pm against the Winthrop Eagles. Dan Anderson took the hill for the visitors, while Rob Wagener chucked for the locals.
BP trailed 1-0 in the 6th when Huber stroked a bases-loaded, bases-clearing two-bagger. It was a struggle up to that point for the Tigers off Anderson, but they solved him for two more runs in the 8th – Huber again delivering, this time with an RBI triple.
Wagener was stingy, and improved to 4-0 with his longest outing of the season, eight innings. He yielded five hits and one unearned run, walking three against five strikeouts. "Crouching Tiger, Hidden Wagener" had the Grunt-o-Meter cranked particularly high, pitching well in front of family on this sweltering hot afternoon.
Chanhassen 5 @ BP 6 (Sunday, July 10)
Chanhassen got Belle Plaine's attention early and led 5-0 after three. Would the Tigers' undefeated record (9-0 coming in) against Class 'C' RVL opponents finally come to an end?
Not if Shane Hofmann had anything to say about it! The well-rested vet buckled down from there and gave manager Miller a much-needed five scoreless innings after the three-run 3rd.
Team Tigertown scored one in the 4th and two in the 5th off right-hander Casey Malmgren, and nipped him for one more in the 8th before he turned the 9th over to fellow All-Star Justin Thompson.
Travis Latzke opened the inning with a walk and before long, Jeremiah Fogarty was batting with the bases loaded and one out. The green rookie delivered a sacrifice fly in his sixth ever town team at-bat, plating the speedy Latzke and sending the game to the 10th.
After a line out to open the frame, a single and a couple walks loaded the bases with two away for Huber. Thompson did himself in, issuing his third free pass of the inning and fifth overall to plate Hartman with the winning run.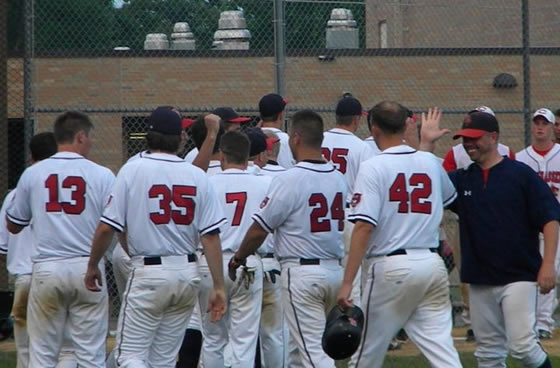 Hectic Schedule Ahead for Tigers

The boys of summer won two more league games this week to run their RVL Class 'C' mark to 7-0, and twice more succumbed to postponements in this season of the cursed schedule.
Wins of 2-1 against Fairfax and 8-2 over Le Sueur improved the Tigers' overall record to 15-7. For the second time this year, on Friday, the BP Nine arrived in Arlington only to never take the field as the skies let loose. The game has been rescheduled for Wednesday, July 13, 7:30 pm at Arlington.
On Saturday Winthrop was to play a makeup game in Tigertown, but did not have the required numbers to field a squad and so Act III will take place as the first end of a doubleheader on Sunday, July 10 at 1:00 pm in Belle Plaine.
Last night the Govs hosted Henderson; check www.bptigertown.com for details.
The fourth RVL-DRS All-Star Game will take place this Friday in Union Hill, and the Tigers will be represented by pitcher Adam Johnson, infielder-outfielder Dan Huber, shortstop Brad Lawson, and fill-in Brett Kruschke for manager Jeff Miller.
A Home Run Derby – expected to feature BP's Huber – will take place at 7:00 pm, with the game set for 8:00 pm. Come out and support the best of local baseball in what should be a fun night at the ballpark.
Saturday starts a crazy run of games for the Tigers, but that's the way it is when you have an unprecedented season of rainouts. At 2:00 pm the locals will play at St. Benedict as part of their hog roast / beer bash fundraiser; find full details on the Saints' facebook page.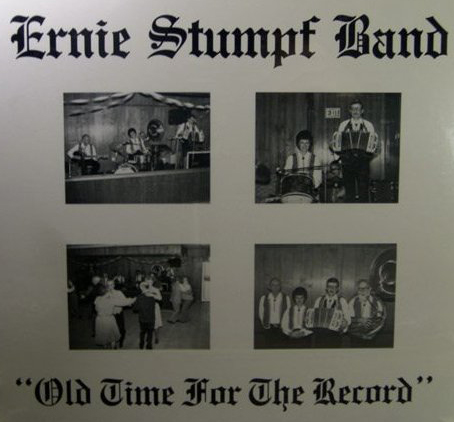 Winthrop visits Sunday at 1:00 pm and at 6:00 pm, it's an "Evening with Ernie" – Stumpf, that is – as he brings his concertina magic to Tiger Park for Senior Citizen's Night (seniors admitted free). The Chanhassen Redbirds will be the guests.
On Tuesday, the White Lilies head to St. Peter for a 7:30 pm affair.
Fairfax 1 @ BP 2 (Tuesday, June 28)
Fairfax struck first in the first when leadoff batter Kevin Erdal singled and came around to score on an error, but it didn't take long to see that this would be a pitcher's duel at the BP Corral.
"Get him early or go home" is the usual mantra with the Tigers' Adam Johnson, and it held true again on this fine evening. Bryce Rippentrop was Fairfax's answer to the hometown zero-slinger, and both pitchers would go the distance.
In the 4th Belle Plaine got on the board when Dan Huber led off the frame with a single and stole second. With two outs, Shawn "Pop Tart" Larson beat out an infield single and the score was tied.
In the 8th Matt Schultz singled to open the inning and Tyler Hartman pinch-ran, but was caught stealing. All-Star Dan Huber fixed that problem, sending a line-drive rope off the football press box in left field, good for his fifth homer of the year and a 2-1 Tiger lead.
That was the winner, as Johnson allowed only one other hit on the day – a 5th inning single to Erdal – and sat down 13 via punchout. After a 2.46 ERA in 2009 and a 1.90 mark last year, the All-Star ace now weighs in at a slim-and-trim 1.53.
Rippentrop was the tough-luck loser, hurling a six-hitter with 10 strikeouts.
Travis Latzke collected two hits and a walk for Team Tigertown, and pilfered three of the team's five bags. The 4th-year speedster now has 16 pairs of batting gloves nailed to his bedroom wall, a la Willie "Mays" Hayes.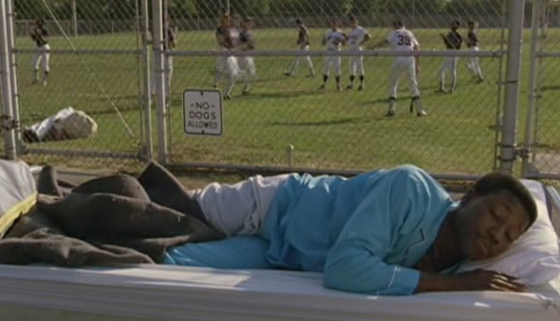 Le Sueur 2 @ BP 8 (Wednesday, June 29)
In his second start of the year, Lawson went eight innings with two unearned runs and 10 K's to garner the win. Lawson, a newly minted two-time RVL All-Star, also went 3-for-5 at the dish with an RBI. The sixth year shortstop is hitting a team-leading .397 lol.
Ryan Diers joined in on the fun and went 3-for-4 with three runs and a double, and made his town team mound debut with a scoreless 9th inning. The lanky lefthander walked one and struck out a pair.
Mike Feeney tossed the complete game 15-hitter and was victimized twice each by Latzke, Zac Dahlke, and Josh Terrio.
Ryan McPartland nabbed two of the Bravos' six hits with a double and a single.
Tigers Hit a Few Bumps in the Road

The Tigers are in the midst of their busiest stretch of the season, one dotted with make-up games among a previously already hectic schedule. Losses to the Mankato Mets, Prior Lake Jays, and Jordan Brewers were somewhat eased with a 12-6 romp at Le Sueur on Sunday.
Last night the Plainesmen hosted Fairfax; go to the Tiger website at www.bptigertown.com and look for a Twitter update. (Or, perish the thought, actually follow the Tigers on Twitter.) Coming into the game, BP's record sat at 13-7 overall, with a 6-3 mark in the RVL and 5-0 against the RVL's 'C' teams.
Tonight the Braves are back – Le Sueur visits at 7:30 pm, although the game could start as late as 8:00 pm due to a Legion game being hosted beforehand. This game was originally scheduled for June 14th.
On Friday, the non-vacationing members of the Tigers will head to Arlington for a make-up game and Saturday will see Dana Melius' Winthrop Eagles swoop in for a 2:00 pm battle in Tigertown, in another make-up du jour.
Tuesday kicks off the post-4th of July stretch run and will be Little League Night #2 at Tiger Park, 7:30 pm, with all Little Leaguers receiving a free hot dog. Players are encouraged to wear their uniforms. Henderson will try to ruin the fun by hitting zero foul balls.
Mankato Mets 11 @ BP 8 (Tuesday, June 21)
You'd never believe it, but it rained a lot during the day and there was doubt as to whether the game would be played. After twice preparing to play only to have sudden showers require a quick covering of the field, action finally got underway at 8:15 pm.
Adam Johnson took the hill for the Red Caps, just as he did last August 21st in a first round State Tournament matchup against these same Mankato Mets. On that night, Johnson hurled a complete game shutout victory, with 11 strikeouts; on this night, it was a different tune.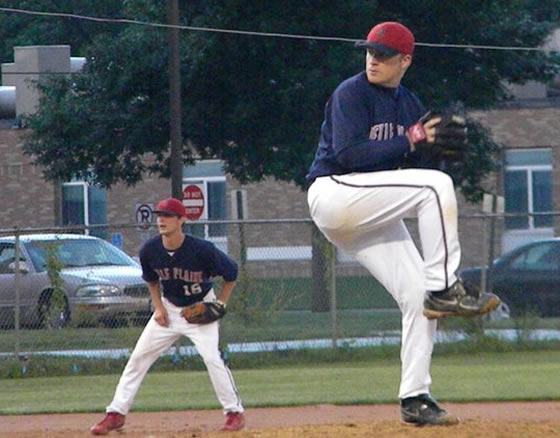 "AJ" gave up his first three earned runs of the season in his previous start, and surrendered five earnies (six total) through five frames against the Mets. Johnson gave up seven hits and four walks in this most uncharacteristic of performances.
The closest Belle Plaine got to victory was with two away in the 9th, when Jim Buesgens represented the tying run at the plate after Brad Lawson made it 11-8 with a two-run single. With a steady rain coming down Buesgens drilled the ball to deep left field, but it didn't have the distance and the ballgame was over.
The Tigers used a most strange way to accomplish their 11 hits: #8-hitter Zac Dahlke went 4-for-5 and #9-hitter Johnny Egan went 4-for-4 with a walk. If you ever get close to that kind of output from your bottom two hitters defeat is usually rare, but unfortunately the rest of the lineup was nothin'-doin'.
Dahlke worked the final four frames on the mound, and Travis Latzke stole three bags courtesy of a hit and two walks. Ryan Diers collected his first career town team knock, a double.
BP 4 @ Jordan 5 (Friday, June 24)
The Tigers made it safely over the bridge and arrived at Jordan's Mini Met, where the Brew Crew entered with a robust 17-4 mark. Alex Beckman would do the honors for the home team, while Dan Huber received his first start of the year for the guests.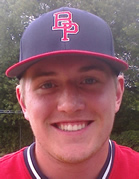 16 year-old rookie catcher James Harsh had his "Welcome to Tigertown!" moment in the 2nd when with two outs, he dropped a single into right-center for his first town team hit and a 2-0 Tiger lead.
Belle Plaine added single runs in the 3rd and 4th – on an RBI single from Huber and a sac fly off the bat of Harsh, respectively – to go up 4-0.
Jordan nabbed one in the 4th then got to Huber with two big swings and two gone in the 5th: a two-run double by Evan Lucius in which Mitch Ries was gunned down at the plate on the relay; and a two-run, line-drive homer from Tiger killer Trent Simek.
BP put multiple men on base in the 8th and 9th, but no team scored after the Brewers' 5th inning uprising and they hung on for the 5-4 win.
Jake Scherer and Shawn Larson combined for three scoreless innings of relief, while Latzke's 2-for-5 effort with a double was the only offensive news worth reporting aside from Harsh's happenings.
BP 1 @ Prior Lake Jays 12 (Saturday, June 25)
I was tempted to simply post the bptigertown tweet about this game, as there isn't a whole lot else to say that goes beyond 140 characters. After scoring first in the 1st, Tex Chapman's Jays responded with a dozen unanswered runs.
The Tigers only had ten players in attendance and well, here's the tweet: Tigers 1 @ Prior Lake Jays 12, 7 inns. LP Mike Schultz 2 IP, 6 R. Terrio ejection in 6th leads to Kruschke diving stop at 1B. @Minnbaseball
Latzke collected two of the team's five hits, and also stole a base.
BP 12 @ Le Sueur 6 (Sunday, June 26)
Coming in losers of three straight and 4 of 5, Sunday's outing at Le Sueur was exactly what the Tigers needed to get back on track. Well, except defensively, anyway.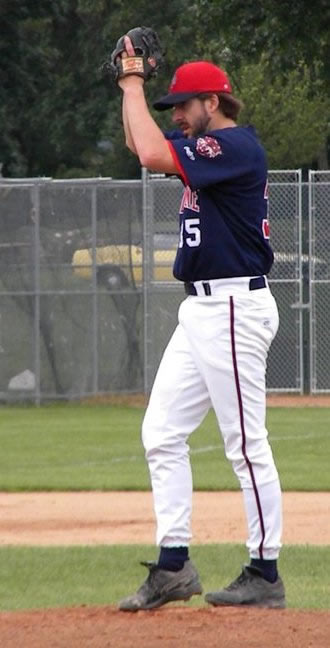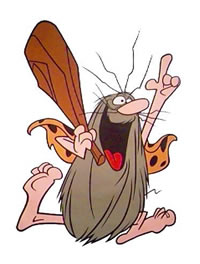 After just two innings played, each Tiger infielder had committed an error. Starter Rob Wagener dug into his beard like Captain Caveman would his hair, and pulled out tools as needed. When all was said-and-done, Wagener worked five innings with just one earned run and a walk against four strikeouts.
17 hits raised the Tigers' season average to a high-water mark of .285. Leading the way were thumpers Huber and Lawson – Huber went 3-for-5 with a homer, a walk, a steal, and four runs scored, while Lawson was 3-for-5 with 4 RBI and tossed two scoreless innings.
Pat Schultz and Shawn Larson continued to bust out of their early-season slumps with RoboCatcher posting a 2-for-4 performance with a walk, two RBI and two steals, while Pop Tart went 2-for-5 with 3 RBI.
Not to be forgotten, rookie hitting sensation Zac "Smiley" Dahlke – the batting reincarnation of former Tiger great Brad Muehlenhardt – banged out another three hits, upping his season average to .371.
The BP Nine presented a persistent attack, scoring multiple runs in five different innings.
Rain Continues to Wreak Havoc with Tiger Schedule

Rain struck the Seattle of the Midwest twice more last week, but not before the Tigers squeezed in a 6-4 win at Chanhassen Friday night. Within a few minutes of the game's conclusion, the skies opened as if to issue a reminder of how lucky the teams were to play an actual nine inning ballgame.
Last Tuesday's game against Le Sueur and Saturday night's game in Arlington were both postponed; the Braves will now visit on June 29th while a make-up date is still being bandied about with the Arlington dignitaries.
Last night the T-Train was to host the Mankato Mets, although the skies are mighty blue as this sentence is being hacked out. Check the Twitter widget at www.bptigertown.com for the potential miracle of a game score.
To date, the Tigers have had six postponements and two cancellations. I know I have never seen anything remotely close to this in my twenty years on the team.
The locals are jam-packed this weekend as Friday they are scheduled to play at Jordan, 7:30 pm; Saturday sees the boys trekking to Prior Lake for a 6:00 pm meeting with the Jays; and the road trip continues Sunday with a 2:00 pm contest at Le Sueur.
Tuesday will be Little League Night #1 as Fairfax visits at 7:30 pm. All Little Leaguers will receive a free hot dog, and are encouraged to wear their uniform to the ballpark.
The New Ulm Kaiserhoff, new entrants to the RVL for this 2011 season, have been moved from Class 'C' to Class 'B' by the Minnesota Baseball Association state board for signing a college ballplayer. The New Ulm Baseball Association is suing the state board and a July 8th hearing has been set; in the meantime, the RVL's Central Division teams voted 5-0 not to count games with the Kaiserhoff in the 'C' standings.
While this seems subject to change, it now puts the Tigers at 4-0 against RVL 'C' teams as their only blemish to date was a 7-5 loss to New Ulm on June 6th. Overall BP holds a 12-4 record.
BP 6 @ Chanhassen 4 (Friday, June 17)
There were multiple reasons why Belle Plaine faced an uphill battle in securing a win at Chanhassen: the hosts entered 3-0 against RVL 'B' teams, including a 4-2 win against Chaska the night before; the Tigers were without starting infielders Dan Huber and Brad Lawson, who also serve as the team's 3-4 hitters; Chan ran out arguably their #1 starter in Justin Thompson; and the Chatfielders committed five errors to zero for the Redbirds, and didn't draw a walk. And beyond all that, the Tigers were without their fearless leader, "Hot Dog" Miller!
Cagey veteran Shane Hofmann toed the slab for the guests, and turned in a quality performance. Working 6.1 innings, all four of Hofmann's runs were unearned. He scattered eight hits and had a nice 1:4 walk-to-strikeout ratio.
Chan led 3-1 with two gone in the 6th when Josh Terrio delivered a huuuuge hit from the eight-hole, a two-RBI single that tied the game. After the Redbirds pushed another across in the home half of the inning to take back the lead, the Tigertown Express sounded the war drums again.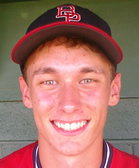 After rookie Miah Fogarty led off the inning with a double and 4th-year rookie Travis Latzke singled, Matt Schultz drove in a pair for a 5-4 Tiger advantage. With Schultz at third and one out, Shawn Larson delivered a successful squeeze bunt to make it 6-4.
With Rob Wagener available and "totally looking to redeem himself" for the embarrassment of allowing a run in his last appearance, the fuzzy-faced righty got back on track while doing what he does best: not giving up runs. Wagener picked up the final eight outs of the contest to notch the save, allowing just a single with one punchout.
Despite five errors, the Tigers still made several great plays in the field, including three from third baseman Terrio. Fogarty also ran down a ball against the wall in left-field foul territory, and made quite an impression in his official town team debut by going 3-for-4 with a run, a double, and a swipe.
The BP Bombers lashed 14 hits in all, with Latzke, Matt Schultz, Buesgens, and Johnson all recording two hit games.
Tigers Nipped in 'Classic' Final

For the first time in 13 years the Tigers made it to the championship game of their own tournament, only to suffer a hard-to-swallow one-run loss to the Marshall A's that stirred painful memories.
While the A's 4-3 win gave them back-to-back Tigertown Classic titles, it also reminded hometown fans of their semifinal win a year ago when BP blew a four run lead with three outs to go in an eventual 11-10, extra-innings gut-wrencher.
All was not lost, however, as Friday rains were primarily skirted and the tournament went off without a hitch – ten games total. The Tigers beat Green Isle in thrilling fashion on Friday night, 5-4, before derailing the Union Hill Bulldogs 9-5 on Saturday.
For all of the tourney results, visit www.bptigertown.com and click on the Tigertown Classic tab. Pictures have also been uploaded to the team's facebook page, and you can access them via this week's online article.
Last Wednesday the Chatfielders won ugly at the Shakopee Coyotes, 19-15, and last night the Tigers hosted Le Sueur. Visit the team website for the tweeted result and look for a recap in next week's Herald.
Team Tigertown hits the road this weekend for a pair of league games: Friday night 7:30 pm at Chanhassen, and 6:00 pm Saturday at Arlington. On Tuesday, last year's first round state tournament opponent, the Mankato Mets, visit for a 7:30 pm reunion.
Overall the BP Nine is 11-4 this season, with a 3-1 record against the RVL's 'C' teams.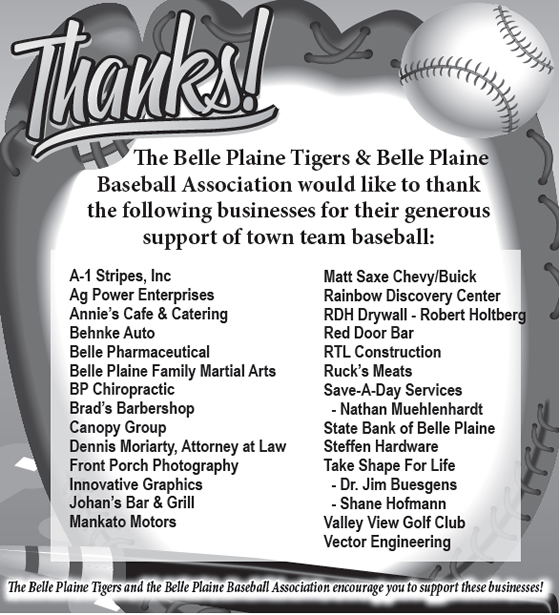 BP 19 @ Shakopee Coyotes 15 (Wednesday, June 8)
Despite the manager's repeated requests not to report on this game, its participants must be held responsible. To cut through the chase, the contest featured a combined 11 walks, 11 errors, and a sadly stunning 10 hit-batsmen.
Zac Dahlke received his first town team start but was rudely welcomed as the Coyotes batted around in the 1st, plating four. By-and-large "The Incredible Dahlk" found more of a groove going forward, yielding four runs over the next four frames. It was enough to earn the win, however, on this most bizarre of evenings.
Each team batted around twice – Belle Plaine in the 4th and 7th, Shakopee in the 1st and 8th. Our lads led 19-8 heading into the bottom of the 8th and hoped to end the game early via the 10-run rule, but instead the wily Coyotes slapped up five before adding two more in the 9th. Finally, mercifully, it ended.
Le Tigre posted 18 rips in all, led by Brad Lawson's 4-for-6, 3 RBI performance and Dan Huber's 4-for-7. Tyler Hartman went 3-for-5 with 3 RBI and a pair of steals while Travis Latzke went 2-for-5 with three driven in.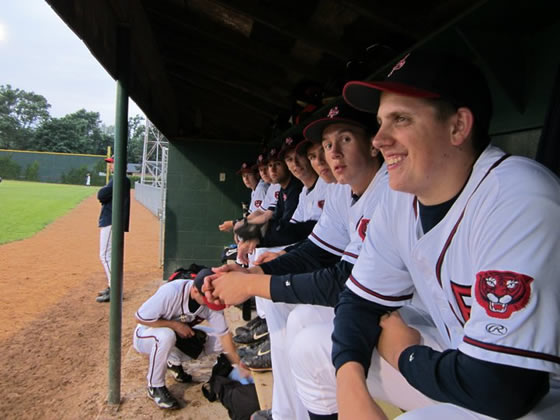 BP 4 vs. Green Isle 3 ~ Tigertown Classic (7 innings – Friday, June 10)
The 2003 Tigertown Classic champions, the Irish had not been in the Classic since 2006 nor had these nearby rivals butted heads since 2007, so it was nice to accomplish both in a single evening late Friday night.
History has a way of repeating itself as one year ago, Adam Johnson rolled into the opening round matchup (against Freeport) with 21 consecutive innings without an earned run. On this night he entered with that mark at 29, and extended it to 31 before GI struck thrice in the third.
Johnson labored through four innings before turning it over to Rob Wagener, who would have a similar streak of his own snapped before the night was done.
The Irish led comfortably through five innings behind starter Cody Hallahan, when the righty handed a 3-0 lead over to the bullpen. That, plus a pair of errors, allowed the Tigers to tie things up in the 6th.
With GI serving as home team due to the coin flip, BP put across two more in the 7th. With the untouchable Wagener on the hill and Tiger fans chanting "Fear the Beard!" throughout the ballpark (no, not really), the outlook seemed bright.
A leadoff walk to former Tiger Pat Moriarty and a double by catcher Jeremy Ische quickly put men at 2nd and 3rd with no-one out. After a strikeout of another ex-Tiger, Mike Dhaene, catcher Pat Schultz fired down to 2nd and picked off Ische in what was, to put it mildly, a disputed call.
After a hit-batter and a walk to load the bases with two away, Troy Breyer singled to left, plating Moriarty and sending Tim Gieseke plateward. But a perfect throw from left-fielder Huber nailed the runner at the dish, and the Tigers survived.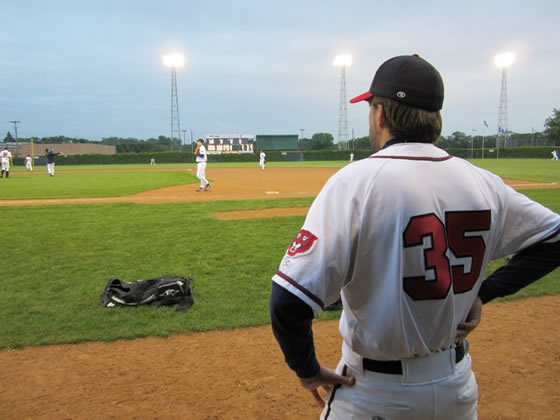 The run Wagener gave up on the Breyer single was his first earned run allowed in a Tiger uniform, spanning 39.2 innings last year and 4.2 this year for a total streak of 44.1. That's one way to make buddies on a new ballteam.
Jim Buesgens was the clear standout of the game for the Tigers, going 2-for-3 with a pair of doubles and two RBI, including the go-ahead sacrifice fly in the 7th.
Union Hill 5 @ BP 9 ~ Tigertown Classic (7 innings – Saturday, June 11)
Union Hill entered the game merely as 3-time winners of the Classic within the last five years, but the Tigers took charge early and rolled to victory. A five-spot in the 2nd was aided by a pair of Bulldog errors and as many walks.
As veterans will do Shane Hofmann "scattered" ten hits over 5.1 innings, picking up the win by allowing just one earned run (three total). Shawn Larson picked up the save while vacuuming up the final five outs.
The Tigers provided some fireworks for the faithful in the 6th when they hit a pair of home runs: first, Latzke zipped around the bases on an inside-the-parker, then Huber sounded the most wonderful of thuds off the scoreboard for his third blast of the year.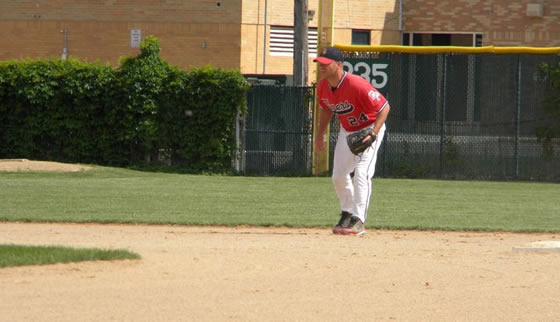 Latzke stuffed the stat sheet going 3-for-3 with a run, a double, a homer, a walk and a steal. Dylan Nyberg, recently back from offseason surgery, posted a nice game in his own right by going 2-for-3 with a run and an RBI.
BP 3 vs. Marshall 4 ~ Tigertown Classic *Championship* (7 innings – Sunday, June 12)
The final matchup in the "who's who" of Tigertown Classic victors was none other than the defending champion Marshall A's, the field's lone 'B' team and purveyors of the state's only live gamecast and weekly radio show (www.marshallasbaseball.com). The A's also came into the game with a perfect 8-0 record on the season.
BP was once again visitors on the scoreboard and led 3-0 through three, with one in the 2nd and two more in the 3rd. Starter Lawson finally gave up his first hit with one out in the 4th, a triple by Brandon Wilhelmi. He scored a batter later on a sac fly.
With a two-run lead and eight outs to go for their first Tigertown Classic title, the locals watched it suddenly unfold. A single, an error and a walk preceded the clutch hit of the game – a slicing two-RBI double to right by third baseman Tyler Flattum. An infield groundout from Tyler Brinka pushed across the go-ahead run and eventual winner, and a promising weekend of ball ended with a sour taste for the Tigers.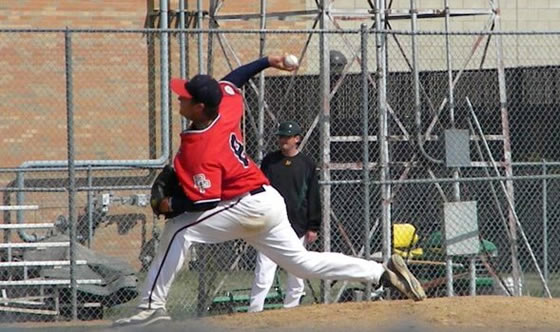 Lawson went the distance and allowed just three hits and two earned runs. He was also the hitting hero for the T-Train and collected three of their seven base knocks, raising his average to a feverish .442 (19-for-43).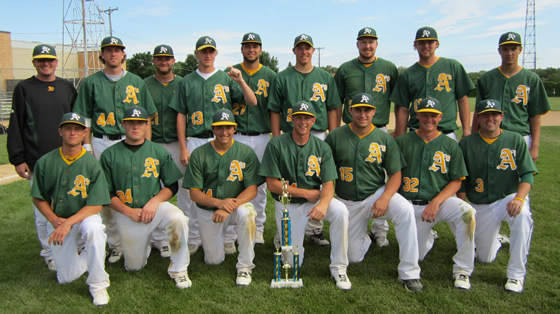 Fantastic: It's the Tigertown Classic

The Tigers ran their winning streak to five before losing Monday night in New Ulm, putting them at 8-3 on the year and 3-1 in league play. Since last week, BP posted victories over Winsted, Young America, and Arlington.
Wednesday night the nine-man wolf pack will journey up Highway 169 to lock horns with the Shakopee Coyotes at 7:30 pm.
On Friday the locals will renew their rivalry with the Green Isle Irish for the first time since 2007, when Game #2 of the Tigertown Classic gets underway at approximately 8:30 pm. Fans in attendance will also renew their love with hamburgers, as the dietary staples will be just one dollar all night long.
Game #1 of the evening will be between Freeport and Union Hill at 6:30 pm.
Five games are on tap for Saturday, beginning at 10:30 am with Le Sueur and Blue Earth. Upsala and defending champion Marshall will square off at 12:45 pm. The Tigers will play at either 5:15 pm or 7:30 pm Saturday, depending on Friday's result.
Three more games are scheduled for Sunday, including the championship game at 3:30 pm; visit the Twitter link at www.bptigertown.com for tourney updates throughout the weekend.
It takes a lot of help to pull off a successful Tigertown Classic and if you would be kind enough to volunteer for an approximately 2-hour shift this weekend, please call or text Brett Kruschke at 612-327-2715. We have various duties to be filled on Saturday and Sunday, ranging from ticket taker and manning the grill to concession stand shifts.
The action will continue at Tiger Park on Tuesday when RVL-Central foe Le Sueur drops by for a 7:30 pm tangle. All Little Leaguers will receive a free hot dog as a result of the first of two "Little League Night" promotions this month.
Finally the "Tiger Open" golf tourney fundraiser was held Saturday and a good time was had by all; a hearty thank you to all the participants and businesses that supported us so generously. Congratulations to the winning team of Jeff Johnson, John Bergs, Jeff Bruder and Jimmy Buesgens, who carded a 14-under 57!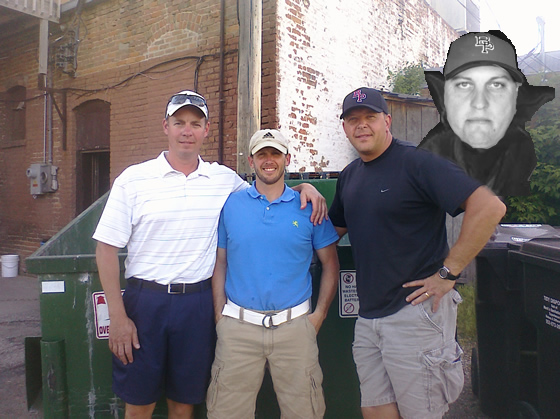 BP 17 @ Winsted 5 (7 innings – Tuesday, May 31)


The Wildcats took 4th place in the 2007 and 2009 Class 'C' State Tournaments, bumping them up to Class 'B' last year where they once again qualified for the big dance. They came in with a 4-1 record, having outscored their opponents on the season by a 35-12 mark.
Entering the game, the Tigers had scored just one run in three of their previous four endeavors – the exception being a 14-1, 7-inning thrashing of Opole at the Freeport Tournament.
Belle Plaine batted around in the 1st, plating five, but were answered by three in the home-half of the frame off Tiger starter Mike Schultz. The T-Town Express shot back with four more in the 2nd, and another four in the 3rd. The stomp was on.
Schultz departed after two innings, giving way to lefty Zac Dahlke for a pair. Jake Scherer worked a scoreless 5th in his Tiger mound debut, and Brad Lawson closed it out with two innings of hitless relief, nabbing the win in the process.
BP wasn't done with the bats – they plated their third four-spot in the 5th, highlighted by a laser home run off the bat of Dan Huber.
Hitting heroes abounded for the Red Caps, with the 3-4-5 hitters doing the major damage: Matt Schultz went 4-for-5 with a double and three RBI; Huber went 3-for-5 with a double, a homer, and four RBI; and Lawson went 3-for-5 with 4 RBI and a steal.
Jim "Thank you, courtesy runner rule" Buesgens (2-for-5, double, RBI) and Josh "Dude, where's my jersey?" Terrio (2-for-4, double, walk) also enjoyed multi-hit efforts for the guests.
Young America 2 @ BP 3 (Friday, June 3)
Belle Plaine led this pitcher's duel 2-0 after seven, with runs coming via Buesgens' RBI double in the 2nd and Matt "Country" Schultz's RBI single in the 5th.
In the 8th however, the previously in-charge Shane Hofmann opened the inning by yielding a single and a double and gave way to the bearded wonder, Rob Wagener, for his first appearance of the year.
Aided by an error, both runs came in and it was a new ballgame. That wasn't such a bad end-result as the Cardinals worked runners to first and third base before "Wags" posted a pair of strikeouts to work out of the jam.
In the 9th Dahlke opened with a single and was replaced by pinch-runner Tyler Hartman. Terrio bunted Hartman to second, and Travis Latzke ripped a shot down the third base line that plated the winner and sent the familiar faces home happy.
Arlington 1 @ BP 5 (Sunday, June 5)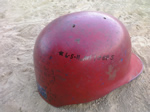 The 12th Battle for the Red Helmet saw the visitors take an early 1-0 when a single and a Tiger throwing error combined for an unearned run. A's starter Scott Dose held the lead until the 6th, when he was also done in by an unearned run to knot things at one.
The Roaring Tigros kept the pedal down in the 7th by batting around and plating four, with back-to-back-to-back RBI singles from Matt Schultz, Dan Huber, and the red-hot Brad Lawson.
All this would be more than enough for Adam Johnson, who set down the final 17 men in order while running his consecutive innings streak without an earned run to an eye-popping 29. The lefty ace allowed just three hits and three walks, while punching out a season-high 14.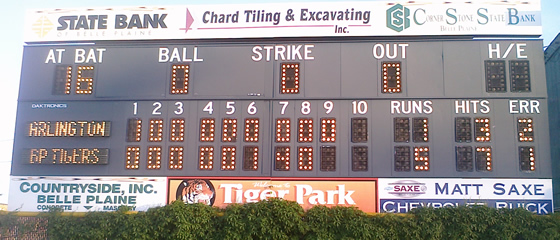 BP 5 @ New Ulm Kaiserhoff 7 (Monday, June 6)
For reasons good or bad, some games are just more memorable than others. Although it signaled the end of the Tigers' 5-game winning streak and the first league loss of the season, this one is bound to stick.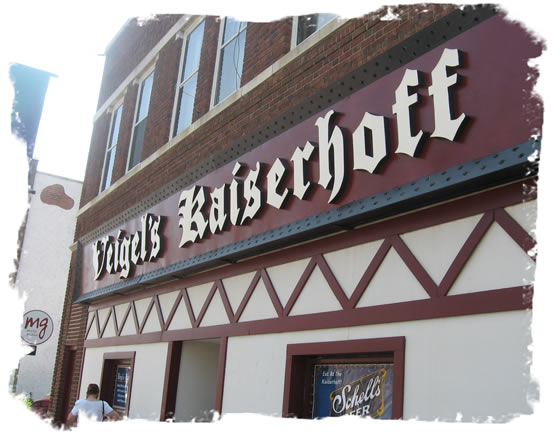 Playing at historic Johnson Park, the weather was steamy and the gnats were hell-bent. It was like the second coming of the plague. The concession stand could have sold bottles of Absorbine, Jr. for $25 apiece and probably got away with it.
The Tigers had enough problems of their own, including two fielding errors, two missed signs that led to a botched suicide squeeze and a dry-me-out hit-and-run, and a collision between outfielders Latzke and Shawn Larson that looked pretty ugly for a couple minutes.
Larson started the game on the hill and worked into the fifth, giving up three runs before submitting to Lawson the rest of the way. It was not either's finest hour, as they surrendered five earned runs in eight frames after the staff had yielded only 17 in 83 innings (1.41 ERA) coming in.
To not mention the umpiring would be a gross misrepresentation for any reporter, much less one with Tiger-colored glasses. While strike zones can be their own animal – and this one bordered on hyena – there was a play at the plate and a catch that was ruled a hit that went against the visitors and led to at least two Kaiserhoff runs.
Like Popeye – "That's all I can stands, and I can't stands no more," – manager Jeff Miller was finally ejected in the 8th inning after the catch that wasn't. This came after the Tigers erupted for three in the top of the inning that momentarily cut the deficit to one, highlighted by a booming two-RBI double off the bat of Pat Schultz.
Not shockingly, the T-Train went down looking in three straight at-bats to close out the game after a leadoff single by Hofmann.
Lawson and Huber continue to light the night on fire; Lawson has four straight multi-hit games (10-for-16) and is batting a team-leading .462 on the season, while Huber is 7 for his last 15 over as-many contests.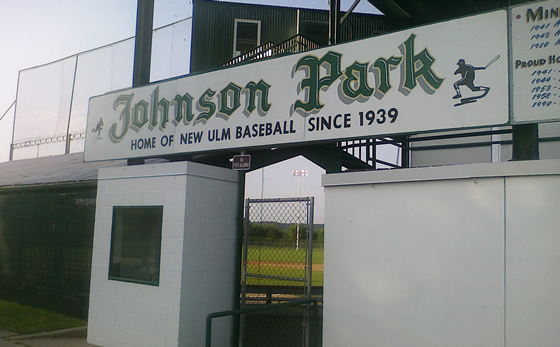 Two Rainouts, Tornado Test the Tigers


May is over, even though it never really began. The Tigers had four postponements and one cancellation over the past month, and were just barely able to sneak in a 1-0 victory at Henderson Saturday when the tornado sirens sounded in the sixth inning and the game was called.
Last night the Tigers travelled to Winsted; check the Twitter feed at www.bptigertown.com for details. Friday at 7:30 pm will be "Pulled Pork Sandwich Night" at Tiger Park, when Young America stops in for a juicy hello.
Saturday is the much ballyhooed "Tiger Open" fundraiser golf tournament, a 4-person, 18-hole scramble beginning at 1:00 pm. If you're reading this and still thinking about joining the fray, we'd love to have you – call Shane Hofmann at 952-484-2319.
The T-Train will turn the tassles for their new their new RVL-Central comrades, the Arlington A's, at 6:00 pm Sunday night.
On Monday, BP will make up the New Ulm rainout from a week ago when they visit the Kaiserhoff at 7:30 pm. A make-up date has not yet been determined for last Friday's Winthrop at Belle Plaine rainout.
BP 1 @ Henderson 0 (5 innings – Saturday, May 28)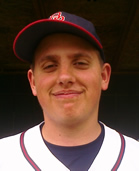 The Tigers of Belle Plaine and Henderson were locked in a scoreless tie when pitcher Adam Johnson doubled with two outs in the fourth. Zac Dahlke was having a lengthy at-bat when a few raindrops fell and the tarps were immediately ordered onto the field.
After a 5-10 minute delay, play resumed and Dahlke dumped a base hit into left field, plating Johnson.
With the rapture forecast looking like it may have been a week early and Jim Buesgens batting with two gone in the sixth, tornado sirens went off and the umpire immediately called the game. To the Tigers good fortune, five innings is considered an official game and thanks to their 4th inning tally, the game was final.
In a bit of a chaotic scene, fans and players hurried out of the ballpark to their varying strategic destinations. Some headed for the Henderson fire hall, some for the shelter of Neisen's Bar, while others merely shrugged and drove home.
Here is the message that afternoon from the National Weather Service:
 AT 311 PM CDT...TRAINED WEATHER SPOTTERS REPORTED A FUNNEL CLOUD 
NEAR HENDERSON. THIS DANGEROUS STORM WAS LOCATED NEAR HENDERSON...
OR 6 MILES NORTH OF LE SUEUR...MOVING EAST AT 40 MPH. 
Johnson picked up his second win and ran his season-long scoreless innings streak to 20, perhaps summoning Rob Wagener to come out of his humble abode and check for his shadow like the fuzzy-faced groundhog he is. (Wagener went 39.2 innings last year for the Tigers without allowing an earned run.)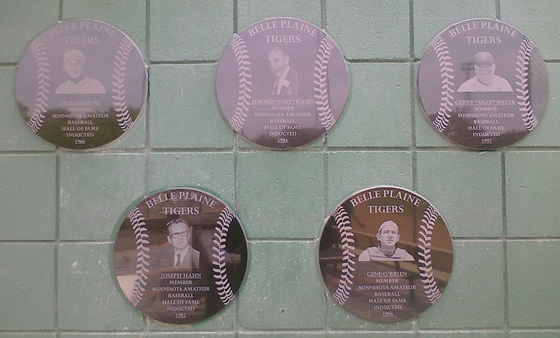 Check out the new Belle Plaine Tiger State Hall of Fame plaques, to the right of the concession stand at Tiger Park. From left to right: Fred Keup, Sr. (1966), Joe Hahn (1982), Jerome "Omy" Hahn (1984), Gene O'Brien (1994), Gerry "Mize" Meyer (1997).
Tigers Finally Break Out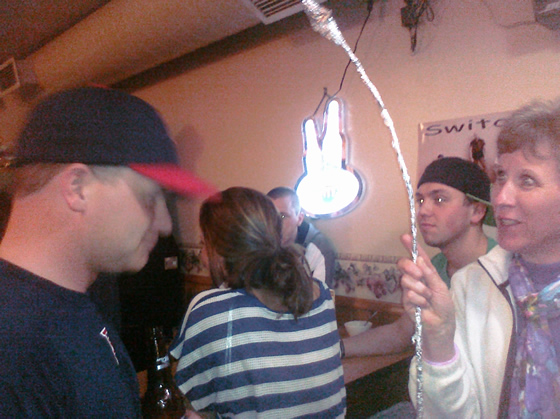 Belle Plaine lost 3-1 to Cokato last Wednesday and carried a .216 team batting average into Saturday, before finally breaking out with 13 hits and three home runs in a 14-1, 5-inning drubbing of Opole at the Black Sox Tournament in Spring Hill.
Unfortunately rain washed out six of the tourney's ten games – including all on Sunday – so one game is all the Tigers were able to get in. With a 1-0 record and the largest run differential, Team Tigertown hereby proclaims themselves 2011 Black Sox Tournament Champions!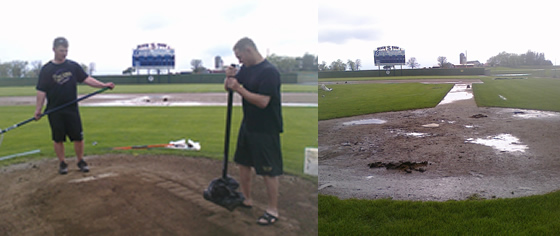 Wednesday the Tigers will travel to New Ulm and the land of Herman the German to take on their new Class 'C' leaguemates, the Kaiserhoff, at 7:30 pm. On Friday night, Winthrop will visit for another league battle at 7:30 pm.
Saturday will see the BP boys venturing to Henderson for a 2:00 pm make-up game, and Tuesday will conclude the busy week with a 7:30 pm non-leaguer at Winsted.
Remember folks to visit www.bptigertown.com weekly if not daily, as boxscores, photos, links, and Twitter updates await you. Also available at the site is all the pertinent info on the fast-approaching Tiger Open, a four-person, 18-hole scramble to be held June 4th.
Cokato 3 @ BP 1 (Wednesday, May 18)
BP ran into a buzzsaw and his name was Eric Pokornowski. You don't often see a pitcher go the distance in mid-May, but Pokornowski did that and one better by hanging around for all ten innings in a 3-1 defeat of the Tigers.
Mike Schultz started and did an admirable job, yielding just one run in seven innings of work. Zac Dahlke was next for the Roaring Tigros, making his mound debut for the home team. In the 10th, Dahlke was touched for two runs and eventually saddled with the loss.
Meanwhile Pokornowski struck out the side in the 9th and ended the ballgame with another strikeout, his 13th of the evening. That final victim was Shawn Larson, who was the only Tiger to otherwise solve the right-hander, collecting two of BP's seven hits.
BP 14 vs. Opole 1 @ Spring Hill (5 innings – Black Sox Tourney – Saturday, May 21)
Friday's games in Freeport and Spring Hill managed to squeeze in four innings, just long enough to qualify for official games (7 inning format) before succumbing to rain. On Saturday the Tigers were scheduled for an 11:00 am start time but postponed twice – first to 1:00 pm, then to 3:00 pm.
Once underway, the Big Red Machine wasted no time in putting three runs on the board, two thanks to Brad Lawson's first circuit clout of the year.
Shane Hofmann had all the runs he would need for the day, allowing just one run and one walk with four strikeouts on the afternoon. Hofmann would be required to throw just five innings, as the Tiger bats kept booming on their way to a 10-run rule victory.
In the BP second, three stolen bases led to two runs – with two swipes coming from the fleet-footed Josh Terrio. The third inning saw Terrio bag another, taking home on the back-end of a double steal with Jake "I Thought I Was Out" Scherer.
Shane Hofmann helped his own cause with a two-run blast in the third, believed to be his first round-tripper since the aluminum bat days.
Leading 10-1 after four, Dan Huber delivered another shot for the Tigers in the 5th – a grand slam that gave him six RBI on the day. El Tigre had no homers in their first six games this year, yet three in five innings against the shell-shocked Opole Bears.
Every Tiger starter but one had a hit, and Travis Latzke deserves mention after going 2-for-3 with a double, a hit-by-pitch, a stolen base and four runs scored. He is now hitting a sizzling .500 (7-for-14) on the young season.
Belle Plaine raised the team batting average 33 points, to a season-high .249. The staff ERA is a stellar 2.21, having yielded 13 earned runs in 53 innings.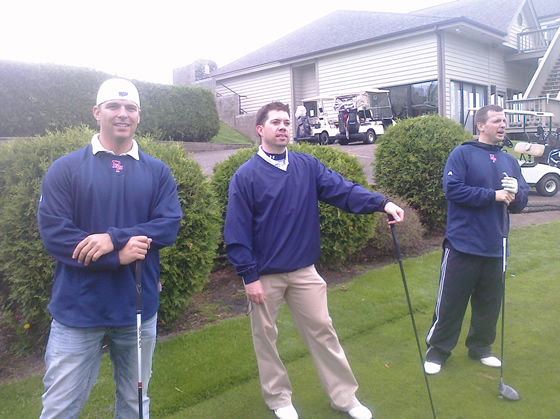 Tigers Win Ugly Again;
Happy Freeport Week!

For the most part this year, the Tigers have either won ugly or been postponed due to inclement weather. The BP Ninos had one of each this past weekend, postponing Saturday's game at Henderson until May 28th, and sneaking past Gaylord 1-0 Sunday with an error-aided run in the 9th.
Because no games against River Valley League 'B' teams will count in the standings this year, Belle Plaine is now 1-0 in league play and 3-1 overall.
Tonight the Tigers welcome the Cokato Kings to town for a 7:30 pm contest. Why go see "Bridesmaids" when you have a much better option awaiting you, at Tiger Park.
On Saturday, it's off to the 5th annual Black Sox Tournament in Freeport and Spring Hill; the Tigertown Nine will open in Spring Hill at 11:00 am against the Opole Bears, defending champions of the Victory League South. Belle P-l-a-i-n-e will look to exact revenge on the Bears for omitting the 'e' at the end of Plaine on their team website, as so many have done to our beloved little hamlet over the years.
Our lads will play once more Saturday in Spring Hill at either 1:15 pm or 3:30 pm, against either Avon or the St. Cloud Snappers, depending on a win or loss.
If the Tigers make it to Sunday, they will play in Freeport at a time to be determined.
Gaylord 0 @ BP 1 (Sunday, May 15)
Gaylord's Josh Gasow and BP's Adam Johnson posted eerily similar pitching lines, with both working eight innings, setting down nine via strikeout and allowing no runs. Gasow yielded four hits and two walks while Johnson surrendered three hits and just one free pass.
Each team had their chances along the way – the Islanders loaded the bases in the 2nd, but Johnson induced an inning-ending 4-6-3 double play. Gaylord looked to score the go-ahead run in the 8th on a sacrifice fly, but an Egan to Matt Schultz to Buesgens relay snuffed the chance at home plate. In the 9th, Paul Mages hit a one-out triple, but reliever Shawn Larson reached back for some cheese to record back-to-back strikeouts.
In the 2nd, El Tigre put runners at 1st and 2nd with no outs but Larson was nabbed at third base on the front-end of a double steal. BP thought they had pushed one across in the 3rd, but Johnson left third base early while tagging up and was called out on appeal. Naturally, things wouldn't be decided until the bottom of the 9th.
Matt Schultz ripped an inning-opening single, and Gasow departed for reliever Trevor Vaubel. Larson sacrifice bunted, but the throw to first hit Pop Tart in the back and put runners at 1st and 2nd. Shane Hofmann tried to give Gaylord another out by sacrifice bunting, but this time the Islanders threw late to third – bases loaded, nobody out.
Pinch-hitter Jeff Miller and Travis Latzke both grounded into force plays at home, leaving it up to the newly signed #9-hitter Zac Dahlke, making his Tigertown debut at first base. Dahlke bounced a ground ball to third that was booted, sending the Tigers and their fans home with a smile.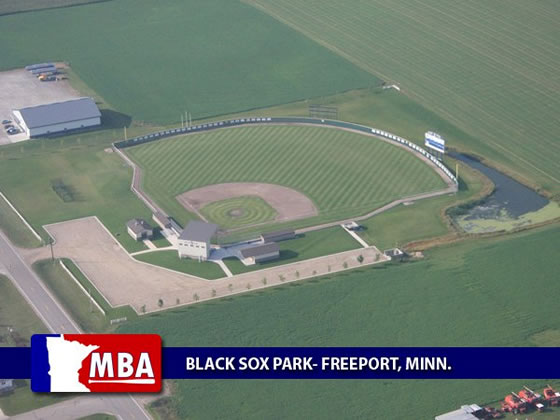 Tigers Squeeze Out a Pair

Team Tigertown picked up their first two wins of the year, both at home, with a 5-4 victory over Carver in 11 innings Friday and a 9-6 nailbiter against Victoria on Saturday. The victories move BP's record to 2-1 overall, 1-0 in the RVL.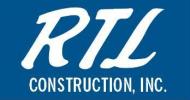 Saturday will see the Tigers paying a visit to Henderson for a 2:00 pm battle. On Sunday the Red Caps will return to the friendly confines for a 6:00 pm duel against Gaylord. It will be "RTL Construction Night" and RTL will be giving away a free hot dog, pop or water, and chips to everyone in attendance! (Supper is on RTL; possible indigestion courtesy of the Tigers.)
Carver 4 @ BP 5 (11 innings – Friday, May 6)
Former Carver Central League foes, the Carver Black Sox, were back in town for a modern-day throw-down. Shane Hofmann took to the hill and wriggled his way through five innings, but left trailing 4-1.
Belle Plaine awoke in the 6th and 7th, however, plating one and two runs, respectively. Jim Buesgens delivered a two-out RBI single in the 6th, while a few walks and a wild pitch benefitted the home squad just after stretch time.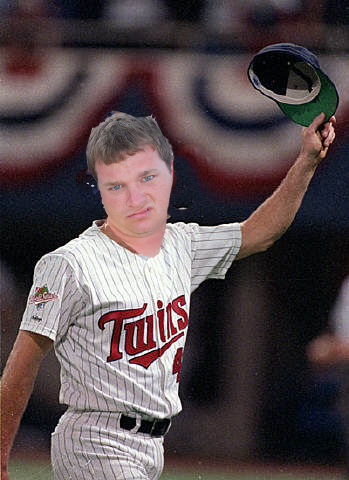 Now knotted at four, reliever Shawn Larson looked to keep it that way as he motored scoreless through the 10th inning, Jack Morris-style. In five innings Pop Tart allowed only one hit, two walks, and sat down seven. He also made a crucial and splendid defensive play in the 10th when with two men on and none out, he dove to snare a bunt attempt, then threw to 2nd complete the rally-killing double play.
Mike Schultz worked a scoreless 11th, then leaned into a 3-0 fastball with one out in the bottom of the frame to reach base. After a fielder's choice was sandwiched between a pair of walks, Schultz raced home with the winning run on a wild pitch. The dollar beer night crowd cheered then quickly groaned, realizing the night's glorious promotion had come to an end.
Matt Schultz finished 3-for-5 with an RBI and Travis Latzke went 2-for-4 with a walk, a steal, and two runs.
Victoria 6 @ BP 9 (Saturday, May 7)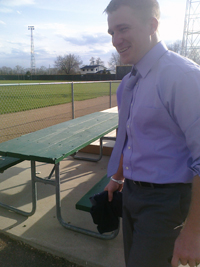 Adam Johnson shook off a tweaked hamstring the night before to gut out 7 innings and 123 pitches, leaving with a 5-2 lead. The ace lefthander yielded just five hits, two unearned runs, and two walks against nine punchouts. However, the real excitement was just beginning.
Josh "Summer Catch" Terrio started the 8th on the mound for the Tiger Nine, but departed six batters later after walking three and seeing two come in thanks to a fielding error. Dan Huber hit the first batter to load the bases, but struck out Adam Diettric to escape the jam.
In the bottom of the 8th, le Tigre busted out for four runs to seemingly ice the game. Terrio helped the cause with his team-leading third hit, driving in one of his two runs on the evening.
The 9th inning, however, was almost a carbon copy of the Victoria 8th: eight men batted, two runs scored – thanks this time to three Tiger errors – and Huber ended the frame (and ballgame) with a bases-loaded strikeout. Whew! Mountain Dew.
In all, the Tiger clown circus posted seven miscues, leading to all six runs being unearned. Huber certainly earned the save, surviving by recording three of his four outs the only way that would seemingly work: by strikeout.
Latzke posted his second consecutive 2-for-4 effort, and also reached on a hit-by-pitch. Tyler Hartman collected two hits as well.
Tigers Start On Down Note

The local nine got off on the wrong foot Friday to start the 2011 campaign, getting doubled up by the Lonsdale Aces 10-5. On Sunday, cold and windy weather befitting neither player nor fan led to a postponement at Prior Lake; no make-up date has yet been determined.
Things will hopefully be warmer this Friday when Carver comes to town for Dollar Beer Night – first pitch, 7:30 pm. Hearty fans may wish to (or need to) camp out as less than 24 hours later Mike Poppitz's Victoria Vics will stop in for a Saturday Night Special – festivities to begin at 6:00 pm.
Now is as good a time as any to remind you that one of the Tigers' two primary fundraisers is coming up fast: the Tiger Open golf tournament – a 4-person, 18-hole scramble – to be held Saturday, June 4th at Valley View Golf Club. Assemble a foursome or fly solo – either way we will accommodate you. Visit www.bptigertown.com and click on the golf ball on the front page for full details.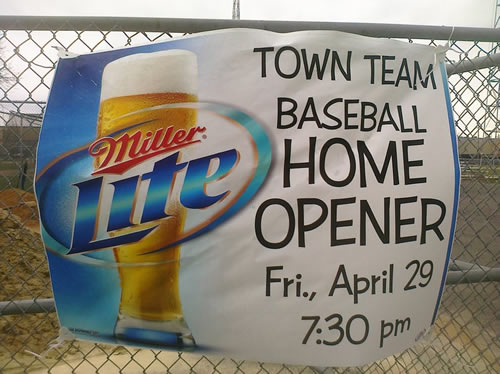 Lonsdale 10 @ BP 5 (Friday, April 29)
The pomp and circumstance of Opening Night quickly turned into cold, windy and wet reality, as after five innings the Tigers found themselves trailing 7-0 with just one measly hit on the board. Adam Johnson opened the home-half of the first with a single, but Lonsdale's Derek Christenson wouldn't allow another rip before departing after five. The righty struck out seven and walked three.
16-year veteran Shane Hofmann toed the slab for Belle Plaine, a no-brainer decision as how do you beat the Aces? Throw one back at 'em! Hofmann was on a 40 (or so) pitch count, and left after three while yielding as many runs (one earned).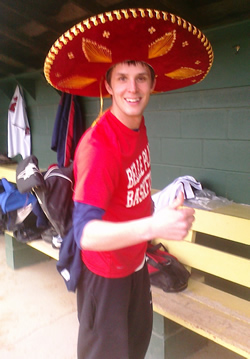 Josh Terrio was next on the hill for BP and had a rough start, surrendering three runs while facing eight men in the 4th. However the young right-hander of one appearance last year and four career settled down nicely, allowing just one unearned run over the next four frames and striking out nine in all.
Each team plated three runs in the 9th, allowing the good-sized crowd ample opportunity at one final dollar dog.
The new white unis looked great, but an important factor for the Tigers was not just who was wearing them, but who wasn't. Several key players – including starters Pat Schultz and Brad Lawson – were unable to attend. But, such is life in early-season amateur ball across the state.
The Aces played a fine game and deserved to win, make no mistake. Other than the stingy pitching of Christenson, the visitors were paced offensively by Chad Vosejpka (1-for-2 with a double, two runs, two RBI) and Kevin Kalina (2-for-3, run, double, three RBI).
Matt Schultz drove in three runs and Johnson was the only Tiger with multiple hits, going 2-for-5.
Tigers' Home Opener Friday

Another season of town team baseball begins Friday at the ever-improving Tiger Park, when the Lonsdale Aces drop in for a 7:30 pm skirmish. The tradition of recent years will continue, meaning it will be Dollar Dog Night.
The Tigers will also don their new white uniform tops and pants for the first time, and we will see if anyone goes out of their way to get the first official grass stain. My money's 10:1 on the 3rd-base coach.
Season tickets are currently available at Brad's Barber Shop, from any BP Baseball Association member, or at the Tiger Park ticket gate. $25 will get you into each of the 17 home games (gate price: $3 adults, $2 students/seniors), which includes the Tigertown Classic. $50 will get you all that plus a hot dog and beverage of your choice at each game. Not to mention, you will just feel cooler.

On Sunday, the Cottonwood Clubbers will head to Prior Lake for their first league game, at 2:00 pm. There has been a change this year: the 'C' teams will only play the 'B' teams three times in league play. Victoria and Jordan will also count toward league standings, while Chaska and Shakopee have been scheduled on an exhibition basis.
Another change in the RVL is that Waconia has departed for the Crow River League while the New Ulm Kaiserhoff steps in from the Southern Minny. The K-Hof will take root in the RVL-West while Arlington fills Waconia's slot in the Central.
The Minnesota Baseball Association recently announced the Class 'C' Region assignments for the 2011 season, and the River Valley League received a pleasant surprise. The ten teams that make up the RVL-Central and West divisions will have their own region, meaning the top two teams from each division will face off in Region 6C with the top two advancing to the State Tournament.
10 teams is the smallest region in the state, with as many as 20 in Region 9. The average size of the other 15 regions in the state is 15 teams. You can view all the region pairings at www.mnbaseball.org/regions.
The MBA and RVL are also now on Twitter at @MinnBaseball and @RVLbaseball, respectively. The Tigers' twitter handle is @bptigertown, and of course the team website remains www.bptigertown.com. Find us on facebook by searching for 'Belle Plaine Town Team Baseball.'
Manager Jeff Miller returns to pilot the Tiger ship, and will no longer have the services of Jonny Schulz, Nick Volek, Ryan Witt, and Tim Huber – although Huber still plans to play near his current residence of Sioux Falls, SD.
Returning to the Tiger den in 2011 are: Travis Latzke, Jim Buesgens, Brad Lawson, Josh Terrio, Brett Kruschke, Tyler Hartman, Dylan Nyberg, Matt Schultz, Shane Hofmann, Shawn Larson, Dan Huber, Johnny Egan, Adam Johnson, Pat Schultz, Rob Wagener, and Mike Schultz. Newbies are Ryan Diers and Zac Dahlke.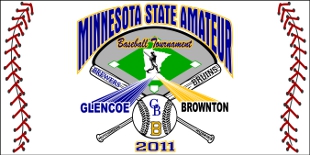 The Tigers went 31-9 last year and lost in the 2nd round of the State Tournament. This year's Big Dance is in Glencoe and Brownton.
To quote the greatest scribe in Tiger history, Gerry "Mize" Meyer, "See you at the ballpark!"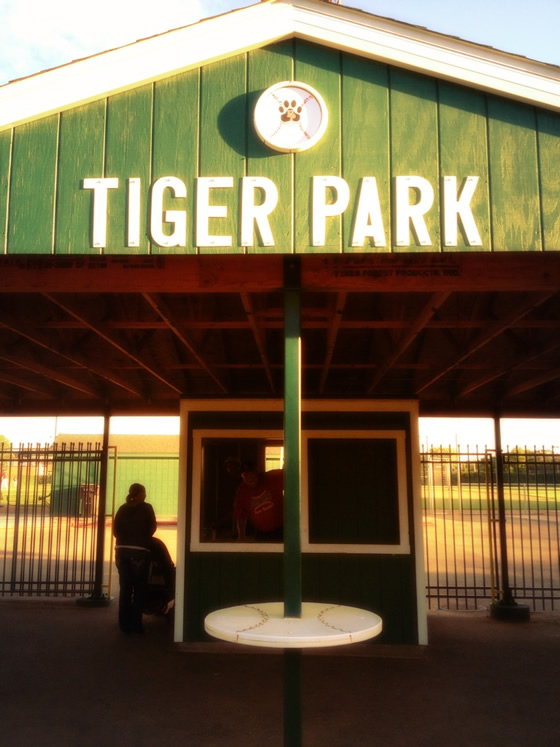 New Unis Unveiled

2011 Schedule and Promotions Released

The Belle Plaine Tigers have released their 2011 Schedule and Promotions, which you can now access by clicking above on Schedule/Results. Team Tigertown will play a 33-game schedule, with the potential for more depending on two tournaments and any playoff run beyond two games. 77 days 'til Opening Night!