Tigers Gag at Gaylord

--by Brett Kruschke & Matt Schultz
The Town Tigers brought a 3-1 record into last weekend but blew a golden chance to be 4-1, squandering a 7-3 lead in the final innings at Gaylord to get hung with a painful 9-7 loss. Sunday's game at Arlington succumbed to overall cruddy weather, and it has been rescheduled for 7:30 pm tonight (Wednesday, May 22) at Arlington.
Friday begins a six-game homestand for Belle Plaine, with a seventh game possible on June 9 via the Tigertown Classic tournament. But first things first: Henderson will stop by Tiger Park at 7:30 pm Friday on the bargain shopper's favorite, Dollar Beer Night. The boys will then take the rest of Memorial Weekend off before resuming action on Friday, May 31 at home against St. Peter.
See you at the ballpark!
BP 7 @ Gaylord 9 – Friday, May 17
Belle Plaine traveled to Gaylord on Friday hoping to beat the Islanders – and Mother Nature – as the weather looked ominous. Wes Sarsland started on the mound and worked five innings while yielding three runs, none of which were earned.
El Tigre scored one run in the first inning, while Gaylord answered with single tallies in the first and second frames. It began to rain lightly in the third inning, and when Belle Plaine took the lead by scoring four times in the fourth, the locals were hoping to go "five and dive" with a timely downpour.
Holding a 6-3 lead after five innings, the rain decided it would let the festivities play out – and Gaylord fans would sure prove happy that it did. One more run for the locals in the sixth made it 7-3, providing a seemingly comfortable advantage for fill-in field manager Matt Schultz.
Mitch Stier relieved Sarsland but his cutter just wasn't cutting. The Islanders scored one run in the sixth inning and three more in the seventh to tie the score. Former professional ball player Ed Reichenbach came in for the final two innings, throwing heat that the Tigers couldn't touch.
Jake Mercado came on in the eighth to try and match Reichenbach but like Stier, he also lacked his good stuff, allowing two earned runs despite no hits. Clayton Meyer came on to get the final two outs of the eighth. The Tiger 9th went quickly and in 1-2-3 fashion, each succumbing to a whiff.
Pacing the hitting attack for the locals was a pair of college ball players. Tyler O'Brien and Sarsland both laced a pair of doubles, with the latter collecting four knocks. Carsen Ladd also enjoyed a multi-hit performance.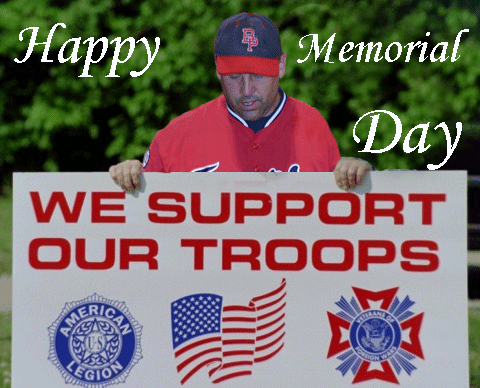 Town Tigers Off to 3-1 Start

--by Brett Kruschke, Matt Ruehling, Colin Schultz & Lauren Johnson
After getting stomped in the season opener against Carver, the Tiger town teamers have shot back with three consecutive wins – including triumphs over Hamburg and Webster last weekend. Is it too early to retire field manager Matt Ruehling's uniform number?! (Yes.)
With a youth tournament at Tiger Park this upcoming weekend, our lads will hit the dusty trail for a pair of River Valley League road games. On Friday, Team Tigertown treks to Gaylord for a 7:30 pm affair while on Sunday, the Arlington A's will host La Tortigra at 2 pm.
Fear not, Tiger faithful: a six-game homestand kicks off at Tiger Park on Friday, May 24.
As is tradition, we like to explain this article's byline once per year so you can have some idea of who's writing what you're reading. Brett Kruschke serves as editor and as a fairly regular home-game writer, while each of the other three byliners this week are making their Belle Plaine Herald debut.
Typically, the names appear in the order in which they are featured within the column. It's not the equivalent of solving one of our town's seasonal treasure hunts, but it will have to do.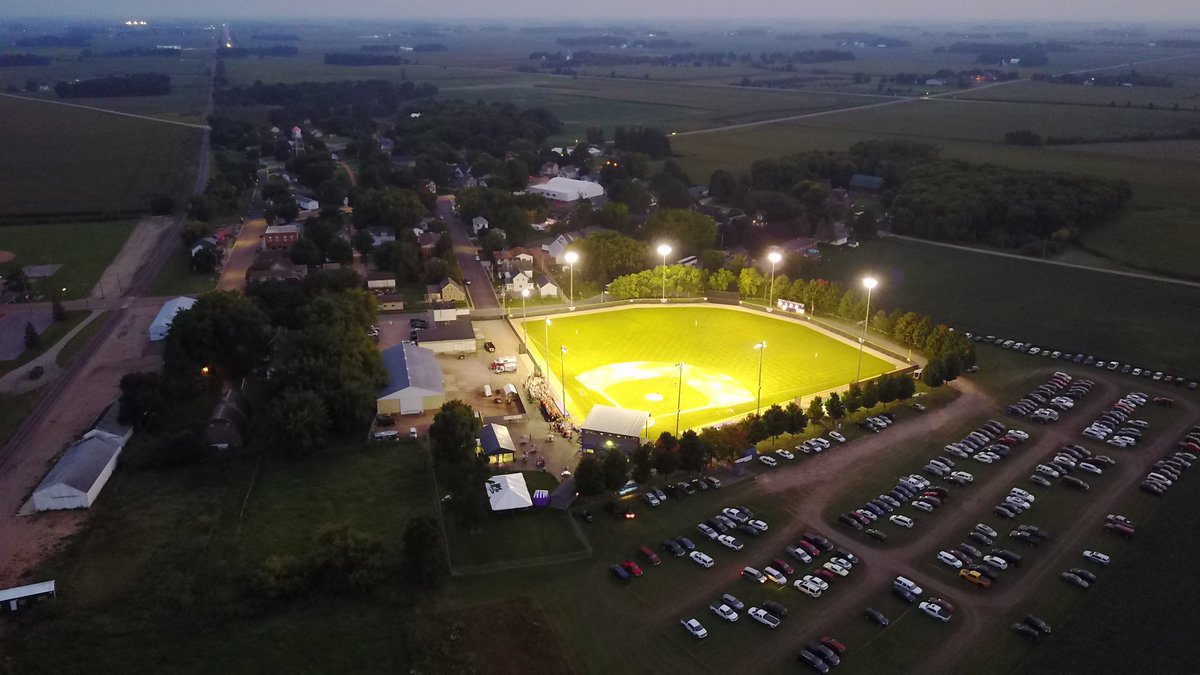 BP 4 @ Hamburg 2 (Friday, May 10)
The Tigers traveled west to face an unfamiliar foe in the Hamburg Hawks. Jared Miller started on the mound for the Tigers and scattered four hits, striking out out two across five scoreless innings of work.
The Tiger Roller Coaster started clicking in the sixth inning as four walks and a Josh Terrio sacrifice fly combined to give the Tigers a 2-0 lead. Terrio then came in to relieve his younger brother on the hill and added two more scoreless frames.
Jonny Vinkemeier closed out the final two innings of the ballgame, and the Tiger bats added an insurance run in both the seventh and ninth innings. While the Hawks were able to scratch across two runs in the bottom of the ninth, it was too little, too late.
The Tigers meted out a mere five hits. Jonathan Schmidt led the charge with two, with Johnny Egan, Clayton Meyer and Miller added the others.
Webster 0 @ BP 8 (Saturday, May 11)
Saturday's game against the Webster Sox, sponsored by Matt Saxe Chevrolet, was one for the books. It started out slowly and for the first couple innings, it was a pitcher's duel. Manager Matt Ruehling ended up as the designated hitter because Matt Schultz is a bum and ended up not batting. Just kidding – we're his cousins, so we had to throw a zinger in there for entertainment value.
Luke Narveson traded football pads for baseball pants and although it took him a couple at-bats, he finally ripped a solid line drive up the middle. Narveson was one of many locals to secure a hit, as the Tigers compiled 13 knocks on the afternoon. Long-running player Josh Terrio and youngin' Carsen Ladd led the pack with three hits apiece. Newcomer Luke Schmidt, after entering late into the game, tallied the first two hits of his Tiger career.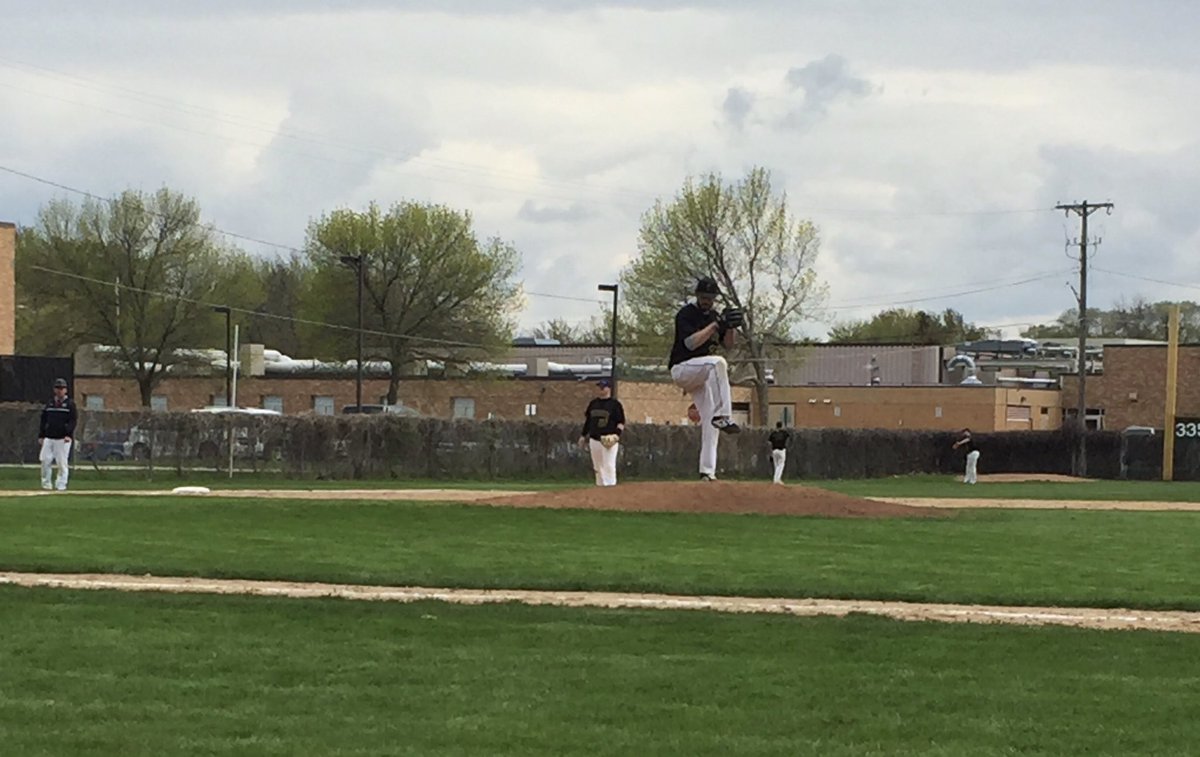 Mitch Stier was the winning pitcher, tossing the first five innings of the game without yielding a run. Clayton Meyer came on for two innings before Jonathan Schmidt worked the eighth. Carsen Ladd toed the rubber in the ninth. Jack Meyer, the youngest son of former Tiger field manager Brent Meyer and the grandson of MBA Hall of Famer Gerry "Mize" Meyer, started on the hill for Webster and blanked the Tigers through four frames before getting chased in the fifth.
The game picked up the pace as it progressed and our beloved Tigers pulled through to get the dub, despite battling fierce winds and periodic rain showers. Keep updated with our weekly articles or come watch a game this season – Tiger Baseball is a great community function that our town has to offer!
Tigers Top Le Sueur
in First RVL Contest

--by Brett Kruschke & Jack Gill
The Belle Plaine Tigers got the ball rolling last weekend, getting carved up by the Carver Black Sox on Friday night in the season opener before pocketing the more vital game of the weekend on Sunday, with a decided victory over the Le Sueur Braves.
The Tigers will verify if veteran Johnny Egan is keeping his lawn cut when they visit his new neighborhood on Friday with a 7:30 pm contest at Hamburg. On Saturday, another non-league game is on tap when the Webster Sox stop by at 2 pm. The promotion is Matt Saxe Chevrolet Day, with the first 100 fans in attendance receiving a free t-shirt.
Now that we're pretty sure winter has ended, head on up to Tiger Park for a hot dog and support the boys. And don't forget: it's still not too late to make the most of a Tigers season ticket! Just $25 covers your bases for the rest of the season.

Carver 13 @ BP 2 – Friday, May 3
Last year's game against Carver was rained out, meaning that these old cohorts – once both members of the Carver Central League –had not played since May 6, 2011, a 5-4 Tiger win in 11 innings. Mike Schultz got the win then, but on this night, it was Matt Ruehling's first game as manager in place of the now-retired Schultz. How quickly the flower fades and a new one arises.
The Tigers struck first, in the first, when the still-but-barely-active Matt Schultz peppered a single to left field with two outs for a 1-0 lead that held up until the third inning. That's when Carver scored four times – three coming with two outs – on five singles, a walk and an error behind Tiger starting hurler Jonathan Schmidt.
Schmidt worked a 1-2-3 fourth frame before turning it over to Carsen Ladd in the fifth. A double sandwiched by a pair of walks resulted in two more runs for the Black Sox and a 6-1 lead.
Belle Plaine pushed across its final run of the contest in the sixth inning, cutting the deficit to 6-2. Black Sox starting pitcher Adam Fredericks closed his night by striking out four Tigers in the inning – yes, four.
Third-year rookie Chris Dahl got to work his lefty magic in the 8th, but Carver was on him like flies on a ribroast and pushed five runs across before the inning was over – with two runs charged to Dahl's high-school coach, Pat Schultz. On the bright side, Dahl and Schultz both smacked doubles in the game, with Schultz's two hits making him the only Tiger to register multiple safeties.
El Tigre loaded the bases with no-one out in the bottom of the eighth but the uprising was quickly quelled without scoring a run. It's not always sunny in Philadelphia – nor in Tigertown – as the cool, wet evening mercifully came to a close after Carver tacked on another two runs in the ninth.
Le Sueur 3 @ BP 8 – Sunday, May 5 - 66 PHOTOS
Tigers right-hander Jared Miller pitched 4.1 innings in Sunday's tilt against the Le Sueur Braves. He yielded three runs on four hits with four punchouts and a pair of walks.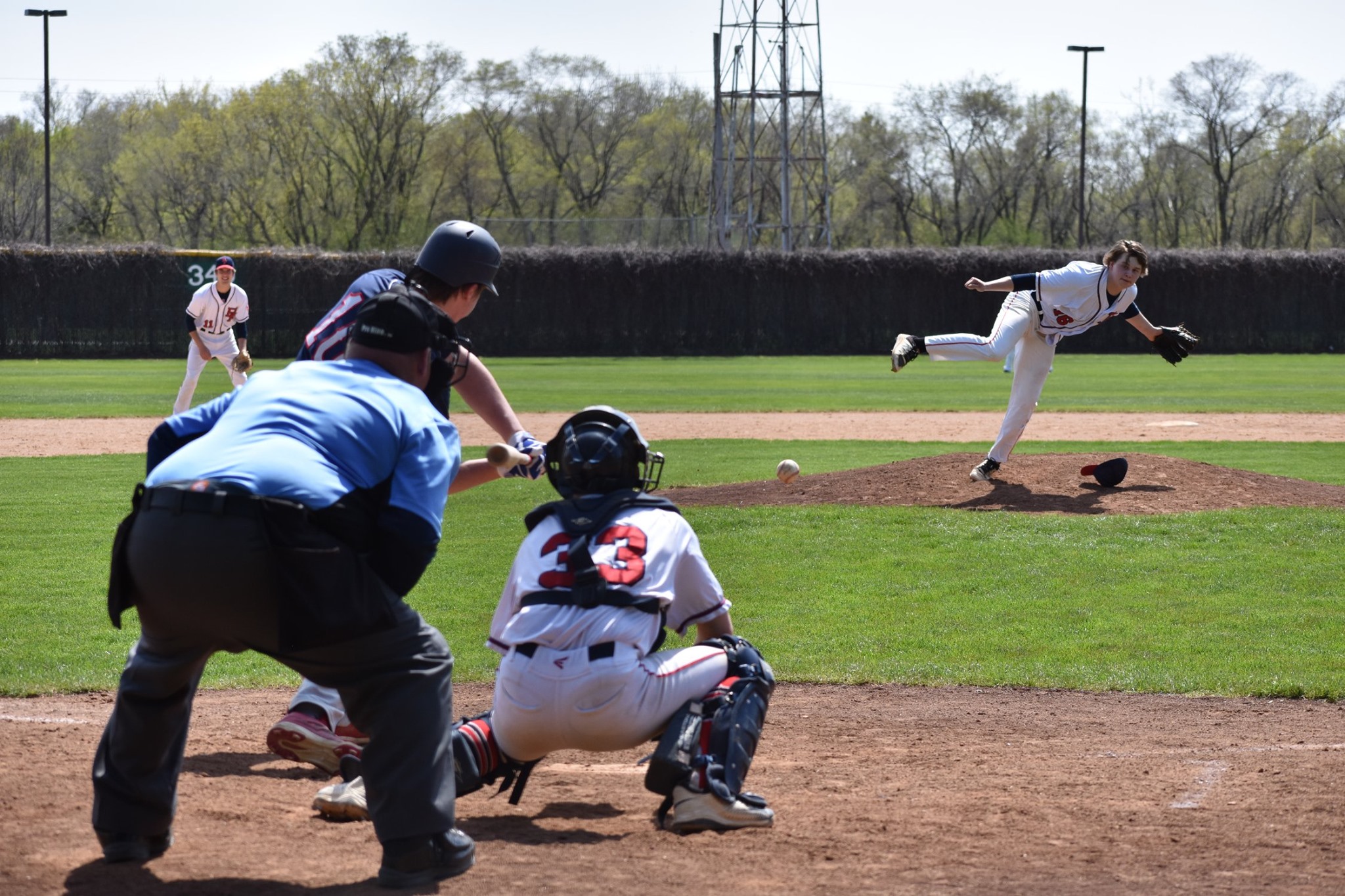 The Tiger bats were hot in the middle innings, led by several of their infielders. Jonny Vinkemeier, Nathan Herman and Carsen Ladd combined for seven hits in 14 at-bats on the day. In the fourth inning, Herman led off with a triple to the left-field wall before scoring on a single from Schmidt. After four frames, Belle Plaine held a 2-1 lead.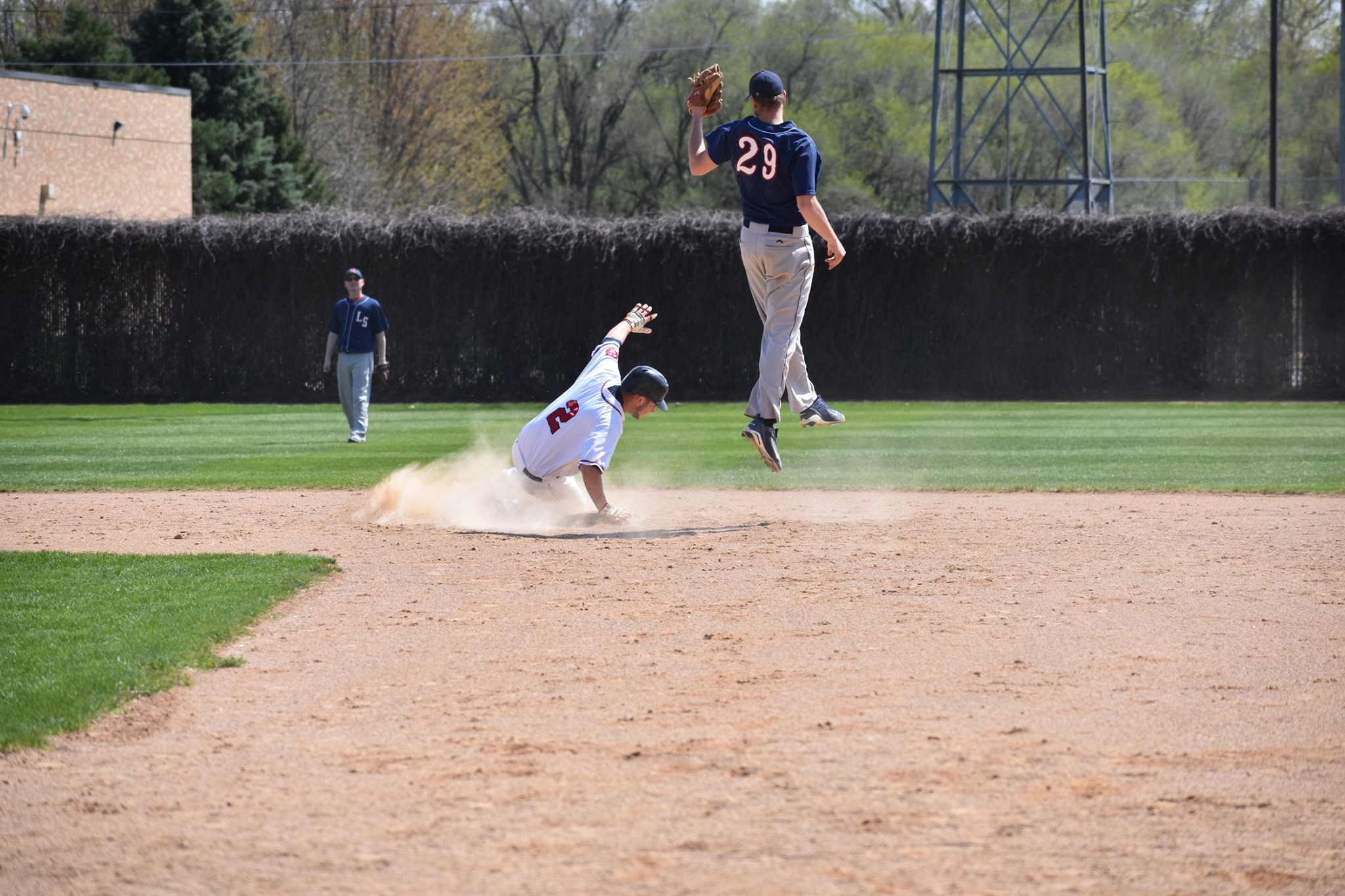 Team Tigertown scored six runs between the 5th and 6th innings. After two quick outs in the sixth, the Tigers knocked five straight singles that resulted in four runs. Mitchel Stier took the mound in the fifth inning and worked 3.2 innings of shutout ball. Clayton Meyer relieved Stier in the 9th, sealing the win.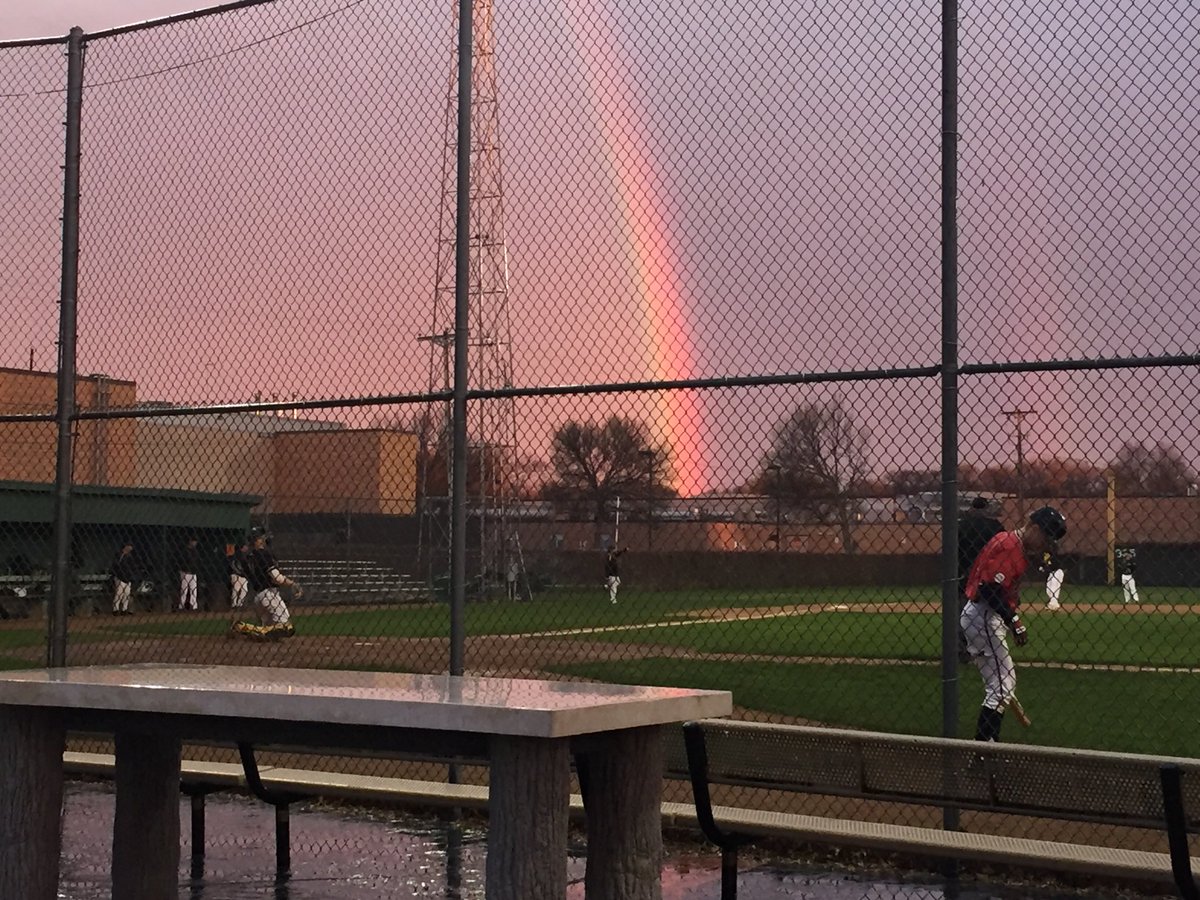 Town Tigers Open Season Friday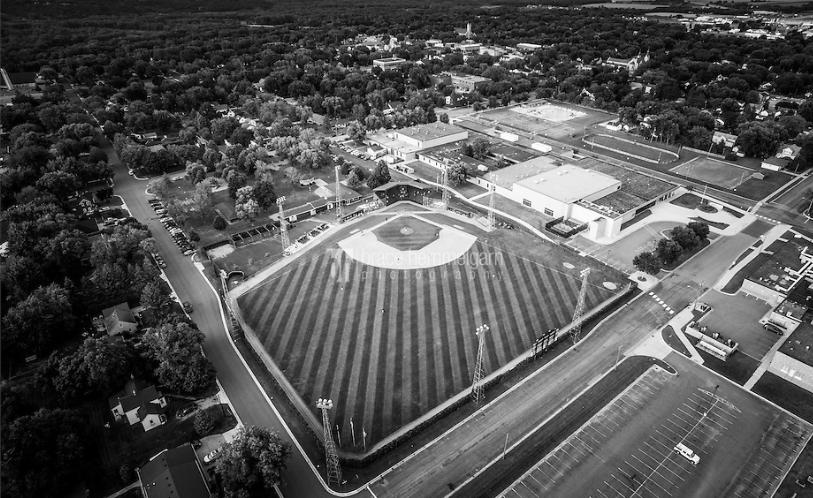 --by Brett Kruschke
The Belle Plaine Tigers will open the 2019 season at home on Friday at 7:30 pm, facing a former Carver Central League foe, the Carver Black Sox. The promotion is $1 hot dogs. These are not your mama's Black Sox, as Carver has made consecutive state tournament appearances after a 34-year absence.
On Sunday, the Tigers will again be at home when the Le Sueur Braves visit at 2 pm in the season's first River Valley League affair. The promotion for that game is Watch-Matt-Schultz-Try-To-Beat-Out-A-Ground-Ball-To-Second-Base Day. (Spoiler alert: he won't.)
Team Tigertown enjoyed a fine campaign last year, going 23-9 (9-5 RVL) for its most wins since 2011. The Tigers made the state tournament for the first time since 2015 and beat Crookston before falling to defending state champion Kimball in the second round.
After 16 seasons in the Tiger dugout – including the last six as field manager – Mike Schultz has hung up the cleats and handed the reins to five-season veteran Matt Ruehling. When asked his outlook for the 2019 Tigers in an offseason interview, Ruehling responded:
The 2019 season should be exciting. We have a young, athletic team with veteran leadership. We were "young" for the past few seasons; now those boys are grown up and have made the transition from high school ball to amateur ball. The goal for a new season is to improve from the year before. After having a short run in the state tournament last season, this group will be hungry and excited for summer to come and make another playoff run through the dog days of summer.
This year's roster is again a plump one, consisting of the following players: Aiden Ladd, Carsen Ladd, Jonny Vinkemeier, Johnny Egan, Zac Dahlke, Derek Dahlke, Tyler O'Brien, Joe Hankins, Josh Terrio, Nathan Herman, Jake Mercado, Jared Miller, Pat Schultz, Matt Schultz, Mitchel Stier, Wes Sarsland, Luke Narveson, Brody Curtiss, Chase Emmers, Jonathan Schmidt, Joe Pomije, Chris Dahl, Jackson Stauffacher, Nick Willey.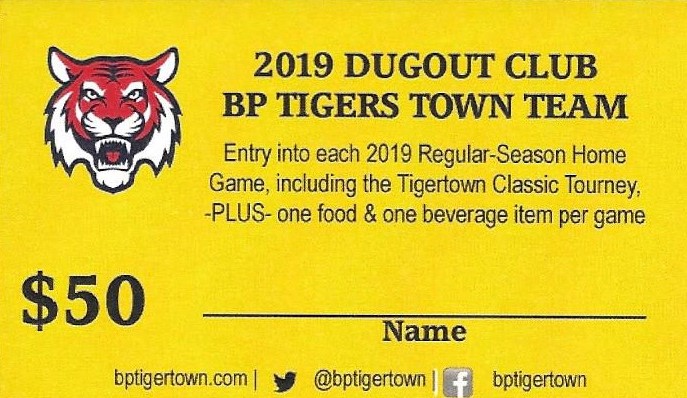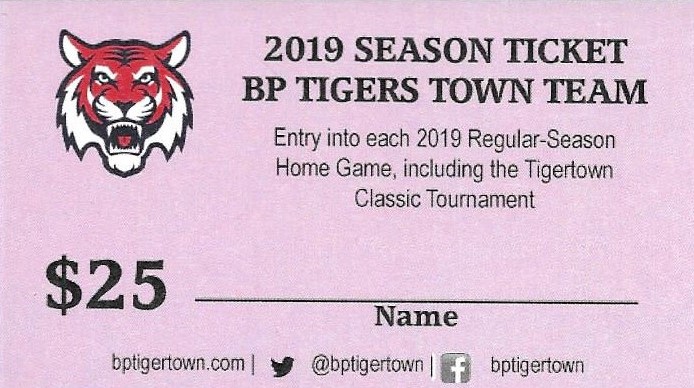 Come on out and support the boys, and take in the great American game of baseball. Season tickets are available for $25 and $50 – the latter including a free food and drink item at each game – and may be purchased at Brad's Barber Shop or at the ticket gate on game days. Pick up, as well, a complimentary pocket schedule, and you'll be the envy of the neighborhood.
Single-game ticket prices are $4 for ages 18-64, $2 for ages 12-17 and 65-plus, and free for ages 11 and younger. The Tigers have a 25-game regular-season schedule, including the 21st annual Tigertown Classic invitational tournament in June. The full season schedule, with promotions, is online at bptigertown.com.
If your business would like to sponsor a season-long ad in our game program, the cost is just $50. Please contact us, if interested.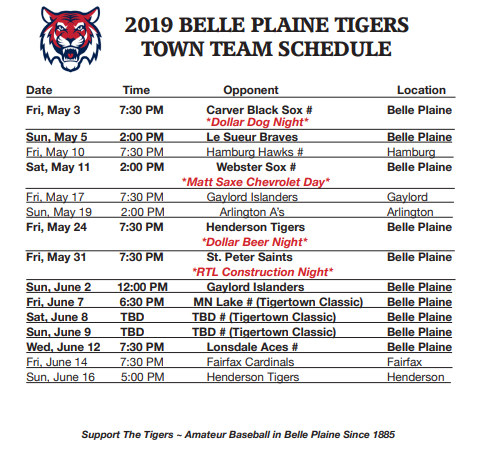 Dave "Greek" Wagner
MBA Hall of Fame Candidate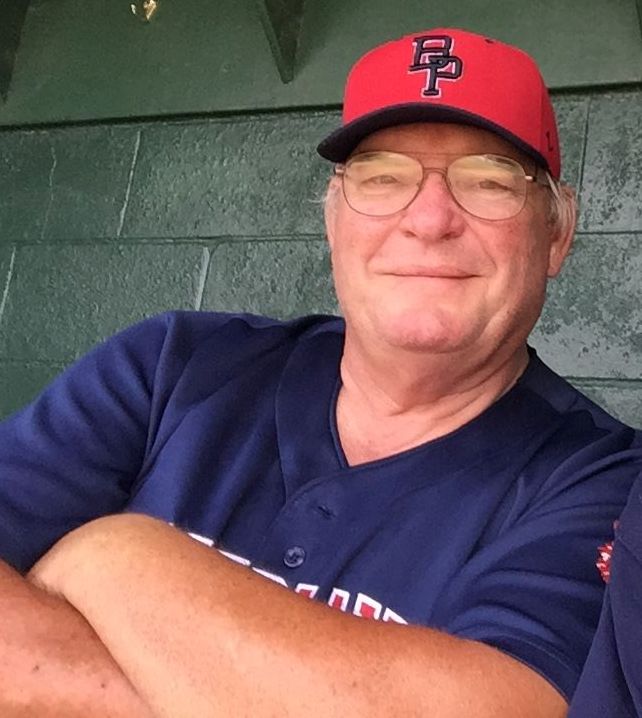 Efforts are underway to get life long Belle Plaine resident Dave "Greek" Wagner into the Minnesota Amateur Baseball Hall of Fame. Greek started his amateur baseball passion playing town-team baseball in 1967 during his sophomore year in high school. He has continued to play amateur baseball for 51 years through 2018, interrupted only by his stint with the U.S. Army and a tour in Vietnam.
Greek's career started out as a left-handed hitter and catcher that included four years as a starter with the high-school team – including two All-Conference selections – followed by college ball with the University of Minnesota and St. Cloud State.
GREEK WAGNER - BASEBALL PROFILE
GREEK WAGNER - PERSONAL PROFILE
His amateur baseball career included 15 years with the Belle Plaine Tigers and six years with the Green Isle Irish, making five state tournament appearances. In 1992, he started playing over-35 baseball with the Belle Plaine Gray Tigers and Union Hill Pit Bulls, participating on Minnesota state championship teams in 1997, 2013 and 2018. His baseball history also includes playing over-50 baseball with the Hanska Bullheads.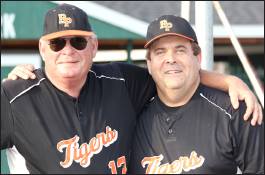 Wagner worked 28 years for the Scott County Sheriff's Department and holds a M.A. Degree in Public Safety Administration from Mankato State University. Greek spends time serving the community, where he volunteers as a member of the Belle Plaine Baseball Association board as well as being a member of VFW Post #6202 and American Legion Post #144.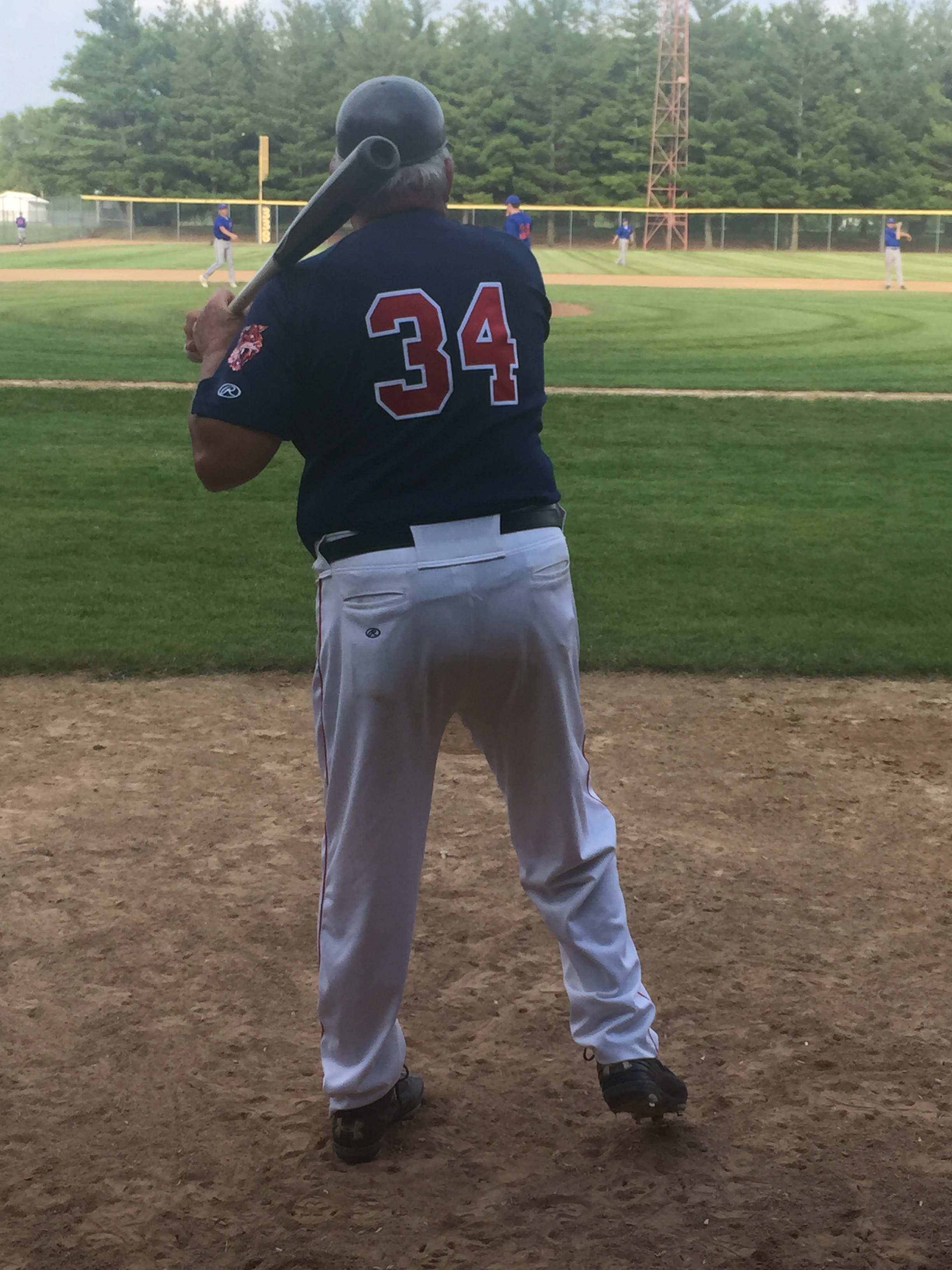 He has volunteered as a local Cub and Boy Scout leader for 16 years, the Belle Plaine Fire Department for 20 years and as a Firearms Safety Instructor for over 20 years. His volunteer service also includes the National Wild Turkey Federation, Minnesota Waterfowl Association, Scott County Pheasants Forever, Ducks Unlimited and the Belle Plaine Sportsman Club.
Greek and his wife, Kim, live in Belle Plaine and have two children: Sarah and Ben. Individuals that would like to write a letter of support in regards to his nomination may do so by the end of April and submit to: Tom Redman, 1088 Roselyn Drive, Victoria, MN, 55386 or email tomredman15@gmail.com.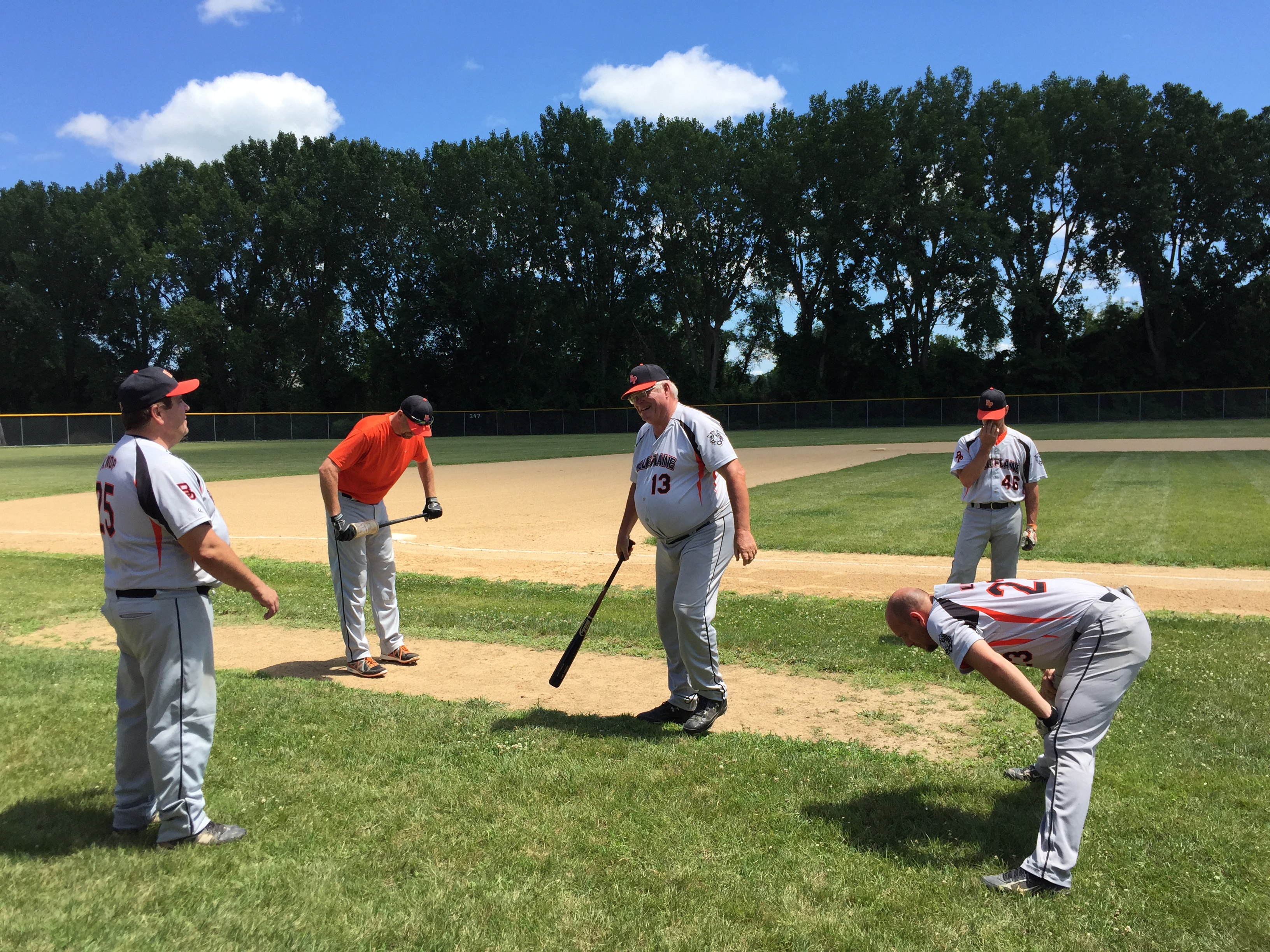 Matt Ruehling Named Field Manager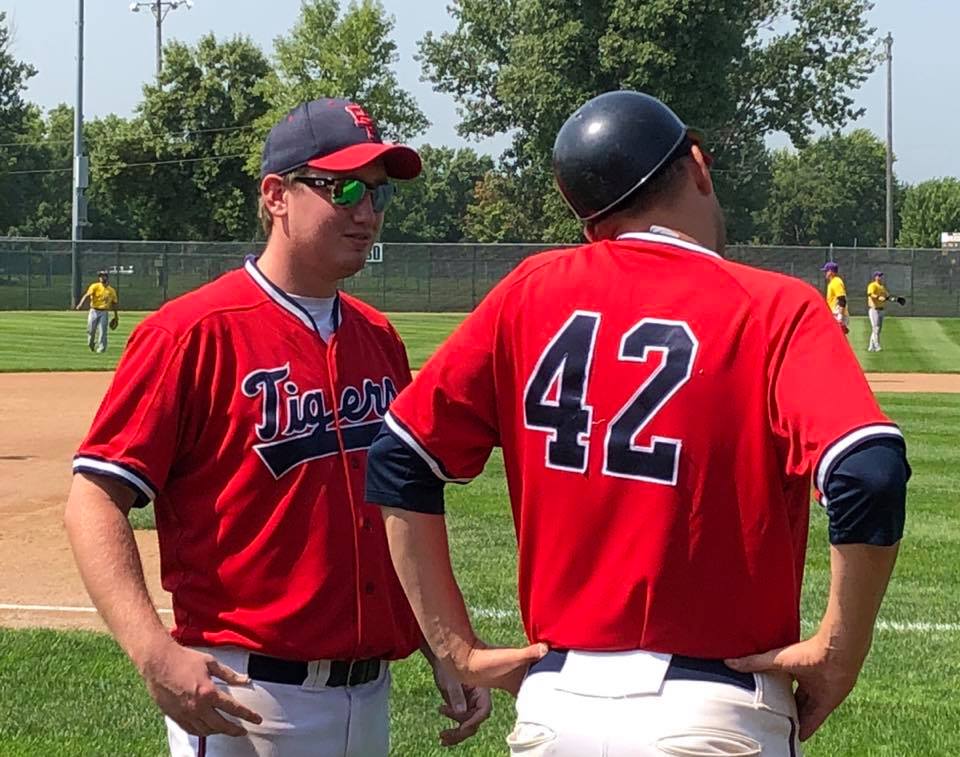 Matt Ruehling, a five-year veteran player on the Belle Plaine Tigers town team, was named the team's field manager on January 9 by the Belle Plaine Baseball Association. Ruehling replaces Mike Schultz, who retired in November after 16 years in the Tiger dugout – including the last six as field manager.
Schultz, the brother of the Tigers' elder statesmen, Pat and Matt, compiled a 91-99 (.479) record during his managerial career. He guided four teams to the state tournament and collected seven state tourney wins, while his postseason record was a gaudy 22-11 (.667). The Tigers were runners-up at the Class C state tournament in Schultz's first year at the helm, in 2013.
Q: As a town-team player, both team-wise and individually, what do you consider to be your career highlight?
Matt Ruehling: As a player for Tigertown, the highlights that stand out are making it to the state tournament three out of the five seasons that I have been on the team. As an individual player, my highlight was hitting a home run a few years back. (Editor's note: The home run came on May 13, 2017 at St. Benedict, and it is the only long ball of Ruehling's career thus far.)
Q: Who were your baseball coaches at Belle Plaine High School and what did you learn from them?
MR: The coaches I had at BPHS were Pat Schultz and Dennis Lawson. They taught me to always hustle and to never take a pitch off. They also preached fundamental baseball and to play the game the right way.
Q: What other head baseball coaching experience do you have. Any notable successes?
MR: I have been the 8th grade coach at BPHS for four seasons. The past two summers, I've been the head coach for a 15AA traveling team and the Junior Legion team from Belle Plaine. Two years ago, our 15AA team won a tournament and qualified for the state tournament.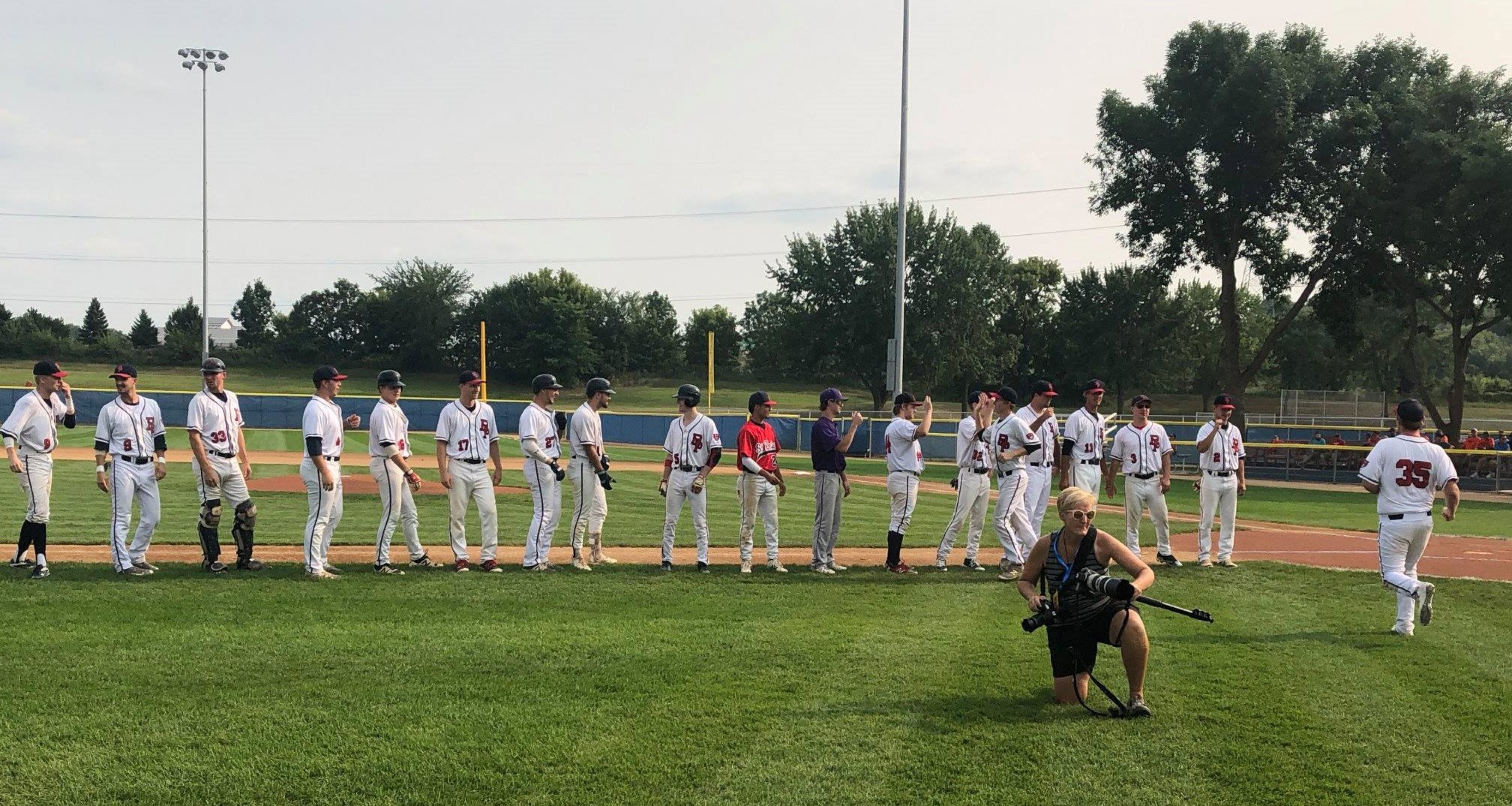 Q: What's your outlook for the 2019 Town-Team Tigers?
MR: The 2019 season should be exciting. We have a young, athletic team with veteran leadership. We were "young" for the past few seasons; now those boys are grown up and have made the transition from high school ball to amateur ball. The goal for a new season is to improve from the year before. After having a short run in the state tournament last season, this group will be hungry and excited for summer to come and make another playoff run through the dog days of summer.
Q: Under your leadership, what traits do you expect Tiger Baseball to most be known for?
MR: I want Tiger Baseball to be known for playing the game the right way. Playing hard, being ready every pitch, hustling, playing fundamentally-sound ball. I believe if we can do these little things, there will be success for our Tigers.
Q: What's something you agreed with in how Mike Schultz managed the Tigers and what's something you might have a different approach on?
MR: The best thing Coach Mike ever did was not playing me. Mike and I usually agreed upon situations throughout the game. He's an aggressive manager and believed in his players to come through for the team.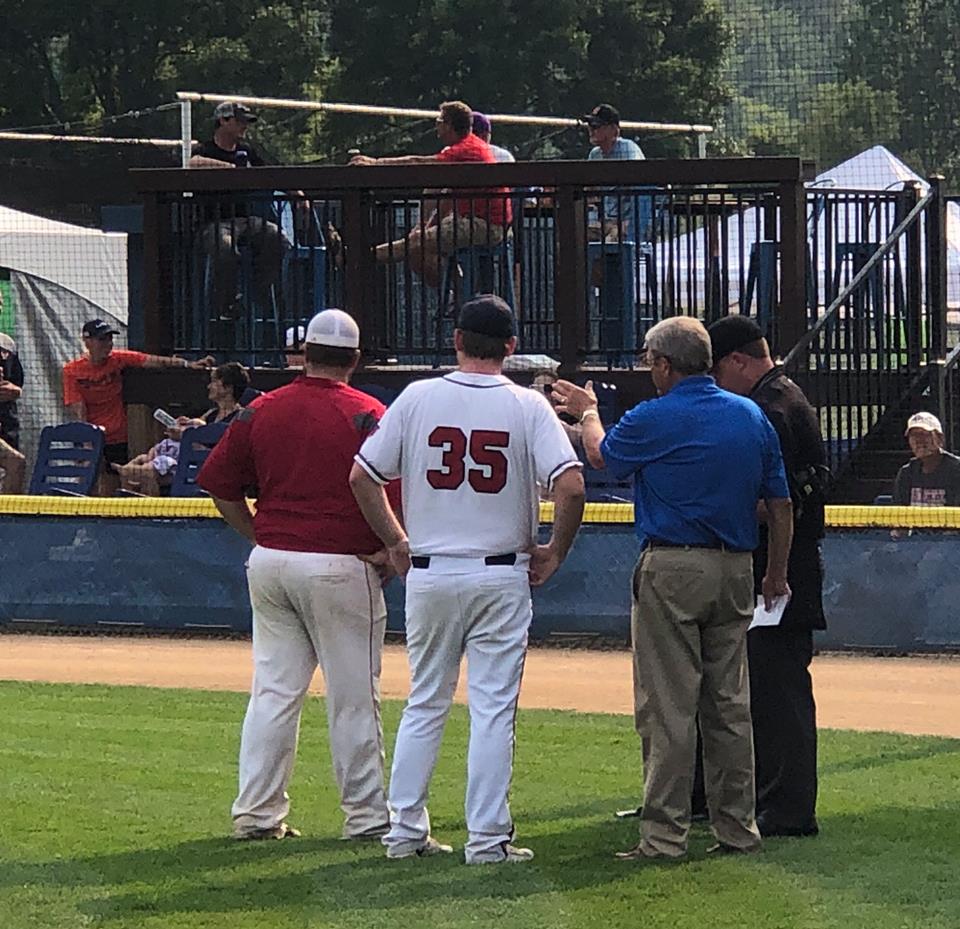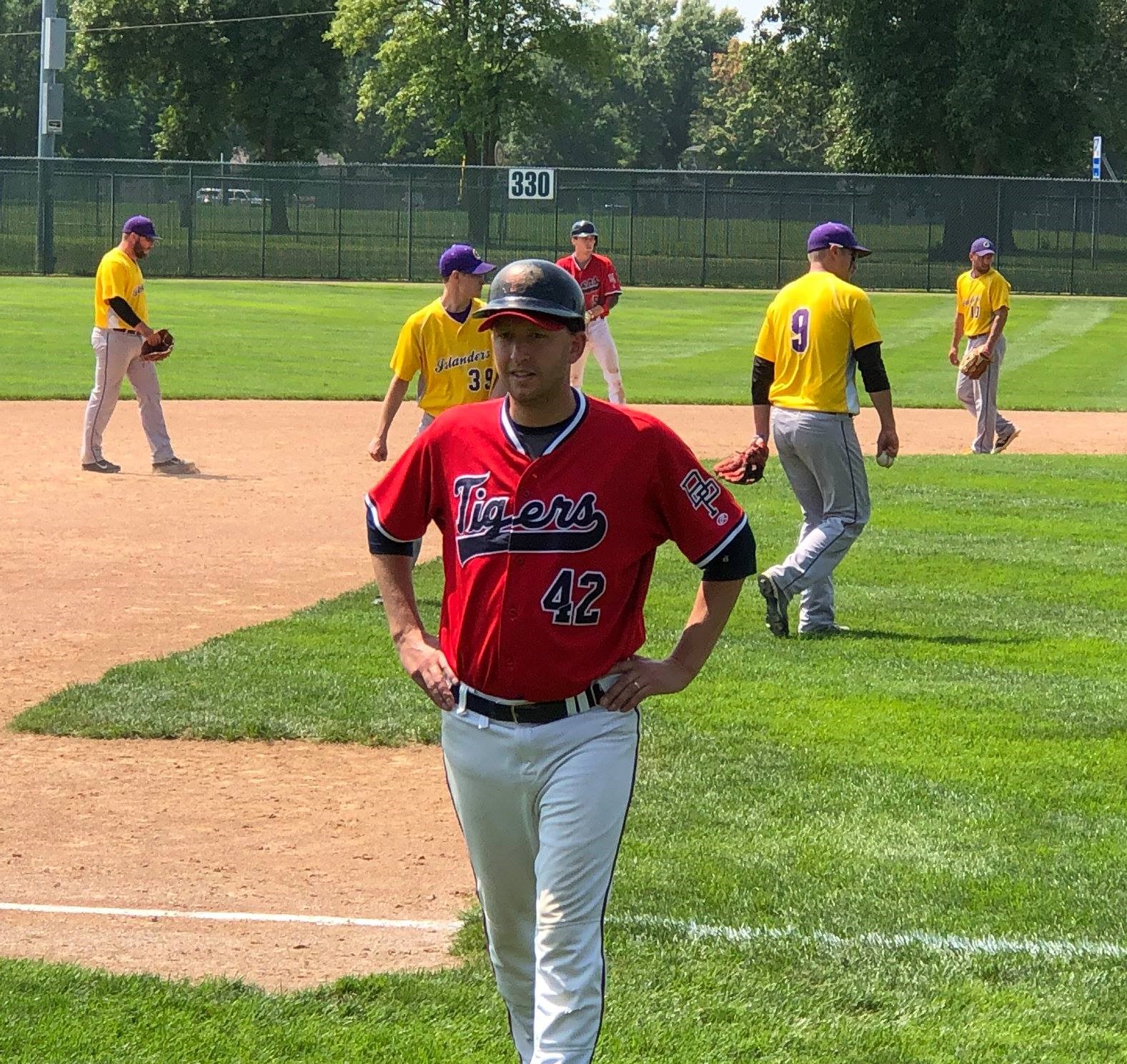 After 16 years in the Tiger dugout, including the last six years as manager, Mike Schultz has announced his retirement. Mike's departure breaks up the storied Schultz-brother trio, as older brother Pat and younger brother Matt were the three most-tenured Tigers (and have been for a while).
Mike joined the Tigers as a pitcher in 2003, with his first game in freezing-cold temperatures in Brownton (http://www.bptigertown.com/Roster/MikeSchultz.htm). Mike took over as manager in 2013 (http://www.bptigertown.com/Coaches.htm) after Jeff Miller's four-year stint as skipper, and the Tigers made it all the way to the Class C championship game of the state tournament before losing to Sartell (https://www.facebook.com/media/set/…).
One of Mike's most memorable lighter moments came during a game in 2016 when out of reserve players, he walked up to the BP press box, told the scoreboard operator -- his nephew, Nick Johnson -- that he was going into the game and promptly inserted him into the lineup (http://www.bptigertown.com/2016SeasonStories.html#Herald61).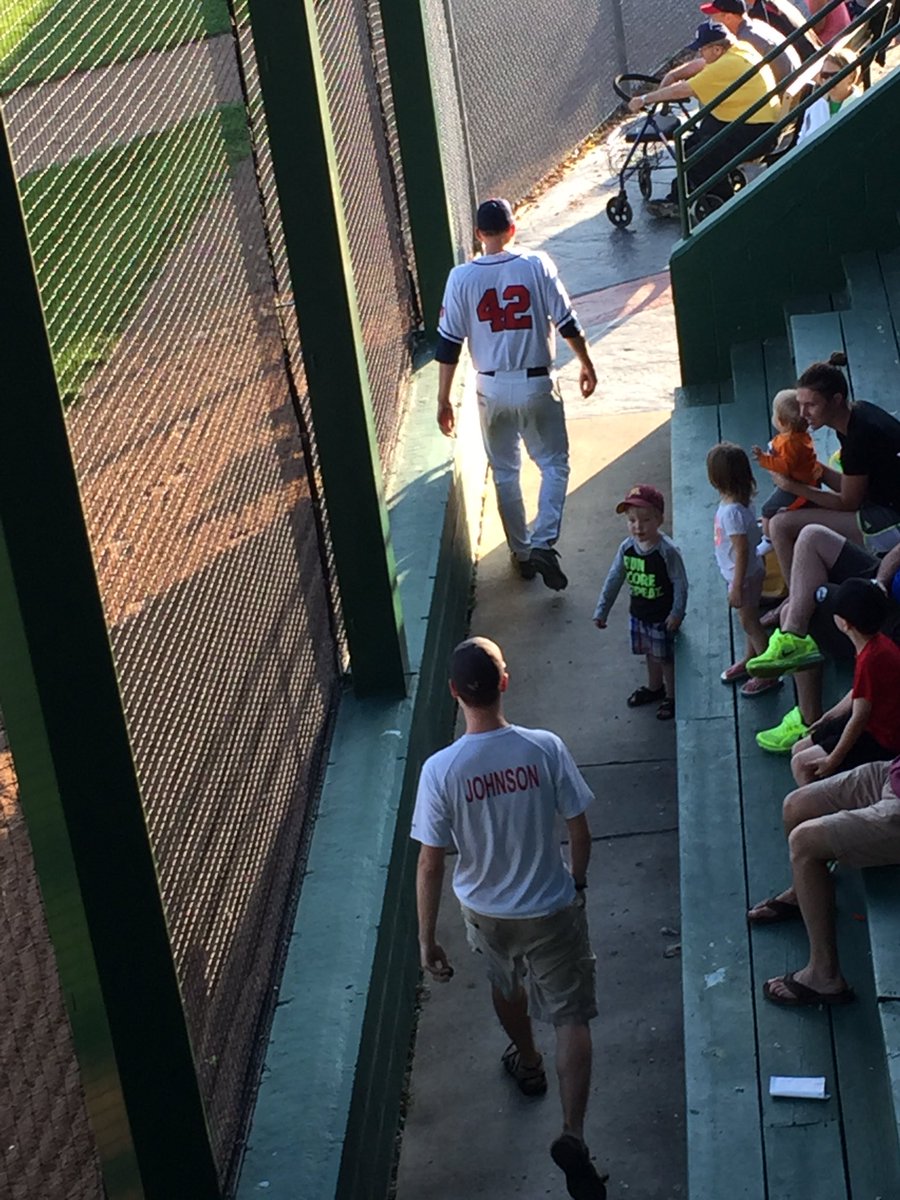 During Mike's six-year tenure as manager, he compiled a 91-99 (.479) record with four state tournament appearances and seven state tournament wins. While Zac Dahlke says the only thing that counts is the playoffs, Mike excelled with a career 22-11 (.667) managing record during the postseason.

While the Tigers aren't big on retiring uniform numbers, MLB has already retired his No. 42.
2013 ... 19-17 ... STATE TOURNAMENT (4 wins, Class C 2nd)
2014 ... 15-15 ... STATE TOURNAMENT (1 win)
2015 ... 11-20 ... STATE TOURNAMENT (1 win)
2016 ... 10-22
2017 ... 13-16
2018 ... 23-9 ... STATE TOURNAMENT (1 win)
"Once a Tiger, Always a Tiger." Thanks, Mike!! 🐅 #NeverBunt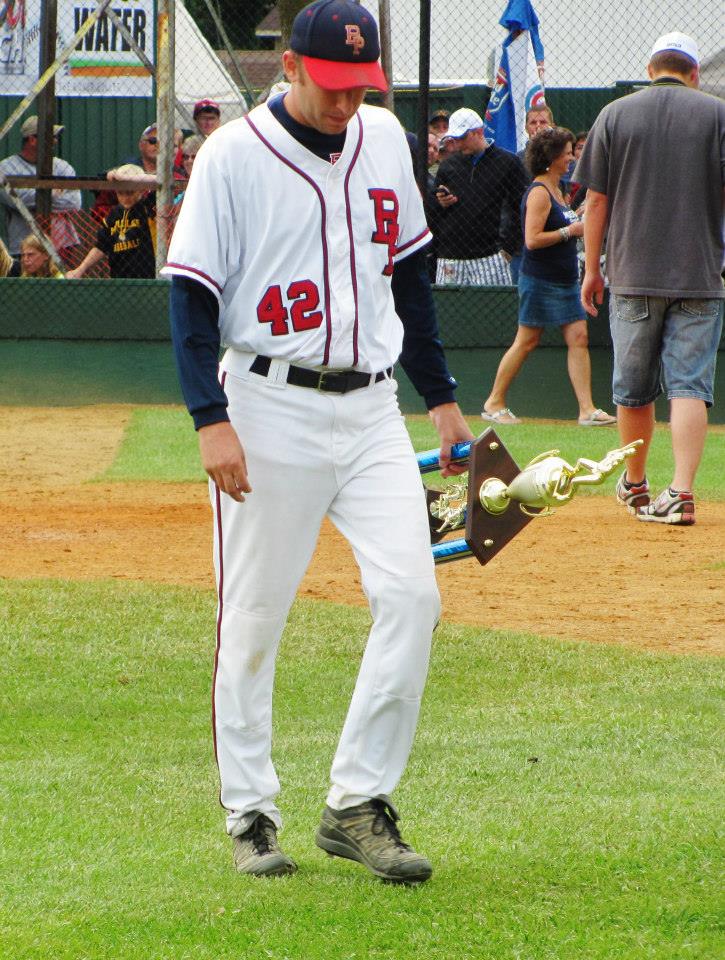 Rest in Peace, #39 Brent Meyer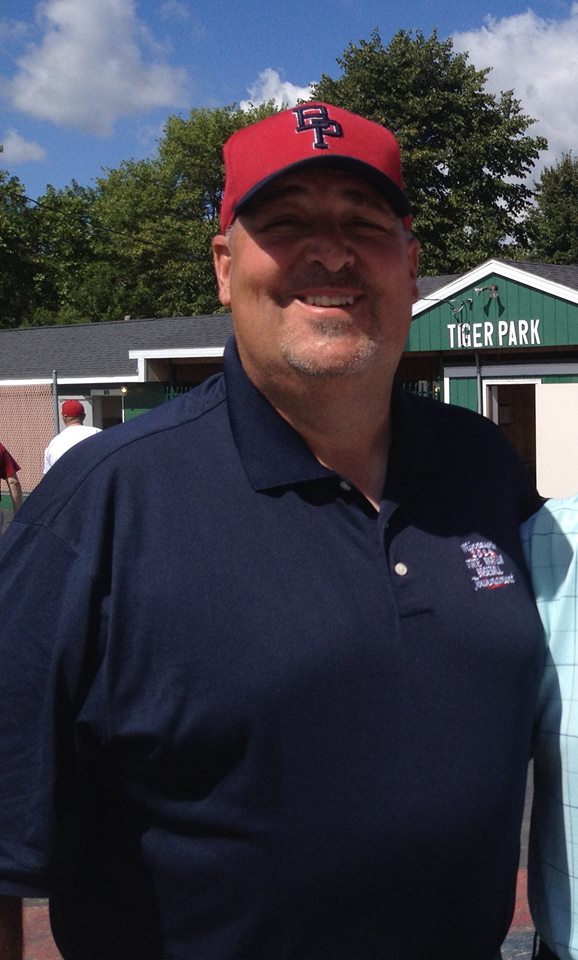 We are sad to report that Brent Meyer, a former Tiger player, manager and board member, died October 4 after a six-month battle with brain cancer. Please pray for the Meyer family and all those that knew and loved Brent. #39
Brent W. Meyer, age 54, of New Prague, died peacefully, surrounded by his family on Thursday, October 4, 2018 at his home. Brent was born on August 15, 1964 at Queen of Peace Hospital in New Prague to Gerald J. and Carman L. (Elder) Meyer. He grew up in Belle Plaine, attended Our Lady of the Prairie Catholic School and graduated from Belle Plaine High School and Mankato State University. Brent married Jane M. Weldon on September 17, 1988 at Our Lady of the Prairie Catholic Church in Belle Plaine and the couple made their home in New Prague. Brent worked as a division controller for Birds Eye in Waseca and was still with them at the time of his death. Brent was an active member of St. Wenceslaus Church, serving as a past member of the board and currently as an usher. An avid sports fan on all levels, Brent was a member in many organizations, including the Belle Plaine Baseball Association, both the New Prague Youth Baseball and Basketball Associations, and was a regional commissioner of the MBA (Minnesota Baseball Association).
Brent's three children benefitted from his love of sports. He coached baseball, softball, and basketball for all three of them. He was a dedicated high school, collegiate, and amateur umpire and he played for and managed the Belle Plaine amateur baseball town team. When sports weren't consuming his time, Brent loved the time spent with his family boating and being up at Gull Lake.
Brent is survived by his loving wife, Jane; children, Allie Meyer of New Prague, Jakob Meyer and fiancé, Megan Dyslin of Northfield, Jack Meyer of New Prague; parents, Gerald & Carman Meyer of Belle Plaine; brother, Chris (& Janene) Meyer of Belle Plaine; sister, Molly (& Dave) Gerrish of River Falls, WI.
Memorial Mass of Christian Burial will be held Monday, October 8, 2018 at 10:00 AM with the eulogies being presented at 9:45 at St. Wenceslaus Catholic Church. Visitation will take place Sunday 4-8 PM and Monday from 7:30 – 9:30 AM at Bruzek Funeral Home. Burial will occur at St. Wenceslaus Cemetery followed by lunch at the KC Hall.
bruzekfuneralhome.com
TIGERS CRASH IN 7TH AGAINST KIMBALL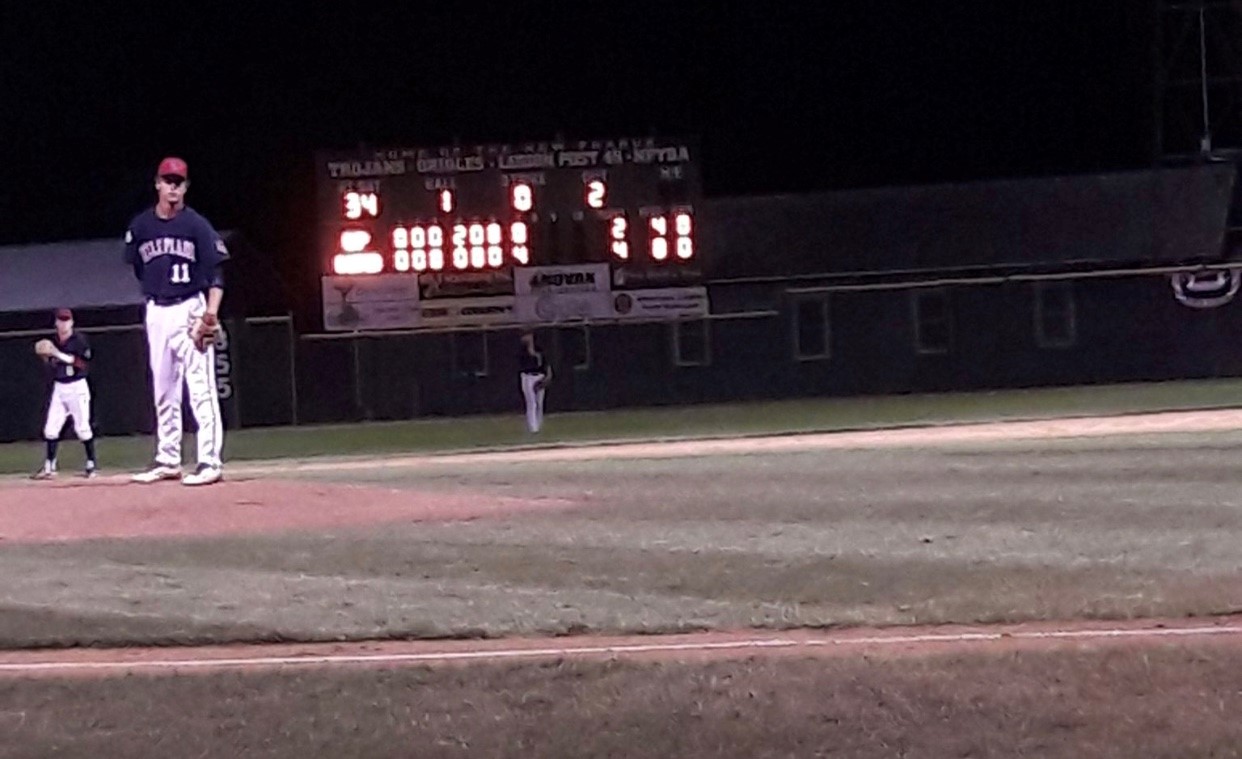 --by Brett Kruschke & Matt Schultz
Playoff baseball games tend to swing on a dime, and that is pretty much what Team Tigertown experienced Sunday night in New Prague against the defending state champion Kimball Express. A 2-0 lead into the seventh inning quickly turned into a 5-2 deficit that became the final score.
Just like that, a successful season is in the books and the focus soon shifts to next year. Belle Plaine finishes the 2018 campaign with a 23-9 record (9-5 RVL) – its most wins since going 26-11 in the Adam Johnson Era of 2011.
Across the 2015 and 2016 seasons, our boys combined to win just one-third of their games. Last year (13-16) it bumped up to 45 percent and this season saw a noticeable leap, with a .719 winning percentage. With 21 players owning four years or less of town-team experience, the future is promising.
The Tigers can playfully boast that they finished the season as the last Class C River Valley League team standing, as No. 1 seed Jordan fell on Saturday night – also at New Prague – to Young America, 5-1.
Of course, there's plenty of great baseball yet to be played at the state tournament and we would encourage you to visit the beautiful ballparks in Shakopee, New Prague and Jordan over Labor Day Weekend. Find updated brackets and a whole lot more at mnbaseball.org and don't forget Tigertown's home base, bptigertown.com.
Thanks to our fans and sponsors for your support this year, as always, and we'll see you at the ballpark next spring!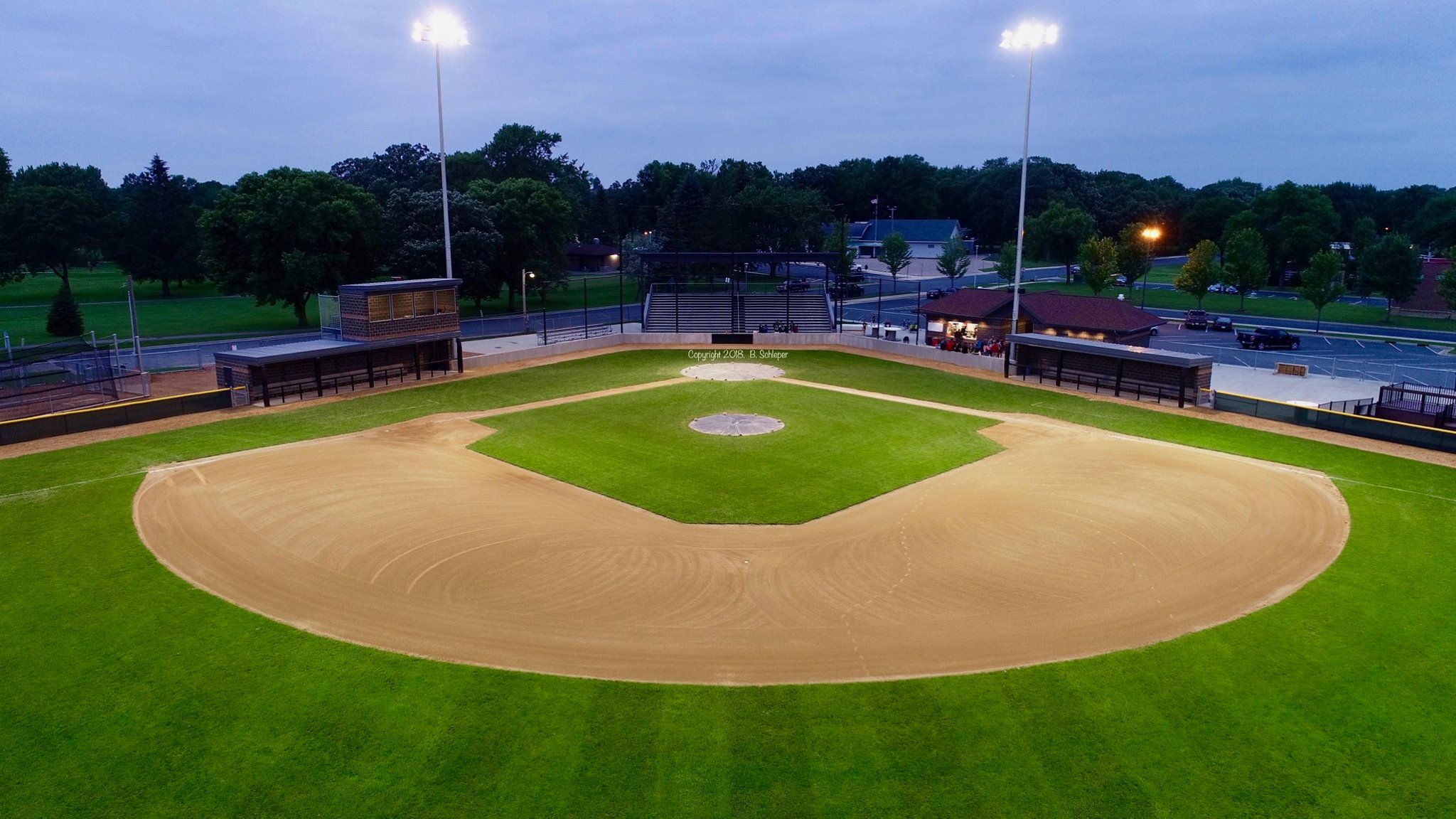 Kimball 5, BP 2 @ New Prague (State Tournament, second round) - Box Score
Belle Plaine headed to New Prague's newly-renovated ballpark looking to punch their ticket to Labor Day Weekend against a formidable foe, the Kimball Express. The teams traded zeroes through the first three innings, with Wes Sarsland on the mound for the Tigers and Ben Johnson for the Express.
El Tigre got to Johnson in the fourth when Matt Schultz singled, followed by a hit-by-pitch for Jared Miller. Derek Dahlke doubled in Schultz before Pat Schultz recorded an RBI groundout for a 2-0 lead.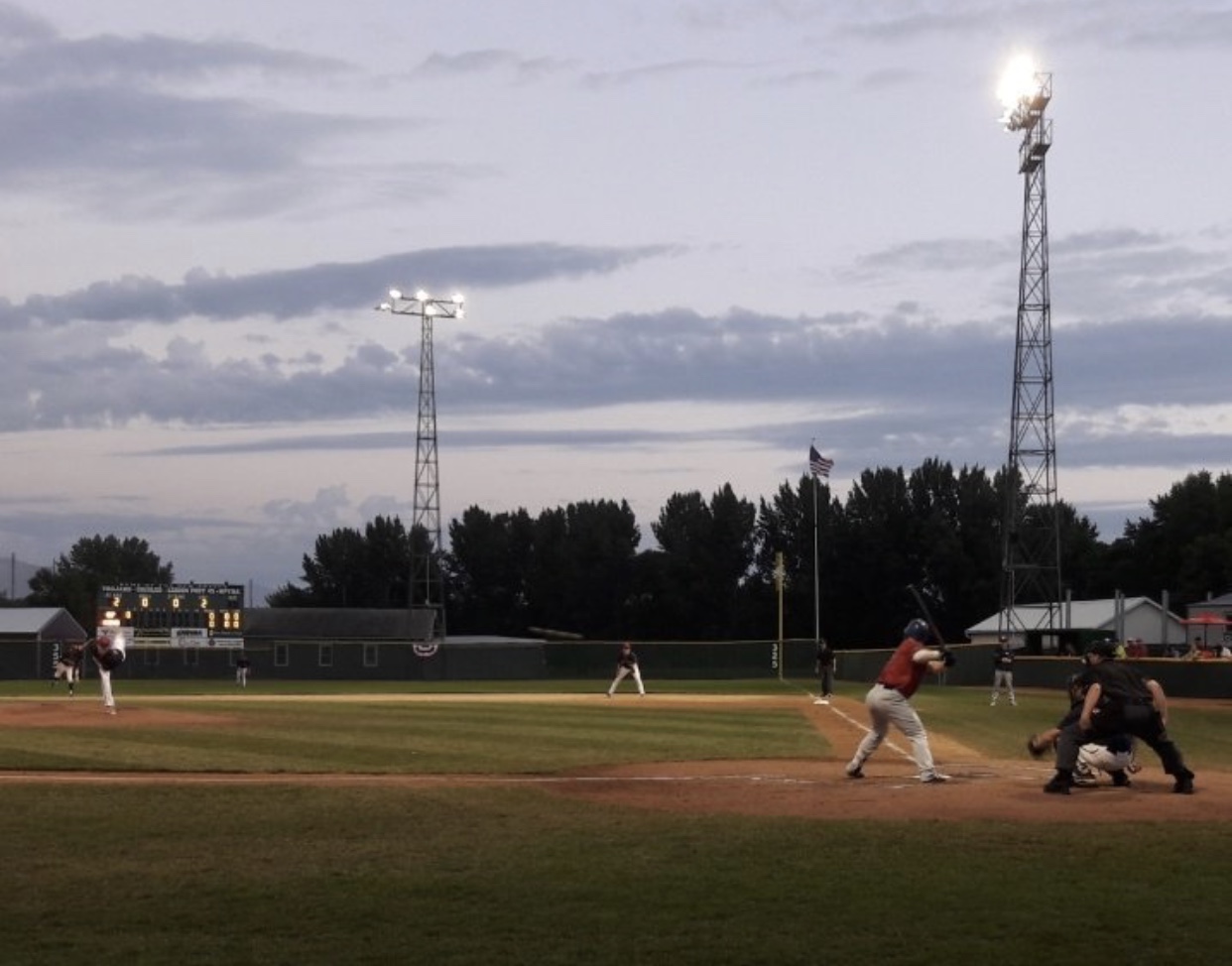 Sarsland protected the lead into the seventh inning when two hits and a walk suddenly chased him from the game with the bases loaded, one out and the Tigers ahead by two runs. Nathan Herman came on in relief and plunked his first batter to quickly make it 2-1. A force out at home was the second out and it appeared the Tigers might escape the jam, however, a bloop hit to no-man's land behind first base plated a pair of runs to give Kimball its first lead, at 3-2.
Two more RBI singles in the seventh were salt in the wound, and the Tigers couldn't dent the scoring column during the final two frames. Express starter Johnson whiffed an overpowering 13 batters in his eight innings of action. Zak Wallner closed things out for the save, striking out two more.
Belle Plaine only had five hits in the contest, with Aiden Ladd grabbing a team-high two plus a walk. Dahlke and the playing Schultz brothers each tallied a hit apiece. Sarsland suffered just his second loss of the season, dropping him to 6-2 in his All-Star campaign.