Pat Schultz
Coach of the Year Recognition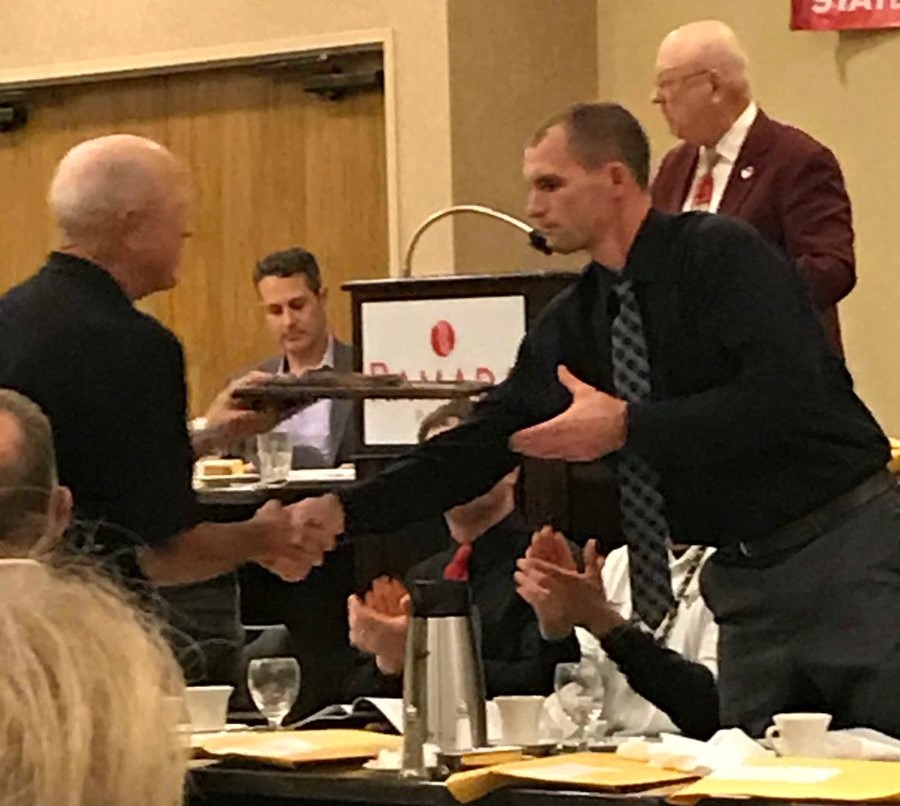 I am pleased to recognize Pat Schultz as the MN State HS Baseball Coaches' Association Class 2A Coach of the Year. Pat will be honored at their annual banquet this Saturday night.
Receiving such a designation is a supreme honor. Pat has lead the Tigers to back-to-back state tournament appearances and Belle Plaine is currently the 4 time defending MN River Conference Champions.
Pat is certainly more than a baseball coach, as he contributes so much to our students, our community, and our district.
Here are some perspectives of those who know him well:
Former Players
****Miah Fogarty, Class of 2011
As a student and athlete who was taught by Coach Schultz, I believe no one deserves it more. After spending countless hours with Pat throughout my time at Belle Plaine High, including summers weightlifting, falls on the football field, and springs on the baseball fields, I know his time dedicated to Belle Plaine sports is something that deserves recognition. There was no better person to look up too as a young adult. He was someone you can trust to help you improve your game, education and lifestyle every day. Congratulations Coach. Thanks for everything.
****Derek Dahlke, Class of 2014
Pat is what you look for in a coach. He has the passion and love for the game and the desire to win just as any athlete would. He takes countless amount of hours out of his day to help his athletes get better whether that be on the field, in the weight room or in the classroom. However, Pats biggest accomplishments don't happen on the field, even with the big results he has seen over the last few years. The big success he has is the impact he has on the athletes he is coaching. The relationships he builds with every athlete and how he spends time getting to know everyone plays a huge role on how the athletes respond to him and to how they perform. I know from experience that I wouldn't be the athlete, but more importantly the man I am today if it weren't for the everyday lessons Pat has taught me throughout my career. There is no doubt in my mind I wouldn't be where I am today if it weren't for him. Thanks Coach.
Teaching Colleagues
****Sara Geller, Phy Ed Colleague
"A person who is quietly confident makes the best leader"
Working with Pat for the last few years, I feel that this quotes speaks volumes about him and his quiet nature. I have come to realize that when Pat does have something to say it's important and people listen. Obviously with the success of his programs, his students and players have been listening as well. Pat always is dedicating his time to athletes and students on a personal level, whether it's taking time in the mornings working on baseball skills in the gym or running the weight program after school. He's not only dedicated to athletes in his program, but the new student trying out lifting for the first time. He truly is one of the nicest, most patient, and helpful teachers we have here on staff.
****Melissa Hollnagel, English Colleague and Fellow BP Graduate
Pat has always been extremely humble. He doesn't like to be praised or spotlighted for his hard work, as what he does is out of genuine passion for working with kids. He is a wonderful asset to the community of Belle Plaine and our school district.
Fellow Coaches
****Dennis Lawson, BP Assistant for 11 years
When the head baseball coaching position became available after the departure of Dave Kreft, I had already been the Varsity Assistant coach for 7 years and Pat had only been on staff for a few years. I approached Pat one day after practice and told him that I would not apply for the position and that he needed to. He being Pat was somewhat reluctant say "Are you sure? You have been around a lot longer." I think that is the kind of person Pat is always looking out for everyone around him. I continued on staff for four more years as Pat's assistant and enjoyed every day of it. Pat is a great person and I know Belle Plaine Baseball on all levels has benefited with his leadership.
****Justin Johnston, FB and Baseball Coaching Colleague
I've worked with Pat for over 10 years, he works tirelessly to make sure ever detail is attended to. In football we miss his ability and connection he makes with the kids. In baseball he has devoted more time to make sure every piece of the program is working perfectly. Pat is deserving of this honor because no coach I know gives more to his athletes and program.
Teammate
****Brett Kruschke, Amateur Teammate
Pat and I were town-team baseball teammates for 15 years, and have been friends for much longer. Perhaps the greatest compliment I can offer is that I've long thought Pat would have made the best battlefield soldier of anyone I know. He's clear-minded, responsible, leads by example, and is never out-hustled or out-worked; he's fearless, tough yet reasonable, loyal, trustworthy and humble. He's exactly the type of person I would want a son or daughter being taught under on the field or in the classroom.
Administrators
****John Bergs, Current AD, Former Teacher and Coach Of Pat's
I have had the pleasure to work with Pat Schultz on many different levels, as his teacher/coach, co-worker, teaching and coaching and as a friend. The one constant with Pat is his maximum effort! In all of my years of coaching, I have never coached a player that worked harder to be his best than Pat Schultz! He has carried that into his professional life as he works tirelessly to improve the programs that he has been a part of. On a personal level, I could not me more proud of the person he is. Pat is a tremendous community member, husband and PARENT. I am very fortunate to have been able to cross paths with him and I cherish the personal and professional experiences we've shared.
****Mindy Chevalier, Current Asst. Principal, Former AD
Pat Schultz has a passion and dedication for coaching the game of baseball that has contributed directly to the success of the Belle Plaine Baseball program. Like all great coaches, Pat cares about all of his players in the program, from the youth that play the game to his varsity players. His love for the game is evident in the way he coaches and plays, and his players come first. As a teacher he cares about all of his students and works to assure that they are being successful! The State Coach of the Year award for Baseball is a well deserved honor, congratulations Pat and thanks for all you do!
Please join in congratulating Pat Schultz on this honor!

Dave Kreft - High School Principal
Belle Plaine High School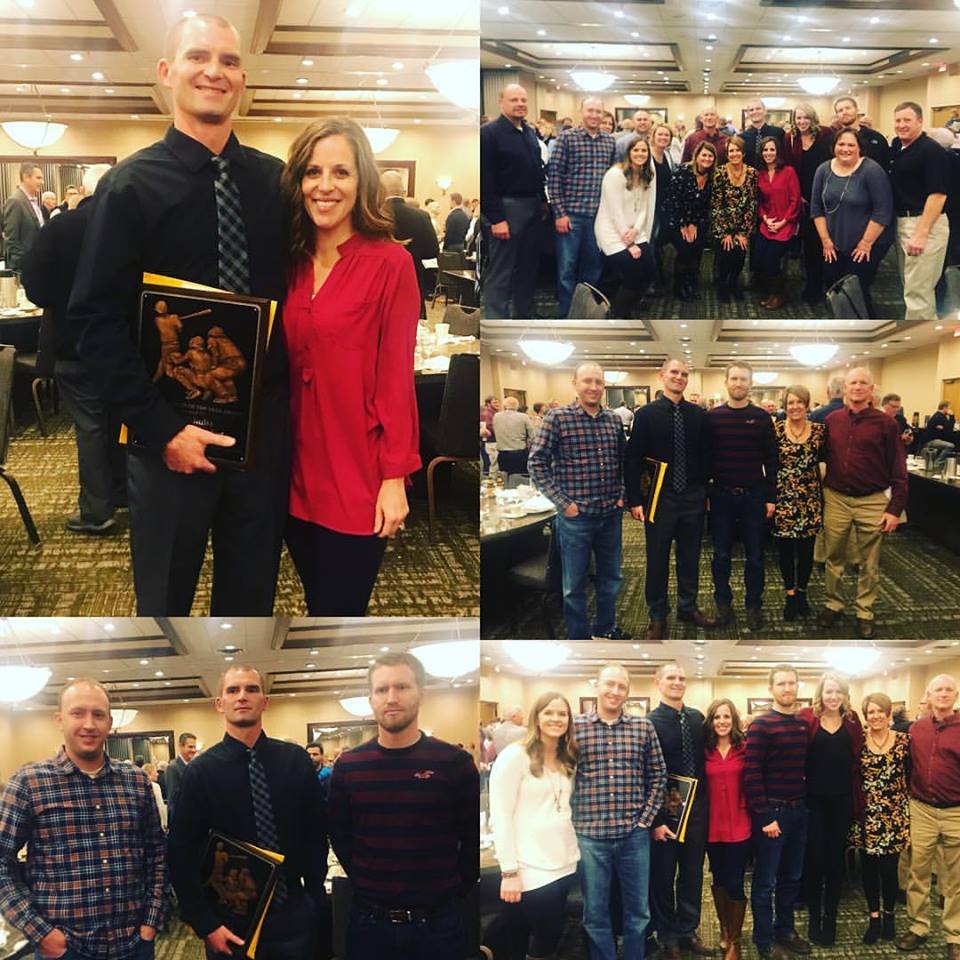 Pat Schultz Honored as State
Class AA 'Coach of the Year'
Courtesy Belle Plaine Herald
It was during the fall of his junior year at St. Thomas University when Pat Schultz faced the reality he wasn't quite good enough a baseball player to make the school's varsity team. From that disappointment, the Belle Plaine catcher took advantage of an opportunity to coach.
Apparently, Pat Schultz is a very good baseball coach.
He was recently named the Minnesota Coaches' Association Class 2A Coach of the Year for the 2016-17 season. His BPHS Tigers won a fourth consecutive Minnesota River Conference championship last spring and returned to the state baseball tournament. Schultz's teams have finished sub-.500 only once.
Schultz took the award in his typical understated style. The trophy is home, someplace in the garage, he said. The coach isn't big on personal honors.
"This is a nice award for the program," Schultz said. "We've had the benefit of good players."
The two medals for section and state tournament success the past few years hang from a hook on the whiteboard in his classroom. "That's as good a place for them as any," he said.
Schultz graduated from Belle Plaine High School in 2001. He played on the St. Thomas junior varsity baseball team for two years for coach Dennis Denning. The legendary St. Thomas coach took a liking to the tall, quiet catcher from a small town. Denning, whose teams won national titles in 2001 and 2009 and finished second nationally in 1999 and 2000, noticed the walk-on catcher from Belle Plaine.
"He did a lot of things right and you could tell he was always listening. The kids from small towns generally have better attitudes. They come in ready to work and ready to play," Denning said. "I like the guys who were always listening, paying attention. Pat was like that. He never missed a beat."
But St. Thomas had plenty of talent and Schultz realized he had a brighter future coaching and teaching. After the fall of his junior year in college, Schultz started helping the Tommies' younger catchers and position players hone their fielding and hitting skills.

The 'Right Way'
Denning was confident Schultz would help younger players develop properly. "I never liked the flashy guys. I liked the guys who do things the right way," he said.
Schultz graduated from St. Thomas with degrees in physical education and health. He has since earned a master's degree.
After graduation, teaching and coaching in his hometown were on the short list of places he wanted to find a job. Schultz started coaching football in Belle Plaine in the fall of 2006. He started working with the baseball team in the spring of 2007. The following fall, Schultz was hired as a full-time teacher.
"It's fun to work with kids," he said. "It's fun to work with them over time and see them progress."
Schultz's calm demeanor was on display last spring as his team battled St. Peter for a berth in the state tournament. With players and coaches on edge, Schultz quietly sat on the bench watching, contemplating ways to help his team. His philosophy centers on controlling what players can control and not letting a mistake impact future plays.
"You're going to swing and miss a lot in baseball," he said.
Schultz has backed off coaching some to spend time with his wife, Jen, and their children -- Luke CeCe and Charlie.
He misses coaching football and the build-up to one game, but baseball is his choice. Schultz works with youth players during the off-season, learning and teaching new ways to help them improve. The stage of the junior-senior high school's North Gym is a makeshift training center and warehouse for training aids to help players improve.
"He takes countless amount of hours out of his day to help his athletes get better, whether that be on the field, in the weight room or in the classroom," said Derek Dahlke, one of Schultz's former players and teammates on the Town Tigers. "Pat's biggest accomplishments don't happen on the field, even with the big results he has seen over the last few years. The big success he has is the impact he has on the athletes he is coaching. The relationship he builds with every athlete and how he spends time getting to know everyone plays a huge role on how the athletes respond to him and to how they perform."
Schultz wants to keep playing baseball and coaching. He completed his 20th season on the Town Tigers this past summer. He doesn't play as often as he used to, saving playing time for the youngsters he once coached. "It's a slightly more relaxed setting," Schultz said.
TIGERS' SEASON ENDS
IN HISTORIC FASHION
Henderson Rallies from 8-0 Deficit, Wins 10-9 in 10 Innings
--by Brett Kruschke
The seasons for almost every sports team in every league with playoffs ends with a loss, so a sour taste in the loser's mouth is the norm. Maybe that's part of what keeps leagues going – a desire by the majority of its members to overcome that distaste, even if the overwhelming odds say next season will finish much the same.
There's sour tastes and then there's mouths full of gravel, which is what the town-Tigers experienced in Jordan on Thursday after watching an 8-0 lead through five frames against Henderson turn into a nightmarish 10-9 loss in 10 innings. Had the Tigers merely blown the 8-0 lead to lose 9-8, that would have been bad enough. But tying the game in the ninth and getting hopes back up made losing an inning later all the worse.
The Tigers were on the verge of hosting No.-8 seed Arlington at Tiger Park on Friday for the right to a state tournament berth at the fine fields of Green Isle, Hamburg and Norwood; instead, the season is over and the collapse will forever be emblazoned on the back of Henderson's state tournament t-shirts. And more power to them: three consecutive extra-innings wins in the Region 6C loser's bracket propelled Henderson to its first state tournament appearance since 1932! That is remarkable, and congratulations are in order.
From the end of the 2008 campaign through 2012, Belle Plaine beat Henderson 13 times in 14 tries, including a 10-game winning streak. Since 2013, the Plainesmen are 2-10 against the Comeback Cats, including six straight setbacks. The trilogy of losses this season were eerily similar: 9-8 in 10 innings, 10-8, and 10-9 in 10 innings.
Jordan beat St. Peter in the Region 6C championship game, 2-1, and will receive a first-round bye in the state tournament before facing the winner of St. Joseph versus Maple Lake at 7:30 pm on Aug. 26 in Green Isle. St. Peter will face Avon at 5 pm on Sunday, Aug. 20 in Green Isle, while Henderson will be in action at the same time and date in Hamburg, against the Milroy Irish.
A pair of Belle Plaine pitchers were drafted by Henderson: right-hander Mitchel Stier – a first time All-Star this season, with an 8-2 record – and lefty Wes Sarsland, a "college ballplayer," who finished 2-4.
Team Tigertown's season-ending record is 13 wins and 16 losses, with a 6-8 mark in River Valley League regular-season play. We're not planning a parade route, but after winning a combined 33 percent of their games the past two seasons, the Tigers won 45 percent of the time this year.
While expectations are rightfully rising, the fact is, of the Tigers' 22-man playoff roster, 14 players have three years or less of town-team experience. With another year under their belts next season and the expected return to the mound for two top arms in Derek Dahlke and Brody Curtiss, the Tigers are already looking forward to next season.
If you see Tiger veteran and stat-man Zac Dahlke around town, give him some encouragement, as the season-ending statistics are nearly done and available for viewing at bptigertown.teams.mnbaseball.org/Stats.
Henderson 10, BP 9 (Thursday, August 10 – 10 innings) - Box Score
The locals needed two wins to qualify for the state tournament, with the first assignment a matchup against the Henderson Tigers at the Mini Met in Jordan. The game was first scheduled for Wednesday, but rain pushed it back a day.
Stier, the winning pitcher in BP's 2-1, opening-round win at Gaylord, got the ball from manager Mike Schultz. For Henderson, it was fellow right-hander Adam Arnst. The ballgame was scoreless through three innings before Belle Plaine broke through in the fourth. The inning began with a single, double and triple, respectively, by Aiden Ladd, Derek Dahlke and Curtiss.
El Tigre put their leadoff man on base in each of the first five innings, and finally the floodgates opened in a six-run fifth. A dozen Tigers came to the plate, fueled by six singles. Arnst was sent to the showers in favor of Chase Boehne, who absorbed his share of the damage but left the sacks full to end the fifth.
Stier was crisp through five innings, facing just two batters over the minimum. He started the sixth inning by yielding a hit to the No. 9 hitter and plunking a batter, bringing up Tiger-killer Greg Graham. A dugout sage whispered to a bench player, "If Henderson is going to get back into this game, it's right here." And BOOM! A 3-run homer for Graham over the right-field scoreboard made it 8-3, and was the end of the night for Stier.
Jonny Vinkemeier came on in relief and set down the next three batters in order, then yielded an unearned run in the seventh thanks to the leadoff man reaching on an error. Still, an 8-4 lead with six outs to get seemed like a pretty safe bet.
Jared Miller got the last out of the seventh and started the eighth inning, but the fateful frame began ominously with a walk, a hit batter, a fielder's choice and a single. Josh Terrio, with a team-high five saves, relieved his brother, with one run already in and runners at the corners.
Two of the next three batters sandwiched a walk with back-breaking doubles, and the latter, by leadoff man John Parker, drove in two runs to tie the game. A wild pitch plated the fifth run of the inning, giving the Hummingbirds reason to hurrah after taking an improbable 9-8 lead.
Boehne did a bang-up job in relief for Henderson after the troublesome fifth inning, but our townsmen got off the mat in the ninth, starting with a leadoff walk to Matt Schultz and a sacrifice bunt by Carsen Ladd. Nathan Herman drilled a double, giving the Tigers their first momentum in four innings and more importantly, new life. Herman was stranded, however, at second base, despite two chances to drive him home.
Wes Sarsland came on for Terrio after a leadoff single started the home-half of the 10th, which was the beginning of the end. A sacrifice bunt, an intentional walk (to Greg Graham) and a semi-intentional walk brought up Matt Graham. His fly ball to center field was deep enough to score Philip Champagne, setting the stage for cork-popping some 24 hours later.
The Chatfielders had a big night with the bats, lashing out 15 hits. The heart of the order was huge, with Derek Dahlke going 3-for-6 with two doubles, a triple and four RBI. Curtiss collected four knocks in five trips, including a triple. Herman lashed three hits in five trips, driving in two. Aiden Ladd and Tyler O'Brien also posted multi-hit games.
The history of baseball comebacks are littered with bases on balls, and the Tiger bullpen meltdown surrendered seven freebies over 4.2 innings while striking out just one batter. As pro wrestler Baron von Raschke used to say, "And that is all the people need to know!"
Tigers Need Two Wins
for State Tourney Berth
--by Brett Kruschke
Mike Sticha, president of the Dakota-Rice-Scott League, chief caretaker of the well-kept field in St. Patrick and one of the best baseball guys around, tweeted Saturday: "MN Amateur baseball: wins in April, May and June are fun, but late July and August wins are all that matter." In short, the playoffs are the moment of truth.
The No. 5-seed Tigers hit the road twice this weekend, edging No. 4 Gaylord 2-1 on Friday before falling 9-0 to the top-seeded Jordan Brewers on Sunday. A win against Jordan would have clinched a state tournament berth, but now the locals must win twice this week to do so, or the season will be over.
Team Tigertown returns to Jordan tonight to take on the No. 3-seeded Henderson Tigers, with the first pitch slated for 7:30 pm. Henderson doesn't have lights at their ballpark and usually plays at Le Sueur when night games are necessary, but the Braves are hosting the Arlington A's. The winners of these contests will meet Friday for the third and final state tournament berth from Region 6C, and if our boys are still alive, the game will be at Tiger Park at 7:30 pm.
Jordan and St. Peter will play Saturday night at 6 pm, at the Mini Met in Jordan, for the region championship. State tournament play starts Aug. 18 and will be hosted equally between three sites in Green Isle, Hamburg and Norwood.
Stay up-to-date at bptigertown.com and the Tiger social media channels, at "bptigertown" on Facebook and Twitter.
BP 2, Gaylord 1 (Friday, August 4) - BOX SCORE
Belle Plaine went to Walsh Field in Gaylord with a 12-14 record, and with second-year pitcher Mitchel Stier owning seven of those victories against just two defeats. He got the starting nod against the Islanders, squaring off against veteran Trevor Vaubel, a former Tiger draftee.
In the second inning and in his first career postseason at-bat, Brody Curtiss singled with one out before stealing second base. After a wild pitch moved Curtiss to third base, he scored on a groundout to the right side by Carsen Ladd.
Gaylord got on the board and tied the game in the third inning when Islanders All-Star Collin Grams socked a one-out, RBI double. Baserunner Kyle Goetsch slid home on a close play, just ahead of catcher Pat Schultz's tag. Two innings later Grams was involved in a collision at first base, however, and had to leave the game after suffering an injury.
Curtiss contributed to the offensive attack again in the fourth frame, ripping a two-out double to plate Derek Dahlke, also known as "The Sioux Falls Blazer," who had singled and stole second.
While it wasn't easy, the lead held up the rest of the way. Twice Stier worked out of situations with a runner on third base and just one out, including with a strikeout in the eighth inning on his final pitch of the night.
Just as Stier owned the majority of BP's wins, Josh Terrio entered with half of the team's eight saves this season. Manager Mike Schultz was not about to deviate from this tried-and-true formula.
Terrio, an 11th-year veteran, struck out the first man he faced in the ninth. After a hit batsman and a walk, however, Tiger fans were tighter than a drum. With the tying run at second base and the winning run at first, a line drive shot out to right field – but was secured by Derek Dahlke, who threw to first for a double play that ended the game.
The Tigers had just four hits on the night, with "Derrick" Dahlke and Curtiss each collecting a pair. Pat Schultz also legged out a triple – not bad for a veteran catcher of 20 years.
Jordan 9, BP 0 (Sunday, August 6) - BOX SCORE
Rain threatened Sunday night's game at The Mini Met, and the starting time was pushed back an hour to allow the field to dry out following an afternoon shower. The Tigers lost just 2-1 to Jordan on July 23, with rookie Nathan Herman working five effective innings. He drew the nod once again in hopes of a repeat performance, squaring off against Brewers right-hander Nate Beckman.
Herman retired the first two batters of the third inning in what was thus far a scoreless game. The Brewers then responded with seven consecutive hits – including a pair of doubles – resulting in six runs and a shell-shocked Tiger nine.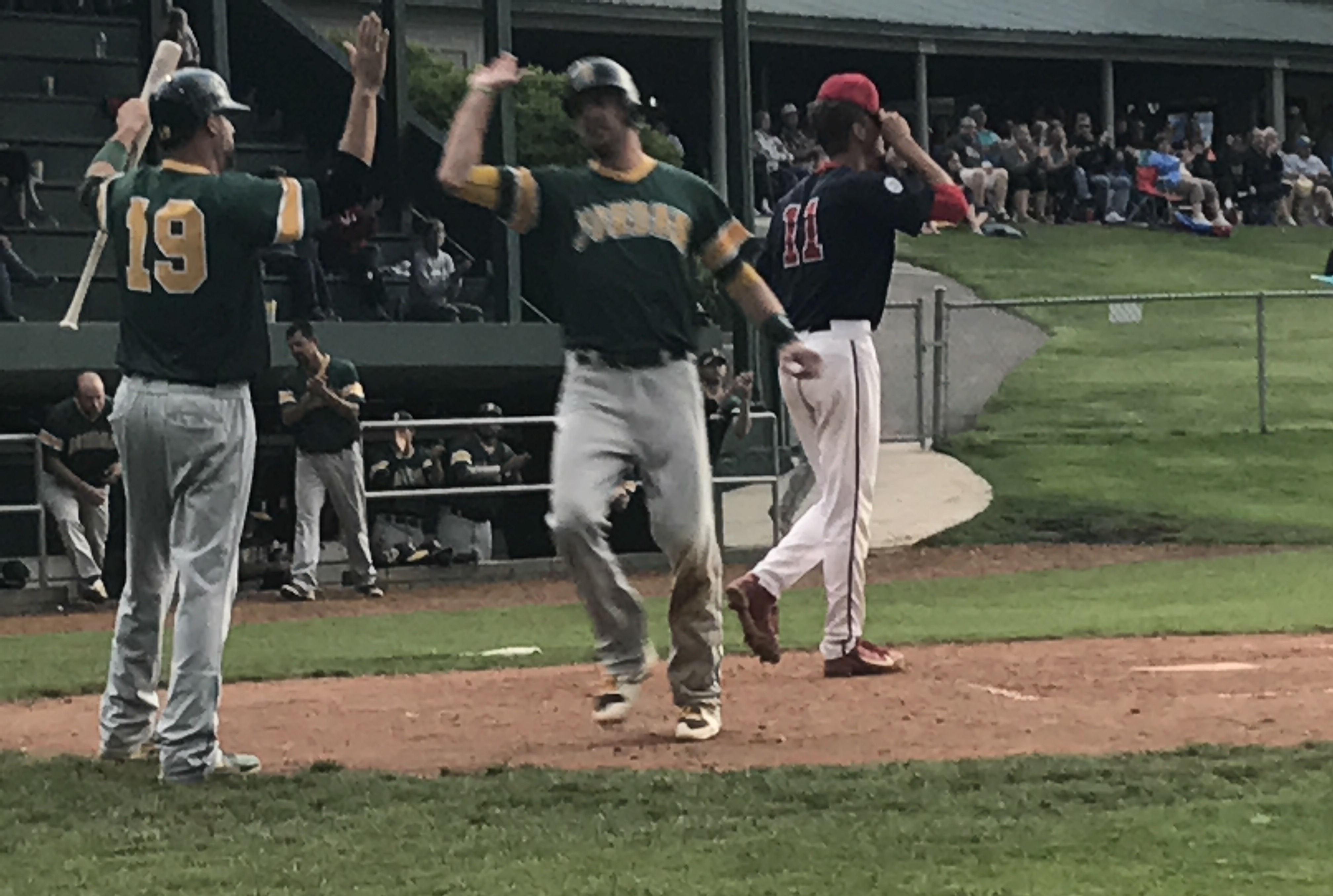 Jordan kept the pedal down in the fourth inning, adding three more runs – again, all with two outs. The key and final blow was a two-run homer down the left-field line by designated hitter Greg Quist.
The Tigers fought on and squeezed nine innings out of a contest perpetually on the cusp of the 10-run rule, but eventually endured a shutout. The Chatfielders deployed six pitchers and collected just three hits, belonging to Derek Dahlke, Curtiss and Carsen Ladd.

Tigers Win Twice,
Open Playoffs Friday at Gaylord

--by Brett Kruschke and Matt Schultz
The Tigertown Express finally got off the mat over the weekend, ending a five-game losing streak with a pair of River Valley League victories. The locals beat Arlington 5-1 on Friday before tripping up the RVL's second-best team this regular season, the St. Peter Saints, by a 12-9 margin.
With a 12-14 (6-8 RVL) record at the close of the regular season, all things start anew Friday when Region 6C play begins. The Tigers are the No. 5 seed of the eight RVL teams, meaning a road game at No. 4 seed Gaylord at 7:30 pm on Friday.
The Chatfielders will play next on Sunday at 6 pm, with the location to be determined by Friday's results. See the accompanying bracket (or visit bptigertown.com) and visit twitter.com/bptigertown for details; the Tigers could be home or away, depending how it shakes out.
The tournament is double-elimination, with the top three seeds qualifying for the Class C state tournament in Green Isle, Hamburg and Norwood. By the end of the weekend, Belle Plaine could be done for the year, have clinched a state tourney berth, or be somewhere in-between.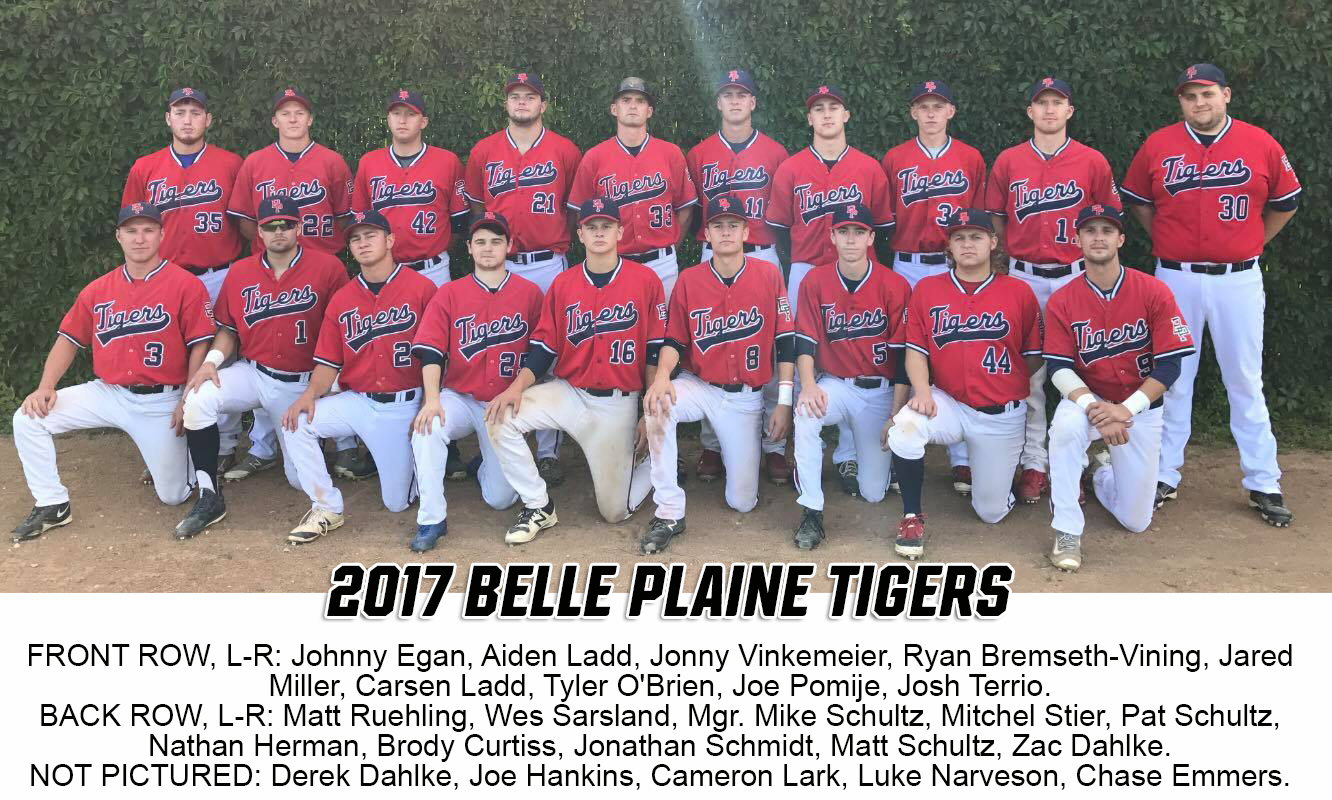 BP 5, Arlington 1 (Friday, July 28) - BOX SCORE
The Tiger Train travelled to Arlington on Friday, looking to shake a losing skid while keeping the chances of a first-round home playoff game alive. Teenage Tiger scored early and often, getting one run in the first inning, two in the second and single tallies in the fourth and fifth.
El Tigre sent Mitchel Stier to the mound, and he yielded just one run over six innings. Josh Terrio came on in relief and picked up a save, keeping the A's scoreless through the final three frames.
A trio of Tigers collected a pair of hits each in Tyler O'Brien, Jared Miller and Ryan Bremseth-Vining.
BP 12, St. Peter 9 (Sunday, July 30) - BOX SCORE
Having already secured the No. 5 seed with Gaylord winning earlier in the day, the Tigers had only pride to play for Sunday and came away with a 12-9 win. Strong hitting in the first two innings gave the Tigers an early 6-0 lead, which was too much of a deficit for the Saints to dig out of.
Things began with a four-run first for the Tigers, highlighted by a two-run single from rookie Brody Curtiss. A two-run error two batters later, struck by Nathan Hermann, capped the first-inning scoring. An inning later, Aiden Ladd lined his team-leading fourth home run of the year for the 6-0 advantage.
Herman faced the minimum through two innings of work on the hill, but the Saints batted around against him in his final inning of work in the third. While three runs came in, the bases were left loaded.
El Tigre pulled off the exact same feat in the third – batting around, scoring three runs and leaving the bases full – but by entirely different means. While St. Peter used four singles, the Tiger Train benefitted from six consecutive walks. "That's nothing to be proud of, Rusty."
Wes Sarsland was next on the mound for Belle Plaine, going two frames, and he was followed with one frame each from Jonny Vinkemeier – the winning pitcher, by official scorer's decision – Jared Miller, Joe Pomije and Aiden "Hey, this pitching thing is harder than it looks!" Ladd.
Aiden Ladd yielded three runs in the St. Peter ninth, but more than made up for his pitching woes by going 3-for-4 with a home run, a steal and three RBI. Rookie leadoff man Tyler O'Brien stayed red hot, going 2-for-3 with three runs scored, two walks and two steals.
Tiger Train Off-Track As Playoffs Near
--by Brett Kruschke, Matt Schultz & Mike Schultz
On July 7, the Tiger Town Team won its fifth straight game, pushing above .500 for the first time all season, at 10-9. Since then, the locals have five lost five straight – all but one of them a River Valley League contest – dropping them to 10-14 (4-8 RVL).
Just two games remain before the Region 6C playoffs begin on August 4. On Friday (Jul 28), the Tigers will venture to Arlington for a 7:30 pm first pitch, looking to avenge a 15-13 shootout loss on May 7.
Sunday is the regular-season finale, as St. Peter visits at 6 pm on Senior Citizen's Night. Senior citizens will receive free admission, and Ernie Stumpf will be playing old-time polka music on his concertina. The Plainesmen lost at St. Peter on July 9 – the first setback of the current losing streak – 13-9.
Stay up-to-date with Tiger baseball on social media, at "bptigertown" on both Facebook and Twitter. Did you know: Tiger Park even has a Facebook page! (Facebook.com/BPTigerPark) And of course, the web home is bptigertown.com.
Gaylord 11, BP 1 (Tuesday, July 18 – 7 innings) - BOX SCORE
El Tigre travelled to Gaylord for the first of three league games on the week. It wasn't pretty for the local nine, as they managed just one hit – by Nathan Herman, off Islanders starting pitcher McCoy Rodning.
Mitchel Stier started the game and threw into the fourth inning before giving way to Jonny Vinkemeier, who finished the fourth and threw the fifth. Pat Schultz worked the sixth inning and that was all she wrote, as poor defense and well-placed hits by Gaylord resulted in enactment of the 10-run rule.
Henderson 10, BP 8 (Friday, July 21) - BOX SCORE
Fans all love a giveaway, and a good crowd showed up for the annual Fan Appreciation Night. The one giveaway they didn't enjoy, however, was the hometown Tigers coughing up a four-run lead and a victory that appeared to be in their back pocket.
Tiger pitcher Joe Pomije carried a 6-2 lead to the fifth inning, and got the first man on a pop-up to shortstop. A single, an error and a walk to the next three batters loaded the bases and that was it, as manager Mike Schultz was playing for keeps.
The Henderson Tigers greeted reliever Vinkemeier with a two-run double, and four runs came in before the frame was over. It was a new ballgame, at six runs apiece.
Team Tigertown took its last lead of the night in the bottom of the fifth, when rookie Jonathan Schmidt scored on a "Little League home run" – however, Vinkemeier was tagged out at home before the catcher's errant, follow-up toss allowed Schmidt to score.
Henderson tied the game again in the sixth, then took the lead for good in the eighth. Carsen Ladd was coming off a 1-2-3 7th inning, but the 8th started error-walk-walk, summoning Josh Terrio into a precarious predicament. Two runs came across and another in the 9th, as Henderson's Greg Graham collected an RBI double for his fourth hit of the night. He reached base in all six plate appearances.
Our heroes scored once in the 9th to cut the score to 10-8, on an RBI single by rookie Tyler O'Brien – the leadoff man's third hit of the night. Carsen Ladd came up with two outs and the bases juiced, but a comebacker to the mound ended the threat and the ballgame.
Belle Plaine lashed out 15 hits, but paid dearly for their five defensive errors. Joining O'Brien in the multi-hit parade was Matt Schultz (3-for-5), Carsen Ladd (2-for-5) and Jared Miller (2-for-5). Brody Curtiss – not unlike Willie "Mays" Hayes popping out of bed and winning the race before Lou Brown said "Get this guy a uniform!" – also made his town-team debut, delivering a pinch-hit, ninth-inning double.
Jordan 2, BP 1 (Sunday, July 23) - BOX SCORE
After a tough loss Friday night, El Tigre squared off against perennial RVL champ Jordan on Sunday night, looking to get the Tiger Train back on the tracks. Nathan Hermann got the start and threw well, going five innings, giving up only three hits and two runs.
Wes Sarsland threw next and was lights out, going three innings while only giving up a hit and no runs. A win wasn't meant to be, however, as the Tigers could only muster three hits and one run.
Jordan starting pitcher Joe Lucas was perfect through six innings before giving up singles to Aiden Ladd and Pat Schultz. Sarsland also had a single – the only other hit for the Los Tigros. Terrio had the lone RBI, on a fielder's choice in the eighth inning. Overall, Teenage Tiger played pretty well, but couldn't come away with the win.
--by Brett Kruschke & Mike Schultz
Before taking a respite during our beloved Bar-B-Q Days celebration, the Town Tigers were walloped at Young America last Thursday. The loss dropped the Chatfielders to 10-11, with a 4-5 record in River Valley League play.
The Tigers will finish the regular season with five straight league games, starting last night (Tuesday, July 18) at Gaylord. Check twitter.com/bptigertown for the result and details. The Region 6C playoffs are set to begin on Friday, August 4.
This Friday, Team Tigertown will host the Henderson Tigers at 7:30 pm. It will be Fan Appreciation Night, with free prizes given away every inning – including a team-signed bat and balls, baseball caps, BPHS Baseball apparel, 2018 season tickets, food and drink items, and more!
The Tigers will close the weekend Sunday night at Jordan against the first-place (9-1 RVL) Brewers. The game's first pitch is slated for 6 pm.
The days of summer are quickly dwindling. Get on out to the ballpark and support the boys!
Young America 12, BP 3 (Thursday, July 13) - BOX SCORE
The Tiger Train chugged to Young America, looking to regain some momentum after beating themselves in their previous game against St. Peter. Your hometown nine was even able to muster a pretty good number of players for this non-league contest, which I'm sure had nothing to do with the short fences at Young America and the paltry home run totals for most Tigers this season.
Los Tigros went pitcher-by-committee with Mitchel Stier, Chase Emmers, Carsen Ladd, Jonny Vinkemeier and Jonathan Schmidt all seeing mound action. The poor play exhibited against St. Peter – a 13-9 loss on July 9 – continued with a pair of errors and 16 hits yielded. A scoreless game into the home half of the third was a 9-2 Cardinal advantage after four, essentially settling the matter.
Aiden Ladd continued his hot hitting, going 2-for-4 with a double and a home run while posting the Tigers' only multi-hit effort. Tyler O'Brien, Matt Schultz and Ryan Bremseth-Vining collected the other hits – all singles. And that's all I have to say about that.
Tigers' Five-Game Win Streak
Stops in St. Peter
--by Brett Kruschke, Matt Schultz & Mike Schultz
Team Tigertown's five-game winning streak came to a painful end Sunday night in St. Peter, but the Tigers have dug themselves out of a 4-8 hole to rest at .500 (10-10, 4-5 River Valley League) with the playoffs just three weeks away.
Tomorrow night (Thursday, July 13) our lads will venture to picturesque Young America, at 7:30 pm, to face the Crow River Valley League's Cardinals. The hallowed Bar-B-Q Days weekend will remain untouched, with action resuming on Tuesday at Gaylord. Again, the first pitch at 7:30 pm.
The River Valley League All-Stars defeated the best and brightest of the Dakota-Rice-Scott League on Saturday, 7-6 at New Market. Aiden Ladd caught for three innings, going 0-for-2. Mitchel Stier was selected as a pitcher but saw action at third base for two frames, going 1-for-1 with an RBI. Luke Narveson did not play. Visit rvl.leagues.mnbaseball.org/page/allstargame for a photo gallery, radio broadcast and much more.
Be sure to follow the Tiger travails on social media, at "bptigertown" on both Facebook and Twitter. The online home for the Tigers is bptigertown.com.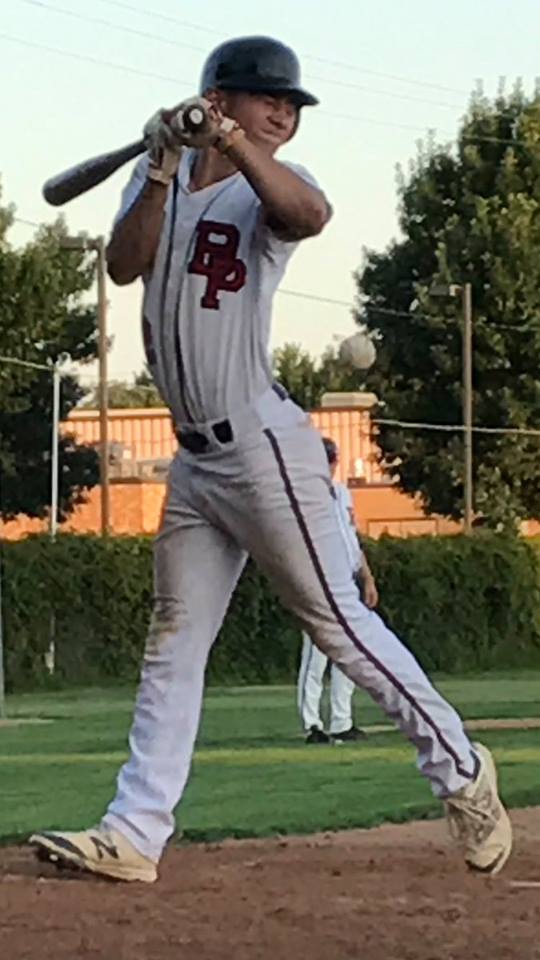 BP 10, Pine City 5 (Wednesday, July 5 – 7 innings) - BOXSCORE
Pine City made the long drive to face the Tigers who, along with the July weather, have been heating up. Joe Pomije started on the hill, but he was greeted with four runs in the top of the first inning. Joe-Pom hung on for four frames and while it first looked unlikely, by hook or crook, he picked up the win – the first of his young town-ball career.
All Pat Schultz does is work quickly and hang zeroes, and he delivered scoreless fifth and sixth innings in relief of Pomije. It was during the top of the sixth, however, when the left bank of lights went out for the second time in a week, and yet again the teams decided to shorten the game to seven innings.
Rookies pitched in, with Jonathan Schmidt throwing a scoreless seventh, while Tyler O'Brien picked up his first town-team hit and stole a base. Aiden Ladd went 2-for-4 with two doubles, two runs and two RBI. Jonny Vinkemeier and Ryan Bremseth-Vining also enjoyed multi-hit evenings.
BP 7, Gaylord 4 (Friday, July 7) - BOXSCORE
The Islanders came to town for a league game on a beautiful night for baseball, and a Friday, at that. All-Star ballplayer Mitch Stier got the nod on the hill, but was touched for two runs in the first inning. He settled down quickly and didn't allow another run through six innings of work,allowing six hits and one earned run while punching out four.
The Tigers broke through in the fourth, batting around to score five runs to take a 7-2 lead. With two outs, Pat Schultz delivered a two-run single and was immediately knocked in by Aiden Ladd, who followed with a triple.
Jonny Vinkemeier came on in relief and attempted to earn an old-fashioned save – that is, the three-inning variety – but he couldn't get the final out and needed a helping hand from Josh Terrio. Gaylord scored once in the ninth, loaded the bases and brought the go-ahead run to the plate – with a full count – when Aiden Ladd snuffed out a squirrelly squibber at first base. Phew!
Four Tigers posted multi-hit games as part of a 12-hit attack: Pat Schultz (2-for-5, two RBI), Matt Schultz (2-for-3, RBI, BB), Aiden Ladd (2-for-5, RBI, 3B, two steals) and Terrio (2-for-4, two runs). Despite all that activity, Ken Tritz was named MVP for his delectable pulled-pork sandwiches in the concession stand.
St. Peter 13, BP 9 (Sunday, July 9) - BOXSCORE
The Tiger Train chugged to St. Peter for a Sunday evening matchup with the Saints, who entered with a 7-2 mark in RVL play. El Tigre has been hot as of late, with five straight wins overall. Some would say that the Tigers had momentum, while the Negative Nellies of the world might say that they were due for a dud. The pessimists won out, as Los Tigros played poorly.
Rookie right-hander Nathan Hermann got the start on the mound and went four innings, giving up seven hits and four runs. That said, the Tiger bats were more than supportive and he departed with a 6-4 lead.
Terrio got the call from the bullpen and after a scoreless fifth, the Saints tied the game with a pair of runs in the sixth. Belle Plaine took the lead back with a run in the seventh, at 7-6, but the wheels on the Tiger Train were about to come off.
The Saints scored four times in the home half of the seventh, although the Tigers cut the deficit to 10-9 with two more tallies in the eighth. St. Peter's three runs in the bottom of the eighth, however, were the final nails in the coffin. Four Tiger errors played a helping hand in the demise, as only two of Terrio's eight charged runs were earned. Pomije got the final three outs of the messy eighth.
It was another good night for the Tiger bats, lashing out what is likely a season-high 16 hits. O'Brien received his first start in the leadoff spot, and he delivered in a big way with a 3-for-4 effort, notching four runs, two walks and two steals. Pat Schultz followed him in the No. 2-slot and continued what, in limited action, has been his best-ever season. The 20-year veteran went 3-for-5 with a walk and three RBI, raising his season batting average to a preposterous .679 (19-for-28, with six walks)! With Zac Dahlke keeping an ever-stingy scorebook, that's pert-near impossible.
Matt Schultz had the other three-hit game, coming in six trips. Aiden Ladd went 2-for-5 with a walk and two RBI, while Herman knocked in three runs behind a pair of singles.
Nearing .500, Lights Coming On for Tigers
Narveson, Stier, Aiden Ladd Named RVL All-Stars
--by Brett Kruschke
In case you haven't noticed – and judging by the attendance, you haven't – the Tigers have managed to win a game here and there, and are actually threatening to climb to the .500 mark. The Sons of Chatfield won a pair of 6-3 contests last week against Hamburg and Le Sueur – their third and fourth triumphs in the past five outings – to improve to 8-9 overall and 3-4 in River Valley League play.
Teenage Tiger pondered their American citizenship over the weekend and will return to action tonight (Wednesday, July 5), when the Pine City Pirates visit Tiger Park for a 7:30 pm affair. The Tigers will be home again on Friday, with the Gaylord Islanders in town at 7:30 pm for Pulled Pork Sandwich Night.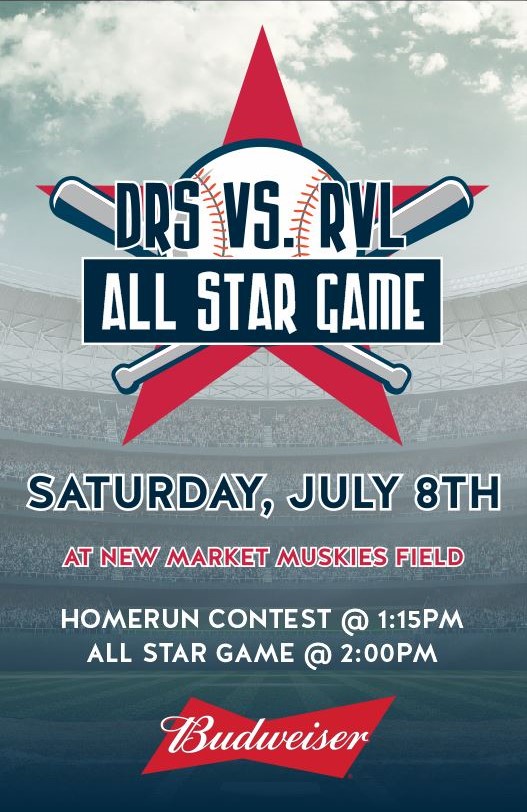 Saturday will be the 11th annual RVL – Dakota-Rice-Scott (DRS) All-Star Game, scheduled for 2 pm in New Market. At 1:15 pm, a home-run contest will be held between the rival leagues. If you can't make it to New Market, tune it in on KCHK Radio 95.5 FM/1350 AM, online or via their smartphone app. Full rosters and pregame details can be found at rvl.leagues.mnbaseball.org.
Belle Plaine will have three representatives – all first-time All-Stars and all 19-years-old – in catcher Aiden Ladd, outfielder Luke Narveson and pitcher Mitchel Stier.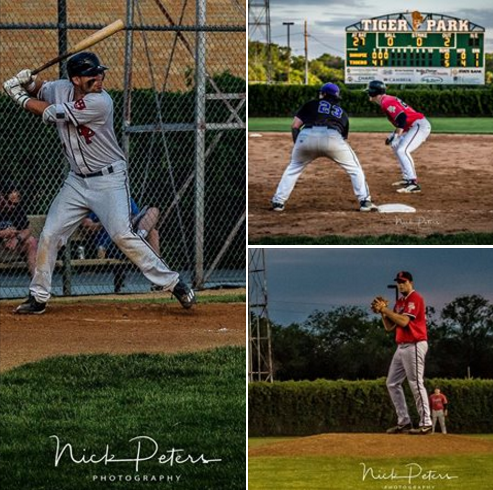 Ladd, who also sees time on the left side of the infield, is in his third season with the Tigers. He is second on the team (among qualified hitters) in batting average (.411) and on-base percentage (.459). Ladd leads the Tigers in slugging percentage (.554), runs (16), hits (23), RBI (11) and stolen bases (9), and has two of the team's five home runs. Aiden has two family members on this year's team in father Jason, a coach, and younger brother Carsen, who's hitting .423 in 26 at-bats.
Narveson, the Tigers' leadoff hitter, has flourished as the centerfield replacement for multi-time All-Star Travis Latzke, who hung up his cleats this year after nine seasons. In his second season, Narveson leads the locals in batting average (.417), on-base percentage (.472), doubles (3) and stolen bases (9) while trailing only Aiden Ladd in slugging percentage (.542). Southwest State's lefty quarterback even made a mound appearance this year, with both outs coming via strikeout.
Stier, in his sophomore campaign, has emerged as the ace of Belle Plaine's young pitching staff. In 36.1 innings, he has yielded 33 hits and struck out 36 while sporting a 1.49 ERA – almost four runs better than his closest teammate. The right-hander credits a cut fastball for the bulk of his mound success. While Stier has struggled with the bat, he is tied for the team lead with 11 RBI.
Team Tigertown will close out a busy week with a 6 pm affair on Sunday at first-place St. Peter (7-1 RVL Central). Last season ended at St. Peter with a 4-3 loss, marking just the second time in the last 10 seasons the Tigers didn't qualify for the state tournament.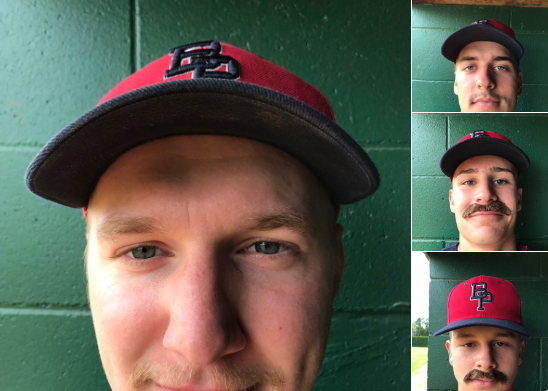 Vote HERE (through July 9) for Mustache Night Contestants!
BP 6, Hamburg 3 (Thursday, June 29 – 7 innings) - BOX SCORE
Ringling Brothers, Barnum & Bailey ended a 146-year run this spring as the preeminent American circus. While those animals will now finally enjoy the freedom to be hunted and eaten by other wildlife, Thursday's exhibition with Hamburg provided assurance that big-top entertainment in America is far from over.
The Tigers used a pair of first-inning doubles by brothers Pat and Matt Schultz to grab a 2-0 lead. While Joe Pom.com – Tiger pitcher Joe Pomije, that is – escaped a bases-loaded jam in the first, he was touched for two runs in the third before departing and the locals trailed 3-2 after 4 1/2 innings.
Mike Schultz's marauders finally got the bats going again in the fifth, scoring four times while batting around. The big blow was a three-run, laser shot home-run from Aiden Ladd, which ended up making a winner of his fake-mustachioed brother, Carsen. The Ladd/Mario Brother notched his first career town-team win with three innings of one-run ball.
In the top of the sixth inning – as if Mustache Night and Little League Night joining forces weren't enough, not to mention a nearby fire during the first few innings that hung a cloud of smoke over Tiger Park – three light towers suddenly lost power. After the managers, umpire and other interested parties conferred, it was decided to play on. Frankly, even with half the lights, it seemed no worse than a poorly-lit Wrigley Field.
With mosquitoes coming on like gangbusters and some sprinkles sending fans to the grandstand, it was almost like a prayer answered when the press box was suddenly informed that this would be a seven-inning contest. Three outs later, Jonathan Schmidt pocketed a save with a 1-2-3 inning in his town team debut, and all of the night's madness came to an abrupt end.
BP 6, Le Sueur 3 (Friday, June 30) - BOX SCORE
The 4th of July weekend is a dicey time to schedule a game and while the Tigers were well-covered, the Le Sueur Braves rolled into town with but one substitute. He was needed by the second inning, as starting pitcher Jordan Sinell left the game with what was presumed to be an injury.
Enter Le Sueur manager Mike Feeney – the 40-something-year-old, strike-throwing wonder – from right field to the mound. Feeney is nothing if not a fast worker, and one inning he even caught the press box off guard as he took zero warmups in hopes of preserving the bb's coming from his aging right wing.
Stier toed the mound for Belle Plaine and also works quickly, and neither team was hesitant to go after first-pitch offerings. Le Sueur grabbed an unearned run off Stier in the third, but that is the only blemish he yielded in seven innings of work.
The Tigers scored once in the third and twice in the fourth – highlighted by a Nathan Herman triple – to take a 3-1 lead thru six and a half. In the fifth inning Tyler O'Brien debuted for Belle Plaine as a pinch-runner, but he had the quickest "Welcome to Tigertown" moment in recent memory, as the speedster was erased by a perfect throw on a stolen base attempt.
Belle Plaine batted around for the second straight night when they scored three times on five seventh-inning singles. Herman threw the final two frames of the one-hour, 44-minute contest, and eight Tigers recorded a hit on the night – led by two apiece for Pat Schultz and Narveson.
Tigers Take Third Place
at Farming Tourney
--by Brett Kruschke, Mike Schultz & Matt Schultz
Ten years ago, Team Tigertown made their first invitational tournament road trip in over a decade when they ventured to Stearns County and Freeport's new ballpark, where they made some memories and participated for eight straight years. A new Stearns County tournament has arisen – the Farming Baseball Invitational in Farming, MN – and just like that first tourney in 2007, the Tigers surprised themselves with solid play and finished in third place.
The Tigers walloped Sauk Centre on Saturday in the teams' first matchup since the 2001 state tournament, then suffered a third consecutive shutout to the Sartell Muskies later on Saturday night. On Sunday, the locals held on for a one-run win over the Atwater Chuckers.
Our town ballers will play a pair of home games this week before taking a respite through the 4th of July holiday. The Hamburg Hawks will be here Thursday at 7:30 pm for Little League Night, where all Little Leaguers will receive a free hot dog. And of course, age 11 and under is always free! Kids, wear your jerseys and chase foul balls 'til your pockets teem with quarters.
Friday will be Matt Saxe Chevrolet Buick Night when the Tigers take on the Le Sueur Braves at 7:30 pm, and the first 100 fans in attendance will receive a free t-shirt. See you at the ballpark!
And oh, by the way – team statistician Zac Dahlke has caught up on the stats, and you can visit bptigertown.com/Stats.htm to find out that the Tigers' leading (qualified) hitters are Matt Schultz (.438), Luke Narveson (.436) and Aiden Ladd (.420). Mitchel Stier leads the pitching staff with a 1.84 ERA.
BP 12, Sauk Centre 0 (Saturday, June 24 – 7 innings) - BOX SCORE
Stier has been the Tigers' best pitcher this season and accordingly got the starting nod for the first game of the tournament. The right-hander, who finished with five strikeouts while surrendering three hits and a walk, protected a 1-0 lead through four innings before turning it over to the bullpen.
Josh Terrio was even better than Stier, facing the minimum number of batters over three innings and yielding no runs in earning the save. He gave up one hit, no walks and struck out a pair.
Team Tigertown broke the game open late, with five runs in the sixth inning and four in the seventh. Carsen Ladd continued his hot hitting, going 4-for-5 with four RBI and a double. Luke Narveson set the table before him and also had a big day, collecting three hits in five trips while driving in four. Ryan Bremseth-Vining scored two runs and drove in a pair from the ninth slot in the order.
Sartell Muskies 3, BP 0 (Saturday, June 24 – 7 innings) - BOX SCORE
Belle Plaine's last two matchups with the Muskies were shutout losses in state tournament action: 10-0 in the 2013 Class C state title game, and 4-0 in 2014 at Belle Plaine, in the first round of the C state tourney. So, scoring a run would've been a victory of some sort.
The Tigers did well to avoid Sartell's 1A ace, David Deminsky, who threw a complete-game, seven-inning (all tournament games are seven innings) no-hitter Friday night against the host Farming Flames, with a whopping 15 strikeouts. The Chatfielders instead face 1B in Adam Wenker, who is no slouch himself. Wenker went the distance, yielding five hits and one walk while fanning four.
Nathan Herman got the first mound assignment of his town team career, and experienced his first "Welcome to Tigertown" moment just three batters into the game when big Tim Burns hit a massive two-run homer. Herman settled down after that and gave up just one more run before departing after four frames.
Chase Emmers worked 2.2 innings of one-hit relief, although he did walk three batters and left the bases loaded in the seventh, when Jonny Vinkemeier was summoned. Vink did his job, recording the final out.
Five Belle Plainians collected one hit each. As Lou Brown once said in Major League, "Someday we'll figure out how to beat those guys."
BP 5, Atwater 4 (Sunday, June 25 – 7 innings) - BOX SCORE
After playing well while splitting the first two games of the tournament, the Tiger Train chugged into the third-place contest looking to finish their Stearns County experience with a victory. The Chatfielders started with three runs in the first inning and two more in the third for a 5-0 lead. Could they hang on?
The lanky lefty Wes Sarsland got the starting nod and threw well, going six innings while giving up two runs. Vinkemeier started the 7th inning with a 5-2 lead and earned a "save" by yielding two runs, stranding the tying run at second base.
Matt Schultz led the way with three hits, including a near-homerun to the fence – which would have been his first career, you may have heard – which he somehow turned into a single. Where others might see a plodding traffic jam on the bases, manager Mike Schultz saw potential and coaxed brother Matt into a steal of second base, which was his first successful steal of the year and first attempted steal since the Cologne debacle of 2016.
Josh Terrio also claimed to get robbed of a home run in what was ruled a long foul ball, but he overcame and finished with a single and two RBI. Pat Schultz and Aiden Ladd both went 2-for-4 with a run and a double.
Tigers Lap Le Sueur,
Lose in Extras at Henderson
--by Brett Kruschke, Mike Schultz & Matt Schultz
The Tigertown Express went on the road over the weekend and almost swept a pair of league road games, but an extra-innings loss at Henderson on Sunday sapped the Tiger steam. At the midway point of the regular season, Belle Plaine is 4-8 overall with a 2-4 mark in the River Valley League.
The Tigers are on the road again this weekend, heading to an eight-team invitational tournament in Farming – up in Stearns County – known as the FBI Tourney (Farming Baseball Invitational). Our lads will get underway at 10 am Saturday against the Sauk Centre Titans, with a second game to follow at 2 pm (loser's bracket) or 6 pm (winner's bracket) against the Sartell Muskies or host Farming Flames.
The Chatfielders will also play Sunday at a time to be determined, as each team is guaranteed three games. Please see the accompanying bracket, or, visit bptigertown.com. The other teams in the tournament are Atwater, Montrose-Waverly, St. Joseph and the Sartell Stone Poneys.
Follow the Tiger travails this weekend on Twitter at twitter.com/bptigertown. The boys will finally return to action at Tiger Park on June 29 and 30, with a pair of contests before the 4th of July break.
BP 8 @ Le Sueur 3 (Saturday, June 17) - BOX SCORE
Belle Plaine headed to Le Sueur for the first of back-to-back league games on the weekend, with a high noon first pitch. Mitchel Stier got the starting nod and was solid throughout his stint, working six innings and scattering seven hits while allowing three runs.
Joe Pomije relieved Stier and was even better, tossing three frames of shutout ball to pick up an old-fashioned save. The moppy-haired mop-up man walked three batters but gave up just one hit while striking out four.
Pat Schultz summoned ghosts of yesteryear with a dazzling 5-for-5 performance, including two doubles and three RBI. A trio of Tigers collected two hits in the midday affair: Jesse Oelfke and brothers Aiden and Carsen Ladd – all part of a 13-hit attack.
BP 8 @ Henderson 9 (Sunday, June 18 – 10 innings) - BOX SCORE
It was a cat fight, as the Tigers of Belle Plaine traveled to take on the Tigers of Henderson. Josh Terrio started on the mound and went four innings, yielding five walks and five runs. Jonny Vinkemeier went the rest of the way and allowed just one earned run – among four overall – before giving up a walk-off, RBI single in the tenth inning to Matt Graham.
Belle Plaine trailed early before exploding for six runs in the seventh inning for a 7-5 lead. In the eighth, Henderson scored three times to take the lead back. Team Tigertown tied it up in the ninth with a single tally.
Matt Schultz led the 12-hit attack with three safeties in five trips. Carsen Ladd, Jared Miller and Nathan Herman all had two knocks, with the latter making his town team debut. Aiden Ladd hit a three-run home run – the Tigers' first since the St. Benedict bombings on May 13, when they slugged three (yes, even Matt Ruehling).
A Peak and a Valley for Tigers at Classic
--by Brett Kruschke
This past weekend was all about the Tigertown Classic, the annual eight-team fundraiser tournament that has now been held for 19 consecutive years. A late-breaking curveball was thrown when Marshall – who has been coming to the Classic since its earliest days – withdrew from the tournament on Friday afternoon, due to a shortage of players after their high school team qualified for the state tournament. An all-out effort was made via social media to find an eighth team, but it was not to be and Wells instead received a first-round bye on Saturday.
TIGERTOWN CLASSIC PHOTO ALBUM!
The tourney's other unexpected excitement came when ugly-looking storms rolled through Tigertown on Sunday morning. The field took a good drink but absorbed it well, and just one game was cancelled – thanks to agreeable parties – on the consolation side of the bracket.
When the clouds finally parted, the River Valley League's Chanhassen Red Birds completed a tournament tear as we've never seen before. The Red Birds outscored their foes 37-5 across three games – spanning just 17 innings, due to a pair of run-rule shortened contests – to claim the championship. The title game was an 8-1 decision over the Cokato Kernels, in which Chanhassen's Connor Herd punched out a dozen batters across five innings.
For a finalized bracket with all the scores, visit bptigertown.com. You can also review the weekend's action by going to Twitter.com/bptigertown/media, and check out the Tiger Facebook page, where a new photo album from the BP – Chan game has been shared, as captured by Nick Peters Photography.
The Tiger Train opened tournament play with a crisp 6-0 win over the Milroy Irish on Friday night, but got on Chan's tracks Saturday evening and got flattened, 15-0, thanks in large part to a 10-run, four-homer fourth inning. On the year, the locals are 3-7 (1-3 RVL).
The Tigers were originally scheduled to play at Le Sueur Friday night but that game has been moved to Saturday (June 17) at noon, still in Le Sueur. On Sunday, the Tigers will wrap up the weekend with a 4 pm battle at Henderson.
BP 6, Milroy 0 (Friday, June 9) - BOX SCORE
The Milroy Irish made the final weekend of the Class C state tournament last season, and entered Friday's game with an impressive 9-2 mark this year. For such moments Mitchel "No Fear" Stier was born.
The tall Tiger righty might have been partly frightened to throw the ball over the plate, as he walked half a dozen in four-plus frames. Most importantly, however, he surrendered just one hit and no runs before yielding to Josh Terrio.
The Tiger Train broke loose in the third with a five-spot, adding one more in the fifth inning for the final margin of victory. Terrio finished the game to earn the save, and Bob Dolan's Irish finished with just two hits.
Aiden Ladd was one of three Tigers with a pair of hits, doubling and scoring twice while driving in a run. Pat Schultz had two hits and a walk, while Jonny Vinkemeier had two singles and a pair of stolen bases.

Chanhassen 15, BP 0 (Saturday, June 10 – 5 innings) - BOX SCORE
Chanhassen entered the Tigertown Classic as the big fish in a small pond, yet still blew away expectations by the end of the weekend. The Red Birds were The Little Tiger Engine That Could's reward for an impressive victory on Friday night.
Wes Sarsland got the ball and kinda sorta held his own, allowing one, three and one runs over the game's first three frames. As Stier did the night before, the lanky lefty was liberal with free passes, issuing four in his three innings of work. On the bright side, just two of the runs were earned.
Garrett Fischer led off the fourth inning with a long ball against Chase Emmers, and five batters later Emmers gave way to Jonny Vinkemeier before recording an out. Fischer batted a second time in the fourth stanza and slugged his second – and Chanhassen's fourth – home run of the inning! It was one of the all-time assaults these eyes have witnessed, and videos of each tater trot are on Tiger Twitter if scary movies just aren't doing it for you anymore.
Joe Pomije worked the final inning of this run-rule shortened game and held the Red Birds scoreless, automatically earning him Player of the Game honors. Just as they did to Milroy on Friday, the Tigers only had two hits: a single each for Emmers and Ryan Bremseth-Vining.
Start Spreadin' the News:
Tigertown Classic Has Arrived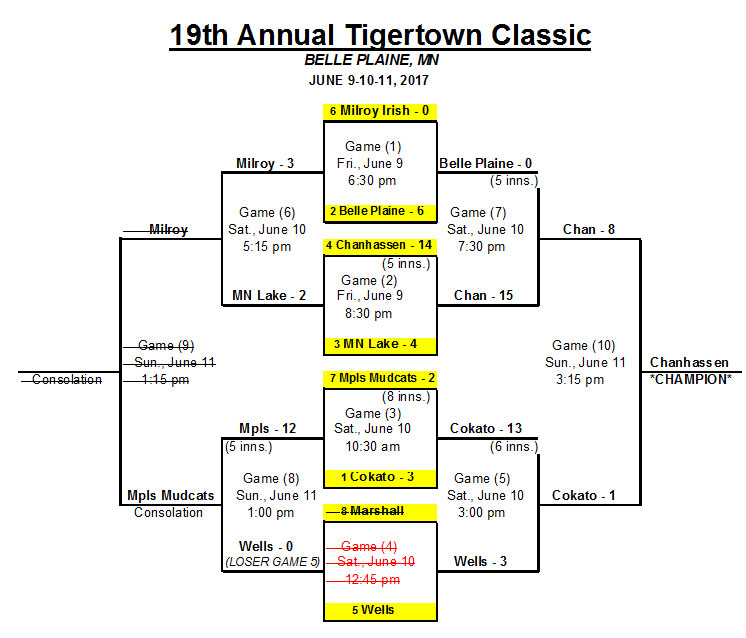 --by Brett Kruschke, Mike Schultz & Matt Schultz
After a lengthy layoff on both sides of the Memorial Day holiday, the Tigers got back to action over the weekend but lost a pair of home contests. The setbacks to Waconia and Fairfax dropped the locals to 2-6 on the season, with a 1-3 River Valley League record.
The Tigers are off all week to rest up for this weekend's Tigertown Classic, the 19th rendition of our eight-team fundraiser tournament. The Pride of Chatfield will kick things off at 6:30 pm Friday against our fast friends, the Milroy Irish, whom hosted the Tigers on a memorable road trip two years ago. The second game on Friday night, starting at about 8:30 pm, will feature the RVL's Chanhassen Red Birds against the Minnesota Lake Royals, where former Tiger Brad Lawson still roams.
If the Tigers win Friday, they will play at 7:30 pm Saturday against the Chan – Minnesota Lake winner. If BP lost, we'll lace up at 5:15 pm Saturday against the Game 2 loser. For updates on game results throughout the weekend, follow the Tigers on Twitter at twitter.com/bptigertown.
Saturday will feature five games at Tiger Park, starting at 10:30 am with the Minneapolis Mudcats against the Cokato Kernels. The Marshall A's and Wells Wildcats will follow at 12:45 pm, with Game 3 of the day at 3 pm. For the full bracket – including three games on Sunday – see the accompanying bracket or check bptigertown.com.
If you are willing to volunteer by working a shift or two at the tournament, we would greatly welcome your assistance for the latter two games on Saturday and anytime on Sunday. Shift duties range from concession stand and grill operation to field preparation and maintenance. If interested, please contact Brett Kruschke at 612-327-2715. We can make use of almost any age range of volunteer!
Waconia 7, BP 0 (Friday, June 2) BOXSCORE
Five-year-old Beckett Larson fired a strike for the ceremonial first pitch, but that was not a preview of things to come for Belle Plaine fans. The Waconia Lakers, former league foes of not-so-long ago, came to town to test the validity of the Tigers' two-game winning streak. During this decade, it should be noted, both the Lakers (2011) and Tigers (2013) finished as runners-up in the Class C state tournament.
Chase Emmers took the hill for Tigertown and battled, allowing five runs (three earned) over six innings. Joe Pomije relieved Emmers and went two frames, yielding a pair of runs. Josh Terrio finished the game with a scoreless ninth.
Ryan Bremseth-Vining and Aiden Ladd both collected two hits, while Jesse Oelfke, Johnny Egan and Terrio had the other knocks. Beckett Larson, who did everything but call balls and strikes, was on-deck when the final out was recorded.
Not much else of note happened in the game, except that Waconia's Peter Brown pitched the ninth inning with no UCL in his throwing arm and threw harder than all three Tiger pitchers combined. Rumor has it that several Tigers are contemplating elective UCL removal surgery in an attempt to add a few MPH's to their fastballs.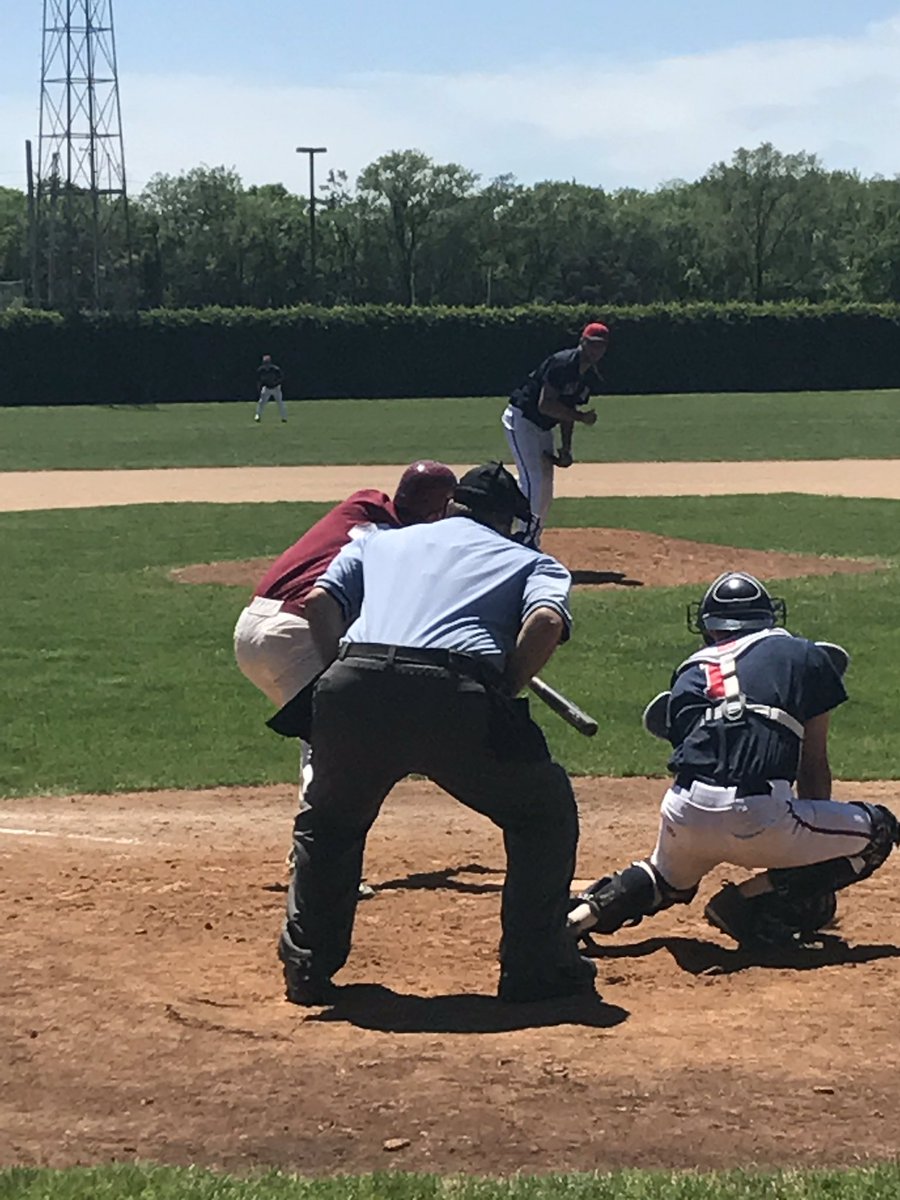 Fairfax 10, BP 6 (Sunday, June 4) BOXSCORE
The Fairfax "them are a pretty bird" Cardinals came to town for an unusual noon start time as an accommodation to Belle Plaine's high school graduation. Fairfax started Scott Palmer, who has been a thorn in the Tigers' side since before many of the graduates started their educational careers.
The Tigers must have had pomp and circumstance in their heads, because they certainly didn't have baseball running through it. Three graduates from last year's class pitched for El Tigre, starting with Wes Sarsland. The lefty didn't seem to have his normal stuff – or the help of a proper defense – and took the loss, throwing four innings while giving up eight runs.
Jonny Vinkemeier threw the next two innings and gave up two runs before giving way to Mitch Stier, who hung three straight goose eggs as the Tiger Train mounted a comeback. BP scored the game's final five runs, but simply started their push too late.
Aiden Ladd stayed hot and led the way at the plate for the Tigers, collecting four hits.
Tigers Win Second Straight,
Host Twice This Weekend
--by Brett Kruschke & Matt Schultz
After starting the season 0-4, the Tigertown Express has outscored its opponents 19-3 across a pair of wins. The latest triumph was a 7-1 decision against the Shakopee Coyotes last Wednesday.
Another state tournament team is headed for Tiger Park as former River Valley League foe, the Waconia Lakers, will visit Friday (June 2) at 7:30 pm. It will be RTL Construction Night, with RTL kindly providing every fan in attendance with a free hot dog, pop and chips.
On Sunday – which is graduation day at Belle Plaine High School – the Tigers will move to the front of the class by hosting Fairfax at a special 12 pm start time. If the Tigers lose, the rookies will not be allowed to graduate.
We were fortunate to have local professional photographer Nick Peters take shots during the Coyotes game; be sure to check them out on Facebook via Nick Peters Photography, or, via the Tigers' Facebook page. While on Facebook, be sure to like the Tiger Park page as well.
See you at the ballpark!
BP 7, Shakopee Coyotes 1 (Wednesday, May 24)
Shakopee's Class C team, the Coyotes, came to town for the final scheduled game of the month. Although the Dakota-Rice-Scott League member is off to a rough start this season and was without the managerial wizardry of one Dick Steinhoff, the Coyotes have made back-to-back state tournament appearances.
Wes Sarsland started on the mound and picked up where he left off in Fairfax, throwing five innings of shutout baseball. Mitchel Stier came on in relief and worked three innings, giving up the lone Shakopee run thanks to working out of a big jam. Johnny Vinkemeier tossed a scoreless ninth to seal the impressive victory.
Belle Plaine scored four runs in the first inning, batting ten men. They also scored one run in the second inning and two in the eighth. El Tigre pounded out 10 hits, with Luke Narveson leading the way with three singles. Aiden Ladd tallied two knocks while Vinkemeier went 1-for-3 with a walk, run and RBI.
Tigers Flummox Fairfax for First Win
--by Brett Kruschke & Mike Schultz
Team Tigertown grabbed its first win of the season in style on Friday, using 14 hits and eight bases on balls to 10-run the Fairfax Cardinals, 12-2 in eight innings. That lifts the Tiger record to 1-4 on the season, including 1-2 in River Valley League play.
Tonight (May 24) the Tigers will entertain the Dakota-Rice-Scott League's Shakopee Coyotes, our Highway 169 neighbors who have qualified for the Class C State Tournament in each of the last two seasons. The first pitch is set for 7:30 pm and if you can't make it to Tiger Park, tune the game in on KCHK at 95.5 FM/1350 AM, kchkradio.net or via the KCHK smartphone app.
With Memorial Weekend upon us and the Belle Plaine High School team in full swing, the Tigers won't take the field again until Friday, June 2, when the Waconia Lakers will visit. Until then, visit us at bptigertown.com and by the same handle on our social media channels.
BP 12, Fairfax 2 (Friday, May 19 – 8 innings)
The winless Tiger Train sputtered into Fairfax on Friday night, asking young Mitchel Steir and his "cutter" to right the ship. The second-year righty did his part, throwing four innings of two-run baseball before turning it over to Wes Sarsland. The portsider did Stier two better, yielding no runs while also working four frames in what became a shortened affair. Steir snagged the win while Sarsland scooped up an old-school save.
Center fielder Luke Narveson had a career-best game, we'll presume, with four hits and four runs. Aiden Ladd, Josh Terrio and Derek Dahlke all had two hits apiece, and the Tigers worked eight walks. Jonny Vinkemeier added a little excitement to the mix when he successfully stole home in the fifth inning. Both of our fans went wild and at that point, the rout was officially on.
Sarsland was not to be outdone by Vink's rare feat, striking out four batters in one inning thanks to one of the batters reaching on a dropped third strike.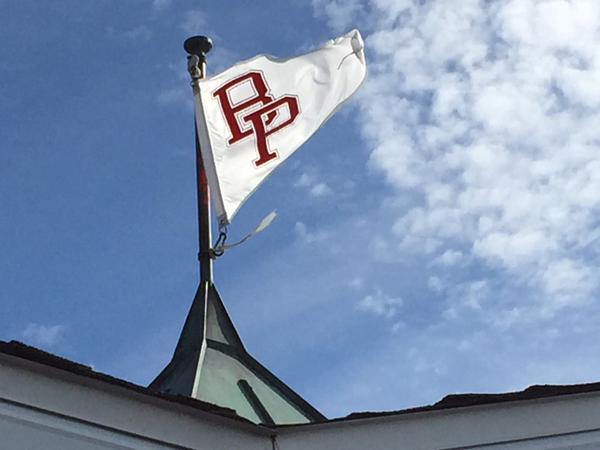 Tigers Off to Familiar Slow Start
--by Brett Kruschke, Matt Schultz & Mike Schultz
Like the weekend before, the Tigers lost a close contest and a blowout, a league game and a non-league game. Add it all up, and the Tigertown Express has veered off the tracks with a 0-4 record. Slow starts have become the "Tiger Way" in recent seasons – see 2016 (1-4), 2015 (1-4), 2014 (1-6) and 2013 (1-6) – all part of manager Mike Schultz's master plan of playing possum before unleashing the fury.
Perhaps this pattern means "bad news" for the Fairfax Cardinals, as the line from the Bad News Bears goes, as the locals are due for a win and the next foe comes Friday at Fairfax, 7:30 pm. In an intentional peel-back of the schedule with the Belle Plaine High School Tigers entering the crux of their season, the Town Tigers' only other game this month is a home outing against the Shakopee Coyotes next Wednesday, May 24.
In the meantime, stay plugged in at bptigertown.com and the social media channels: bptigertown on Facebook and Twitter.
Jordan 14 @ BP 2 (Friday, May 12 – 8 innings)
Dollar Beer Night at Tiger Park brought a picture-perfect evening and a nice crowd as the locals fittingly took on the Brewers. Local fans were thankful for the beer discount, as it didn't cost quite as much to drown their sorrows in this lopsided affair. The Tigers got behind early and couldn't climb out of the hole, scoring only two runs on four hits while committing five errors.
Wes Sarsland started on the mound and lasted three innings, giving up seven runs (six earned). Mitch Stier threw the next three innings and was the lone bright spot, giving up no runs while scattering four hits and four walks. Chase Emmers worked the last two frames and gave up five runs (three earned).
Sarsland led the Tiger offense with three hits, while Jon Vinkemeier and Luke Narveson accounted for the other two safeties.
BP 11 @ St. Benedict 12 (Saturday, May 13)
After the previous night's beating by Jordan your Belle Plaine Tigers headed to St. Benedict to try and get in the win column. In what had to be karmic retribution for "America's Team" not playing the national anthem, Luke Narveson led off with a home run on the first pitch of the game. Teenage Tiger immediately entertained thoughts of their first victory of the season, but it was not to be as the Saints rallied for a 12-11 win.
Vinkemeier started on the mound for the Tigers and was solid through four innings. He gave way to Josh Terrio, Emmers and eventually Narveson – none of which were helped in any way by the defensive pairing of Steir and Mike Schultz at shortstop and second base, respectively.
Matt Ruehling led the Tigers with three hits including a double and a home run, attempting but failing to persuade Manager Schultz after that game that this would be a good one after which to retire. Wes Sarsland also belted a home run, meaning that all three Tiger long balls was each player's first career blasts. This puts the trio is lofty company in Tiger history, joining the likes of legendary sluggers Brent Meyer and Brett Kruschke.
Town Tigers Off to Bumpy Beginning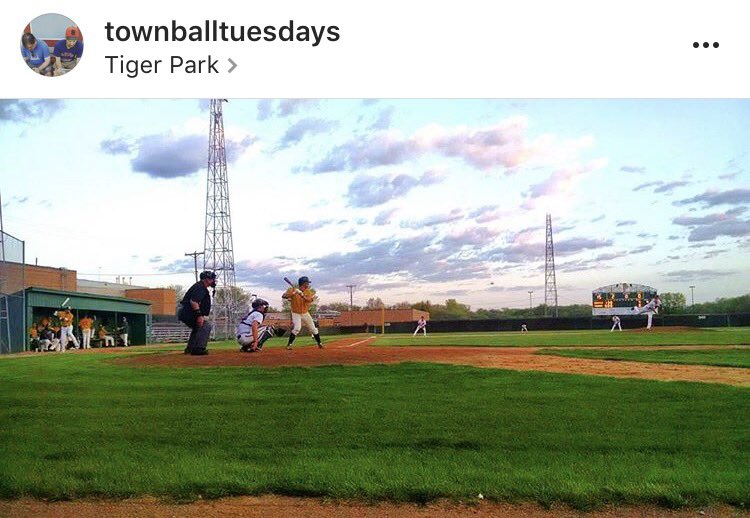 --by Brett Kruschke, Matt Schultz & Mike Schultz
At a fateful hour late Sunday afternoon and just an hour's drive apart, the Minnesota Twins and Town Tigers were busy testing the allegiance of their supporters by both yielding 10 runs in the top of the ninth inning. While the Twins didn't score in their last ups against the Boston Red Sox, Team Tigertown tallied seven runs and almost snatched victory from the jaws of defeat against the Arlington A's. When all was said and done, however, it was a frustrating first weekend.
Belle Plaine got bushwacked on Friday by Green Isle – one of the top Class C teams in the state – in the season opener, 13-0. Sunday's league opener against Arlington saw a one-run lead with three outs to go turn into a never-ending ninth and a 15-13 setback, dropping the Tigers at 0-2 (0-1 RVL) on the year.
On Friday the locals may choose to drown their sorrows at a discounted rate as Jordan comes to town at 7:30 pm on Dollar Beer Night. The Tigers will also be in action Saturday when they visit one of the more quaint ballparks in the state, St. Benedict, at 4 pm.
At the start of each season, I like to clarify this column's byline. Generally the Schultz brothers, Mike and Matt, split up the week's game recaps. I write the sizzling-hot intro and edit their napkin scratch, and then we submit it to the Herald to see what's left standing after a trip to Wednesday's mailbox. It never gets old.
We would also like to take a moment to offer our condolences to the family and friends of long-time Herald photographer/writer/editor Dan Ruud. As his obituary stated and we often witnessed, Dan "had a passion for baseball and photography." Thanks, Dan, for being a friend all these years.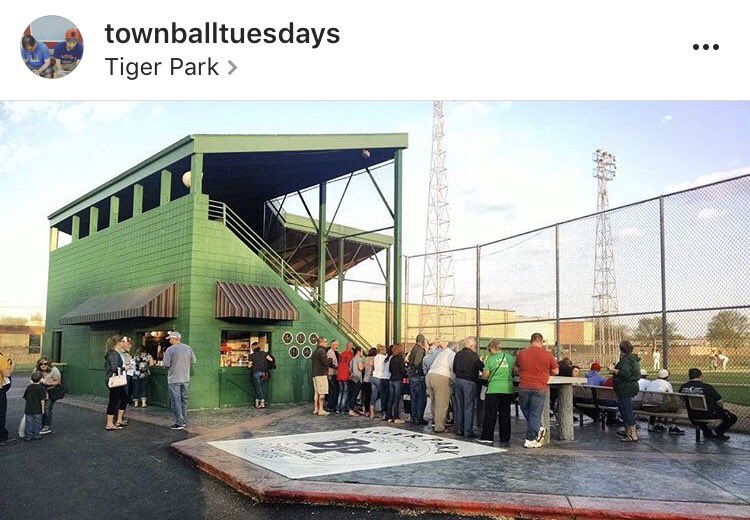 Green Isle 13, BP 0 (7 innings)
The Irish of Green Isle and a nice showing of fans came to town on a picture-perfect Opening Night. In honor of Cinco de Mayo, however, El Tigre swung at the ball like a piñata and finished with just one hit, coming in the first inning off the bat of veteran Pat Schultz.
Mitch Stier started on the mound for Los Tigros and went the first two innings before giving way to Chase Emmers, who recorded five outs. Matt Schultz came on to get the final out of the nine-run fourth, but the damage had already been done.
Pat Schultz threw the next two innings while Jon Vinkemeier hurled the final frame. The Tiger defense was not on the pitchers' side as, despite an offseason of fielding ground balls, the home team committed six errors.
Arlington 15, BP 13
The A's of Arlington came to Tigertown on Sunday in the River Valley League opener for both teams. The final frame, however, turned out to be one of the best examples ever of ugly, early-season town ball
The Tigers trailed 5-1 after five innings but mounted a nice comeback with three runs in the sixth and two in the seventh for a 6-5 lead. With two outs in the seventh Matt Schultz drove in the tying run, with Stier's hit-by-pitch giving the Tigers a one-run lead they'd take to the ninth.
Things went poorly from there, with Arlington putting up a 10-spot thanks to four hits, two walks and a litany errors. El Tigre was not discouraged, though, and mounted a seven-run rally in their last cracks to cut the deficit to two runs, bringing the tying run to the plate before the game ended. The key blow for Belle Plaine was a bases-loaded triple by Emmers.
Josh Terrio started the game and went four-plus innings while giving up five runs (mostly unearned). Terrio was relieved by Vinkemeier, who shut Arlington down until the ill-fated ninth. He was followed by Steir and "Everyday" Matt Schultz, who combined to finally finish off the top of the frame.
Offensively the Tiger Train was conducted by Schultz, who had five hits on the day – all the more impressive considering Zac "Papa" Dahlke is the new chief bookkeeper. Vink, Aiden Ladd and Luke Narveson each had two hits on the afternoon.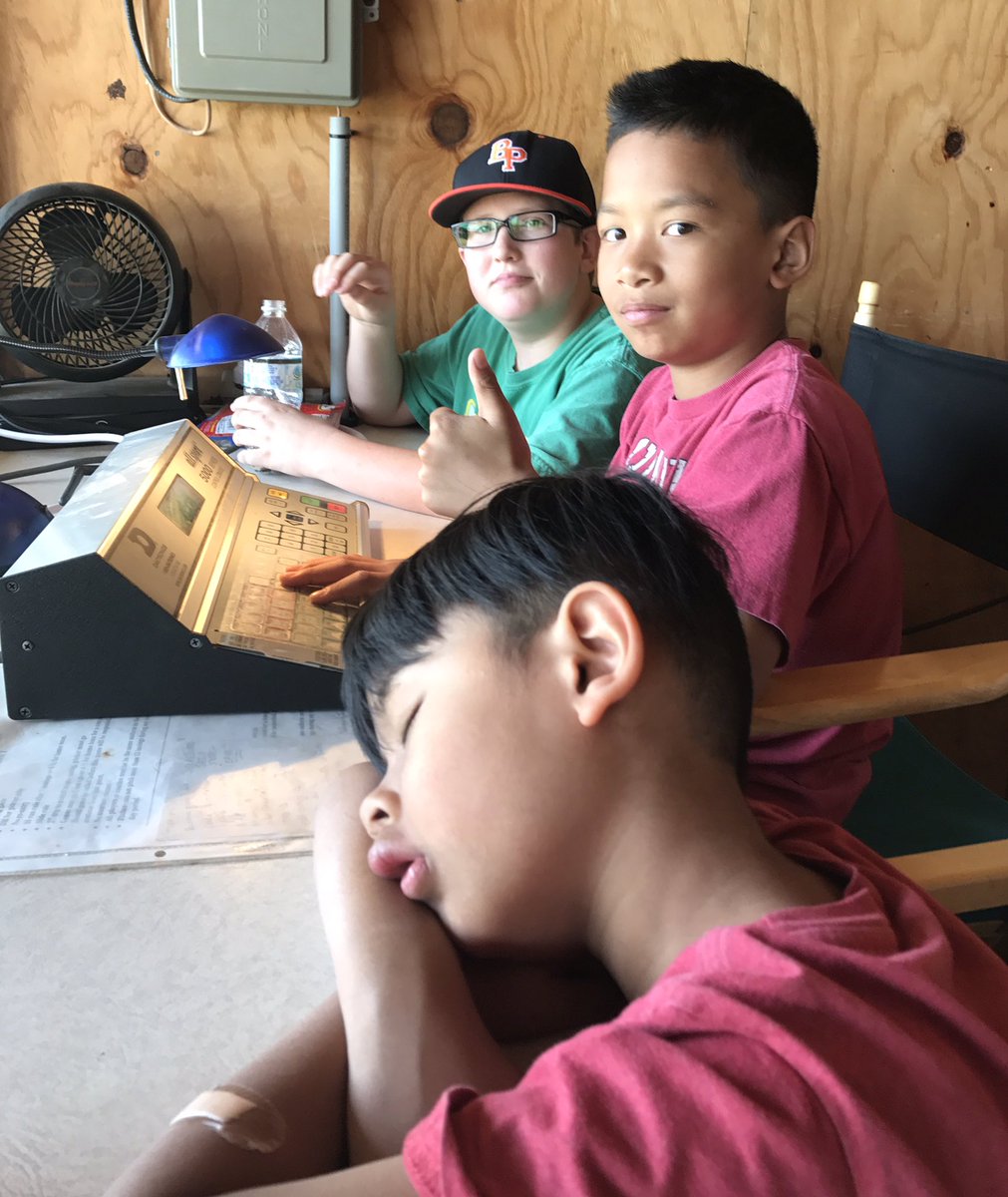 Green Isle Here Friday
as Town Team Season Begins
--by Brett Kruschke
The Belle Plaine Tigers town team will open the 2017 campaign this weekend with a pair of home games. On Friday, the loaded-for-bear Green Isle Irish will visit at 7:30 pm on Dollar Dog Night – that's right, the famous and tasty Ruck's hot dogs are just $1 all night long. (Attention: former Tiger slugger, Jeff Witt)
On Sunday, the first notch will register in the River Valley League standings as the Arlington A's will be here for a 2 pm start. It will be Coborn's Day and as we've annually done, canned goods will be collected for the Belle Plaine Food Shelf. Cash donations will also be accepted, and your donation of either will enter you in a drawing for a Coborn's gift card. Please support this most-worthy local endeavor!
This year's schedule features 26 regular-season games, with 14 coming at home. You can buy a $25 season ticket or a $50 Dugout Club season ticket – which also includes a food and beverage item at each game – at the ticket gate or Brad's Barber Shop. On a per-game basis, the cost is $4 for ages 18-64, $2 for ages 12-17 and 65-plus, and free for ages 11-and-under.
Season and walk-up tickets are a great way to support Tiger Baseball, and the 19th annual Tigertown Classic eight-team invitational tournament on June 9-10-11 will once again be a key fundraiser. A new wrinkle this year that we hope you enjoy is a game program, made possible by the support of a litany of sponsors. The Tiger Open golf tournament, for which we thank many of you for years of support, will no longer be held.
The Tigers have endured some rough sledding the past couple years, as the team has turned over and gotten very young. Last year was just the second season in the past 10 that the Chatfielders didn't qualify for the state tournament. That hasn't hurt enthusiasm in the dugout, however, as manager Mike Schultz has assembled the largest roster short of the Vikings.
Most players – as far as we know – will return, including Travis Latzke, Jonny Vinkemeier, Johnny Egan, Derek Dahlke, Dylan Nyberg, Joe Hankins, Josh Terrio, Ben Wagner, Cameron Lark, Jared Miller, Matt Schultz, Mitchel Stier, Wes Sarsland, Luke Narveson, Ryan Bremseth-Vining, Aiden Ladd, Carsen Ladd, Zac Dahlke, Chase Emmers, Pat Schultz, Matt Ruehling, Mike Schultz, Jesse Oelfke and Joe Pomije.
Derek Dahlke, a 2015 RVL All-Star, will again be spending most of the summer playing for a collegiate wood-bat league team – this year, with the Sioux Falls Gold of the Pioneer Collegiate Baseball League. Derek expects to be around here and there, and hopefully for the playoffs.
In late-breaking news, the Tigers are losing a pair of veteran outfielders to retirement. Travis Latzke, a speedy staple in center field and at the top of the lineup for nine years, is hanging up the cleats, as is Tyler Hartman, who has donned the Tiger threads for seven seasons (but left the door open for emergency appearances). Three new cubs have been added to the litter, all currently donning uniforms for Belle Plaine High School: Brody Curtiss, Nathan Herman andJonathan Schmidt.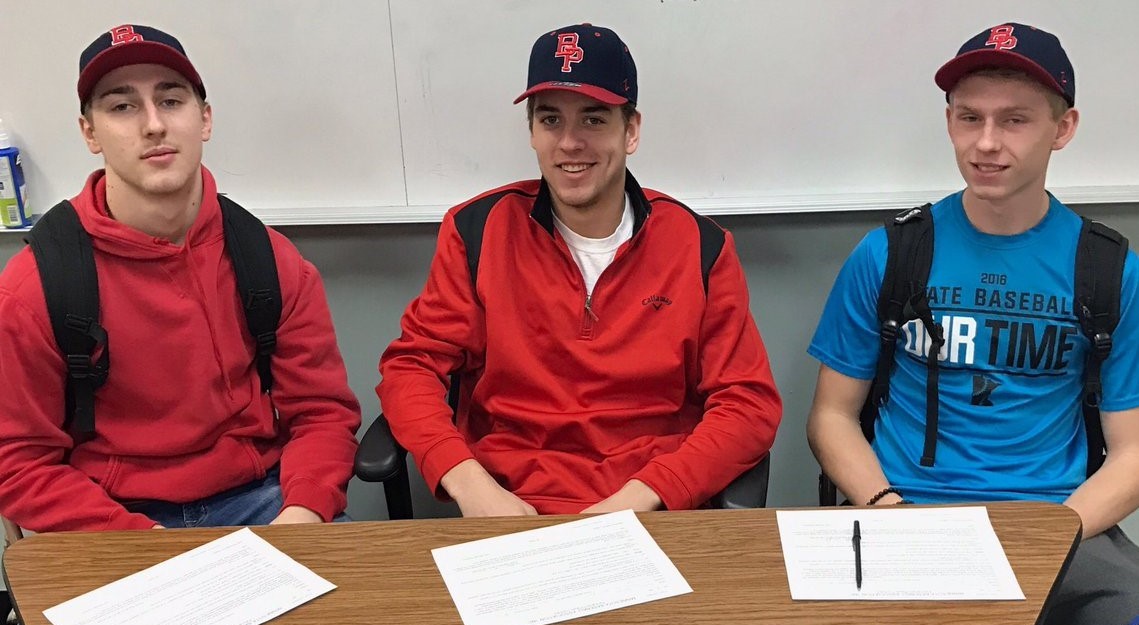 Stay connected to the Tigers via bptigertown.com, and on Facebook and Twitter at bptigertown. Also, be sure to grab a free 2017 Tiger pocket schedule.
See you at the ballpark!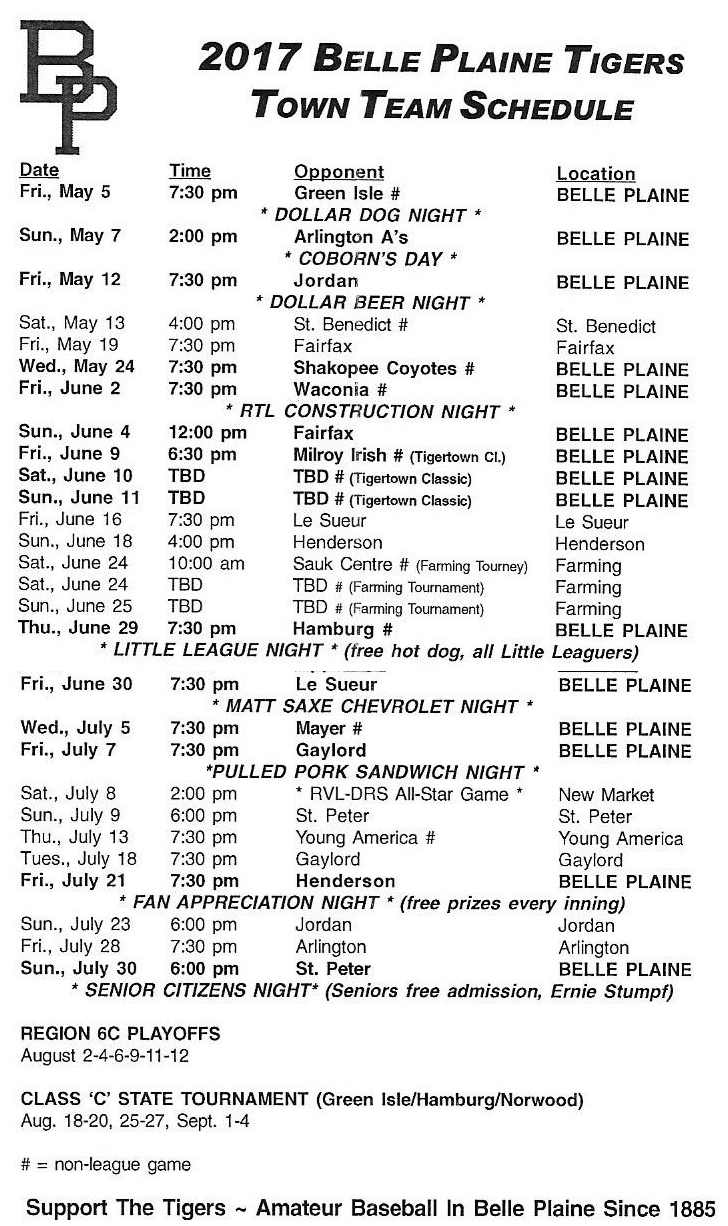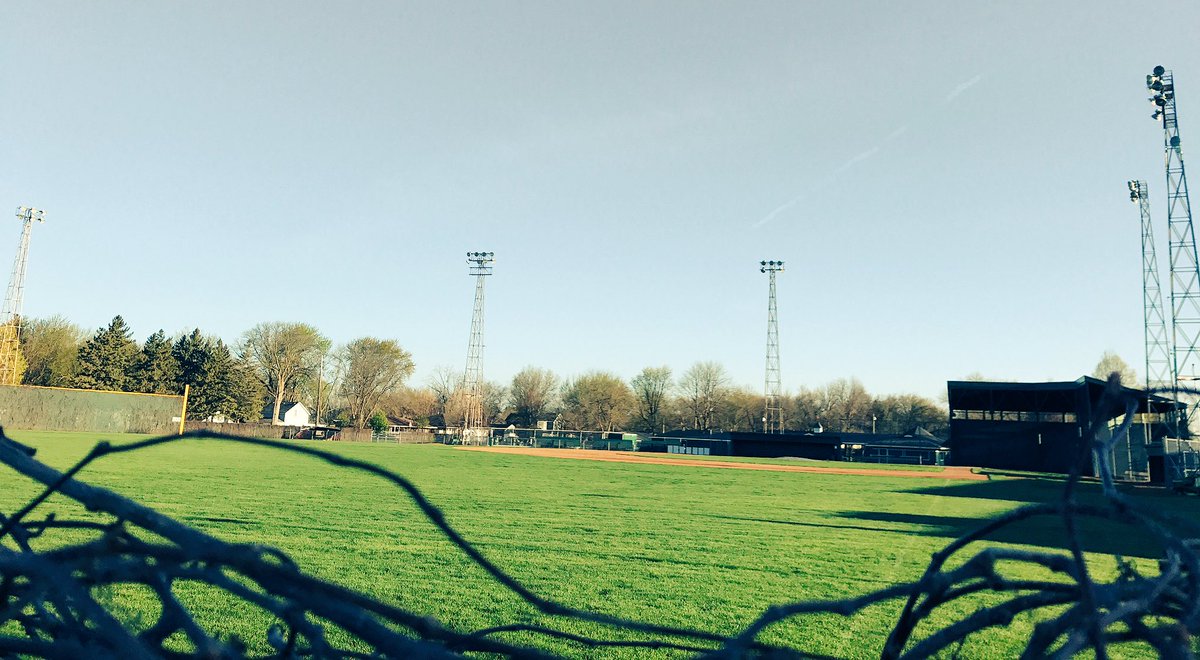 Tiger Park press box named in honor of Brett Kruschke
The press box at the Tiger Park was named after Brett Kruschke.
Tiger Park press box named in honor of Brett Kruschke
The press box at the Tiger Park was named after Brett Kruschke.
Brett Kruschke's name is now literally attached to the press box at Tiger Park.
In a ceremony prior to the St. Patrick's Day Celebrations in Belle Plaine, Kruschke was honored on the field, to declare that the press box at Tiger Park would be referred to as the Brett Kruschke Press Box from that date forward. The inscription with that title was attached to the wall just beneath the baseball press box windows.
Kruschke is currently the Sports Writer at Sportsradar US, and has served the BPBA for decades. Brett played (use word loosely) for TeamTigerTown for 21 years, retiring after the 2015 season. Kru also skippered the club back in the early 2000s. You would recognize the name from the Belle Plaine Herald, where Brett would put his spin on the weekly happenings in Belle Plaine Amateur Baseball. Below is a listing of Kru's accomplishments over the years with TeamTigerTown.

Career Pitching
2008
July 12 - Mankato @ BP :o
July 2 - Cologne 8 @ BP 17
Warmed up in bullpen. Luckily Dave Feldt got the job done.
June 24 - Plato 12 @ BP 2 (7 inn.)
0.2 IP / 1 H / 0 R / 0 ER / 0 BB / 1 K / 15 NP / 0.00 ERA
Threw 9 of 15 pitches for strikes, which was uncharacteristic.(http://www.bptigertown.com/2008SeasonStories.html#June24Box)
2007
---
2006
---
2005
July 14 - BP 0 @ Mankato 21 (7 inn.)
1.0 IP / 1 H / 0 R / 0 ER / 0 BB / 1 K / 16 NP / 0.00 ERA
Brad Connolly got a hit, and Shane - managing that year - putting himself at SS midway through the game although he had just missed time pitching with a bad arm. (http://www.bptigertown.com/2005SeasonStories.htm)
2004
---
2003
---
2002
---
2001
June 1 - BP 2 @ Delano 17 (7 inn.)
1.0 IP / 2 H / 2 R / 2 ER / 1 BB / 1 K / 18 NP / 18.00 ERA
Catcher Pat Schultz called for a curveball even though Kruschke doesn't throw one, and it went over the fence for a grand slam.
(http://www.bptigertown.com/schedule_Archive.htm#2001)
2000
---
1999
1 G vs. ? / 0.2 IP / 1 H / 6 R / 0 ER / 4 BB / 0 K / ? NP / 0.00 ERA
Just read the line. This was a Rick Ankiel meltdown before there was Rick Ankiel.
(http://www.bptigertown.com/Stats.htm#1999)
1998
Pitching stats not currently available.
1997
August 9 (Section 3B Playoffs) - Chaska 4 @ BP 5
Why Mgr. "Hot Dog" Miller gave Kruschke the ball that day is anyone's guess... but it worked.
1991-1996 (& other general highlights)
* 1991 State Tournament - warmed up in bullpen even though never told to.
* Beat Hampton for first town team win, on June 12, 1992. Not that it was rare but Kruschke still issues yearly reminders of this happening.
* General memories of being constantly encouraged by teammates to "just throw strikes."
* Kruschke keeps fresh in-between sporadic bi-yearly appearances by regularly throwing batting practice, with the goal of getting the hitter out - not throw him some lollipop pitch so he can get his timing down for the game.