Tigers Trading Punches in
Season's Early Going

-- by Brett Kruschke & Matt Schultz
Not exactly known for sizzling out of the gate and after Friday's 9-1 win over Cologne, the Town Tigers pushed their record above .500 after three games for the first time since 2012. That mild accomplishment quickly became an afterthought when Gaylord whitewashed the Tiger beloved on Sunday night, 3-0.
The Tigers are on the road this weekend for a pair of contests, first traveling to St. Patrick on Saturday for a 2 pm first pitch. Located near New Prague, do yourself a favor and make the trip to see this well-manicured gem of a ballfield. It's back to River Valley League action on Sunday at Henderson, with the first pitch set for 4 pm. Henderson ended Belle Plaine's season last August in painful fashion, 10-9 in 10 innings at Jordan.
As always, follow the team on the web and social media at "bptigertown." See you at the ballpark!
Cologne 1 @ BP 9 (Friday, May 11 - Box Score
When these foes last faced, in 2016, Cologne hosted and won a shootout, 13-11. Halfway home on a chilly evening at Tiger Park Friday's game was locked at 1-1 before Tiger starter Jonathan Schmidt turned things over to the bullpen. He finished his five frames with just two hits and an uncharacteristic five walks allowed.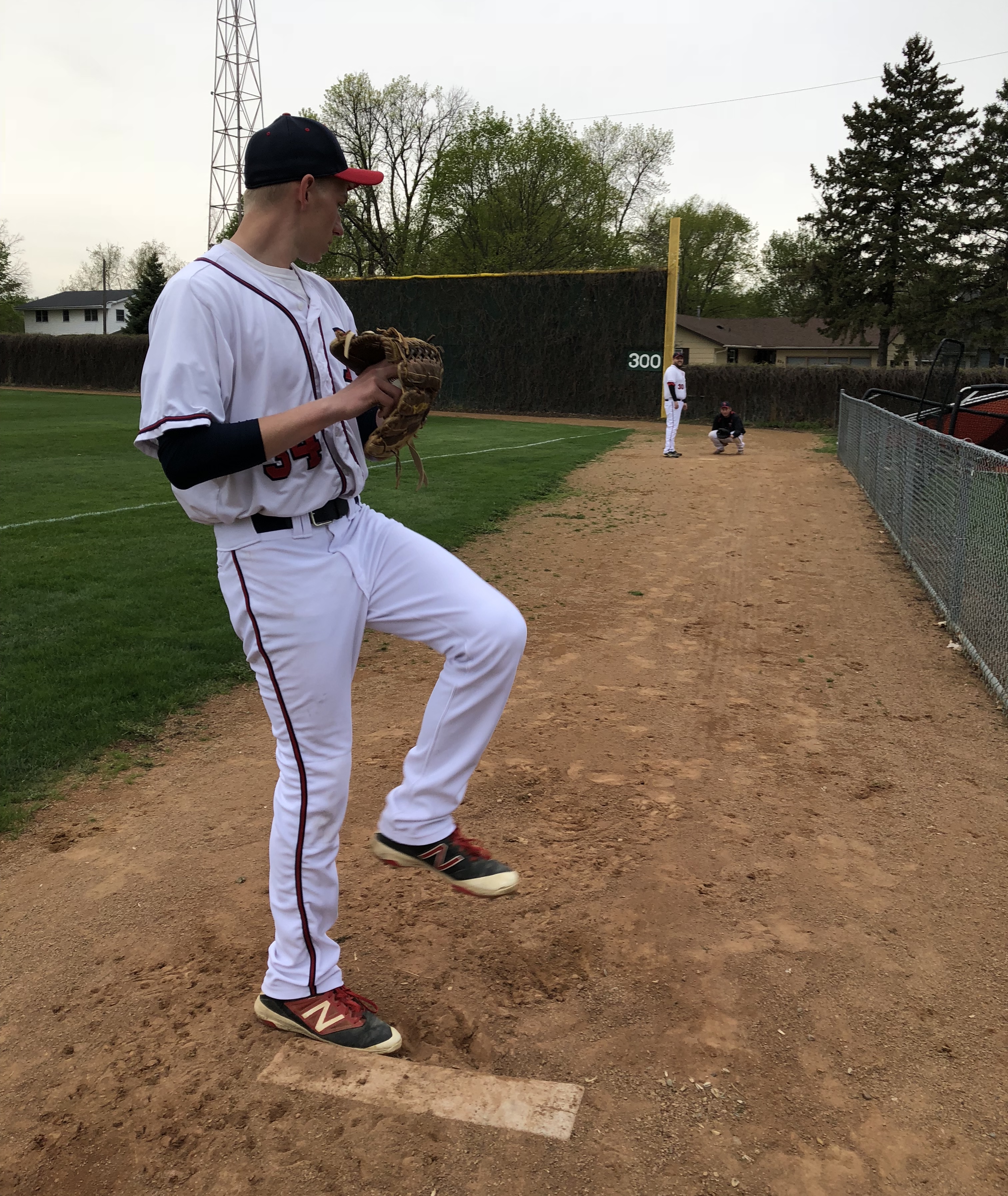 Team Tigertown plated a run in the bottom of the fifth on a two-out single by Johnny Egan, putting Schmidt in line for the victory that he was eventually credited with. In relief, Wes Sarsland walked his first batter but notched five strikeouts in two innings of work. Jonny Vinkemeier and Chase Emmers both threw a scoreless inning as well.
The Hollanders' last two pitchers, Tanner Luebke and Kyle Brazil, walked a dozen batters in the Tigers' final three at-bats and yielded seven runs. The game "featured" 22 walks in all – perhaps an inadvertent game-lengthening tactic for Dollar Beer Night.
Sarsland was the only Tiger batter to collect multiple hits, while seven of BP's nine starters notched a safety. Mitchel Stier didn't get a hit but walked four times, scored two runs and drove in a pair of runs.
BP 0 @ Gaylord 3 (Sunday, May 13) - Box Score
Belle Plaine travelled to Gaylord for a Mother's Day nightcap and played a game only a mother could love. Sarsland started on the mound and gave up two runs in the first inning. He settled in nicely after that, shooting blanks for the rest of his six-inning stint while finishing with five strikeouts.
Josh Terrio threw the final two frames and yielded an unearned run, punching out four. El Tigre threatened in the fifth inning by loading the bases with two outs but came away empty. Sadly, it was the only inning the Tigers put a runner in scoring position.
Mitchel Stier had a noteworthy performance, racking up half of the Tigers' four hits. Matt Schultz and Jonathan Schmidt collected the other knocks, while Ryan Bremseth-Vining drew a pair of free passes from the leadoff spot.
McKoy Rodning had two hits and drove in all three runs for Gaylord. Tanner Wenninger went the distance for the Islanders on the mound and recorded eight strikeouts.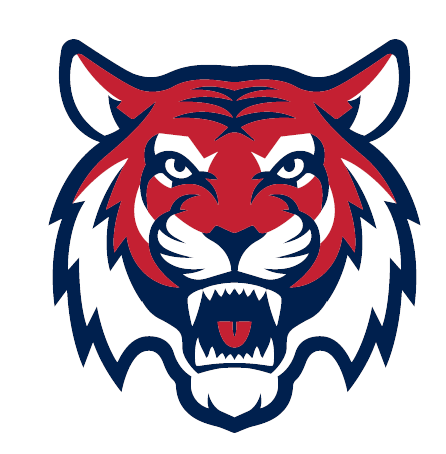 Tigers Split a Pair on Opening Weekend
Dollar Beer Night this Friday

-- by Brett Kruschke & Jack Gill
The town-team Tigers opened with a 3-1 setback to St. Benedict on Friday before outlasting Arlington on Sunday, 13-9. Both games were at home and so will this Friday's game, on May 11, when the Cologne Hollanders windmill into Tiger Park for Dollar Beer Night at 7:30 pm.
Since guys are always good at coming up with ideas, it was determined that Tiger mothers would love nothing better than to take in nine innings of baseball and if it could also be at Gaylord in the evening, say 6 pm, well super-swell. And so it is.
You may have noticed a new byline and that is none other than "Journalism Jack" Gill making his Belle Plaine Herald debut. Jack is a freshman at Chaska High School but has a Belle Plaine background, as he has been helping out on scoreboard and public address for years already with the town team and Gray Tigers. In the business he's what we call a whiz kid. (Jack wrote the Arlington game recap below.)
Box scores for both games are available at bptigertown.com/schedule.htm. Follow us on social media at "bptigertown" and remember to pick up your season ticket, window decal and #MeyerStrong bracelets either at the ticket gate or Brad's Barber Shop.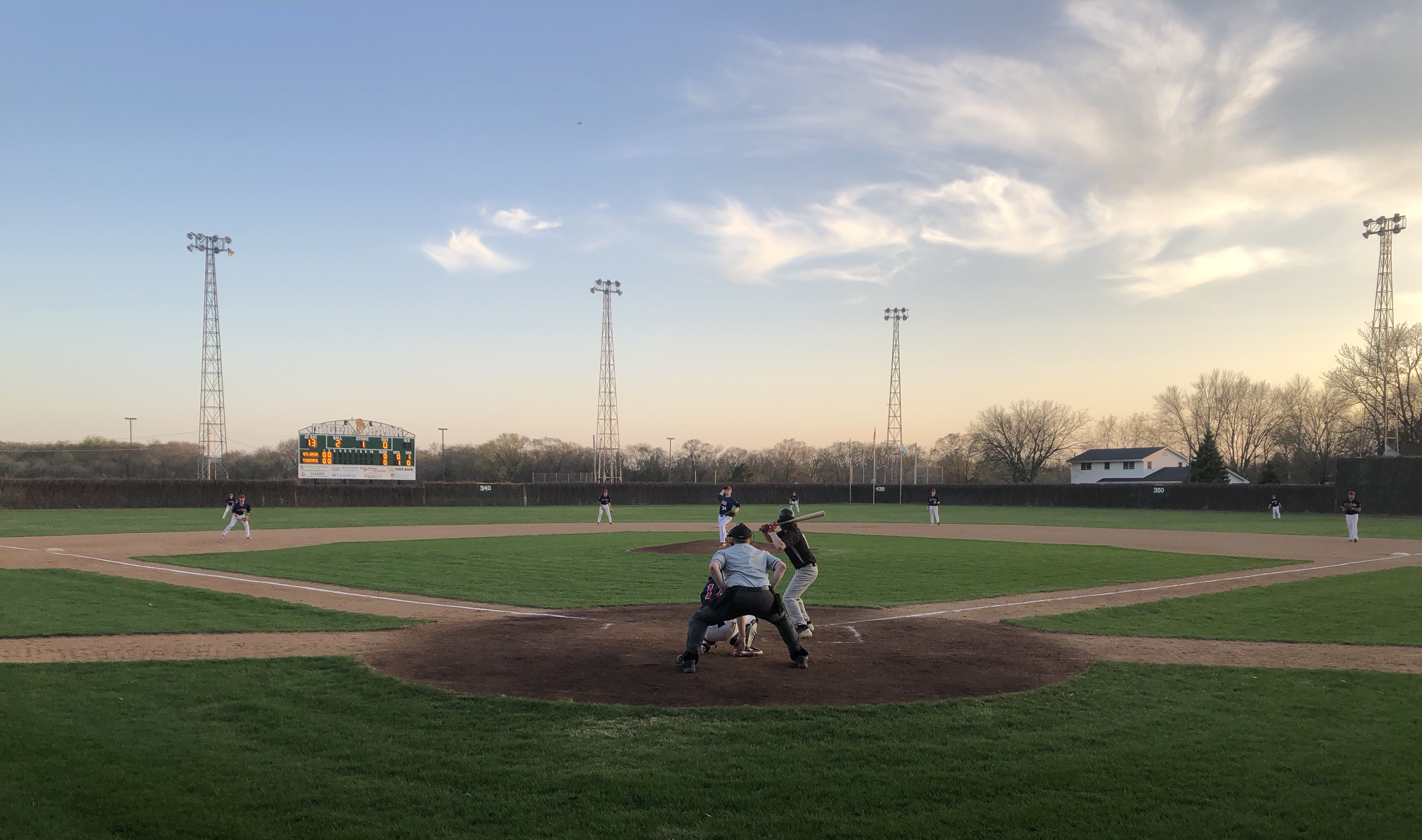 St. Benedict 3, BP 1 (Friday, May 4) - Box Score
Second-year player Jonathan Schmidt received the Opening Night start and as former Twins manager Tom Kelly liked to say, he gave the boys a chance. While St. Benedict hurled a trio of chuckers three innings each, Schmitty worked five frames, yielding just three hits and one run. He walked four batters but also struck out four.
The Bennies broke the ice in the fourth inning and scored two more runs in the sixth to take a 3-0 lead. Team Tigertown responded by loading the bases in the bottom of the sixth inning, but back-to-back strikeouts quashed the uprising.
With time running out, the Tigers again loaded the bases in the eighth inning and pushed a run across on a bases-loaded walk to Jonny Vinkemeier. That was all the damage the Tigers would do, however.
Vinkemeier threw a pair of hitless and scoreless relief innings while punching out three. Mitchel Stier was erratic but threw a scoreless ninth while Chase Emmers gave up a pair of runs (one earned) in his inning of work. Tiger pitchers issued an unsightly 10 free passes on the evening.
Collecting hits for the Tiger Train was Luke Narverson, Nathan Herman and Matt "For Once, My Batting Average Isn't" Ruehling. There was a nice crowd and it was a splendid evening for baseball and $1 hot dogs.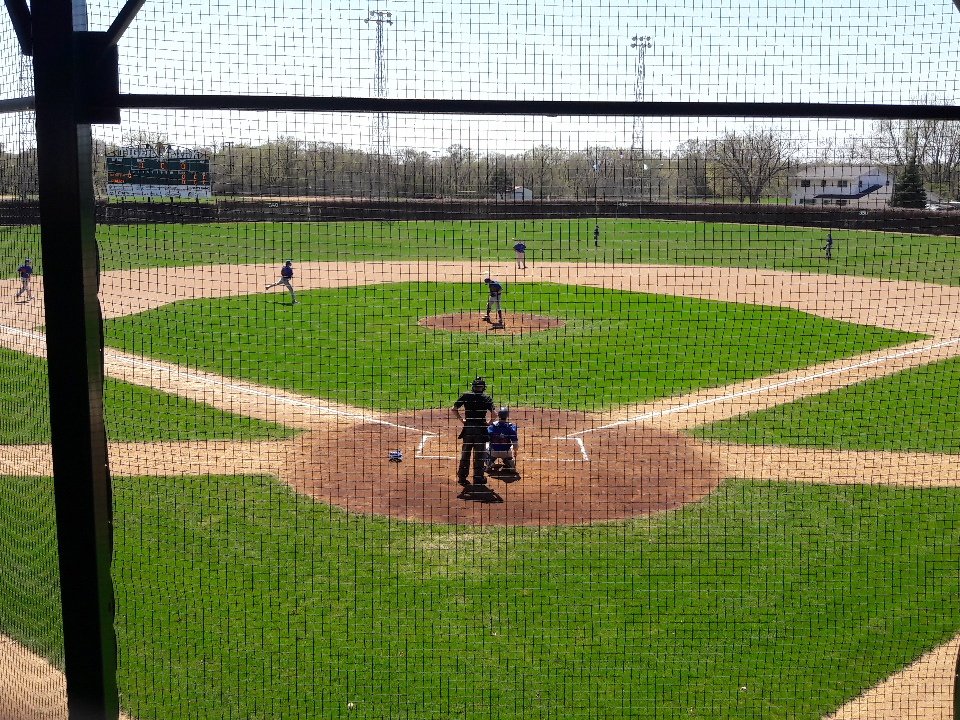 BP 13, Arlington 9 (Sunday, May 6) - Box Score
It was a great game Sunday evening at Tiger Park, with the Tigers facing the Arlington A's. The game started out with No. 16 Jared Miller out on the mound for the Tigers and No. 23 Dan Chies for Arlington. It was a high-scoring battle down in Tigertown.
The Tigers scored first in the first inning, putting up two runs on two walks, a hit, an error, and a wild pitch. Arlington bounced back with two runs in the top of the second. With the game tied up the Tigers were unleashed with a five-run third inning.
The middle innings were the best of the game. Jared Miller settled down and pitched six good innings, allowing only three runs. Through six innings the score was 8-3 and the Tigers were in relax mode. No. 21 Mitch Steir came in to pitch the 7th and 8th innings; he gave up six runs on four hits, four walks and four errors.
It was a good thing the offense helped him out with a five-run 7th inning. The right fielder, Matt Schultz, really gave one a blast with a hit over the left fielder's head with runners on first and second. The score was 13 to 9 after the 8th.
Schultz went 3-for-3 at the plate, shortstop Nathan Herman went 2-for-4 and left fielder Chase Emmers 2-for-3. Josh Terrio was told to get the 9th inning and it was a good frame, shutting down Arlington with a pair of strikeouts. So there it was: a final score of 13 to 9 on a beautiful May day.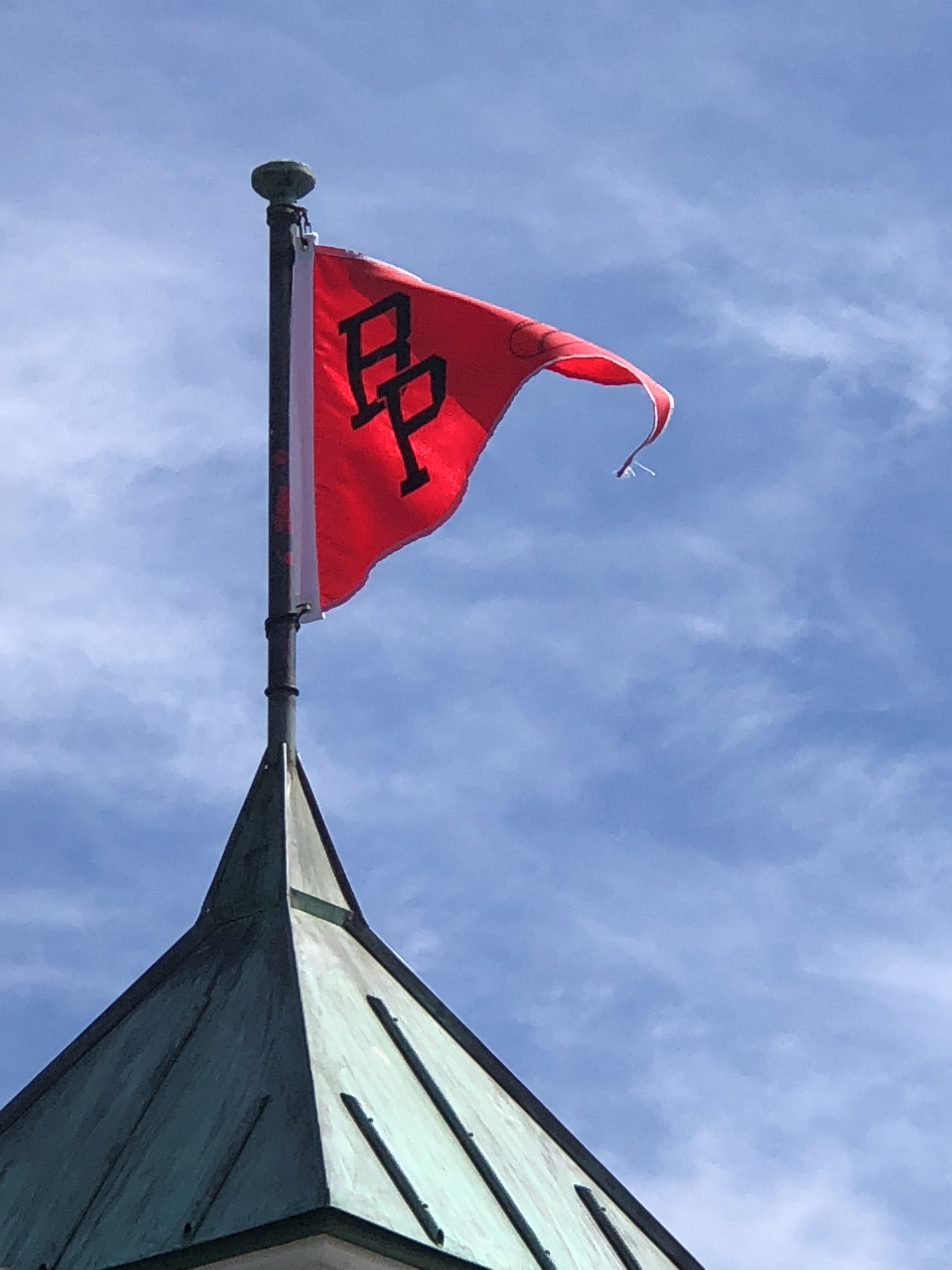 Tiger Town Team Opens Season
at Home This Weekend

--by Brett Kruschke
The spring of our discontent has abated and there will be baseball! Belle Plaine's town team opens the season on Friday at home against a familiar opening-foe, St. Benedict of the Dakota-Rice-Scott League, at 7:30 pm. Our standard Opening Night promotion is also in place (never overlook that crafty baseball board) with $1 hot dogs all game long.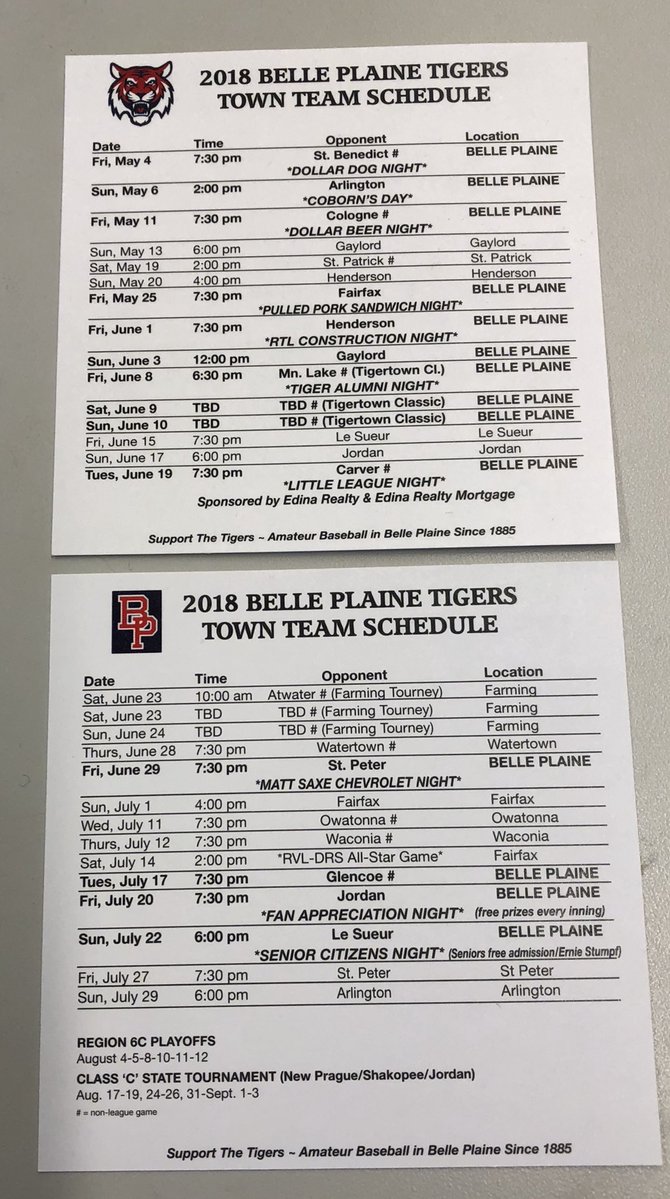 The Tigers will begin River Valley League play on Sunday when Arlington visits at 2 pm. Last year these teams met in the second game of the season as well and combined for 28 runs; hardly a "classic," but a 15-13 win for the A's. Sunday will also be Coborn's Day, with any canned good donations brought to Tiger Park to be donated directly to the Belle Plaine Food Shelf. Food or cash donations will enter you in a drawing for a $50 Coborn's gift card.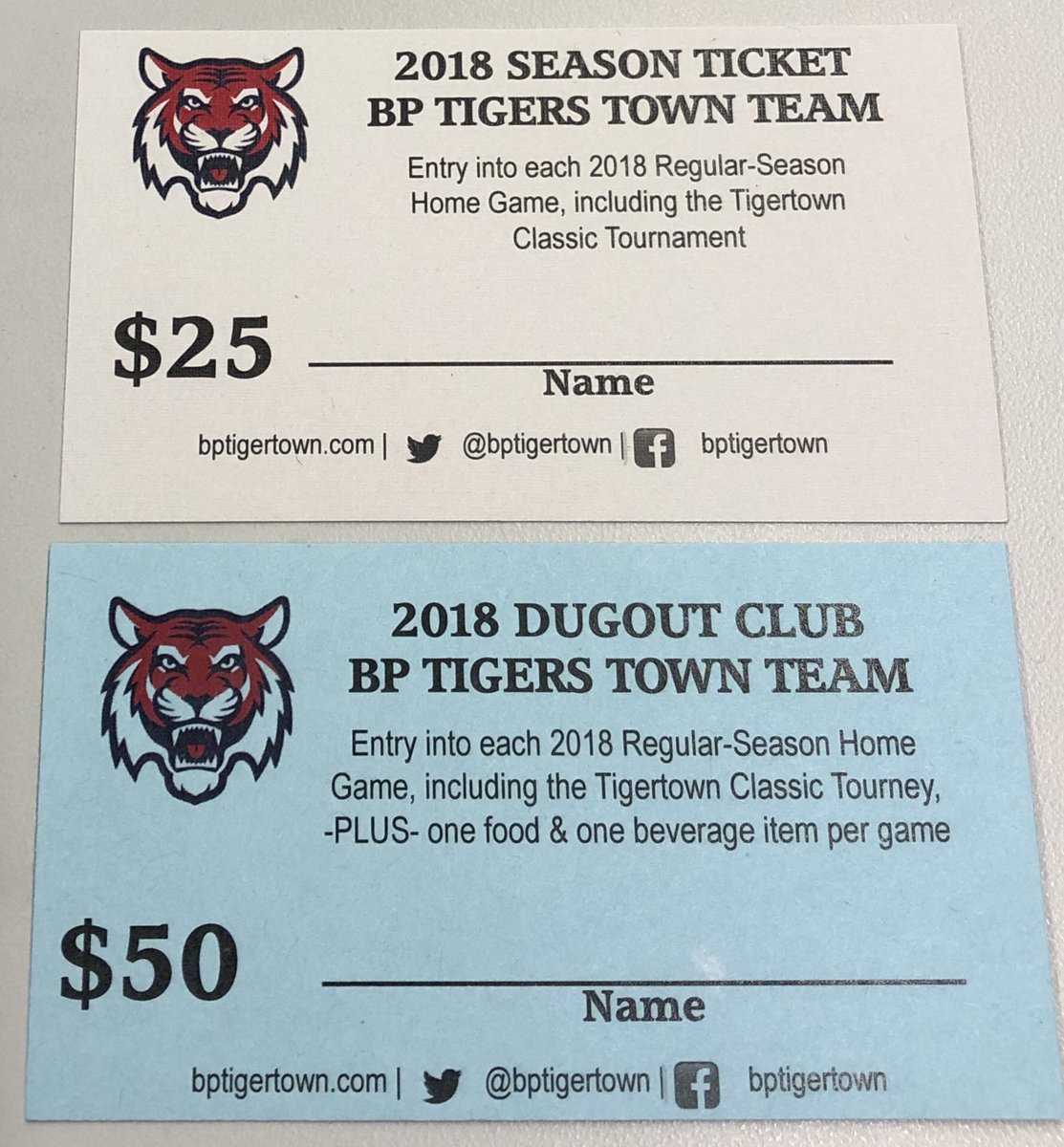 When you come out this weekend, buy a season ticket! While our ERA is prone to shoot up at a moment's notice, our prices are rock steady. Just $50 will get you into every game and includes a food and beverage item of your choice at each game. If the Dugout Club pass isn't your style, buy a regular-season ticket for $25. Pick one up at the ticket gate or Brad's Barber Shop, as well as a free pocket schedule. On a per-game basis, the cost is $4 for ages 18-64, $2 for ages 12-17 and 65-plus, and free for ages 11 and younger.
Belle Plaine has scheduled 25 regular-season contests, with 13 of those coming at home. That includes a pair of tournaments – the Tigertown Classic on June 8-9-10 and the Farming Baseball Invitational on June 23-24 – before the "second season" begins with the Region 6C playoffs on Aug. 3-12. The state amateur baseball tournament this year will be held at New Prague, Shakopee and Jordan.
The Tigers designed a new tiger-head logo over the offseason and you can see it on our website (bptigertown.com) or on our social media channels on Facebook and Twitter, at "BPTigertown." Window decals featuring the new logo are also available for $2.
While you'd never know it by the negative local press coverage that we ourselves have written, last season (13-16, .448) was Team Tigertown's best winning percentage since 2014. Just as Ronald Reagan once famously advertised in his 1984 reelection campaign, that "It's morning again in America," so too I hereby declare this the dawn of "Morning again in Tigertown." (That's morning, not mourning; hmm, better keep working on that one.)
While the halls of BPHS are being scoured for talent as we speak, four new signees came on board just last week and are deserving of an official "Welcome to Tigertown" proclamation: Jake Mercado, Jackson Stauffacher, Chris Dahl (still a rookie after an emergency call-up in 2016) and Nick Willey. They will join the following returnees: Aiden Ladd, Carsen Ladd, Jonny Vinkemeier, Johnny Egan, Derek Dahlke, Zac Dahlke, Tyler O'Brien, Josh Terrio, Nathan Herman, Jared Miller, Pat Schultz, Manager Mike Schultz, Matt Schultz, Mitchell Stier, Wes Sarsland, Luke Narveson, Ryan Bremseth-Vining, Brody Curtiss, Chase Emmers, Jonathan Schmidt, Matt Ruehling and Joe Pomije.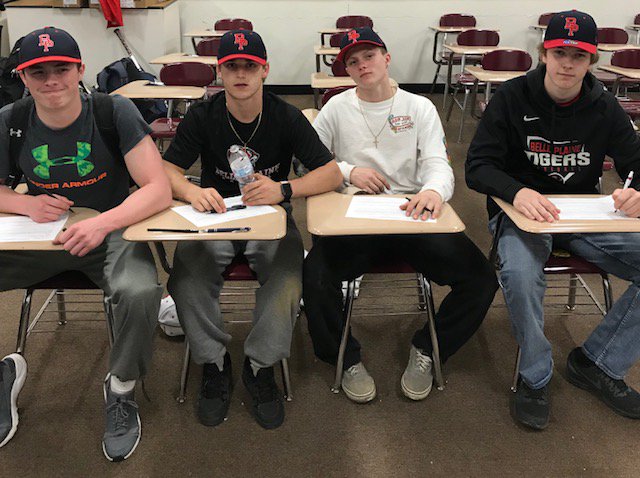 That's a lot of talent, and maybe the Herald will need a special pull-out section to include the full allotment of names. But let's face it: you're either related to, or neighbors with someone on this list, if not both. All the more reason to make it out to Tiger Park early and often this summer.
We would also like to mention that prayers are requested for former Belle Plaine Tiger player, manager and board member Brent Meyer, who is hospitalized due to a cancerous brain tumor. Visit www.caringbridge.org/visit/brentmeyer for updates on his condition. #MeyerStrong bracelets are available at Brad's Barber Shop to show your support.