Belle Plaine High School student Michael Chabot, pictured with his tiger head painting that will be on display at Tiger Park starting next spring. Michael was sought out to do the painting by the Belle Plaine Baseball Association as a replacement for the Virgil Diers tiger head painting, which belonged to the former manual scoreboard and was displayed since last year's state tournament.
Tigers' 2015 Season-In-Review
- by Manager Mike Schultz
The Belle Plaine Tigers Amateur Baseball team has enjoyed a pretty good last decade and because of this, came into most of those seasons with lofty expectations. Belle Plaine has made the state tournament in each of the past six years and in eight of the last nine. In those seasons, just making the state tournament wasn't enough to make the season a success – rather, playing well and winning games in the state tournament was. Much of this success was due to a pretty constant core group of players. After the Tigers lost in the second round of the 2014 Class C state tournament, a large portion of that core group left the team for a myriad of reasons, including: family demands, time constraints and new dogs.
In 2015 the Tigers started the season without four of their best hitters and four of their top pitchers from the previous year. They also added five high-school players to the roster, along with several players just out of high school. To say expectations were much lower for the 2015 season would have been a gross understatement. I think at the beginning of the season not even the biggest of homers probably would have placed a bet on Team Tigertown to make the State Tourney; only the players and some board members thought it was possible.
The Tigertown Express did not disappoint all those who predicted a decline, finishing at 11-20 overall and 5-6 in the River Valley League. They started the season 0-4 and bottomed out on June 16 with a 2-11 record after getting no-hit by the Prior Lake Jays' Tyler Edwards. From there, El Tigre sort of caught fire and finished with an 8-8 record the rest of the way. Not a great record, but three of those wins were in the playoffs which was good enough for (arguably) a 17th-place finish at the state tournament.
Los Tigros' playoffs started in the friendly confines of Tiger Park against the Arlington A's. Derek Dahlke got the start on the mound and ended up collecting the win, chucking seven scoreless frames. Josh Terrio threw the final two innings and gave up no runs. Dylan Nyberg paced the hitters with a pair of knocks.
Next up for your Tigers were the Saints of St. Peter and their ace Matt Lewis. Newcomer Ben Wagner got the start on the mound in this contest and threw five-plus innings to garner the win in this state-qualifying game. Josh Terrio again came in to pitch and earned a save the hard way – by throwing four innings of scoreless baseball. Derek Dahlke had the big hit, a two-run shot in the first inning that gave your hometown nine a lead they wouldn't squander. A couple veterans who stuck around combined to add a run in the third inning, with Travis Latzke getting hit by a pitch, stealing second and scoring on a single by Pat Schultz. Belle Plaine held on for a 3-2 win and an improbable trip to the state tournament.
In the opening round of the tourney Team Tigertown matched up against the Hadley Buttermakers and came away with a 3-2 triumph. Derek Dahlke got the start and the win by tossing six innings of scoreless ball. Josh Terrio and Gaylord draftee Trevor Vaubel combined to throw the final three innings to secure the victory. Nyberg hit his team leading fifth home run in that game, a two-run bomb, with Pat Schultz adding the third and final RBI of the game.
The Hampton Cardinals derailed the Tiger Train the following weekend, handing them an 11-1 whooping in 7 innings. Tiger draftees Vaubel and the New Ulm Kaiserhoff's Nick Dewanz both pitched in that game and we would like to thank them for their presence during the state tourney.
A lot was made this season about how young the Tigers would be and how much talent was lost from the previous year. The youngsters didn't disappoint, with many of them playing key roles throughout the year. What wasn't talked about as much was the veterans that hadn't played much in previous years due to the talented players ahead of them. Terrio, Nyberg and Tyler Hartmann were the three players that benefitted most from the increase in playing time.
Nyberg led the team with five homeruns, the highest home run total for El Tigre since former (and always) Tiger Tim Huber belted as many in 2011. Terrio ended up being the closer and did not disappoint in that role, collecting three saves with an ERA of 2.41 while also manning right field throughout the season. Hartman was a stalwart in left field and in the lineup as well, working from the No. 8-spot in the lineup to the No. 2-hole over the course of the year. He ended the season with a .253 batting average, good for third-best on the team.
Overall team stats aren't yet available, but when they do come out they will show an overall increase in the team ERA and a decrease in the team batting average for a fourth straight season. That streak also coincides with Mike Schultz taking over the managing duties. Some might say that decrease shows poor managing; others might say that he is doing more with less, as the Tigers have made the state tournament all four of those years. Derek Dahlke finished the year with the best ERA at 2.32, and Pat Schultz again led the team in batting average after a two-year absence from the top spot, finishing at .339.
Although the year didn't end with a state championship – which is always the ultimate goal – numerous young players got lots of great experience and several veterans got their chance to play and delivered. In 2016 the Tiger Train will roll on with even more high-schoolers and maybe even a departed veteran or two returning to the team. Any vets will be welcomed back with open arms, as once a Tiger always a Tiger, Tiger.
HAMPTON HANDLES TIGERS
The upstart Tigers knew they had a tall task waiting for them in the second round of the state tournament, and the Hampton Cardinals showed why on Sunday with a thorough dissection of the local nine in Watkins. BP took a 1-0 lead to the bottom of the second, but from there the "pretty birds" posted consecutive run totals of 2-3-4-1-1 en route to a shortened affair and season-ending 11-1 loss.
In future generations, Tigers not-yet-born may look back at this year's 11-20 record and say, "How did that collection make the state tournament?!" But after bottoming out at 2-11 on June 16 after getting no-hit by the Prior Lake Jays' Tyler Edwards, the T-Town Growlers played .500 ball (9-9) the rest of the way.
An extremely young team – with half of the roster in their first or second season – finally established their footing, and top pitcher Derek Dahlke also returned to full health down the stretch. When the chips were down in the Region playoffs the Tigers answered the call, beating Arlington 4-0 and upsetting St. Peter 3-2 to clinch a state berth. Defeating the Hadley Buttermakers in the opening round of the state tourney was an extra-sweet reward for what was, at times, a trying season.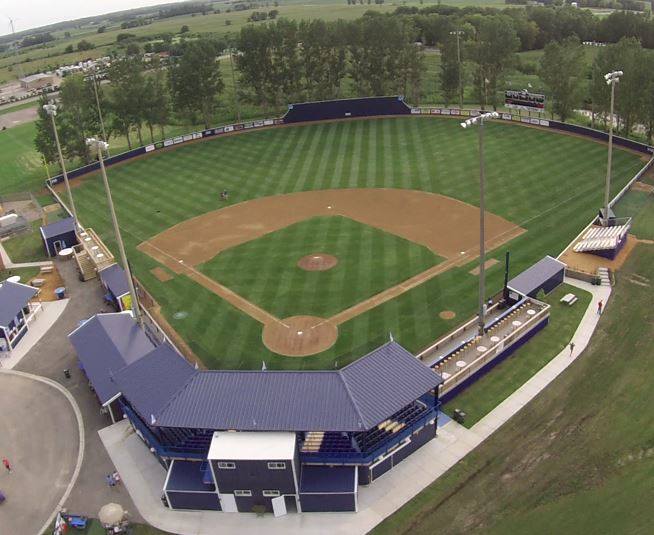 We've had fun with the "Teenage Tiger" moniker (credit: Matt Schultz) in the column this year and the promising wave of young bucks certainly contained some key contributors already this season. But the emergence of "young veterans" like Dylan Nyberg at the dish and Josh Terrio on the hill highlighted a steady core group that holds it all together, with the three Schultz brothers (Pat, Mike, Matt) serving as the elder statesmen and anchors.
Manager Mike Schultz is planning to write his annual "Year-In-Review" column for next week's Herald, so he will cover these matters and more in greater depth. As another season ends, thanks for your support of all things "BP Tigertown" and take solace in the fact that Twitter never rests.
Please note that extensive photo albums from the Tigers' state tournament games are waiting to be viewed at the Tiger Facebook page, or find the link at bptigertown.com. Also, visit mnbaseball.org – if not Cold Spring and Watkins – for coverage of amateur baseball's exciting conclusion this weekend.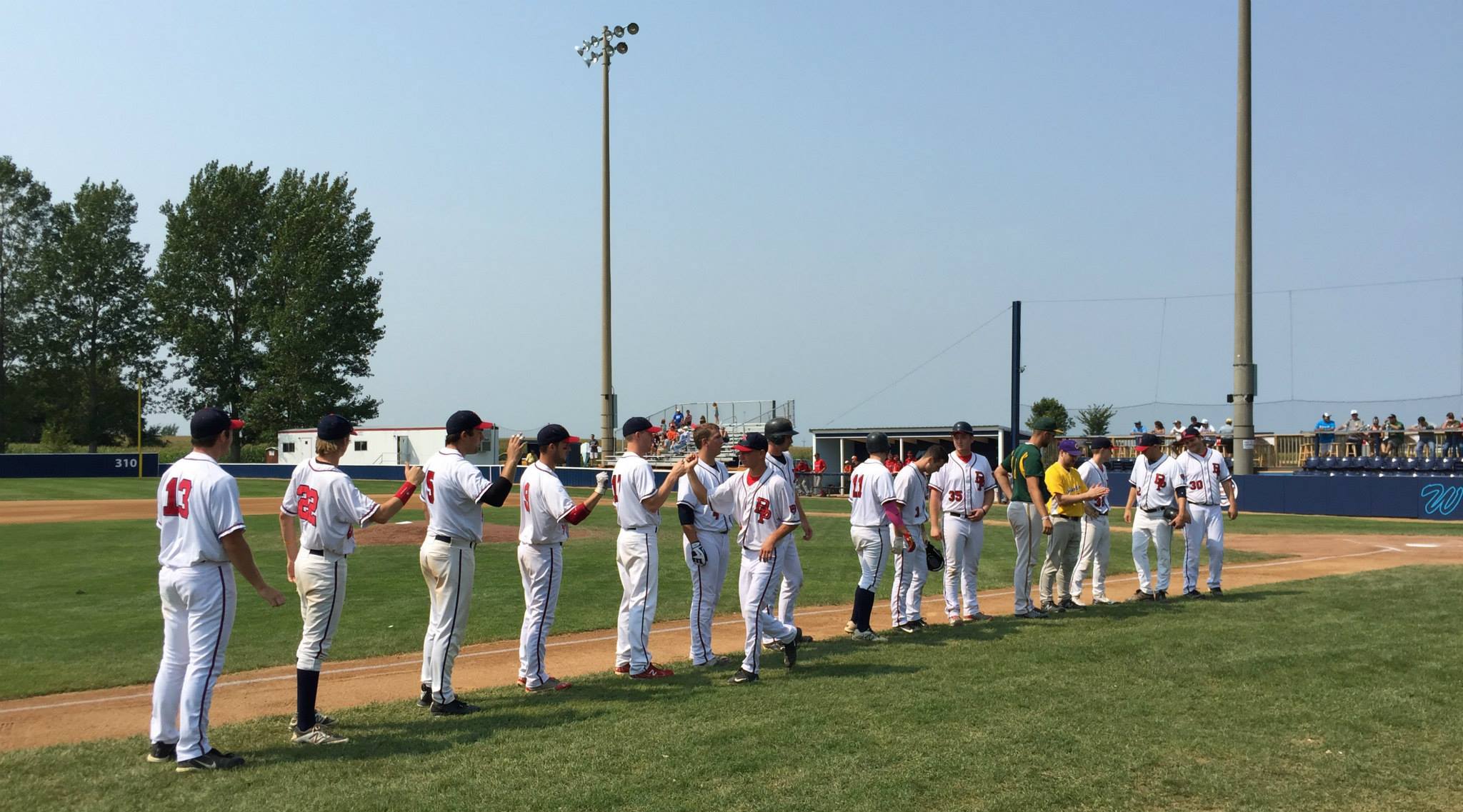 BP 1 vs. Hampton 11 (7) @ Watkins (Sun., Aug. 30 – Class C State Tournament, 2nd Round)
PHOTO ALBUM 1 | PHOTO ALBUM 2
Travis Latzke opened the game with a leadoff walk, stole second, moved to third on a groundout and scored on an RBI single from Derek Dahlke. In the bottom of the first, catcher Pat Schultz – as he's done so many times before – threw behind the runner at second to pick him off, helping post a first-frame zero for the Cardinals.
Hey – this state tournament stuff ain't so bad after all!
In the bottom of the second, though, after retiring the first two batters of the inning, things quickly came unhinged for pitcher Derek Dahlke and his Tiger mates. The Cardinals took a 2-1 lead after two thanks to two hits, two walks and a hit batsman.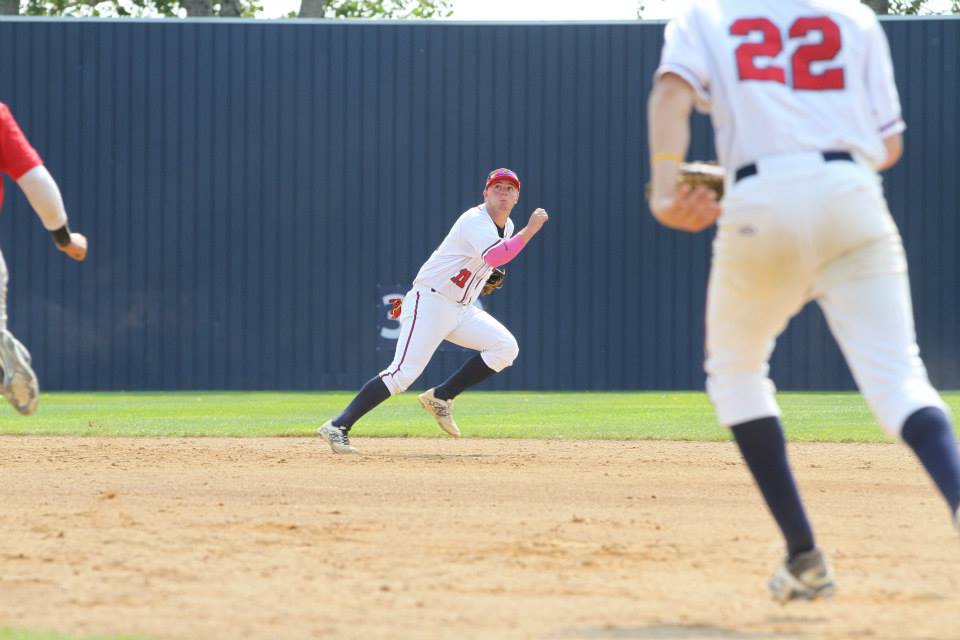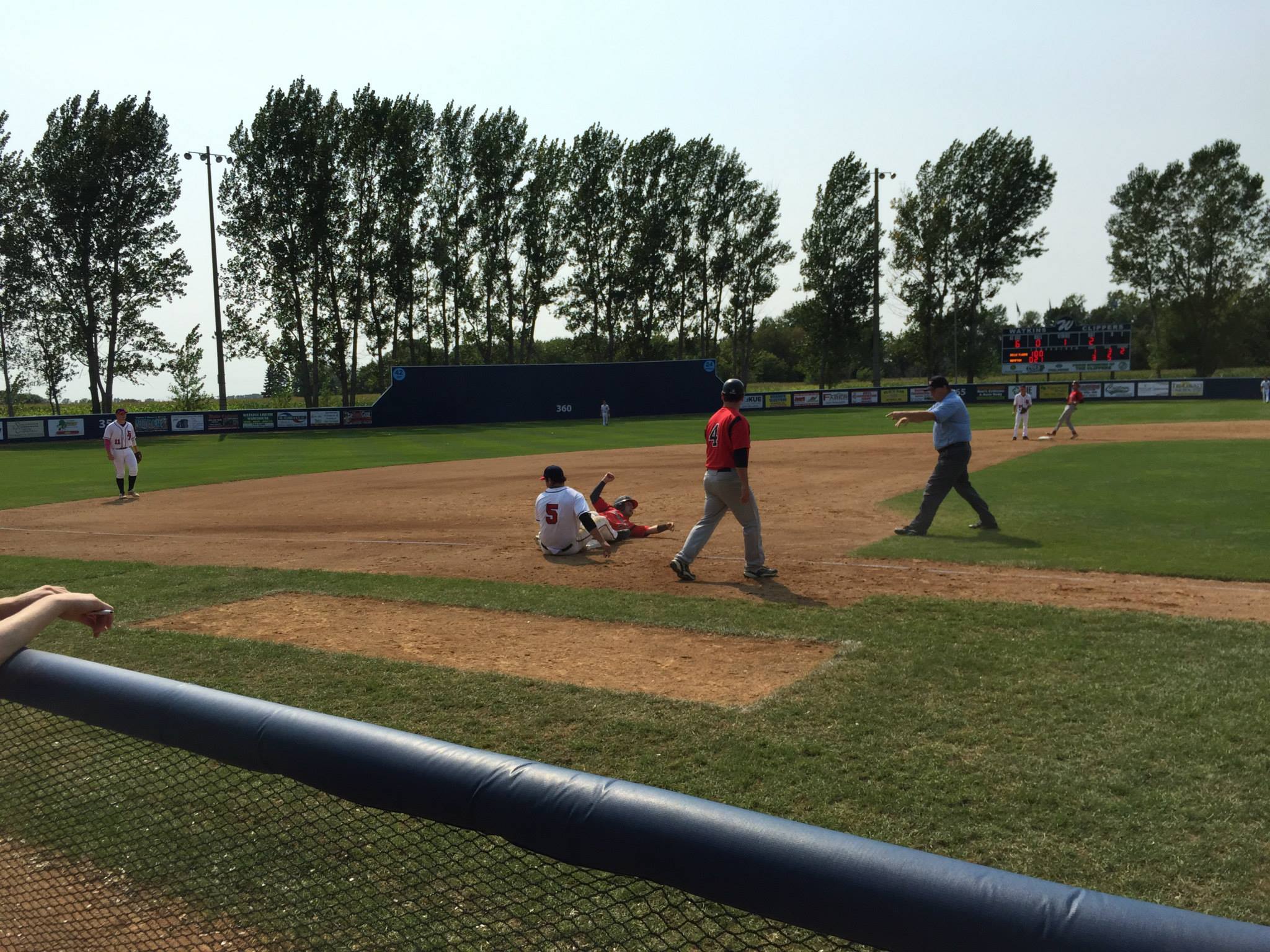 The bottom of the third inning opened with an error and contributed to three more Hampton runs, while the Cardinals batted around in the fourth to chase starter Derek Dahlke. Gaylord draftee Trevor Vaubel's magic from a weekend earlier appeared to have dried up as he allowed two inherited runners plus two more to score, making it 9-1.
Vaubel was touched for two more hits and a run in the fifth, with Terrio and New Ulm Kaiserhoff draftee Nick Dewanz combining to work the sixth, yielding one final run.
Team Tigertown tallied five hits on the day, with Pat Schultz leading the way with a 2-for-3 performance. Others dropping one on the state tournament's hallowed grass were Derek Dahlke, Matt Schultz and Nyberg.
Tigers Hang On Against Hadley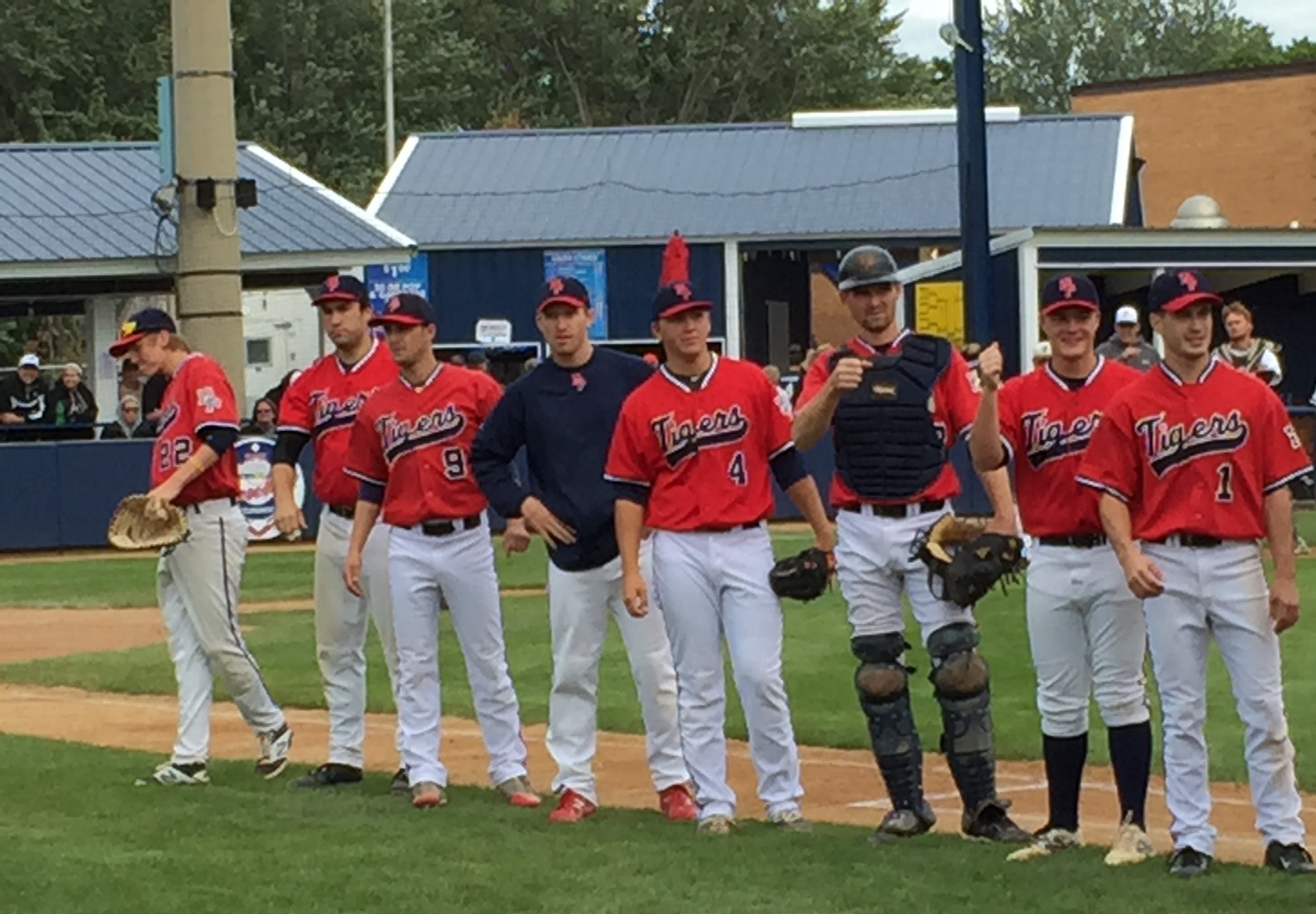 - by Brett Kruschke
In a season in which making the state tournament already seemed a hearty accomplishment, "Teenage Tiger" is moving on to the second round after a nail-biting 3-2 victory over the Hadley Buttermakers on Sunday in Watkins. Belle Plaine led 3-0 after five frames, with Hadley scoring runs in the seventh and eighth innings before stranding their 16th baserunner of the day when it ended in the ninth.
Up next are the Hampton Cardinals of the Classic Cannon Valley League, owners of a 26-11 record and recipients of a first-round bye as the No. 1 seed from Region 4C. The Tigers will once again be playing at Clipper Field in Watkins, with Sunday's first pitch at 1:30 pm. The record for the Little Tiger Engine That Could, by the way, is 11-19.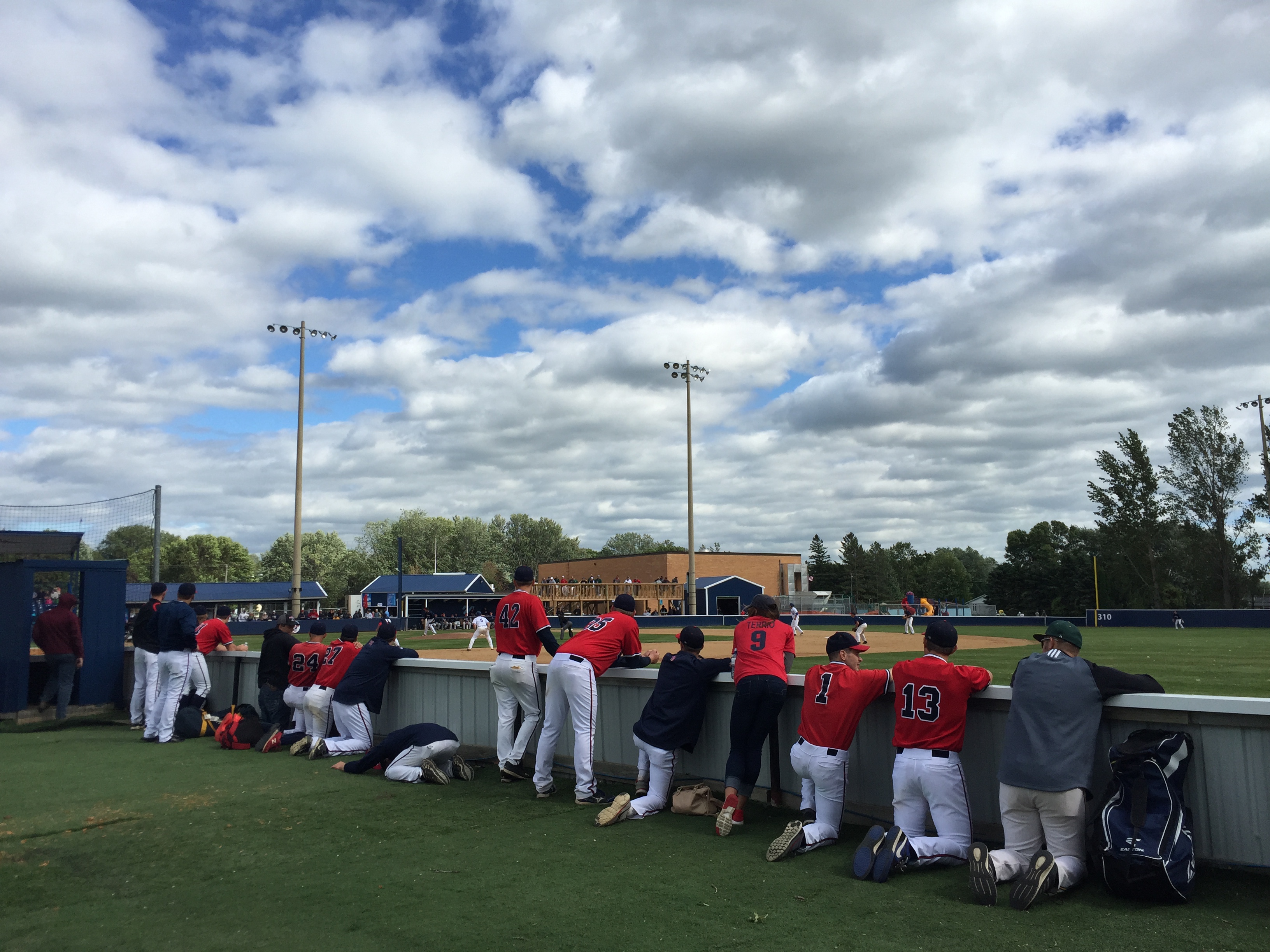 It would be terrific if all of Tigertown made the trek to Watkins, and those that do will find the field and amenities well worth their while. There are other ways to follow along, though, as the game will be broadcast on 95.5 KCHK-FM and KCHKRadio.net. You can also "Watch LIVE" on iScore via a boxscore link at mnbaseball.org, and of course the Tiger Twitter machine (@bptigertown) will be smoking, coming to you live from the dugout.
The Jordan Brewers will be playing at the same time Sunday as the Tigers, in Cold Spring, against Chokio. The other River Valley League team to make the tournament – the St. Peter Saints, whom Belle Plaine beat 3-2 in Regions to clinch a state berth – were drubbed by the powerful Waconia Lakers 13-3 in seven innings.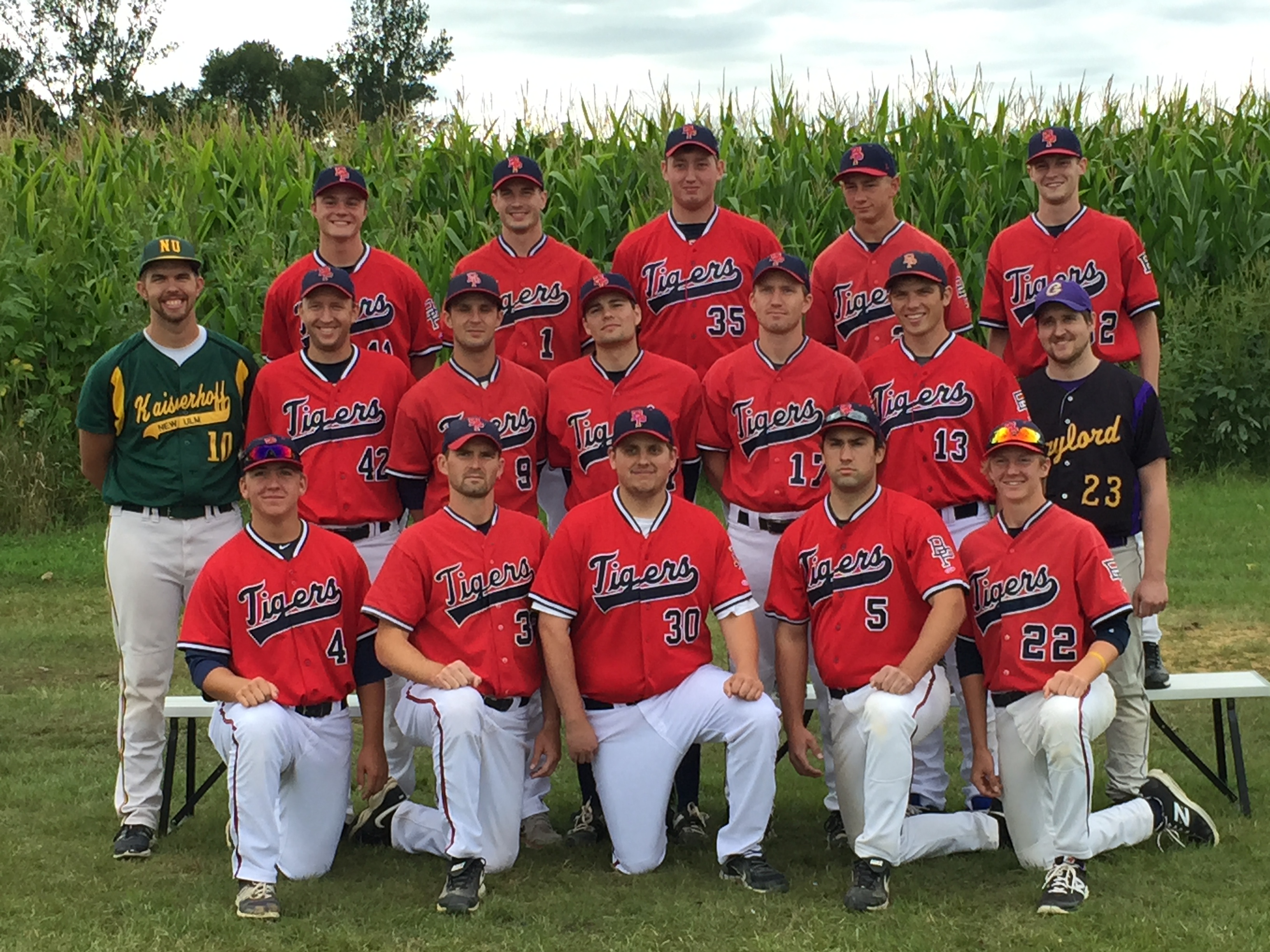 BP 3 vs. Hadley 2 @ Watkins (Sunday, Aug. 23 – Class C State Tournament, First Round)
50 NEW PICS!
Tigers starting pitcher Derek Dahlke worked out of trouble in the first inning, leaving the bases loaded thanks to a pair of strikeouts and a 3-1 groundout to end the frame. Little did "Little Dahlke" know he'd have to work out of similar dilemmas in the second, third and sixth innings as well. But when all was said and done – despite five walks and a pair of hit batsmen – Dahlke didn't allow a run, while striking out eight. The right-hander stranded a dozen Buttermaker baserunners.
Team Tigertown got on the board early when Dylan Nyberg destroyed his team-leading fifth home run of the year, a two-run shot to left-centerfield. Josh Terrio, who was hit by a pitch with two outs immediately before Nyberg came to bat, got to lead the slow trot around the bases.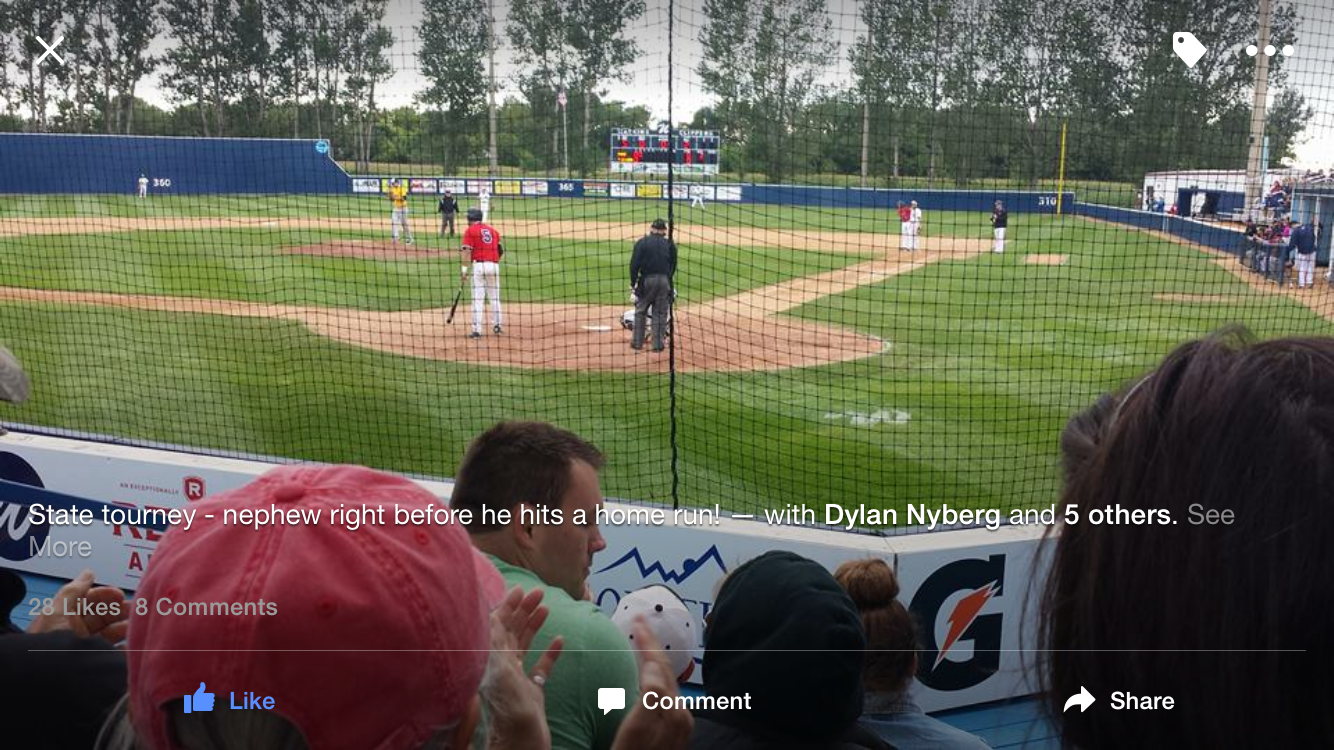 The Tigers' third and final run came in the fifth inning and again with two outs, as 18-year veteran Pat Schultz drove in Tyler Hartman, who reached on Hadley's only error of the game.
Josh Terrio was summoned to the mound in the seventh inning for manager Mike Schultz and if you've been paying attention, Terrio has been utterly dominant in the second half of the season. He just didn't seem to have it on this afternoon, however, allowing two runs (one earned) and four wild pitches over 1.2 innings. After a walk put runners at first and second with two down in the eighth, Gaylord draftee Trevor Vaubel got the call.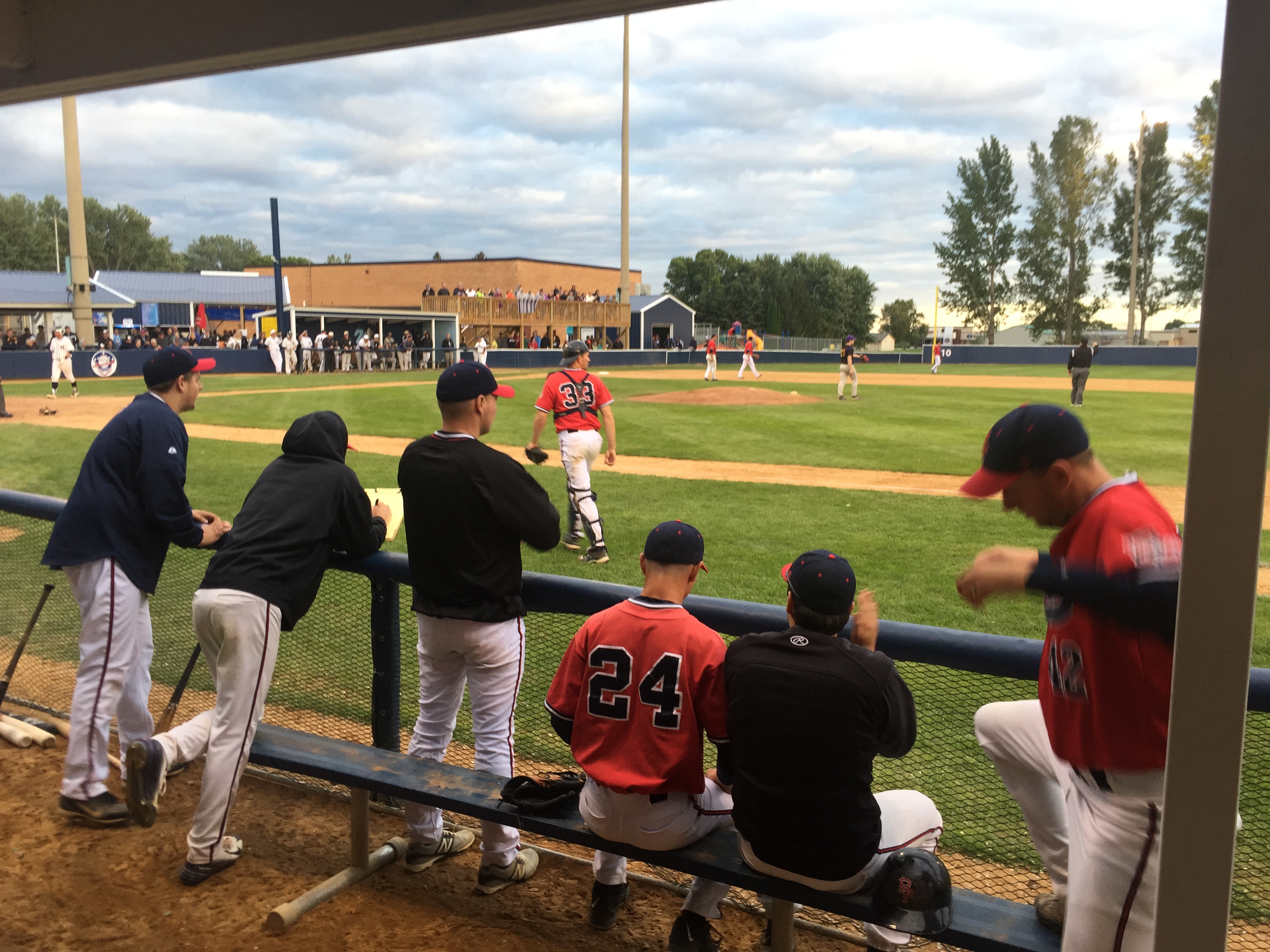 Vaubel induced a pop-out to first base against the first batter he faced, ending the threat. The right-hander was back out for the ninth and after a leadoff walk, he foiled a sacrifice bunt attempt by firing a rocket to second base to nab the lead runner. Perhaps inspired by his great defensive play, Vaubel struck out the next two batters to end the game and allow Tiger fans and players to finally exhale.
There were only nine hits in the game, four of them for the T-Town Express: Nyberg, Travis Latzke, Pat Schultz and Wes Sarsland. In all, the Buttermakers couldn't churn opportunity into runs and left 16 men on base.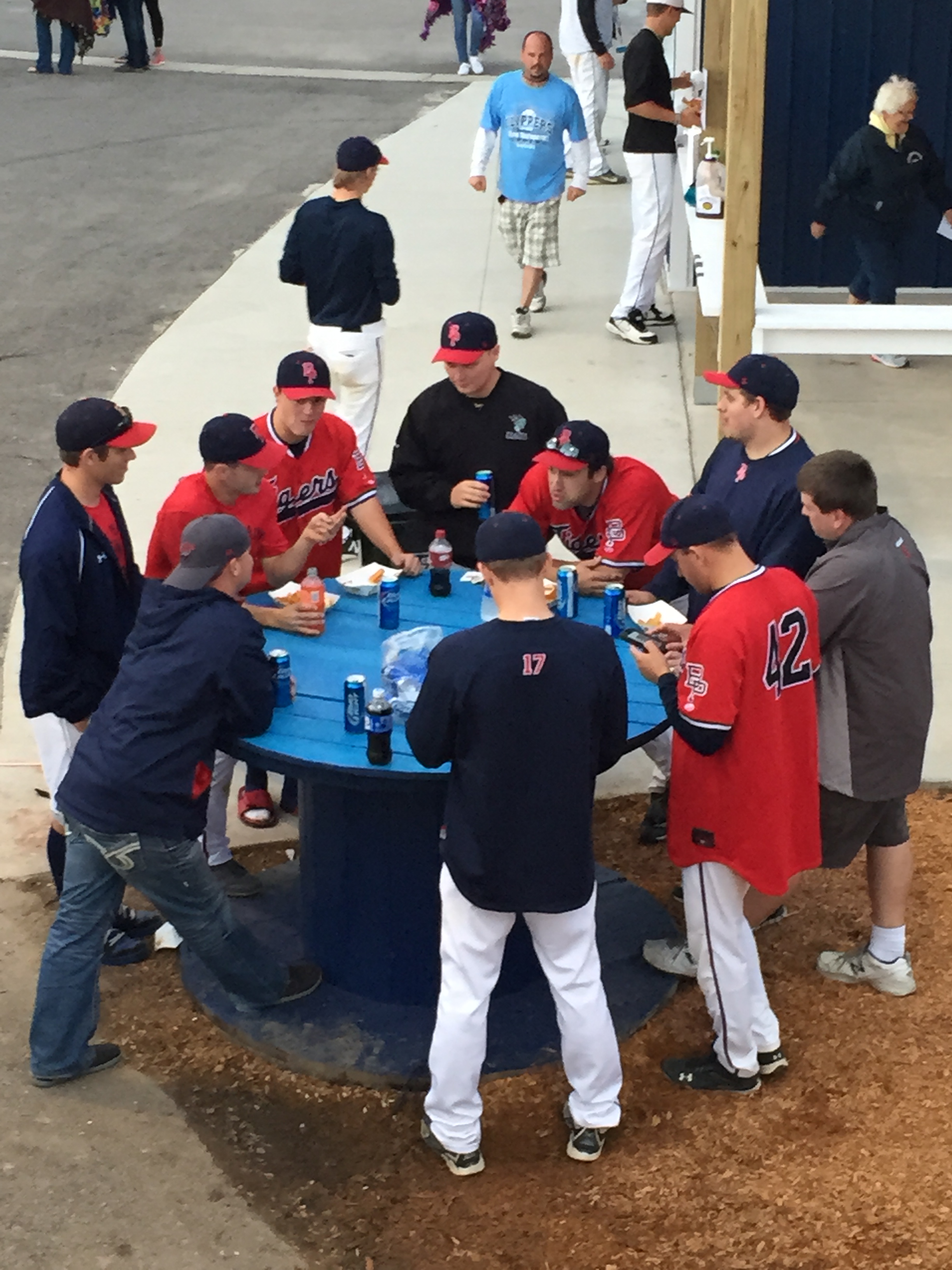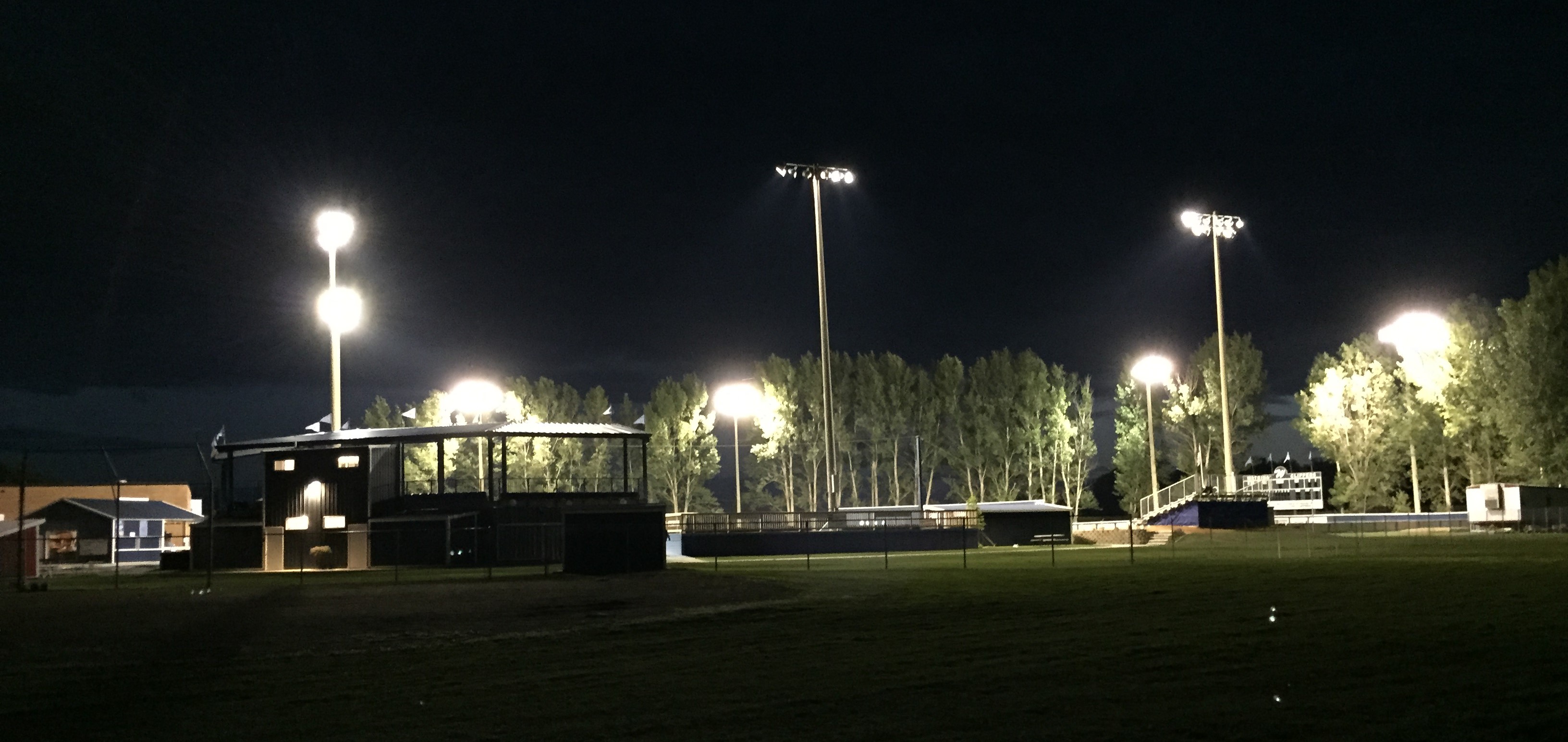 Tigers Open State
Tourney Against Hadley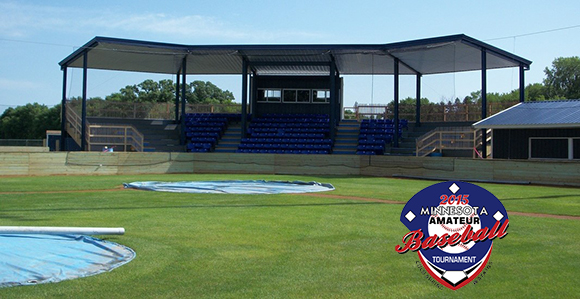 - by Brett Kruschke & Mike Schultz
The Tiger Train might not have the steam she ordinarily does at this time of year, as Belle Plaine putts into Sunday's state tournament matchup against the Hadley Buttermakers with a 10-19 record. But the Tigers have punched their ticket nonetheless, and will take their first cracks as one of Class C's final 48 teams at 5 pm Sunday in Watkins.
While the Tigers are making their eighth state tourney appearance in the last nine years, this is Hadley's first trip to the grand playoff since 2003. The Buttermakers are the third seed out of Region 13, where they finished behind No. 1 seed Luverne and runner-up Fairmont.
Following last Saturday's 11-1 loss to the Jordan Brewers the Region 6C draft was held, and Mama Tiger welcomed some new kitties to the pitching litter. With the second overall pick the Tigers selected Trevor Vaubel of the Gaylord Islanders, whom BP also drafted last year. With the fifth overall pick New Ulm's Nick Dewanz got the call, and the final selection at No. 8 overall was Jordan Sinell of the Le Sueur Braves. Welcome to Tigertown!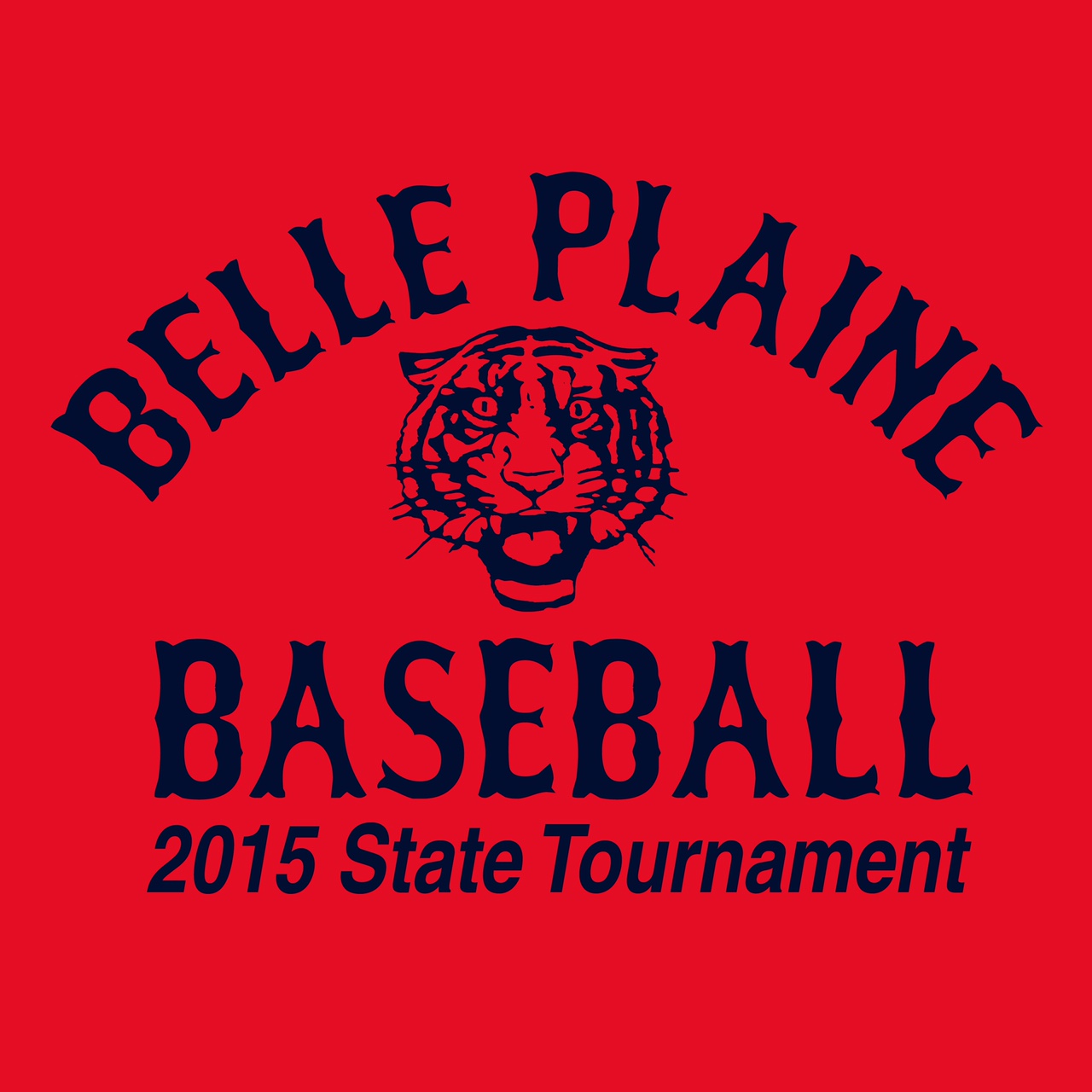 In other Region 6C action, St. Peter rebounded from last week's loss to Belle Plaine to beat Gaylord 2-1 and secure their first back-to-back state tourney berths since 1979-80. The Saints play the game before Belle Plaine's on Sunday, in Watkins, against Waconia of Region 7. Jordan has a first-round bye and awaits the winner of Hamburg and Chokio on August 30.
If Belle Plaine whips the Buttermakers they will play next on August 30 in Cold Spring against the Hampton Cardinals, the top seed from Region 4 and also the victims of Brett Kruschke's first town-team win back in 1992. Watkins has revamped their ballpark, so follow the boys north on Sunday. Or if nothing else, keep up with things on Twitter at twitter.com/bptigertown and listen on KCHK AM-1350.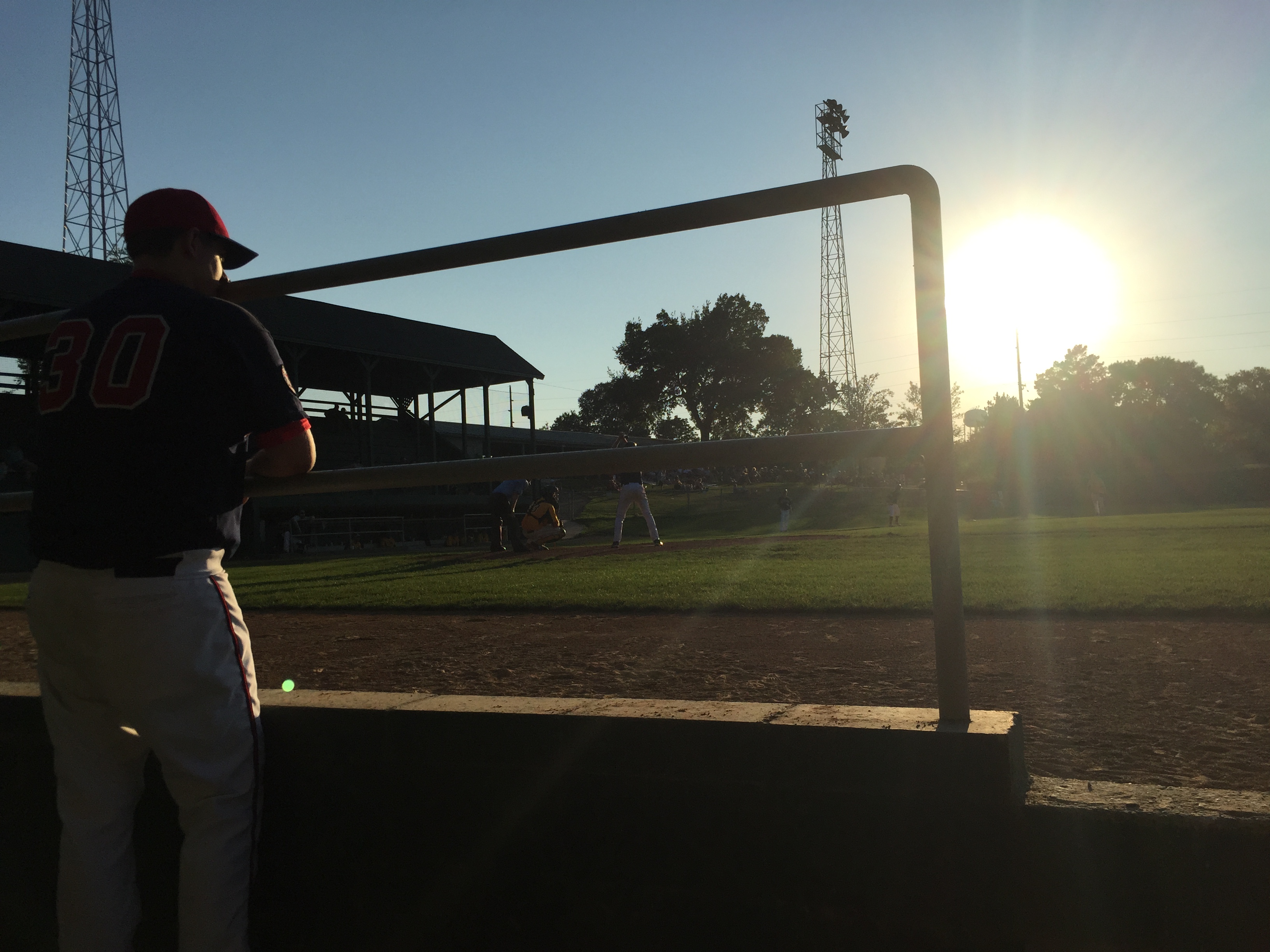 BP 1 @ Jordan 11 (Saturday, August 15 – Region 6C Championship, 8 innings)REGION 6C PHOTO GALLERY!
Fresh off securing a state tournament berth the week before, your hometown nine headed to Jordan to take on the Brewers in the Region 6C championship. The Tigers outhit the Brewers but were otherwise altogether inferior, and not a whole lot more needs to be said.
Derek Dahlke started on the mound and struggled, going four-plus innings while giving up five runs (four earned) and an uncharacteristic six walks. Ben Wagner was up next, going one-plus innings while yielding four earned runs.
Jonny Vinkemeier provided two much-needed shutout frames and was followed by Zac Dahlke, who got two outs while giving up two unearned runs. Chase Emmers faced the last two batters before Jordan implemented the 10-run rule in the eighth inning.
Team Tigertown collected eight hits on the day, with Wagner socking a pair of doubles among his three hits. Travis Latzke had two safeties with Pat Schultz, Matt Schultz and Wes Sarsland each collecting one. Jordan catcher Trent Simek, it should be noted, celebrated his 40th birthday with a long ball over the left-field wall and postgame cupcakes.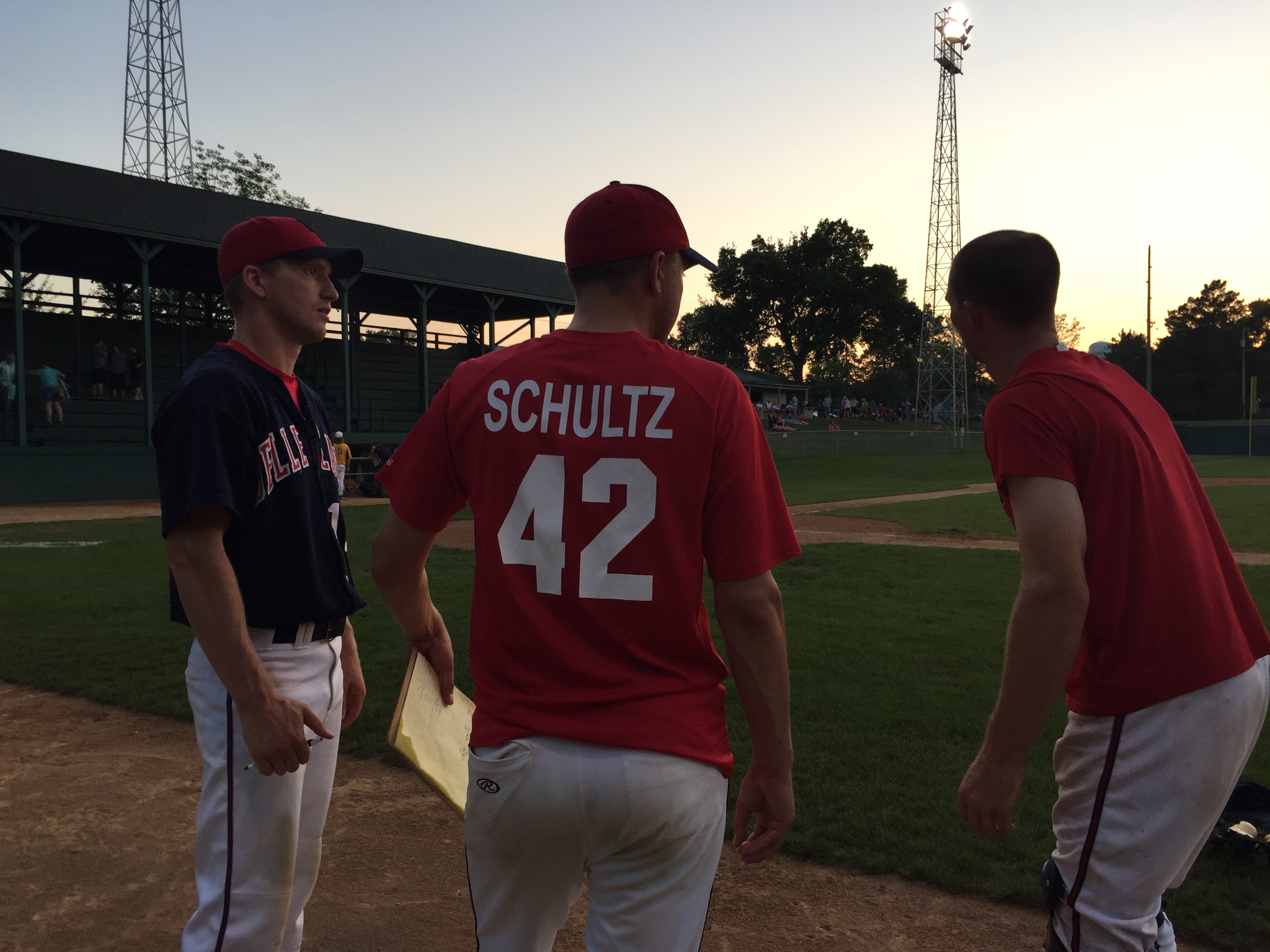 Tigers Upset St. Peter, Punch State Ticket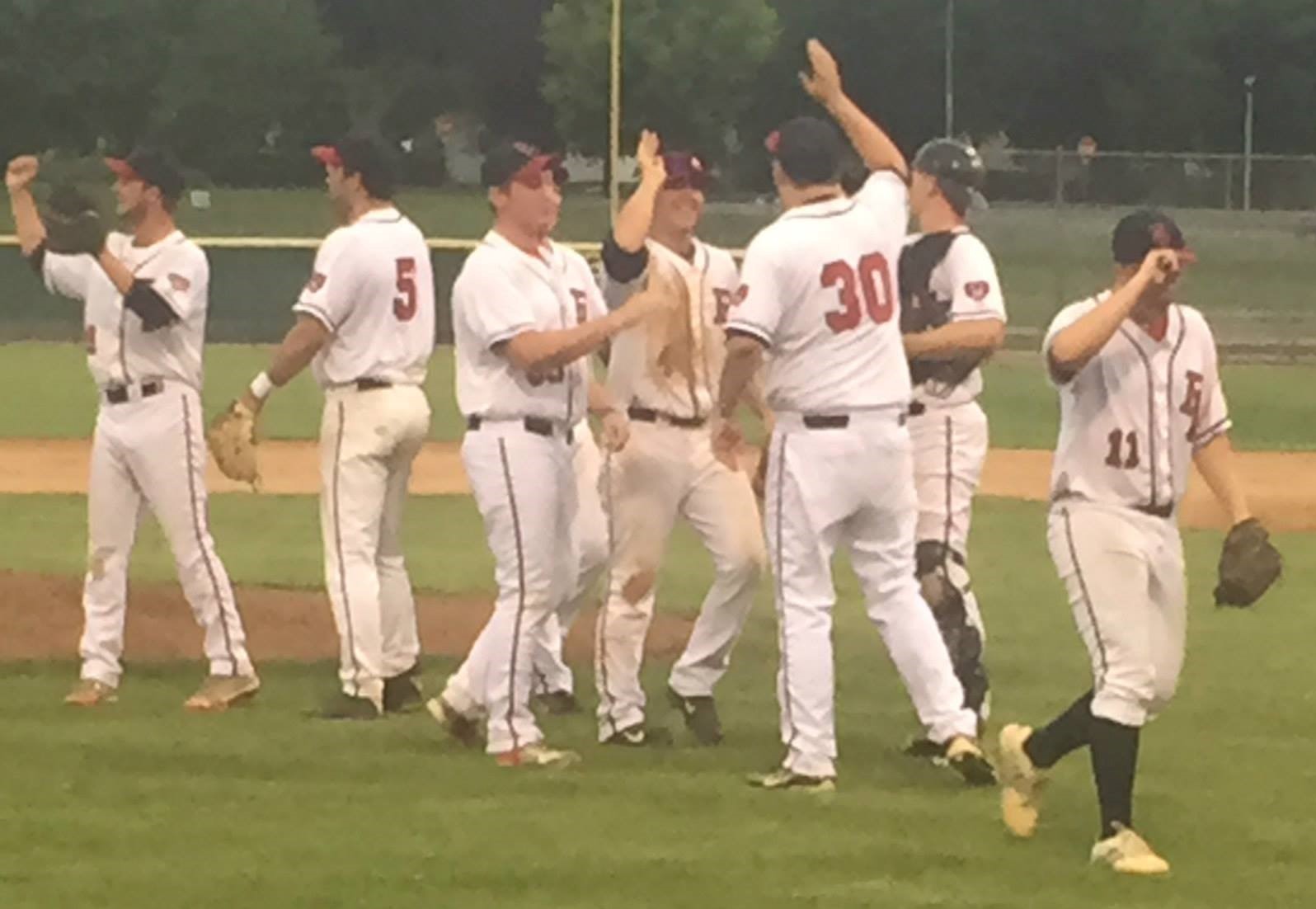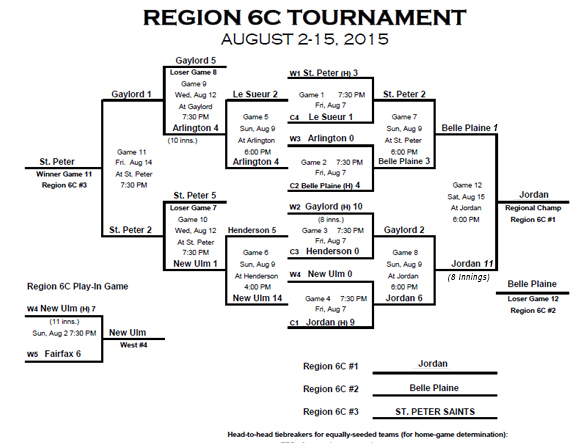 - by Brett Kruschke, Matt Schultz & Mike Schultz
Despite entering the Region playoffs with an 8-18 record "Teenage Tiger" is state-bound for the eighth time in nine years. After a 4-0 victory against Arlington on Friday the Tigers slipped past the St. Peter Saints with a 3-2 win that went perfectly according to script.
As has been well-chronicled in this space, the Tigers lost five players from last year's starting lineup and five of their top six pitchers – including their best hitter and pitcher, Ryan Diers, to the Chanhassen Red Birds. Manager Mike Schultz then went through the halls of Belle Plaine High School, passing out contracts as if they were fliers to a pizza feed. Now, exactly half of the Tigers' final 20-man playoff roster are first- or second-year players – an uncommon roster makeup, to be sure.
When infielder Aiden Ladd – a solid contributor and middle-of-the-order bat in his rookie year – was lost for the season a few weeks ago with an arm injury, it seemed like the type of blow that might have been just too much to overcome, considering the already-dilapidated state of affairs.
To be fair to the Tigers' meager 10-18 record, however, they did finish a more competitive 5-6 in the River Valley League and top pitcher Derek Dahlke spent most of the summer nursing his arm back to full health. The bottom line is, despite a small-sized region and a wide-open remaining field after 11-0 (RVL regular season) Jordan and 10-1 St. Peter, qualifying for this year's state tourney carries special satisfaction for Team Tigertown.
Speaking of 11-0 Jordan, they defeated Gaylord 6-2 in the other semifinals matchup and the Tigers will now face them in the Region 6C title game at 6 pm Saturday, at Jordan's Mini-Met. On the line is a first-round state tournament bye – with a win, BP will open the state tournament on August 30, in Cold Spring; with a loss, the Tiger Nine will be in Watkins one week earlier, on August 23.
With no more home games this season, hit the road and follow the Tigers wherever the road may take them. Follow the Tigers online as well on the web, Twitter and Facebook at "BPTigertown."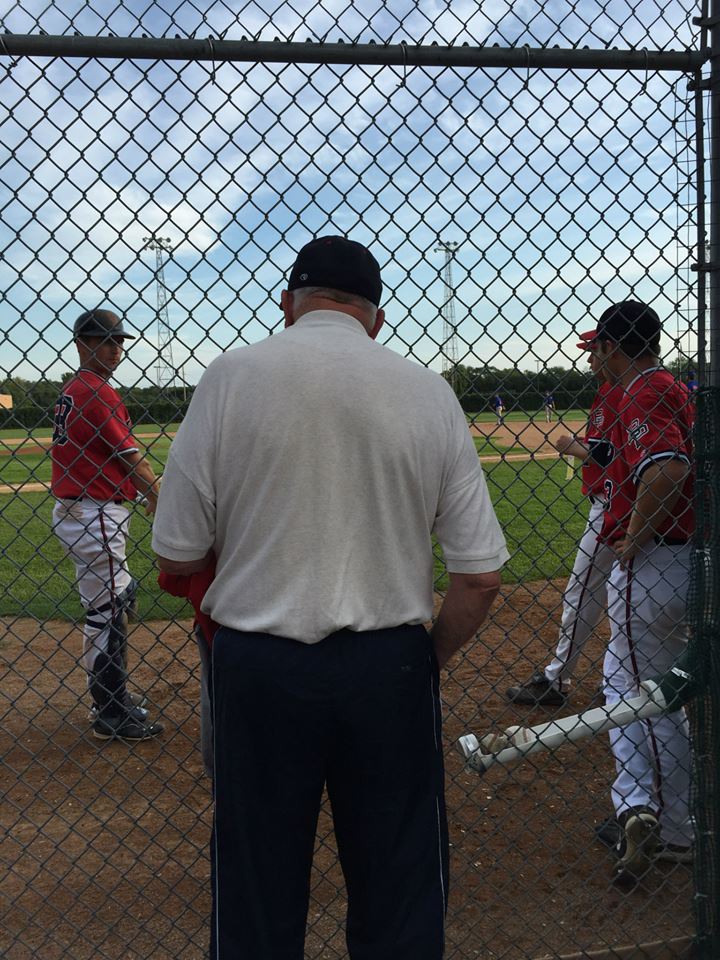 Arlington 0 @ BP 4 (Friday, August 7 – Region 6C Playoffs, First Round) - PHOTOS
Belle Plaine opened Region 6C with a home game against the A's of Arlington, playing them for the second time in less than a week. Last Sunday everything went the Tigers' way en route to an 18-0, 7-inning whitewashing, but baseball is new every day and the playoffs are a different animal.
El Tigre sent Derek Dahlke to the mound while the A's countered with their young ace, Matt Pichelmann, who was a Tigertown draftee a year ago.
Teenage Tiger scored single runs in the second, third and fourth innings while adding an insurance run in the seventh.​ Dahlke tossed seven innings while striking out eight, yielding four hits and three walks. Old-school closer Josh Terrio, from the Goose Gossage-mold, came on for the final two innings and set down all six batters he faced – the first five via strikeout.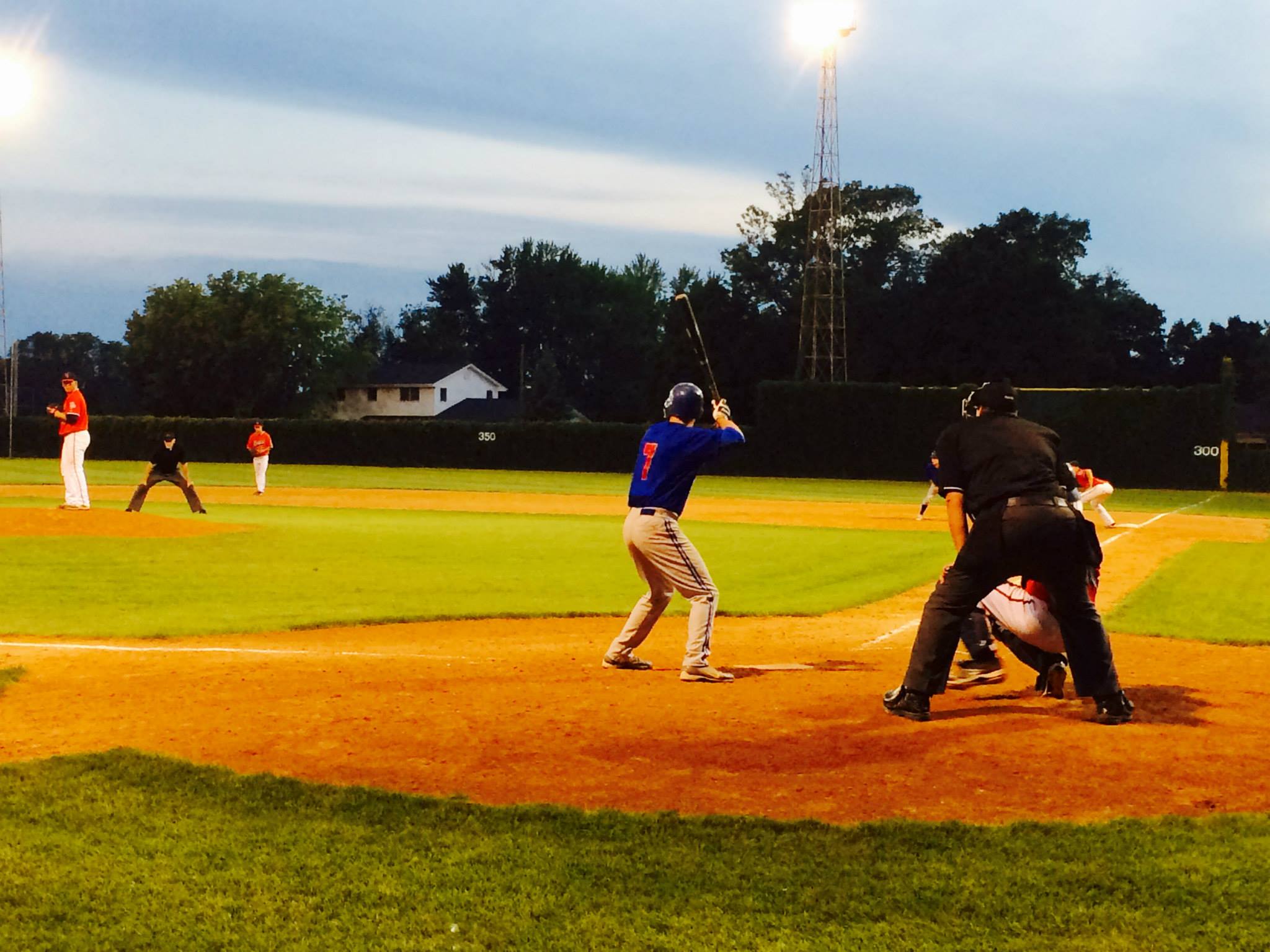 After going 4-for-4 with three home runs and eight RBI in the previous matchup against Arlington, Dylan Nyberg led the way once again with two of Belle Plaine's eight hits. After declaring last week that Nyberg, Adam Johnson (in 2011) and Bob O'Brien (in 1948) were the only known Tigers to ever hit three homers in one game, we've since been issued a correction.
Marv Hartman – current Tiger Tyler Hartman's grandpa – also hit three homers, at Tiger Park, against Shakopee in 1968. The newspaper clipping says that Hartman "clubbed three home runs in three times to the plate" in the 11-0 win. The winning pitcher was Bobby Ott, who struck out eight in the complete-game three-hitter.

BP 3 @ St. Peter 2 (Sunday, August 9 – Region 6C Playoffs, Semifinals) - PHOTOS
After the Friday win against Arlington the Tigertown Express rolled into St. Peter looking to punch their ticket to the state tournament. Just over a year ago Belle Plaine played at St. Peter's Veterans Field for the chance to go to state, a 1-0 victory for the Saints. (The Tigers then needed to win twice in the loser's bracket to still advance to the state tourney in Belle Plaine and Jordan – and they did.)
Standing in their way was a Saints squad with an 11-1 RVL record and formidable ace Matt Lewis on the hill. El Tigre countered with the ace of the high school staff, Ben Wagner. The right-handed rookie was up to the task, going five-plus innings with only two runs allowed. To maintain that line, however, he did need some help.
Wagner allowed a pair of infield singles to start the sixth and was pulled in favor of Josh Terrio. He promptly walked the first batter and it was bases loaded and nobody out, with Los Tigros clinging to a 3-1 lead. Terrio induced a well-executed 6-2-3 double play to give your hometown nine a huge boost and some breathing room. A bloop hit to right field by the Saints' Jayme Munsterman scored one run but a second baserunner wasn't so lucky, as a 9-3-2 putout nailed the runner on a close play at home to preserve a one-run lead. Terrio cruised the rest of the way and capped the game with a strikeout, earning the four-inning save to clinch a spot in the state tournament.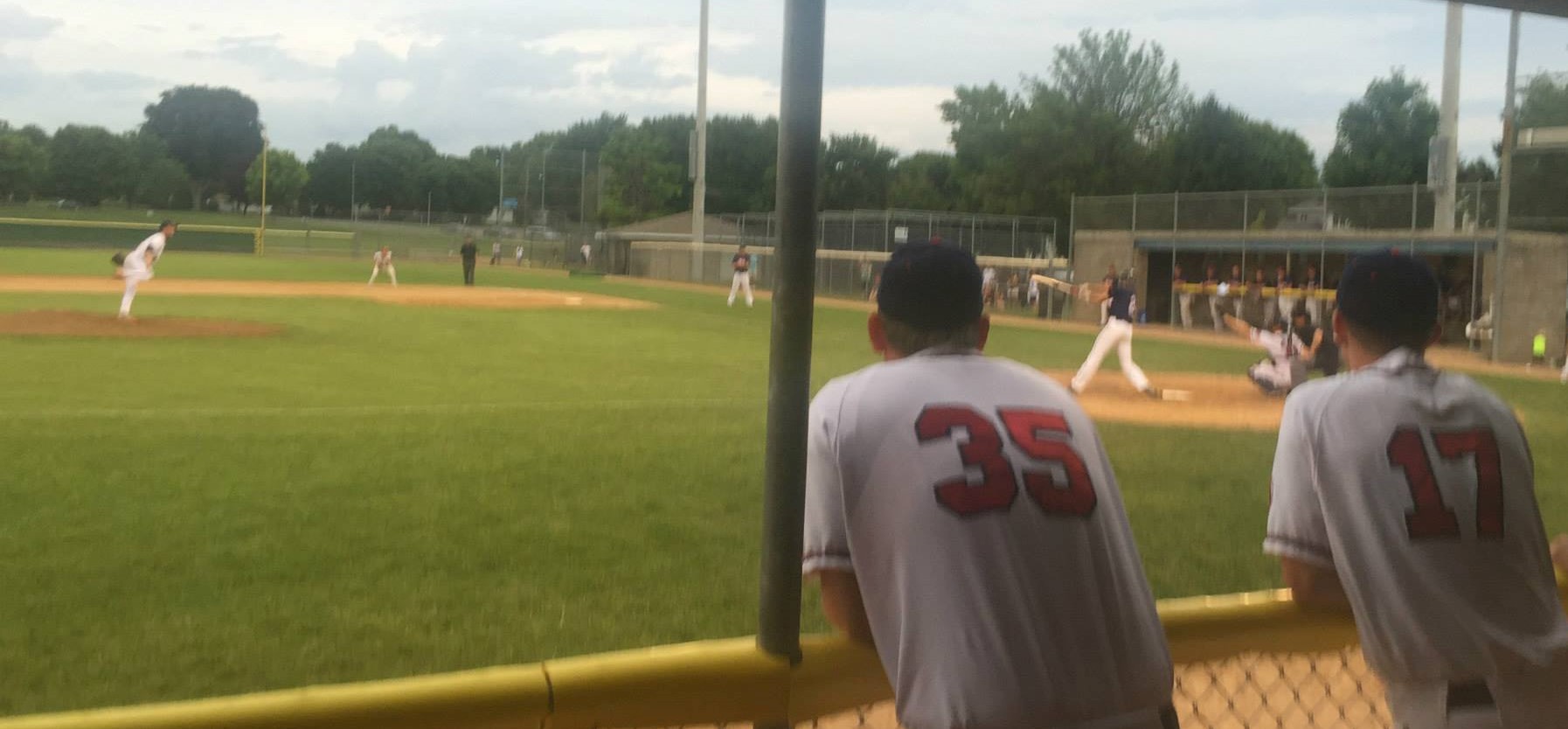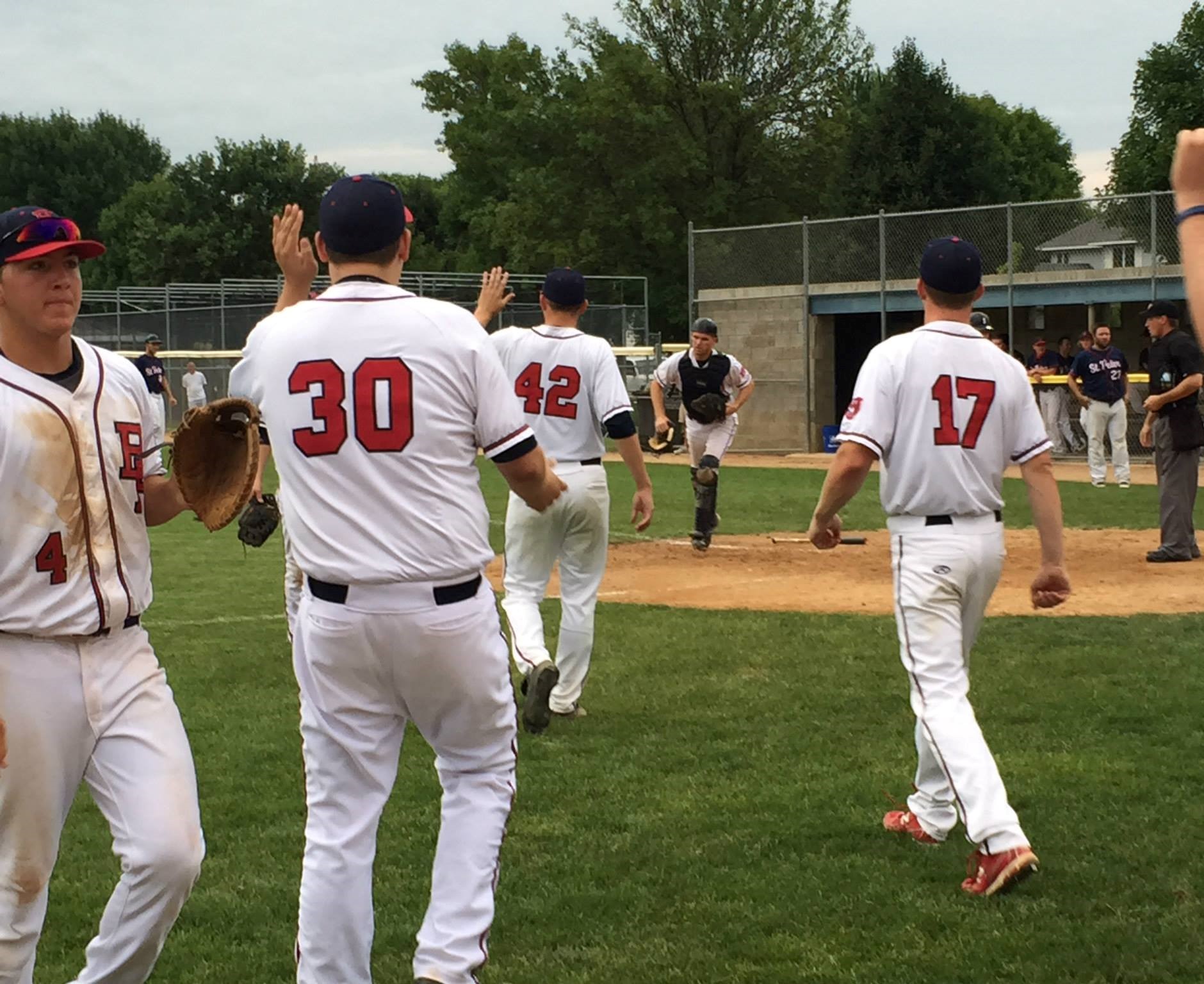 The Tiger Train jumped on Lewis in the first inning: Pat Schultz stroked a clean, line-drive single and Derek Dahlke followed it up with an euhhw-inducing bomb over the left-field fence for a 2-0 lead and a big dose of confidence.
In the third inning El Tigre plated their final run after Travis Latzke got hit by a pitch, stole second and was promptly driven in by another line-drive single off the bat of Pat Schultz. Lewis got measurably stronger as the game went on and retired 20 of the last 22 batters in order, finishing with 12 strikeouts.
Mama Tiger finished with six safeties on the day, with Dahlke collecting a double to go with his homerun and two RBI and Pat Schultz having the two aforementioned singles and one RBI. Matt Schultz and Nyberg had the other two hits for the Chatfield Nine.
Also – and almost immediately – the discussion resumed as to where Mike Schultz ranks among the great field managers, after often reminding us that he was the state's second-best after Tigertown's runner-up finish in 2013.
Region Playoffs Open at Home Friday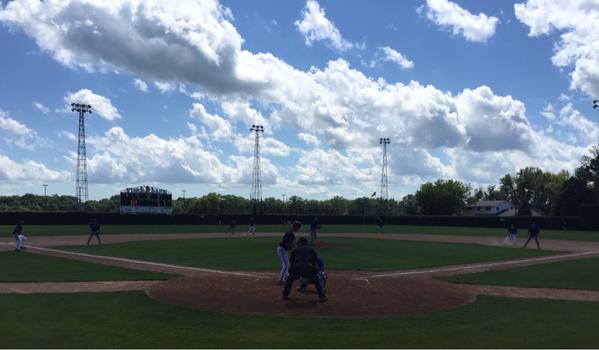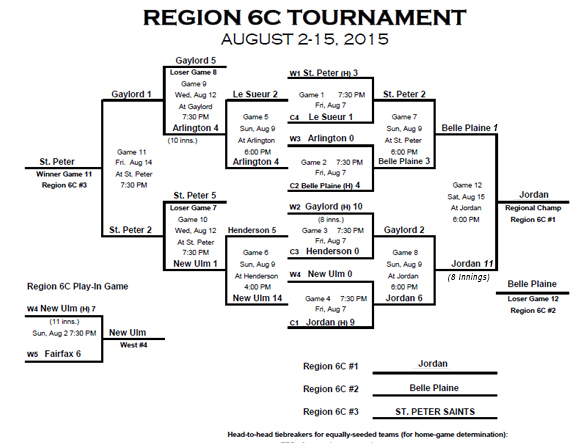 - by Brett Kruschke & Mike Schultz
The Tigers walloped Arlington 18-0 on Sunday in the final game of the regular season and the same two teams will meet again to open postseason play on Friday, with Region 6C action kicking off at 7:30 pm at the ivy-laden confines of Tiger Park. The season series is tied 1-1 as the A's nipped Belle Plaine 2-1 in Arlington on July 5.
The Tigers' next game is Sunday at 6 pm against either the RVL West's St. Peter Saints or the RVL Central's Le Sueur Braves; opponent and location are dependent upon the outcome. Check the accompanying bracket and the Tiger Twitter feed, twitter.com/bptigertown, for an update.
The top three teams from the eight-team playoff – consisting entirely of River Valley League teams – will advance to the state tournament. The Jordan Brewers (11-0 RVL) and St. Peter Saints (11-1 RVL) are considered heavy favorites, with the third bid seemingly up for grabs. Despite a down year and despite an injury to rookie starting infielder Aidan Ladd, the Tigers are very much in the mix.
Over the past week the Chatfielders experienced both ends of a 7-inning shutout, falling 10-0 to Gaylord last Tuesday before the Arlington awakening on Sunday. On Friday night the Chanhassen Red Birds doubled up the home team by an 8-4 count. Belle Plaine finished the regular season with a 5-6 league mark while coming in at 8-18 overall.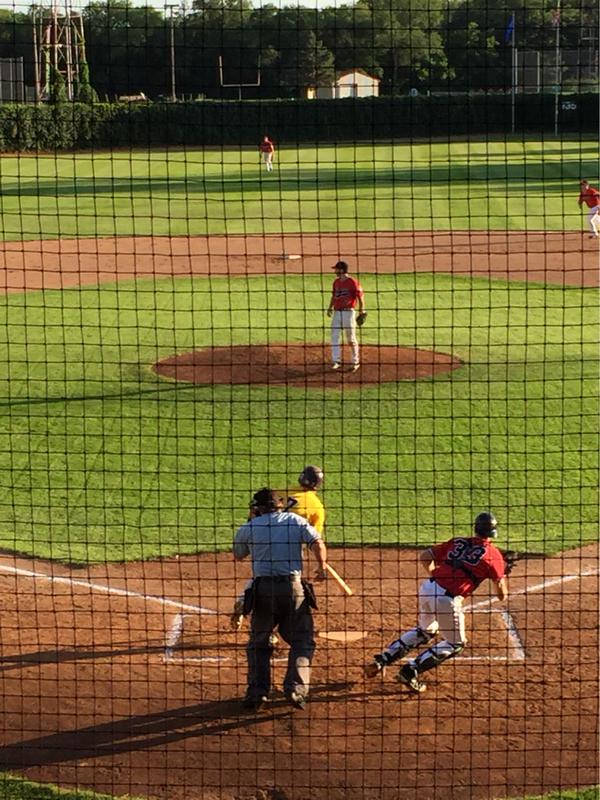 Gaylord 10 @ BP 0 (Tuesday, July 28 – 7 innings)
The crack editorial staff at BP Tigertown, Inc. dropped the ball on this game and no-one did a write-up for it, but considering the 10-0 score that might be just as well. Gaylord scored in each of the first five innings and the only question soon remaining was would the Tigers get shutout? Yep, they did.
Andrew Grack went the distance on the hill for the Islanders, clinching the shutout with a bases-loaded strikeout of Pat Schultz in the seventh inning – much to the relief of most honest fans in the ballpark, as it meant an earlier end to a foregone conclusion.
The Tigers sent five different pitchers to the hill on this lifeless evening, showing incremental improvement as they went.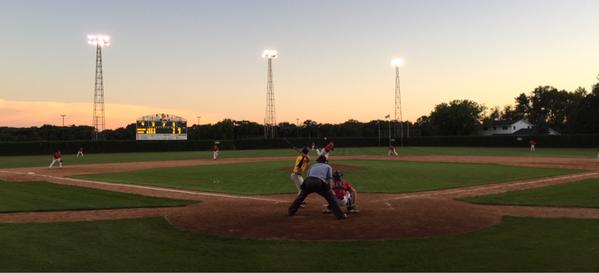 Chanhassen 8 @ BP 4 (Friday, July 31)
On Friday the Chan Red Birds flew into Tigertown to take on your hometown Tigers for the annual Fan Appreciation Night. Derek Dahlke drew the task of starting on the mound against one of the better teams in Class B. He was strong in his final tuneup before the playoffs, going three innings while giving up only one earned run.
Clayton Meyer returned from parts unknown to throw the next 3.1 innings while Josh Terrio threw the final 2.2 frames. Terrio also led the Tigers offensively, going 2-for-4 with a double.
El Tigre did most of their damage in the first inning, getting five singles in a row and plating three runs. But it was not enough as Team Tigertown came out on the wrong end of an 8-4 final score. They did hold former Tiger Ryan Diers hitless on the day (editor's note: Diers went 0-for-0 with three walks and a sacrifice fly), but they didn't heckle him too hard because once a Tiger always a Tiger, Tiger.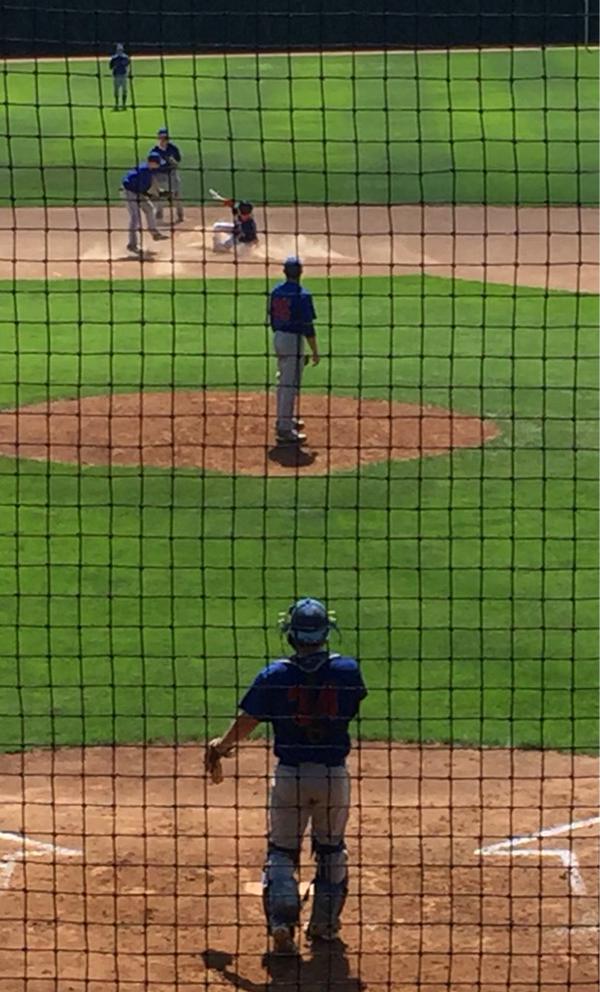 Arlington 0 @ BP 18 (Sunday, August 2 – 7 innings)
When this game was scheduled over the winter it was looked at as a tune-up game before the Region 6C playoffs, as it would not count towards the RVL standings. The Tigers broke out with 17 hits, with one player getting fine-tuned in providing a performance for the ages.
Seventh-year player Dylan Nyberg went 4-for-4 with three home runs and eight RBI, including a sacrifice fly and four runs scored. In the second inning, Nyberg clubbed a two-run shot to left field. In the third he put another one over the vines, driving home three. Nyberg merely singled while driving one run home in the fourth inning – Belle Plaine's second consecutive six-run frame.
In the fifth inning Nyberg put his name in the Tiger record books by belting his third long ball of the day, a solo shot. Several remembered lefty Adam Johnson clubbing three taters at St. Benedict a few years ago – it was July 9, 2011, to be exact.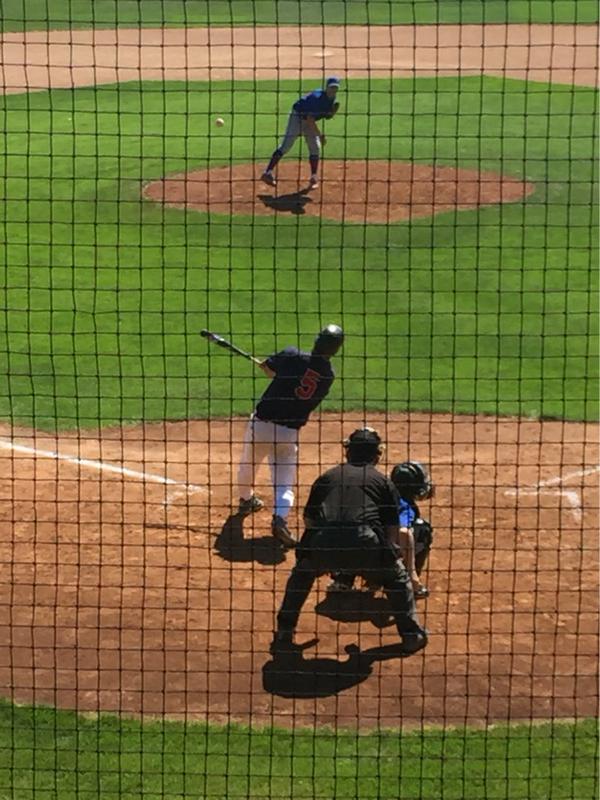 Consulting with Tiger historians Tom Melchior, Gerry Meyer and Fred Keup, the only other three home-run game in Tigertown lore was Bob O'Brien at Le Center, versus Lonsdale, in September 1948. The crowd that day was 2,200. A few weeks later BP appeared in its first state title game, losing 6-4 to Winsted.
Due to the Tiger drubbing and the 10-run rule, the sixth inning would be Nyberg's final at-bat – albeit with the bases loaded. With one out Nyberg hit a fly ball to medium-deep center field; while it was dropped for an error on the fielder it was deep enough to have scored the run, giving Nyberg a sacrifice fly and an eighth RBI.
Ben Wagner started on the hill and worked four scoreless, improving his rookie-year record to 3-0. Chase Emmers, Jonny Vinkemeier and Wes Sarsland all contributed a scoreless frame as well.
Other hitting stars for Belle Plaine included left fielder Tyler Hartman, who went 3-for-5 with three RBI and a steal. Terrio went 2-for-3 with a walk, two RBI and two runs while Sarsland likewise went 2-for-3, with two walks, two RBI and a double.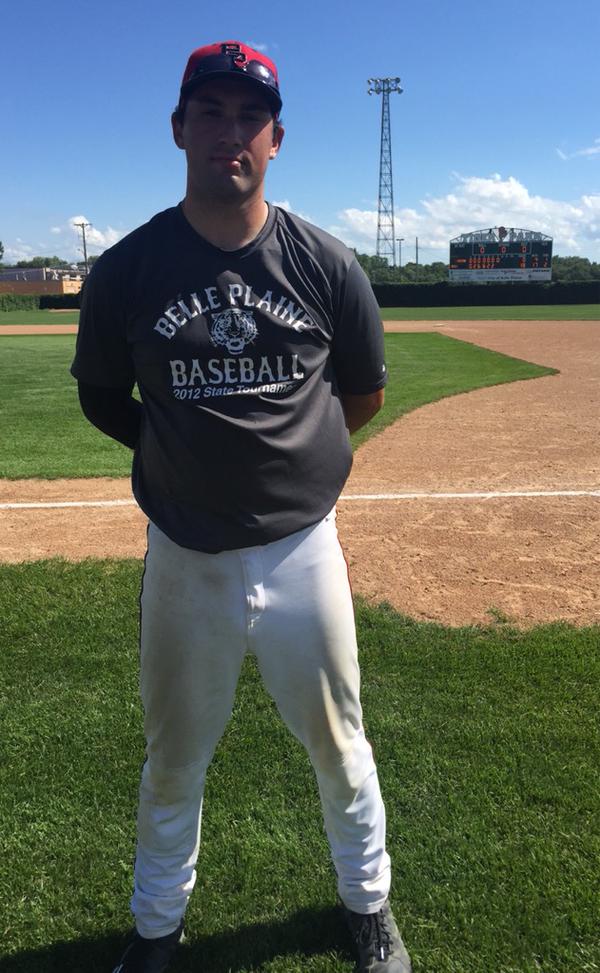 Tigers Secure RVL Central's No. 2 Seed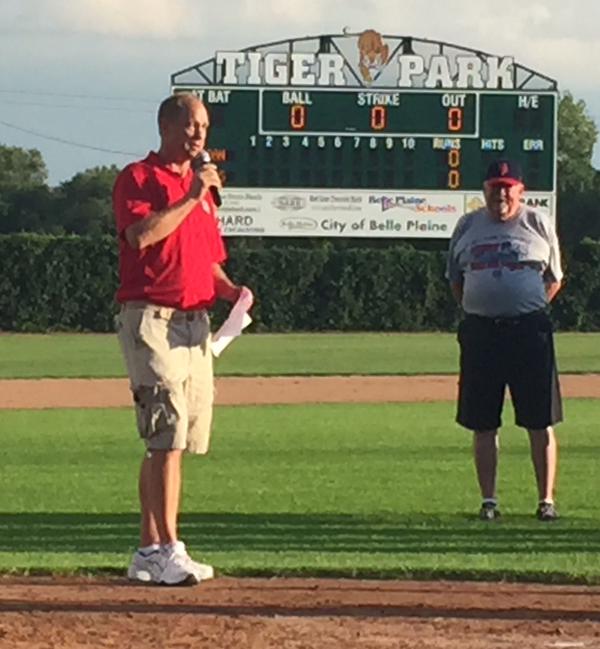 BPBA President Dennis Lawson speaks during pregame ceremonies on Gerry "Mize" Meyer Night, with Mize looking on, at right
- by Brett Kruschke, Matt & Mike Schultz
The final week of the regular season has arrived and will conclude with a pair of home games: Friday at 7:30 pm versus the Chanhassen Red Birds and 2 pm Sunday against the Arlington A's. Friday will be Fan Appreciation Night with prizes given away throughout the game – including a signed bat and signed baseballs, Tiger baseball caps, food and drink items, 2016 season tickets, four Minnesota Twins tickets and more!
Despite both being against River Valley League teams neither of these contests will count towards the RVL standings, as the last of those was played last night (Tuesday) after this edition of the Herald went to press. Please check bptigertown.com and the team Twitter account, @bptigertown, for results and highlights.
With a 5-5 RVL mark (7-16 overall) entering last night's home game against Gaylord, the Tigers have already secured the No. 2 seed from the RVL Central – behind the 11-0 Jordan Brewers. That means the Big Grrr will open up at home next Friday, Aug. 7 at 7:30 pm, against the No. 3 seed from the RVL West – either Gaylord or Arlington. A full bracket can be found at the Tiger website, or look for it in next week's Herald.
While mentioned below by scribe Matt Schultz, we would be remiss if not to touch further on last Friday's "Gerry 'Mize' Meyer Night" at Tiger Park. While the ballgame against Jordan was a dud the rest of the evening was great, with Mize's family by his side. Videos of a portion of Papa Tiger's pregame speech and his singing of the 7th-inning stretch – for the first time since August 1991! – have been posted to the Tiger Facebook page at facebook.com/bptigertown. A photo album is soon forthcoming, and it may already be viewed by going to twitter.com/bptigertown and clicking "Photos & Videos.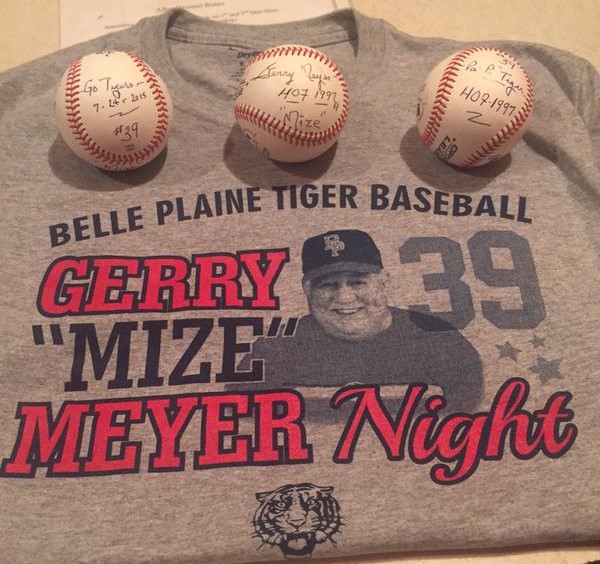 It's a collector's item, I tells ya"
Jordan 14 @ BP 3 (Friday, July 24)
The Brewers played Teenage Tiger for the second time in less than two weeks and the results were very similar. Papa Tiger himself, Gerry Meyer, was on hand for Gerry "Mize" Meyer Night.
Mize sings 7th-inning stretch -- for first time since 1991

Gerry "Mize" Meyer concluded his appreciation night by singing the 7th-inning stretch at Tiger Park -- for the first time since August 1991! (Mize sang it then to celebrate Belle Plaine's first state tournament berth since 1952 -- which yes, was a 39-year gap, matching Mize's and son Brent's uniform number, 39.)

Posted by BP Tigertown on Saturday, July 25, 2015
Chase Emmers started on the mound and was a little erratic, although some poor defensive play didn't help him any. He threw 3.1 innings before giving way to Zac Dahlke, who didn't fare much better while recording just two outs.
Joe Hankins threw a scoreless fifth inning for the Tigers before giving way to veteran catcher-turned-pitcher, Pat Schultz. The 18-year veteran threw the final two innings while giving up his first run of the year – and career – on a double to the burly Paul "Duck Dynasty" Buss, a 52-year old legend.
Belle Plaine managed seven hits, with Matt Schultz leading the way with two safeties. No other Tiger had more than one, Tiger.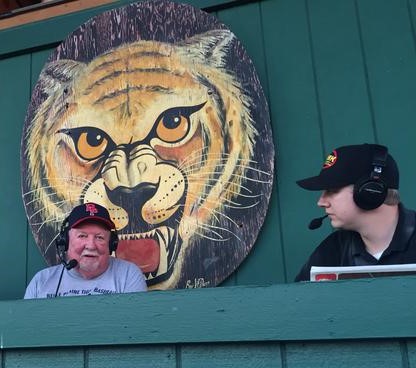 Le Sueur 2 @ BP 5 (Sunday, July 26)
After the loss against Jordan on Friday your hometown nine welcomed the Braves of Le Sueur to Tigertown for a tilt with heavy playoff implications. If Teenage Tiger could defeat the Braves, they would assure themselves of the second seed in the RVL Central and guarantee themselves at least one home game in the playoffs. With a loss there would be too many scenarios to imagine, many of them not good. El Tigre came out on the winning end of a sharply-played game, however, beating Le Sueur 5-2.
Derek Dahlke got the start on the mound against the Braves for the second time in ten days. The outcome was much the same as last time with Dahlke tossing six scoreless frames, highlighted by a season-high nine strikeouts. The Tiger All-Star battled himself a little bit, giving up seven hits and three walks, but he made big pitches when needed and continued working back from early-season arm problems.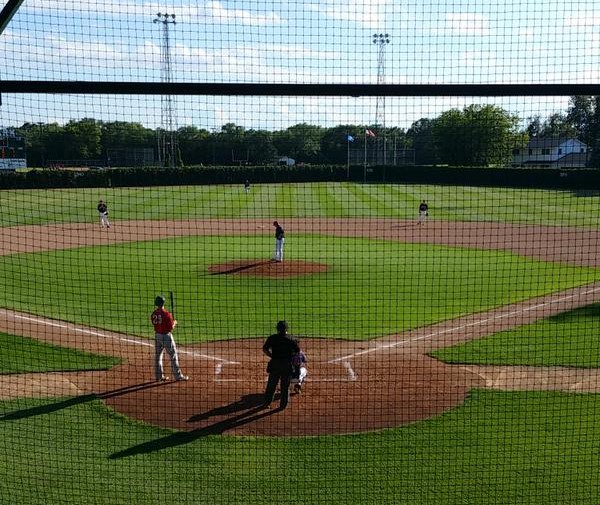 Josh Terrio relieved Dahlke – just as he did in the first game against Le Sueur – and was solid again, giving up only two runs over three innings while amassing six sit-downs. Terrio also struggled with control, issuing four walks, but he too threw well when needed and earned a save the old-fashioned way, by pitching three innings.
Dahlke and Terrio also led the charge offensively, with Dahlke going 2-for-4 with a solo home run and two runs scored. Terrio got half-way to the cycle – not his mo-ped, now buddy – going 2-for-3 with two RBI. Ben Wagner and Tyler Hartman also had RBI's for El Tigre.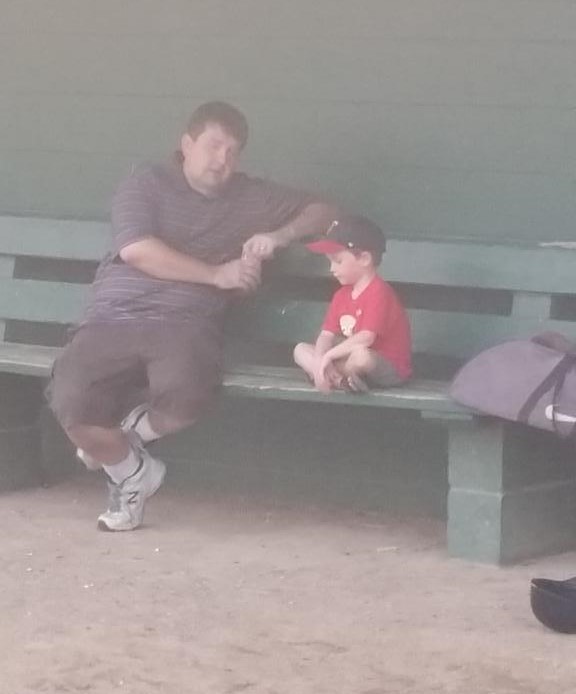 Five-Game Homestand
to Close Regular Season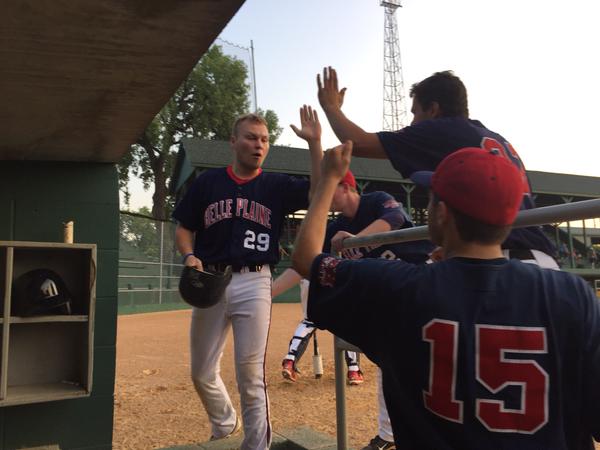 - by Brett Kruschke & Matt Schultz
YAnother summer has whizzed by, and your chances to take in baseball action at Tiger Park are dwindling. But the local lads will offer bountiful opportunities over the next two weeks, with five straight home games on the native turf of Tiger Park to wrap up the regular-season schedule.
The Tigers will host RVL-Central foe Jordan at 7:30 pm Friday and board member Ken Tritz will be making his famous pulled-pork sandwiches. It will also be Gerry "Mize" Meyer Appreciation Night, as we thank and honor "Papa Tiger" for his decades of service in becoming known as Belle Plaine's "Mr. Baseball." Mize has done it all for the Town Tigers over the years, from playing and managing to field maintenance, fundraising and public address announcing, from overseeing the grandstand project and writing many a newspaper article while long-serving as President of the Belle Plaine Baseball Association – and a thousand things more. We'll "see you at the ballpark" Friday for this special evening.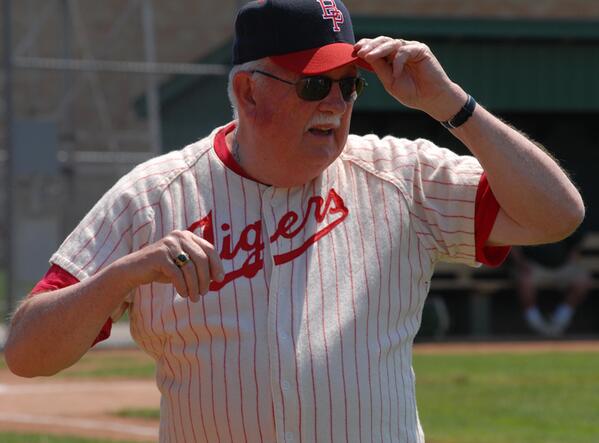 On Sunday at 6 pm Ernie Stumpf will dust off the concertina for our annual "Senior Citizens Night," with all seniors receiving free admission. The opponent will be the RVL Central's Le Sueur Braves, and it will fittingly be "Cambria Night" (with both towns having a Cambria location). And on Tuesday the promotions department will take a break when the Gaylord Islanders visit at 7:30 pm, a makeup game from an early-season rainout.
Last week the Tigers got flattened by the Jordan Brewers on Tuesday by a 10-1 count before besting Le Sueur 3-0 to raise the season record to 6-15, 4-4 RVL. I guess that makes this week Rematch Week, Tiger.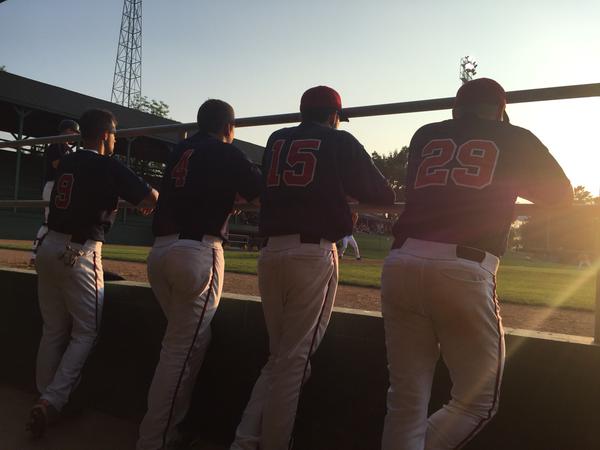 BP 1 @ Jordan 10 (Tuesday, July 14)
Belle Plaine ventured north seven miles down Highway 169 to take on the Jordan Brewers for the first meeting of the year. Pitching and defense were not on the Tiger side as there were four errors and 11 bases on balls charged against the visitors' ledger.
Zac Dahlke started on the mound and was chased after two innings. Chase Emmers relieved Big Dahlk and threw the next 3.2 frames before giving way to Ben Wagner, who recorded four outs. Dylan Nyberg threw the final frame, with a one-two-three inning.
Hitting was scarce for the Tigers as Jordan's Scott Hollingsworth set down the first 15 batters in order. BP had just four hits, with Jonny Vinkemeier accounting for half of them. Josh Terrio and Aidan Ladd had the others.

BP 3 @ Le Sueur 0 (Thursday, July 16)
Teenage Tiger travelled south on Highway 169 to take on the Braves of Le Sueur and get their BBQ Days weekend started off on the right note. Pitching and defense also factored into this game but this time, in a positive way.
Derek Dahlke started on the mound and threw a season-high four innings, facing just one batter over the minimum. Nyberg threw the fifth inning and was able to work out of a bases loaded jam in order to keep the shutout intact. Terrio threw the final four frames, picking up the win while continuing to impress this season on the mound.
The Chatfield Nine had 13 hits on the night, with each starter recording at least one safety. Terrio, Pat Schultz, Jesse Oelfke and Matt Schultz each had two hits.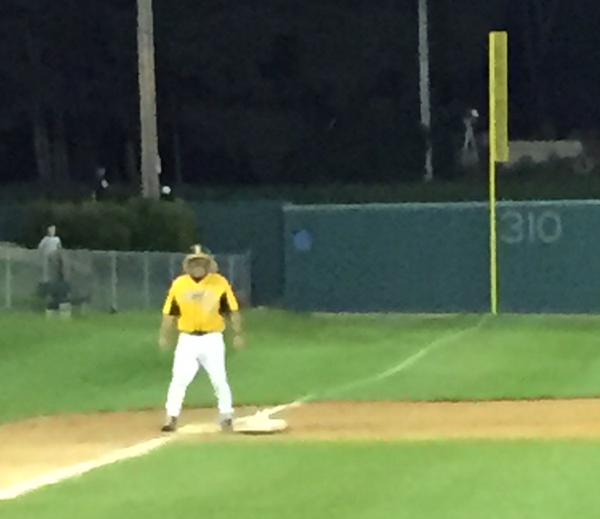 Tigers Hold Their Own Against Irish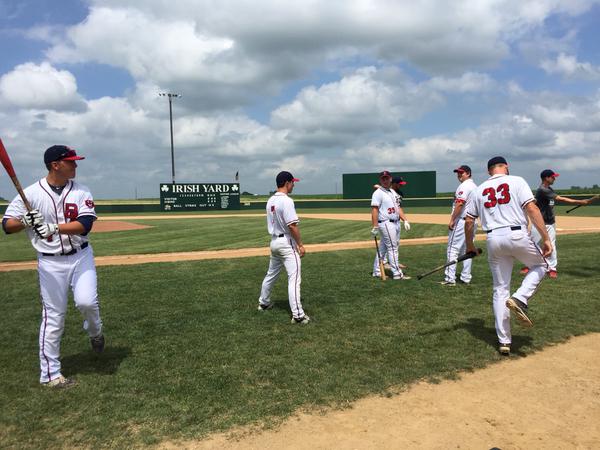 - by Brett Kruschke
You might have to squint a little bit and it might not be saying much, but the youth-laden Town Tigers have played better baseball for the past three weeks than they did for the first seven. Last Tuesday night the Tigers trailed 5-3 in the seventh – with the bases loaded – to one of the top-ranked teams in Class C before falling 8-3 to the Green Isle Irish. On Saturday, Belle Plaine bettered a 17-8 team in the Milroy Irish by a 9-6 count.
Overall Team Tigertown is 5-14, with a 3-3 record in the River Valley League. Why only six games in the RVL so far, you ask? Be still, Taggart, be still … five remain, including last night's assignment in Jordan; check @bptigertown on Twitter for the details. On Thursday the White Lilies will high-tail it to Le Sueur's Bruce Frank Field for a 7:30 pm duel.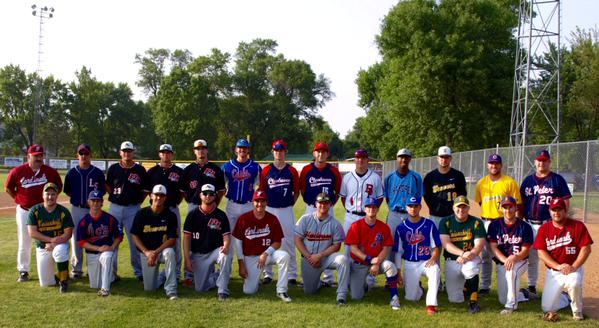 RVL All-Stars


DRS All-Stars
Speaking of the RVL, Commissioner Ron Beckman's best beat the All-Stars from the Dakota-Rice-Scott League for the sixth time in eight tries on Friday in Montgomery. A 2-1 RVL lead after seven innings finished as a 10-4 rout, with the big blow a three-run home run by Chanhassen's Ryan Diers.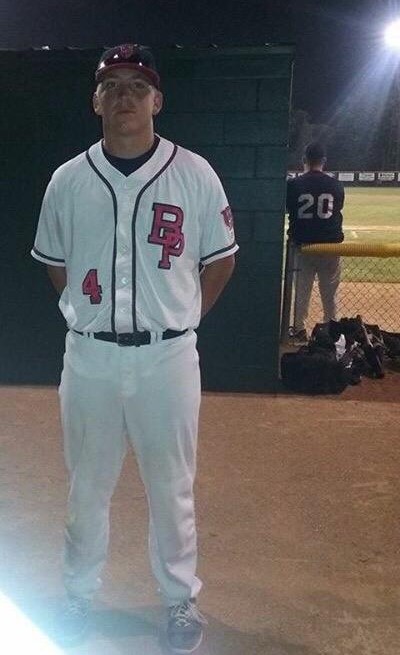 The Tigers were represented by Derek Dahlke, who substituted at third base and went 1-for-3 with a run scored. Travis Latzke was selected for the All-Star Game but did not attend as he is indefinitely resting a lower-body injury in order to get healthy for the playoffs.
Otherwise El Tigre is off for Bar-B-Q Days weekend, as per usual. The regular season will close out with five straight home games, just the way Tiger fans like it.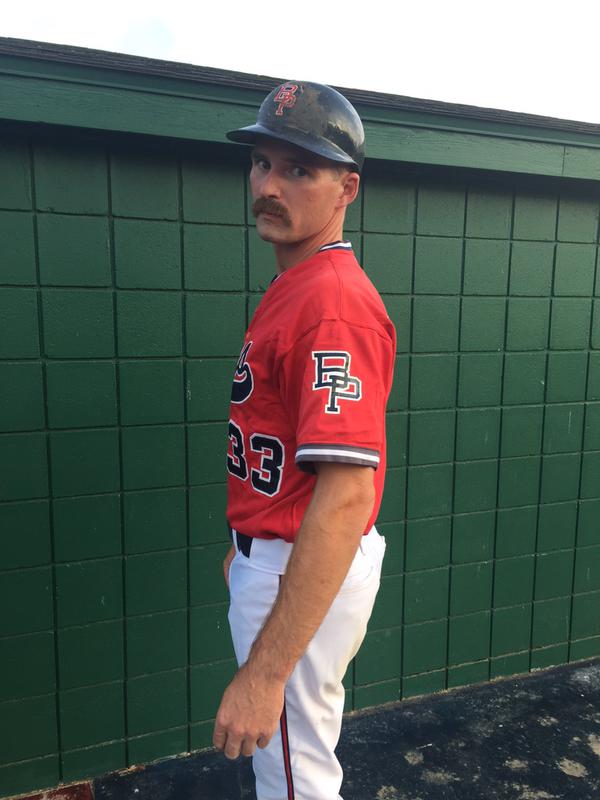 Pat Schultz was voted 2015 Mustache Contest Champion
Green Isle 8 @ BP 3 (Tuesday, July 7)
Some might call it a loser's lament to reference being close-and-late with the Irish in the seventh inning, as your scribe did above. But hey – the Irish are the fifth-best team in Class C and it wouldn't have been a shocker if they had mashed the home team into little bitty Tiger meatballs.
Rookie Joe Hankins got the start on the hill and after allowing the first two men he faced to score, he settled down and left with just one more run allowed through four innings. Clayton Meyer threw three frames and gave up two runs, both coming on back-to-back sacrifice flies in the seventh.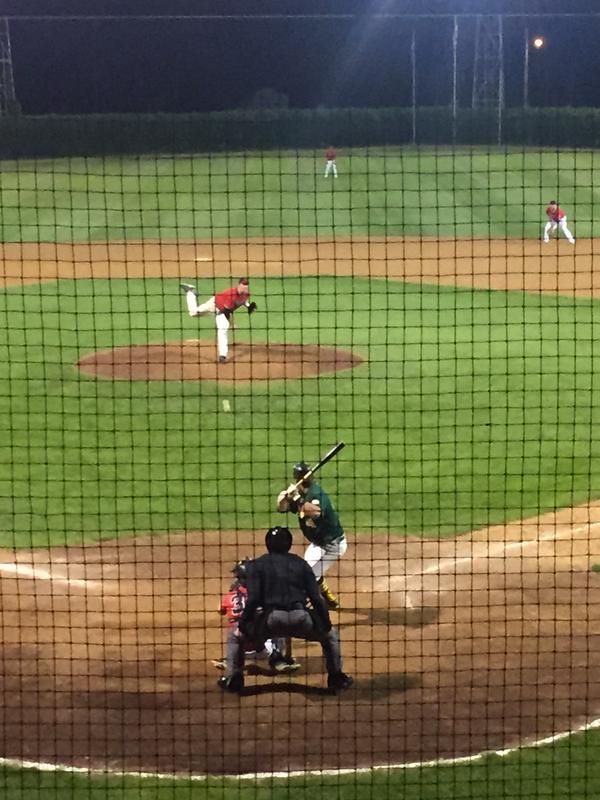 Until the seventh-inning stretch was complete the only noise BP made came on a loud jolt from Dylan Nyberg, who smoked a home run over the left-field wall in the third. With two outs and two in, a double by Derek Dahlke and a walk to Aiden Ladd loaded the bases. The perfect man for the moment was at the plate in Nyberg, but a fielder's choice ended the uprising.
The Irish showed they were done toying around in the eighth by sending eight men to the plate against Wes Sarsland, tallying three runs. Nyberg made the first mound appearance of his seven-year career and looked sharp, striking out a pair in a 1-2-3 ninth inning.
The Big Grrr only had five hits on the night, but Matt Ruehling was productive off the bench with a single, an RBI and two walks in three trips to the dish.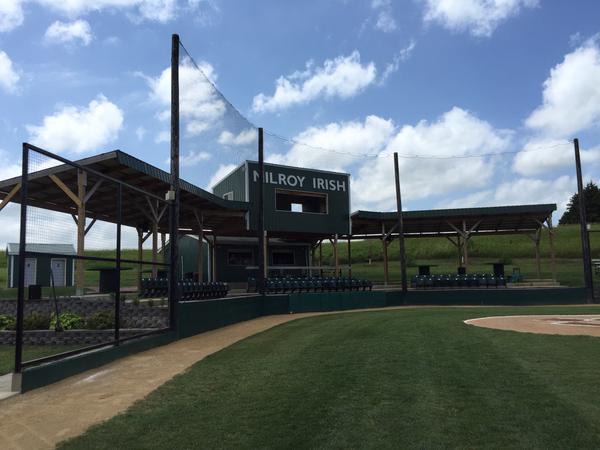 BP 9 @ Milroy Irish 6 (Saturday, July 11) PHOTOS
Sometimes you just get lucky. That's nothing to do with the final result, mind you, but rather the opportunity to play at a hidden gem of a ballpark in its fourth year of existence. Milroy's population is just 248 and they don't have a hotel, but they do have two amateur baseball parks: the home of the Yankees for 70 years, and now the new and ever-improving "Irish Yard."
Irish manager Bob Dolan and the other four Dolans that saw action – three of which are his sons – couldn't have been more gracious to the Tigers during our entire stay. A return trip has already tentatively been agreed to. [Note: Bob Dolan was a rookie manager and played second base for the Milroy Yankees when the Tigers beat them for the 1994 Class C state championship.]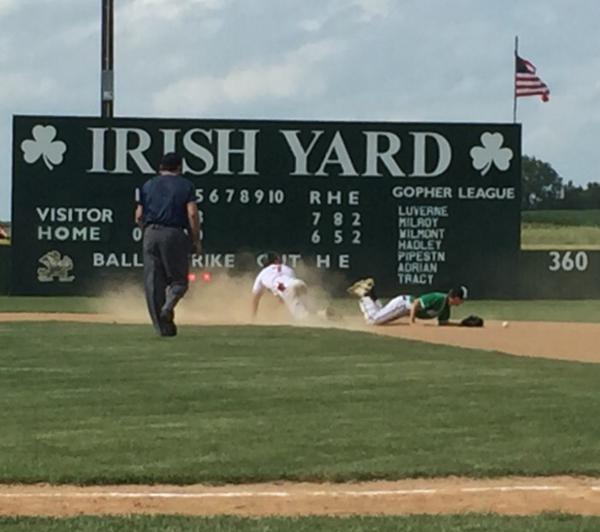 To the game: the Tiger 11 took a 4-1 lead in the third thanks to Derek Dahlke's fence-denting RBI double and Ladd's two-run single. But starting pitcher Sarsland unraveled in the bottom of the third, thanks in part to a pair of fielding errors.
From that point forward, however, the Tiger bullpen clamped down and yielded no more runs: Derek Dahlke had a 1-2-3 fourth, and Josh Terrio was nasty while punching out three over two frames. Pat Schultz proved the power of well-placed batting-practice fastballs for two innings, while Hankins closed it out in the ninth despite Matt Schultz's severe case of alligator arms on a ball near the left-field wall.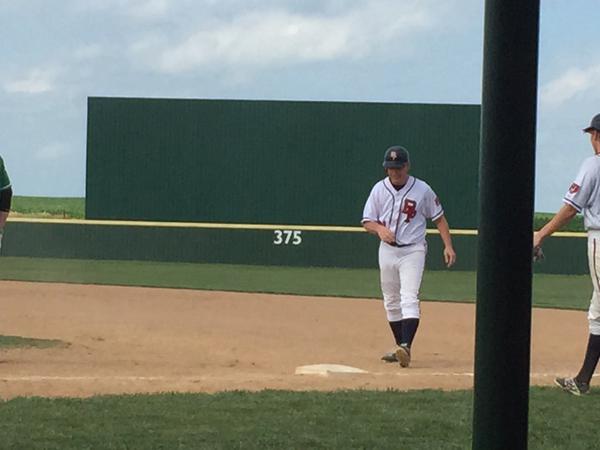 A three-run fifth and a two-run sixth was the last of the day's scoring for either side, but it meant the Tigers could relatively coast to victory. Nine different Tigers recorded a hit on the balmy afternoon, with Derek Dahlke, Ladd and Sarsland each recording a pair while combining to drive home seven runs.
Along for the trip and in uniform so he could get into the game for free, long-time stiff Brett Kruschke dressed for the second time this week despite retiring after the 2011 season. Unlike Sunday at Arlington this time he got a ninth-inning sympathy at-bat, coolly knuckling a base hit over the third baseman's head. It was the 11th season out of 21 that Kruschke has recorded a hit, making him a career .524 hitter (according to his math, anyway).
Miller Lite Tourney Tastes Great
to Young Tigers
- by Brett Kruschke & Matt Schultz
The town Tigers showed well at the Miller Lite Invitational Tournament last weekend in Hamburg and Green Isle. In the biggest win of the season BP knocked off the Faribault Lakers, who made it all the way to the semifinals of the Class C State Tournament last year (including two wins at Tiger Park). The Tigre Train also held their own against a local stalwart, the Waconia Lakers, and had them down to their final out before coughing up the lead and one inning later, the game.
On the season La Tigra is 4-12 with a 3-2 mark in the River Valley League. The month of July will feature mostly league games, starting Sunday night in Arlington at 6 pm when the Tigers return to action after a holiday break. Due to being short-staffed a few recent signings might make it appear like Old Timer's Day, but don't rub your eyes – it really is the town team you'll be watching.
On Tuesday the Chatfield Cats will host Class C power Green Isle, as the Irish ranked No. 3 in the latest state rankings. The first pitch is scheduled for 7:30 pm. Tuesdays at Tiger also mean caramel corn, so come out and go catnippy for it as did Prior Lake's "Tex" Chapman.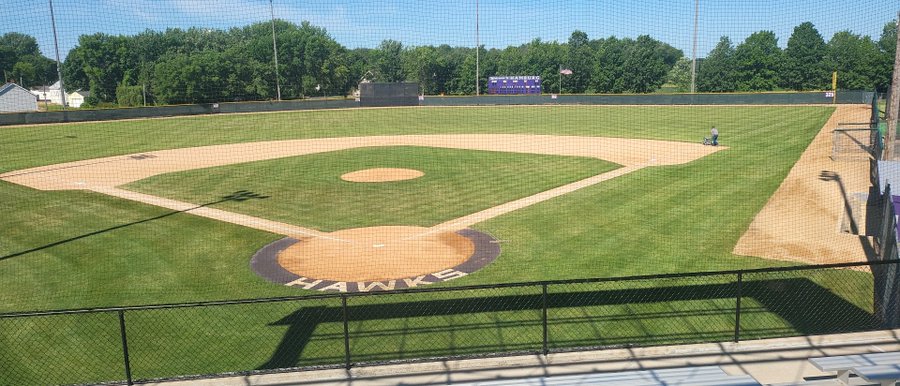 BP 5 vs. Faribault 3, at Hamburg
(Friday, June 26 – Miller Lite Invite Tourney; 7 innings)
Belle Plaine battled not only a good Faribault team in the first round of the Miller Lite Invitational, but also two rain delays, en route to their second straight victory. Ben Wagner started on the mound for the local nine, pitching four innings. The rookie right-hander gave up three runs – only one of which was earned – while earning his second victory of the year. Josh Terrio finished with three shutout innings and three strikeouts, picking up the save.
The Tigers scored two run in the first inning, one in the third and two more in the fourth to go along with nine hits on the day. Pat Schultz and Tyler Hartmann paced El Tigre with two safeties a piece. Teenage Tiger not only won on the field, but also at the concession stand as Hamburg featured delicious horse – I mean, pork chops – and other fine fare.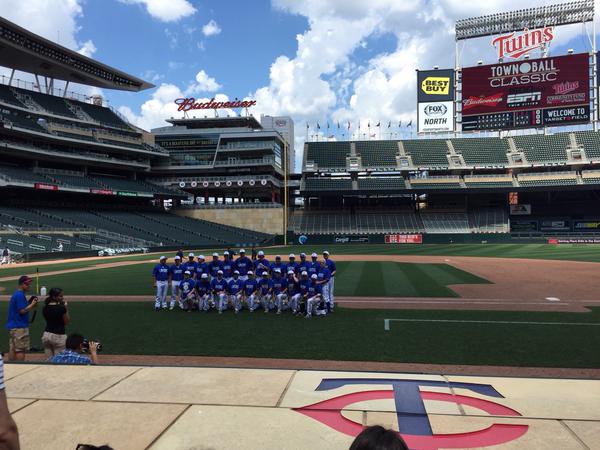 TOWN BALL CLASSIC PHOTO GALLERY
Waconia 4 vs. BP 3, at Green Isle
(Saturday, June 27 – Miller Lite Invite Tourney; 8 innings)
Having won the night before, Belle Plaine was playing the tournament's late game of the day against the Waconia Lakers – former leaguemates from the old Carver Central League. Derek Dahlke started on the mound and worked two scoreless stanzas before giving way to brother Zac, who threw the next four.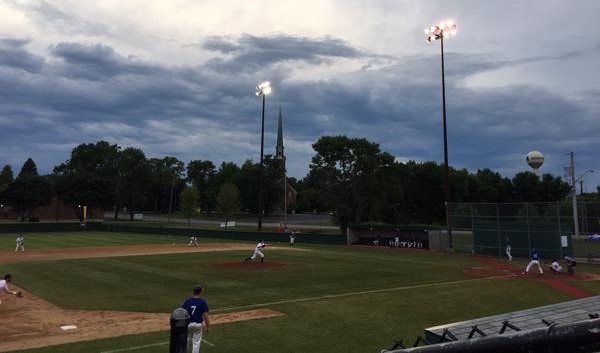 The Tigers trailed 2-1 heading into the top of the seventh – and final – inning, per tournament format. A leadoff walk and two bunt singles later, Teenage Tiger had the bases loaded and nobody out. Consecutive RBI fielder's choices gave Belle Plaine the lead with three outs to go.
Tiger rookie Jon Vinkemeier came on to close it out and had the Lakers down to their final out, when a wild pitch allowed a run to score and tie the game. Much to the delight of the fans on hand Vink got out of the inning, sending the game to extras and some free baseball. The Tigers went quietly in the eighth only to see Waconia score one the winning tally in the bottom of the inning. Belle Plaine had six hits on the day, with no Tiger having more than one, Tiger.
German Days Ends With
Win at New Ulm
- by Brett Kruschke & Mike Schultz
The town Tigers snapped a seven-game losing streak on Sunday, upending the New Ulm Kaiserhoff 10-4 in a battle of German heritage. Despite a 3-11 overall record the Tigers are 3-2 in River Valley League action.
Saturday was the Tiger Open golf tournament fundraiser at CreeksBend Golf Course in New Prague – it was a truly splendid day and the proverbial good time was had by all. Coming away with the victory was once again "Team Gloege" – captained by Kirk, co-piloted by Casey, and joined also by Brian "Beaver" Chilman and Jonny "BBQ" Beberg. Congrats gentlemen, and thanks to all the golfers and hole sponsors for your support!
The Tigers are in the Hamburg/Green Isle Tournament this upcoming weekend and open with a 6:30 pm Friday game against the Faribault Lakers, at Hamburg. Faribault had a magical state tournament run at Belle Plaine and Jordan last year, reaching the quarterfinals before losing 2-1 to eventual champion Sobieski.
The Tigers' next game will be Saturday in Green Isle against Waconia or St. Patrick – 8 pm with a Friday win, 5:45 pm with a Friday loss. For the rest of the weekend scenarios for this 16-team tourney, see the accompanying bracket or visit the Tiger website. After this tournament the Big Grrr will be off until the evening of July 5.
In case you missed it, photo galleries from each day of last weekend's Tigertown Classic have been posted to the BPTigertown Facebook page, and links can also be found at bptigertown.com.
Prior Lake Jays 7 @ BP 0 (Tuesday, June 16)
The only River Valley League Class B team of five not to receive votes in the latest Class B state rankings cast a few votes to play against Belle Plaine again next year, leaving with a complete-game no-hitter from pitcher Tyler Edwards. The game was still technically within reach until the ninth, when with two outs four runs poured in to make it 7-0.
The only baserunner Edwards allowed all night was a beanball of Chase Emmers with two outs in the sixth inning. With one out in the ninth the Tigers certainly raised some eyebrows by attempting to bunt for a hit, but that groundout was sandwiched by strikeouts Nos. 10 and 11 to cap Edwards' sterling evening. Veteran catcher Pat Schultz pinch-hit and was the first victim of the ninth, while brother Mike did likewise and was the game's last out after extending the dramatics with a few foul balls.
As you might have put together, there weren't a lot of offensive highlights for the Tigers. The Tiger cubs did start five rookies and lacked usual starters Travis Latzke and Pat Schultz – not to take anything away from Edwards, who had that no-hitter look from early on.
Derek Dahlke started on the mound and went one inning, allowing one run. Wes Sarsland chucked five quality frames, scattering as many hits while yielding two runs. Joe Hankins cruised along for 2 2/3 innings before the Jays' deluge with two outs in the ninth.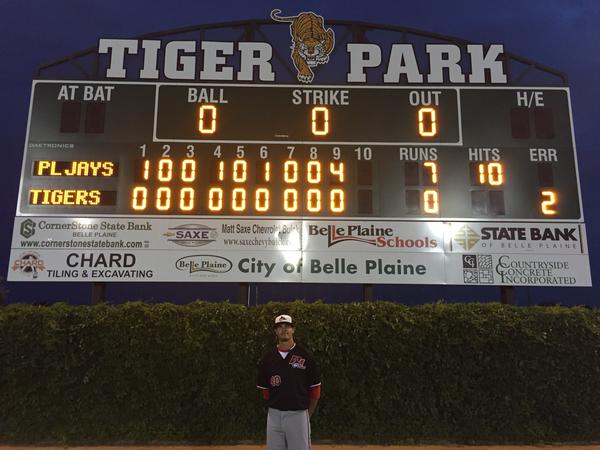 BP 10 @ New Ulm Kaiserhoff 4 (Sunday, June 21)
Your town Tigers made the journey down to New Ulm, looking to improve on a pretty ugly 2-11 record. A last-second flurry of no-shows also made the lineup a little unsightly, as manager Mike Schultz found himself in the DH slot and Matt Schultz donned the catcher's gear for the first time in a year. Looking on the bright side though, Matt got a chance to make a new friend for life after nine innings of great conversation with the umpire.
Derek Dahlke continued his rehab from arm troubles and threw a strong first inning, giving up no runs. Ben Wagner took over from there with six strong frames, giving up four runs (none earned). The rookie right-hander struck out three and allowed two walks, while pitching to the worst amateur baseball strike zone I've seen in years. Josh Terrio tossed the last two innings, giving up no runs while striking out four. Congrats to Wagner on his first town-team 'W'.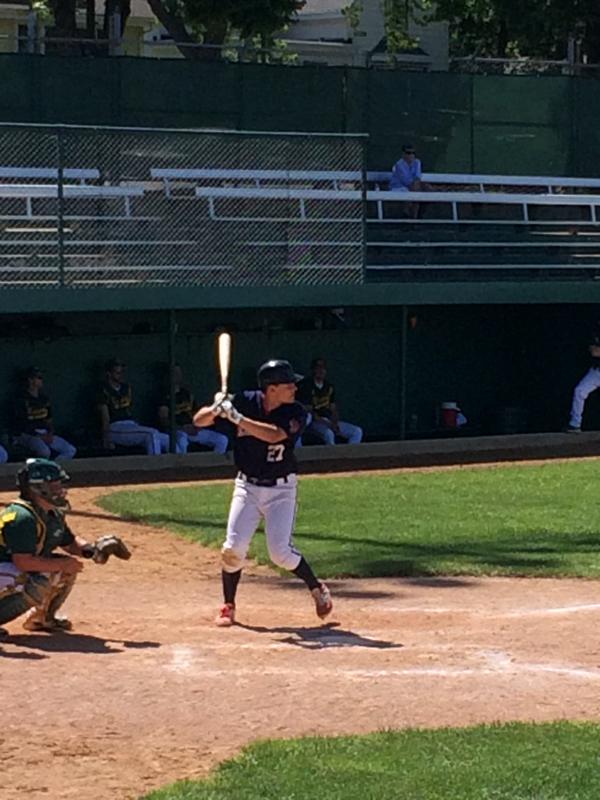 Tigertown was hot offensively, plating 10 runs on 10 hits. It probably should have been more than ten, but El Tigre's youth showed a little bit with numerous poor base-running decisions throughout the game. Just for fun, the Tiger Train violated both tenets of the old saying, "don't make the first or third out at third base," when they got runners nailed at third with zero and two outs during the game.
Tyler Hartman and Aiden Ladd both had three hits on the day. Manager Mike filled up the stat sheet as usual, going 2-for-3 with two hit-by-pitches and two runs. He also should have had an RBI but another base-running error robbed him of that.

Renner Shaves Tigers,
Goes on to Win Classic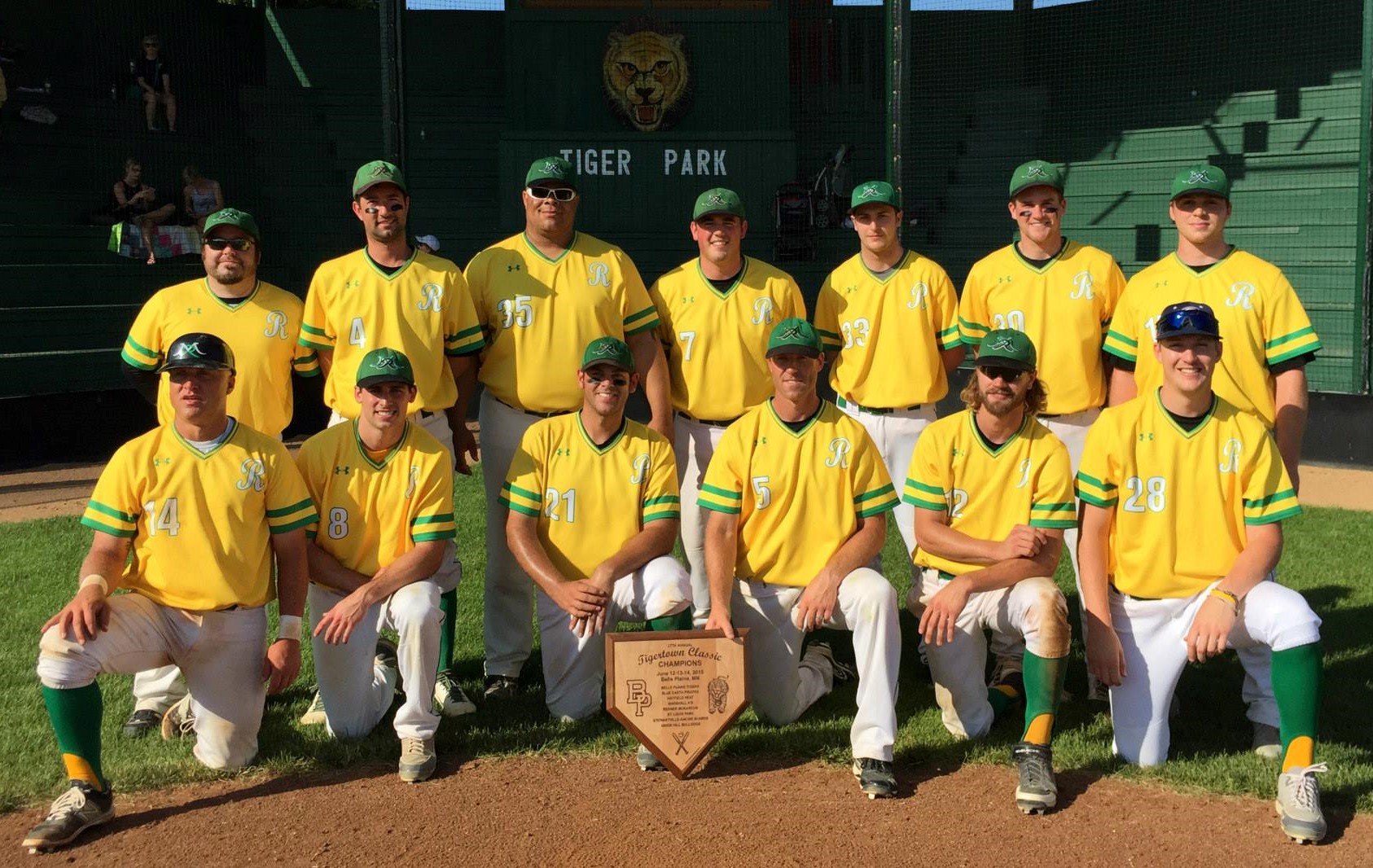 - by Brett Kruschke, Mike and Matt Schultz, Travis Latzke
In 17 years the Tigers have never won the Tigertown Classic but at least now, a former Tiger has. Belle Plaine native Tim Huber, who played 16 years for the local townballers, helped the Renner Monarchs hoist the hardware late Sunday afternoon. In the Wild West of amateur baseball the Monarchs have done a lot of trophy hoisting, with 17 South Dakota state titles to their credit – including nine since 2001.

Renner beat the Blue Earth Pirates 5-2 for the championship; check out bptigertown.com and click the Tigertown Classic tab for all of this weekend's outcomes. Also, abundant photos from the weekend will be coming soon to the BPTigertown Facebook page.

It wasn't such a hot weekend for the Tigertown Express. Despite holding their own against worthy opponents in a pair of games, the Chatfielders went 0-3 to drop to 2-10 on the season. As the saying goes, the struggle is real.

Last night the Tigers hosted the Prior Lake Jays; check out the trail of tears on Twitter at twitter.com/bptigertown.

The Tiger Open golf tournament fundraiser is this Saturday at CreeksBend Golf Course in New Prague, and we would still love for you to join us! If interested, call Shane Hofmann at 952-484-2319 today.

On Sunday El Tigre delves back into River Valley League play when they travel to New Ulm to face the Kaiserhoff at 2 pm.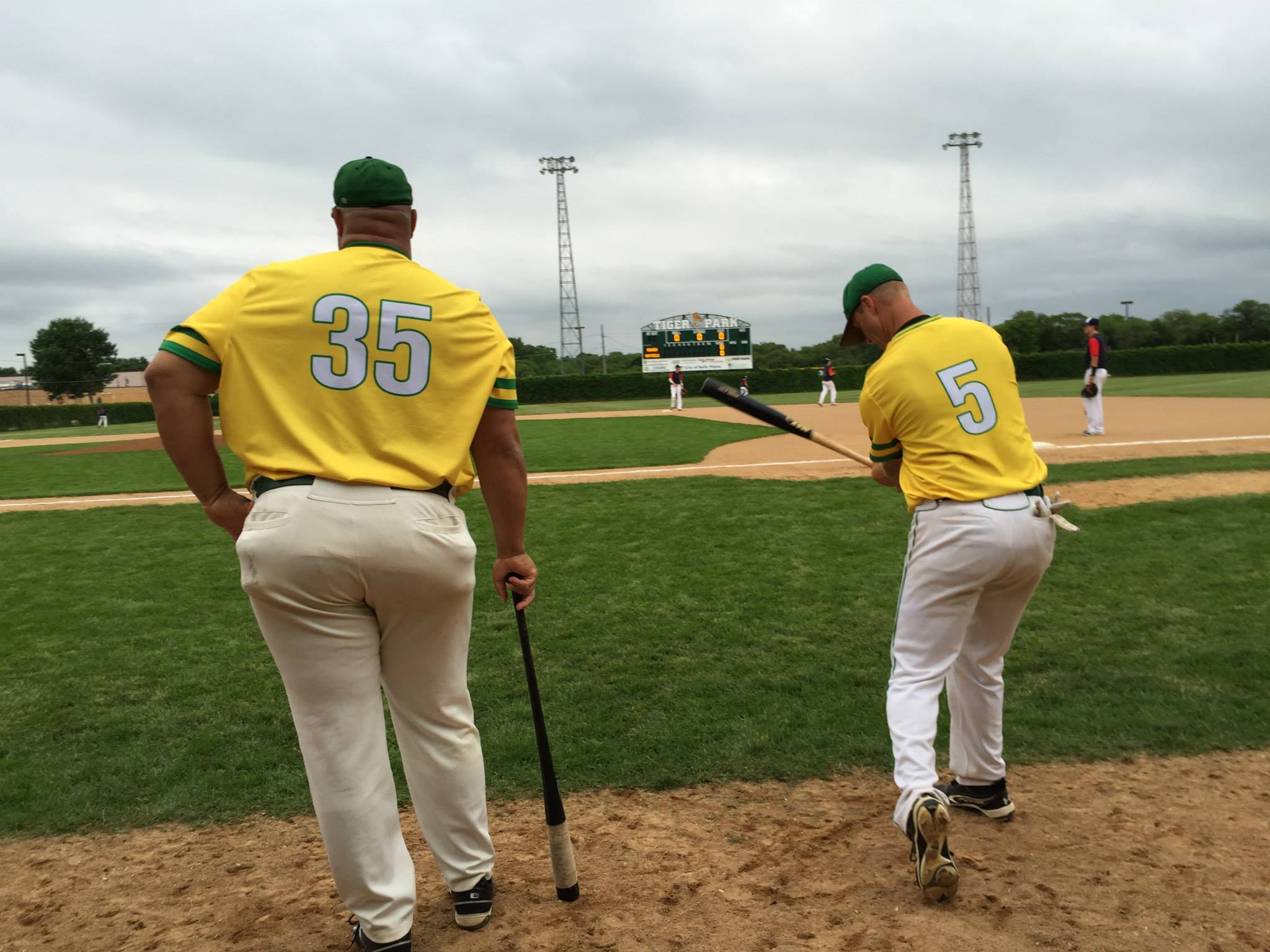 Renner 8 @ BP 7 (Friday, June 12 – Tigertown Classic) - PHOTOS
Belle Plaine opened up the Tigertown Classic facing a former long-time Tiger on the mound in Tim Huber, who now plays for the Renner Monarchs. Known more for his hitting than his pitching, Huber yielded five runs in four-plus frames.
Teenage Tiger had a 6-4 advantage heading into the sixth inning but gave up a four-spot in the top of the frame. The Chatfield Nine scored one in the sixth sent the minimum to the dish in the seventh, with the game ending on a double play. Renner's Cole Jenkins didn't allow a hit in three innings of relief and picked up the win.

Rookie Ben Wagner made his Tigertown debut and surrendered four runs over five innings, none of which were earned. Zac Dahlke threw the sixth and has seen better days, getting tagged for four runs and the loss. Johnny "B-Dubs" Vinkemeier threw a scoreless seventh.
The Tigers had six hits in the game, with Pat Schultz and Jesse Oelfke leading the way with two apiece. Matt Schultz and Joe Hankins accounted for the other two. Belle Plaine drew eight walks in the contest.

Hayfield @ BP (Saturday, June 13) - PHOTOS
After losing a close game to South Dakota's finest, the Renner Monarchs, the Tigers were set to face Union Hill in the consolation bracket. For non-baseball reasons, however, the Bulldogs withdrew from the tournament. After a few text messages the Hayfield Heat – already set for a winner's bracket matchup against Renner – agreed to play the Tigers in a non-tournament game.
Zac Dahlke started on the mound for the young Tigers and has thrown well all season, but he has seen better weekends and recorded just one out while yielding five runs. Johnny (B-Dubs lovin') Vinkemeier relieved Dahlke for the second day in a row and threw a solid 3.1 innings of relief, giving up two runs.

Things got exciting again in the top of the fourth inning when the Tigers scored a run and put men on second and third. Hayfield countered the Tigers sudden offensive surge with a reliever whose fastball topped out at a blistering 54 mph, which was enough heat to overpower the Tigers for the rest of the game.

The Tigers had a total of eight hits on the day and leading the charge at the plate were Jesse Oelfke and Josh Terrio, each with two hits. Pat Schultz also stood out as he hit a solo home run that cleared the right-field fence – Belle Plaine's first round-tripper of the season. Clayton Meyer pitched the last two innings of the contest and gave up one run.



St. Louis Park @ BP (Sunday, June 14 – Tigertown Classic) - PHOTOS
After a 0-2 start your Town Tigers found themselves one win away from the consolation championship on Sunday afternoon. Standing in their way was St. Louis Park, who belted three long-balls in a 14-1 undressing of the Class B Marshall A's on Saturday.
Chase Emmers was given the daunting task of shutting down their formidable offense and ended up with a solid performance. Emmers threw five innings and allowed four runs, which is basically a shutout if you ask Matt Schultz. Josh Terrio faced just one man more than the minimum over the final two scoreless frames.
El Tigre struggled offensively, getting only three hits. Rookie Aiden Ladd had the lone RBI for the Tiger Train, with Travis Latzke and Jesse Oelfke having the only other hits on the day. The consolation championship was not meant to be and the Tigers finished an otherwise successful Tigertown weekend with a 0-3 record.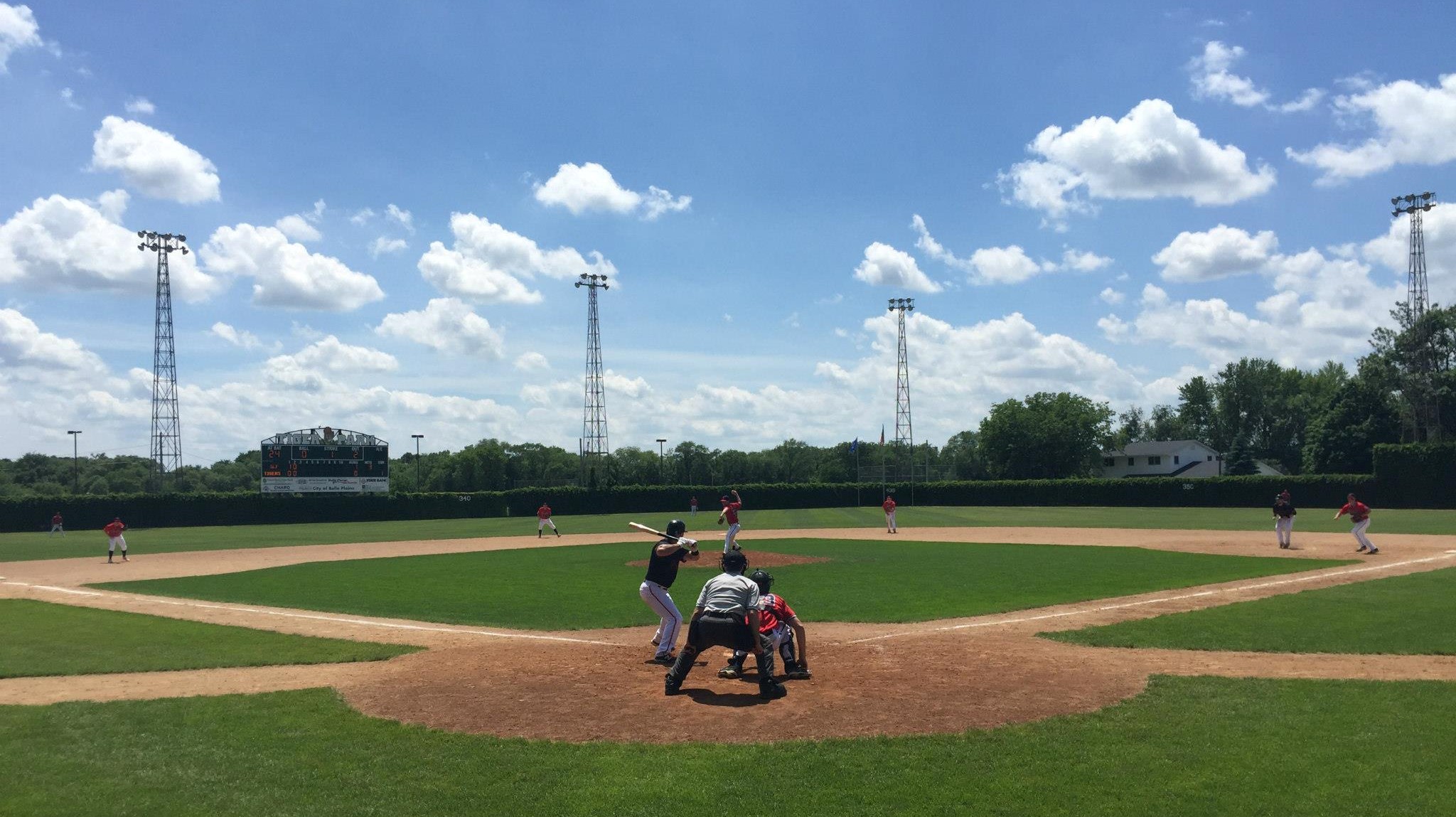 Tigertown Classic Signals Summer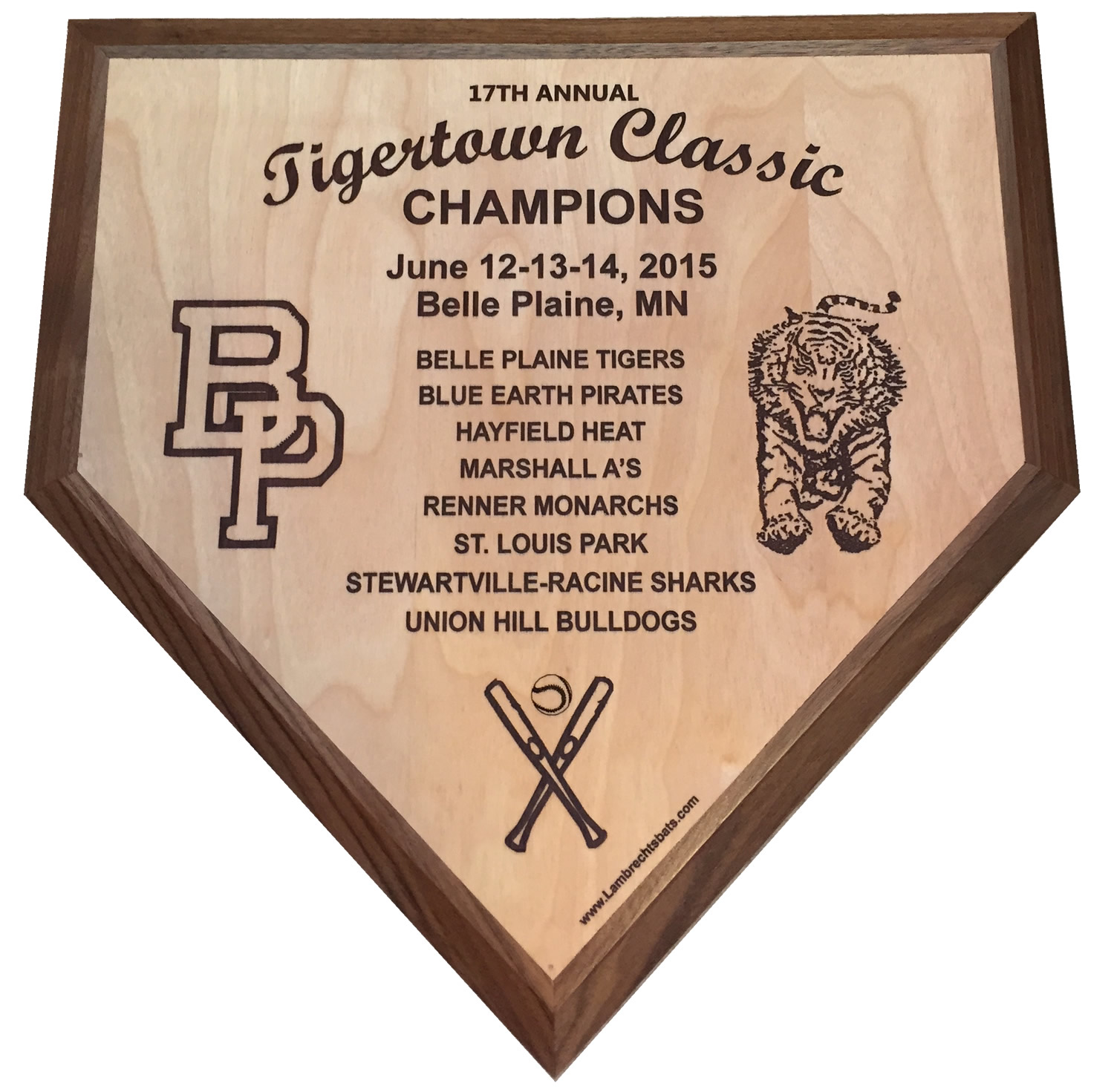 - by Brett Kruschke, Matt & Mike Schultz
When is the true beginning of summer? Some might say it's when the last of the snow melts, or Memorial Day – whichever comes first – or maybe the opening of the BP swimming pool. Others might say it's when school lets out, or the first time you see Matt Schultz wearing one of his fine collection of sleeveless t-shirts. But on the beautiful prairie, we all know that summer starts with the Tigertown Classic.
The 17th annual rendition will kick off Friday night at 6:30 pm with a haymaker between the Hayfield Heat and Union Hill Bulldogs. Following that up at 8:30 pm will be a ballyhooed matchup between South Dakota's Class A state champion Renner Monarchs – starring hometown native Tim Huber – and the ankle-biting Tiger cubs, starring, well, no-one in particular.
Five games are on the slate for Saturday, beginning with St. Louis Park and Blue Earth and 10:30 am and Stewartville-Racine versus Marshall at 12:45 pm. Depending how Friday unfolds, the Tigers will play at either 5:15 pm (if they lost) or 7:30 pm (if Renner couldn't find the ballpark). Sunday will feature three games, Good Lord and weather willing, with the championship set for 3:30 pm. Please see the attached bracket and follow @bptigertown on Twitter all weekend for scores and updates.
As if that wasn't enough excitement for you, on Tuesday it will be Little League Night at Tiger Park when the RVL's Prior Lake Jays pay a visit at 7:30 pm. All Little Leaguers and really-short, young-looking people will receive a free hot dog; players are encouraged to wear their caps and jerseys.
It was a rough past week for the hometown nine, with three losses written up below for your reading displeasure. The Tigers now sit at 2-7 overall this season, albeit with a 2-1 mark in RVL play.
The highlight of the weekend was Friday during Coborn's Night, when $120 was raised – the equivalent of 480 meals – to benefit the Belle Plaine Food Shelf. Thank you, everybody, and thank you, Coborn's.
BP 4 @ Victoria 14 (8 innings – Tuesday, June 2)
Team Tigertown found a way to get nine guys to the field, even with almost half the team playing/coaching in the Belle Plaine High School playoff game in St. Peter. Those that did play against the No. 3-ranked team in Class B put up a valiant effort but could not keep up with the firepower of Victoria's line up.
Teenage Tiger held a 2-1 lead heading into the bottom of the fifth inning. But a seven-run fifth inning, topped with a mammoth two-run shot off the bat of Eric "world's strongest man" Winegarden, was too much for the Tigers.
Clayton Meyer started on the mound, going 4.1 innings while giving up eight runs. Acting manager Matt Schultz summoned himself for the final two outs of the fifth. Chase Emmers and Tyler Hartman each threw an inning, giving up two and one runs respectively, with the latter making his Tigertown pitching debut. Also making his mound debut was Matt Ruehling, who came in and gave up three runs (two earned).
Matt Schultz led the way at the plate with two hits while Dylan Nyberg, Hartman and Meyer each had a knock. Josh Terrio, Johnny Egan and Hartman each drove in a run.
Henderson 12 @ BP 10 (Friday, June 5)
Henderson came to town looking to avenge a loss to your Tigers on May 23, and that is just what they did. Henderson took an early 1-0 lead in the first, only to give up a six-spot to El Tigre in the third. Belle Plaine yielded six runs in the fourth to give the lead back to the Tigers of Henderson at 7-6.
Teenage Tiger gave up two more tallies in the eighth to go down by three. In the bottom of the eighth, the locals rallied to tie the score at nine after eight complete. In the ninth two hits and an error were not the way the Chatfielders wanted to start the stanza, and it resulted in a three-run uprising and a grim outlook.
Henderson sent in former Tiger Trevor Latzke to get the save. Belle Plaine scored one run and managed to load the bases with two outs, but Latzke notched a strikeout to get the final out on this poorly-played game by both sides. There were seven combined fielding errors.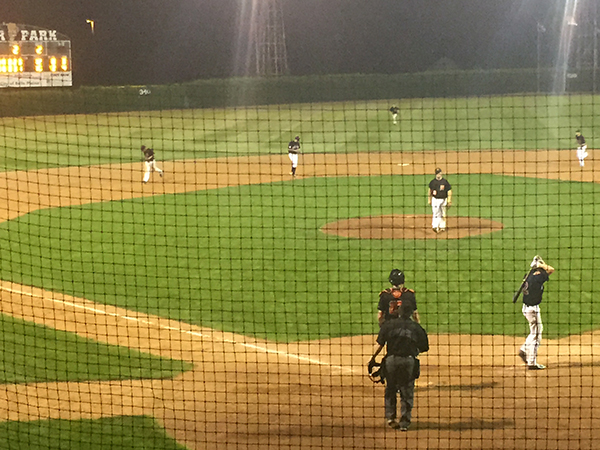 Josh Terrio started on the mound and didn't have his usual stuff while struggling with his control. Rookie Jonny Vinkemeier came on in relief of Terrio and kept Mama Tiger in the game, giving up four runs in 4.2 innings. Rookie Chase Emmers threw the ninth.
Belle Plaine had 10 hits on the night, to go along with 11 walks. Matt Schultz and Derek Dahlke led the way with two hits apiece, while six other Tigers tallied a safety on the contest.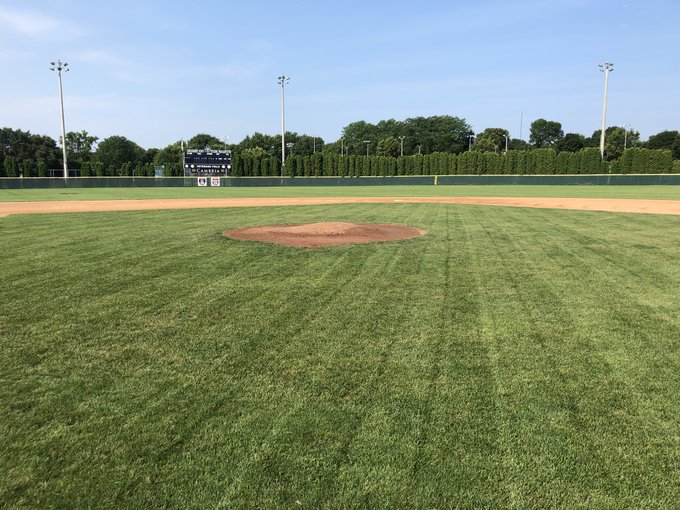 BP 1 @ St. Peter 10 (Sunday, June 7)
Your Town Tigers were set to square off against the Saints of St. Peter after the tough loss to Henderson two days before. Things started well after a hit by Tiger leadoff man Travis Latzke in the first inning. A groundball got him to second, Latzke stole third and a Pat Schultz single plated the first – and what would turn out to be only – Tiger run. Not much else happened offensively as the Tiger Train could only muster four hits on the day, with Zach Juaire and Derek Dahlke collecting two apiece.
Zac Dahlke started on the mound and went five-plus innings in the oppressive heat. He was relieved by Clayton Meyer, who just finished 11th grade. Meyer pitched two innings and Wes Sarsland, who also just passed 11th grade, was up next. We are young this year but on the bright side, had prom covered pretty well. In the end, ace pitcher Matt Lewis and last year's Region 6C champions had their way with the Tigers.

Another Baby Step for Tiger Cubs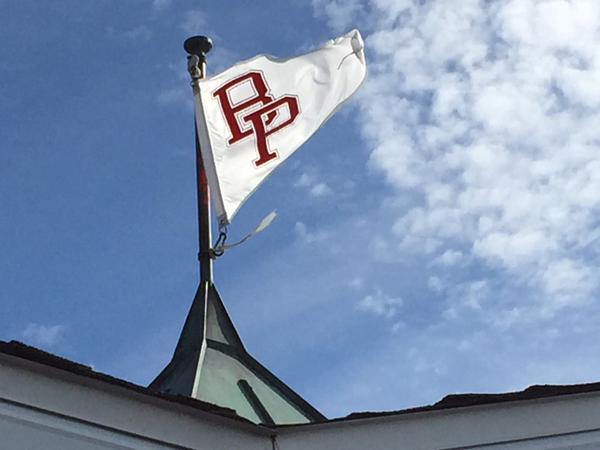 - by Brett Kruschke & Mike Schultz
The Town Tigers had a rainout and a one-run victory this past week, improving to 2-4 overall and 2-0 in River Valley League Class C play. Last night the Tigers honored the RVL master schedule by venturing to Victoria; check the @bptigertown Twitter account where by now the result is almost surely old news.
After BP picked up their first win of the season at Henderson on May 23, the men of Mosquito Days will be looking for blood when they invade Tigertown at 7:30 pm on Friday. For Coborn's Night, fans are encouraged to bring non-perishable food items to donate to the local food shelf. Last year fans donated 91 pounds of food and $92 in cash donations – pack up an extra can of French-cut style green beans so we can beat that mark. Anyone who donates to the food shelf on Friday will be entered into a drawing for a Coborn's gift card, and they will also give away some t-shirts.
The last time Team Tigertown traveled to St. Peter, the Saints beat Ryan Diers and Co. 1-0 in the Region 6C playoffs. The Tigers will face the best of the RVL West this Sunday at 6 pm, again in St. Peter.
Next weekend is the 17th annual Tigertown Classic and the following weekend, the Herald-heralded Tiger Open golf tournament fundraiser at CreeksBend Golf Course in New Prague. Businesses – sponsor a hole! Fans and friends of the program – put together a foursome! Click the big white golf ball on the front page of bptigertown.com for more details.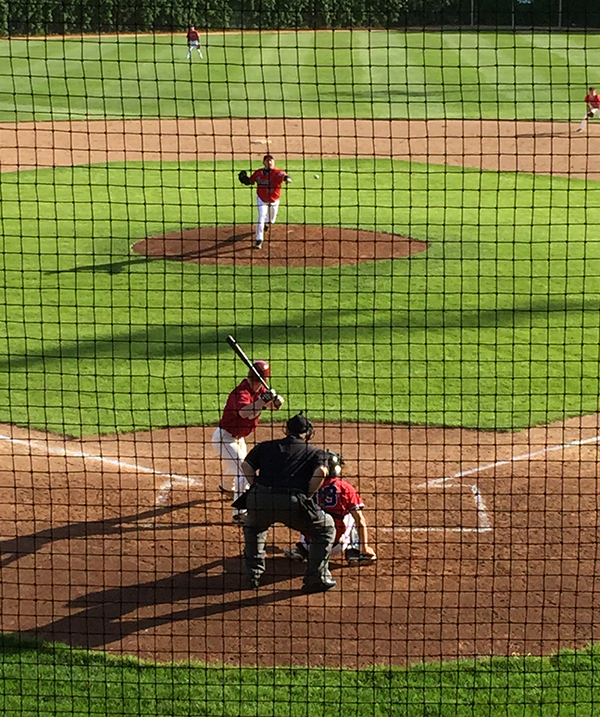 Fairfax 1 @ BP 2 (Sunday, May 31)
After a rainout of the Friday tilt against Chanhassen, your hometown nine squared off against the Cardinals of Fairfax in a River Valley League contest and came away with a fairly well-played 2-1 win.

Zac Dahlke got the start on the mound for the second straight league game and was solid again, going six innings, giving up only one run with six K's. Chase Emmers threw the next two-plus innings without giving up a run. He battled his control a little bit and was lifted in the top of the ninth with nobody out and runners on first and second.
Josh Terrio came in and recorded the save with an assist from catcher Pat Schultz, who threw behind the runner at second and picked him off for the second out. A failed bunt attempt and a groundout sealed the deal on a perfectly pleasant night for baseball.
The Tigers struggled a bit offensively, only coming away with four hits, but they made the most of them, as two of came with a runner in scoring position. Matt and Pat Schultz both had a hit and an RBI. Travis Latzke didn't have any hits, but he did score both of the Tigers runs to go along with two stolen bases. Zach Juaire and Tyler Hartman had the other hits for El Tigre.
A rousing Kangaroo court session was also held after the game and several rookies learned the nuances of the court system. Jonny Vinkemeier appears well on his way for challenging the all-time fine amount record, so if you see him on the street he may need to borrow a quarter or two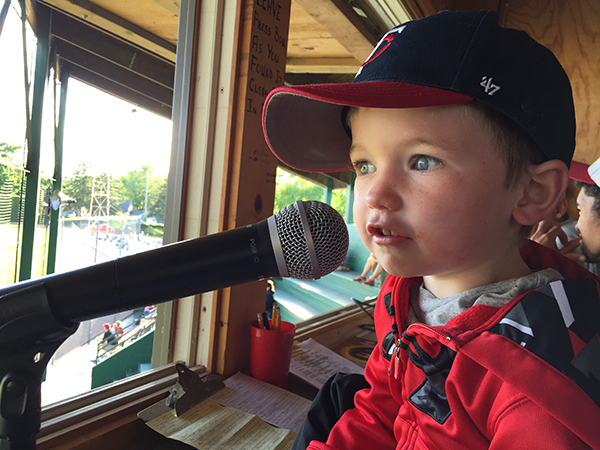 Tiger Lads Pick Up First Win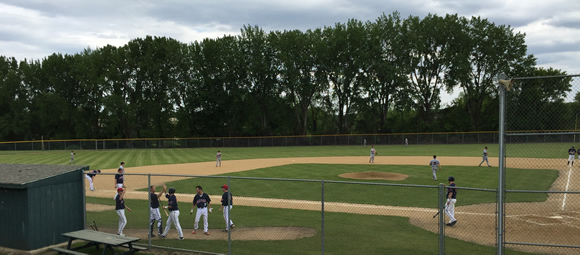 After a rocky start the Belle Plaine town team won their first game of the season Saturday at Henderson, which conveniently was also the locals' first game to count towards the River Valley League standings. So despite a 0-4 start, an optimist wouldn't be out of bounds calling them the first-place Tigers.
Team Tigertown will resume action on Friday night at 7:30 pm in Chanhassen. In April, due to multiple player signings that included hometown native Ryan Diers, the former RVL Central foes were bumped to Class B and the RVL East. On Sunday, the Fairfax Cardinals will visit at 6 pm on RTL Construction Night. Tuesday is another RVL Class B opponent in the Victoria Vics, a road affair beginning at 7:30 pm.
For all things Tigertown, visit bptigertown.com. You can also follow the Tigers on Twitter and Facebook via the usual "bptigertown" handle. See you at Tiger, Tiger!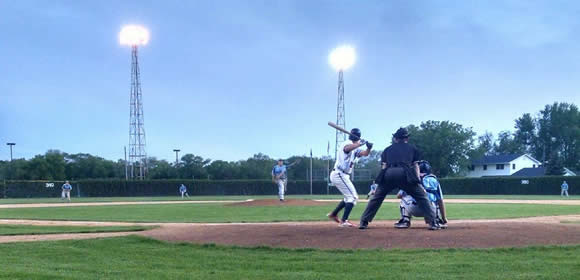 Shakopee Indians 9 @ BP 1 (Friday, May 22) | 20 NEW PHOTOS!
With things going less than swimmingly on the young season a matchup with the Class B Indians seemed a tall order. Yet after six innings, the Tigers trailed just 2-1 thanks to a sterling outing from Josh Terrio. The ninth-year veteran scattered five hits while allowing one earned run, with two walks and seven punchouts. It was pretty much the greatest pitching performance of Terrio's limited town team pitching career, and the timing couldn't have been better.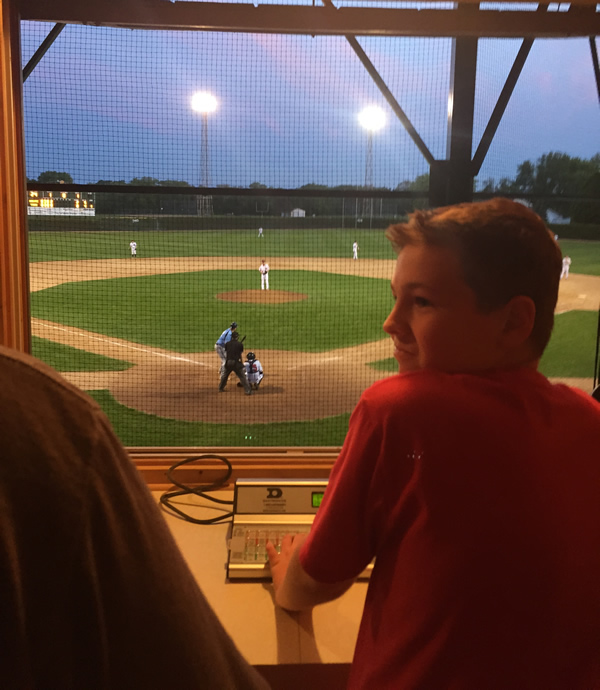 The last three innings were divided evenly among first-year Tigers Chase Emmers and Clayton Meyer, and first-year pitcher Travis Latzke. A game that heretofore breezed along slowed to a crawl, causing scoreboard trainee Aidan Heidecker to ask if games always took this long. The Indians scored 3-3-1 over their last three frames to salt the game way with ease.
The Tigers finished with eight hits to Shakopee's 10, but posted three errors to the Indians' zero. Derek Dahlke stroked a pair of singles in three trips, while Chase Emmers and Jonny Vinkemeier doubled.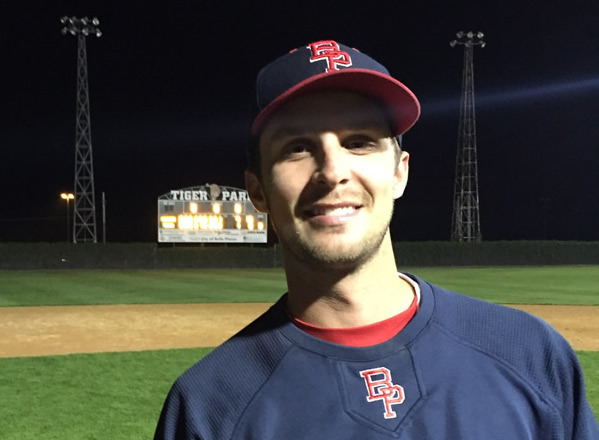 BP 10 @ Henderson 4 (Saturday, May 23) | 48 NEW PHOTOS!
The Tigers turned right around after Friday night's home game and headed to Henderson for a 2 pm tilt. Toeing the rubber on this overcast but pleasant afternoon was the Tigers' de facto ace, Zac Dahlke.
Little defense was played in this game, including seven combined errors between the two squads through the game's first four innings. So while Dahlke allowed four runs in his five innings ofwork, just one was earned. The fifth-year portsider would go on to be credited with the win.
The Belle Plainians employed a steady attack, touching home plate at least once in six different innings. Derek Dahlke picked up big brother with another three hits, including two doubles and a pair of RBI. High-school junior Aidan Ladd, who has filled in very capably at shortstop, went 3-for-4 with a double, a walk and three RBI. Dylan Nyberg joined the doubles parade, lacing one while going 2-for-4 with a walk.
Emmers and Meyer, both of whom worked a frame the night before, each tossed two scoreless innings.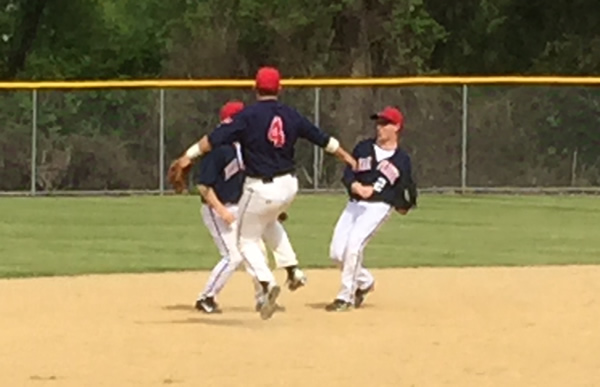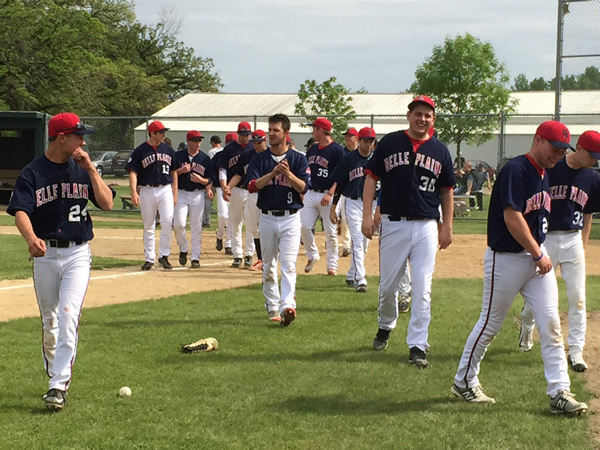 Tigers Back After Needed Respite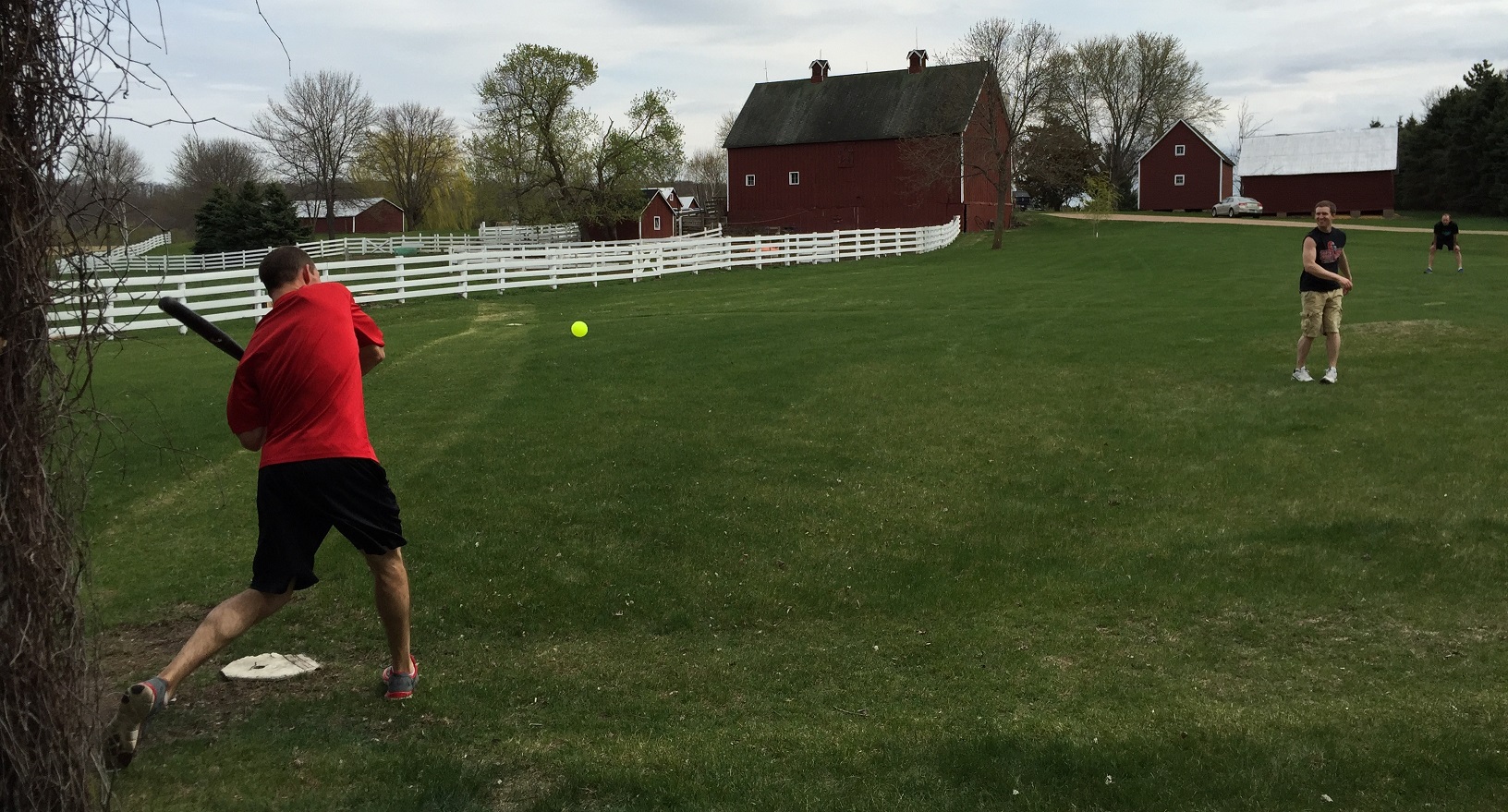 With a weekend off to celebrate manager Mike Schultz's wedding, the town Tigers hope to have renewed their vows to the great game of baseball. The loss of the majority of last year's starting lineup has contributed to a 0-3 record and a combined negative run differential of 30 to 6.
The Class B Shakopee Indians and manager Gary Schleper will be in town Friday night for a 7:30 pm ballgame, on Matt Saxe Chevrolet Buick Night. The first 100 fans will receive a free t-shirt, courtesy of Matt Saxe Chevrolet-Buick, on what is expected to be a beautiful evening for baseball. (See – up-to-the-minute weather forecasts are among the myriad benefits of writing the Herald article at the last minute every week.)
Before taking off the rest of Memorial Day Weekend the locals will hitch a ride to Henderson for a 2 pm affair on Saturday. That game against our Tiger namesake will be the first this year to count toward the RVL Central standings.
With all the extra column space this week, let me take the chance to mention the Tigers' two primary fundraisers – both coming up within the next month. Up first, the 17th rendition of the eight-team Tigertown Classic tournament will be held the weekend of June 12-14. And because the ol' red owl is just so dang loveable, Belle Plaine will be opening up once again against Tim Huber and South Dakota's Class A defending state champion Renner Monarchs. Find the rest of the tourney bracket at bptigertown.com.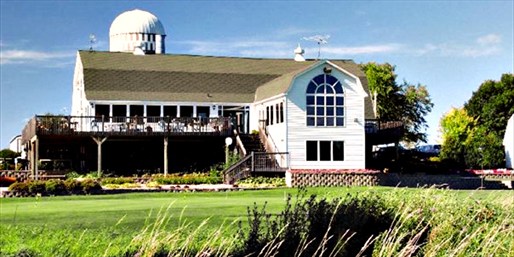 While your support at the Tigertown Classic is important it's even moreso at the Tiger Open golf tournament fundraiser, which will be held for the first time this year at CreeksBend Golf Course in New Prague. The cost has been slashed to $60 per player, and your donation for a fun afternoon of golf also includes your golf cart, prizes, and a terrific meal to finish off the day. To sign up, just go to the Tiger website and click on the big golf ball on the front page.
Finally, the Red Caps try hard to put their news under your nose by reaching you wherever you are on social media; be it Facebook, Twitter, YouTube or Vine, the nametag is "bptigertown." Fulfill all your New Year's resolutions in one fell swoop by clicking that "Like" or "retweet" button for the first time in your life. You can do it!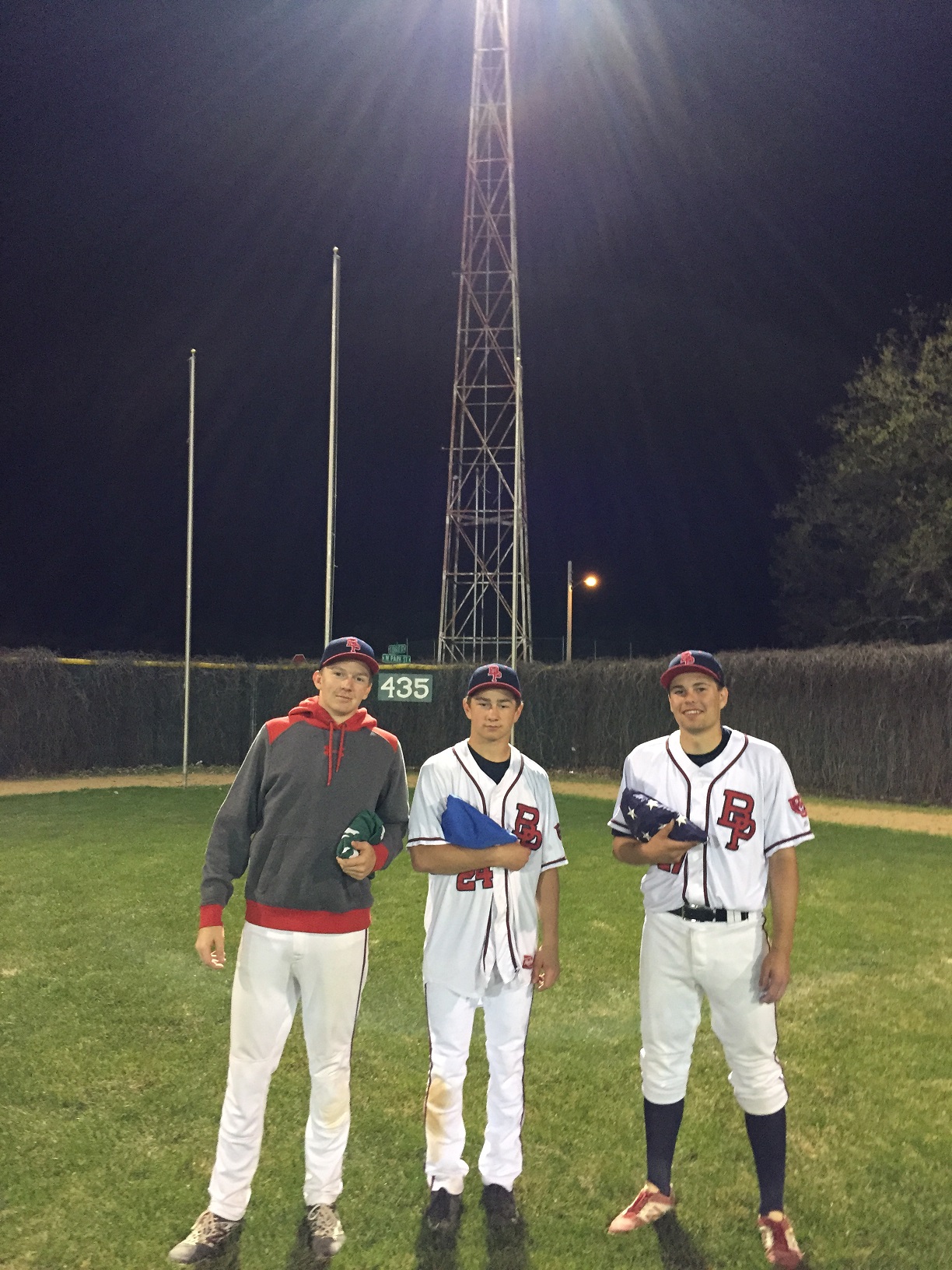 Plato Pillages Town Tigers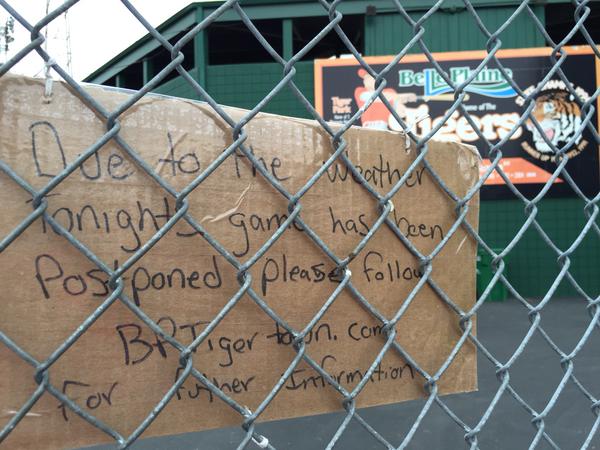 - by Brett Kruschke & Mike Schultz
The Plato Bluejays brought the fury to Belle Plaine on Friday, riding three jacks from Chris Odegaard to a 12-1 trouncing of the Tiger Tryouts. Dollar Beer Night was well-timed, at least, to help the locals drown their sorrows.
Instead of "BASEBALL 7:30 PM" the sign in downtown Belle Plaine this weekend will read "SCHULTZ WEDDING 2 PM." That's right – manager Mike Schultz is heading to the altar on Saturday and the timing probably couldn't be more perfect, as his best wedding gift might be a break in the schedule for the 0-3 Tigers.
The Red Caps, rained out on Sunday against the Gaylord Islanders, won't suit up again until Chase Hentges and the Shakopee Indians invade Tiger Park next Friday night, May 22. State Tournament Volunteers Appreciation Night, which was to be held Sunday, will also be rescheduled.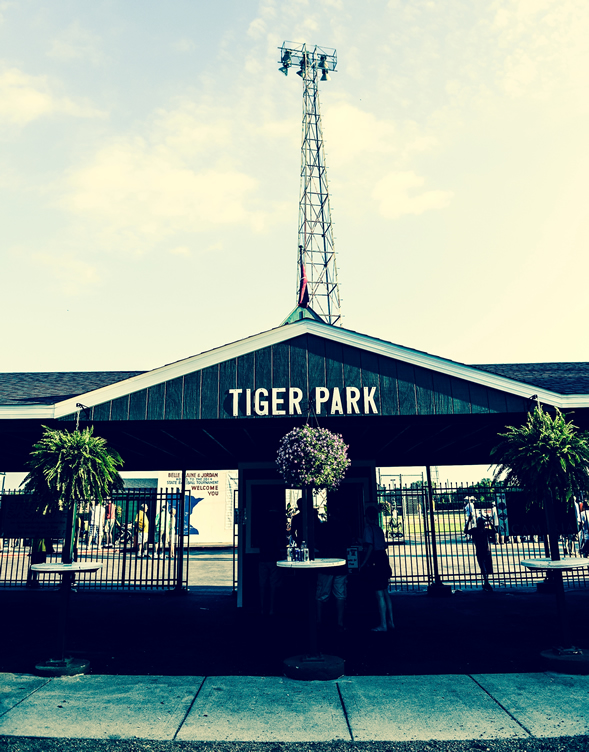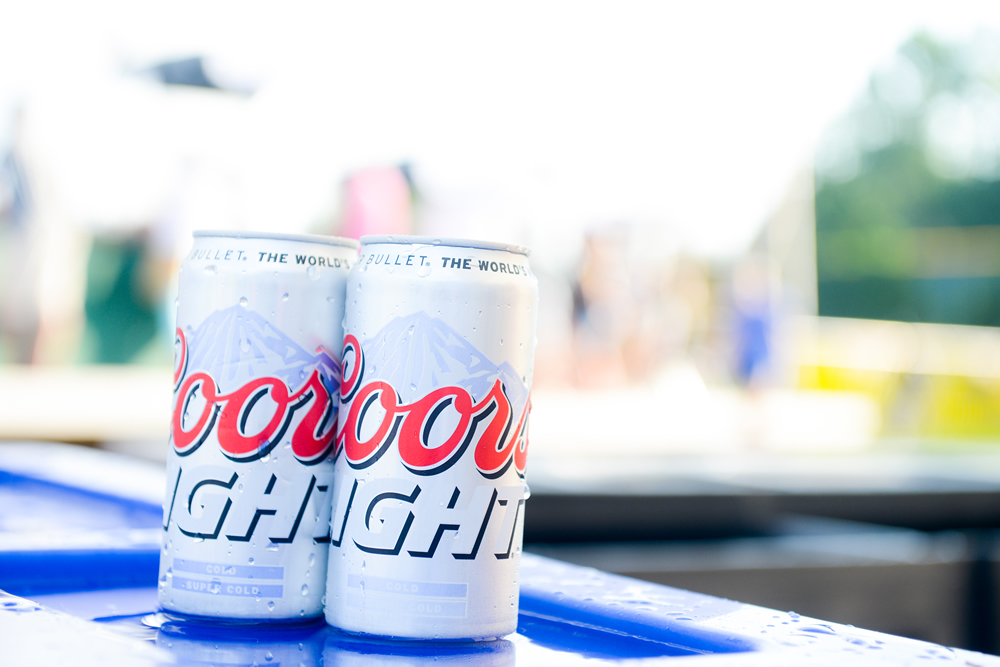 Plato 12 @ BP 1 (Friday, May 8)
After losing their first two games of the season, your Tigers squared off against the Bluejays from Plato on Friday evening. Long-time center fielder Travis Latzke got his second straight start on the mound after making his pitching debut last week against Chaska. Latzke went three serviceable innings against the state tournament qualifiers from Plato, yielding one earned run among three total.

Wes Sarsland, a Belle Plaine High School junior, made his town team pitching debut in relief of Latzke. The young shaver went two innings, compiling an impressive four strikeouts. He also gave up a massive three-run bomb, but besides that he was great.
Matt Schultz was up next and was promptly greeted by a first-pitch bomb by Chris Odegaard, who later launched one off of Mike Schultz, to give him three home runs on the evening.
Manager Mike was touched for three runs in the game's final frame to make it a 12-1 verdict.
Somehow the Tigers struck out 11 Blue Jays, one of which was on a Matt Schultz downspin knuckler. He will be giving free lessons to anyone who can tolerate him talking about how good of a pitch it is.
Offensively Matt Schultz had the Tigers only hit and RBI. Latzke scored the run after getting to first on an error, and that was all she wrote for the Tiger bats.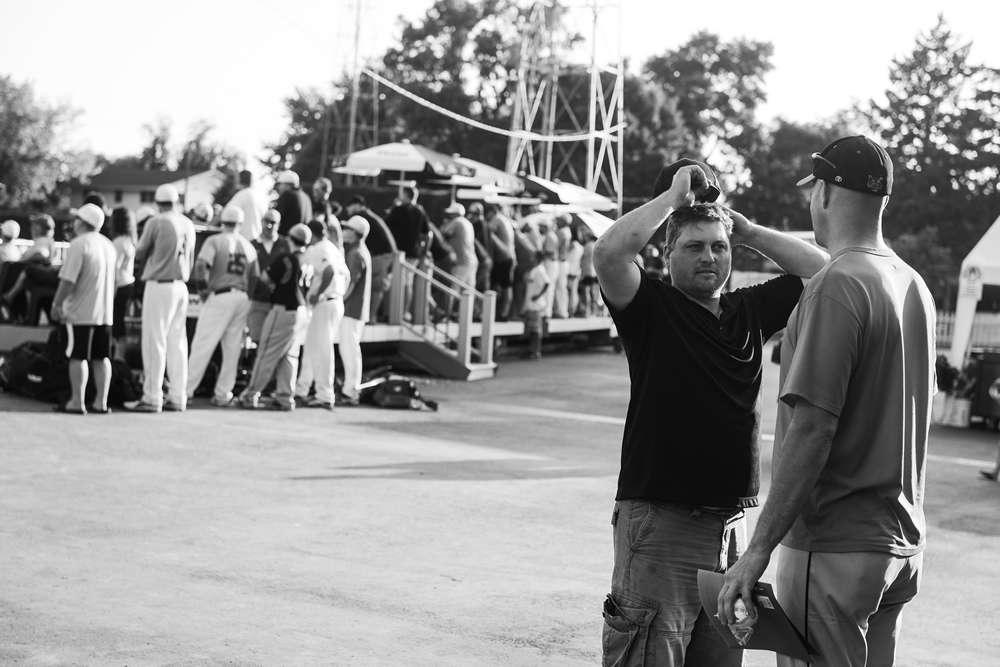 Tigers Wing It, Drop a Pair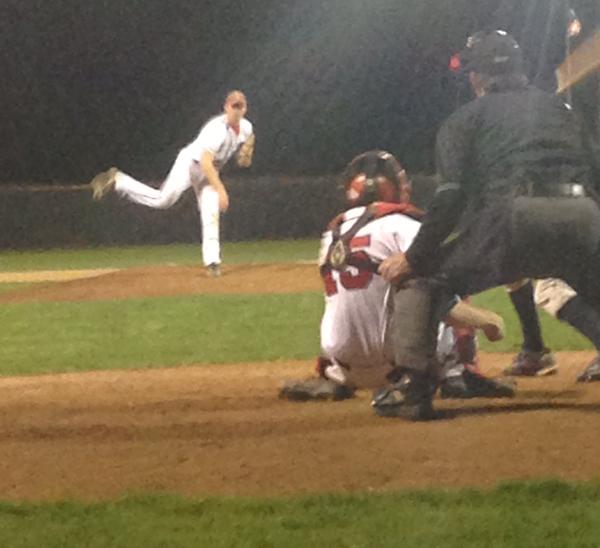 After 17 years of Pat telling Tiger pitchers to throw strikes, he finally took matters into his own hands
- by Brett Kruschke & Matt Schultz
The Town Tigers run a lot of promotions these days, and this weekend it will be Dollar Beer Night Friday against Plato at 7:30 pm and State Tourney Volunteers Appreciation Night Sunday versus Gaylord at 6 pm. A new promotion could also be in the works for manager Mike Schultz: Fans Pitch an Inning Night! (And please arrive early, as you might be starting.)
In Ryan Diers, Dan Huber, Jake Fielder and August Farruggia, the Tigers lost four of their top five innings-eaters from last year – and in previous seasons Shawn Larson also would take his turns on the rubber. All have either moved on to greener pastures or been put out to pasture.
With this year's projected top arms Derek Dahlke, Jacob Meger and Chase Emmers all still playing college baseball, it has meant some familiar faces needing to work the unfamiliar bump in the center of the diamond. In Mgr. Schultz's defense, it has been a necessity with five high school players on this year's roster not yet candidates to pitch while their season is still going.
In the aforementioned games Tiger the Tiger dropped the season and home opener Friday to the Prior Lake Mudcats by a 6-3 count; on Sunday at Chaska, it was a 12-2 setback in seven innings.
A Schultz wedding means Tigertown shuts down, so the locals will not play the weekend of May 16-17 (nor from May 11 to 22, to be exact). That means make doubly sure you get out to Tiger Park this weekend for some hard-ball action!
And let us expand on State Tourney Volunteers Appreciation Night on Sunday: if you helped out at last year's state tournament in Belle Plaine free admission, food and drink are yours (plus one) for the duration of the evening. Please spread the word.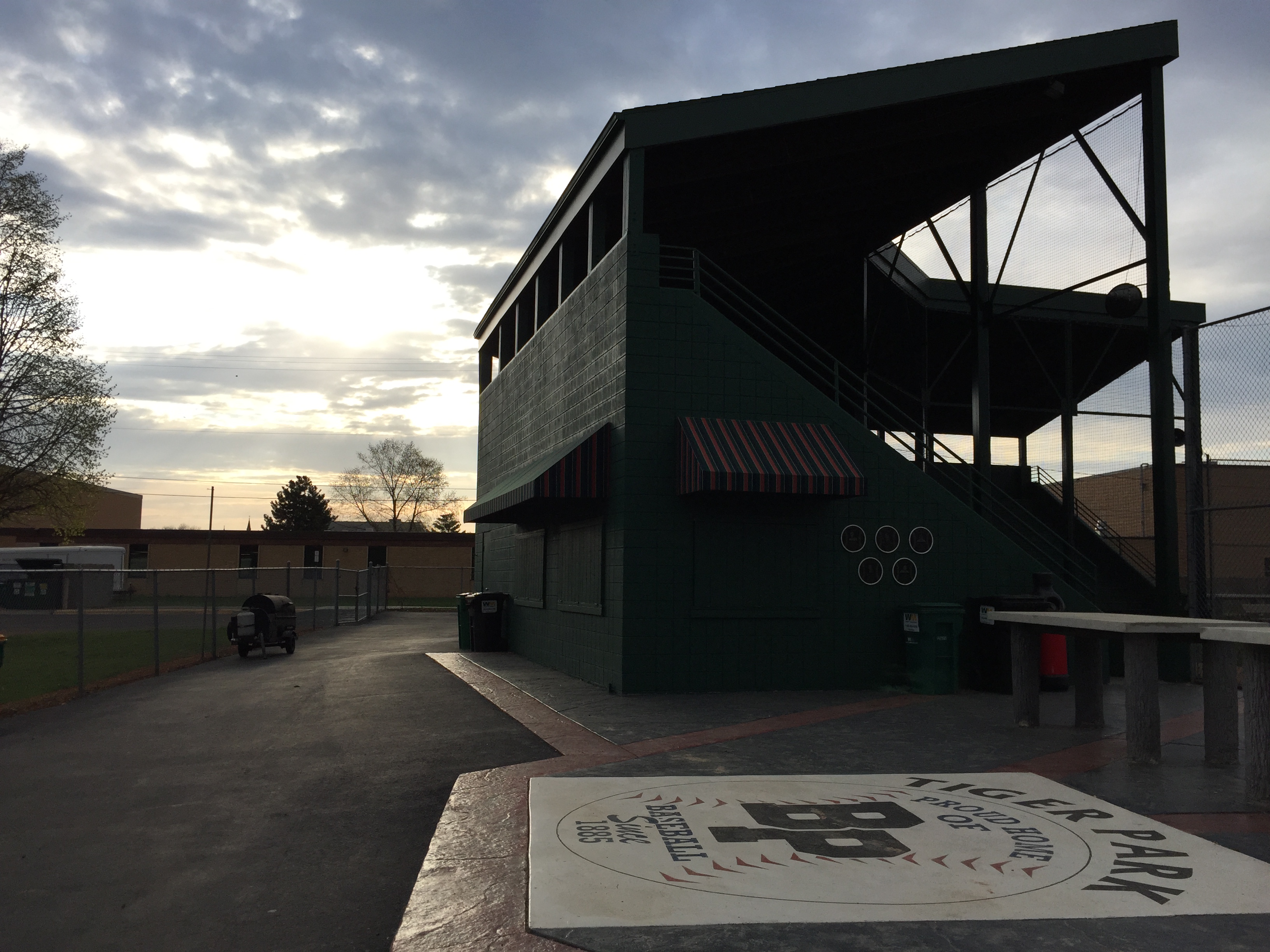 Prior Lake Mudcats 6 @ BP 3 (Friday, May 1)
Papa Tiger suited up for the first game of the season but looked more like a Teenage Tiger with all the new young faces on the team. The Prior Lake Mudcats came to town on a beautiful opening night after a few rain showers passed through earlier in the day.
Zac Dahlke started on the mound for the local nine, and he surrendered five runs over five innings while striking out four. Josh Terrio went the next two stanzas, yielding two runs to go along with a couple strikeouts. Then lo and behold, 18-year veteran catcher Pat Schultz was called to the mound for the first time in his career. While the fans did double takes, Pat worked the final two innings. He gave up no runs, which surely will lead to more begging of manager Mike to get him back out there.
The Tigers only racked up four total hits, but did have seven walks as a team. Pat Schultz led the way with two hits. Matt Ruehling and Jesse Oelfke – who batted cleanup – also picked up their first knocks of the year.
Making their Tigertown debuts were Cameron Lark, Houston Niesche, Aidan Ladd, Jonny Vinkemeier, Wes Sarsland and Joe Hankins.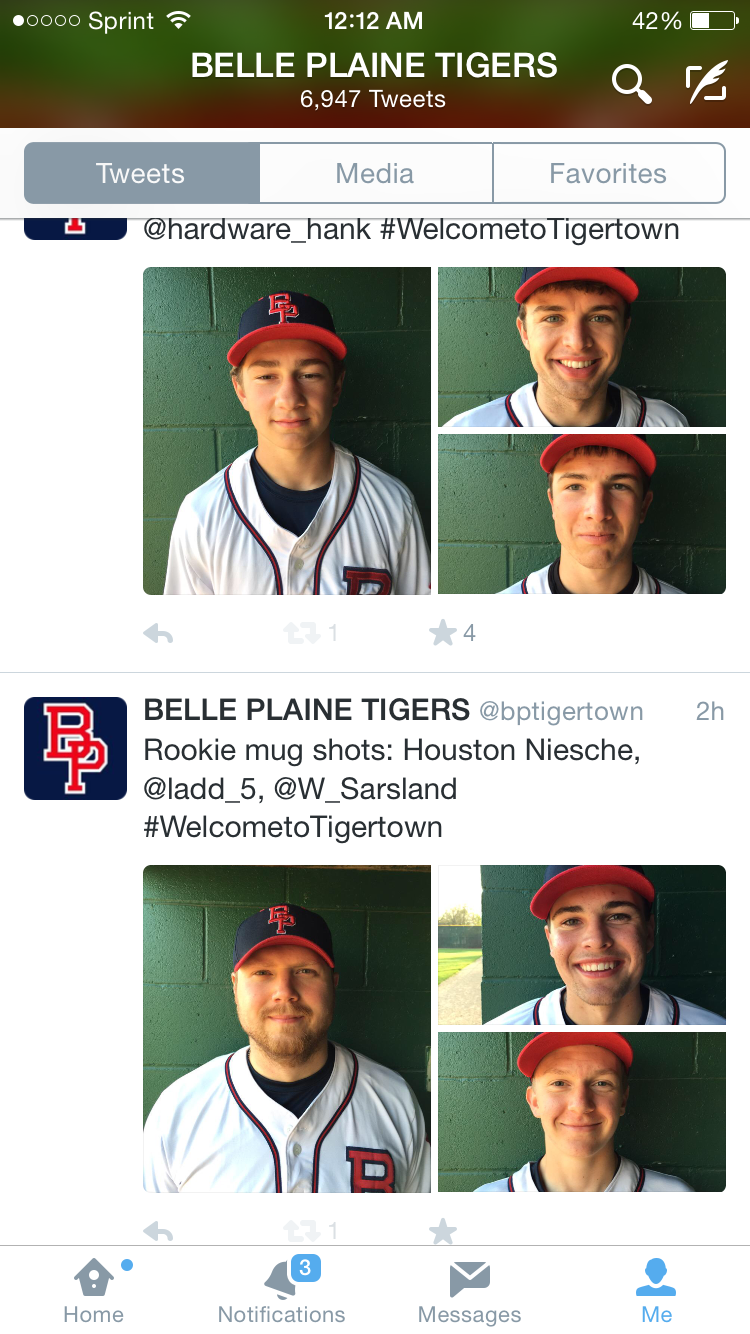 BP 2 @ Chaska 12 (Sunday, May 3 – 7 innings)
Belle Plaine travelled to the home of the Cubs on another day that threatened rain and aside from some sprinkles in the early innings, it was a nice day for baseball.
Not unlike Friday night, normal center fielder and eighth-year veteran Travis Latzke made his career mound debut to start the game. He gave up three runs over one inning of work thanks to a couple of wind-aided triples.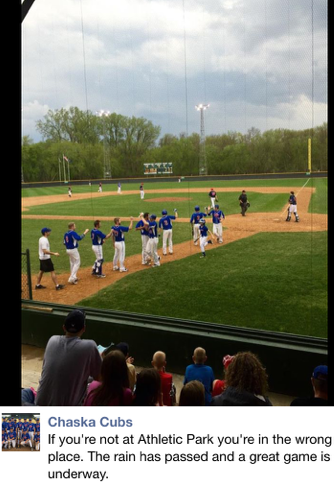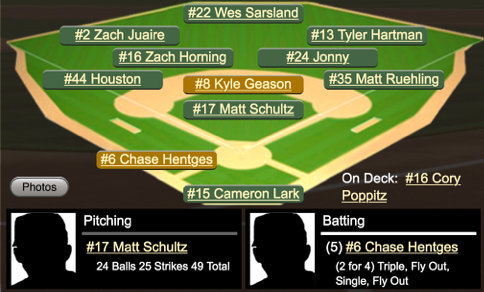 Jesse Oelfke came in for the next three innings and threw shutout ball. Zach Horning worked the fifth inning and was touched up for four runs. Matt Schultz came in to see if he could relive the magic from last year and it looked like he might, as he went one-two-three in the sixth inning. But the seventh inning would be another story as he got battered around like a piñata in giving up five runs – including a walk-off double to enforce the ten-run rule.
Teenage Tiger had six hits on the day, with Latzke leading the way with two safeties. Getting his first hit in a hopefully long career ahead was Jonny Vinkemeier. Welcome to Tigertown. Oelfke, Zach Juaire and Tyler Hartmann also had hits in the contest.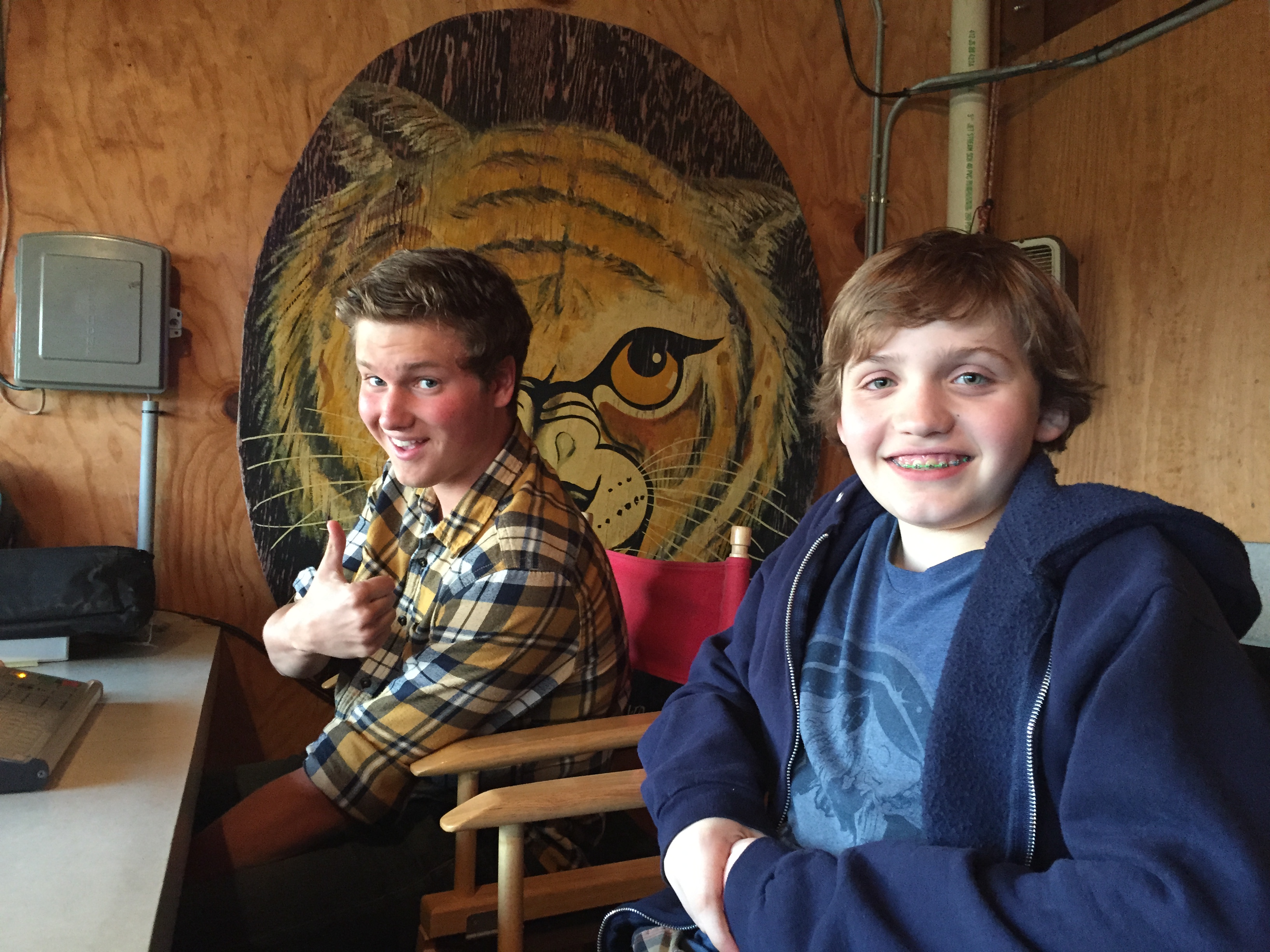 Sscoreboard guru Nick Johnson and trainee Cully Heidecker
A New Chapter for Tiger
Baseball as Season Dawns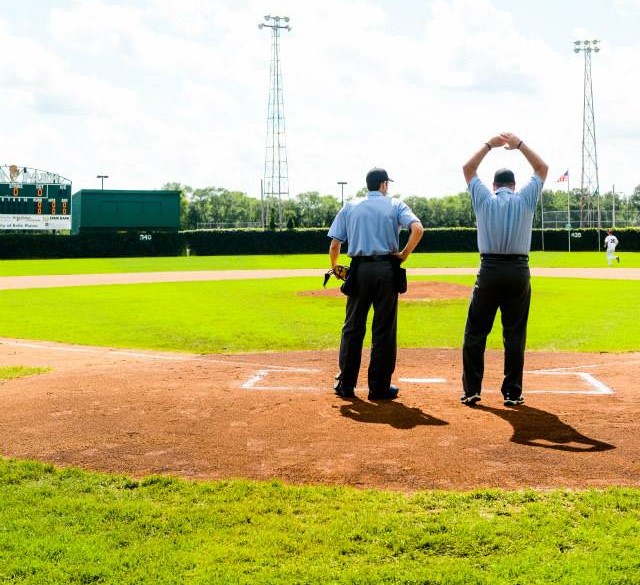 The roars of varied state tournament crowds have faded and the hushed tones of a regular-season crowd are shuffling in. With last year's well-received state tournament now in the record books, the Town Tigers will open the 2015 season this weekend.
The Dakota-Rice-Scott League's Prior Lake Mudcats are coming to town Friday for Dollar Dog Night and the home opener; first pitch is at the usual 7:30 pm time slot. On Sunday, a 4 pm assignment awaits at Athletic Park in Chaska, against the mighty Class B Cubs of our fellow River Valley League.
See the accompanying season schedule and promotions or visit bptigertown.com, the home base for all Tiger activity. I will foreshadow one promotion that deserves extra attention, and that is "State Tournament Volunteers Appreciation Night" next Sunday, May 10 at 6 pm. If you helped us out last year – we know who you are! – admission, food and drink are on us as a small and final "thank you." Please spread the word.
CLICK HERE FOR 2015 BPBA PRESEASON NEWSLETTER!
The Tigers are coming off a 15-15 (9-4 RVL) regular season and their seventh trip in the last eight years to the Class C state tournament. With baseball having begun in Belle Plaine in 1885 there has been a grand total of 17 state tournament appearances – so these indeed are halcyon days of some sort.
However, the challenge of continuing such a run will increase substantially as the heart of the Tiger lineup has been gutted by retirement and defection. You could most often find stalwarts Dan Huber, Jake Fiedler and Ryan Diers in the 3-4-5 slots of the batting order, but the former two have retired while the latter will now suit up for the RVL's Chanhassen Red Birds. That threesome and August Farruggia, who moved out of state, logged the vast majority of innings on the mound for Mama Tiger last year. None will return.
Other Tigers to have lost their stripes since last season include August's brother Damitrus, Trevor Latzke, who has signed a contract with the RVL's Henderson Tigers, Jordan Johnson, and starting lineup fixture and ace-in-the-hole pitcher – and let's not forget, All-Star! – Shawn "Poptart" Larson. We thank all these gentlemen sincerely for their contributions to the Tiger cause.

In response to the loss of lifeblood to the Tiger roster manager Mike Schultz combed the Belle Plaine High School halls one day and passed out contracts as if they were fliers. (Kidding … mostly.) Those still eligible for detention that will now also have to deal with the Tiger legal system are Jonny Vinkemeier, Wes Sarsland, Cameron Lark, Aiden Ladd, Joe Hankins and Ben Wagner. "College ballplayers" Jacob Meger and Chase Emmers will see their first action beneath the BP lid, while Houston Niesche arrives as a player-to-be-named (much) later from a fateful trade with the Carver Black Sox back in 2004.
Returning to the Tiger fold are Travis Latzke, Zach Juaire, Johnny Egan, brothers Zac and Derek Dahlke, Dylan Nyberg, Brad Lawson, Josh Terrio, Tyler Hartman, Zach Horning, the Schultz brothers Pat, Mike and Matt, Jesse Oelfke, Matt Ruehling and as long as I didn't ruin his swing with nasty wiffleball curves at Mike Schultz's bachelor party, blast from the past Nate Hartmann.

To watch this collection of talent for a summer will cost you a mere $25, as a season ticket covers 14 home games and the entirety of the Tigertown Classic tournament. For another $25 you can fancy-up your season ticket and make it a Dugout Club, which also gets you a free food and drink item at each game. Single-game admission charges are $4 for adults, $2 for students and seniors.
There was some off-the-field action in the RVL this month, as Chanhassen has been bumped up to Class B by the state board. The Jordan Brewers will remain Class C but were told by the board that they can't sign any players outside their school district. Details on both are at mnbaseball.org. The RVL-Central is now a four-team division with BP, Jordan, Le Sueur and Henderson.
Finally, don't forget to look us up on our network of social media channels at "BPTigertown" on Twitter, Facebook, YouTube and Vine.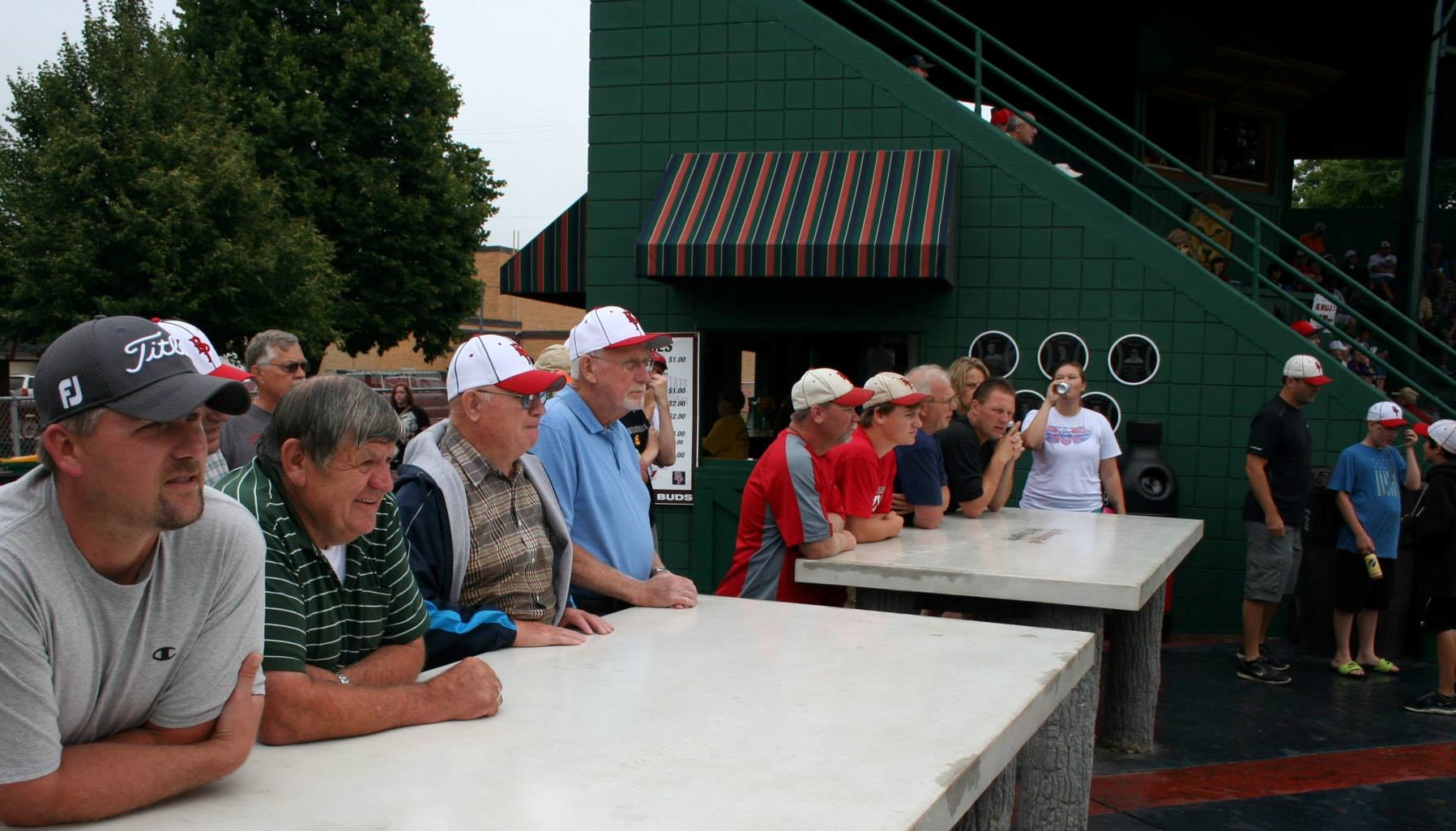 Gerry Meyer to Step Down as President B.P. Baseball Association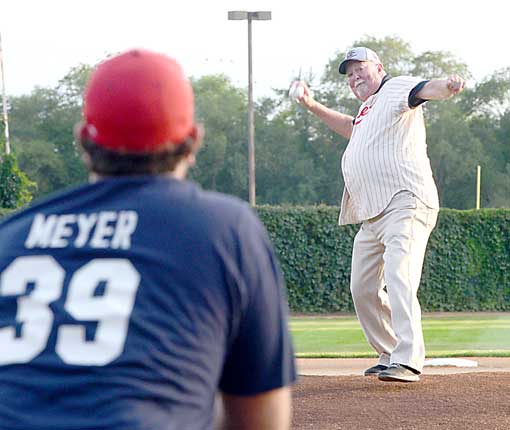 - Story Courtesy of Belle Plaine Herald (12/23/14)
Gerry "Mize" Meyer is stepping down as president of the Belle Plaine Baseball Association following over two decades at the helm, effective Jan. 1. He has been a member of the association for 28 years.
Meyer, 75, has been involved in amateur baseball for over half a century as a player, manager, administrator and supporter. He played for and managed the Belle Plaine Tigers from the late-1950s until 1970. He served many years as the president of both the River Valley and Carver Central leagues. Meyer was involved in five Minnesota State Amateur Baseball tournaments hosted by Belle Plaine – serving as co-chair of the tournament in 1992 and 2004. The most current state tournament hosting took place this year.
"I told the board after we received the 2014 bid (with Jordan) that I would step down after completion of the tournament. It's time for a younger person to take the reigns . . . We currently have a very capable board and this is a good time for a change. We have a great program in Belle Plaine and we now have one of the top amateur parks in Minnesota, thanks to the work and pride of many people," Meyer said.
Other current Belle Plaine Baseball Association Board members are Brad Schultz (vice president), Meyer's son Brent (treasurer), Brett Kruschke, Ken Tritz, Dennis Lawson, Nathan Muehlenhardt, Shane Hofmann, Jeff O'Brien and Dave Wagner. Meyer has presided over some 250 meetings during his reign has president.
Meyer has received numerous awards throughout his baseball-related career, most notably his induction into the Minnesota Amateur Baseball Hall of Fame in 1997. He also received the 2012 Mike Downes Award. The award is for "outstanding service to Minnesota Amateur Baseball."
Among the Belle Plaine Baseball Association's accomplishments Meyer is most pleased with through the years are:
– New grandstand.
– 1994 state champions, a team that was managed by son Brent.
– New scoreboards, the most recent being installed this past summer.
– Irrigation system for the field and ivy for the outfield fences, similar to Wrigley Field in Chicago.
– Many off-the-field amenities, including asphalt, concrete, tables, benches, flagpoles ticket booth and fencing.
"It's been a great run and I tip my hat to the Belle Plaine community for all their help over the 53 years I've been involved with Tiger baseball," Meyer said.
Meyer said his quote on the Minnesota Amateur Baseball Hall of Fame website "tells it all"
"Baseball has a lot in common with life. Both require dedication, sacrifice, teamwork, enthusiasm, trust, respect and faith to be successful. Job satisfaction is the goal, not just the score on the board."