The town Tigers were glad to be back at the ballpark last weekend but got off on the wrong foot, blowing a last-inning lead against Glencoe before suffering a lopsided league loss to upstart Arlington.
The Tigers will be at home again this Friday, as the New Prague Orioles will be in town for a 7:30 pm tilt on Dollar Beer Night. Please note that Saturday's game at St. Benedict has been cancelled and will not be rescheduled, as the BPHS Tigers play in the afternoon and combined with other player absences, it would have left the Tigers too shorthanded to play.
The following weekend consists of a pair of road games, so be sure to come out this Friday night and take in the action. Remember also that you may follow along at Twitter.com/bptigertown, and visit regularly the Tiger web hub, bptigertown.com.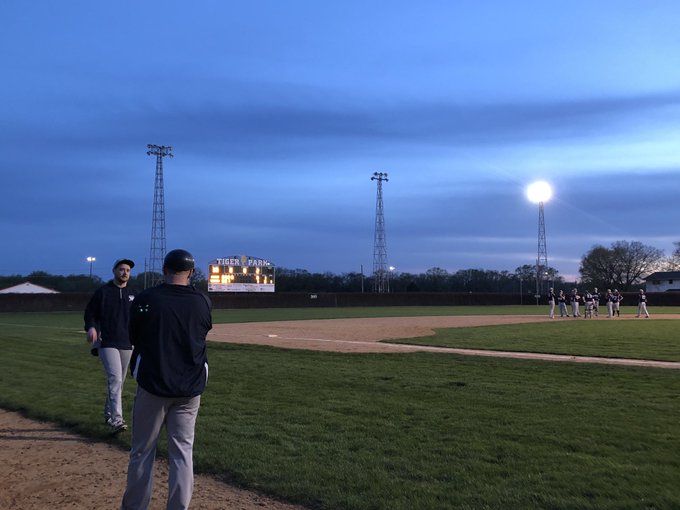 Glencoe 3 @ BP 2 (Friday, April 30)
We've long said that Opening Night is the weirdest game of the year. For starters, the Tigers were playing in April for the first time since 2012 (St. Benedict, April 27).
Next, we won't name names, but the national anthem was botched in the press box when the song wasn't readied in time by the crew. (We do apologize.) Then, just when things got rolling for a few innings and normalcy had returned … half of the ballpark lights went out!
This has happened before, you may recall … a couple of times, in fact, in recent years. The good news is that Tiger Park is getting new lighting this year. And, we were lucky to have a couple City of Belle Plaine employees on hand and willing to help.
Within half an hour, the game had resumed – but not before the managers mutually agreed to shorten the game to seven innings, in deference to the delay, plus because of an early game looming for Glencoe the next day. (Bottom line, though: this is abnormal, and has not occurred in this writer's 30 years of involvement.)
Let's not forget the game itself. Chase Emmers started on the hill for Belle Plaine, working three scoreless innings. Zac "The Most Dashing" Dahlke followed suit with three more goose eggs, priming him for his first victory since 2014.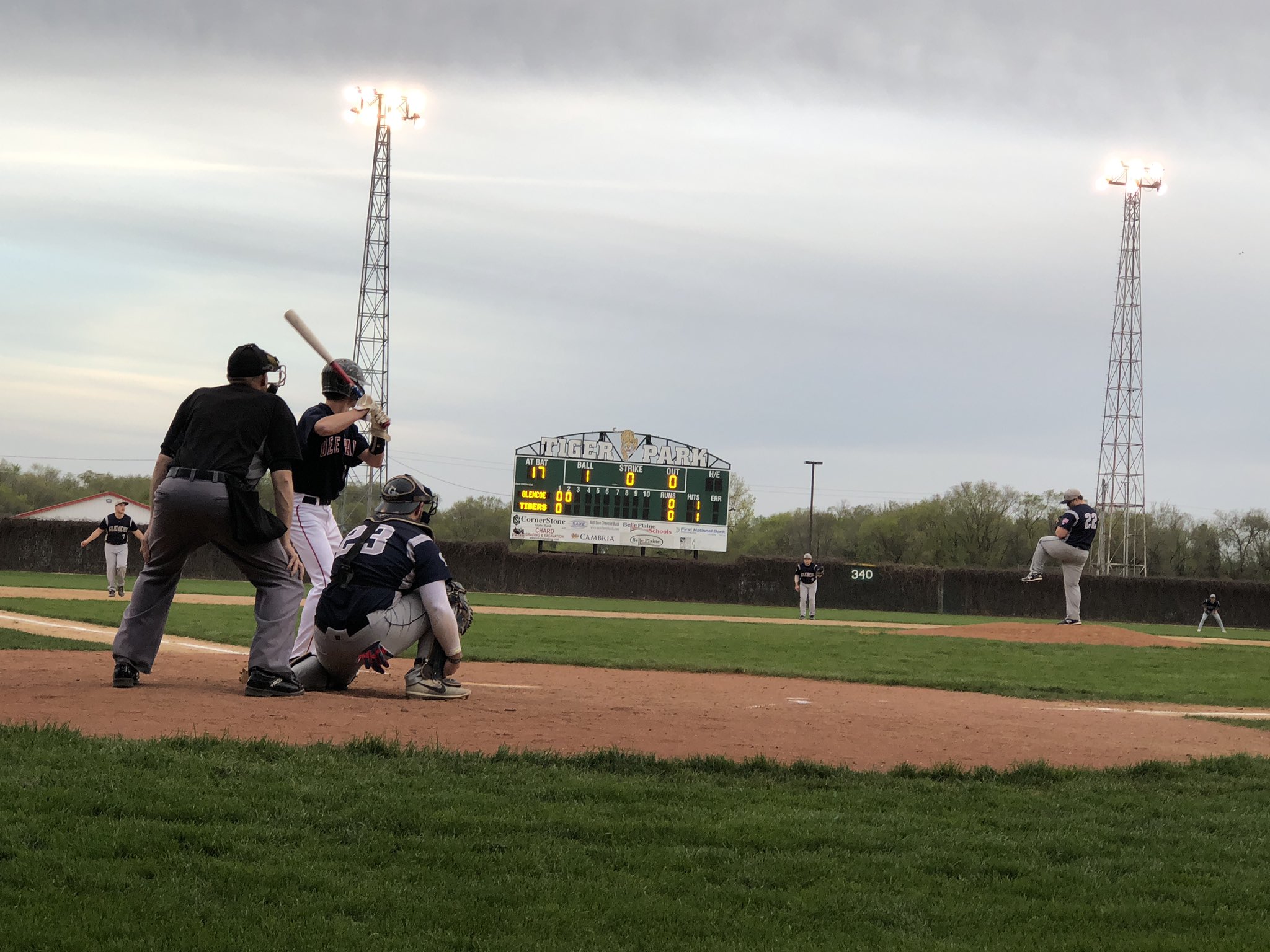 Pat Schultz, a catcher in his 24th season, has fancied himself a pitcher in recent years, pumping batting-practice fastballs and the occasional "jugular ball" that the catcher has to block – in this case, field manager Matt Ruehling, who figured if Pat can pitch, I can sure as heck catch.
Well, Tiger fans, I don't have to tell you that the Brewers plated three runs in the seventh – benefitting also from a painful pair of Tiger errors – sending the dollar-dog-eating fans home with a sour, if not salty, taste in their mouths.
With all respect, it was also strange that a high-school sophomore, playing in his first town-team game, led the way with two hits. That kid is Jake Brandenburg, who drove in a run with a bases-loaded knock with two down in the fifth.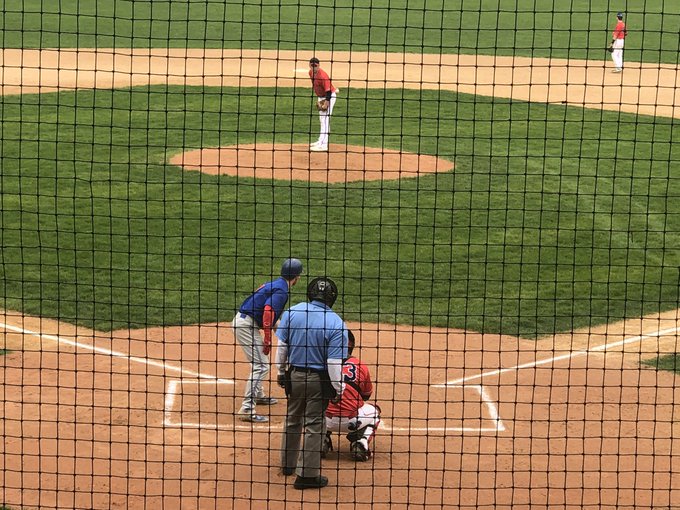 Arlington 8 @ BP 3 (Sunday, May 2)
The town Tigers battled the Arlington A's Sunday afternoon in their first River Valley League matchup of the season. Arlington's Austin Brockhoff got it going early for the A's, with a two-run bloop single to centerfield off Tigers pitcher Jon Schmidt. They tacked on two more tallies, as well, thanks to a bases-loaded fielder's choice and a base rip from Lukas Bullert. Arlington led 4-0 through two innings.
After Schmidt started to settle in, Brandenburg provided some run support with a big bases-loaded double in the fifth. The rookie's knock brought in two base runners, cutting the lead in half. After five frames, Josh Terrio took over for Schmidt on the mound.
Joey Burgemeister brought in Lucas O'Brien with a double of his own in the sixth, making it a one-run ballgame. Terrio cruised through his first two innings before running into some trouble in the eighth. Arlington added got three insurance runs on four singles, extending their lead to 7-3 after 8 innings.
In the ninth, Carsen Ladd came in to pitch. Nick Doetkott put an exclamation mark on the A's evening with a drive over the fence in left for a solo shot. For Arlington, Dan Chies pitched six solid innings and earned the win.
It was not the result we all wanted, but on the bright side, young studs Burgemeister and Brandenburg showed some promise at the plate for a combined four hits. Terrio, a stud in his own right, also had two.
Most memorably for Burgemeister, a BPHS senior and a second-year town teamer, is that he got to play with his father, Eric, who signed on for the day and caught all nine innings. Eric drew a walk and also got in the hit column. Joey led off while dad batted cleanup.