Tigers' 2016 Season-In-Review
--by Manager Mike Schultz
The time has come again for the annual Belle Plaine Tigers Town Team year in review. For those of you who only read this article and not the rest of the great articles written during the year, I will cut the suspense and just tell you now, the Tigers did not make the State Tournament for the first time since 2009, and thus fell short of their annual goal. Due to the early exit, team stats aren't yet finished so this write up will be short on stats and long on pontifications and musings from the author.
El Tigre came into the year with very strange expectations. Coming off an 11-20 season – yet a trip to the State Tournament – your hometown nine knew it might be a long season record-wise, but the Tiger Train had just as good a chance to be rolling during the playoffs as any team. Your local nine blew those expectations out of the water and started off the season 1-0, raising hopes for the season and even mustering some talk of an undefeated season.
Those dreams were shattered shortly after by a 10-0 drubbing by the Shakopee Indians. The rest of the regular season played out about as expected, and possibly worse due to the fact that many of the town team starters weren't available until later in the season because of a second-place finish at State by the Belle Plaine High School baseball team.
The low point of the season is up for debate, with many arguing that the three games in a row that needed to be cancelled were rock bottom, while some said it was when Los Tigros had to recruit an eighth grader, an over-35 player and let Mike Schultz start at third just to avoid cancelling a league game. But in your writer's humble opinion, the low point of the season came in another league game, when Tigertown had to grab Nick Johnson from the press box in order to finish a game in which they were down to nine available players. Morale was fairly low at that point during the season, to say the least.
The team continued to scuffle even when the vaunted high schoolers returned and your men of Chatfield found themselves in the play-in game just to be the eighth and final team in the Region tournament. El Tigre regained some measure of swagger during that game by beating New Ulm, 11-1, in seven innings.
They had their work cut out for them in the next game as they faced perennial RVL power, Jordan, in the next round. BP showed some Teenage Tiger spirit, in keeping it a one-run game through five innings, but a Brewer three-run homer put the game out of reach and put the Tiger Train in the losers' bracket by a 6-1 margin, needing to win three games in a row to make the big dance.
Veteran and All-Star Josh Terrio got the nod in the next game at Arlington and threw well, throwing 7.1 innings and only giving up two runs. Jon Vinkemeier threw the rest of the game and earned the win – a 4-2 final – in relief.
Next up was the St. Peter Saints. Some early pitching woes led to a 4-0 deficit until the 9th inning when Los Tigros scored three runs and had the tying run at second, but couldn't come up with the big hit to tie the game up and fell, 4-3. Thus ended a year with low expectations that still ended up feeling like a disappointment, with a final record of 10-22.
Again stats haven't been tallied but according to the eye test, the Tigers were led offensively by Matt and Pat Schultz, who both had key hits during the year and were stalwarts at the top off the batting order. Mitchell Steir and Josh Terrio logged the most innings for your hometown nine, with Terrio's appearances limited by a box-opening injury early in the season. Managing as always was above average and fan attendance was much more than we deserved and could ever ask for.
Even though the 2016 season was overall a disappointment, it did allow a solid group of young players to play together and learn a few baseball nuggets from the few veterans left on the team. We hope to see you all next year as this young team continues to grow and get better and hopefully starts another string of State Tourney appearances.
Tigers' Season Ends
as Late Rally Falls Short
--by Brett Kruschke
One year after beating Arlington 4-0 and St. Peter 3-2 to clinch a state tournament berth, Teenage Tiger beat Arlington 4-2 but lost to St. Peter 4-3 to fall a game short of playing for the chance to go to state. In the concurrent game St. Peter held off Henderson – who in the ninth, was an out away from the first state tourney berth in team history – 3-2 in 11 innings, to claim the RVL's third state ticket.
Gaylord took the top spot by surprising Jordan, 3-2, in the Region 6C championship game. They also selected the top player in our hearts, Josh Terrio, in the Region 6C draft. The Islanders have a first-round bye and will play the winner of Roseau and Winsted on August 27, 1:30 pm at Dassel. Visit mnbaseball.org for Class B and C state tournament brackets and continuing coverage over the next three weekends.
This year was just the second season in the past decade that the Tigers didn't qualify for the state tournament – the other season being 2009, which ended with a 6-4 loss to Maple Plain. That said, Team Tigertown is now 21-42 (.333) over the past two seasons – a winning percentage even worse than the 2016 Twins! What gives?
In case you missed the past two summers' worth of Heralds, the Tigers are really young. Of the 23 players that made the official playoff roster, more than half (12) are first- and second-year players. In a competitive league, success usually doesn't come overnight. But based on the strength of the Belle Plaine High School program, we expect this same group of guys to lead the Tigers to a land once again flowing with milk and honey – eventually.
Two years ago the Tigers lost their best hitter and pitcher when Ryan Diers defected to Chanhassen. This year the Tigers played without their newest best hitter and pitcher, Derek Dahlke, who remains in the program but spent the summer with the Carroll Merchants in Iowa before finishing the year injured. For most Class C teams – and the Tigers proving no exception here – missing such a pair of impact players is a crushing blow.
With Diers and Dahlke fronting the rotation, El Tigre would be a team to reckon with at the state tournament. Without them, the pitching staff lacks the true 'ace' it has so long enjoyed. Certainly there are a handful of guys that showed promise this summer, and without a doubt they will improve as time goes on and even become those aces. But for the moment, the cupboard is pretty bare in the pitching department.
The season ended with a 5-11 record during the River Valley League regular season and a 10-22 mark overall. In a game of peaks and valleys the Tigers are in the latter, but few involved wouldn't agree that the Plainesmen will soon be a team on the rise.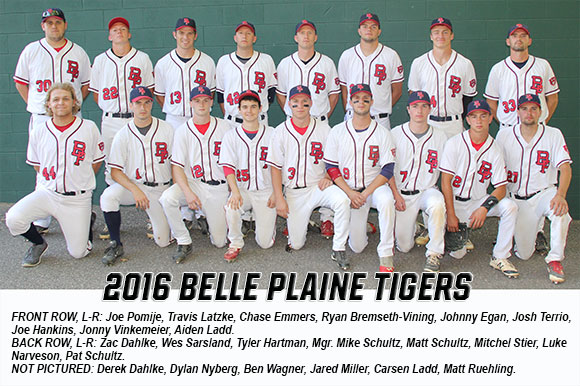 BP 3 @ St. Peter 4 (Wednesday, August 10 – Region 6C playoffs, losers' bracket)
It's uncommon to walk away from a season-ending loss by concluding that baseball is the greatest game, but baseball is the greatest game and this contest was further proof.
The Tigers sent Mitchel Stier to the mound for his third playoff (including one play-in) start in four games, but the tall rookie righty didn't have it. Stier was relieved by Ben Wagner with one out in the second inning and after a run was forced in on as bases-loaded walk, the Tigers quickly found themselves trailing, 4-0.
The T-Train left six men on-base through the first five innings – including four in scoring position – but had nothing to show in the runs column against Jeff Wenner. St. Peter then called on Cullen Bruce, who mowed through the Tiger lineup over the next three innings while facing just one batter over the minimum.
Second-year lefty Wes Sarsland became the Tigers' third pitcher in as many innings when he started the third and having no conflictions, he was simply lights out. Sarsland faced just three men over the minimum during his six scoreless frames, keeping the Tigers in the game.
So here's where two hours of agony turned into 10 minutes of ecstasy before the final gut-punch was delivered. Sarsland started the ninth by drawing a walk and was followed by a Mitch Stier single. Joe Hankins was hit by a pitch – but called back to the batter's box for leaning into it, before flying out to left field. A pivotal moment, for sure.
Jonny Vinkemeier kept the train going with a single to load the bases, and that's when Josh Terrio delivered the highlight of the night: a two-run double to make it 4-2 and put runners at second and third base with just one out. Just like that, the go-ahead run was at the plate.
Matt Schultz decided to save his first career homer for a more dramatic time, but he drove in a run on a groundout to shortstop to make it 4-3. After Pat Schultz walked, the spotlight fell on cleanup hitter Aiden Ladd. After fouling off several pitches veteran righty Jesse Anderson got him, recording a strikeout and putting the wraps on the Tigers' 2016 campaign.
Leading the way offensively for Belle Plaine were Matt Schultz and Vinkemeier, each with a pair of singles. Pat Schultz had a hit and a pair of walks. Defensively, the Tigers played error-free.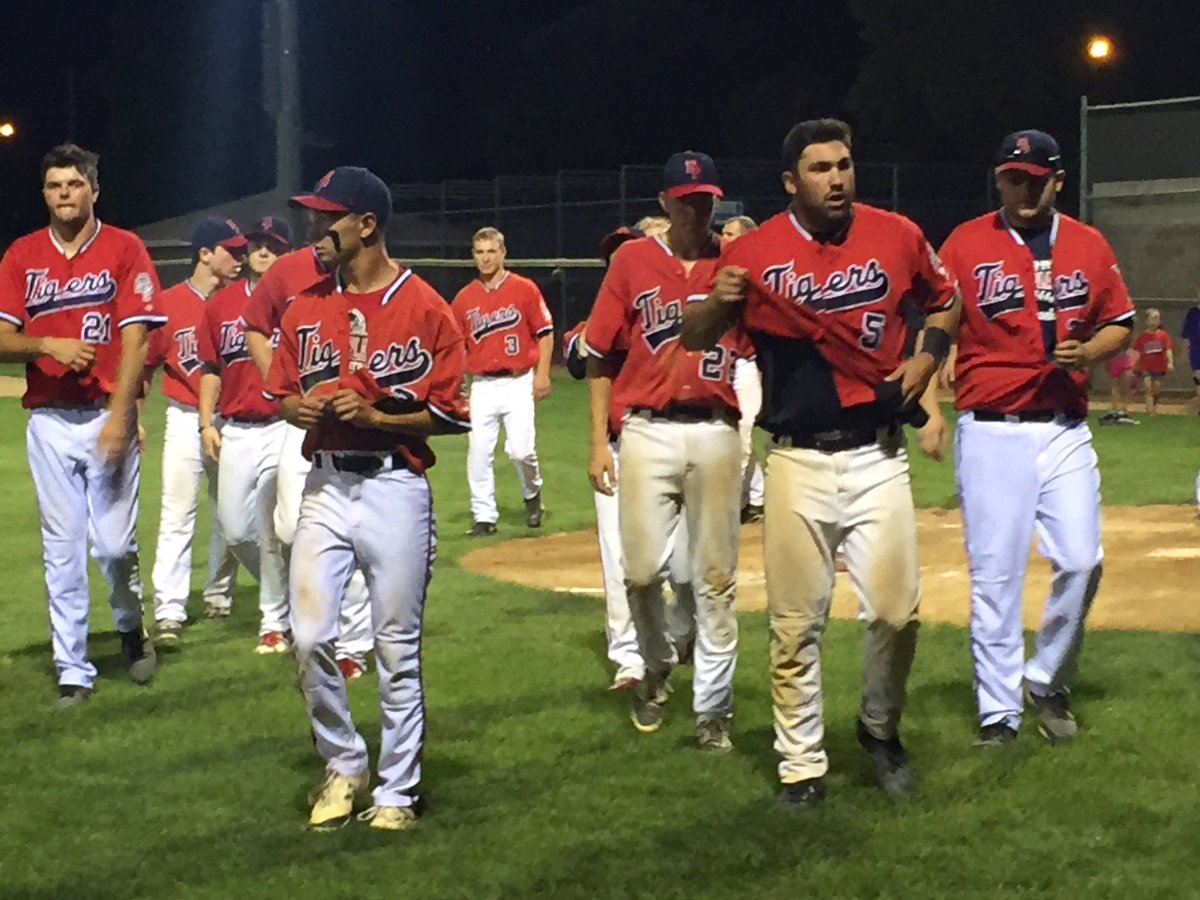 Tigers Upset Arlington,
Face St. Peter Wednesday
--by Brett Kruschke & Matt Schultz
One year ago in the Region 6C playoffs, the Tigers beat Arlington before knocking off favored St. Peter for a surprise trip to the state tournament. This year's playoffs started with a setback to Jordan but Tigertown bested Arlington on Sunday and will head to St. Peter tonight, seeking to repeat last year's pattern.
Last year the Saints were 11-1 in league play when the 5-6 Tigers tipped their cart; this season St. Peter was once more stellar at 12-4, while the T-Train stepped backwards to 5-11. Will history repeat itself? There's only one way to find out: make the trek to St. Peter for tonight's 7:30 pm high-stakes affair.
Should the Tigers pull it off, they will play Friday at 7:30 pm against the winner of Le Sueur and Henderson. As the No. 8 seed, Los Tigros is slated to play an away game – but that could change if Henderson hosts, as they don't have lights. Follow the Tigers' social media channels for updates, if necessary.
Belle Plaine must win both tonight and Friday or the season is over. If they do win both nights, it's on to the state tournament in Dassel, Hutchinson and Litchfield. Visit rvl.leagues.mnbaseball.org for River Valley League coverage and don't forget about mnbaseball.org for the latest goings-on from around the state.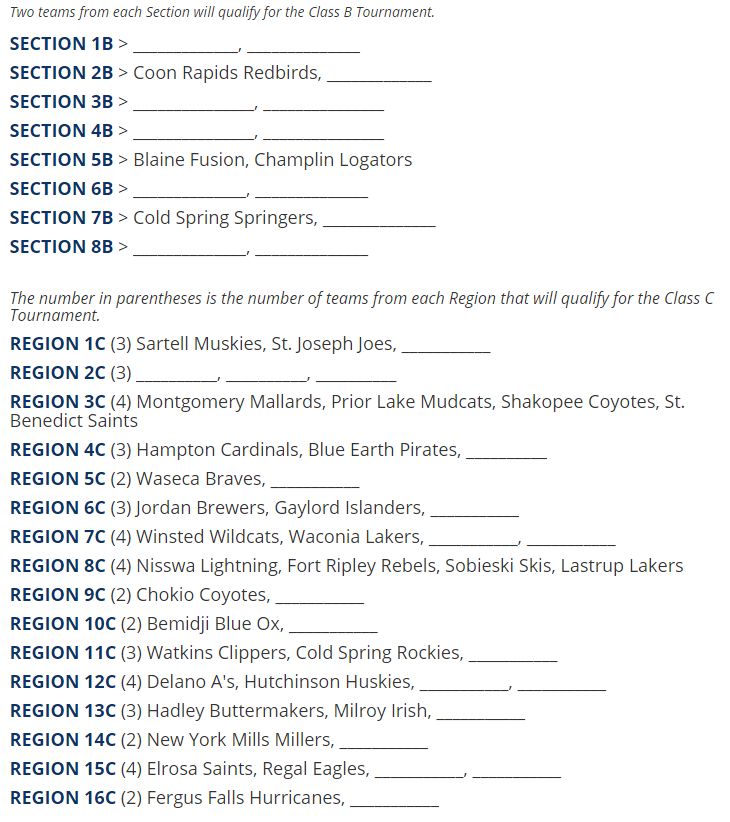 BP 1 @ Jordan 6 (Friday, August 5 – Region 6C playoffs, first round)
Teenage Tiger headed to Brewer territory, looking to keep up the current Class C trend of No. 1 seeds getting upset in region tournament play. "Teenage Tiger" is fitting, as six of 10 (including designated hitter) starting players for Tigertown were 2016 graduates of BPHS. This young team put forth a vigilant fight versus the veteran Brewers.
Mitchel Stier – one of the recent BPHS graduates and starting pitcher for the third straight game – worked through five and two-thirds innings, giving up five runs. He was a close call away from getting out of the fifth having only given up one run. The close call went in Jordan's favor, however, and a three-run home run from the next batter, Scott Hollingsworth, proved to be more than enough for the Brewers.
Chase Emmers pitched one and one-third innings, yielding one run. Lefty Wes Sarsland pitched in with a scoreless eighth.
Belle Plaine ended the night with eight hits and put at least one runner on base in eight of nine innings, but could not come up with a big hit when needed. Pat Schultz and Josh Terrio led the way with two hits apiece. Jordan's Mitch Bockenstedt worked eight-plus frames, allowing one run with two walks and nine punchouts.
BP 4 @ Arlington 2 (Sunday, August 7 – Region 6C playoffs, loser's bracket)
PHOTO ALBUM: 36 NEW PICS!
Manager Mike Schultz sent Josh Terrio to the mound for this do-or-die contest, while Arlington manager Bryce Eggert countered with the familiar Matt Pichelmann. The two traded zeroes until Belle Plaine struck for a pair of runs in the second inning.
Back-to-back singles by Stier and Joe Hankins led off the frame, with Jonny Vinkemeier advancing each 90 feet via sacrifice bunt. After a strikeout and a walk to load the bases, Pat Schultz walked to force in a run. Cleanup hitter Aiden Ladd singled to make it a 2-0 lead.
The A's looked ready to answer and loaded the bases with no outs and leadoff hitter Nathan Henke at the dish. Terrio induced a shallow fly ball, a strikeout and a 3-1 putout to escape unscathed.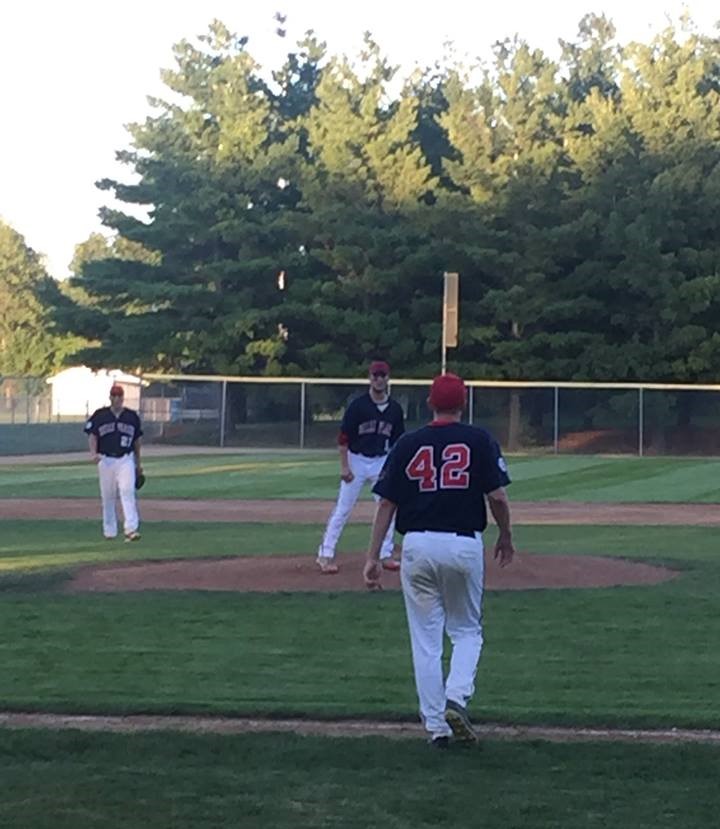 With a 2-0 lead in the bottom of the eighth, Terrio struck out the first batter of the inning. Consecutive walks, though, meant a call to the bullpen. Vinkemeier was greeted rudely by cleanup slugger Tyler Agre, whose two-run double meant a brand-new ballgame. After a single and an intentional walk to load the bases with one out, Vink wriggled out of the jam thanks to Aiden Ladd's 5-3 ground-ball double play.
It was top of the order for BP in the ninth and Travis Latzke lined a sharp single up the middle. Matt Schultz also singled and after a lengthy at-bat, Beep Baller Pat Schultz rocketed one past the first baseman for a 3-2 lead. Just as it occurred in the third inning, Aiden Ladd followed Coach Pat's RBI with one of his own – this time via a sac fly.
Vinkemeier yielded a leadoff single but set down the next three in order to send the Tigertown contingent home happy. The second-year righty was credited with the win, per baseball's goofy rules.
Hitting heroes for the Train were Pat Schultz and Aiden Ladd, both of whom went 2-for-4 with two RBI. The Arlingtons aided the Tiger cause by committing five errors in the field.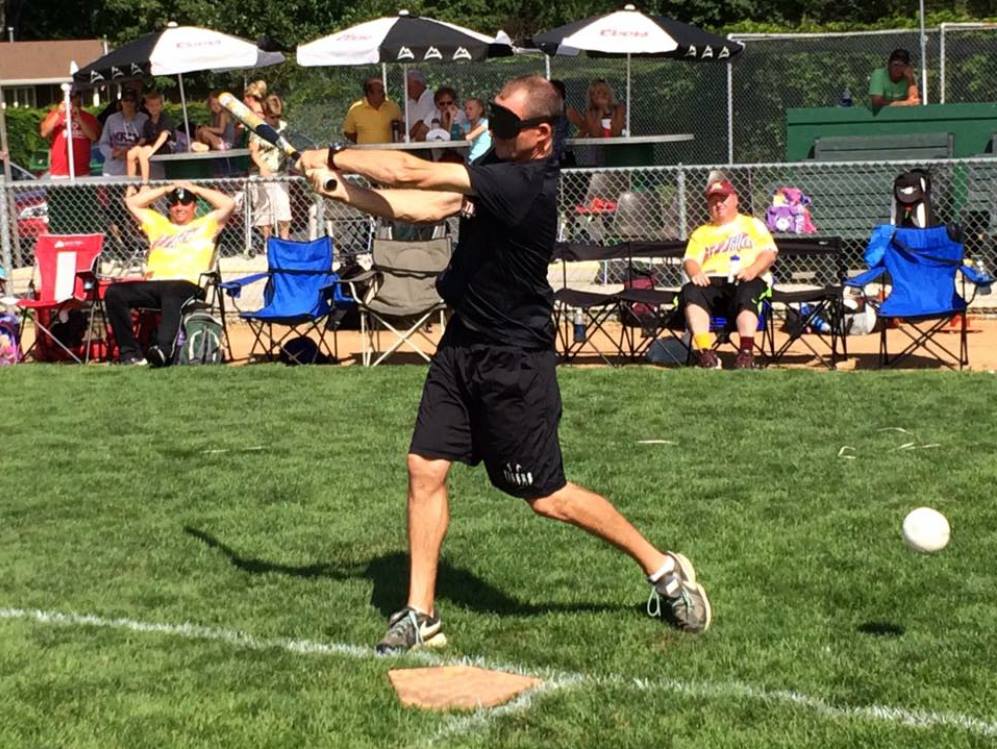 Tigers Win Play-In Game; Jordan Awaits
--by Brett Kruschke, Mike & Matt Schultz
The Tigertown Express rose to the occasion in a must-win game Sunday, 10-running the New Ulm Kaiserhoff to qualify for the Region 6C tournament. Belle Plaine's first assignment as the No. 8 seed is to travel to the No. 1-seeded Jordan Brewers on Friday at 7:30 pm.
Win or lose, the Tigers' next game will be Sunday night on the road at 6 pm against Arlington or Le Sueur; with a win Friday the locals would be vying for their ninth state tournament appearance in 10 years. With a loss, three straight wins would be required to qualify for the state tourney as the Region's No. 3 seed.
You can find an updated tournament bracket at rivervalleyleague.com or bptigertown.com; updates will also be provided via the respective Twitter channels of twitter.com/rvlbaseball and /bptigertown.
Earlier last week the Chatfielders blanked Gaylord and got skunked at Miesville. The Tigers finished with a final league record of 5-11 this season, while the overall record is 9-20.
The Tigers are the lowest-seeded team in Region 6C and since the high seed hosts all games, the final game at Tiger Park has most likely been played (the only exception would be a chance matchup with Henderson, where they might want to play at Belle Plaine due to no lights at their ballpark). Thanks for your continued support this season and we'll see you on the road!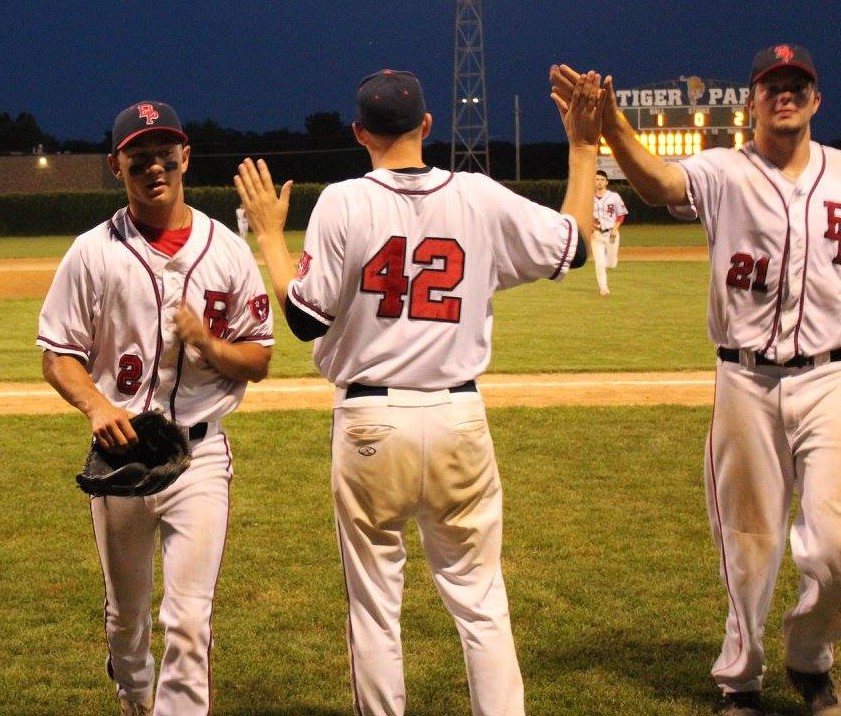 Gaylord 0 @ BP 1 (Tuesday, July 26 – 10 innings)
57 NEW PICS! by Andrea Schoenecker Photography
Gaylord travelled to the friendly confines of Tiger Park for a league game that at this late point of the season, lacked playoff implications for seeding purposes. Nonetheless it was a well-played, tight game throughout.
On the hill for Gaylord was former – and always – Tiger via the draft, Trevor Vaubel, who saved the Tigers' bacon in last year's 3-2 state tournament victory over Hadley. As good as Vaubel was, the Tiger trio of Josh Terrio, Mitchel Stier and Jonny Vinkemeier combined for a shutout.
Los Tigres plated the game's only run when Aiden Ladd led off the tenth inning with a single, was bunted to second and then scored on a broken-bat single by Vinkemeier that was assisted by a Gaylord throwing error. As always the Tiger Train received managing that was second only to one.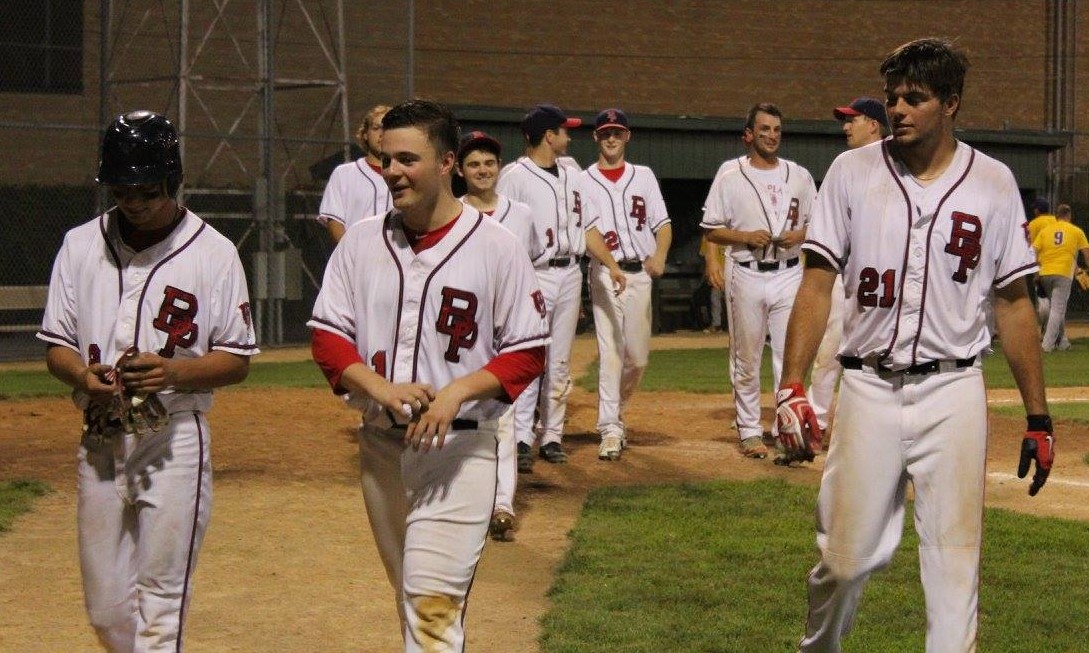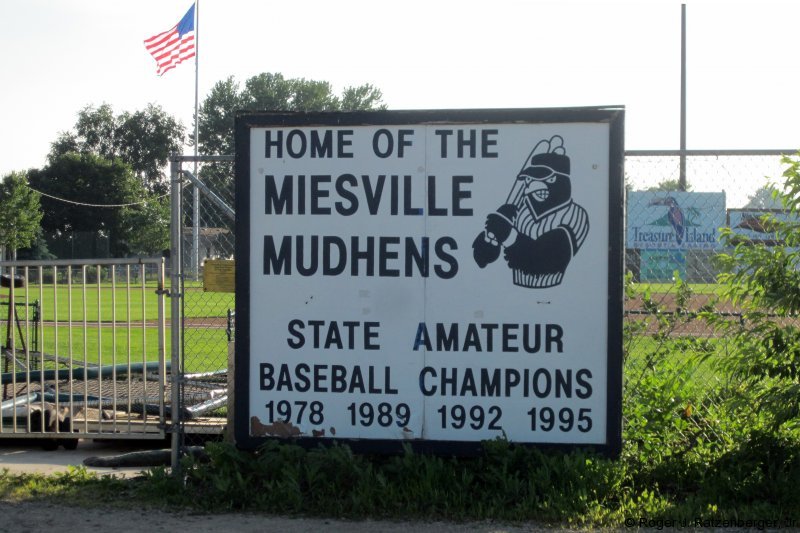 BP @ Miesville 10 (Friday, July 29 – 7 innings)
The Tiger Train chugged on down to Miesville on Friday for a rare 8 pm start against the Mudhens, merely the second-ranked team in Class B and winners of 19 of their past 20 contests. El Tigre, meanwhile, is Class C and ranked very badly, so an epic battle was likely to ensue.
Miesville's first batter crushed a home run – as if they were facing the Minnesota Twins – and the Hens never looked back. Joe Pomije started on the mound and was survived four innings, yielding four runs – a pace of about one per hour. Chase Emmers relieved and wasn't his usual sharp self, allowing the final six runs in what turned into a shellacking.
El Tigre mustered just three hits on the day, with one of those being of the dubious variety off the bat of Matt Schultz. But all in all it was a beautiful night at a great park, and the burgers at King's Bar & Grill were likewise terrific.
New Ulm Kaiserhoff 1 @ BP 11 (Sunday, July 31 – Region 6C play-in game – 7 innings)
The Kaiserhoff of New Ulm came to Tigertown for the Region 6C play-in game. While modern sensibilities forbid the declaration of anything negative, these teams arrived at this contest by being the least-best River Valley League participants this season.
Belle Plaine started Stier, a June high-school graduate, on the mound. After giving up one tally in the first frame on a couple of bloop hits, the tall righty finished six frames without giving up another run.
Terrio came on and threw a scoreless seventh, which ended up being all that was needed thanks to a second-consecutive three-spot that ended matters early via the 10-run rule. The Tigers defeated yet another 2015 draftee in the form of big lug Nick Dewanz, who started and bore the brunt of the Tiger attack.
Travis Latzke had a solid game offensively with the big blow a bases-loaded, bases-clearing triple* in the bottom of the fourth. (*The editor thinks triple; everyone else thinks error.) Pat Schultz added a two-run double and Vinkemeier collected two hits and two RBI.

Playoff Play-In:
Tigers Host New Ulm on Sunday
--by Brett Kruschke, Matt & Mike Schultz
It's come to this: the Mighty Tigers – entrants in the state tournament for eight of the last nine years – must play a play-in game for a chance to compete in the Region 6C tournament. From that tournament, three of the remaining eight River Valley League entrants will advance to the state tournament in Dassel and Hutchinson.
Should the Tigers defeat the New Ulm Kaiserhoff at 6 pm Sunday night at Tiger Park, the reward is a visit to Jordan to face the repeat RVL champion and No. 1-ranked Brewers next Friday at 7:30 pm. But let's not get ahead of ourselves just yet.
Last night the Tigers hosted Gaylord in their final regular-season RVL game; check Tiger social media @bptigertown for the result. On Friday the Tiger Train will receive a most stealthy playoff tune-up when they visit the consensus best ballpark in the state, Miesville, taking on the storied Mudhens at 8 pm.
What Carl Spackler once said in Caddyshack applies to the playoffs: "I guess the kidding around is pretty much over!" You never know what can happen in the postseason, and last year's state tournament trip – including winning a game at state, after entering the postseason with an 8-18 record – is testament to that.
After further analysis, maybe the 7-19 Tigers have their opponents right where they want them! We'll see you at Tiger Park Sunday night as we find out together.
BP 11 @ Cologne 13 (Tuesday, July 19)
TOWN BALL TUESDAYS" ARTICLE & GALLERY!
The Tigertown Express went to Cologne looking to get a win and some much-hyped cheese curds. Only one was achieved. Thankfully it was the curds.
Pitching wasn't great again for the Tigers, with Zac Dahlke, Joe Pomije, Chase Emmers, Matt Ruehling, Pat Schultz and Josh Terrio all seeing time on the mound.
Matt Schultz led the way at the plate with three hits. He made a bid for his first-ever home run with a double off the left field fence, but instead he will have to settle for his first extra-base hit of the year. In the all-time Tiger home run leaders, Matt still trails "The Bambino" Brett Kruschke, 1-0.

Jordan 9 @ BP 2 (Friday, July 22) PHOTO GALLERY! 28 PICS
El Tigre hosted the Brewers on the much-anticipated Pulled Pork Sandwich and Matt Saxe Night – both of which happened to be the only good things about the game as Jordan scored three in the first and led throughout. BP did whittle the lead to 5-2 to in the seventh, but that was just the Brewers playing cat and mouse.
Josh Terrio started and worked four innings while yielding four runs, two of which were earned. Jonny Vinkemeier, Joe Pomije and Mitch Stier also saw time on the hill. Stier threw the sixth, eighth and ninth innings, with Joe Pom throwing the seventh due to some new-age managing techniques.
Pat Schultz and Dylan Nyberg led the way at the plate with two hits apiece, with both lining doubles.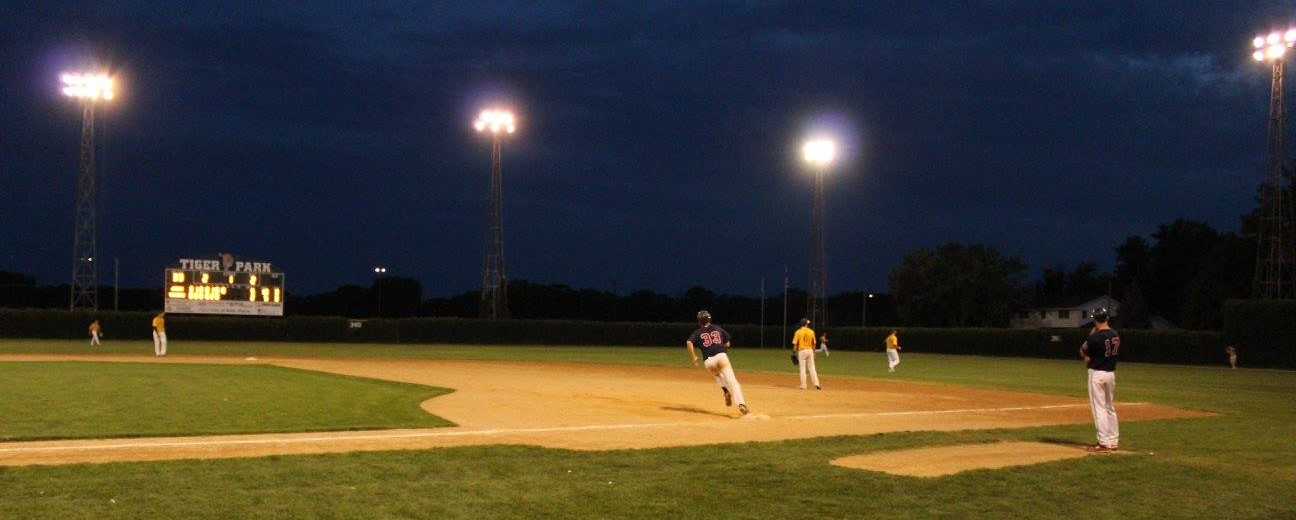 Henderson 6 @ BP 3 (Sunday, July 24)
The Tigers of Henderson made the journey to Belle Plaine in a battle to avoid the dreaded play-in game in the Region 6C tournament. It was difficult to tell that this was an important game from the player attendance, but your hometown team was able to scrape together 11 semi-healthy guys for the vital late-season matchup.
Chase Emmers got the start on the mound and was solid through two before the wheels fell off in the third when the Hendersonian Tigers plated five and took a lead they would never relinquish. Zac Dahlke threw the next four frames and only gave up one run, while long time catcher Pat Schultz finally found another position he is almost serviceable at by tossing two scoreless innings.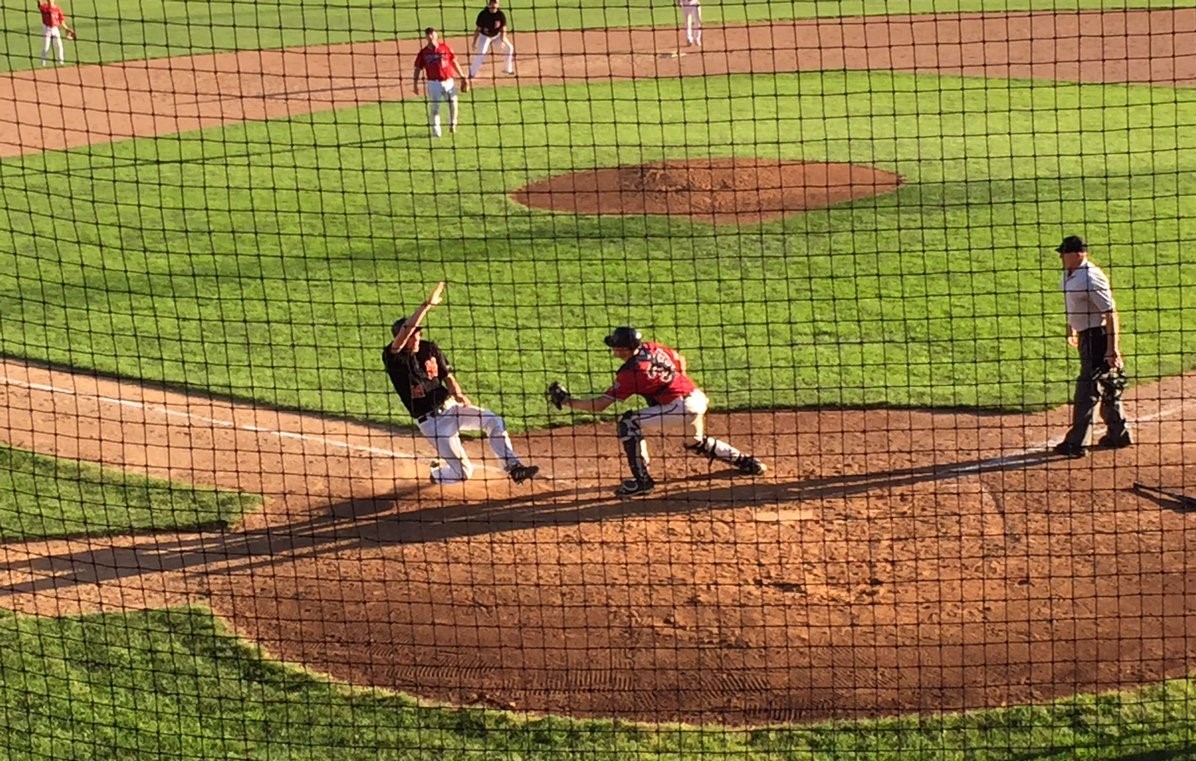 A trio of Tigres had multi-hit games: Pat Schultz, Matt Schultz and rookie shortstop Ryan Bremseth-Vining. Luke Narveson also would have had a multi-hit game, but he injured himself by turning a leadoff triple into a double and left a few pitches later.
Team Tigertown did threaten in the ninth, loading the bases and bringing the winning run to the plate, but one-time Belle Plaine Tiger and two-time Henderson Tiger Clayton Meyer closed the door on the comeback and El Tigre was sent to lick their wounds and ice their hamstrings.
Although the loss puts the Tiger Train in the dreaded play-in game, they will get a home playoff game out of the deal, which is nice.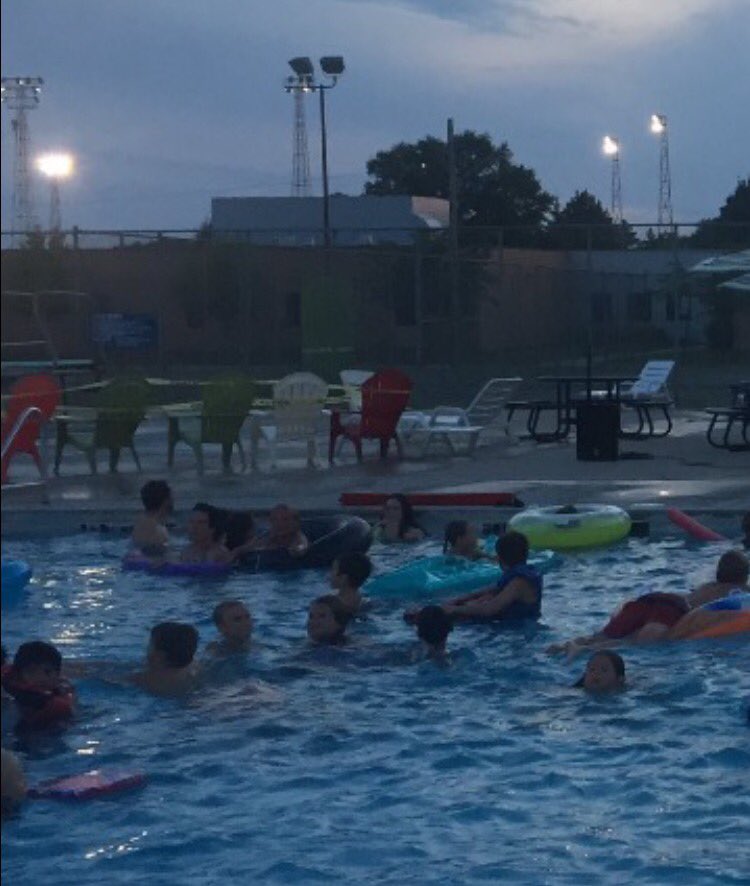 Tigers to Wrap Up Regular Season with Slew of Promotions
--by Brett Kruschke & Matt Schultz
A trying season hit another rough patch last week as the Tigers suffered a pair of uneven RVL road losses, dropping them to 7-16 overall and 4-9 in league play. As Clark Griswold optimistically once said, however, "With each day there's fresh hope."
The Tigertown Express played at Cologne last night (Tuesday); go to bptigertown.com or check out the social media accounts for a score and details.
As for the Tigers' troubles, we're hoping it's nothing a few home game promotions can't fix. On Friday at Tiger Park will be the dual promotion of Matt Saxe Chevrolet Buick Night and Pulled Pork Sandwiches Night. Saxe will be giving away t-shirts to the first 100 fans through the gates – perfect for you to get a nice barbecue stain on. The Jordan Brewers will be our guests, with the first pitch slated for 7:30 pm.
Sunday night will be the ever-popular Fan Appreciation Night when the Henderson Tigers come to town for a 6 pm start. Expect the usual range of giveaways throughout the ballgame. You don't want to miss it!
On Tuesday the Gaylord Islanders will come to Tigertown for the familiar 7:30 pm first pitch. It will be Coborn's Night, and we will be collecting canned goods for the Belle Plaine Food Shelf! Please support this worthy cause and as an incentive, your donation will enter you in a drawing for a Coborn's gift card.
The Tigers' last game of the regular season will be next Friday night at Miesville, a destination road game if ever there was one. While the bulk of the Region 6C playoffs begins on August 5, the Tigers could find themselves in a play-in game on July 31 if they finish among the RVL Central's bottom two slots in the regular-season standings. Look for details in next week's Herald.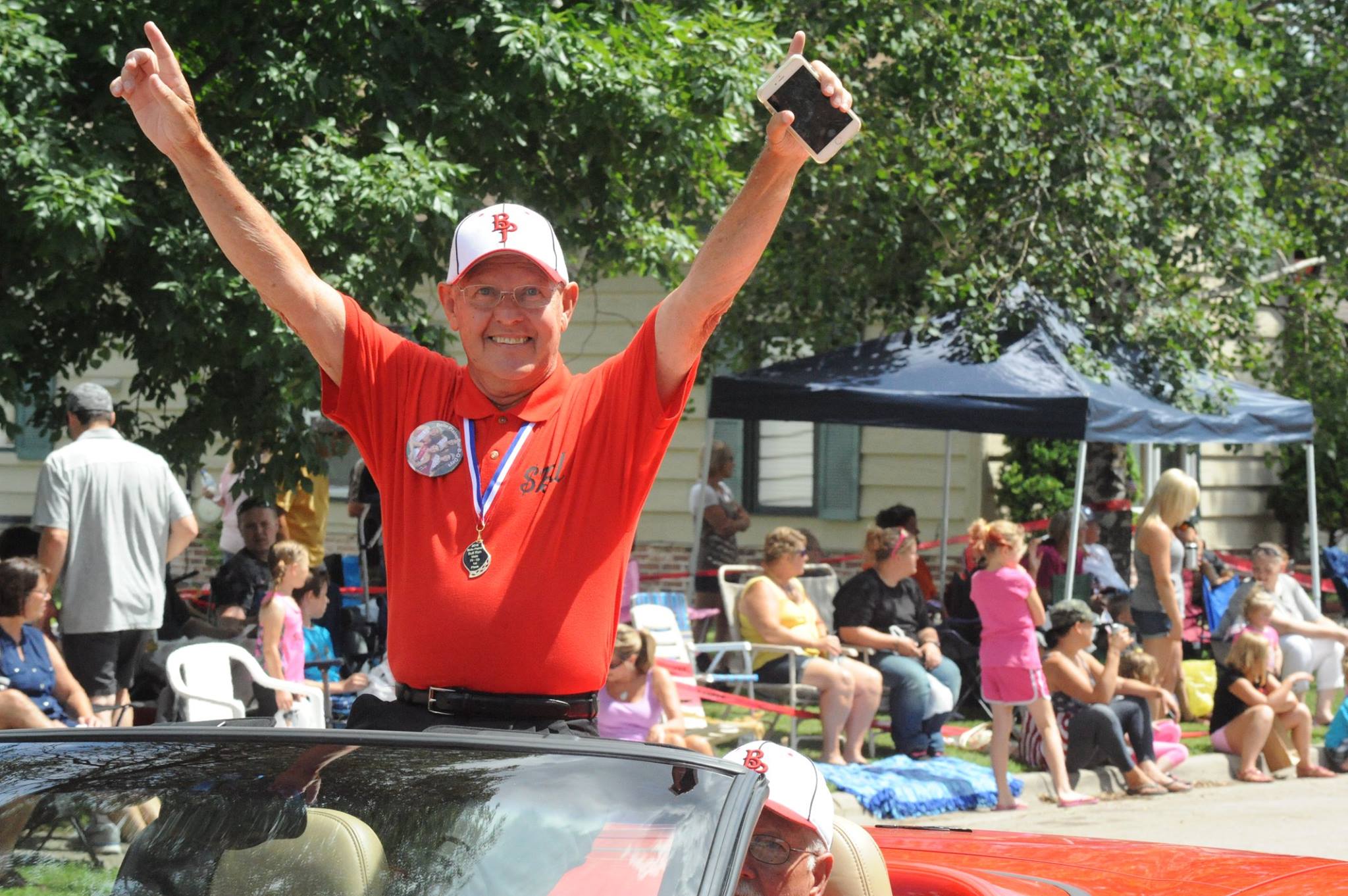 BP 0 @ St. Peter 8 (Tuesday, July 12)
El Tigre hit the road, looking to keep their good play alive. That wouldn't be the case as the Saints took advantage of some poor Tiger pitching and defense. Zac Dahlke started on the mound and was wonderful until the fifth, when he ran into some trouble. On came Ben Wagner, who didn't fare much better.
Wagner threw two innings before yielding to Joe Pomije, who worked two-thirds of an inning. Under-utilized weapon Matt Ruehling came on for the final out of the eighth. Joe Hankins led the punchless charge with a pair of hits.
BP 4 @ Gaylord 16 (Wednesday, July 13 – 7 innings)
Looking to make up for the whitewashing a night earlier, Teenage Tiger headed to Gaylord looking for a win. Once again Belle Plaine hung tough until the midway point, tied at two after four frames.
The wheels fell off in the fifth, however, when the Islanders struck for 10 runs. Chase Emmers started on the hill and was chased in the fifth, giving way to Pomije. Jonny Vinkemeier and Carsen Ladd also saw time on the slab.
Hankins once again collected two hits, as did Vinkemeier and Dylan Nyberg.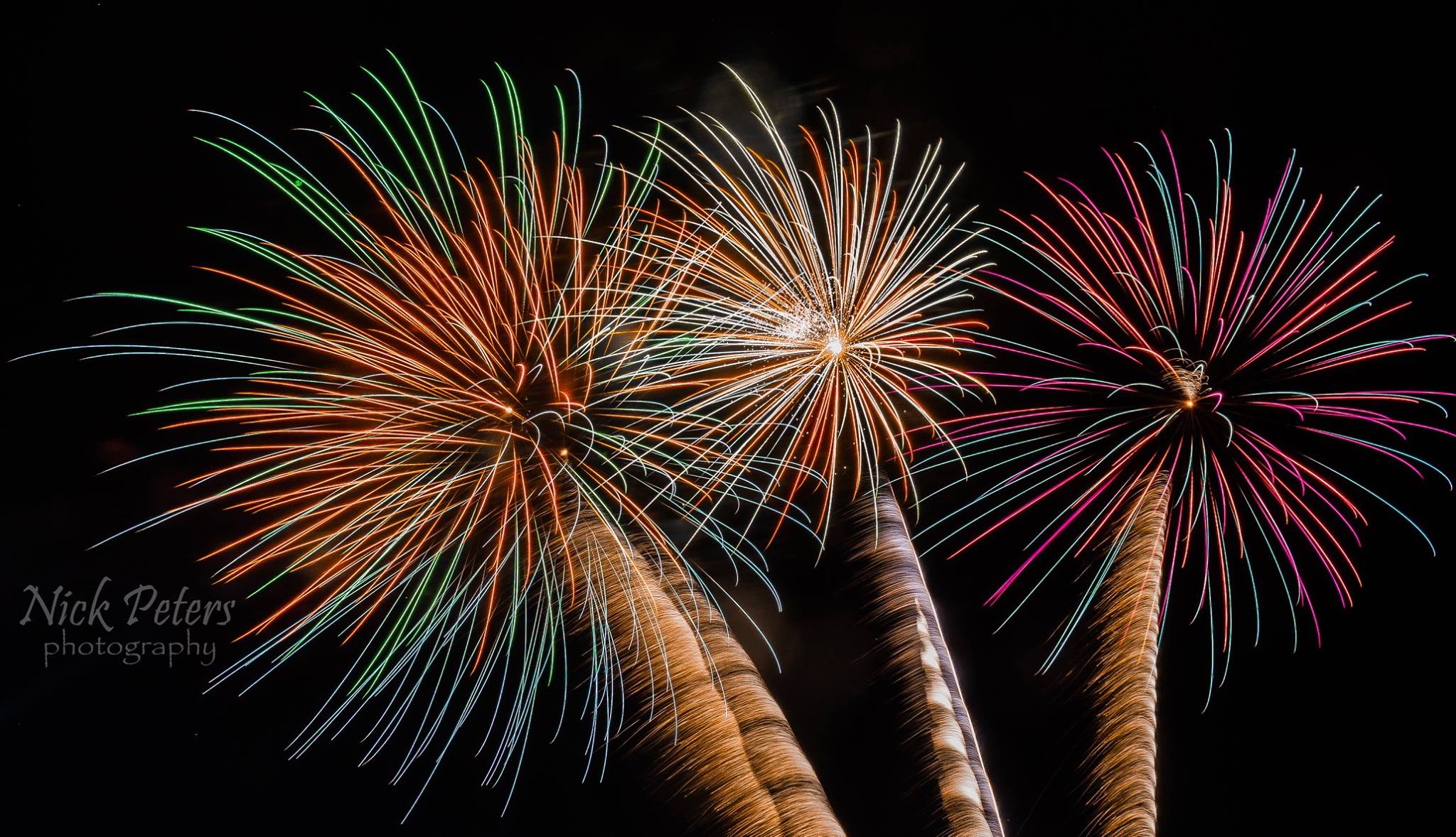 Tigers Win a Pair of League Games
--by Brett Kruschke & Matt Schultz
Former Tiger Pat Moriarty once said, "July's my year," and your Belle Plaine Tigers have yet to lose a ballgame this month. That may or may not have been aided by a rainout at Gaylord on July 5 and just a pair of games since, but so it is.
The Tigers have improved their record to 7-14 overall, 4-7 in the River Valley League after topping both Fairfax and Arlington at home over the weekend. Last night (Tuesday) the Bar-B-Q'ers played at St. Peter, and tonight they'll head back to Gaylord for a 7:30 pm affair and hopefully no shelf clouds.
Our boys will spend three full days at the park this weekend – Union Square Park for Bar-B-Q Days, that is – before resuming play and the playoff push on Tuesday, July 19, with a 7:30 pm tilt at Cologne. This is year three for an attempt to visit the Hollanders, so hopefully their cheese curds are worth the wait.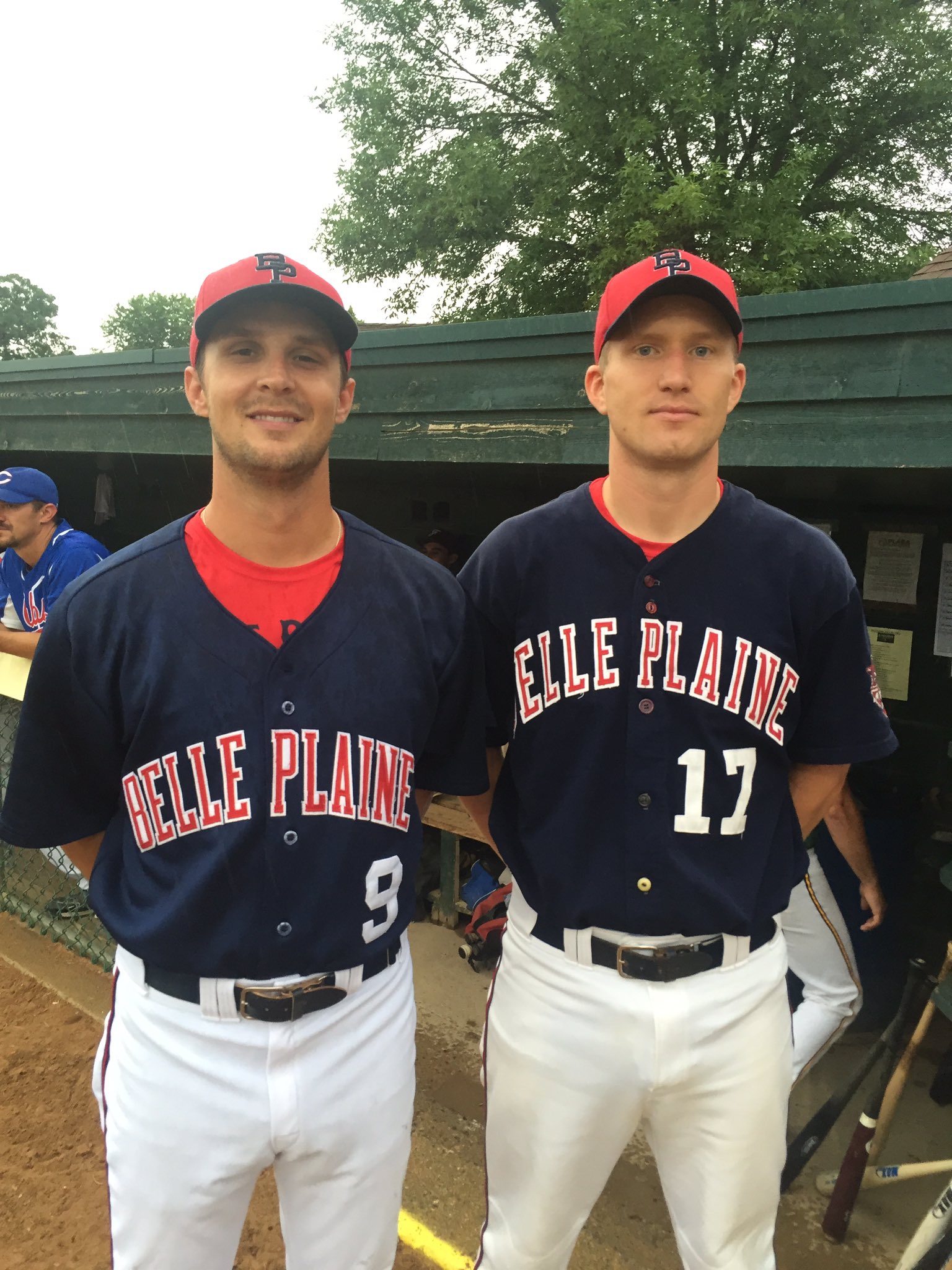 On Thursday at Prior Lake the Tigers had a pair of veterans representing the borough in the annual All-Star Game. Matt Schultz went 1-for-2 and saw action at first base, while Josh Terrio played center field and went hitless in two trips. The DRS took it to the RVL, 13-7. Team photos, a full boxscore, a link to the broadcast and more are available at rvl.leagues.mnbaseball.org.
As always, check out the Tigers at bptigertown.com and on Facebook and Twitter at the "bptigertown" handle.
Fairfax 2 @ BP 3 (Friday, July 8)
The Chatfield Nine looked to get back in the win column and welcomed Fairfax to town for the first home game in what seemed like a month. In reality, the only home game since the Tigertown Classic was June 21 against New Ulm.
Chase Emmers got the start on the hill and threw great, surrendering two runs over six innings of work. He punched out three. Josh Terrio threw the final three frames and threw even better, giving up no runs with five strikeouts.
Belle Plaine plated a pair in the first inning when after two were out, they put together four straight singles. The last two of those included RBI knocks from Terrio and Tyler Hartman.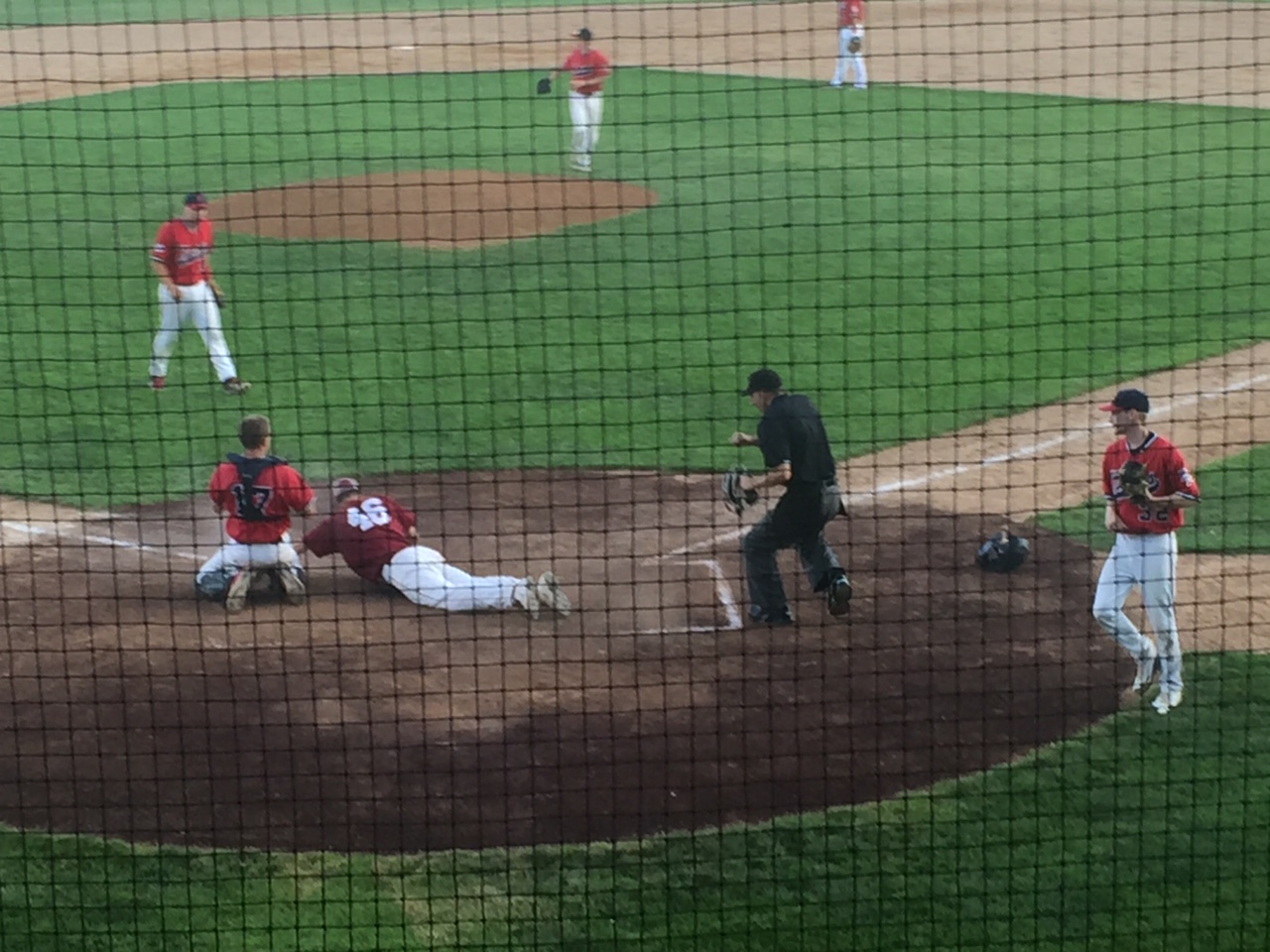 With the game tied at two going into the bottom of the ninth, Matt Schultz led off with a single. Aiden Ladd tripled to score Schultz all the way from first due to his blazing speed – or maybe it was the ball getting stuck in the ivy.
Aiden Ladd paced the 12-hit attack with three safeties, while Matt Schultz, Dylan Nyberg, Hartman and Luke Narveson collected two each.
Arlington 4 @ BP 7 (Sunday, July 10)
El Tigre came into Old Timers' Night looking to sweep the weekend and their second league game in a row. Even though many of the young Tigers had never heard polka before, Ernie STUMPF was playing music and getting the boys fired up.
Mitch Stier started on the mound and didn't have his best stuff. He was able to get through four innings of two-run ball. Jonny Vinkemeier was next, tossing 2.2 frames of one-run ball before running into trouble in the seventh.
Zac Dahlke entered with the bases and no problem for the Big Easy – he induced a fly out to right field from Nathan Thomes. The eighth wasn't quite as easy. Despite going 0-2 on the first two men, Dahlke yielded a single and a walk before giving way to Josh Terrio.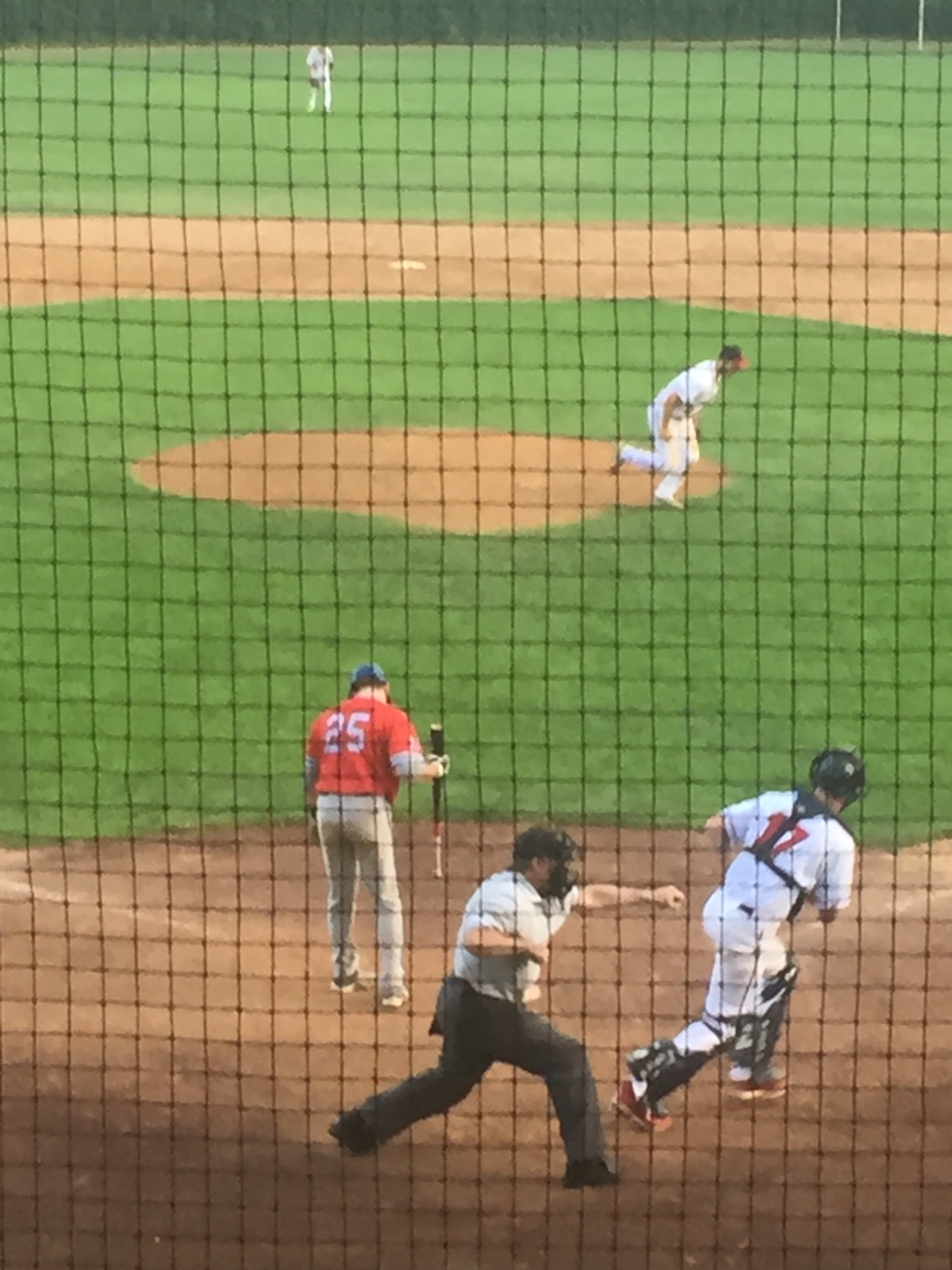 The first-time All-Star merely struck out the side, preserving the 5-3 lead. In the ninth Terrio set down the first two men but then lost the zone, loading the bases on a pair of walks and a single. As with Dahlke two innings earlier, a fly out to right field left the sacks full yet again.
Belle Plaine scored four in the first, one in the second and nothing until two more insurance runs in the eighth. The Tigers had ten hits, with Narveson and Matt Schultz both tallying two.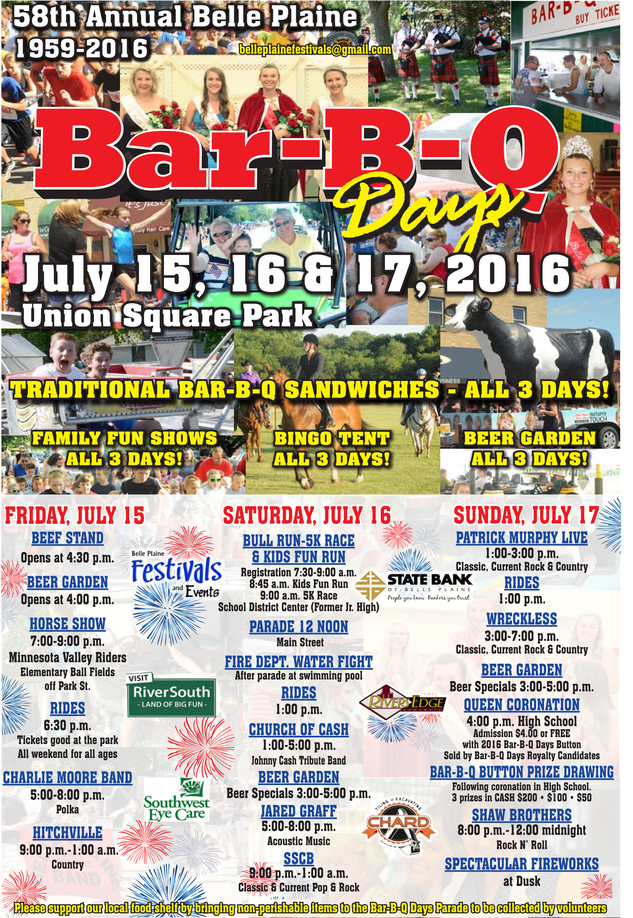 Tigers Home Twice this Weekend
--by Brett Kruschke & Matt Schultz
The Tigers split a pair of league games over the past week before taking the 4th of July weekend off, as most MBA teams do. Belle Plaine's season record is 5-14, with a 2-7 mark in River Valley League play.
Last night the Tiger Train choo-chooed to Gaylord; track the Twitter machine for details, at twitter.com/bptigertown. You may also follow the growing legion of fans at Facebook.com/bptigertown, where we've begun branching out to cover more news regarding the high school Tigers and the Gray Tigers.
The 10th annual River Valley League – Dakota-Rice-Scott League All-Star Game will take place Thursday at Prior Lake, home of the RVL's Jays and the DRS' Mudcats. First pitch is at 7:30 pm. There will be no Home Run Derby this year, but you may want to arrive by 7:15 pm for lineup introductions.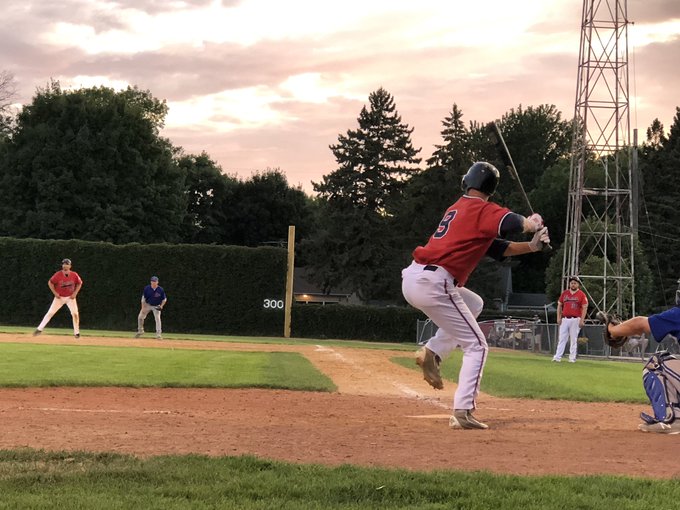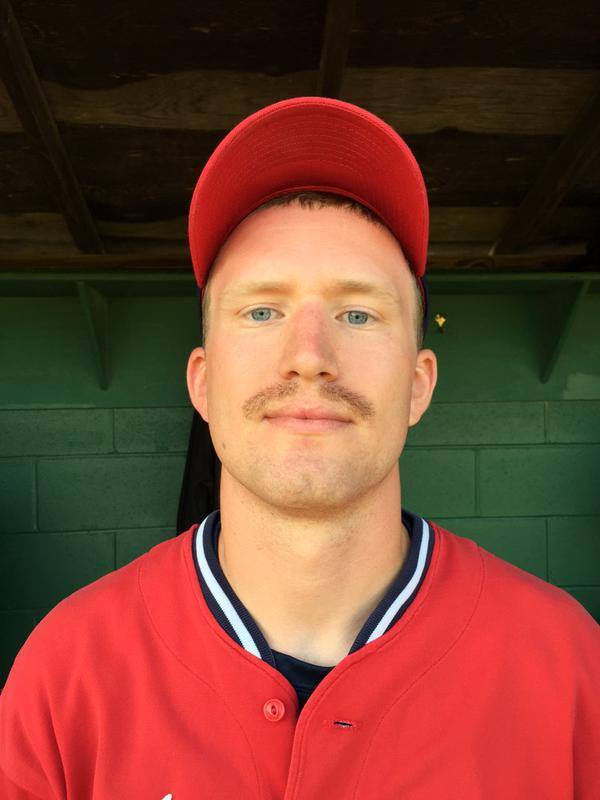 The Tigers are proud to have a pair of representatives: pitcher Josh Terrio and first baseman Matt Schultz, making their first and second All-Star Game appearances, respectively. In his 11th season, Schultz is tied with Le Sueur's Brandon Culbert as the most senior members of the RVL roster! Terrio, meanwhile, is one of four players on the RVL squad in the 10th year. How quickly the years fly by.
You can find a press release with allpertinent info at the RVL's website, www.rvl.leagues.mnbaseball.org. Or, we have a link on the homepage at bptigertown.com.
RVL ALL-STAR ROSTER | DRS ALL-STAR ROSTER
On Friday the Tigers will play a home game for the first time in 17 days when the Fairfax Cardinals come to town at 7:30 pm. It will be RTL Construction Night, and those friendly folks will be giving away some shirts and apparel. The game will also be broadcast on KNUJ.net and AM-860 to add an extra layer of frivolity.
Sunday is maybe the grandest Tiger tradition of all as it will once again be Senior Citizens Night, featuring Ernie Stumpf playing old-time music between innings. Seniors will be admitted free. And oh yeah – the opponent is the upstart Arlington A's, current holders of a 6-3 league record and third place among RVL Class C teams. First pitch is at 6 pm.
Finally on Tuesday, the locals and eight members of the BPHS baseball team will return to the scene of the crime where the first state tourney berth in BPHS history was clinched, St. Peter. The Tigers will face the 6-2 (RVL) Saints at 7:30 pm.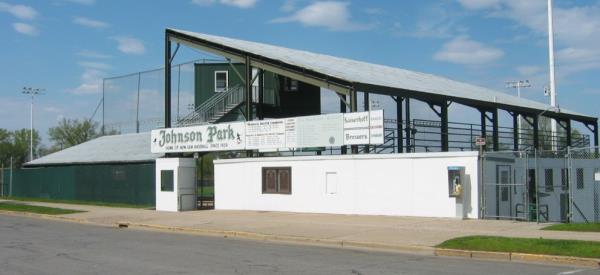 BP 13 @ New Ulm Kaiserhoff 3 (Tuesday, June 28 – 8 innings)
El Tigre ventured to the land of Schell's Beer, looking to avenge a 13-5 drubbing by the Kaiserhoff one week earlier. Teenage Tiger sent recently-graduated Mitch Stier to the mound, and he picked up his first town team win with 6.2 innings of two-run ball.
Chase Emmers relieved and got the last four outs, with the game shortened to eight innings thanks to the ten-run rule. The Tigers cranked out 17 hits, with Wes Sarsland, Tyler Hartman and Stier collecting three safeties apiece.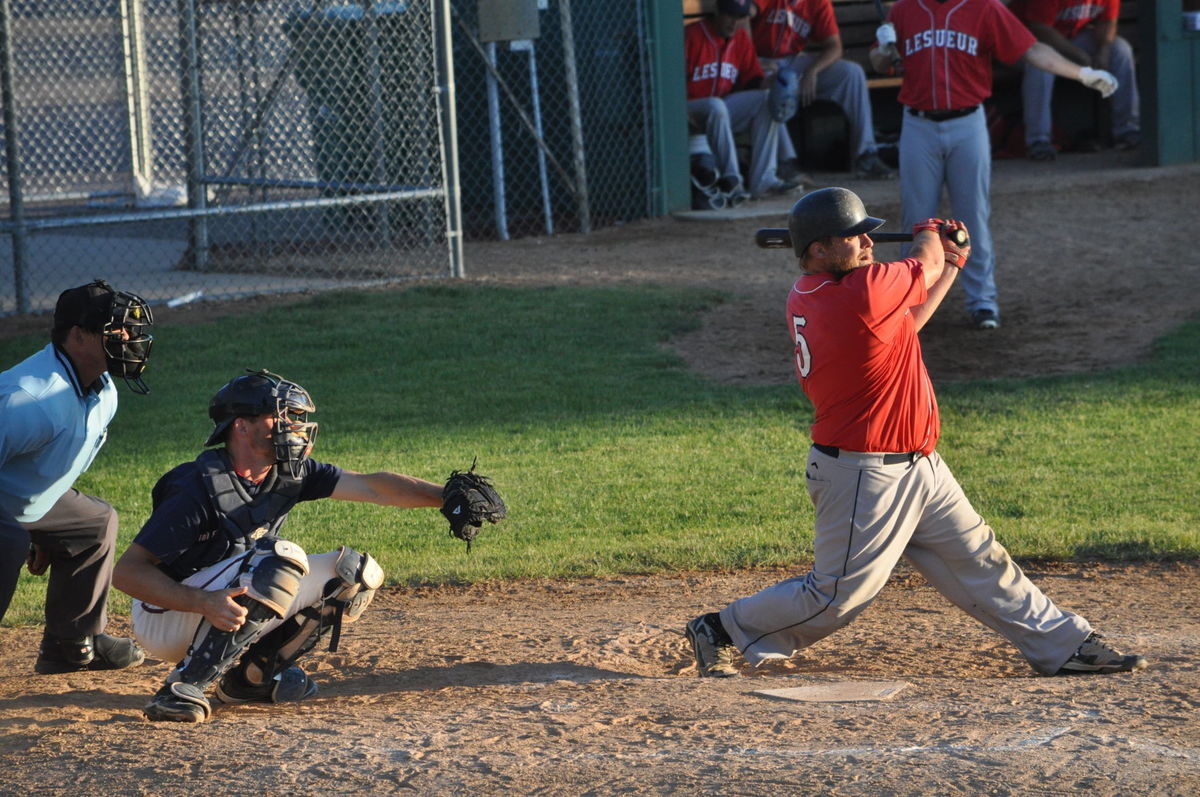 BP 4 @ Le Sueur 10 (Thursday, June 30)
Belle Plaine went to the Land of the Jolly Green Giant, hoping to get a winning streak going before the Fourth of July weekend. That hope was quickly erased by a lack of defense, hitting and mental approach.
Ben Wagner started on the mound and was tagged for seven runs through four frames, with only a couple being earned. Joe Pomije finished on the hill and yielded three runs, none earned.
Belle Plaine bested the Giants in one category, finishing the game with six errors compared to Le Sueur's three. Pat Schultz got called up from t-ball and promptly left off where he started, with two hits in the game.

Tiger Cubs Still Cutting Their Teeth
--by Brett Kruschke, Matt Schultz & Mike Schultz
The Tiger losing skid reached five over the past week and save for "The Marshall Miracle" on June 11, our young Tiger Cubs have lost eight of their last nine contests. Belle Plaine is 4-13 on the season, with a 1-6 record in River Valley League play.
The Kaiserhoff celebrated the recent announcement that New Ulm will host the state tournament in 2020 with a 13-5 drubbing of our lads at Tiger Park last Tuesday. A 10-3 loss to Hutchinson on Thursday in the Miller Lite Invite in Green Isle, however, set up a nostalgic matchup in Hamburg on Saturday.
The Tigers won their only state championship in 1994 against the Milroy Yankees, and this tourney duel was the first since at least 1999 (as far back as our modern records go) and very likely since that fabled night in Arlington. So as the boys battle through this tough season, emember that flags fly forever – even if we were outlasted this time around, 6-4, in 10 innings.
Last night (Tuesday) the Chatfielders trekked to New Ulm to seek revenge for last Tuesday's loss and exclusive rights to play Ernie Stumpf polka music. The Tigers will play at Le Sueur on Thursday night, 7:30 pm, before taking the rest of the holiday weekend off. Action will resume at Gaylord on Tuesday, July 5 (once again, 7:30 pm).
The River Valley League – Dakota-Rice-Scott All-Star Game will take place on Thursday, July 7 in Prior Lake. Next week's Herald should contain full rosters and the Tigers' selections but if you can't wait that long, visit the RVL website at rivervalleyleague.com. Announcements were expected yesterday (June 28).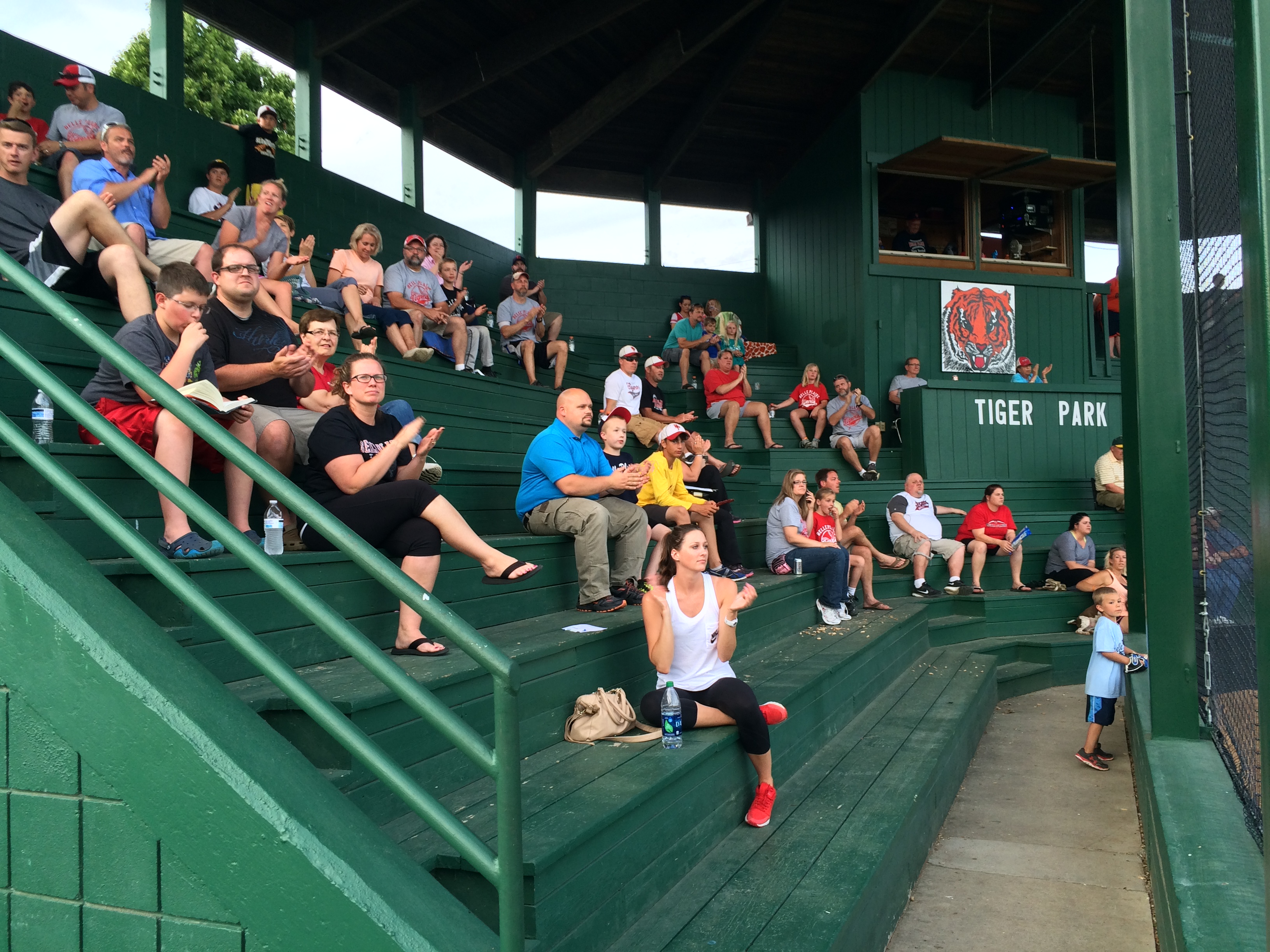 New Ulm 13 @ BP 5 (Tuesday, June 21)
Belle Plaine welcomed back their high schoolers from a great state tournament run and hoped it would propel them to a few victories. With New Ulm in town, El Tigre hoped they could get things started right. That thought quickly went away as the Kaiserhoff scored three in the top half of the first, never looking back.
A five-run fourth and a four-run eighth didn't help matters, either. The Kaiserhoff earned their first win of the season by riding big drink of water Nick Dewanz, a young right-hander whom the Tigers drafted last season. Obviously he got hold of the Tigers' hitting secrets.
Pitching for the Tigers wasn't as sharp as it had been in recent contests. Matt Schultz led the way at the plate with three hits, reaching base in all five plate appearances. It was a timely performance considering RVL All-Star nominations are almost due.
BP 3 vs. Hutchinson 10 @ Green Isle (Thursday, June 23 – Miller Lite Invite Tourney)
Team Tigertown squared off against the Hutchinson Huskies in the first round of the Miller Lite Invitational, hosted by Green Isle and Hamburg. After the consolation championship runner-up in the Tigertown Classic a couple weeks prior and the return of some of the vaunted high schoolers, expectations were sky high.
Things didn't go as planned, as the Huskies scored early and often in a 10-3 victory. Jonny Vinkemier started the game on the mound and took the loss. He did have three hits on the day, so overall his performance was about a wash. Ryan Bremseth-Vining also had a hit and played stellar defense as well.
Vink was relieved by Joe Hankins and finally, by Chase Emmers. Hutch went on to finish second in the tournament, which pretty much means that we were the third-best team in the tourney.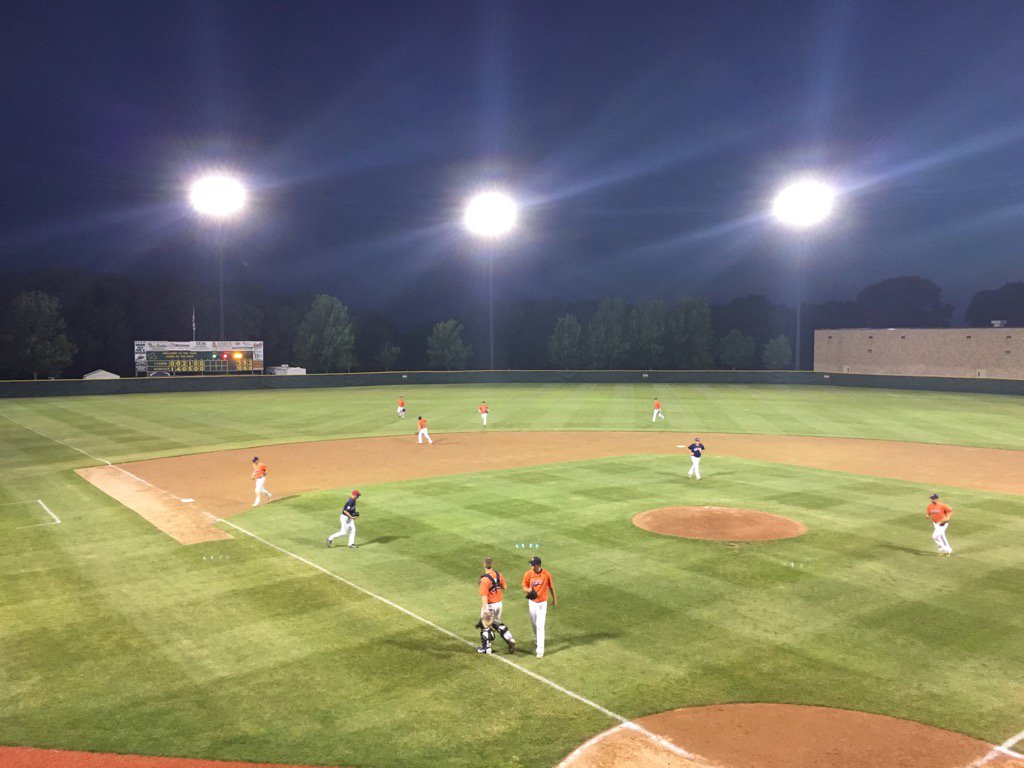 Milroy Yankees 6 vs. BP 4 @ Hamburg (Saturday, June 25
Miller Lite Invite Tourney, 10 innings)
El Tigre looked to keep their tournament stay alive by heading to Hamburg on a sweaty Saturday night. The opponent was the Milroy Yankees, who are not to be confused with our new buddies, the Milroy Irish.
Joe Pomije started on the mound and threw four Innings, giving up three runs. Josh Terrio worked the last 5 2/3 frames for Team Tigertown.
Things were looking dreary – both on the field and in the sky, as rain loomed – and Belle Plaine was down two runs heading into their last at-bats in the bottom half of the seventh. The Tigers answered the bell to send it into extras, and it remained tied at four until the Yanks plated a pair in the top of the 10th. BP got the tying run to the plate in the bottom half of the frame, but could muster no more.
Highlights of the game were Vinkemeier with a straight steal of home in the sixth – perhaps the first since Tim Huber at Arlington? Also, delicious pork chops and pulled pork sandwiches were served. Joe Hankins, Ben Wagner and Bremseth-Vining (we call him "RBV" for short) each had two hits to pace the hometown nine.

Tigers Headed for Miller Lite Invite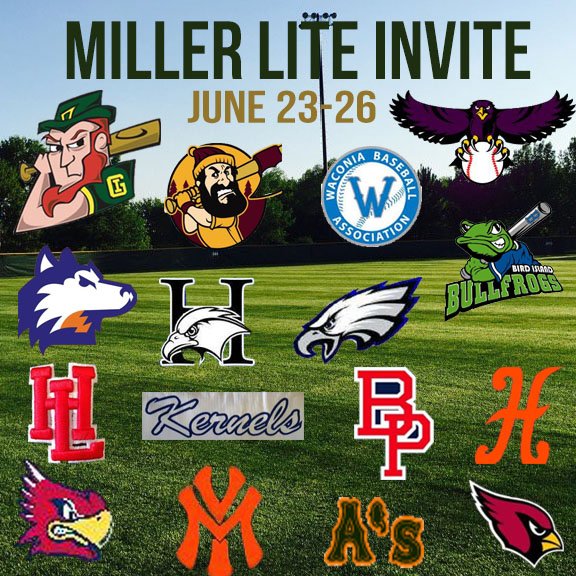 --by Brett Kruschke & Mike Schultz
In the interconnected and multi-leveled world of Belle Plaine Baseball, these are the best and worst of times. The high school Tigers just capped the indisputably best season in program history: a 25-2 record and a second-place finish in the Class 2A state tournament, finalized on the pristine grounds of Target Field. This, backed by three straight Minnesota River Conference championships. The future is bright and the future is now.
Eight members of the high school Tigers – and certainly more to come from among them – are current members of the town team. Three of the high school coaches – Pat, Mike and Matt Schultz – are the town team's three eldest players. It's a circle of life angle that would make even Disney blush. And altogether, we are all wildly proud of what the boys have accomplished.
At the same time, a town team schedule set in January still must be met come late May and mid-June, through expected and unexpected high school playoff games. And during this window of time it has sometimes been a challenge to field not just a reputable team, but a team at all.
Friday was the latest example of this perfect storm coming to a head, and the Tigers were forced to cancel a scheduled game against our friends from Union Hill. Between injuries, jobs and family commitments there is no answer that satisfies, but those are the realities. We apologize to the Bulldogs and all those disappointed by such games not being played and we ask for your understanding in knowing that we're doing all we can to avoid such situations.
The Tigers did piece together a squad for Sunday's game at Fairfax, as penned by manager Mike Schultz below. Josh Terrio looked great on the mound but received no support, eventually giving way in a six-run seventh and a 6-0 setback. The decision was the Tigers' second straight shutout loss and drops the season record to 4-10 overall, 1-5 RVL.
The Chatfielders hosted the New Ulm Kaiserhoff last night; check bptigertown.com or the Twitter feed at "bptigertown" to find result and details. And while we're at it, go to the Twitter feed and click "Media" to review photos and videos of Monday's state championship game for the BPHS Tigers.
On Thursday our town ballers will begin play in the 16-team Miller Lite Invitational, starting at 8 pm in Green Isle against the Hutchinson Huskies. Wanamingo or the Milroy Yankees await next on Saturday in Hamburg; first pitch at 7 pm with a Thursday win, 4:45 pm with a Thursday loss. For the varying scenarios of Sunday's games – should the Tigers still be alive – check our website or social media channels.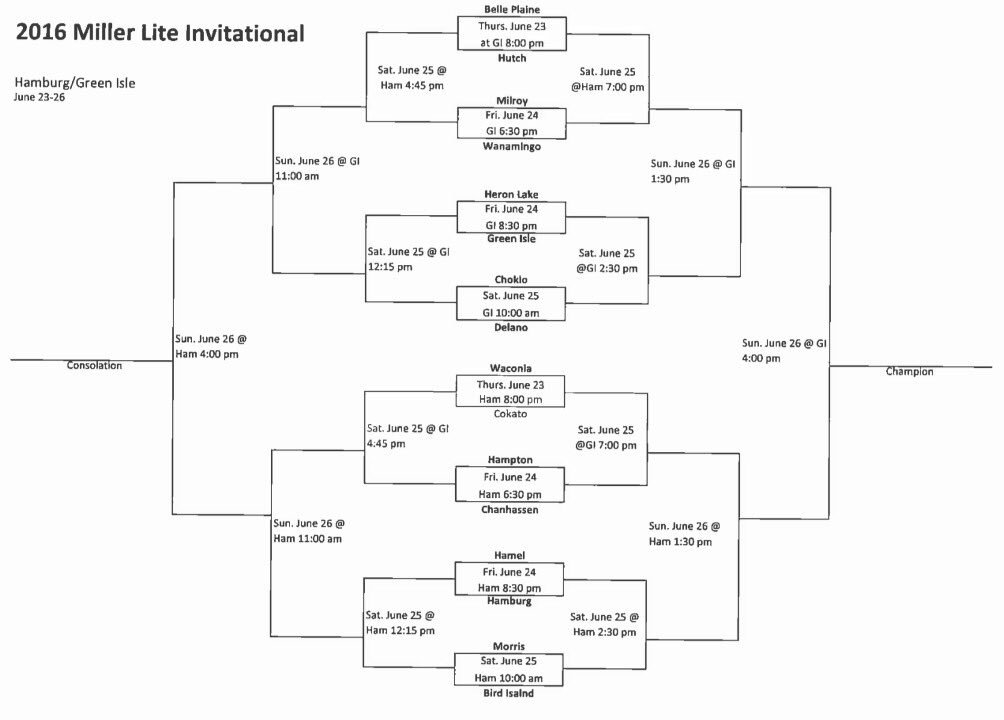 The Tigers will continue this busy stretch on Tuesday with a roadie at the New Ulm Kaiserhoff, 7:30 pm. Come for the polka music, stay for the Schell's.
BP 0 @ Fairfax 6 (Sunday, June 19)
Your hometown six did a little pregame work and was able to avert the dreaded two cancellations in a row by mustering up a Gray Tiger, a retired Tiger, a future Tiger and even one guy new to the game of baseball. Tigertown would like to thank Brian Morrison, Jake Fiedler, Chris Dahl and Joe Ruehling for making the jaunt to Fairfax on a day when many regulars were unavailable because of their annual 24-hour Father's Day celebrations.
The Tiger Train would also like to thank Miah Fogarty, Mike Tracy, Brad Connolly, Nate Hartmann, Zach Juaire, Nick Johnson, Mitchell Nelson, Nick Eliason, Andy Lehman, every player on the BPHS "B" Squad baseball team and every player on the BP Gray Tigers for at least answering their phones and saying they were not available.
The actual game in Fairfax went pretty well considering the "lineup of death" that El Tigre threw out. Josh Terrio started on the mound and threw a whale of a game, going seven innings and giving up no earned runs. He did give up six unearned runs in the seventh due to a two-out error by shortstop Mike Schultz. Zac Dahlke finished off the seventh, allowing the fifth and sixth of Terrio's runs, before throwing a scoreless eighth inning.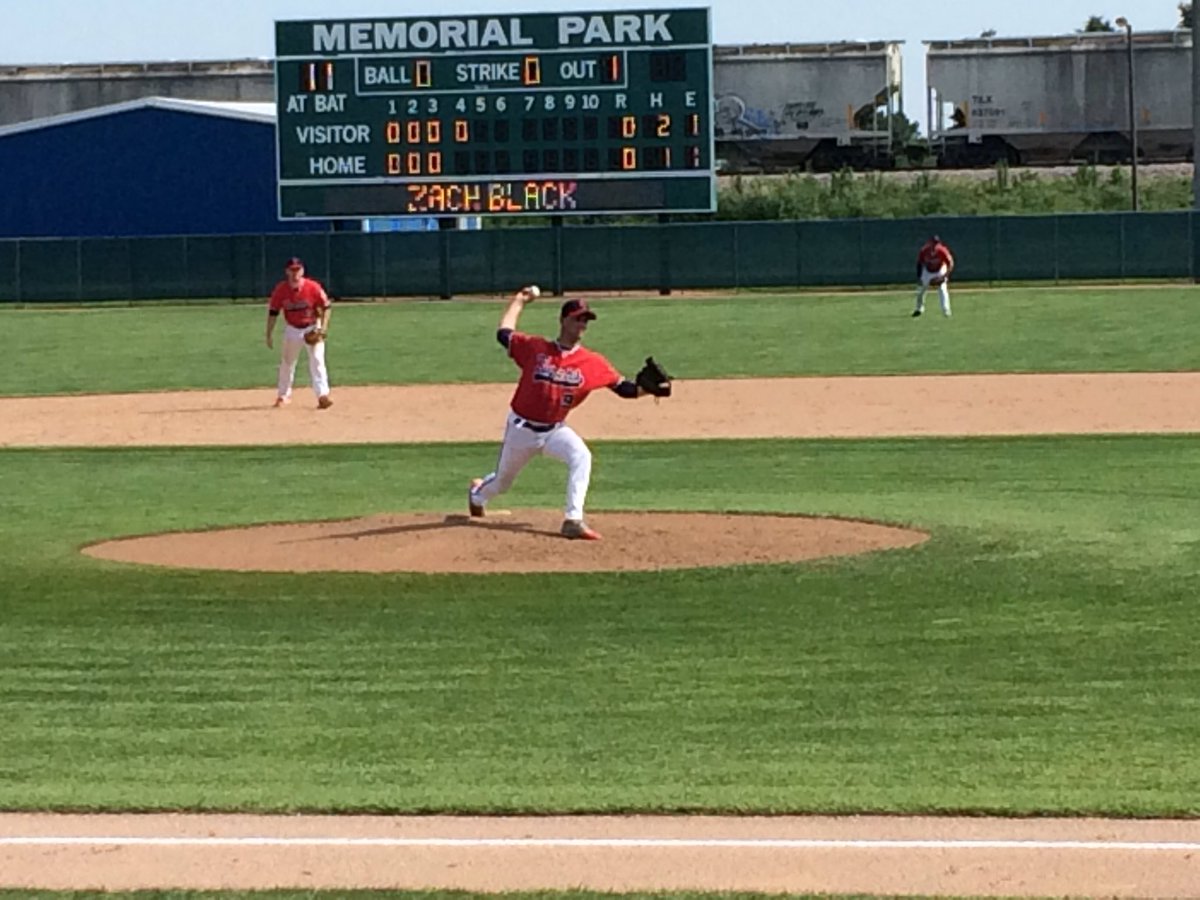 Offensively los Tigros were led by Mike Schultz, as he kept his bid alive to strikeout in every at bat of the year with two K's in two tries. Fiedler had a hit in his return to the field and Dahl did as well. Joe Ruehling did not have a hit but looks like he may challenge Schultz's consecutive strikeout streak if he continues his career. The future is bright, indeed. All in all not a great game, but it appears to be enough to keep the current leadership in place for one more week.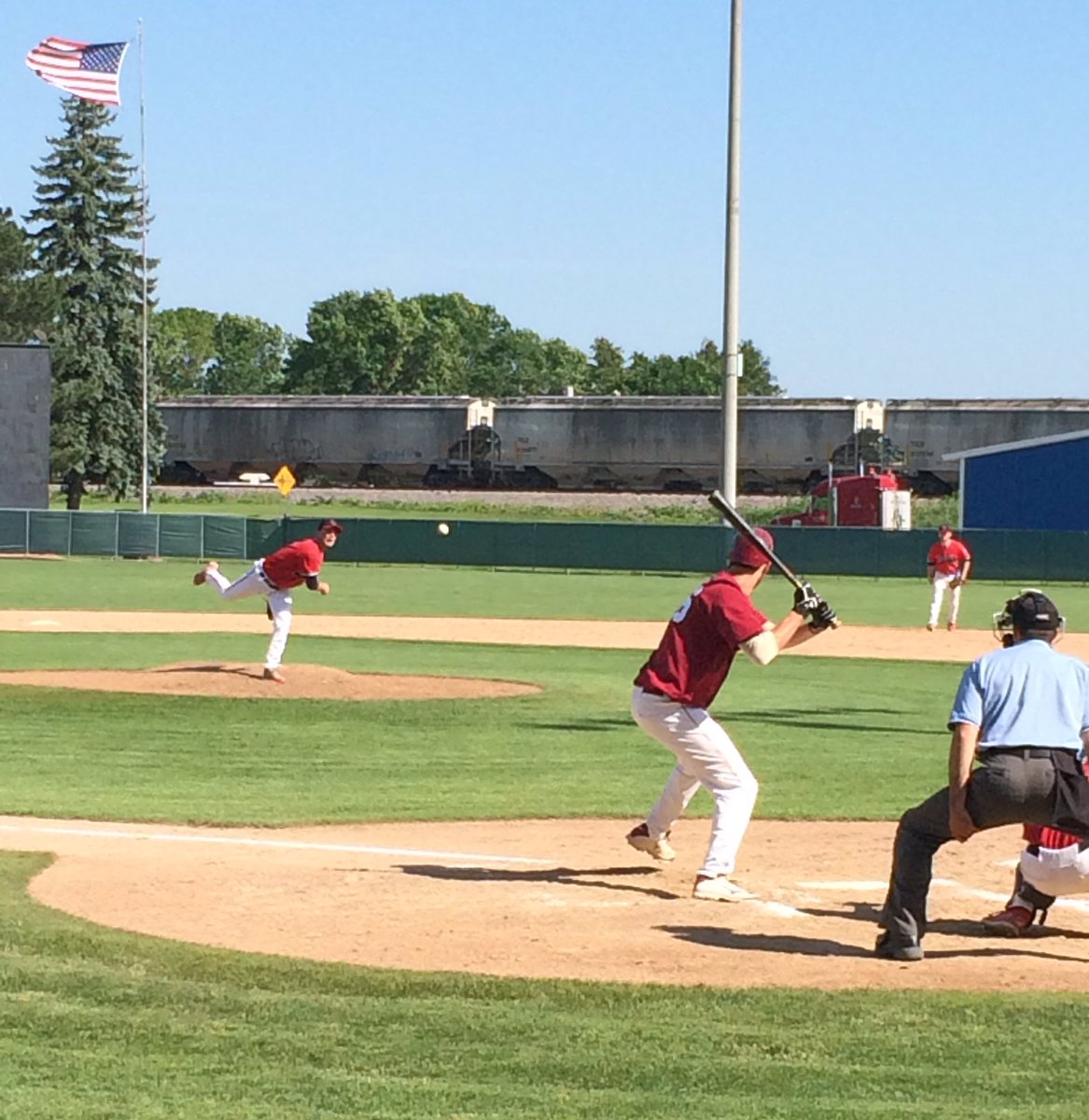 Tigers Mellow Marshall,
Drop Two at Classic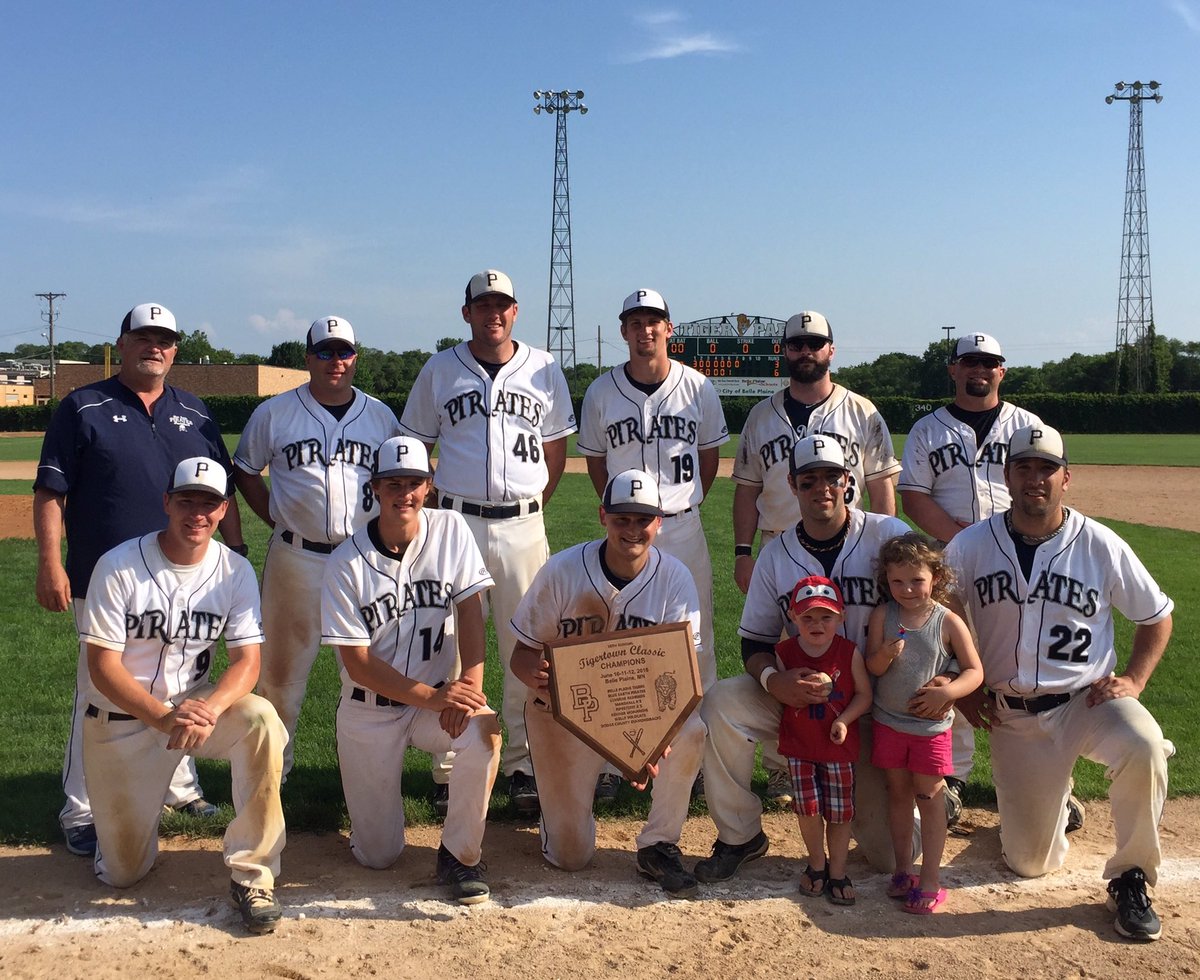 --by Brett Kruschke, Matt Schultz & Mike Schultz
The Tigers completed a busy last week with a 1-3 record after playing each day of the Tigertown Classic. They did knock off the Class B Marshall A's, a nice feather in anyone's cap. The Tiger headgear still needs a little work, however, as they now sit at 4-9 overall (1-4 River Valley League).
The Blue Earth Pirates have been coming to the Tigertown Classic every year since 2005 and took home their fourth championship trophy (2005, 2008, 2012, 2016) this weekend. They've also been runner-up four times, so you can see why they keep coming back. Although it will never top 2007, when several players shaved their heads at the bingo shelter after a pair of 1-0 losses to Henderson and Le Sueur.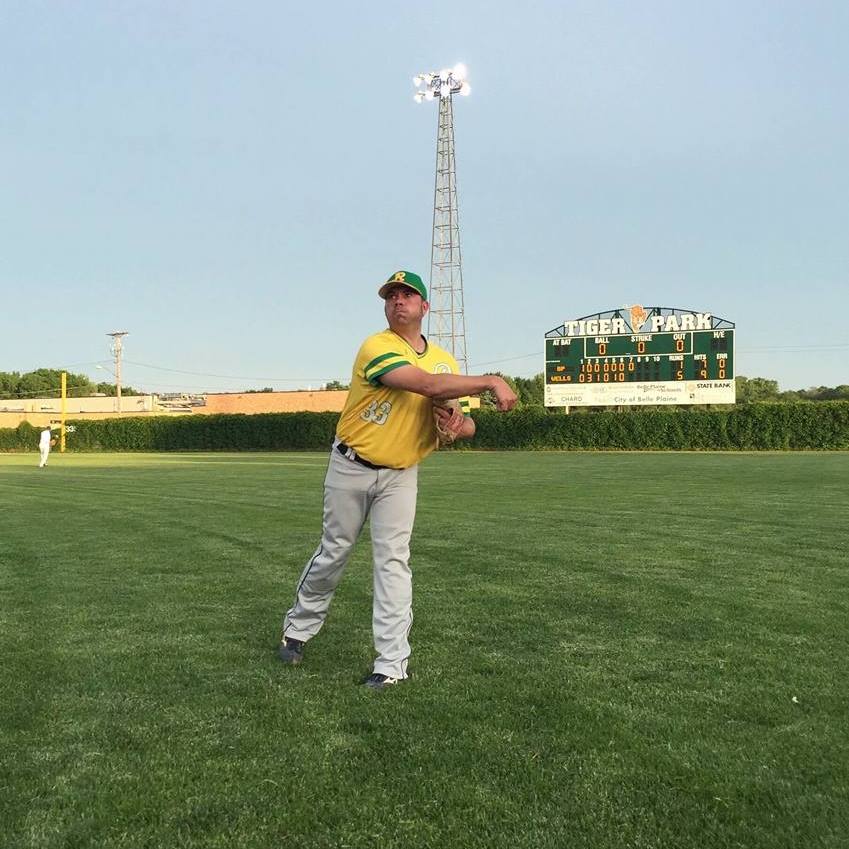 Blue Earth beat last year's defending champions, the Renner Monarchs, 6-4 in this year's title game. The Monarchs already have former Tiger Tim Huber and added for the weekend his good buddy and former Tiger ace of the staff Shane Hofmann, so it was good times all around. For the rest of the tournament scores, visit bptigertown.com.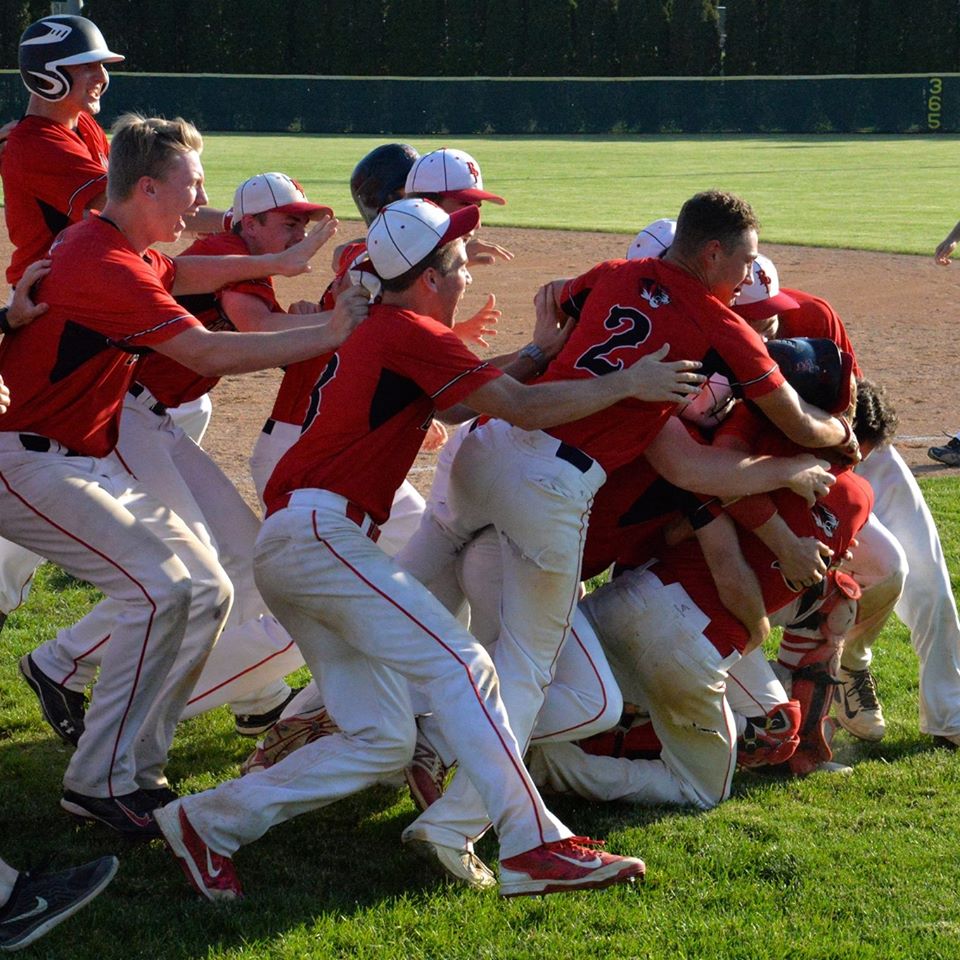 Congrats to BPHS Baseball making the first state tournament in program history! A photo album, and some videos, of the state-clinching game can be found at Facebook.com/BPTigertown. Eight Tiger town teamers are also a member of the high school team: Jonny Vinkemeier, Jared Miller, Mitchel Stier, Wes Sarsland, Luke Narveson, Ryan Bremseth-Vining, Aiden Ladd and Carsen Ladd. Bring it home, boys.
The Tigers return to action Friday at Union Hill, 7:30 pm. Sunday features a 4 pm flight to Fairfax, and on Tuesday Mama Tiger will be back home to take on the New Ulm Kaiserhoff at 7:30 pm. It will also be Little League Night, and all Little Leaguers in attendance will get a free hot dog. Kids, wear your uniforms to the game! And then chase down some foul balls like there's no tomorrow.
On a sour note, this year's Tiger Open golf tournament fundraiser has been cancelled due to low numbers. We've held the Tiger Open every year since at least 2003 and will reassess with thoughts towards doing it again next year. Thanks to all the sponsors who had already committed to supporting the tournament.
BP 5 @ Jordan 10 (Tuesday, June 7)
Team Tigertown made the seven-mile drive to rival Jordan on a pleasant Tuesday night. El Tigre looked like they might have a chance of winning this game as Dylan Nyberg crushed his first home run of the season for a 1-0 lead. The Tigers loaded the bases before a strikeout ended the first inning, without scoring further. Nyberg hit another solo dinger in the third, his second of the game and season.
Joe Pomije started on the mound and went 3.2 innings. After putting up a zero in the first, he gave up three in the second, one in the third and three in the fourth. Zac Dahlke was next, recording four outs while giving up an earned run. Carsen Ladd made his big league mound debut and threw three scoreless innings.
Teenage Tiger didn't go quietly as they were down 10-2 going into the eighth and put up three, leaving two runners on with Nyberg up. He hit the ball hard again, but not hard enough to leave the park and that would be all she wrote for Tiger scoring.
The Chatfield Nine out-hit the Brewers 13-9, but walks and hit batters proved to be the fatal flaw. Jared "I stole my brothers jersey to come play" Miller led the way with three hits. Tyler Hartman and Dylan Nyberg each had two apiece, with five other Tiger Cubs tallying a safety.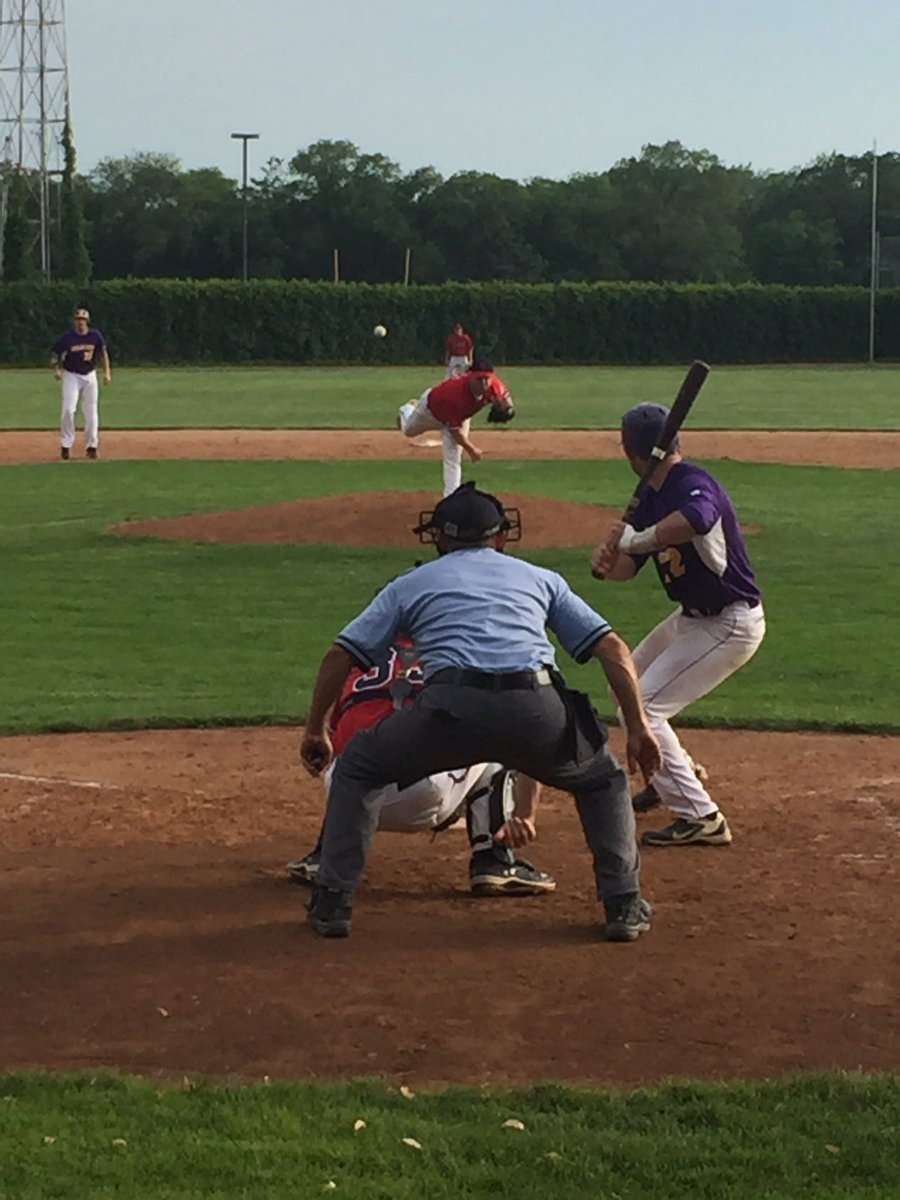 TIGERTOWN CLASSIC PICS & VIDEOS ALBUM
Wells 5 @ BP 1 (Friday, June 10 – Tigertown Classic)
Teenage Tiger kicked off the Tigertown Classic in the opening game for the first time in years. For the first time in this writer's 11 years of playing, we faced the Wells Wildcats. Also known as the "Meowfia."
El Tigre got things going in the right way in the first by scoring one on a sac fly by Carsen Ladd. That would be all the Tigers would muster as they were unable to score again. Pat Schultz led the way hitting with two safeties. No other Tiger had a hit, Tiger.
Ben Wagner threw all six frames, which helped save some fresh arms for the remainder of the tournament.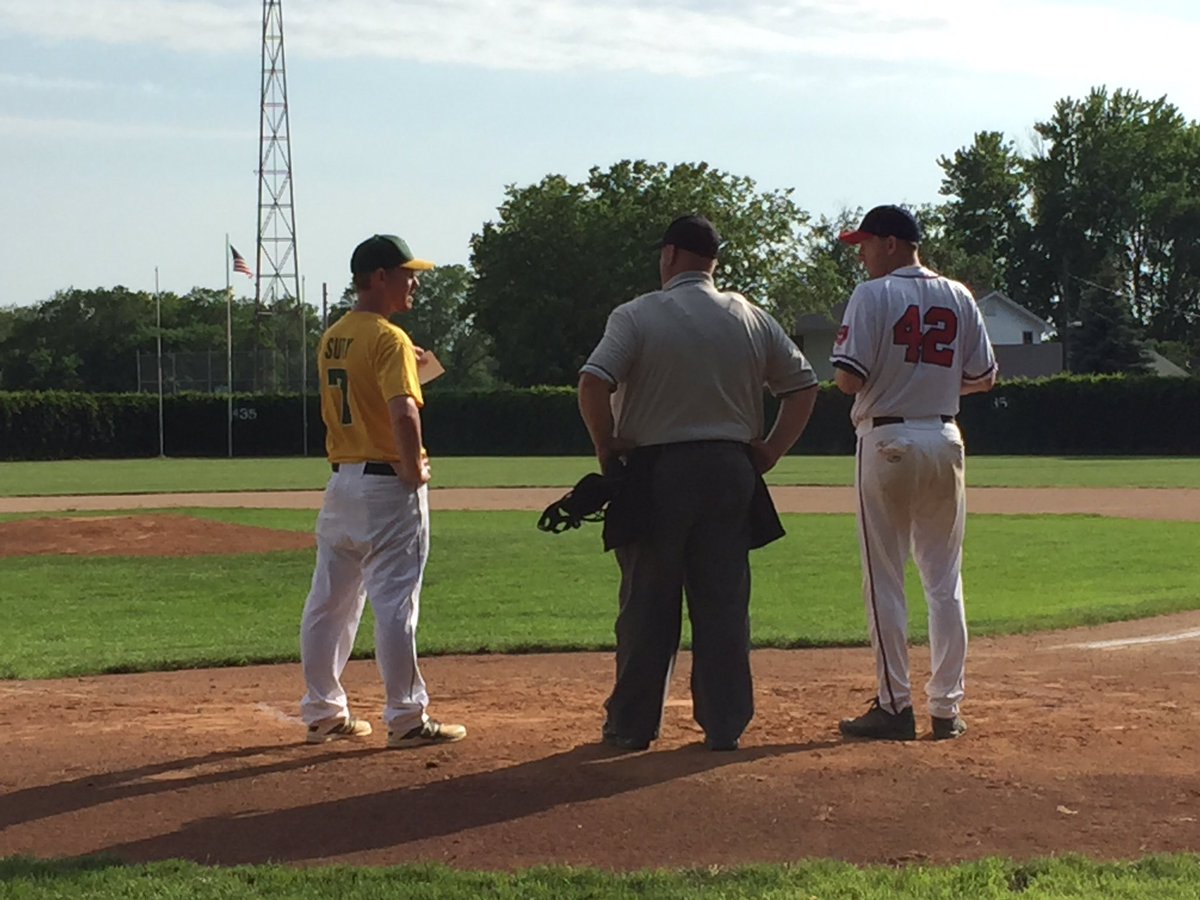 Marshall 3 @ BP 7 (Saturday, June 11 – Tigertown Classic)
Joe Pomije had a tough matchup and outing Tuesday at Jordan. Saturday he drew the Class B Marshall A's and after the first batter of the game singled and scored, it appeared it might be more of the same. But "Joe Pom.com" danced out of trouble as needed, keeping the A's to one run through four.
With one run themselves through their first 10 innings of the Classic, the Tigers sprang to life in the fourth when four singles resulted in a pair of runs. The momentum spilled over to the fifth when the Bellerin' Johanians batted 10 men and scored five times, thanks to four more singles.
Veteran Josh Terrio made his season debut in right field after suffering a serious hand injury during the offseason. Aside from singling twice with an RBI, he came on in the sixth to protect the sudden 7-3 lead. He faced just one batter over the minimum – thanks to an error – and while he won't officially get a save for his efforts, that's certainly what his performance was for the Tigers
Jesse Oelfke paced the Tiger attack with a 3-for-3, two-RBI performance, while Hobblin' Matt Schultz joined Terrio as the other Growler with multiple hits, while driving in a pair on the fifth inning's key blow.

Dodge County 7 @ BP 0 (Sunday, June 12 – Tigertown Classic)
Fresh off a 7-3 victory over the Class B Marshall A's your hometown nine was riding high and ready to take on all comers. They promptly ran into the buzzsaw that was the Dodge County Diamondbacks. El Tigre came up on the short end of a 7-0 whooping, in which los Tigres committed five errors and had only seven hits; not a good recipe for success.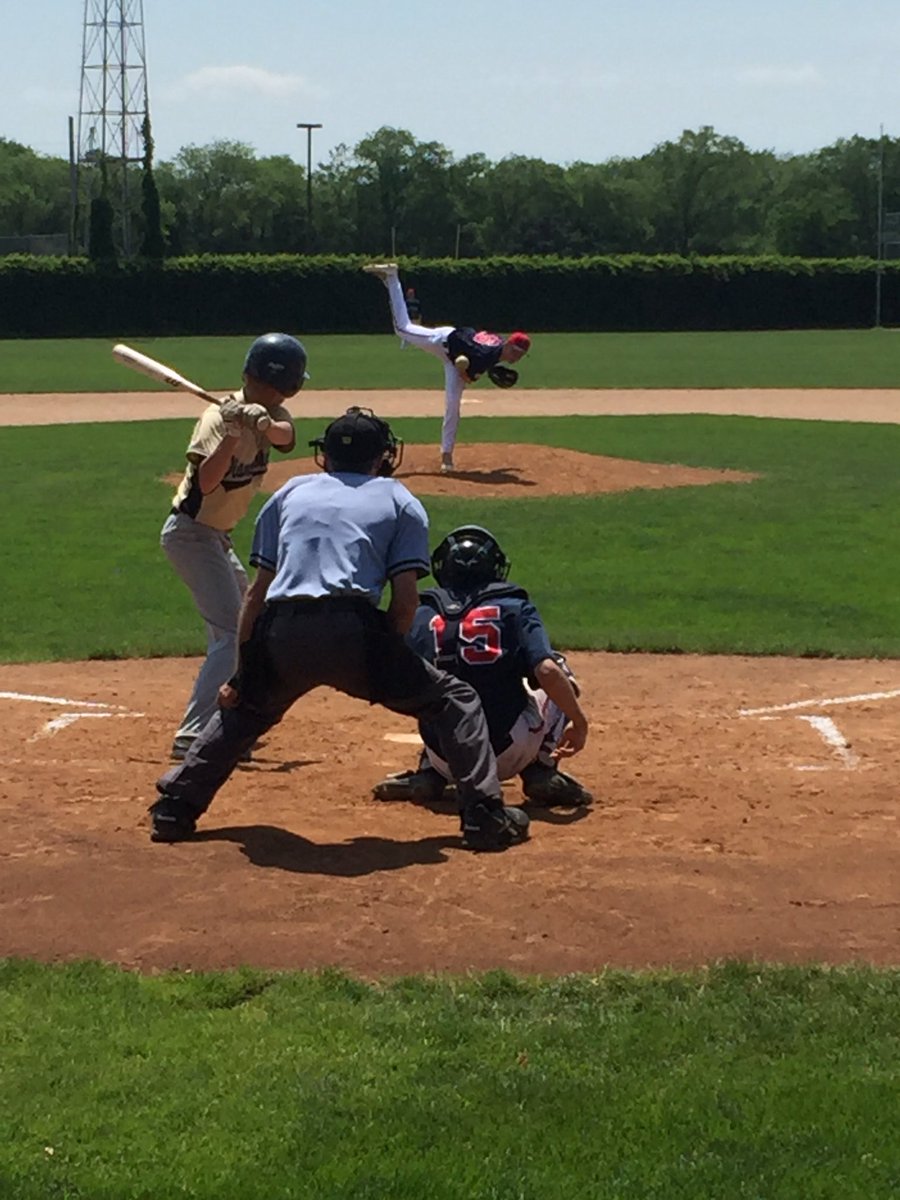 Jared Miller earned his first start on the mound for Team Tigertown mostly by showing up for the game and went four solid innings, only yielding one run. He was relieved by Zac Dahlke, who battled lack of sleep and dehydration for one inning, giving up four runs. Chase Emmers closed the door, allowing two runs in two innings of work.
Offensively the Tiger Train was led by Carsen Ladd, who had two hits. No one else had more than one hit on the day.

Defensively the Tigers were led by manager Mike Schultz who played second for one inning. During that inning he almost tracked down a short pop fly, cleanly fielded a ground ball and even threw it to second for a force out on the same play. His great performance was enough to spark the troops to get a couple runners on base in the bottom of the seventh inning, although none came home to score.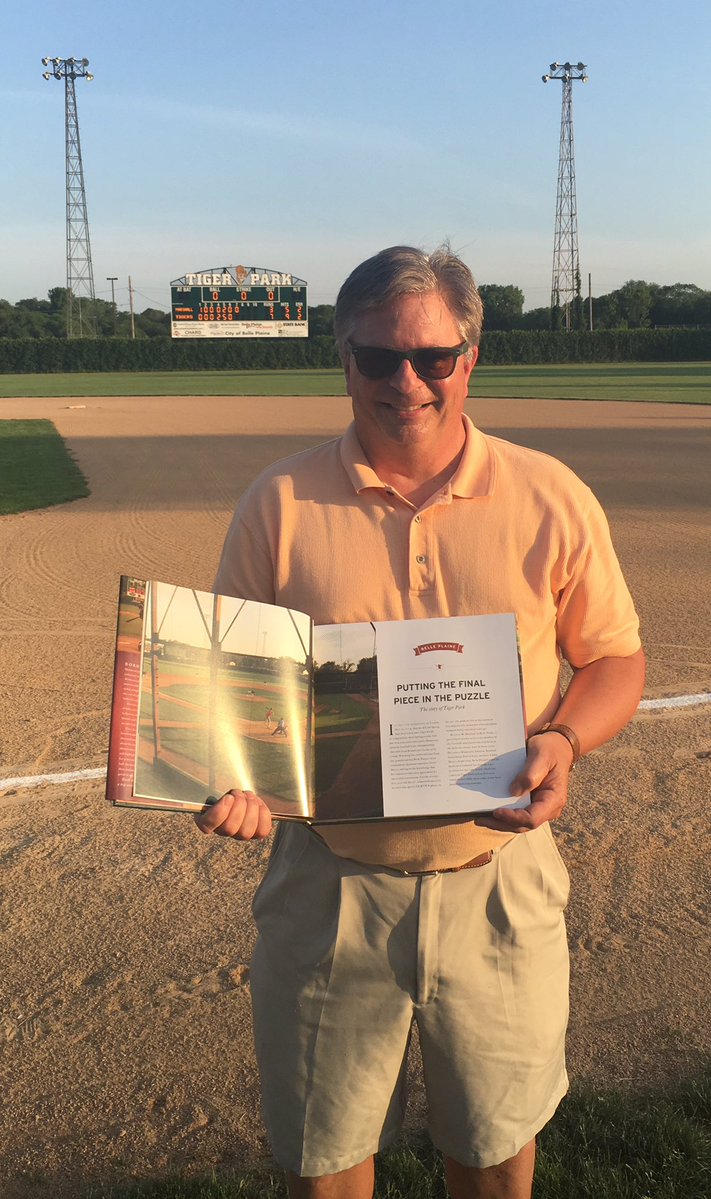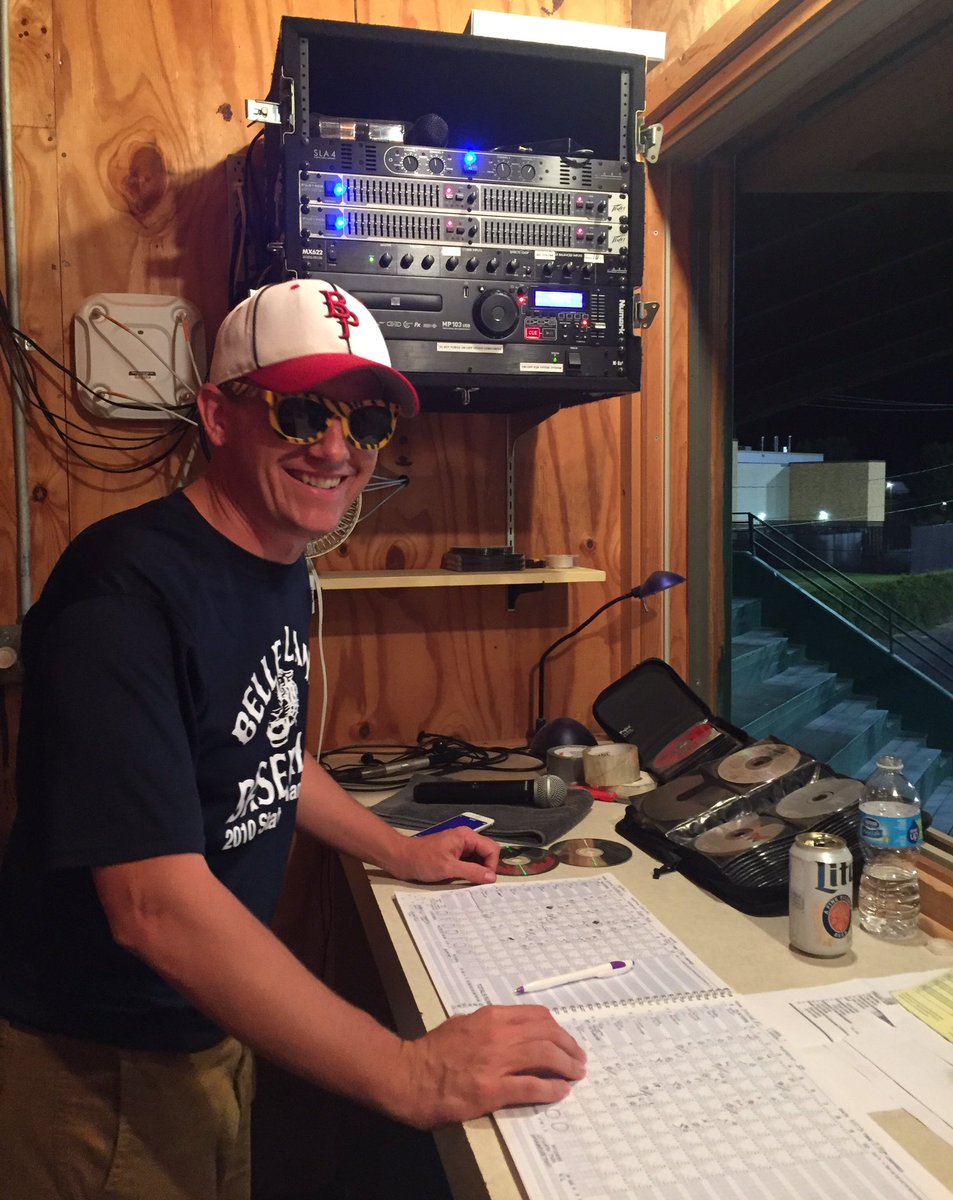 Tigertown Classic Time
--by Brett Kruschke
TThe Tigertown Express took a 2-0 lead to the 7th inning Sunday against Le Sueur, only to watch the wheels fall off in a 10-4 setback. The River Valley League loss bumps the Tigers to 1-3 in league play and 3-6 overall.
Rain claimed Friday's much-anticipated clash with the Milroy Irish, and the clubs have agreed to try again next year. The Tigers tussled last night at Jordan, the newly-crowned Stearns County Classic champions over the weekend. Check @bptigertown on Twitter for the results.
On Friday the 18th annual Tigertown Classic fundraiser tournament will begin with Belle Plaine and the Wells Wildcats at 6:30 pm. Game 2 will feature the tourney's defending champs, Tim Huber and the Renner Monarchs, against the collegiately-covered Marshall A's at approximately 8:30 pm.
Action starts early on Saturday with Dodge County and Luverne at 10:30 am, followed by Blue Earth and Pipestone at approximately 12:45 pm. If the Tigers win Friday they'll play Saturday at 7:30 pm; if they lose, it will be at 5:15 pm.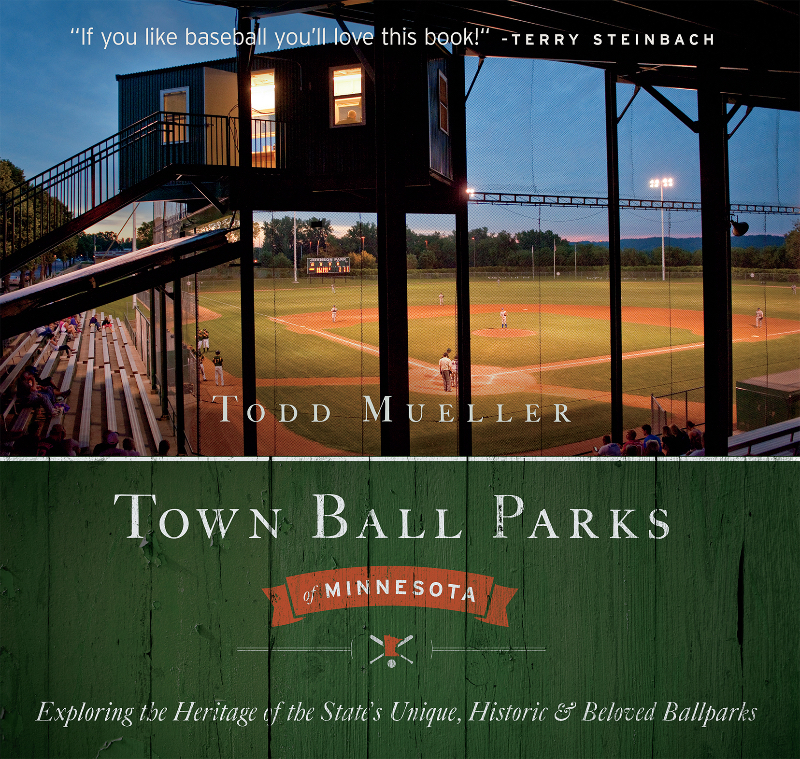 See the accompanying story in this same edition of the Herald, but author Todd Mueller of the new book "Town Ball Parks of Minnesota" will be signing the book at Tiger Park from 6:30 pm to 8:30 pm. Tiger Park is one of 27 town ball parks highlighted in the coffee-table book. Additionally, former Tiger ace Barry Wohler is among a list of high-profile ex-players to provide commentary.
Sunday play begins at 11 am as the first of three games on the day; please see the bracket for full details. You may also find the bracket on the Tiger website, bptigertown.com, by clicking TT Classic.
It's going to be a hot one this weekend, but that just makes the beer colder! Please support this major fundraiser of ours and the other, the Tiger Open golf tournament on June 18 at CreeksBend Golf Course in New Prague. Whether you'd like to play in the tourney or be a sponsor, contact Shane Hofmann at 952-484-2319. Information is also available at the Tiger website.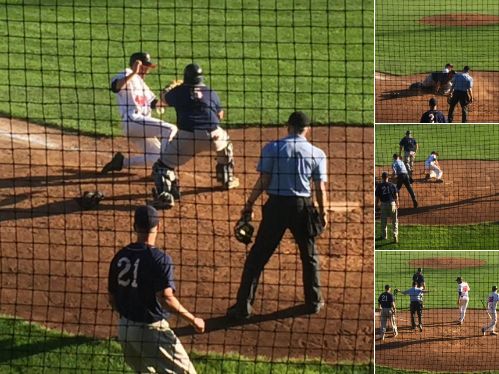 Le Sueur 10 @ BP 4 (Sunday, June 5)
The Braves' Jordan Sinell and the Tigers' Ben Wagner went toe-to-toe Sunday and halfway home, there was no score. Travis Latzke changed that with a 2-run double in the fifth, with pinch-runner Mike Schultz scoring all the way from first base. The Tiger skipper was first called out but after instant replay – when the umpire saw that the catcher hadn't held onto the ball – he was instead and rightly called safe.
Wagner carried a shutout to the seventh but quickly ran out of steam and couldn't finish the inning, as suddenly the Chatfielders trailed, 3-2. The home team had ample chances in the bottom of the frame but made two base-running gaffes that resulted in a goose egg.
It was just another beautiful night at the ballpark when suddenly, manager Mike Schultz appeared in the press box and told scoreboard operator Nick Johnson – his nephew – "Come with me." With familial and police authority as an investigator for the Scott County Sheriff's office behind Mike's statement, Nick went without saying a word.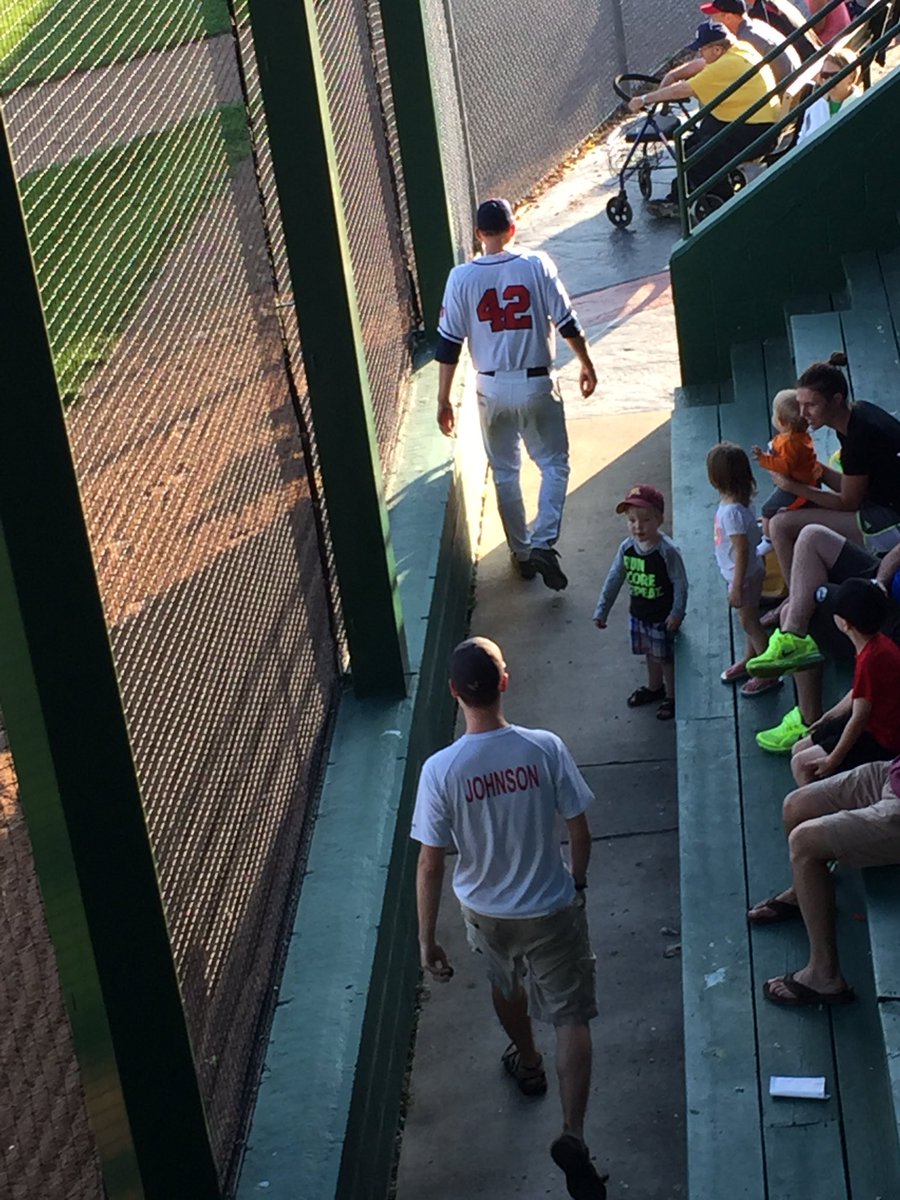 It turns out that Tigers right fielder Joe Hankins got cleated – or had a "hole in his hand," as Mike said – and the Tigers were out of uniformed reserves. So as soon as Johnson could slip on uniform No. 8, into right field he went.
Nick may have been questioning life as he stood before the double-link fence, watching Le Sueur's Brandon Culbert cap a seven-run eighth inning with a three-run shot over the left-field wall. Johnson did get a ninth-inning at-bat, reaching on error after chopping the first pitch he saw to third base. He came around to score as part of a mini-uprising that ended with the bases full.
There's two directions this instantly-fabled moment in Tiger history can go: either Nick will become known as "Moonlight" Johnson for his one moment under the sun or perhaps he will "Wally Pipp" Joe Hankins and start a streak of 2,130 consecutive games played. The chance to find out is yet another reason to always make it out to the ballpark.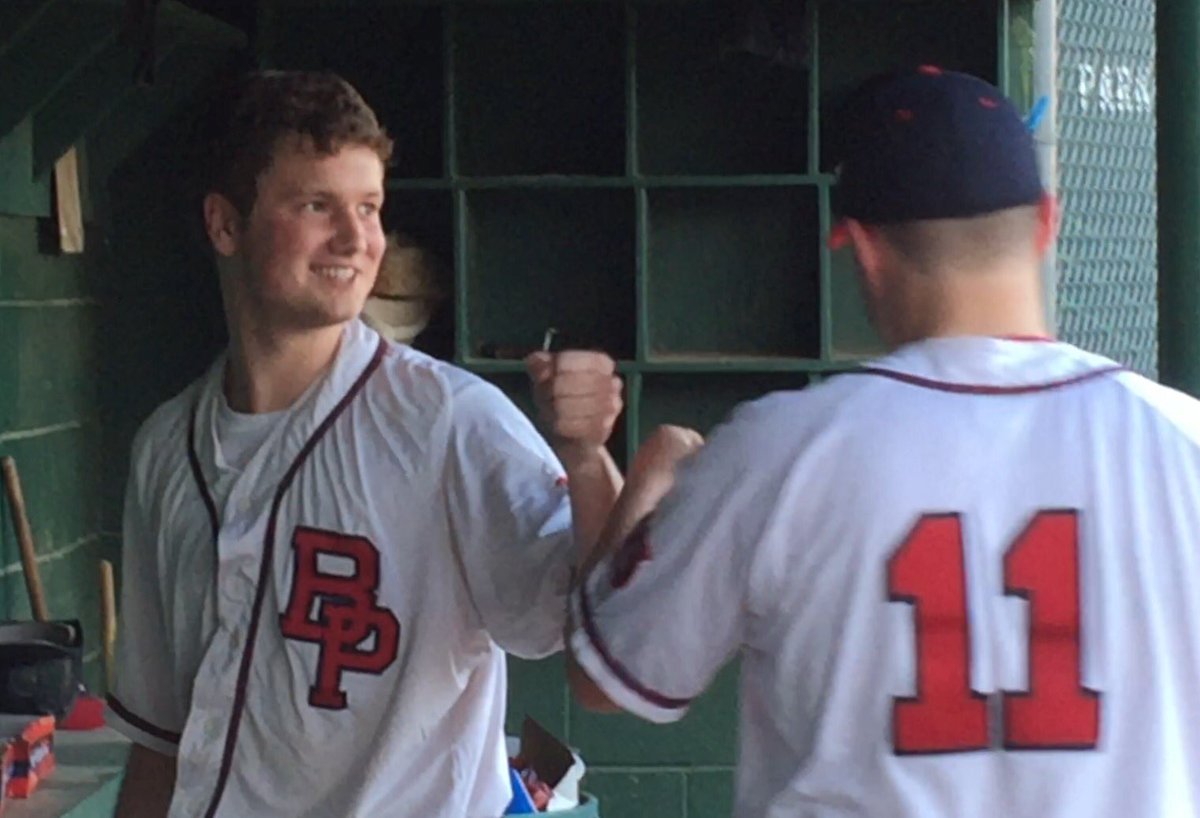 Tigers Lay Down the Law
against Minnesota Lake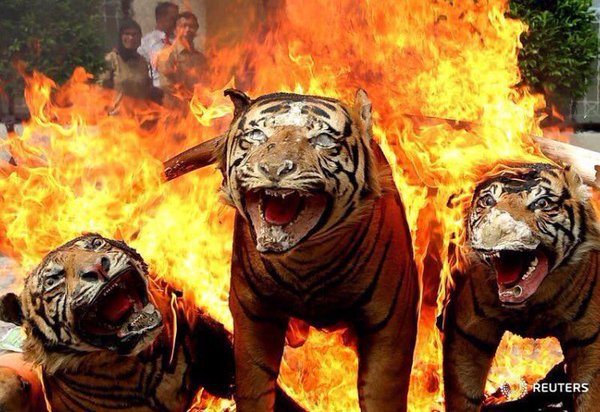 --by Brett Kruschke & Mike Schultz
The Tigers won their only game of the past week while enjoying more of a holiday break than previously anticipated. Last Wednesday's 12-4 romp over Brad Lawson and the Minnesota Lake Royals lifted the Tigers' season record to 3-5 (1-2 RVL).
The high school Tigers are the No.-1 ranked team in Class 2A and the playoffs are now underway. With 11 members of the town team roster affected – eight players, three coaches – the Tigertown Express was forced to cancel Friday's game at Cannon Falls and Tuesday's game at St. Anthony.
The nine-day layoff will end Friday when the Milroy Irish come to town for an 8 pm start time. Last year BP made the trek to Milroy's newest ballpark, The Irish Yard. We were shown uncommon hospitality and made quick friends, so this year's game is part of plans to continue the series indefinitely in the upcoming years. Friday will also be Matt Saxe Chevrolet Buick Night; look for the usual giveaways from this generous hometown sponsor.
After "Anchors Away" graduates a handful of Tigers on Sunday afternoon, the rest of the squad will host the Le Sueur Braves in RVL action at 6 pm. It will be Cambria Night, fitting with the supportive local business being stationed in both towns. Tuesday will feature another RVL contest when the 169 corridor to Jordan gets traversed for a 7:30 pm affair.
Next weekend is the Tigertown Classic, an eight-team invitational tournament that serves as one of the Tigers' two primary fundraisers. The other, the Tiger Open golf tournament, is currently seeking golfers and sponsors for the June 18 outing at CreeksBend in New Prague. If you'd like to participate, please visit bptigertown.com and click the golf ball icon on the home page. Interested sponsors can contact Shane Hofmann at 952-484-2319 or any BPBA member.
Last Monday (May 23) a ceremony was held at Tiger Park before the high school team's game to unveil the new tiger head painting by BP high school student Michael Chabot. The painting will adorn the interior of the grandstand for many years to come. If you see Michael, please thank him for a job well done. Video clips of the ceremony can be found at facebook.com/bptigertown while photos are available at twitter.com/bptigertown (click Media).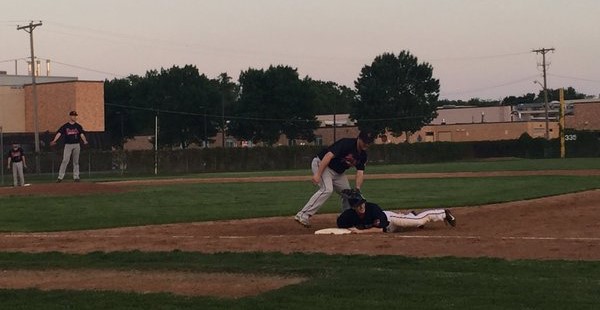 Minnesota Lake 4 @ BP 12 (Wednesday, May 25)
The Minnesota Lake Royals came to town for a rare Wednesday night matchup. Former – and always – Tiger Brad Lawson is on the Royals squad, so your hometown nine was hungry for a victory. El Tigre came away with a fairly un-crisply-played 12-4 triumph. The Tiger Train committed five errors, but did belt out 13 hits while yielding only four.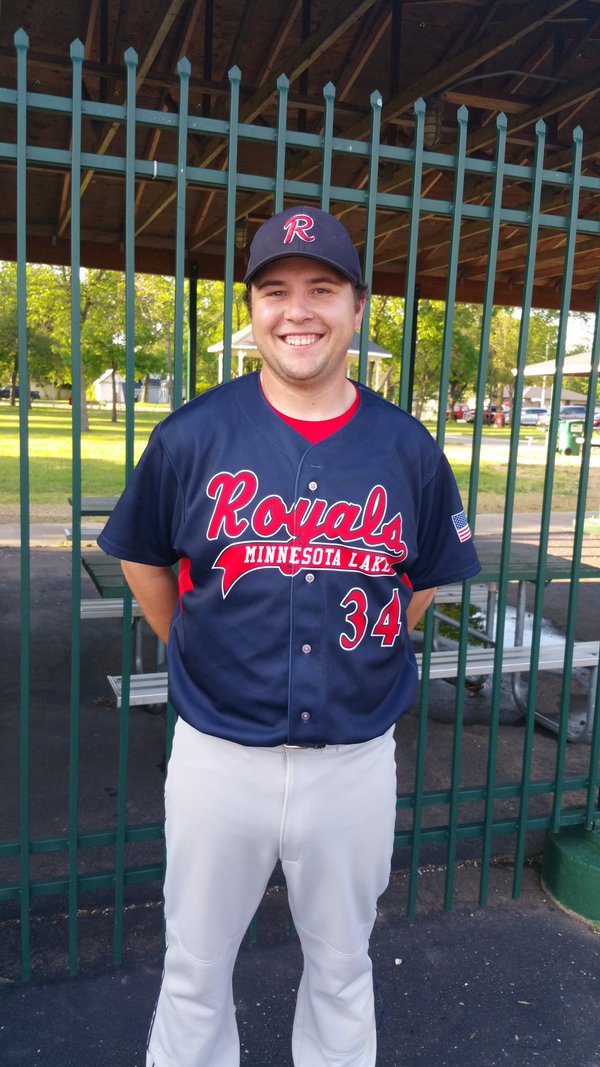 Ben Wagner got the start on the mound and went five solid innings, allowing just three hits and a run while punching out two. Joe Pomije threw two solid stanzas and Jared Miller made his town-team mound debut and did a great job, throwing two frames with zero nose bleeds.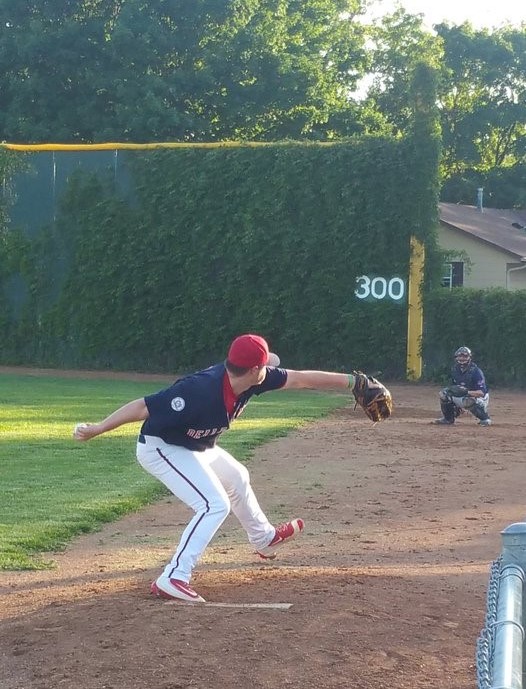 Dylan Nyberg led the team offensively, gathering two hits. Derek Dahlke added a double and Pomije popped a triple for good measure. A good time was had by all.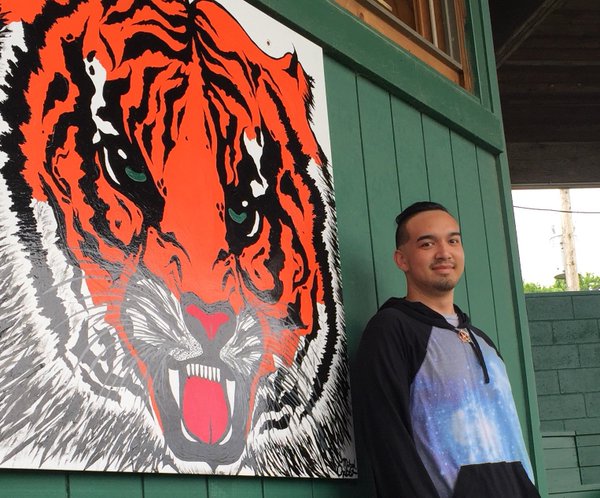 Tigers Pick Up Big Win vs. St. Peter

-- by Brett Kruschke, Mike Schultz & Matt Schultz
Over the past week the Tigers lost to a Class A opponent (Minneapolis Mudcats) and Class B opponent (Chanhassen), but rose up to defeat Class C cohort St. Peter in impressive fashion Friday night, 8-2. The Tigers are off to a 2-5 start, with a 1-2 record in the River Valley League.
Tonight former Tiger Brad Lawson and the Minnesota Lake Royals come to town for a 7:30 pm reunion game. It will be interesting to see if Brad has brought the official language of the Tigers, "Tiger chirp," to his new team.
Gran Tigerino is scheduled to play at a pair of beautiful ballparks as part of a Memorial Weekend sandwich: Cannon Falls on Friday and St. Anthony on Tuesday, both 7:30 pm. However due to a third of the town team being on the No. 1-ranked BPHS Tigers, there may not be enough warm bodies with their playoffs about to begin. Stay tuned to the team's social media accounts for any possible updates.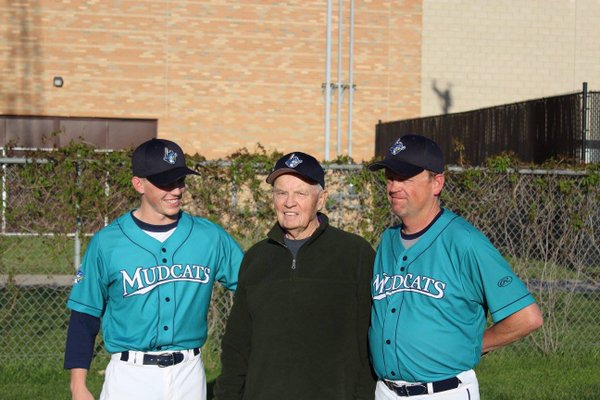 Minneapolis Mudcats 11 @ BP 1 (Tuesday, May 17 – 8 innings) 64 NEW PICS!
Tuesday was a special night at Tiger Park, even if the scoreboard didn't indicate as much for the hometown nine. It was Tom Melchior Night, honoring the former Tiger who has written several books detailing the storied history of Tiger Baseball – not to mention many other contributions covering the history of amateur baseball in the area.
Tom played a game of pregame catch and that was probably manager Mike Schultz's best chance at victory – to sign Melchior on the spot and take advantage of the natural drop on the right-hander's gravity ball. Instead Belle Plaine got to taste some Melchior medicine in the form of left-hander Sam, Tom's grandson. He limited the Tigers to one run over seven frames and was sharp throughout.
Several Tigers from Tom Melchior's era came out to support their friend and teammate, including Pete Johnson, Roger Martin, Erwin (Mel) Heitkamp and Paul Johnson. It was truly great to have them back at the old ballyard and probably wondering if they still couldn't help the club.
Tom's son, Paul, picked up the managerial victory in the Mudcats' first game in franchise history. Tiger team photographer Andrea Schonecker took over 60 photos on the evening and you can find her album at Facebook.com/BPTigertown.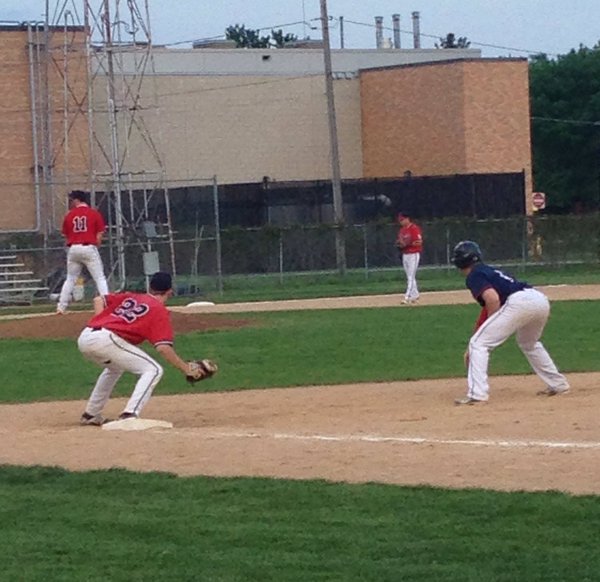 St. Peter 2 @ BP 8 (Friday, May 20)
On a beautiful night your hometown nine hosted the Saints of St. Peter and looked to get their first league win of the year, with the Tigers securing a nice 8-2 victory. Derek Dahlke got his first start of the season and went two innings. Jonny Vinkemeier threw the next frame and Ben Wagner worked the last five innings, earning the win.
The Tigers struck first in their initial cracks with a double by Derek Dahlke and an RBI single by Aiden Ladd. They got two more in the bottom of the fourth on RBI singles by Dylan Nyberg and Wagner. El Tigre blew it open in the seventh with four runs, highlighted by an RBI single from Joe Hankins.
If you are reading this and it sounds like a recap of the Twitter reports from the game you are correct, and thanks for following Tigertown across so many different medias. See you at the park.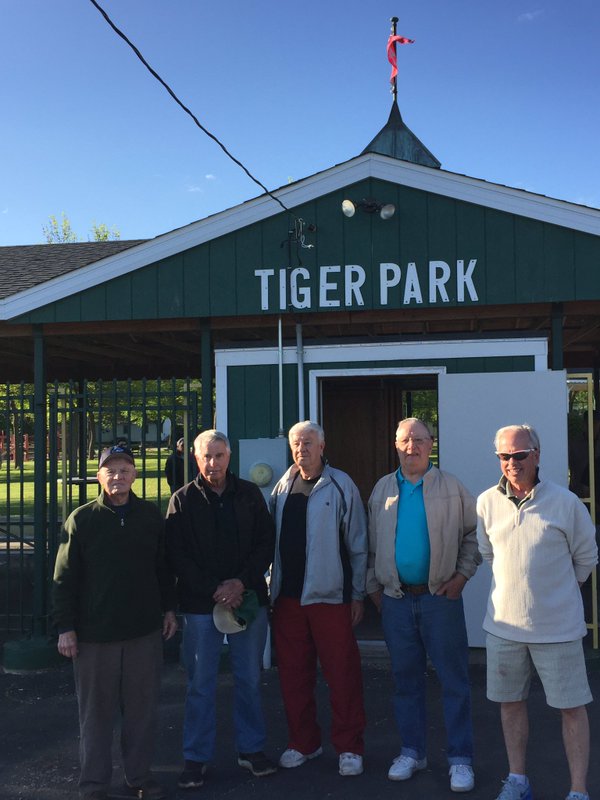 BP 6 @ Chanhassen 13 (Sunday, May 22)
El Tigre travelled to Chanhassen to take on the Red Birds on their opening day. Teenage Tiger looked like it came ready to play as they scored one in the first after a Derek Dahlke single, an error and an RBI single from Vinkemeier. After another run in the second, it looked like our Class B woes would discontinue. But a nine-run bottom half of the second proved to be enough for the pretty birds.
Newcomer Joe Pomije started on the mound and looked like a real pitcher compared to most of what has been throwing this year. He was not helped by errors in the second inning, which proved to be the big blow. He started the third before giving way to Dylan Nyberg, who finished the frame and got two outs in the fourth.
Matt Schultz came off the DL early in tennis shoes and brother Mike's glove to promptly record the final out of the fourth. In the fourth the Tigers batted around, with three Tigers getting hit by pitches, four walks and three strikeouts. Joe Hankins tossed an inning for the Tigers before giving way to Chase Emmers, who threw the final four and looked good by not giving up any runs and forcing the Tigers to play all nine innings.
The Chatfield Nine scraped together four hits, with no Tiger having more than one hit, Tiger. Our striped felines whiffed a whopping 21 times during the contest.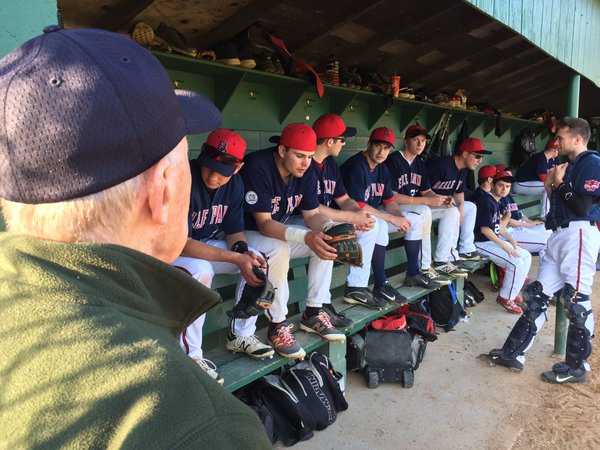 Town Tigers Tripped Twice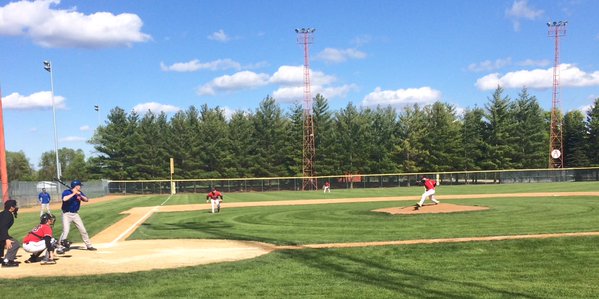 -- by Brett Kruschke, Matt Schultz & Mike Schultz
The Town Tigers have dropped three straight since an Opening Night win against St. Benedict, losing RVL battles last weekend at Arlington and Henderson. The Tigers hosted the Minneapolis Mudcats last night; visit Twitter.com/bptigertown for the result and details.
ran Tigerino will host the St. Peter Saints at 7:30 pm Friday for Dollar Beer Night, which should make everything at least temporarily better. Sunday will feature a trip to sudden Class B powerhouse Chanhassen, after the Tigers disappointing rainout last season. As Garth told Ron Burgundy about the seething mob in Anchorman, "They want to hurt you real bad, Ron."
At least over the past 25 years, these are unusual times for the Tigers. The roster is as deep as ever with 26 players under contract, but due to circumstance and a goodly number still playing out the high school season, it's combined thus far to result in low player attendance and some pitchers that ain't.
The Tigers' top pitching arm and heart of the order bat, Derek Dahlke, will miss most of the season while he plays semi-pro baseball in Iowa. Josh Terrio, lineup regular and a pitcher that really emerged last year, is out indefinitely with a serious finger injury. As to the Tiger youth, there are six rookies and eight second-year players.
Excuses? Nay; facts. Although we take on a heavily satirical tone in this column most of the time, we just want to ensure you that we are indeed trying and it will indeed get better (well, at least it usually does). As the Nitty Gritty Dirt Band once sang so wistfully, "If we're ever gonna see a rainbow / we have to stand a little rain."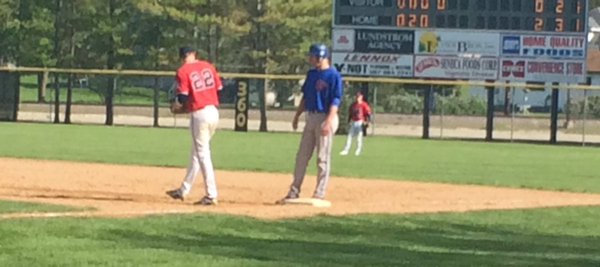 BP 0 @ Arlington 3 (Saturday, May 14)
Teenage Tiger headed to Arlington a day later than originally scheduled due to some poor weather. Apparently the Tiger bats weren't prepared for a Saturday game as they were shutout by A's ace, Matt Pichelmann.

Ben Wagner started on the mound for Belle Plaine, working 7.1 innings with no earned runs. A costly throwing error in the second led to two of the tallies, which proved to be plenty as El Tigre couldn't muster any timely hits. Another run in the eighth chased Wagner and brought in Pat Schultz, who recorded the final two outs.

Travis Latzke led the way at the plate with half of the team's six hits. Dylan Nyberg, Wes Sarsland and Ryan Bremseth-Vining were the others to make a dent in the batting average column. No Tigers drew a walk and Pichelmann – a 2014 Tiger draftee and all-around amiable chap – punched out eight.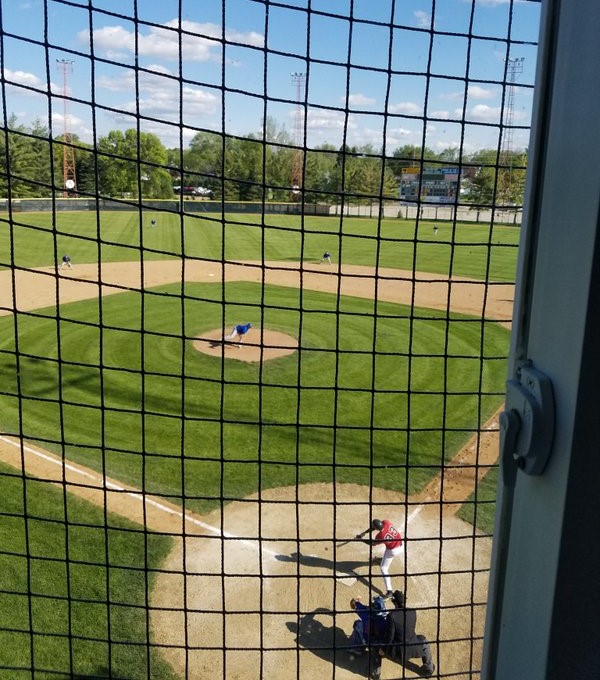 BP 6 @ Henderson 10 (Sunday, May 15)
Your hometown nine (actually 11 this time) travelled to Henderson looking to get rid of the bad taste in their mouths from the loss to Arlington a day earlier. After exploding for three runs in the first inning the Tiger Train was rolling down the tracks to a W.
Chase Emmers threw the first frame and was able to pitch around two walks and two singles while only giving up one run. After Emmers endured some arm issues, Matt Schultz was summoned to the mound and his personal catcher, Mike Schultz, was put behind the plate.
The extremely soft-throwing righty put together another quality start, going four innings while yielding three earned runs. Travis Latzke relieved him in the sixth and didn't have his usual good stuff. A grand slam by Henderson veteran Greg Graham (that barely got over the fence) gave El Tigres de Henderson a lead they would not relinquish.
Zac Dahlke relieved Latzke, tossing the final 2.2 innings while surrendering an unearned run. He also debuted his new base-running technique called "scraping" and will be putting on a camp later this summer; get your tickets now.
Offensively, Tigertown was led by Matt Ruehling, who stuffed the boxscore with three hits (including a double), two runs, two RBI and a walk. Newcomer Jared Miller had two hits in what some are calling the gutsiest performance since the Michael Jordan flu game, as Miller battled a bloody nose for the majority of the day.
Joe Hankins also garnered two knocks. And for those of you counting, manager Mike Schultz struck out in both of his at-bats, keeping the dream alive that he might strike out in every at-bat this season.
Town Tigers Take Opener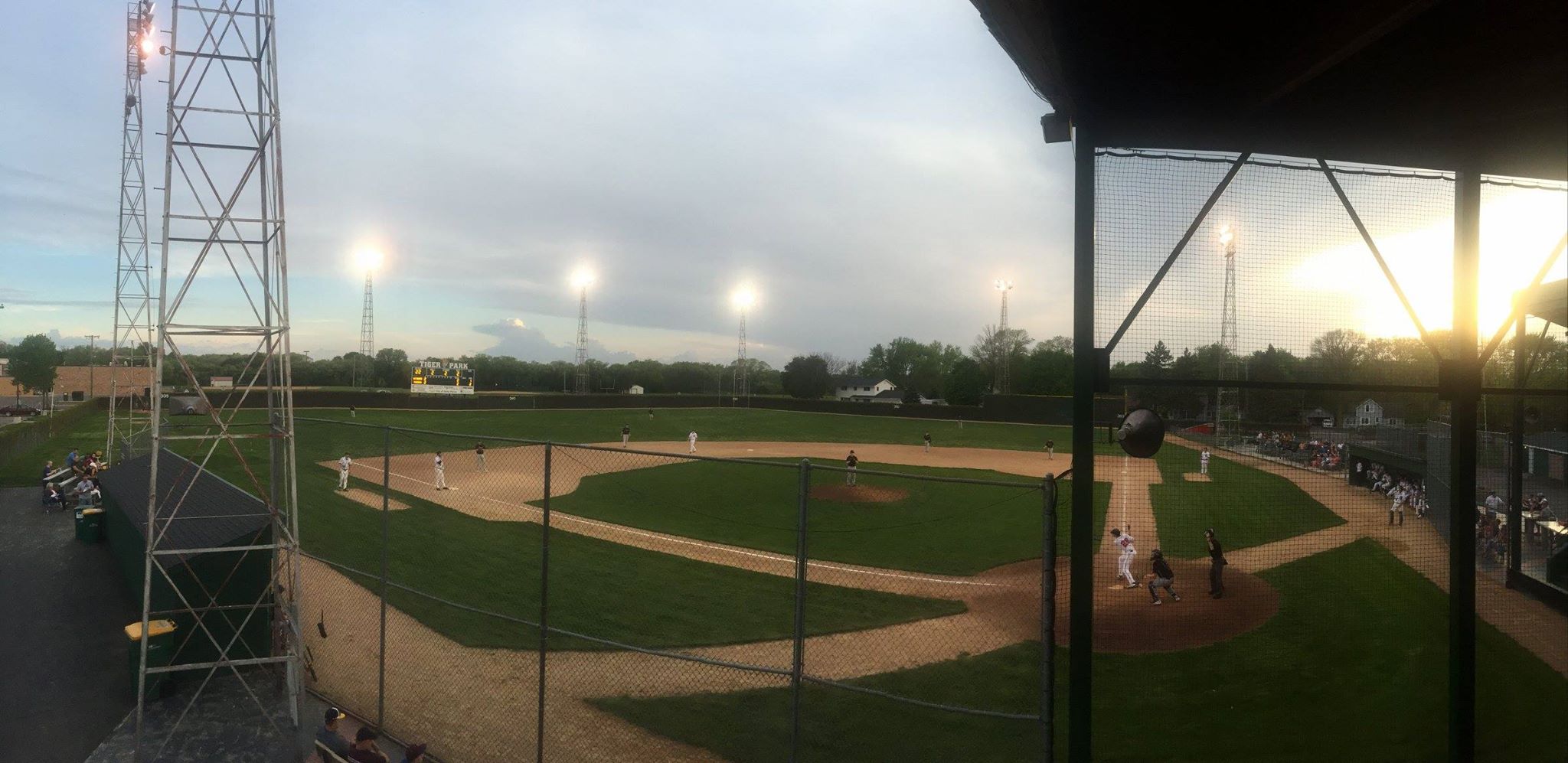 --by Brett Kruschke & Mike Schultz
The Tigertown Express got the season off on the right foot last weekend by besting the St. Benedict Saints 9-6, then succumbed to one of the state's better Class B teams with a 10-0 loss to the Shakopee Indians. Friday's victory improved the Tigers' record against St. Benedict this century to 8-0.

With a pair of games under their belt the Tigers will hit the road this weekend for a pair of River Valley League contests. The BPT will visit Arlington at 7:30 pm on Friday before heading to Henderson on Sunday for a 2 pm affair.

As previewed in last week's article, Tuesday will be Tom Melchior Night at Tiger Park when the Minneapolis Mudcats play their first game in franchise history. First pitch is at 7:30 pm, but don't be late as Melchior will throw out the ceremonial first pitch and receive recognition for his vast contributions to Tiger Baseball.

Melchior is a former Tiger who has written books titled "Scott County Baseball" and "Belle Plaine Baseball 1884 to 1960," among others. Managing the Mudcats will be Tom's son, Paul, and playing will be his eldest grandson, Sam.

A refresher on admission prices to Tiger Park: $4 for ages 18 to 64, $2 for ages 12-17 and 65-plus, with ages 11 and under getting in free. Season tickets are available for just $25, which covers your cost for the next 13 Tiger home games.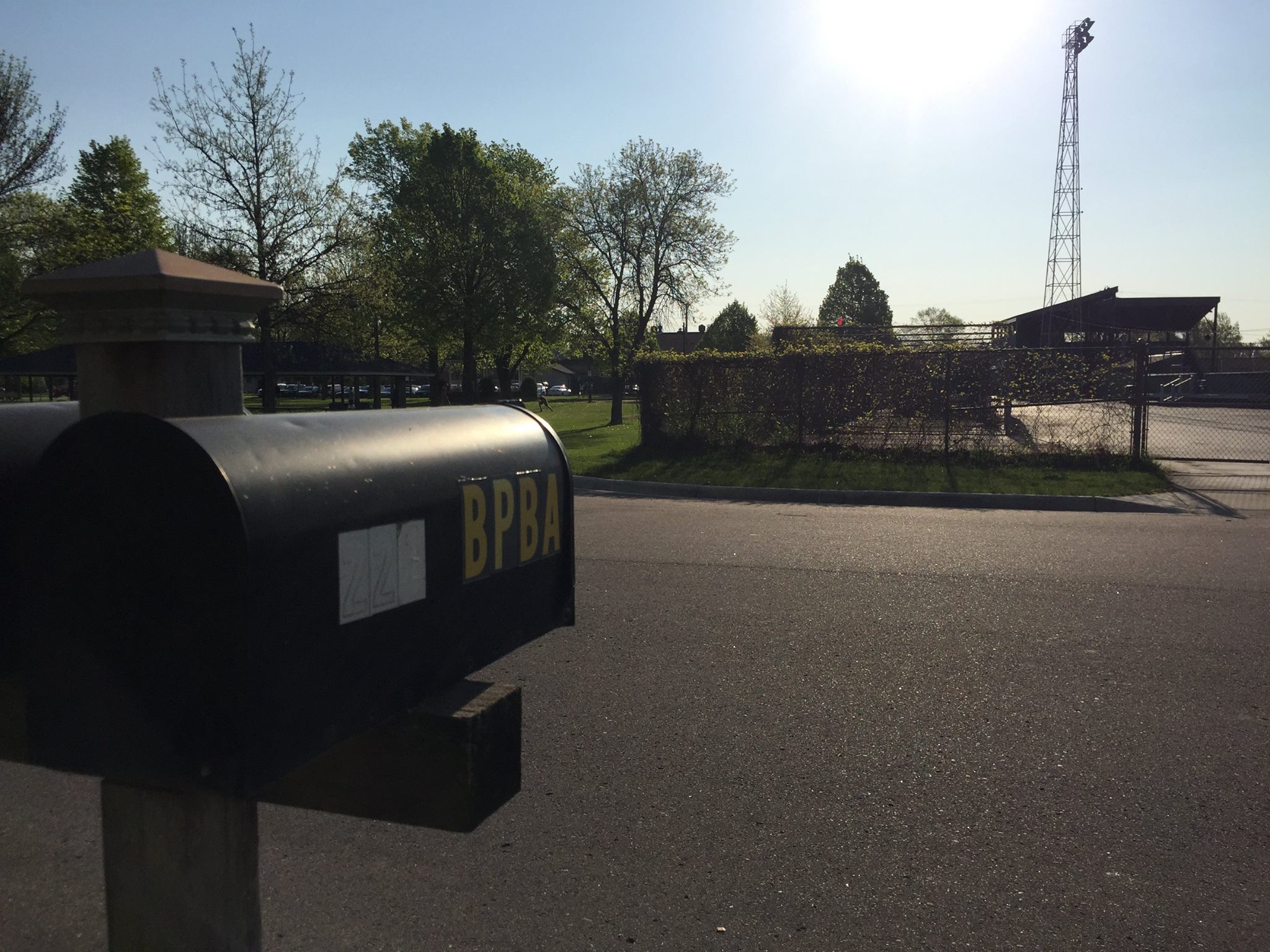 St. Benedict 6 @ BP 9 (Friday, May 6) GAME PICS
They say baseball repeatedly offers you things you've never seen before, and as such, typically, goes Opening Night. Long-time veteran catcher Pat Schultz took the starting nod on the hill, working five innings of four-run ball.

A favorite story of Tiger lore had a player suggesting that our team needed a closer, then immediately following up that he was that solution. Perhaps that's how the ninth inning went down, when Manager Mike Schultz entrusted a three-run lead to his other brother, Matt Schultz. And sure enough, the homerless veteran produced a 1-2-3 ninth inning, including two punchouts.
St. Benedict got on the board immediately after loading the bases behind a pair of Tigers errors and a walk in the first inning. Two would score, but the locals answered in their first at-bats of the new campaign behind similarly sloppy play from the Saints.

After the Saints plated two more in the fourth, the Tigers once again answered to even the contest at 4-4. The key blow was a triple from leadoff hitter Travis Latzke, who soon after scored on a wild pitch.

Belle Plaine took the lead for good with a pair of runs in the fifth, with what used to be called the "game-winning RBI" coming on a sacrifice fly from No. 9-stick Jonny Vinkemeier. Vink also singled and walked, scoring a run.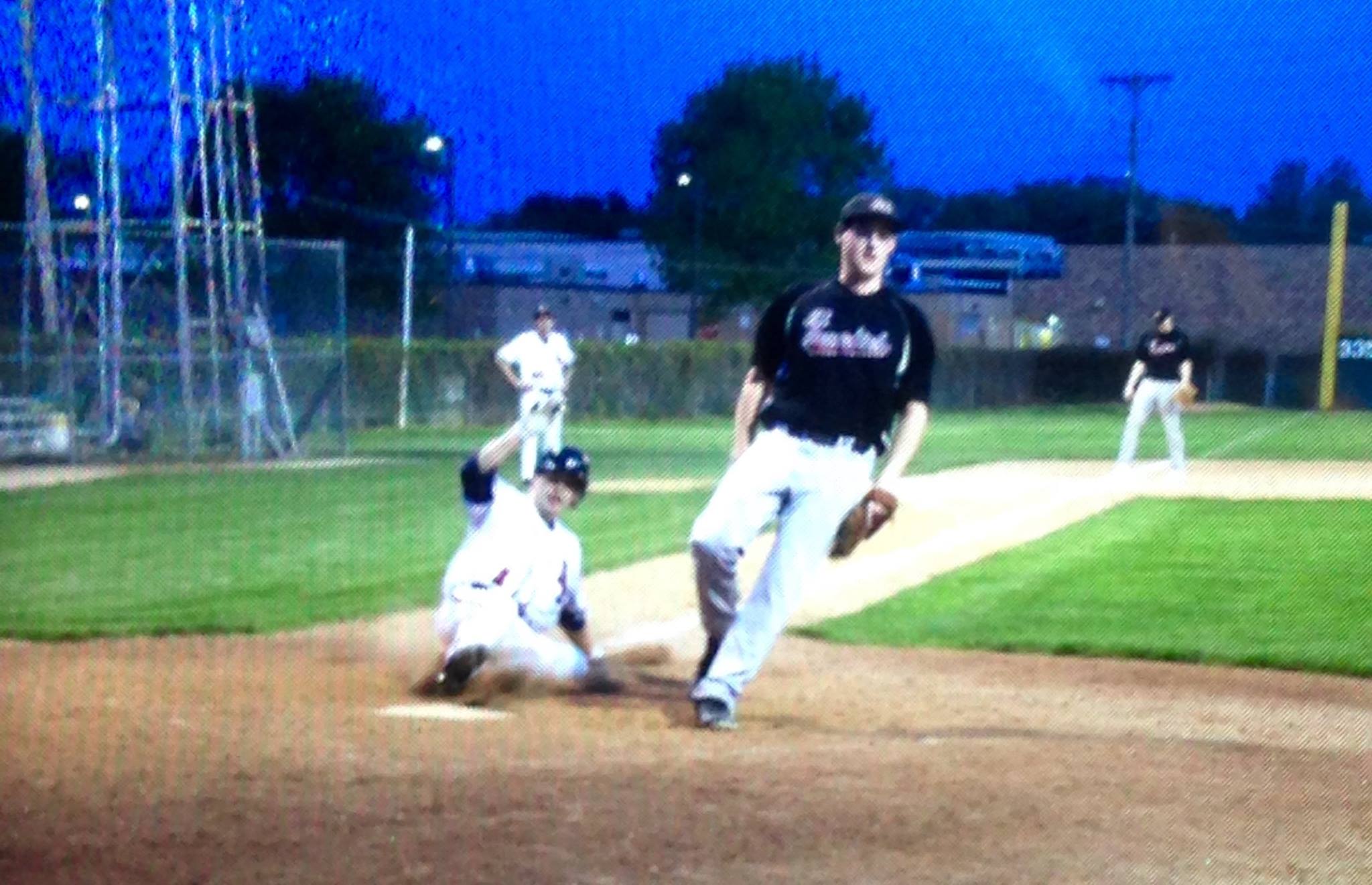 Latzke was KCHK Radio's Player of the Game thanks to his 3-for-5, two run, RBI triple and a steal performance. Latzke also toed the rubber in the eighth inning, loading the bases before striking out the side to leave them full – let's call it a hold.

Four Tigers made their town team debuts: Cameron Klehr, Mitchel Stier, Ryan Bremseth-Vining and Luke Narveson. Welcome to Tigertown! RBV popped his first big league hit, while Narveson stole a base.

BP 0 @ Shakopee Indians 10 (Sunday, May 8 – 7 innings)
Your hometown nine, and no-one else, travelled to Shakopee to take on the Indians, hoping to possibly keep the game close and maybe even extend the game past seven innings. This didn't seem hopeful as the Tigers are 0-4 against the Indians in the last four years, with a 48-3 run differential.

El Tigre battled hardish and came away with a solid 10-0 loss. Matt Schultz started on the mound and went six innings, giving up eight runs. Just another quality start against a Class B team for the soft-throwing righty. Manager Mike Schultz pulled out all the stops and caught the whole game, while several other players played out of position.

Zac Dahlke, Matt Ruehling and Wes Sarsland – aka Murderer's Row – each had a hit, accounting for all of the Tiger offense of the day.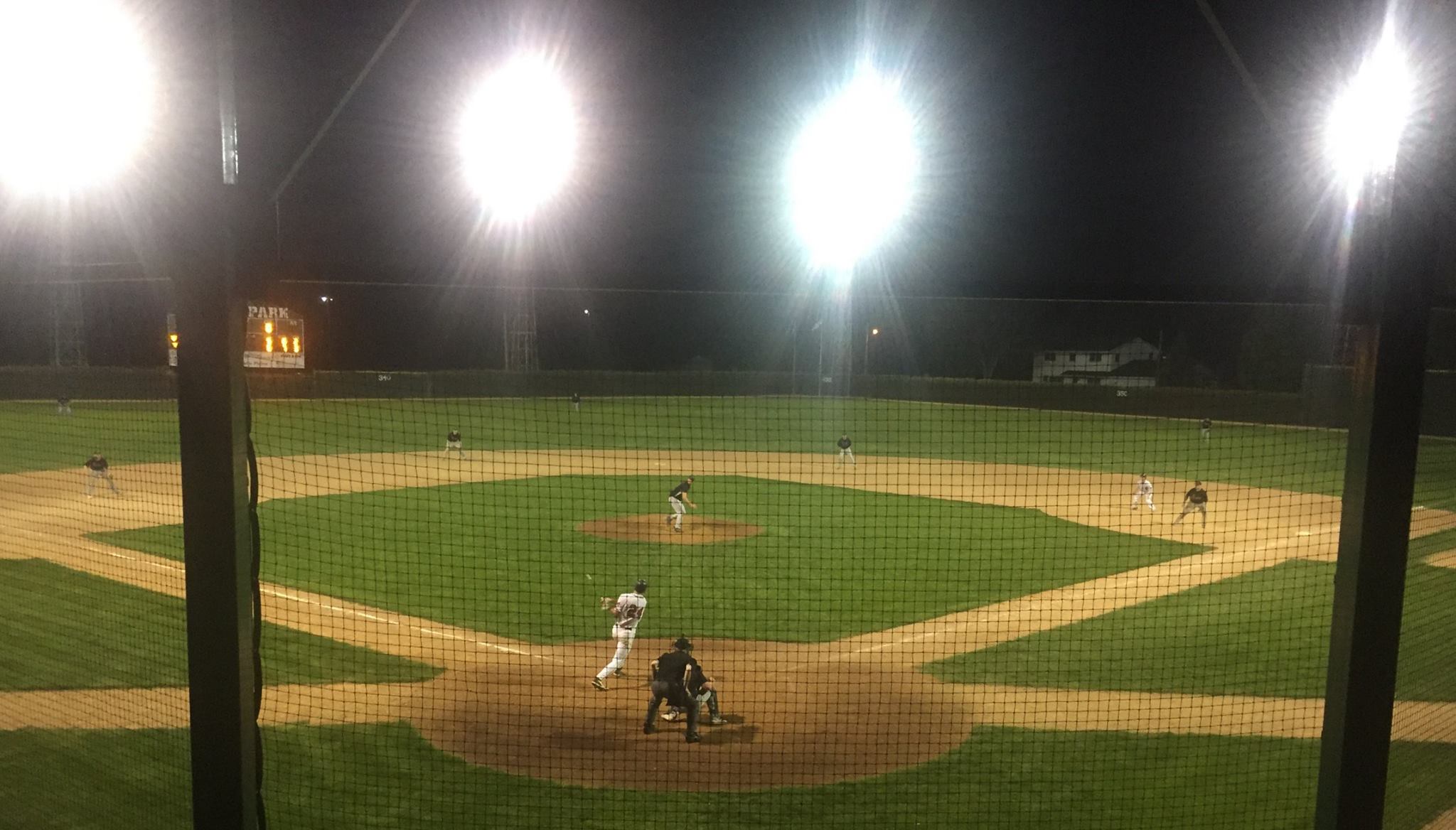 Town Tigers Open Season
Friday vs. St. Benedict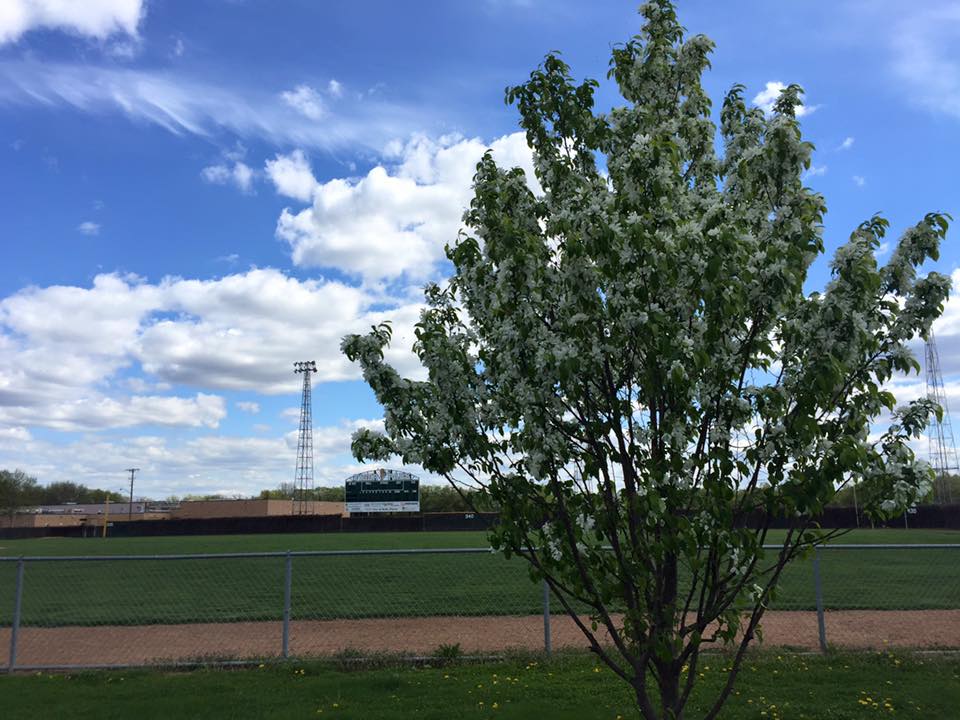 --by Brett Kruschke
Another season of Belle Plaine Tigers Town Team Baseball is about to descend upon Tigertown. The first of 14 regular-season home games (31 overall) will take place Friday when the St. Benedict Saints visit Tiger Park at 7:30 pm. To celebrate, it's Dollar (Hot) Dog Night.
On Sunday the boys will tread into Class B waters with a 2 pm visit to River Valley League compadre Shakopee. Buy Mom another hot dog!
Not that anyone would confuse us with the St. Paul Saints but except for the Tigertown Classic tournament in June, all but one home game this season will feature a promotion. See the full list on the season schedule or at the Tiger website, www.bptigertown.com, and allow us to highlight one promotion in particular.
Tom Melchior is a former Tiger who has written books titled "Scott County Baseball" and "Belle Plaine Baseball 1884 to 1960," among others. We will observe Tom Melchior Night on May 17 to thank Tom for his tireless work in chronicling the history of Tiger Baseball. That night's opponent is the Minneapolis Mudcats, who will be playing the inaugural game in franchise history. Managing the Mudcats will be Tom's son, Paul, and playing will be Tom's eldest grandson, Sam.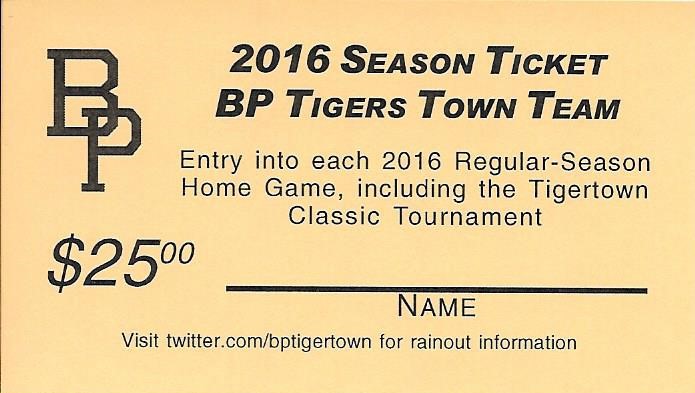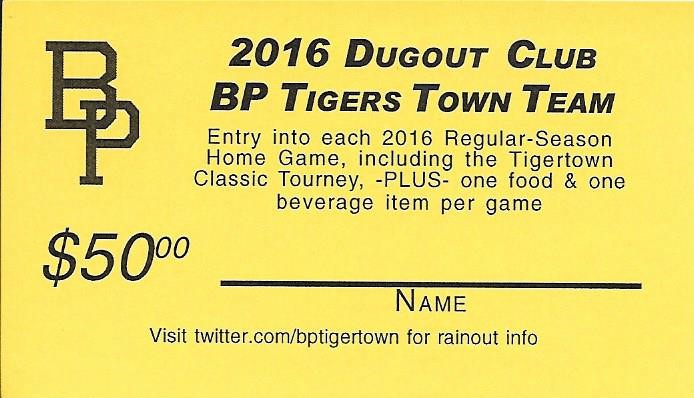 Season tickets are a great way to support the Tigers, and the price will once again remain unchanged. Just $25 will get you a season pass while a $50 Dugout Club membership also gets you a free food and beverage item at each game. Pick up your tickets at Brad's Barber Shop or at the gate on game days.
Our two primary fundraisers are back by popular demand: the 18th annual Tigertown Classic, an eight-team invitational tournament held June 10-11-12. While the Classic is primarily supported by the teams that play, like Uncle Sam we want YOU for this year's Tiger Open golf tournament fundraiser!
This year's Tiger Open – for the second year in a row – will be held at CreeksBend Golf Course in New Prague on Saturday, June 18. The price is nice at just $60 per golfer and includes a meal at day's end with numerous prize giveaways. A registration form is enclosed, but you may also register by simply emailing former Ace of the Staff pitcher Shane Hofmann at bphof21@yahoo.com.
As for the ballclub: the re-made Tigers climbed out of a 2-11 hole to start the season last year, playing .500 ball (9-9) the rest of the way. Team Tigertown upset the RVL West's No. 1-seeded St. Peter Saints to clinch a state tournament berth, then surprised even the Tiger mothers by winning a game at state, against Hadley. Manager Mike Schultz and his brothers, elder statesmen Pat and Matt, will look to help the Tigers cash in on the promise shown late last year.
Amazingly all Tigers will return from last year, although one of the team's top players, Derek Dahlke, will only play sparingly. Derek has signed on with the Carroll Merchants of the Corn Belt Collegiate Summer Baseball League in (where else?) Iowa. Look for brother Zac to step up with a double dose of leadership.
Other Tigers back in the red, white and navy: Travis Latzke, Zach Juaire, Johnny Egan, Dylan Nyberg, Joe Hankins, Josh Terrio, Ben Wagner, Tyler Hartman, Cameron Lark, Wes Sarsland, Jonny Vinkemeier, Clayton Meyer, Aiden Ladd, Jesse Oelfke, Chase Emmers and Matt Ruehling. New to the fold are Joe Pomije and Cameron Klehr.
We didn't invent social media but we do try to stay on top of it, as never has it been easier to stay connected to your local nine than it is today. Follow the Tigers on Twitter @bptigertown for around-the-clock coverage and like us on Facebook as well – just search bptigertown.
Sometimes there may be confusion that the Tigers play 162 games with 81 home dates like Minnesota's other amateur baseball team, the Twins. But our Plainesmen have just 14 home dates on the calendar, so don't let 'em slip by. See you at the ballpark on Friday!