Tigers Split a Pair of
League Games


--by Brett Kruschke
& Colin Schultz
Coming off the high of a 3-1 weekend at the Green Isle – Hamburg Tournament, the Belle Plaine Tigers returned to league action and split a pair of games by the same 4-2 scores. Friday was a win at Le Sueur while Sunday was a home setback against Gaylord.
The Tigers are 9-9 on the season (4-5 RVL) and have one more game before Independence Day Weekend: a 7:30 pm exhibition game tonight (Wednesday, June 29) at Glencoe. After that, Team Tigertown won't be back in action until Friday, July 8.
Keep up with your squad at bptigertown.com and its affiliate channels, BP Tigertown on Facebook and Twitter.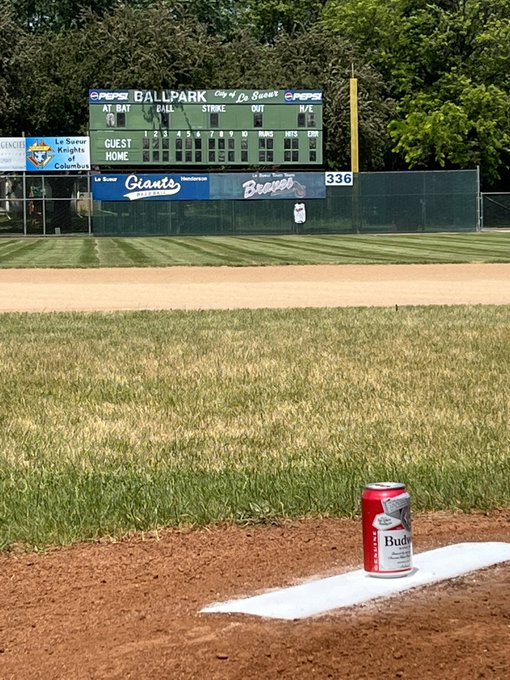 BP 4 @ Le Sueur 2 (Friday, June 24)
Friday's game at Le Sueur carried a somber tone, as Minnesota Baseball Association Hall of Famer Joe Driscoll, who died on June 16, was fondly remembered. Not only did the Tigers compete against Driscoll during his playing days, but he was a Tiger draftee and suited up for the Belle Plaine Gray Tigers (35-and-older) for five seasons.
Josh Terrio picked up the win for the Tigers, going the distance in a 4-2 win. He received support from Jake Mercado, who blasted his team-leading fifth home run of the season. Team-leading is an understatement, as Mercado is the only Tiger to homer this season.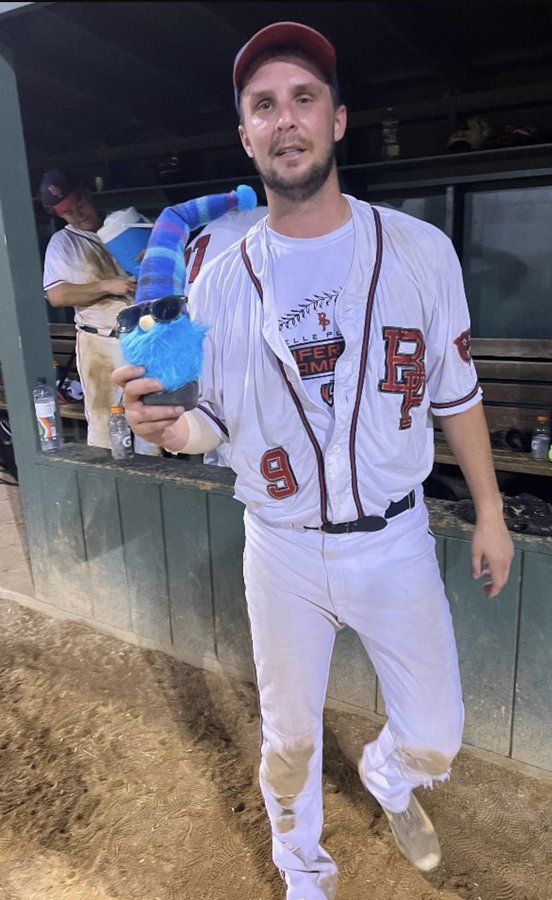 Gaylord 4 @ BP 2 (Sunday, June 26)
On Sunday, the Gaylord Islanders made the trek from the shining blue waters of Lake Titlow to battle the Belle Plaine Tigers. Thankfully, the weather cooperated and the sun stayed out for the entire nine-inning game.
Belle Plaine's lineup included Tigertown veteran Matt Schultz, who was pulled out of retirement so that BP would have enough members to play against the Islanders. There was a bit of a family rivalry on the field, as some of the players for the Gaylord Islanders included Schultz's cousins Aaron and Connor Deis.
Sunday's game was also Senior Citizens Day. There were free root beer floats and a raffle, which was sponsored by Edina Realty and Edina Realty Mortgage. Old-time polka music was also provided between the innings by Virgil Herrmann, Bobby "Cash" Kahle, Bob Schroeder, and special music advisor Ernie Stumpf.
Gaylord started the game with a leadoff double against Tiger pitcher Jared Miller and quicker than the Tennessee Two-Step, the Islanders batted seven men and took a 2-0 lead in the first inning. Beginning with the final out of the first inning, however, Miller faced the minimum number of batters until a leadoff single in the eighth inning – made possible by Tiger catcher Garrett Boblitt throwing out a pair of would-be base stealers.
The Tigers got on the board in the fourth, scoring both of their runs on the same play when Schultz's RBI grounder to the right side was thrown away, allowing another run to score. But as good as Miller was on the day, Islanders starter McKoy Rodning made sure to impress brother Brody – who was in attendance – and he tossed eight innings of two-run ball with 10 strikeouts.
Gaylord scored the game's winning run when Erik Goetsch lifted a line-drive single just over the glove of Tiger second baseman Colton Kerkow. They added an insurance run in the ninth for the final margin of victory.
Signed off the scrap heap, Schultz looked as good as ever, reaching base in all four plate appearances. Tyler O'Brien went 2-for-4 with a double while Brody Curtiss was 1-for-4 with a double and a stolen base.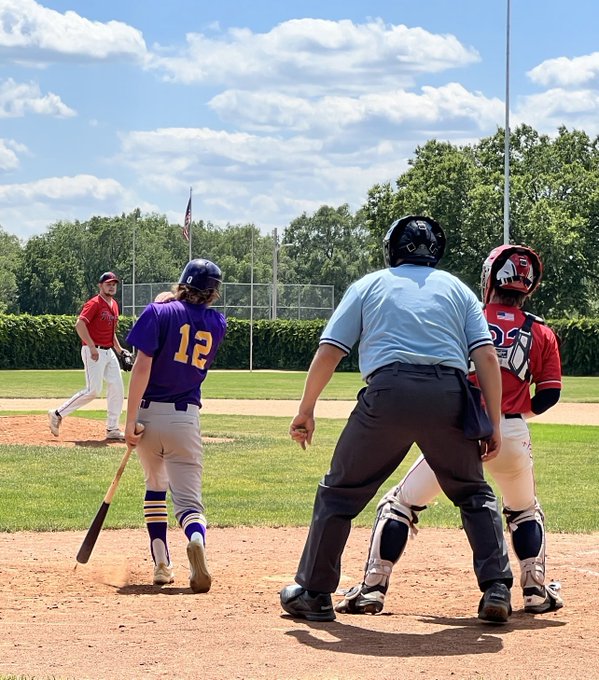 Tigers Go 3-1,
Claim Consolation Title at
16-Team Tourney

--by Brett Kruschke
At the proverbial halfway point, the Belle Plaine Tigers are playing their best baseball of the season.
During the prior week, the Tigers went 1-2 but their win came by 11 runs while both losses were by a single tally. Then last Tuesday, June 7, the locals gave up five runs in the first inning before battling back to beat a solid St. Clair squad, 8-6.
The Tigers opened the Miller Lite Invitational Tournament in Green Isle and Hamburg this past weekend with a thud, getting walloped by Watkins, 9-0. Three straight wins followed, however, hammering Hanska 14-4 on Saturday before beating Green Isle (7-4) and the Metro Knights (11-2) on Sunday to warrant some hardware in the consolation title game.
The Tigers have gotten back to .500 at 8-8, with a 3-4 mark in River Valley League play. Follow the team at bptigertown.com and by the same handle on Facebook and Twitter.
Team TIgertown will take the show on the road again this Friday with a 7:30 pm visit at Le Sueur. On Sunday you won't want to miss Edina Realty & Edina Realty Mortgage Day, as they will pass out prizes and free root beer floats! It's also Senior Citizens Day, with seniors admitted free and old-time polka music from the duo of Virgil Herrmann and Bobby "Cash" Kahle. The first pitch is at 2 pm.
St. Clair 6 @ BP 8 (Tuesday, June 14)
St. Clair is new to the RVL but already considered a formidable foe. The Wood Ducks beat St. Mathias 22-2 two days before the Tiger game, and in their two games since, they've won by scores of 31-4 and 25-8. So, when the visitors posted five runs in the first against Tiger starter Garrett Boblitt last Tuesday, it practically seemed par for the course.
El Tigre chipped away without hesitation, scoring a run in the first and second innings before tying it up 5-5 with three runs in the third – the latter two scoring on a two-out, two-run single by Jake Brandenburg.
The Tigers took the lead in the fifth on Jake Mercado's team-leading fourth home run of the year – in fact, the right-handed slugger owns all four of BP's long balls this season.
The Woodies tied the score at six in the seventh inning but the Tiger Train again responded immediately, with Derek Hoffman singling in the eventual winning run before an error made it a two-run uprising.
Credit Boblitt, who squeezed out three scoreless innings after his troublesome first frame. But the win went to Jared Miller, who was marvelous in relief and worked the final five innings allowing just one run, two hits and no walks.
BP 0 vs. Watkins 9 @ Green Isle (Friday, June 17 – Miller Lite Invitational)
Jack Kruger, who dazzled in the opener of the Tigertown Classic tournament one week earlier, suffered the loss on this Friday night against the Watkins Clippers. Dan Berg went the distance for Watkins. The Tigers collected just three hits.
BP 14 vs. Hanska 4 @ Hamburg (Saturday, June 18 – Miller Lite Invite)
Hanska scored two runs in the bottom of the first inning to put the Tigers in their familiar early hole. But as has also been their trait, the T-Train responded immediately with four runs in the top of the second for a 4-2 lead. BP did so again in the third inning, making it an 8-2 cushion.
The Tigers weren't done, adding two more tallies in the fourth for a 10-3 lead – then compiled a four-spot in the fifth and final inning, ending early via the 10-run rule.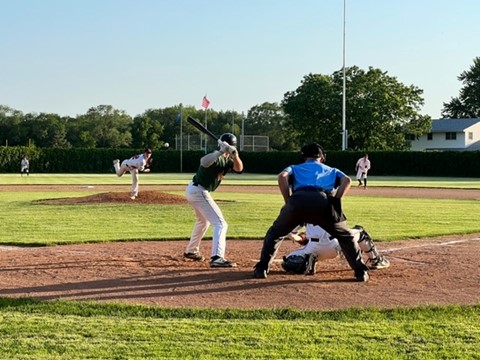 BP 7 @ Green Isle 4 (Sunday, June 19 – Miller Lite Invite)
With Saturday's win over the Hanska Lakers the Big Grr was slated to face tournament co-host Green Isle in their own ballpark. Having not faced the Irish since opening the abbreviated 2020 season with a 7-6 home win, the Tigers did similarly in securing a 7-6 victory over GI and their manager, former Tiger Nate Hartmann. Boblitt went six frames to pick up the victory.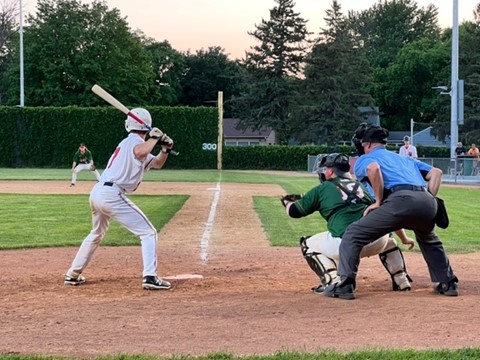 BP 11 vs. Metro Knights 2 @ Green Isle (Sunday, June 19 – Consolation Game at Miller Lite Invite)
Eleven hungry Tigers put up 11 well-fed runs in the consolation title game against the Class A Metro Knights. Brody Curtiss went the distance on the hill, chucking seven innings to earn Gremlin of the Game and his first win of the season.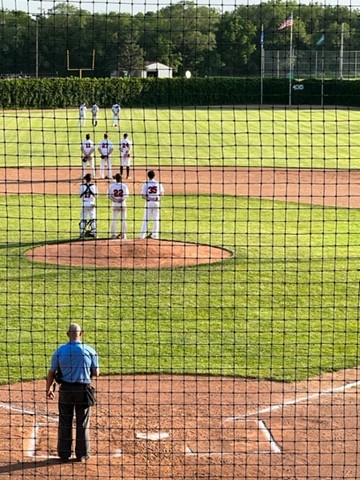 Tigers Ready for
Second Straight Tourney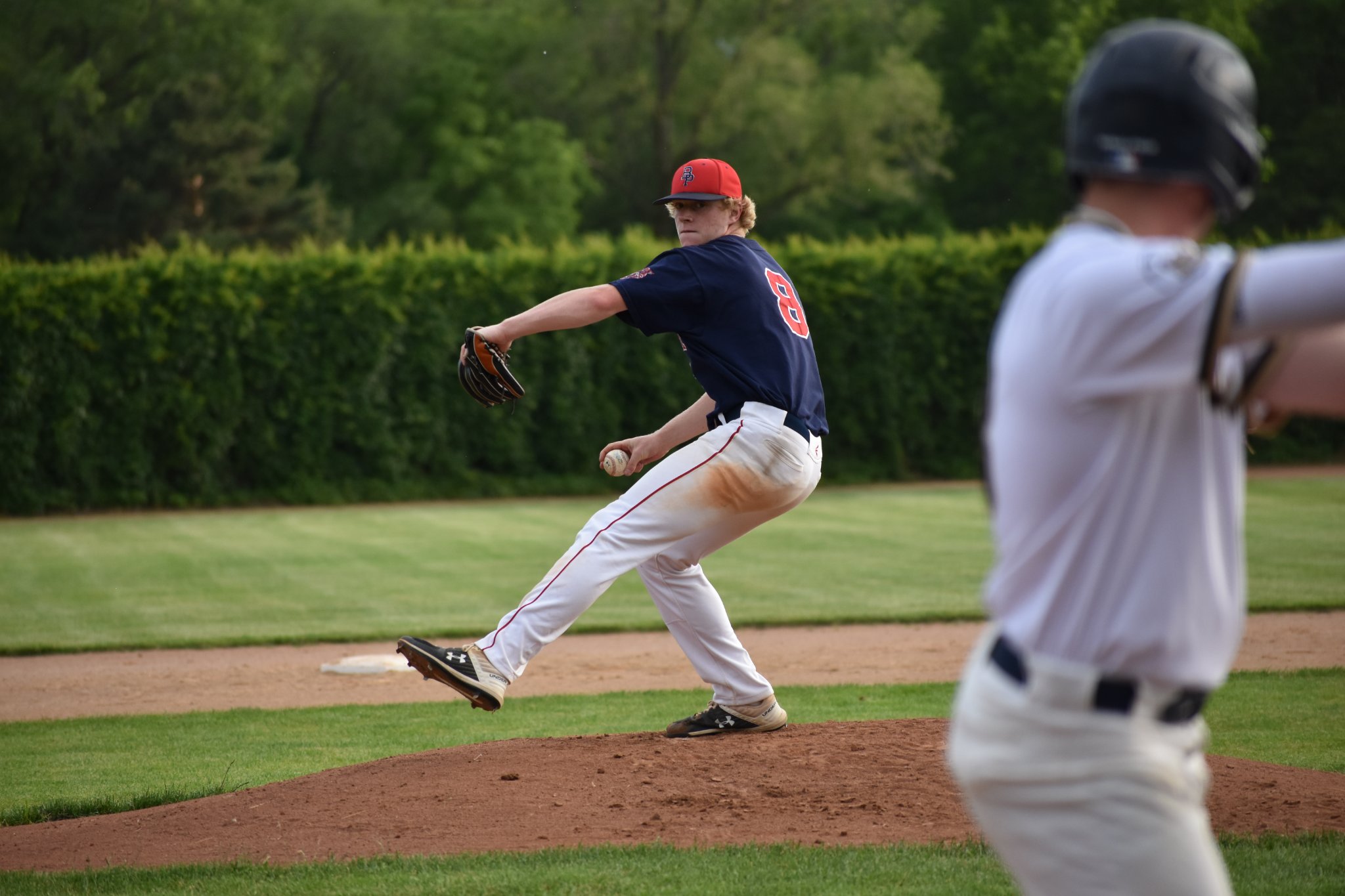 --by Brett Kruschke
The Belle Plaine Tigers went 1-2 over the last week, smoking St. Boni by 11 runs while losing a pair of one-run contests to St. Peter and the Minneapolis Mudcats. On the season, the Tigers own a 4-7 record (2-4 River Valley League).
Our lads spent the past weekend at Tiger Park, playing in two games while otherwise working their shifts at the 10-game Tigertown Classic tournament. The North Branch Nighthawks were crowned champions early on Sunday evening, holding off the aforementioned Mudcats in the title game, 5-4. For full tournament results, visit bptigertown.com or Twitter.com/bptigertown.
El Tigre returned to league action last night against St. Clair; visit facebook.com/bptigertown for the result and details.
After hosting a tournament, the Tigers will get to be the guests this weekend at the Miller Lite Invitational Tournament in Green Isle and Hamburg. Belle Plaine's first game is 6:45 pm Friday at the Irish Yard in Green Isle. Win or lose, BP's next game will be on Saturday in Hamburg: 11 am with a Friday loss and 5:45 pm with a win. Further games would be on Sunday; check our media channels for details.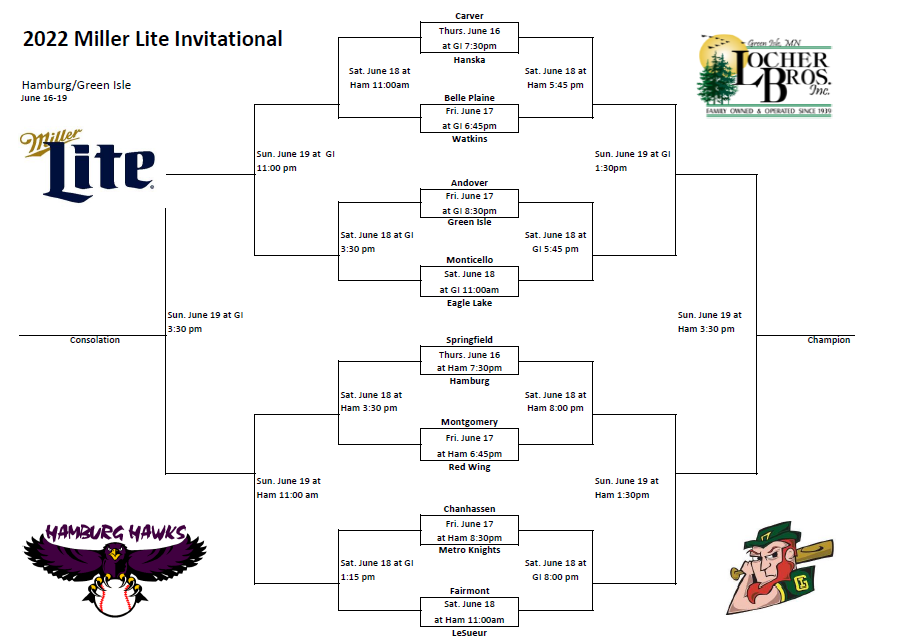 BP 3 @ St. Peter 4 (Tuesday, June 7)
Information is limited from last Tuesday's game in St. Peter, as road game losses are sometimes wont to do. Sam Carlson picked up the victory with six innings and zero earned runs, while Luke Regner tossed the final three innings for the save. Lucas O'Brien took the loss and also suffered an arm injury to boot.
Sam Wenner smacked a homer for the winners, and I hope someone in our dugout is reading this and has sympathy on your poor old sports writer.
St. Boni 1 @ BP 12 (6 innings – Friday, June 10, Tigertown Classic)
The Tigers opened their namesake tournament by facing off against St. Boni for the first time since 2010, when the Tigers squeezed out a 5-4 win credited to Jonny Schulz and supported by a Tim Huber home run. That little ode is our tribute to Tiger Alumni Night, which was also held on this fine evening.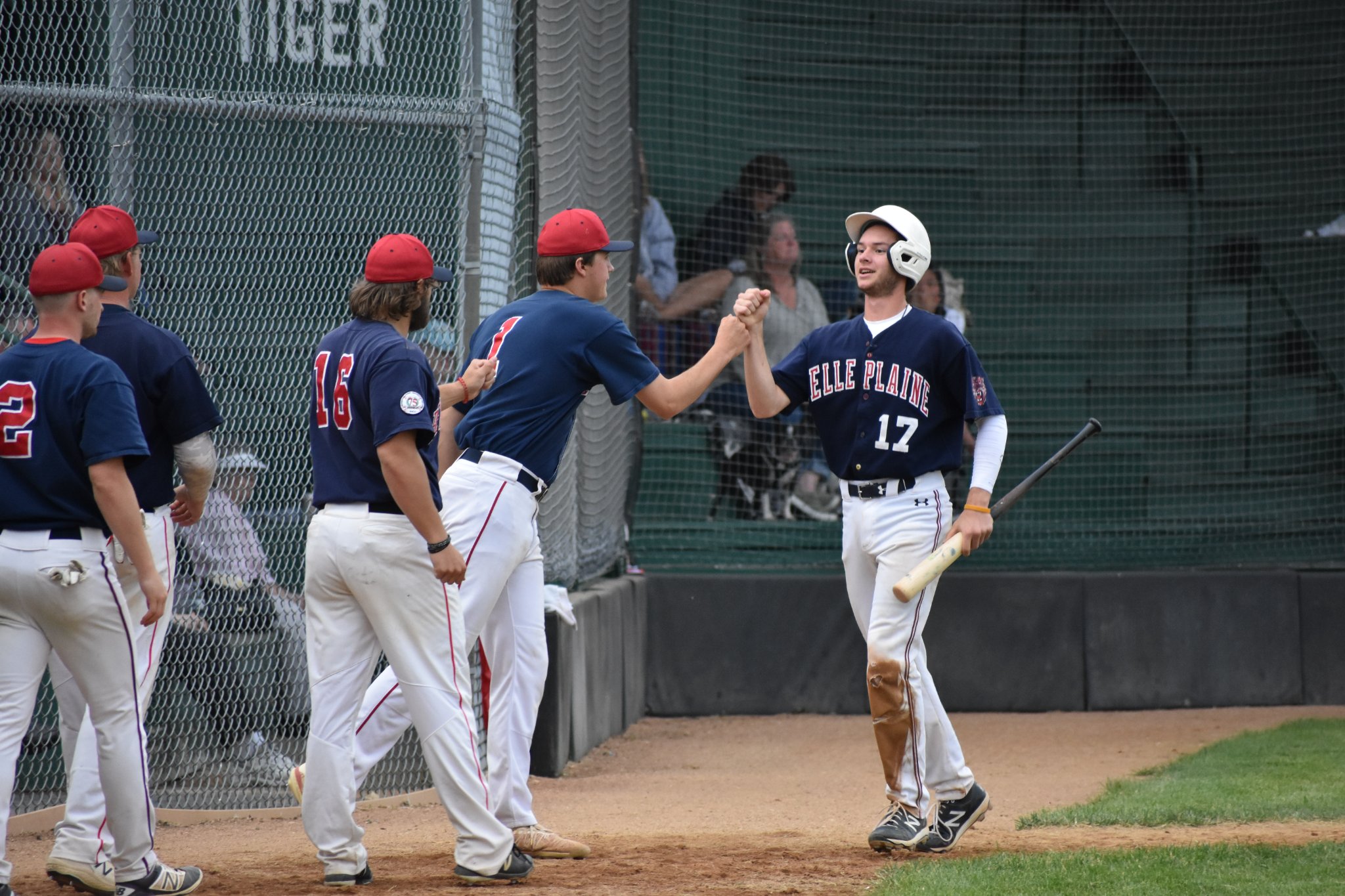 Team Tigertown scored four runs in the third inning, getting it going with RBI singles from Josh Terrio and Jack Kruger. Jon Schmidt got the early pinch-hitting summons and didn't disappoint the Keystone Laners, delivering a single up the box. An error made it 4-0, and the Tigers were well on their way.
In all, BP's finest unleashed 17 hits in just six innings before winning via the 10-run rule. That was more than enough support for the recently-graduated Kruger, who picked up his first win of the season and his third in a Tiger uniform (2-0 last season).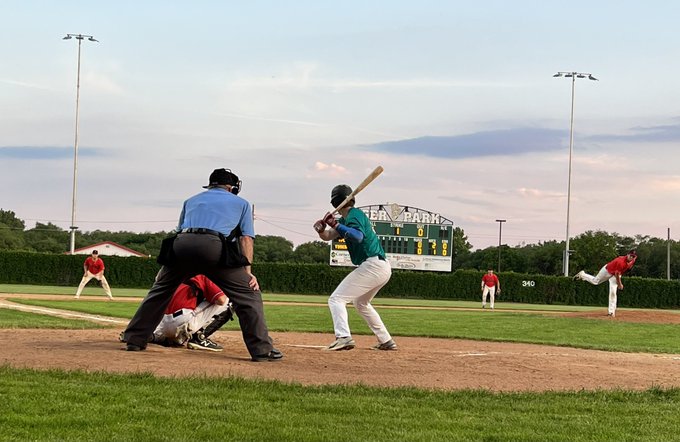 Mpls Mudcats 1 @ BP 0 (8 innings – Saturday, June 11)
One night after cutting the contest short an inning, Saturday's affair required an extra frame to settle the score.
Right-hander Derek Hoffman had his breakout game for Belle Plaine, spinning seven shutout innings – including retiring 10 straight batters at one point. He struck out six, walked only one batter and yielded just four hits.
Unfortunately, the Minneapolis Mudcats' pitchers were doing the same thing to our boys. The Tigers had just two hits and zero runs through seven innings.
In the eighth inning, the Mudcats greeted reliever Garrett Boblitt with a bunt single and a swinging-bunt single. Daringly, the Cats pulled off a double steal to put runners at second and third. With the infield in, a hard grounder was knocked down and the batter was retired, but the runner at third scampered home with the game's first run.
With one out in the home half of the eighth, Tyler O'Brien singled, then advanced to third on a two-base throwing error by the pitcher. Another strikeout left things up to Jared Miller, who ripped a liner to short right-centerfield but it was right at the outfielder, thus ending the game.
Tigers Open Tigertown Classic on Friday
Alumni Night Friday; 10 Games This Weekend at Tiger Park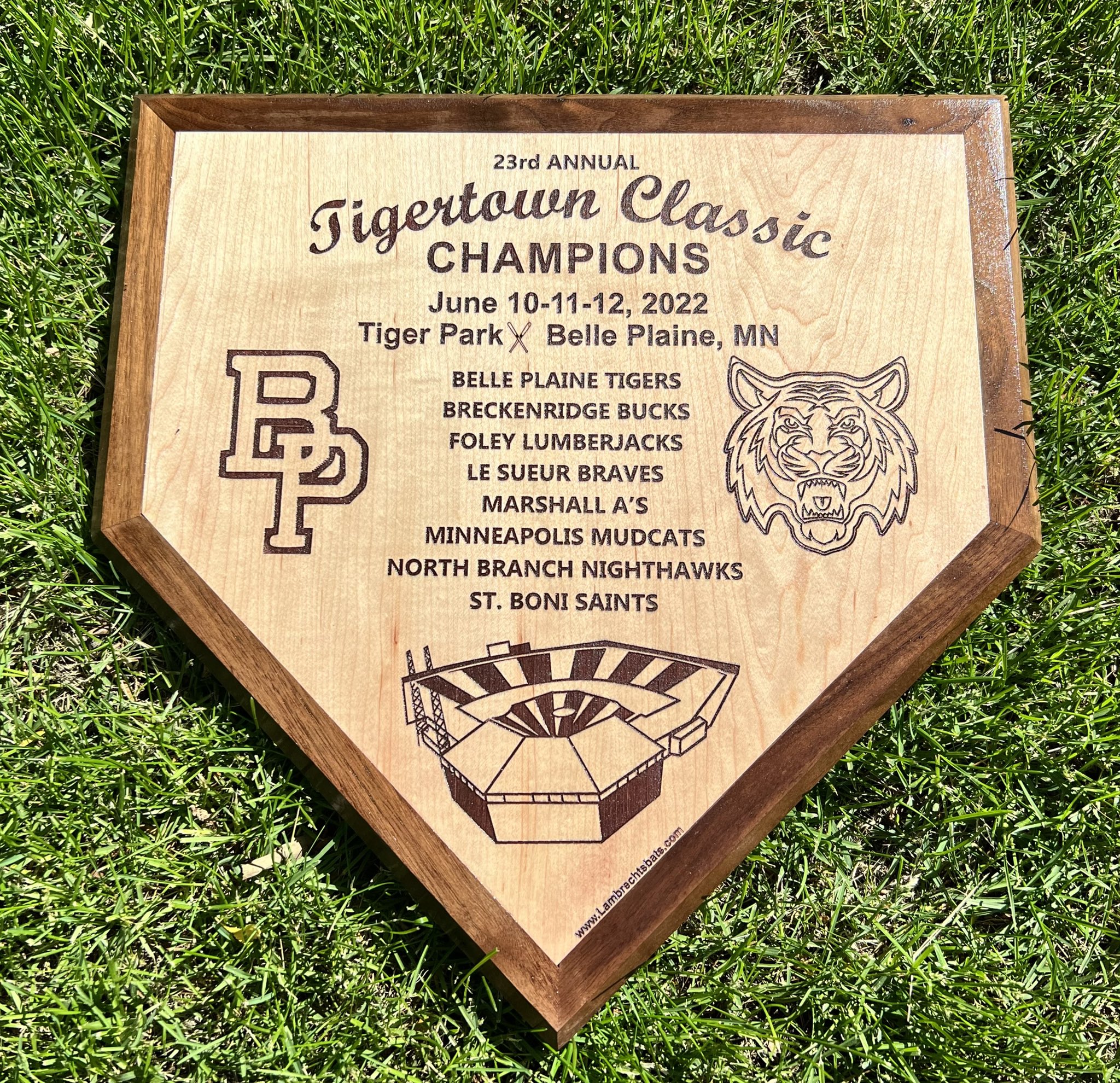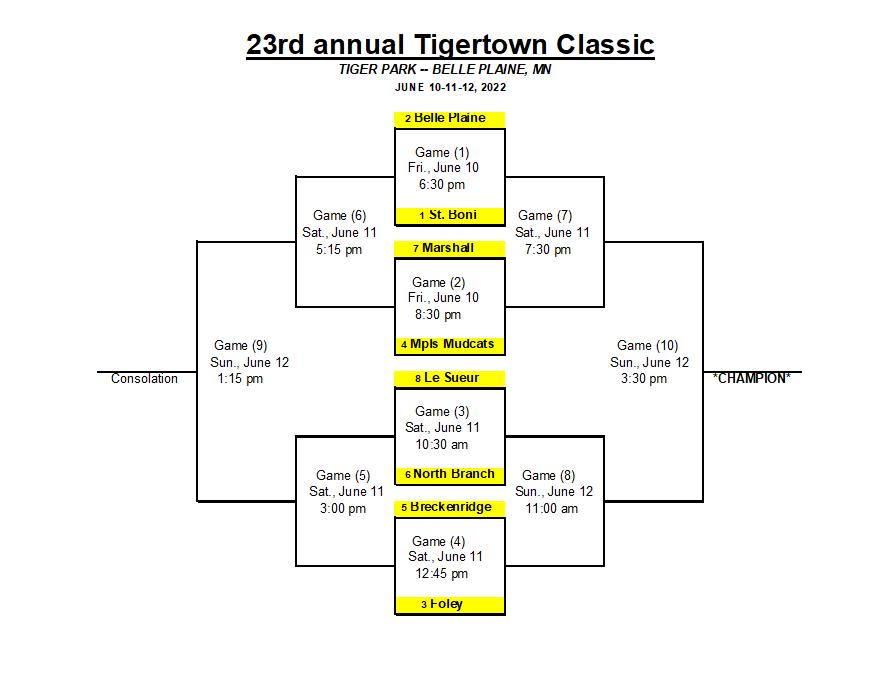 --by Brett Kruschke
& Jack Gill
The Belle Plaine Tigers had an uneven week, hammering Henderson before getting soundly beaten by RVL front-runners Jordan and Le Sueur. Team Tigertown played Tuesday in St. Peter.
The Tigers will take their 3-5 (2-3 RVL) record into the opening game of the Tigertown Classic tournament on Friday against the St. Boni Saints. That will be the first of 10 scheduled games this weekend at Tiger Park, with Belle Plaine to play again on Saturday – at 5:15 pm with a Friday loss or 7:30 pm with a Friday win.
Friday is Tiger Alumni Night at the old ballyard. Former Tigers should identify themselves as such at the ticket window and they will not only receive free admission but a couple of free beverages for their troubles.
Kelly Loft's Marshall A's will face Paul Melchior's Minneapolis Mudcats in the second game on Friday at approximately 8:30 pm. Le Sueur and North Branch will open play on Saturday at 10:30 am, with Foley and first-year team Breckenridge to follow at 12:45 pm. Saturday's other games are at 3 pm, 5:15 pm, and 7:30 pm. Sunday's games are at 11 am, 1:15 pm (Consolation game) and 3:30 pm (championship).
El Tigre will keep the field chalked and return to RVL action on Tuesday (June 14) against the St. Clair Wood Ducks, a league newcomer. The first pitch is at 7:30 pm, and the promotion is Little League Night. Little Leaguers should wear their uniform to the ballpark and along with the usual free admission, these future Tigers will also get a free hot dog.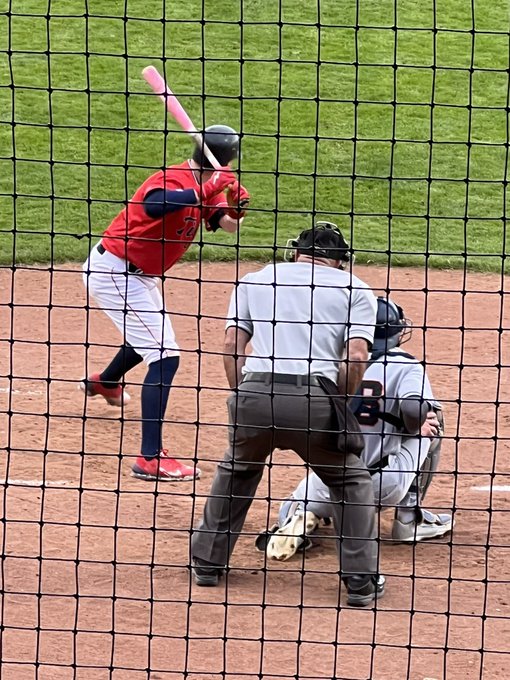 Henderson 1 @ BP 11 (Wednesday, June 1 – 7 innings)
In the battle of the Tigers, Belle Plaine laid its claim right off the bat. After a pair of base hits, Brody Curtiss brought in the game's first run with an RBI double. Designated hitter Jake Mercado then came up to bat with runners on second and third, blasting a deep drive over the left-field fence for a three-run bomb. Mercado would later collect another extra-base hit, a sixth-inning double.
The Tigers weren't done in the first, though, finishing the frame with five runs on six straight hits. Belle Plaine tacked on three more runs in the fourth inning on four base hits from the middle of the order.

Meanwhile, BP starter Jared Miller came out nasty, striking out hitters left and right. He finished his outing after three innings, allowing no runs and just one hit with five punchouts. Lucas O'Brien, who came on in relief, was eventually awarded the win.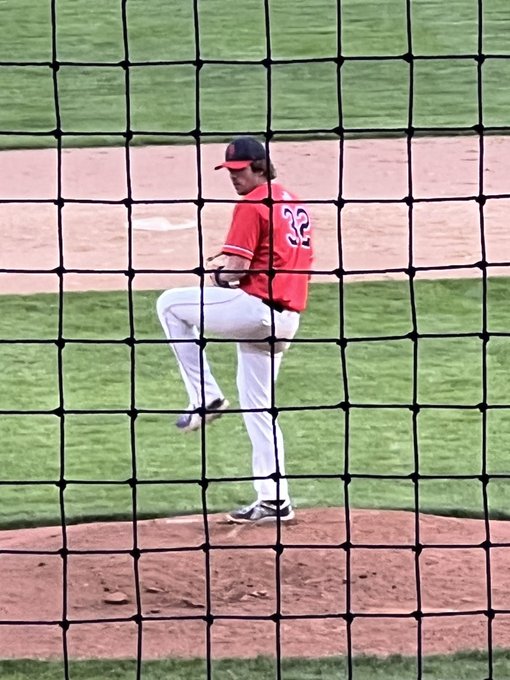 Curtiss walked it off in the bottom of the seventh inning, bringing in the last run needed to force the 10-run mercy rule.
BP 2 @ Jordan 9 (Friday, June 3)
Despite a wedding that wiped out the Beckman brothers, Friday's end result was no kinder to the Borough Boys. The Brew Crew struck for a five spot in the second inning, more than enough runs for the night.
The Tigers responded by manufacturing a pair of runs in the third inning, but that was the extent of their scoring for the evening. Jordan used another big inning to put the final touches on the game's scoring, plating four Hub Persons in the sixth.
Mercado continued to swing a hot bat, going 2-for-4 with a pair of runs batted in. Jon Schmidt also enjoyed a multi-hit game, while Tyler O'Brien and Derek Hoffman picked up the other BP safeties.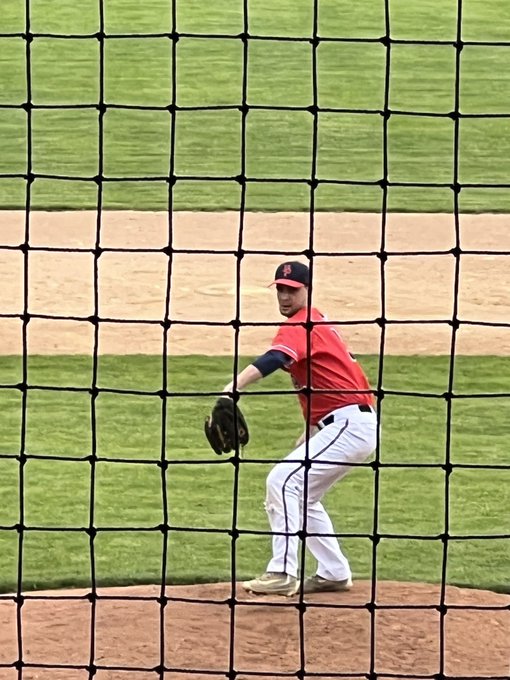 Le Sueur 8 @ BP 4 (Sunday, June 5)
Issuing consecutive walks is never a good way to start a ballgame, and the Tigers had their work cut out for them from the get-go. The Braves' towering giant, Ryan McPartland, brought in the first run of the game soon thereafter with an RBI double. The Tigers responded with a run of their own, coming on a bases-loaded wild pitch.
Le Sueur got to Tigers starter Brody Curtiss in the third inning when Tommy Gupton and Cullen Bruce each smacked an RBI double, pushing Le Sueur's lead to 4-1. The Tigers got one back in the fifth when Colton Kerkow singled and came around to score.
In a game with a lot of walks and hit batsmen, both starting pitchers exited in the sixth inning. A costly Tigers error contributed to four runs being scored in the top half of the inning before Josh Terrio came in to get the last out.
The Tigers scored a run in the sixth and seventh to cut the deficit to 8-4, but Bruce shut down Belle Plaine's comeback attempt. Cagey veteran Brandon Culbert picked up the win, while the Tigers could only put six hits on the board – three of which came from Curtiss.
Tigers Outlasted at Veseli,
Begin Busy Week Wednesday

--by Brett Kruschke
The Belle Plaine Tigers played just one game the past week, losing a 14-12 slugfest at Veseli on Thursday. The lax holiday week schedule, however, is about to change.
Team Tigertown split a pair of River Valley League games in May, but starting Wednesday, they will play four straight league games over the next week.
The first pitch Wednesday (June 1) against Henderson is tentatively set for 7:30 pm, as the Belle Plaine High School Tigers will first host a playoff game, beginning at 5 pm. Tonight's promotion is RTL Construction Night, with our friends at RTL providing a free hot dog, drink, and chips to all fans in attendance.
On Friday, El Tigre will head into the lion's den that is the Mini Met in Jordan to take on Steven Beckman and the number-crunching, age-defying Brewers. The first pitch for that affair is also set for 7:30 pm.
Sunday will see the Tigers return home for an old-fashioned 2 pm start time against the Le Sueur Braves. And on Tuesday, our locals will head to St. Peter to close out the busy week with a 7:30 pm duel.
BP holds a 2-3 record (1-1 RVL) on the season. Keep up with the Tigers at the usual outlets: bptigertown.com and the social media channels on Facebook and Twitter.

BP 12 @ Veseli 14 (Thursday, May 26)
Veseli was selected to host the latest leg of the FOX 9 "Town Ball Tour" and the Tigers were fortunate this time to witness the event from a visitors' perspective. You may recall that just a couple years ago, various TV celebrities descended on Tiger Park – on July 22, 2020 – when FOX 9 paid a visit for BP's 13-1 triumph over Harry and the Hendersons.
Team Tigertown once again scored a bunch of runs for the FOX 9 cameras, but they politely asked the cameras to turn away for most of the Tigers' time in the field. Cutting to the chase, here are the final combined numbers for both teams: 26 runs, 23 hits, 32 runners left on base (!), 11 pitchers used, 22 strikeouts, 23 walks, nine hit-batsman, and five fielding errors. Yes, Ian Leonard – shut that thing off!
If you're going to have a knock-down, drag-out type of ballgame, though, at least it was a close contest – although it sure didn't look like it when La Tigra trailed 9-1 after four innings.
From that point forward, the Tigers scored three runs in the fifth, sixth, and ninth innings with a two-spot in the seventh. Veseli never forfeited the lead, though, coming as close as a 10-9 Warriors lead at stretch time. The Tigers ended the game with three runners in and three runners on.
Since it is to one's glory to overlook an offense, we'll avoid any of the finer points about the Tiger pitchers. It was a group effort, at least, with Garrett Boblitt, Chase Emmers, Colton Kerkow, Lucas O'Brien, Derek Hoffman, Josh Terrio, and Jake Mercado all getting some work.
Hitting heroes were more plentiful for our hometown nine, with Mercado standing out thanks to five runs scored. Jonathan, as in "On again," Schmidt led the Tiger Train with three hits and reached base in five of his six plate appearances, yet failed to score a run. Isn't baseball a funny game?
"Lumber" Jac Campbell and Terrio also enjoyed multi-hit efforts.
Tigers Partake in FOX 9 Town Ball Tour at Veseli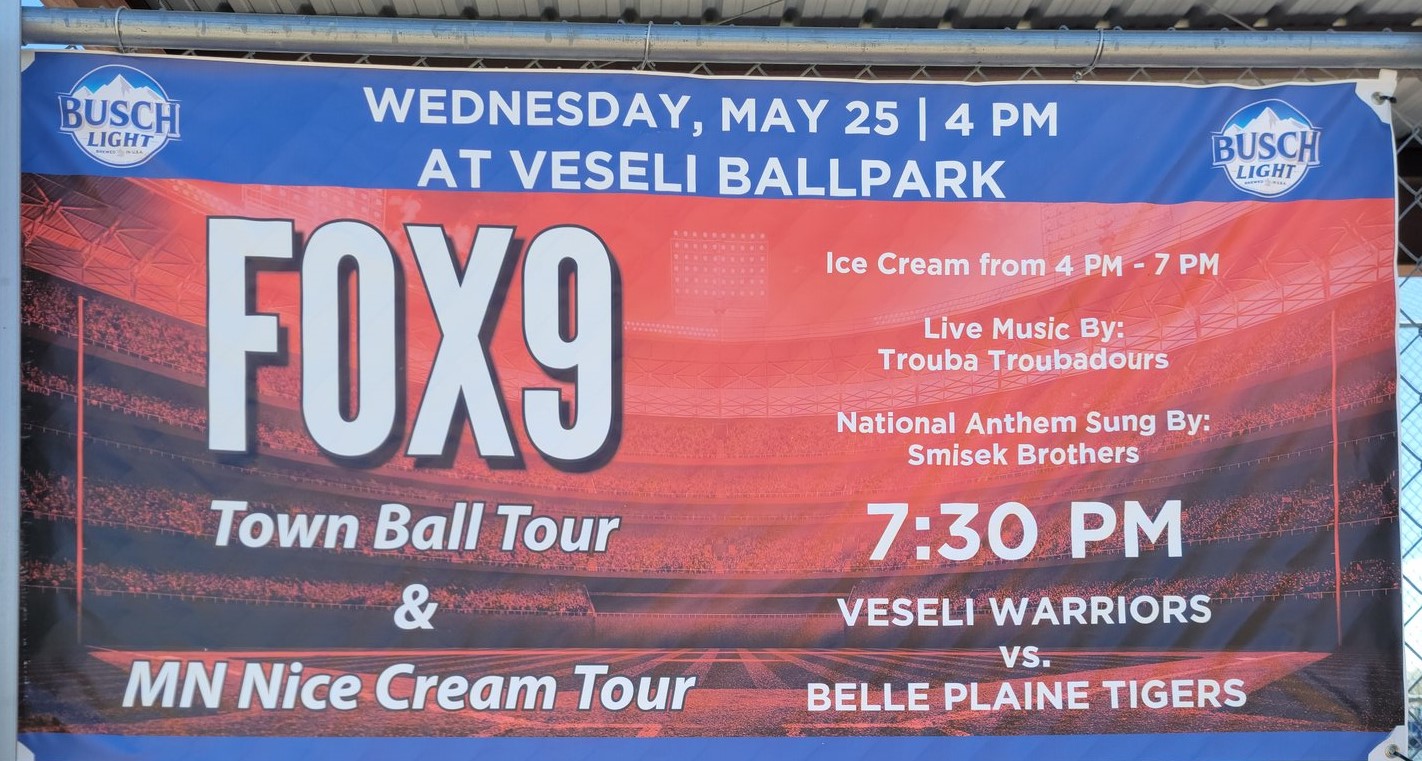 --by Brett Kruschke & Colin Schultz
After having the honor of hosting a leg of FOX 9 TV's "Town Ball Tour" in July 2020, the Belle Plaine Tigers will get to participate once again – this time as visitors – when they venture to Veseli May 26 for a 7:30 pm contest.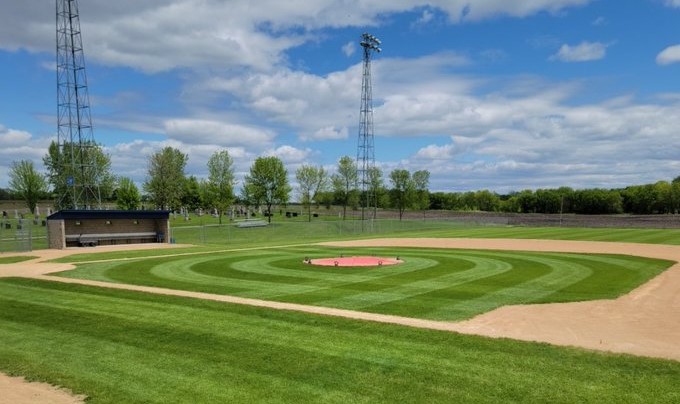 The Tigers will be off for Memorial Day Weekend, resuming play next on Wednesday, June 1, when it plays host to Henderson at 7:30 pm. That game was originally scheduled for last Friday, May 20, but was postponed. The promotion is RTL Construction Night, with RTL providing a free hot dog, drink and chips for all fans in attendance!
BP's only game last weekend, therefore, was playing host to Arlington on Sunday but our hometown nine was blanked, 6-0. That gives the Tigers a 2-2 record on the season, with a 1-1 mark in RVL play.
Stay tuned to the Tigers at bptigertown.com and on Facebook and Twitter, at "BP Tigertown." And one note for our new readers at the Belle Plaine Bulletin: when you see a byline with multiple writers, the names are generally listed in the order of the writer. Brett Kruschke serves as article editor and part-time recap writer, while this week's game recap is written by Belle Plaine scoreboard operator extraordinaire, Colin Schultz.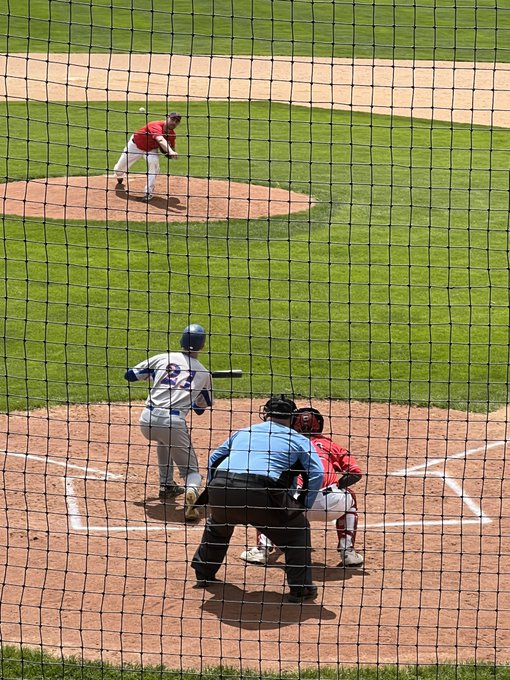 Arlington 6 @ BP 0 (Sunday, May 22)
Sunday's game versus the Arlington A's was a chilly one. Pitching for the home team was No. 27, Brody Curtiss. The A's scored two runs in the first inning, serving as an early indicator of what was in store for the Tigers for the remainder of the contest.
Pitching a stellar game for Arlington was right-hander Austin Brockhoff, who didn't waiver throughout the cold-weathered contest. Belle Plaine sent in Derek Hoffman to relieve Curtiss in the fourth inning, as the A's had already plated four runs.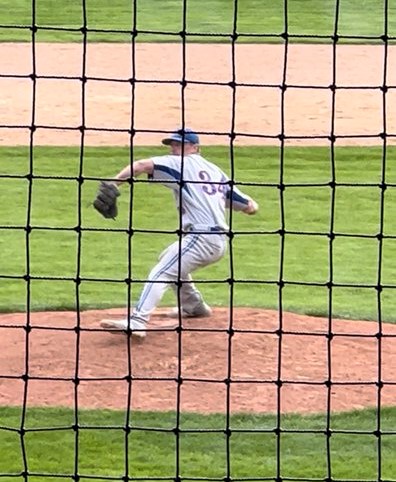 Moundsman Jake Mercado helped the Tigers escape from a bases-loaded jam during the seventh inning, making a diving catch in front of home plate. Unfortunately, the fine play didn't spark the Tigers offensively. Additionally, the locals were scarred by five errors in the field.
Brockhoff pitched a horse-collar of a game, allowing only four hits to Team Tigertown. At the end of this bone-chilling affair, the best part of the game proved to be the hot and juicy $1 hot dogs.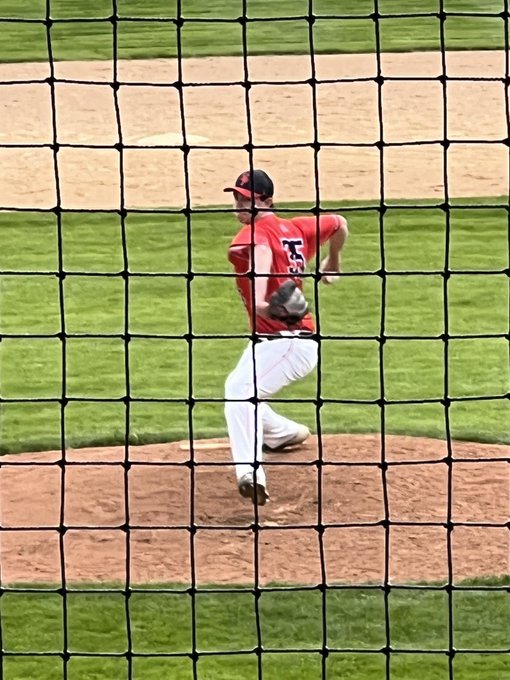 Tigers Win Big
in RVL Opener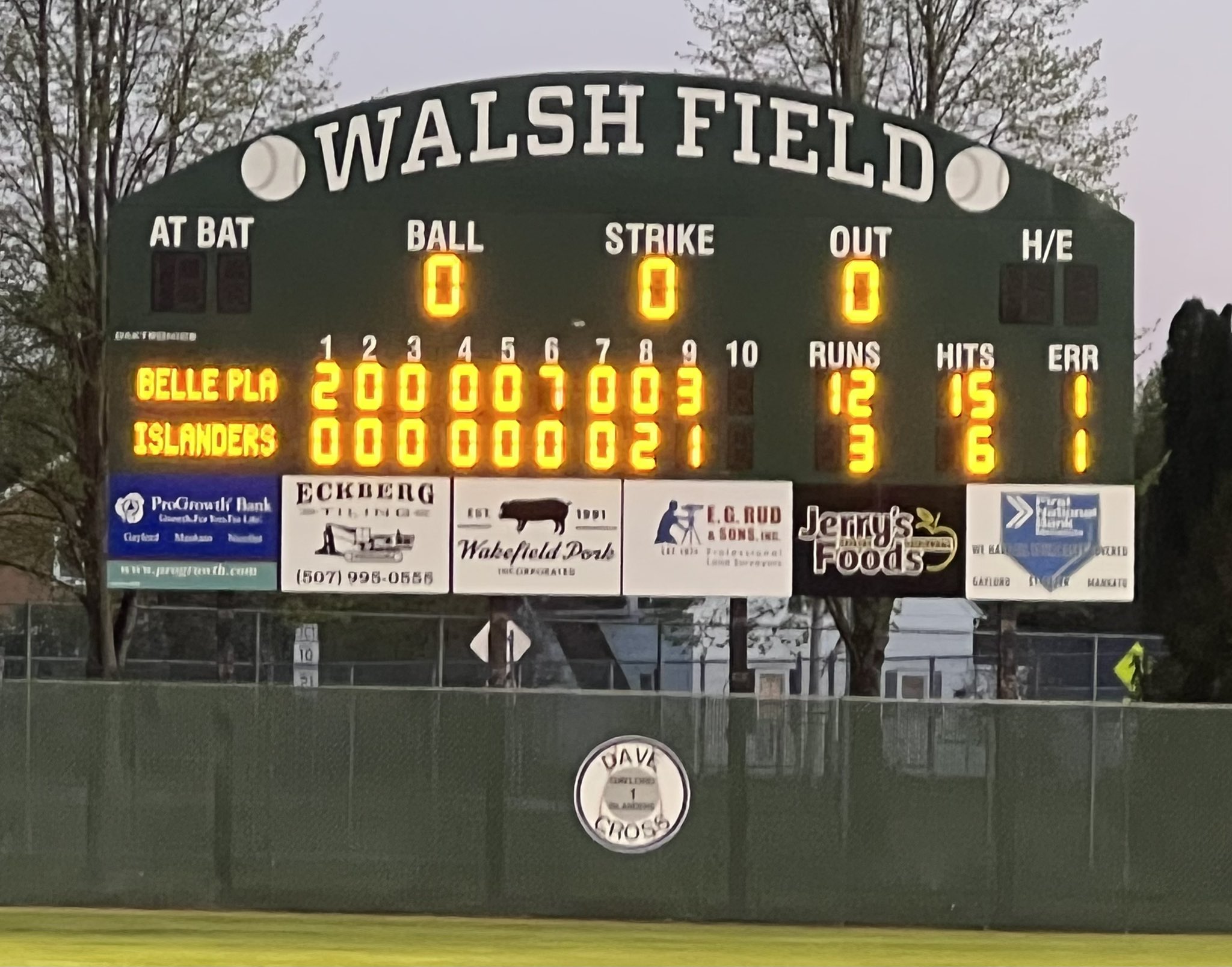 --by Brett Kruschke

If the Belle Plaine Tigers had to experience both ends of a blowout, certainly they would have chosen the way it turned out. El Tigre got pummeled in a non-league duel at Dassel, 17-2 in six innings, before turning the tables on Gaylord a few days later with a 12-3 win in the RVL opener.
Factoring in the season-opening roller-coaster victory against St. Benedict, the Tigers are 2-1 overall with a 1-0 record in River Valley League play.
The local nine will play a pair of league games at home this weekend, starting with the reborn Henderson Tigers at 7 pm on Friday. RTL Construction is sponsoring the game promotion, which is a free hot dog, chips, and pop for all fans – courtesy of RTL!
On Sunday, the BP Boppers will host the Arlington A's at 2 pm on Dollar Dog Day. That means $1 hot dogs throughout the game, while supplies last.
Between games, be sure to log heavy time at bptigertown.com – and at the Tigers social media channels: BP Tigertown on Facebook and Twitter.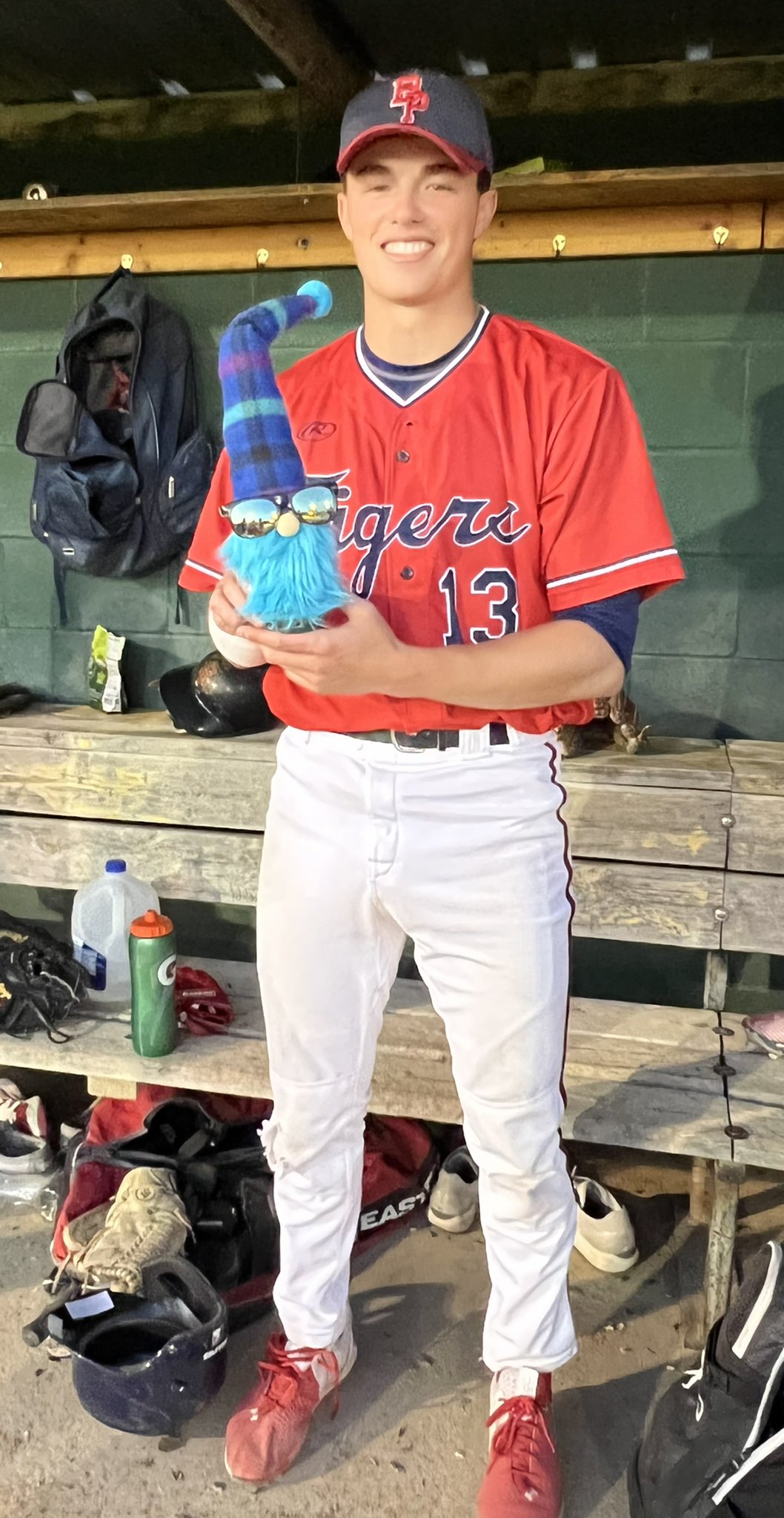 BP 2 @ Dassel-Cokato 17 (Friday, May 13 – 6 innings)
Because of the early-season nature of thinner-than-usual rosters, it was agreed that this exhibition contest at the Masters-like quality turf of Saints Field in Dassel would be shortened to seven innings. However, the hosts insisted that the Tigers' stay would be even shorter.
Belle Plaine started like a house afire, as Tyler O'Brien's leadoff double turned into the game's first run when Carsen Ladd singled him home. After a walk to Jake Mercado, cleanup hitter Jared Miller plated Ladd for a 2-0 advantage.
Little did our roving reporter realize that would be the end of our scoring updates.
O'Brien started on the mound and hung a goose egg in the first inning but the Dassel-Cokato Saints soon started a conga line, plating eight runs in the second inning, two more in the fifth and five in the fourth for a discombobulating 15-2 lead. Two more DC runs in the fifth was the end of the uprising, and after three more outs, the end of the contest.
It was Super Hero Night in Dassel, but on this evening, at least, there were many more dressed as Saints than Tigers.
BP 12 @ Gaylord 3 (Sunday, May 15)
A glance at the lineup card against Gaylord showed that the Tigers were better armed for this contest than in either of their first two games. And, it showed as the Big Grrr put forth their best effort of the season on both sides of the ball.
Derek Hoffman took the hill for Belle Plaine, but not before his mates once again struck for two runs in the top of the first. For those of you paying attention, that's 13 runs in the first inning for the Tigers this season in just three games.
Hoffman was impressive, working four frames of scoreless ball with six strikeouts. He handed off the rawhide to Colton Kerkow, who last pitched on Opening Night. Kerkow also kept runs off the board, chucking two scoreless innings to earn the win.
The first-inning runs stood up as the game's only scoring before Team Tigertown broke things open in the sixth with a seven-spot on seven hits.
Gaylord got on the board at last against Jake Mercado, who picked up the save by working the final three frames. He allowed three runs (two earned) and punched out three Islanders.
Hitting heroes for La Tigra was Mercado, who swatted a pair of home runs among his four hits, driving in three runs while earning "Gremlin of the Game" honors. Carsen Ladd also filled up the box score, going 3-for-5 with a pair of doubles and five RBI. The Tigers finished with 15 hits in all.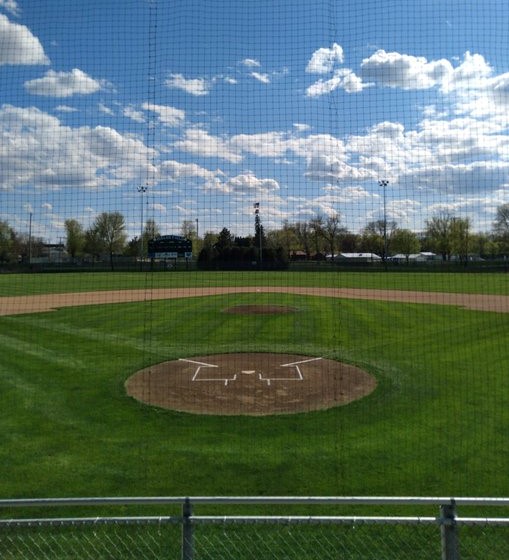 TIGERS PULL OUT WILD WIN
IN OPENER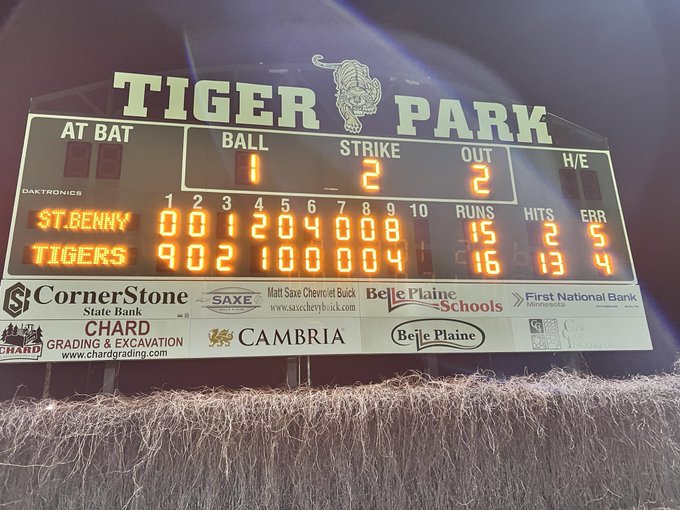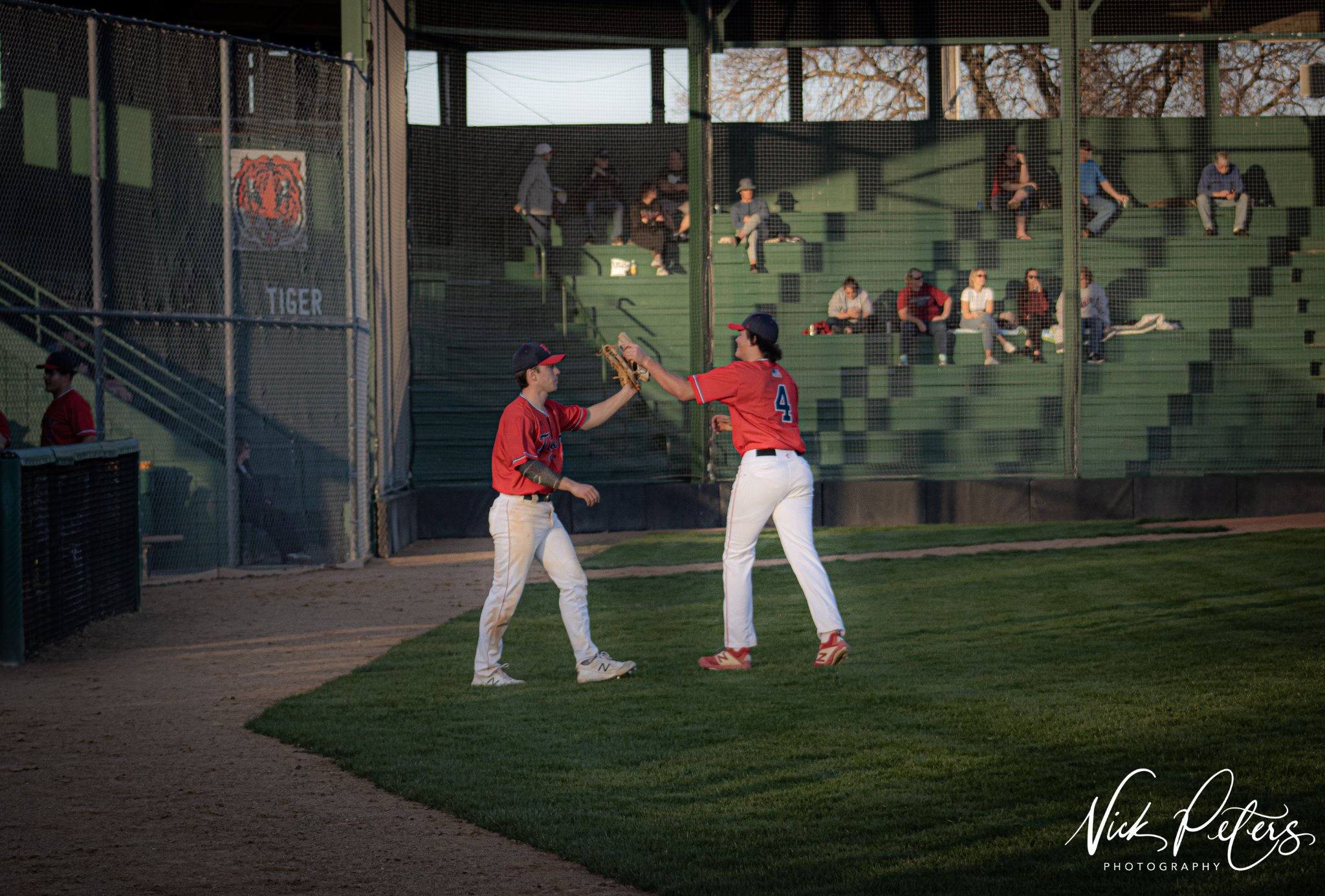 --by Brett Kruschke

Belle Plaine rode a roller coaster of emotions in Friday's season opener against St. Benedict, rescuing a once-certain victory out of the jaws of defeat at the game's very last gasp, 16-15. It was the Tigers' only contest of the weekend, but the three-hour, 45-minute marathon provided a week's worth of scoring.
The Tigers will be on the road for a pair of contests this weekend, including the River Valley League opener on Sunday at Gaylord, starting at 6:00 pm. Before that, the Tigers will have one more tune-up when it visits the state's most pristine ballpark, in Dassel, for a 7:00 pm Friday affair against the Saints. Dress as you will, but be ready to be dazzled as the event's promotion is Superhero Night (yes, really).
Stay tuned to the Tigers at bptigertown.com and on their social media pages of the same name on Facebook and Twitter.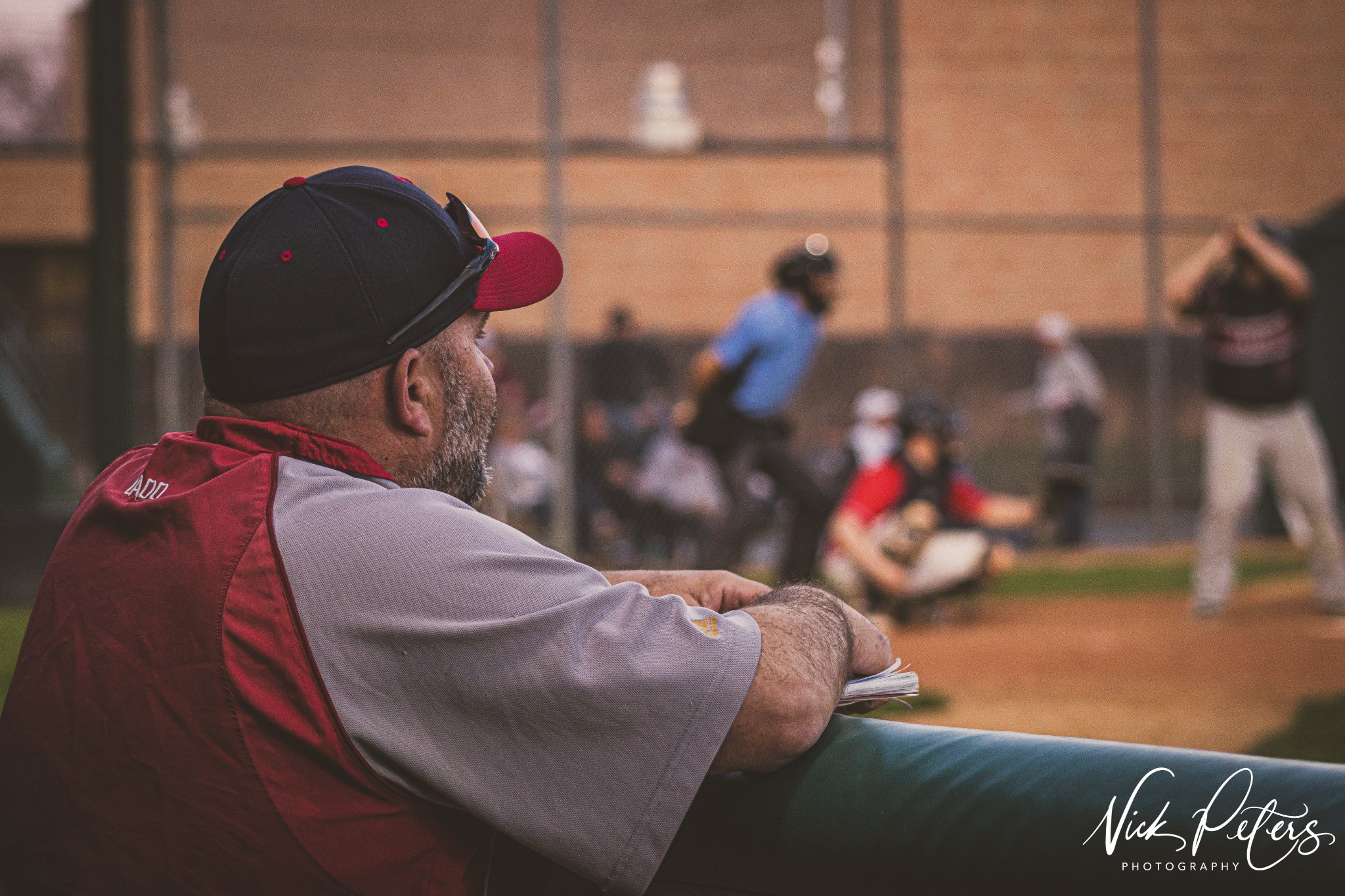 St. Benedict 15 @ BP 16 (Friday, May 6)
Belle Plaine's season opener against St. Benedict typified, for both teams, what is often seen in the first game of the year: the good, the bad, and the ugly. And it also attracted a good-sized crowd on a pleasant evening to check out the new-look Tigers and their new-look lights. Both would receive a stiff first test.
In his first game as field manager for the town Tigers, Jason Ladd handed the ball to right-hander Colton Kerkow. A scoreless first sent the Tigers to bat and the fireworks soon began.
Tiger rookie Jac Campbell, on the first pitch he ever saw, drilled a two-run double to right-center field for a quick 2-0 lead. Before the smoke cleared in the first inning, the Tigers batted around one and a half times, exploding for nine runs on seven hits.
In the third inning, "Lumber" Jac provided an instant replay by, well, lumbering into second base with another two-run double to the same spot. The Tiger lead was 11-1 after three innings.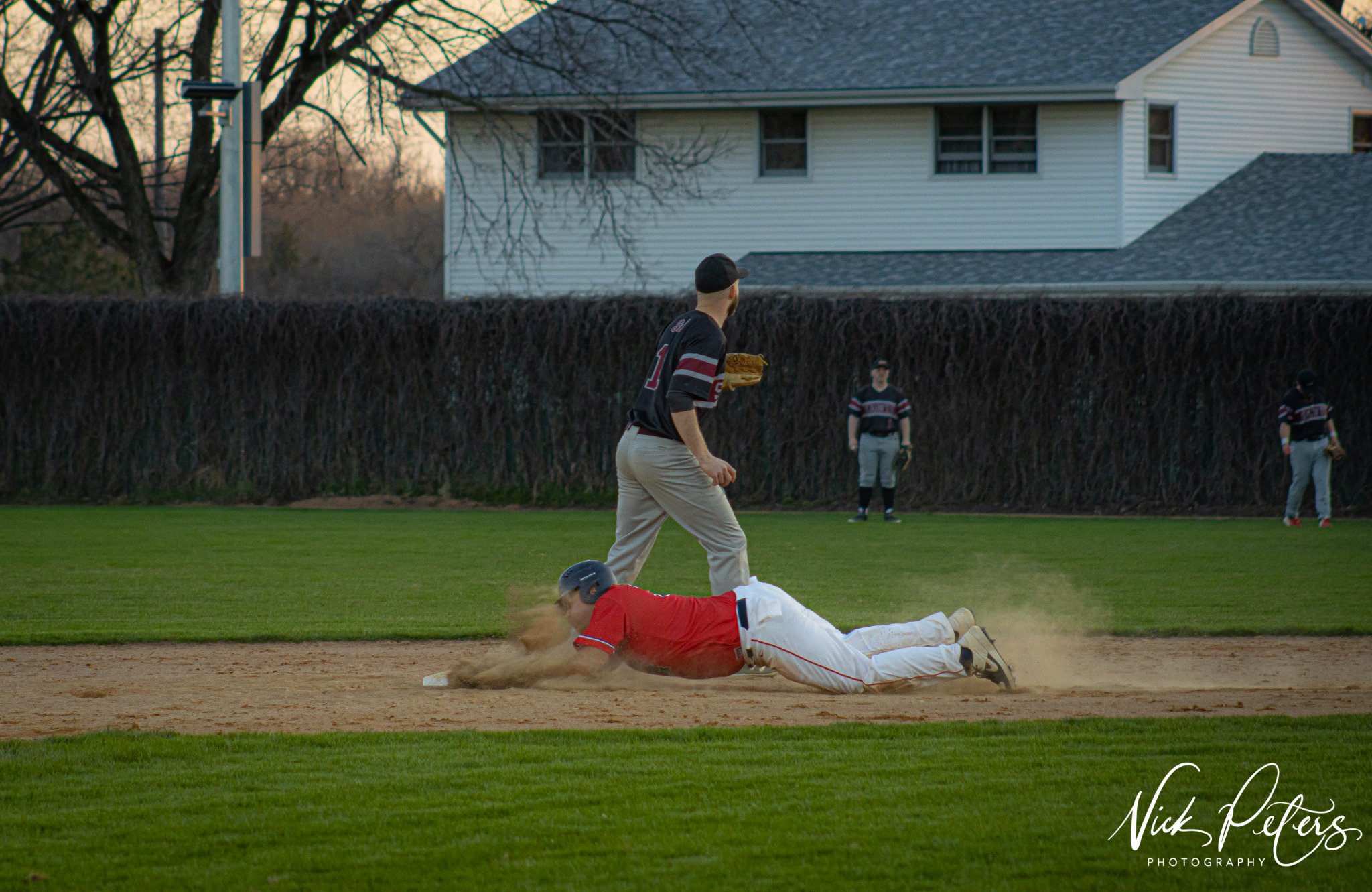 Four runs for the Saints in the sixth inning cut the Tiger lead to 12-7, but that's where the score remained with three outs to go in the ninth. Go start the car, Ma – right?
Witnesses of the top of the ninth inning have been sworn to secrecy, so we'll divulge no details here other than to say that the Saints scored eight runs on zero hits. The St. Benny lead was 15-12 heading into the bottom of the ninth.
With the Tigers' goose seemingly cooked, baserunners began assembling. It all boiled down to a 15-14 deficit with the bases loaded, two outs and two strikes on Jared Miller. The elder half of the soon-to-be-famous Bruise Brothers came up big, lashing a line drive just inside the first-base line to plate the tying and winning runs.
The totals on the scoreboard are correct: 15-2-5 for St. Benedict and 16-13-4 for Belle Plaine.
The winning pitcher was Joey Burgemeister, who came in to stop the bleeding in the top of the ninth. He got to throw to his father, Eric, who signed a contract before the game to bolster the Tiger bench.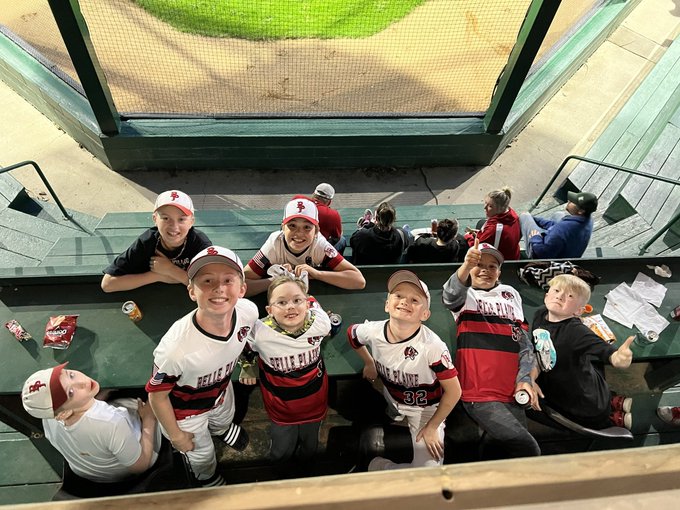 TOWN TIGERS OPEN SEASON FRIDAY UNDER NEW SKIPPER
Jason Ladd Takes Reins as New Field Manager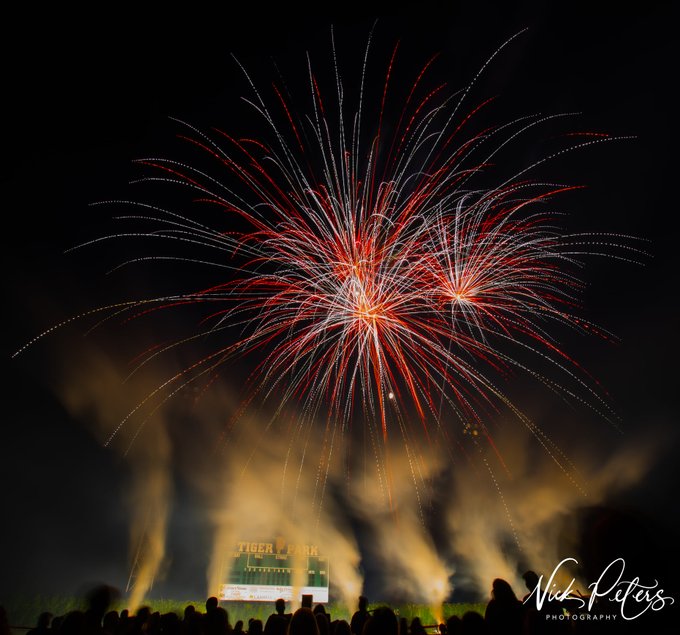 --by Brett Kruschke

After an April that wouldn't end, a new month brings the hope of better weather and the return of Tiger Baseball to the local diamond. Team Tigertown will open up the 2022 campaign this Friday against its annual opening opponent, the St. Benedict Saints of the Dakota-Rice-Scott League.
Please note that the first pitch will be thrown at 7:00 pm – not at 7:30 pm, as was long the custom – which is a change this season for weekday home games. That will allow Tiger fans an even-earlier look at the new ball club and new field manager, Jason Ladd, a former Tiger player and assistant coach. He replaces Matt Ruehling, who retired after eight seasons with the team, including the final three as manager.
Long-time Tiger and active player Josh Terrio will serve as Ladd's right-hand man this season, serving as the assistant coach.
It should be noted that Friday's game promotion is Dollar Beer Night, which seeks to ease the mathematical challenges for the potentially rusty concession-stand workers. After all, it's Opening Night for them, too.
That's the only game for the Tigers this first weekend, who will ease into the season before hitting the road twice next weekend. Find the full schedule and promotions at bptigertown.com, the worldwide online hub. Additionally, you can follow your favorite furries on Facebook and Twitter at "BP Tigertown."
Season tickets are available, for $35, at the ticket gate on Friday or at Brad's Barber Shop. Single-game ticket prices are $4 for ages 18-64, $2 for ages 12-17 and 65-plus, with no admission charge for ages 11 and younger.
The Opening-Day roster for the local nine includes: Colton Kerkow, Chase Emmers, Jon Schmidt, Tyler O'Brien, Jamie O'Brien, Josh Terrio, Jared Miller, Jake Mercado, Ben Groff, Jake Brandenburg, Garrett Boblitt, Carsen Ladd, Aiden Ladd, Brody Curtiss, Lucas O'Brien, Cade Morrison, Jackson Kruger, Pat Schultz, Brandon Bahr, Hunter Hoen, and Jac Campbell.
Welcome to Tigertown, newcomers, and we'll see you at the ballpark!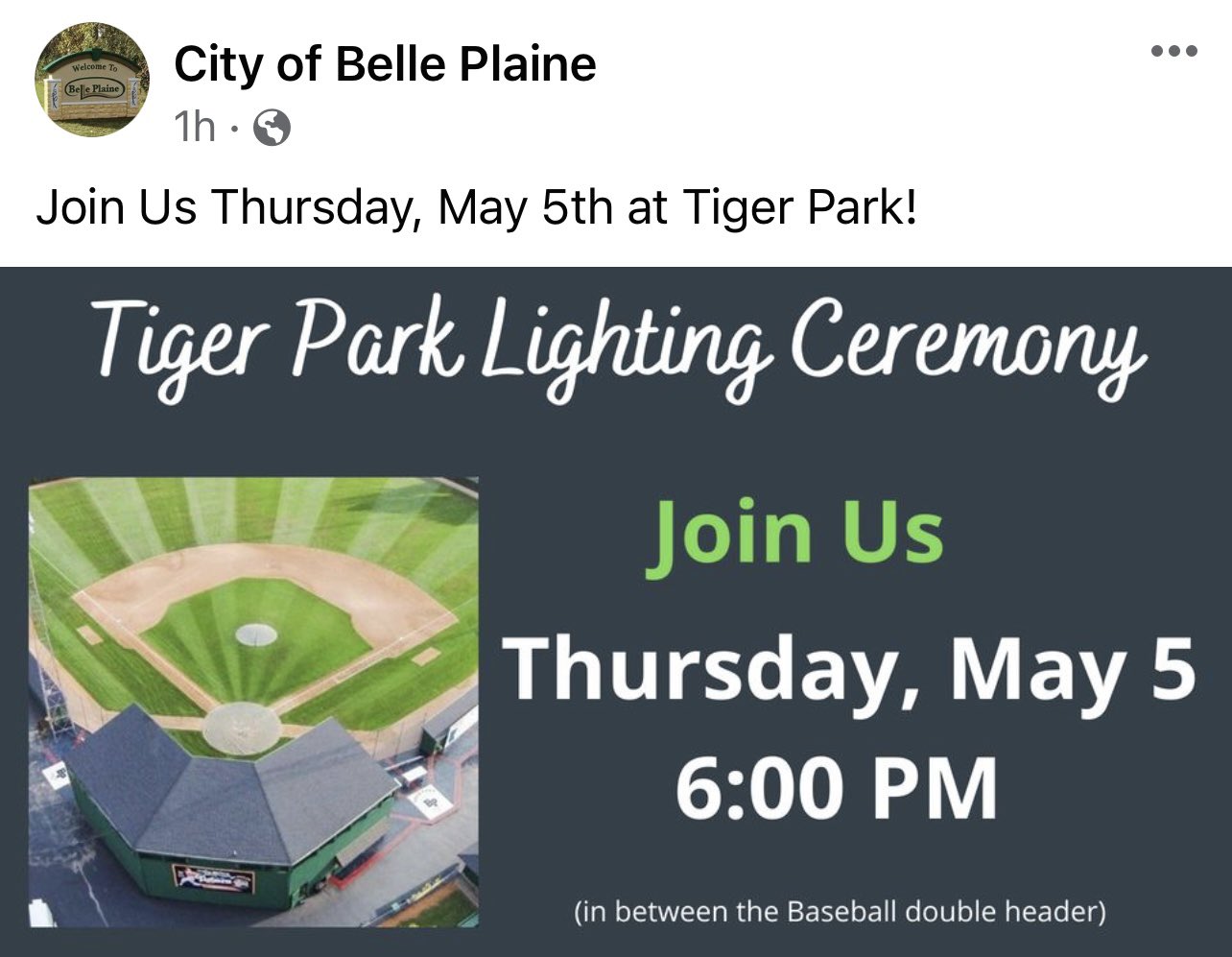 Ladd Takes Tiger Reins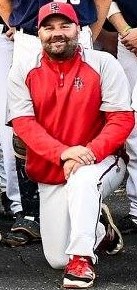 Jason Ladd, a former member of the Belle Plaine Tigers town team as a player and a coach, was named field manager by the Belle Plaine Baseball Association on December 14, 2021. Josh Terrio, an active player and a 15-year Tiger veteran, was named as the assistant coach.
Ladd was a member of the Tigers town team in 1994 when BP won the only state championship in team history. He was an assistant coach on the town team a few years back and before that, he served as a coach with the Belle Plaine High School Tigers for several years.
Matt Ruehling spent eight seasons with the Tigers, including as field manager from 2019 to 2021, before announcing his retirement in November. Ruehling managed the Tigers to a 36-35 (.507) record, including a 4-6 mark in the playoffs with no state tournament appearances.
Q: As a former Belle Plaine Tigers town-team player, both team-wise and individually, what do you consider to be your career highlights?
Jason Ladd: My biggest success is just being able to be involved with the "Tigertown tradition."
Q: Who are some of the most impactful baseball coaches you have had, and what did you learn from them?
JL: I'd say I have had two staffs – not just coaches – that were impactful in my life. The first staff was Jay Soule and my father (Nelson Ladd). They taught me to work hard and not expect to be successful all the time. That baseball is a sport that you fail at more than you succeed, but through hard work and a positive attitude you can enjoy the game and be successful.
The second staff would be the Miller staff. That consisted of Johan and Jeff "Hot Dog" Miller, they were assisted by (Larry) "Buster" Brazil. They taught me how to play baseball the old-school way. That consisted of doing the small things right and playing as a team, as well as holding each other accountable.
Q: What baseball coaching experience do you have? Any notable successes?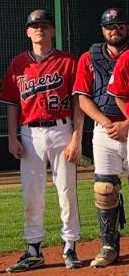 JL: My experience started with coaching at the youth level, mainly my sons' grades when they were coming through the T-ball level. Then I moved on to coaching the traveling ball team of 10-15-year-olds. I finished coaching Legion ball and helping out at the (Belle Plaine) High School program for a couple of years.


My most notable success was coaching four traveling teams to state championships at their age levels and assisting Pat Schultz with his brothers (Mike and Matt) in the high school championship. These were all very special to me, as my sons where involved.

The summer of 2010 I had just started coaching legion and we made it to the regional championships against Jordan, in which we need to beat them two times and came up short in the last inning of the second game to move on. There are a lot of players on that team that still reach out to me to say how special of a year that was to them and that is a success in my mind, even if we didn't make it to the state tourney.
Q: Under your leadership, what traits do you expect Tiger Baseball to be known for?
JL: I hope we are known for doing all the small things right and being good role models for the youth players in our community so they want to grow up and be a Tigertown ballplayer.
Q: What's something you agreed with regarding how Matt Ruehling managed the Tigers and what's something you might have a different approach on?
JL: I like how Matt trusted the players to get hits in big situations, but with that said, I do think we need to try to play small ball more to get some runs across. This will also consist of being aggressive on the base paths and doing some hit-and-running.
Q: What's your outlook for the 2022 Town-Team Tigers?
JL: After only getting a couple wins last year (Editor's note: 7-18 overall, 1-7 RVL) and struggling to have a consistent turnout with players, I'm hoping we can get back to .500 and get some more consistency on turnout from the players. From there, who knows? Make a run in league playoffs?
Ladd (#34)
New Light Towers
Installed at Tiger Park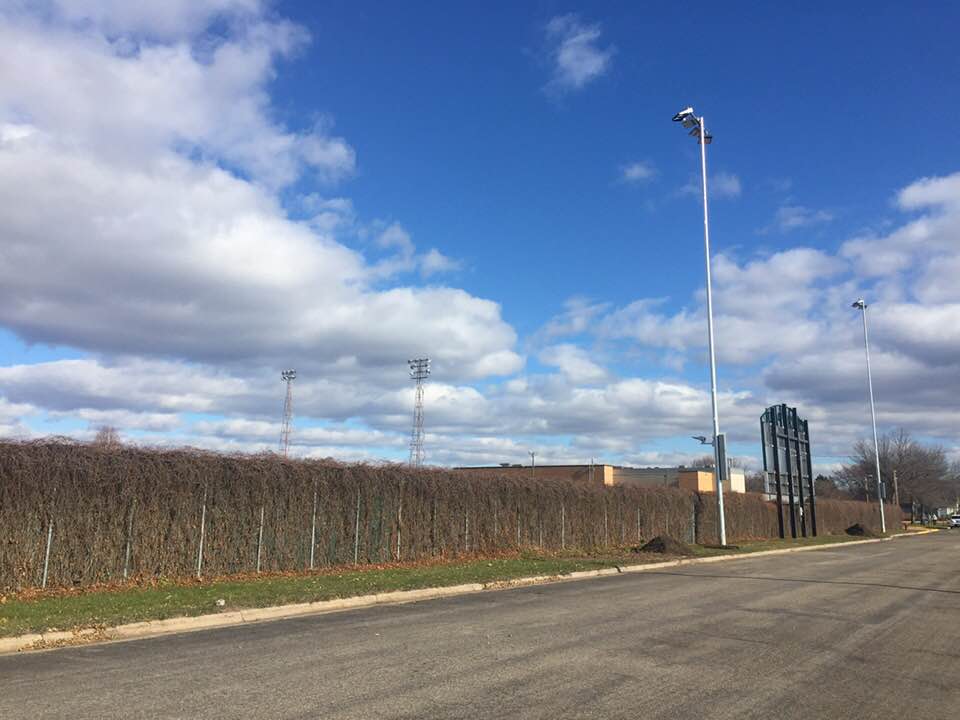 From memory, the (old) lights were installed in 1948. First night game & dedication against Jordan in early June. Tigers won by a close margin, perhaps one run. Likely in Tom Melchior's BP Baseball history book. I believe the admission stayed at $1.00 for this game & raised by a dime later for night games. Standards are 80 feet and I believe were built in Winsted, Minnsota.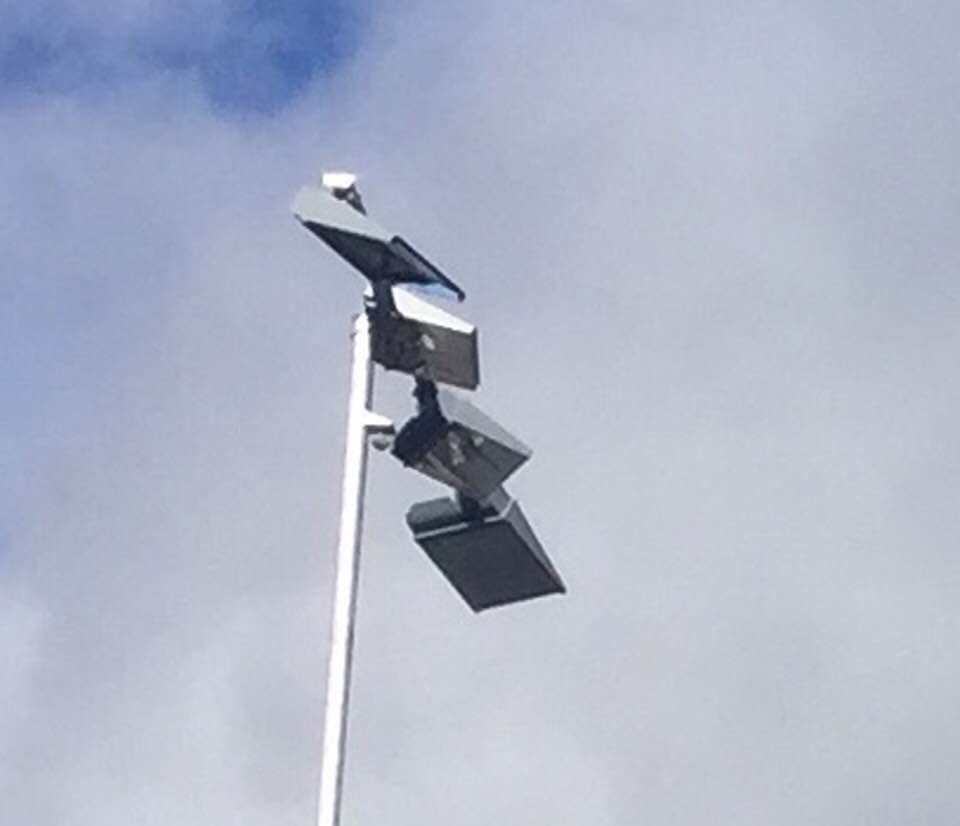 Belle Plaine, Jordan and Green Isle will host the 2024 MBA State Tournament!