Webmaster to be Wed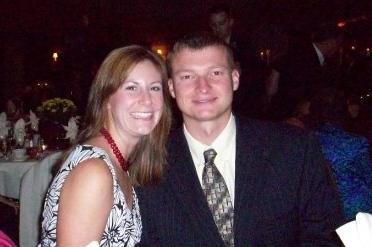 (BPTigerTown Webmaster Nick Kornder and fiancé Annie)
Belle Plaine, Minn. - by Nick Kornder --In what is being called one of the biggest over achievements since Billy Bob Thornton landed Angelia Jolie, Belle Plaine native and BPTigerTown Webmaster Nick Kornder was engaged by Annie LeMire on Christmas Morning. Kornder was rumored to have spoken to former teammate and fellow engagee Josh Muehlenhardt about a double wedding on September 19th, but that was immediately stomped out by the future Mrs. Muehlenhardt, so the date of the Kornder-LeMire wedding is still up in the air.
You Better Watch Out...

Webmaster Turns 30
Kornder Turns 30 - Enters Midlife Crisis?
Belle Plaine, Minn. - BPTigertown.com webmaster Nick Kornder hit the big 30 on November 12th. Kornder, who may be entering a mid-life crisis, started the day off like any other - by sleeping in and getting to work by mid morning. "I'll tell you what, it's getting harder and harder to get to work by 10:00 a.m. these days," commented Nick.
Kornder plans a steak dinner with family and friends tonight and then to rip it up old skool style Saturday night, if he can still handle it. In lieu of cards and gifts Kornder has asked everyone to donate to the Belle Plaine Baseball Association, which he hopes, will use the money to give him a raise for all his work on this site.
Johnny Goes Marching Home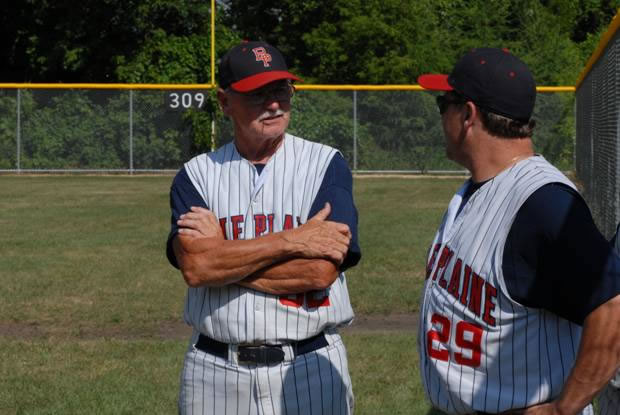 (Out with the Old - In With the Old)
Johnny Miller Steps Down as Manager - Son Jeff Steps Up
Belle Plaine, Minn. - by Nick Kornder --The Captain of the USS TigerTown will be changing again. The fifth new manager since the 2004 season will be a familiar face and name. Johnny Miller stepped down as Tiger's Manger in late October after two years at the helm and two State Tournament appearances. Taking over will be long time Tiger Jeff "Hot Dog" Miller, the son of the former skip. Since Brett Kruschke stepped down as Skipper following the 2004 campaign, three different Mangers have steered the ship. Shane Hofmann in 2005; Dave Kreft in 2006; and Johnny Miller in 2007 and 2008. Hot Dog was a former Belle Plaine High School Coach back in the late nineties. Johnny Miller will remain as head greens keeper up at Tiger Park.
Thanks Johnny for two great years of Tiger Baseball.
It's Twue, It's Twue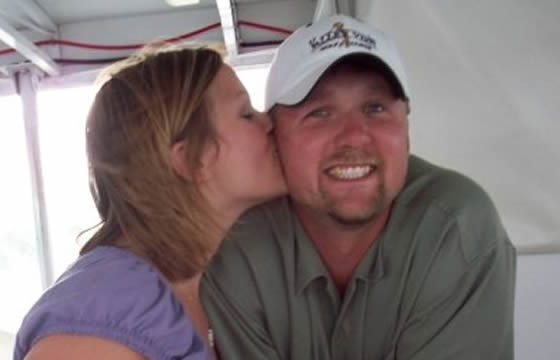 Brainerd, Minn. - As the Teutonic Titwillow Lily Van Shtupp once said..."It's Twue, It's Twue!" Rumors scattered Neil's and other downtown bars in months past about the marital status of one of the most popular playboys in the past decade. Until this past weekend those were just rumors, but on Saturday, September 27, 2008 the rumors turned to truth as Joshua Kenneth Muehlenhardt (former Tiger Great) took to one of his Osgood Slaughter Disease riddled knees to ask for the hand of Terry Krentz in marriage. She immediately said "yes" and the two are to be wed next fall at either Neil's Pub, the maintenance shed at the Valley View Golf Course or at the Muehlenhardt Farm. Keep an eye out for save the date cards. No shotguns were present at the time of the question.:) Congratulations Josh and Terry!
SAUK PUPPETS
Cyclones Dismiss Tigers Once Again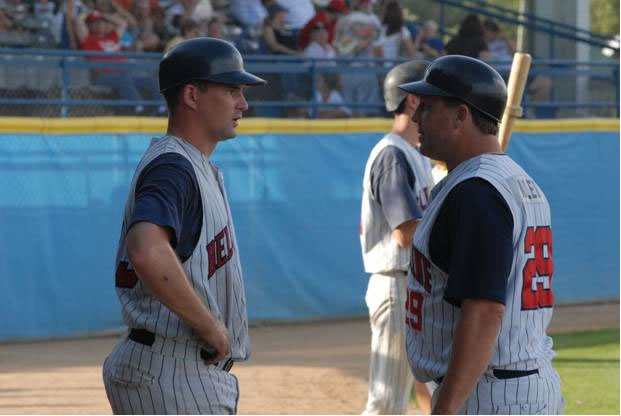 The Sauk Rapids Cyclones, the 2007 Class 'C' runners-up, ended the Tigers' season for the second year in a row with a dominating 12-1 performance. Last year the teams met in the state tournament's first round, and the Cyclones triumphed 8-3.
When a better team thoroughly dissects you, it's hard to get too down about it. You just have to tip your cap and wish 'em luck. It's also hard to get too worked up when your club nearly won as many games in the playoffs (7-1 record) as they did in the regular season (9-21). For the mathematically-challenged – please pause as I dig out the calculator – that's an overall record of 16-22.
Team Tigertown made consecutive state tourney appearances for the first time since reeling off five in a row from 1991-1995. Can the Tigers make it three straight next year? The big question – as always, in town ball – is what changes will occur between now and Opening Day 2009. Stay tuned, as the rumor mill is always hot and juicy.
Follow the remainder of the 'B' and 'C' tournaments – if not in person at Shakopee and Chaska – online at www.minnesotabaseball.org. (Note: Sauk Rapids beat the Cold Spring Rockies 4-3 on Sunday, and will face Isanti in the winner's bracket among the final 8 teams.)
As always, thanks to our fans and followers through the highs and lows of a 38-game season. We'll see you at the ballpark in May!
Sauk Rapids Cyclones 12 vs. Tigers 1 (8 innings), at Shakopee
(Saturday, August 23 – State Tournament, 2nd Round)

As Jock Jams Vol. 1 blared from the loudspeakers, former Atlanta Brave Greg Olson prepared to throw out the ceremonial first pitch. Birds sang, the sky was blue, and a throng of red-clad Tiger fans sat nearby with pride and anticipation. Everything was perfect for a moment (well, except for the Jock
Jams) – that is, until Sauk Rapids made like Dan Gladden and knocked Mr.Olson (the Tigers) on his ear. If that 1991 World Series reference lost you, the t-shirts sported by Sauk Rapids fans might make it a little clearer: GET OFF THE TRACKS, THE SAUK TRAIN IS COMING THROUGH!
Belle Plaine won the coin flip and served as home team. A single and a walk against red-hot starter Shane Hofmann led to runners at 2nd and 3rd with two outs, when Dan Huber made a sensational diving catch to spare two runs. The only shame was that not all of Dan's fans were there to see it.
Tim Huber doubled off Jeff Hille with two outs in the 1st, but was stranded. In the Sauk 2nd, an error resulted in a missed double-play opportunity, but another ground ball got a 6-4-3 twin killing.
The Cyclones persisted and finally dented the board in the 3rd, taking a 1-0 lead. In the 4th, the inning began single, error, single, walk, and Hofmann was removed for Arlington draftee Scott Dose. The walk forced in a run, and then a wild pitch and two-run single made it 5-0. Just as they did last year after two innings, the Tigers trailed by five.
Sauk scored again in the 5th before the local nine answered with what would be their only run of the game, to make it 6-1. Mike Milam led off the frame with a double, and scored on Adam Hoffman's two-out single.
Dose allowed the first two runners of the sixth to reach, and Sunday's starter, draftee Rob Wagener of Waconia, was summoned. One run came in, three more in the 7th, and two more in the 8th off a home run from Scott Lochner. The Tigers ran out their three biggest guns, only to have the Cyclones chew them up and spit them out, one after the other.
Jonny Schulz took "Pitcher of the Game" honors for the losing side when he got three straight outs, including two strikeouts, in the 8th. However that would be the final inning of the contest, as the 10-run rule took effect.
Hille picked up the win with 7 innings of four-hit ball. He walked one and struck out six.
Sauk Rapids played an errorless game and made several great plays in the field. While Dan Huber's first inning catch stood out and Pat Schultz nailed a base-stealer in the 3rd, the locals also committed three errors. Not that it really mattered – in the end, the Cyclones were just too strong for the boys in blue.
CLASS 'B' 2008 STATE TOURNAMENT SCORES/SUMMARIES
CLASS 'C' 2008 STATE TOURNAMENT SCORES/SUMMARIES
CHASKA / SHAKOPEE STATE TOURNAMENT SITE
2008 SEASON IN REVIEW
The Tigertown Express set up a daunting schedule and paid for it dearly, coming out of the gate at 1-10 (Chaska, Moorhead Brewers, Watkins, Owatonna, Milroy, and Jordan were all opponents during this stretch). After 17 games, the ball club sat with an ugly 2-15 record.
A midseason turnaround began when Jeff Miller hit a 9th inning, game-winning grand slam at Gaylord (June 15th), and the Tigers won 7 of 9 – including scoring 8 in the 9th inning of a 15-12 win at Victoria.
Four straight losses preceded the RVL-Central playoffs. But the #3-seeded Tigros went 3-0 to claim the division championship, starting with a 9-4 win at Henderson and a pair of victories over archrival Le Sueur.
Belle Plaine opened Region 6C with a wild and wooly 9-8 win over Arlington in 11 innings, and beat Winthrop and Maple Plain to snag the Region crown.
At State, the Tigers fattened-up on Albertville and 2007 Class 'C' MVP Mike Mueller, 12-0, before succumbing to the baseball choo-choo also known as the Sauk Rapids Cyclones.
After beginning the campaign with a 2-15 record, the Chatfielders went 14-7 (.667) the rest of the way. It was definitely a tale of two halves for the 2008 Tigers.
Tim Huber ran away with the team batting title, going 46-for-98 to hit a sizzling .469 – this after hitting .395 last year. He also walloped 8 of the team's 10 home runs.
Shane Hofmann led the team with 8 wins, 104 innings pitched, and a 2.94 ERA. Hofmann has now led the staff in victories 8 of the last 9 years. Worths!
As a team, the Red Caps hit .259, while posting a 4.44 ERA. The team defense was downright despicable at times, and finished with a regrettably easy-to-remember 100 errors.
Be sure to check www.bptigertown.com for final stats, which should be posted sometime in the coming weeks.
TIGERS MAUL ALBERTVILLE
Next Up: State Tourney Rematch With Sauk Rapids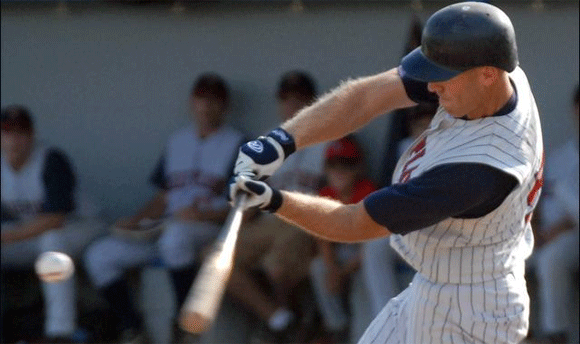 Belle Plaine's Tim Huber sent this first-inning pitch over the fence on Saturday, staking the Tigers to a 2-0 lead over Albertville in the Class C State Amateur Baseball Tournament.
[PHOTO COURTESY OF MANKATO FREE PRESS - for full article, click HERE.

Belle Plaine won its first State Tournament game since 1995 in convincing fashion, steamrolling the Albertville Villains 12-0 in 7 innings on Saturday. Shane Hofmann threw a one-hit shutout for his fifth straight playoff victory, while Tim and Dan Huber both went yard and collected three hits to pace the 15-hit attack. Click for Game Photos Courtesy of Carrie Bruder
The Tigers rocked 2007 Class 'C' State Tourney MVP Mike Mueller, a draftee from Hamburg, who led Plato to a state championship last year by winning 3 games and allowing just one run in 26 innings. Mueller's final line Saturday demands a double-take: 2.2 IP, 11 hits, and 10 runs (6 earned).
The team Plato beat twice last Labor Day to claim the title was the Sauk Rapids Cyclones, who not only whipped the Tigers 8-3 in the opening round last year, but also beat Hanska by the same score on Sunday. That means the 24-6 Cyclones again stand in the way of the Tigers (16-21), with the teams to meet at 11:00 am this Saturday in Shakopee.
The loser will be eliminated, while the winner will guarantee at least two more games (the tourney switches to double-elimination for the final eight teams) – the first on Sunday at 11:00 am in Shakopee, the second on August 29 as part of the tourney's final weekend.
The rematch will be personal for Hofmann – who is very likely on the finest streak of his career – should he get the ball as expected on Saturday. Last year Sauk Rapids struck for three runs in each of the first two innings, sending Hofmann to the showers with only five outs recorded and six runs against (two earned).
Albertville 0 vs. Tigers 12 (7 innings), at Shakopee
(Class 'C' State Tournament, First Round)
As the #1-seed from Region 6C, El Tigre served as home team on the scoreboard. The first inning started ominously for Albertville, when after a two-out walk, their #3-hitter Drew Bebus was picked off first base and also sustained an injury that forced him to leave the game.
Jeff Bruder doubled with one out in the home-half, and scored on Tim Huber's two-out ding-dong to right against the aforementioned Mueller. The long ball was Huber's 8th of the season, his career high as a Tiger.
Adam Hoffman and Mike Milam combined on a sensational putout to end the 2nd, then the bats went back to work. The local nine batted around and belted five hits, capped by a two-run single from Pat Schultz. An Albertville error aided the Tiger cause, and led to four of the runs against Mueller being unearned.
In the 3rd the Roaring Tigros delivered the knockout blow, charging three runs and four more hits to Mueller's tally, including a leadoff homer by Dan Huber. Alex Moses, a draftee from Elk River, entered with two outs and went the rest of the way.
On the mound, Hofmann lost his no-hitter when Todd Klaers singled to open the 5th. However, that would be the lone hit on the day for the Villains, as #21 completed the 7-inning shutout. Hofmann never faced more than four batters in an inning, and in fact has done so only once over his last 23 innings pitched. To quote Ron Burgundy, "Don't act like you're not impressed!"
Chatfield tacked on two more runs in the 6th for good measure, featuring a double from Pat Schultz and a triple from Dan Huber.
The Huber brothers and Trace Selly each recorded three hits, while Bruder and Pat Schultz nabbed two each.
Notes: The 15 hits for the Tigers was their most since collecting 19 in a 15-12 win at Victoria on June 21, and their second-highest total of the year. The Red Caps had their first errorless game of the playoffs, and fourth of the year.
CLASS 'B' 2008 STATE TOURNAMENT SCORES/SUMMARIES
CLASS 'C' 2008 STATE TOURNAMENT SCORES/SUMMARIES
CHASKA / SHAKOPEE STATE TOURNAMENT SITE
TIGERS REGION 6C CHAMPS
Open State Tournament Against Albertville

The Tigertown Express kept rolling last weekend, beating Maple Plain 5-1 for their sixth consecutive victory and the Region 6C championship. Belle Plaine will be pitted against the Albertville Villains (who I assume wears black), the #2-seed from Region 7C, in Saturday's first round state tournament game at Shakopee. The first pitch is slated for 5:00 pm.
Other than having a cool nickname and a famous strip mall, not much is known about Albertville besides their 3-13 regular season record in the North Star League – North division. That, and the fact they have obviously caught fire in the playoffs – not much unlike the Tigers.
The running joke around the club these days is that if the Tigers can reel off the six straight wins needed to claim the Class 'C' state championship, they will finally reach .500. Belle Plaine entered the playoffs 9-21, and has raised their win total to 15 with an undefeated playoff run thus far.
The other spoil of victory from Region 6C was the first draftee selection, and the Chatfielders took Arlington pitcher Scott Dose (pictured), who also swings a mean bat in the heart of the A's order. Dose joins Waconia pitchers Rob Wagener and Jesse Maistrovich as Tiger draftees from the River Valley League. Maple Plain also took an Arlington pitcher, Paul Pichelmann, passing on the chance to add an "e" to the end of Plain.
The 32-team Class 'C' state tournament is single elimination for the first two rounds, then double elimination for the final eight teams. If the locals win Saturday, their next game will be August 23rd, 11:00 am at Shakopee. Please see the accompanying state tournament bracket for further scenarios and the rest of the matchups.
As Manager Johnny Miller first said last year, "On to the State!"
Maple Plain 1 vs. Tigers 5, at Arlington (Saturday, August 9 ~ Region 6C Championship)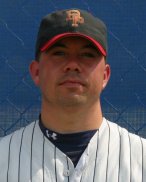 The song remained much the same for ace Shane Hofmann, who picked up his fourth win of the playoffs with another strong outing. Hofmann went 8 innings, allowing six hits and one unearned run. In four playoff starts, Hofmann has a 1.34 ERA and 19 hits surrendered over 33.2 frames.
Belle Plaine started early and in dramatic fashion, as Timmy "Ballgame" Huber tripled with two outs and on the very next pitch, pulled a Rod Carew and stole home. The Tiger dugout erupted as Huber was safe on the closest of plays, just getting his hand in before the tag was applied. Fortunately Huber wore his white shoes, which he uses for speed.
El Tigre stole three bases in the first three innings, but didn't dent the run column again until the 4th, when Adam Hoffman and Trace Selly drove in runs. In the fifth, Tim Huber tacked four more bases onto his total with a long ball over the right field fence. (I didn't notice, but will assume he switched over to his black shoes for this at-bat.)
In the 8th, Pat Schultz doubled and eventually scored on a passed ball, making it 5-0 Red Caps. That was more than enough for Hofmann, although things did get a little bit interesting in the 9th.
Hofmann took a 4-hit shutout into the final stanza, but two singles and an error gave the Diamond Devils life and a run on the board. Rob Wagener came on for the three-out save, while Hofmann finished the day never having faced more than four batters in any inning.
The hometown nine decided to celebrate the victory with popcorn and a movie at home, as the wise and sage-like Aristotle might have advised.
Game notes: The Tigers collected eight hits, with two each from Tim Huber and Pat Schultz. The two combined for the cycle, with Huber getting the triple and homer while Schultz tacked on the double and single.
Tiger outfielders recorded two assists, with rightfielder Josh Terrio drying out a baserunner at third to end the 2nd, and Tim Huber ending the 4th inning with a clothesline to second base for an 8-4 putout.
Hofmann threw just 81 pitches, lowering his season ERA to 2.97.
TIGERS RETURN TO STATE
Region 6C Championship Saturday at Arlington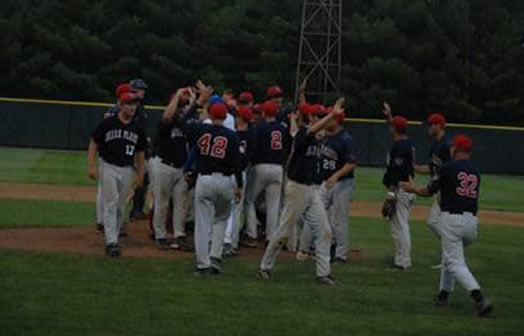 Joy returned to Tigertown on Sunday, when the local nine posted a pair of one-run wins to clinch back-to-back State Tournament berths. The Tigers won a roller coaster affair over Arlington – 9-8 in 11 innings – before grinding out a 2-1 win over Winthrop. Both games were played in Arlington, the lone site for the Region 6C tournament.
Belle Plaine plays next in the Region 6C championship game at 2:00 pm Saturday, against an opponent to be determined: Maple Plain plays Arlington at 8:00 pm Friday, and the winner will take on Winthrop at 11:00 am Saturday. The victor of that contest will face off with the hometown nine.
If the Tigers lose at 2:00 pm, the same teams will play another game immediately afterwards, since Belle Plaine has not yet lost. At stake is not only the #1 seed from Region 6C heading into the State Tournament, but also the first draftee choice. (Each team selects one draftee at the conclusion of this round.)
El Tigre's first State Tournament game will be Saturday, August 16th at Shakopee, at either 5:00 pm or 7:30 pm (depending on the seed). With this five-game playoff dash by Johnny Miller's crew, the Tigers have raised their record to a "so what" 14-21.
Arlington 8 vs. Tigers 9, at Arlington (11 innings – Sunday, August 3)

This one was a wild ride for fans and players alike, an emotionally and physically draining extra-inning affair. Due to three errors for each side, some have said it was a battle of who wanted it less. Still, a ticket buyer couldn't ask for more drama than their five bucks granted them on this splendid Sunday afternoon.
Draftees started for each team – Fairfax's Bryce Rippentrop for Arlington, and Waconia's Rob Wagener for the Tigertown Nine. Rippentrop didn't stick around for long as he was removed after walking the leadoff batter in the 3rd. That runner came around to score, giving Belle Plaine a 2-1 lead after three.
Arlington's run in the 2nd came when Brett Pioske singled with two outs, got picked off but stole second thanks to a defensive miscommunication, then scored on a single by Mike "San Antonio" Spurling.
In the 4th, El Tigerino scored three times off reliever Scott Dose to take (what felt like) a commanding 5-1 lead. A pair of A's errors meant three unearned, although it could have been more if not for a spectacular diving grab in left field that robbed Pat Schultz, to end the inning with runners on the corners.
Wagener was cruising along in the 5th with two gone and nobody on, when 9-hitter Paul Pickelmann singled. Craig Dose followed suit and Chad Dose walked, loading the bases. The Tigers appeared to dodge a major bullet when slugger Scott Dose grounded to third, but the ball was booted and everyone was safe. James VanBuskirk lashed a two-run single to make it 5-4, and we were soon knotted at five when a "fair ball in a silo" (high pop fly) fell safely to earth near the pitcher's mound. It was a true "serenity now" moment for the Tiger dugout crew.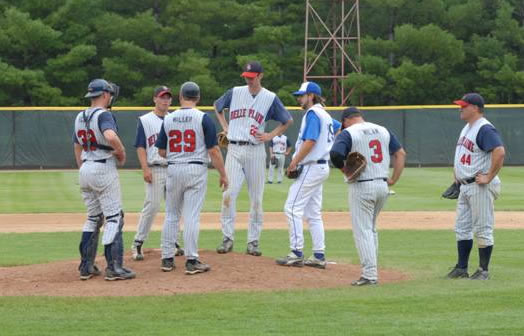 Another error in the 6th led to Arlington's sixth run, and after finishing the inning Wagener departed with just one earned run. The A's chipped away with runs in the 8th and 9th, and it looked like the Tiger fairytale was about to take a detour.
Scott Dose had four straight scoreless innings to his credit as he looked to close out the Tigers in the 9th, holding an 8-5 lead. Trace Selly started with a walk, and Jeff Bruder singled. Tim Huber singled to drive in Selly, and Pat Schultz walked. Mike Milam then hit a potential double play ball to second, but it was booted to allow the seventh and eight Tiger runs to score: new ballgame. The Red Caps had the momentum and with two on and nobody out, looked like a good bet to get the winning run as well.
Dan Huber sacrificed successfully, moving the runners up to 2nd and 3rd. Pinch-hitter Shane Hofmann was intentionally walked to set up the double play, but the Tigers finished the frame with a pop-out and a ground-out.
The other Waconia draftee, Jesse Maistrovich, took over on the hill to start the 10th. The first three men singled without a ball leaving the infield, and things looked dicier than Annie Miller delivering your check at Annie's Café. A fly ball to right field from Scott Dose was too shallow for the runner to tag, one gone.
Cleanup hitter VanBuskirk lifted a fly ball to centerfield, and Tim Huber set himself up for a throw home and a play at the plate. Huber dropped the ball (unintentionally, for the record), but picked it up quickly and fired a strike home. It looked to be in time. First baseman Mike Milam cut off the throw, however, as the Tiger bench gasped in horror. Alertly, Milam noticed the A's runners still near their stations as they behaved like Huber caught the ball. A throw to third and a relay to second, both force outs, and the Houdini Tigers escaped without a run crossing. Holy cow!
The first two Tigers reached in the 10th, but the next three were set down. On to the 11th. "Maistro" orchestrated a 1-2-3 inning, and Dan Huber led off the bottom with a single. Maistrovich fouled out on a bunt attempt, but Huber stole second. Adam Hoffman then scooched one into the outfield, sending Huber plateward and the Tigers into hysteria.
Game notes: Arlington outhit the Chatfielders 16-9, and each team had three fielding miscues. Every spot in the BP lineup had a hit, except the pitcher's slot. Belle Plaine stole six bases on the afternoon.
Winthrop 1 vs. Tigers 2, at Arlington (Sunday, August 3)
Winthrop surprised Le Sueur and Loretto to reach the semi-finals, winning by a run each game, but the Eagles have gained a reputation for stepping it up in the postseason.
Gaylord draftee Trevor Vaubel started for Winthrop, and Shane Hofmann would counter for Belle Plaine. Both pitchers would go the distance in this crisply played affair.
Hofmann entered with wins in his last four decisions, but also has developed a trend of starting roughly before settling down. Sure as sugar, he plunked James Panning on the first-pitch of the game and dang-near hit Chad Elston with the second. After Panning stole second, a single moved him to third and a sacrifice fly to home plate for the game's first run.
The Big Grrr got on the board in the 3rd, thanks to Winthrop's only error that allowed Selly to reach. He stole second – the Tigers would steal four in this one and a total of 10 on the day – and scored on Tim Huber's RBI single.
Zeroes were exchanged during the middle innings. In fact, Hofmann retired 17 in a row until Dangerous Dan Anderson led off the 7th with a double. He would be stranded though, as Hofmann set down the next three to escape unharmed.
In the bottom of the frame, Matt Schultz singled and pinch-runner Josh Terrio swiped second. After a walk, Bruder delivered the big blow, a go-ahead RBI single. Would two be enough to hold off the bruising Eagles?
The 9th was a good test. The speedy James Panning led off with an error to shortstop. After a sacrifice bunt, Dan Anderson was in the box. After intentionally walking him to put the go-ahead run on base, the next two batters hit into fielder's choices, and the mad dash was on. Champagne was soon spraying in the Tigers' dugout, a taste few expected after a 9-21 regular season. How sweet it is.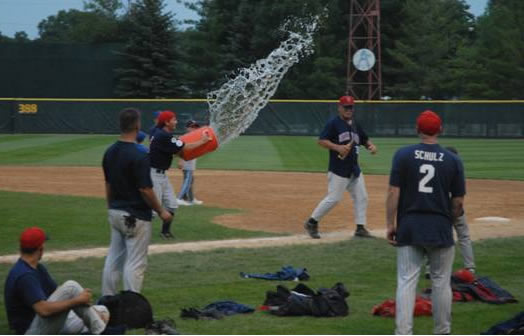 Game notes: The Plainesmen committed just one error in the game. Bruder, Tim Huber and Adam Hoffman enjoyed multi-hit efforts.
Shane Hofmann has been locked in over his five games, posting a 1.77 ERA over 40.2 innings. Over his last four starts, he's allowed just 18 hits in 32.2 innings.

TIGERS WIN RVL-CENTRAL,
ADVANCE TO REGION
Get 1st-Round Bye, Will Play Twice Sunday

The Tigers finished the regular season with a 9-21 overall record and a four-game losing streak, but completed a three-game sweep through the River Valley League – Central playoffs to earn the championship and a first-round bye in Region 6C. After opening with a 9-4 win at Henderson, #3 seed Belle Plaine beat #1 Le Sueur twice – 8-3 last Tuesday (July 22) and 4-1 on Saturday.
Team Tigertown will "play two" this Sunday in Region 6C, with their first game at 11:00 am against the winner of Arlington and Maple Plain. If the Tigers prevail, they will play at 5:00 pm Sunday; if they lose, they will play immediately afterwards at 2:00 pm.
Belle Plaine is the #1 seed from the RVL-Central with Le Sueur the #2; Arlington is the #1 seed from the RVL-West while Winthrop is the #2; and the North Star – East will be represented by #1 seed Loretto and #2 Maple Plain. The top two seeds will advance to the Class 'C' State Tournament in Chaska / Shakopee, beginning August 14.
The Region tournament will be held this weekend and conclude next Friday and Saturday (August 8 & 9), with all games at Arlington, the lone host site. Please see the accompanying bracket for all possible scenarios, and visit www.bptigertown.com for updates throughout.
Tiger draftees
Belle Plaine selected Waconia pitchers Rob Wagener and Jesse Maistrovich with the first and third picks in the RVL-Central draft, respectively. Le Sueur went for a pair of Hendersonians in the 2 and 4 slots, nabbing Mat Peot and Tony Nagel.
Tigers 8 @ Le Sueur 3 (Tuesday, July 22 ~ RVL-Central Playoffs)
Trailing 1-0 after two, Belle Plaine rolled the order over twice between the 3rd and 4th innings, posting eight runs to hold off the top-seeded Braves 8-3 in Le Sueur.
Corey Schaaf picked up his first win of the season with seven solid innings, yielding two runs (one earned) and five hits. Jonny Schulz closed it out by hurling the final two frames, allowing one run.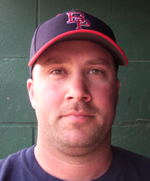 Former Brave Mike Milam led the offensive attack for the Tigers, going 4-for-5 to raise his average to a perky .302. Pat & Matt Schultz collected two hits apiece, while the Huber brothers – Dan and Tim – each worked three walks.
Defensive highlights included a spectacular diving catch from Dan Huber in left field, saving a run in the 4th. Catcher Pat Schultz also nailed a would-be base stealer of second from his knees, in a play that had to be seen to be appreciated.
Ryan McPartland took the McLoss for the Bravos, but didn't get much help defensively, as Le Sueur committed five errors on the evening. Darron Culbert relieved McPartland and worked 4 1/3 scoreless, but by that point the damage was done.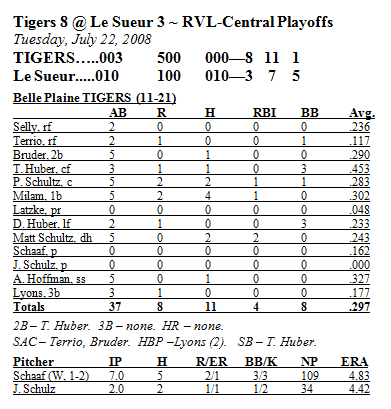 Le Sueur 1 @ Tigers 4 (Saturday, July 26 ~ RVL-Central Championship)
Having taken the short route through the winner's bracket, the Tigers were able to send ace Shane Hofmann to the hill on five days rest. Le Sueur countered with Culbert, to see if he could add on to his 4.1 scoreless innings from the previous matchup.
Tim Huber tripled off Buddy the Bug's ivory in right-centerfield, with two gone in the 1st. A wild pitch scored him, and the Tigers were on the board.
The Jolly Feen Giants evened things up in the 2nd, when McPartland scored all the way from first on a two-out double by catcher Andy Dollerschell.
In the third, the inning began with singles from Shane Hofmann, Eric Lyons, and leadoff man Trace Selly. The heart of the order then drove them in, thanks to a Jeff Bruder sacrifice fly, a Tim Huber double against the ivy, and a wicked scorcher of a 1-3 putout from Pat Schultz.
Little did the teams know at the time, but that would be the end of the scoring. Culbert settled down before turning it over to McPartland to work the final two innings, but Hofmann was in control throughout the game. The right-hander improved his record to 5-6 with the complete game 4-hitter, and finished the contest with a big strikeout of Aaron Jerdee, who represented the tying run.
Tim Huber went 2-for-4 with the aforementioned extra-base hits, while Mike Milam continued his second-half assault with a pair of singles in four trips.
Through 16 games this year, the Tigers were batting a putrid .202 (96-476), but over their last 17 games the Big Grrr has clipped along at .297 (181-609).
Over the last five games, Tiger hurlers have gone 45.2 IP, yielding 13 ER for a 2.56 total, lowering the team ERA from 5.23 to 4.79. Defensively over that span, the locals have just six errors, which doesn't seem like much of an accomplishment until you realize the Tigers erred a sufferin' 85 times over their first 28 contests (3.04 per game).
TIGERS HURDLE HENDERSON IN
PLAYOFF OPENER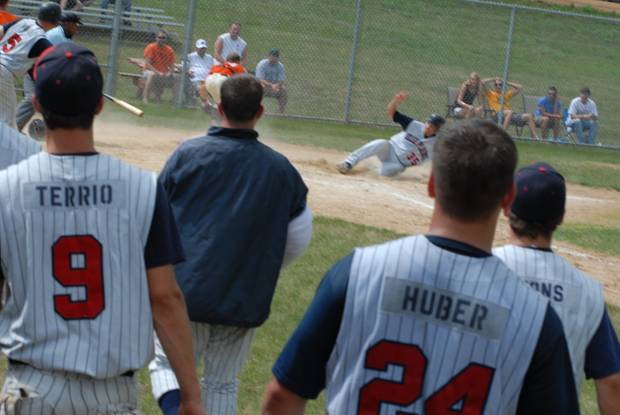 BP-Le Sueur Winner on to Regions

Team Tigertown trailed 4-1 after two innings in their Sunday playoff opener at Henderson, but Shane Hofmann settled down and the Tigers (BP-version) scored eight unanswered runs to win 9-4. In the other first-round matchup #1-seed Le Sueur edged #4 Waconia, 3-2.
Last night (Tuesday, July 22) the Tigers traveled to Le Sueur, with the winner advancing to Region 6C and a spot in the RVL-Central championship game at 4:00 pm Saturday. The loser will play Friday night, 7:30 pm, in an elimination game – the loser goes home, and the winner gains entry in the championship via the loser's bracket.
If the Tigers defeated Le Sueur last night, they will host on Saturday. If the Tigers lost against Le Sueur, they will host on Friday night. If the Fighting Tigros play Friday and win, they will be at Le Sueur for Saturday's championship. Confused? Visit www.bptigertown.com for an up-to-date bracket, or you can always run out to the middle of Main Street and see if there's a home game on any particular day.
The top two teams from the RVL-Central's four team playoff advance to the Region 6C tournament, which begins August 1st at Arlington (the lone site for the Region tourney).
Last week Wednesday, the Chatfielders visited the Hamburg Hawks and came away 3-2 losers in 10 innings.
The Tigers have climbed the mountain that is double-digit victories, and now have 10 against 21 losses.
Tigers 2 @ Hamburg 3 (Wednesday, July 16)
The Tigers carried a Bar B-Q Days week high into this non-league contest against the hometown of the original Rock n' Roller, Jon Deming. Or was it Buck Zumhoff? Frankly, they should probably share the title.
Corey Schaaf started on the mound and labored through four innings, issuing six walks while piling up an astounding 106 pitches. He also stranded eight runners, however, meaning the Tigers trailed just 2-1 upon his departure.
The relief corps of Mike Schultz, Dave Feldt, and Dan Huber combined for four shutout innings, meaning the Tigers still trailed 2-1 as they entered the 9th. With just one out to go, Dan Huber tripled to right, and was driven in by Trace Selly to tie the score.
Huber worked one more scoreless inning but the Red Caps couldn't muster anything in the 10th, so shortstop Adam Hoffman was brought in to save BP's arms with the ever-important playoff game looming on Sunday.
With a man on second and two away, a 9-iron to left field fell in just before Mike Milam could get to it, and that was the ballgame.
The Tigers outhit Hamburg 12-11, with four players enjoying multi-hit efforts. The defense also brought their gloves for a change, playing the team's first errorless game since Owatonna on May 23.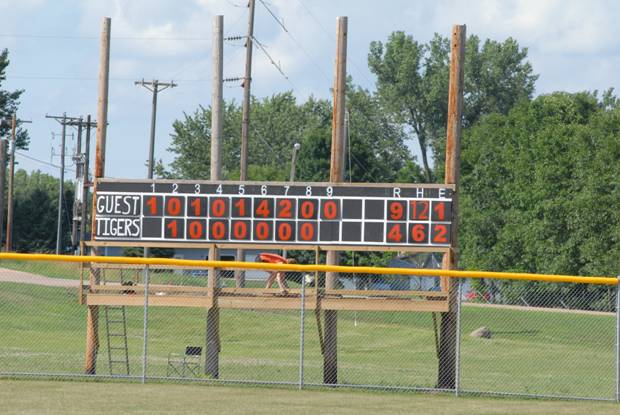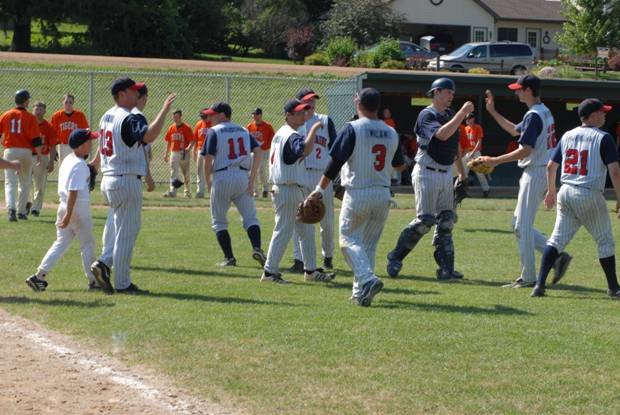 Tigers 9 @ Henderson 4 (Sunday, July 20 ~ RVL-Central playoffs)
It doesn't always work this way, but "The Curse of Bar B-Q Days" loomed large in the minds of some as the league playoffs began right in the heart of our 50th annual town festival. The setting was the valley in Henderson, on a hot and sweaty afternoon.
Umpiring today's ballgame would be Office Linebacker Terry Tate, or maybe it was just his stunt double. The poor fellow was far from pugnacious, but had trouble with everything from a couple foul balls to unprotected areas to a momentary attack of "bees, bees – they're everywhere!".
Ace Shane Hofmann took the ball for Team Miller and struggled mightily the first two innings. After being spotted a first-inning run, Hofmann gave three back in the bottom thanks to two hits, two walks, and an error.
In the second, another run came in for Hoot-Town and it could have been more, but centerfielder Tim Huber reached up and made a nice leaping catch at the fence to end the inning.
Trailing 4-1, the Tigers put on their hard hats and went to work, much like the "Tony Westlund for Mayor" campaign is now doing. Single runs in the 3rd and 5th both came courtesy of RBI groundouts by Tim Huber, and the score was 4-3.
In the sixth, the Tigers broke out against Henderson starter Mat Peot, plating four thanks to a pair of doubles mixed in with their five hits. Matt Schultz had an RBI single, and with two outs Trace Selly sliced an RBI double to right while Jeff Bruder delivered a two-out single. Belle Plaine now led, 7-4.
Momentum was riding high in BP's favor, and the final two runs of the game came in on two more two-out hits: a double by Matt Schultz, and a single by Adam Hoffman.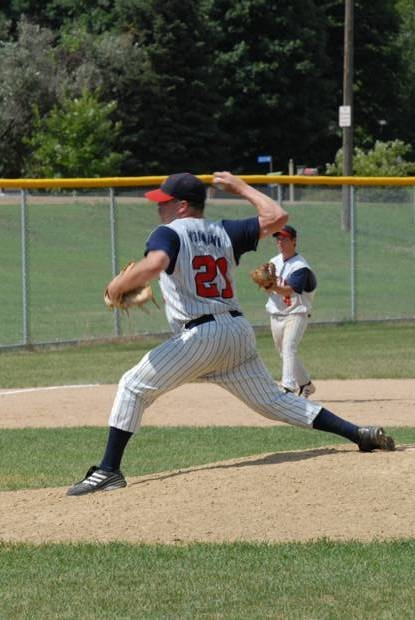 By this point, Shane Hofmann (pictured right) had long turned his frown on the mound upside down. After giving up the RBI single in the 2nd to make it 4-1, Hofmann sat down 18 of the next 20 batters before a two-out error and single sent him to the showers in the 8th. Jonny Schulz closed it out, and sent an exuberant Tigers bunch back to South Park with the "thumbs up" signal.
Selly paced the 14-hit attack, going 3-for-5 with an RBI. Jeff Bruder and Matt Schultz tallied two hits and two RBI each, while Dan Huber and Adam Hoffman also joined the multi-hit club. In fact, Hoffman has three straight multi-hit games, going 8 for his last 13 to raise his season average to a career-best .341.
PLAYOFFS ARRIVE
Tigers Open at Henderson, 2:00 pm Sunday
After winning the Class 'C' State Championship in 1994, the Tigers rode in the 1995 Bar B-Q Days parade.

After a season-high four game win streak, including 7 of 9, the Tigers dropped three straight over the past week. Losses to Le Sueur, Mankato, and Arlington puts the hometown team's record at 9-20 overall and 7-9 in the River Valley League. Last year, the Tigers finished 22-19 on their way to a State Tournament appearance.
After a final tune-up tonight at Hamburg, 7:30 pm, the Bar B-Q'ers will travel to Henderson on Sunday for a 2:00 pm first-round game in the RVL-Central playoffs. (Henderson also finished with a 7-9 league mark, but takes the tiebreaker as they defeated El Tigre both times this season.) Le Sueur (11-5 RVL) claimed the #1 seed and will host Waconia (6-10 RVL), also at 2:00 pm Sunday.
Belle Plaine will play next on Tuesday or Wednesday, with the site and matchup to be determined based on how the first round unfolds. Please see the accompanying bracket for the rest of the scenarios, and you can also view the bracket and check results at www.bptigertown.com.
In other news, the DRS-RVL All-Star Game was rained out Friday night at Arlington. The game began but couldn't get through one inning before a downpour washed it out. However, after a delay, the home run contest was still held, and saw the RVL edge the DRS by one when Shakopee's Troy Wasiloski put on a display and clubbed six long balls in the RVL's final at-bat.
Tim Huber participated and sent one over the fence that the shaggers couldn't bring back. For pictures from this abbreviated gala evening, please click here.
Le Sueur 5 @ Tigers 4 (Tuesday, July 8)
If El Tigro could take down Mike Feeney's Braves, they still had a chance at the #1 seed in the RVL-Central playoffs. Corey Schaaf took the ball for Johnny Miller's Tigers, while Feeney gave himself the nod for the visitors.
A two-out double by Mike Koller in the 2nd put the Little Sprouts on top, but the Red Caps responded with three in the bottom of the frame, thanks primarily to a two-out single from rookie third baseman Dylan "Giggles" Nyberg.
A Tiger error in the 4th allowed the tying run to cross, but Schaaf kept it there until departing after seven. A run in the home half of the 7th put Schaaf in line for the win and gave the Tigers a 4-3 lead, but it was quickly erased.
The Le Sueur 8th started with men reaching by error and a walk, and both came around to score. The damage was delivered courtesy of Scott Johnson's two out, two-RBI single off reliever Jonny Schulz.
The Braves' Ryan McPartland, who worked the final four innings, hung on for the win when he set down six of the final seven Tigers.
Shane Hofmann paced the 10-hit attack with a 3-for-3 effort, and reached all four times by also drawing a base on balls. Some say it's just "Sha-nay-nay being Sha-nay-nay", but the veteran bench weapon raised his average to .471 (8-for-17) with the performance.
Mankato 14 @ Tigers 1 (Saturday, July 13 – 7 innings)
Be it out of kindness or curiosity – or perhaps a tip of the cap to the numbers? – the managing Millers decided to hand the ball to erstwhile veteran Brett Kruschke, who last started on the mound in 1997. There was considerable build-up about this announcement on the team website, so check that out if you're so inclined. But in short, it was time to play "truth or dare" with Kruschke's scoreless relief inning at Mankato back on July 14, 2005.
The diminutive lefty walked the first two batters of the game before a pop-up and a fly out to center almost turned into an inning-ending double play. Tim Huber's laser throw home was on time, but the Twins' Zach Paulson crafted an elusive slide just out of the reach of catcher Pat Schultz. Another fly ball to center and inning over, 1-0 Twins.
In the second, a blizzard of balls was Kruschke's undoing. There wasn't even a strike for each BBQ Days queen candidate, and as you know there are only 15 candidates this year. Dave Feldt came in to bail out this mortgage industry of a performance, but when all was said and done eight runs had crossed the plate.
On the other side of the ball, it wasn't pretty either, as the Tigers manufactured just two singles. One of those came from Nyberg, who broke up the shutout with two gone in the 7th. The Tigers submitted one batter later, via the 10-run rule.
The only real highlight of the day was Matt Schultz making a run at Erik Tharaldson's hot dog record. The 3rd-year star gobbled eight before throwing in the white napkin, falling six short.
Arlington 6 @ Tigers 2 (Sunday, July 14)
The Tigers began the day with a chance at a first-round home game, if they could defeat Arlington and Henderson would lose at Gaylord. It turned out Gaylord did beat Henderson, but the Belle Plaine Nine couldn't hold up their end of the bargain.
This was a sharp and well-played game, and the score was one apiece after six innings. Shane Hofmann was on the hill and in control, but was victimized by long-time A's player Chad Dose when his fly ball turned into a home run to lead off the 7th. Hofmann finished out the inning and departed, trailing 2-1.
In the 8th, reliever Jonny Schulz departed with one out and men on first and second thanks to an error and a walk. Dan Huber came in from left field to face former Tiger Nate Hartmann, who delivered a no-doubt-about-it blow to left, a three-run shot that proved to be the winner for the A's.
An RBI single by Adam Hoffman in the bottom of the 8th – his third hit of the day – made it 5-2 but the Tigers wouldn't be heard from again. A 1-2-3 ninth sealed the day and the #3 seed for the Chatfield Express, while the Red Helmet (the traveling trophy in this series) was turned over to its original proprietors.
Trace Selly and Pat Schultz were the other Tigers with multiple hits on the day. Selly is batting a sweet .400 over his last 25 at-bats.
*BREAKING NEWS*
Kruschke to Start on Hill vs. Mankato!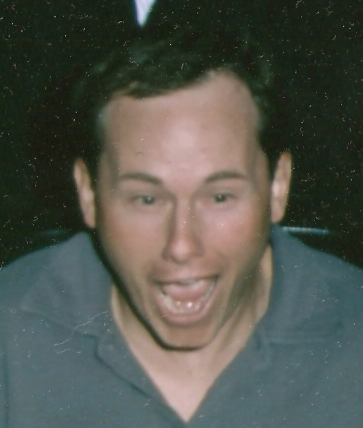 Rumor has it that the managing Millers have lost their minds or lost a bet, but either way the word is that vagabond lefty Brett Kruschke will get the starting nod against Class 'B' powerhouse Mankato on Saturday. Game time is 4:00 pm - it is recommended you arrive no later than 4:10 if you want to see Kruschke still pitching.
Kruschke, 35, is in his 17th year on town team and hasn't started a game since the Clinton Administration. This is somewhat unofficial, but it's believed his last start on the mound was against Chaska in the 1997 Section 3B playoffs, a 5-4 CG masterpiece thanks mostly to the friendly umpiring calls of former Tiger Barry Wohler.
In his last three appearances on the mound - spanning from 2001 to this year - the Tigers have been outscored 50-4 in 21 innings and obviously lost each of those games. The mop-up man's composite statistics in those games are: 2.2 IP, 4 H, 2 R, 2 ER, 1 BB, 3 K, 49 pitches, and a 6.74 ERA. Not good, but not as bad as you might have thought!
Since throwing a scoreless inning vs. Mankato in a 21-0 loss on July 14, 2005, Kruschke has been spouting off about being the only one to shut down the mighty Twins. Well, it now looks like that bold statement is coming home to roost.
(For a rundown on Kruschke's pitching career, click HERE)

TIGERS FALL 4-5 TO LE SUEUR
Lose Pivotal Game in RVL Class 'C' Standings
By Nick Kornder - The Tigertown Express lost a pivotal game in the River Valley League Class 'C' Standings last night as they fell 4-5 to league leading Le Sueur. The Tigers (7-8) had the opportunity to come within a game of the Braves (10-5 RVL) in league play but a two run eighth gave Le Sueur the edge they needed to come back and win.
The Braves struck first in the top of two with a pair of runs only to have the Tigers responded with three runs in the bottom of the inning. The game would be tied in the fourth. The Tiger hopeful were all cheers in the bottom of seven as the El Tigre took a 4-3 lead. But the aforementioned runs in the eighth ended the hopes of the hundreds in attendance and millions...AND MILLIONS (The Rock) watching around the world. Tigers take on Mankato in non-league action this Saturday at 4:00 p.m. at Tiger Park.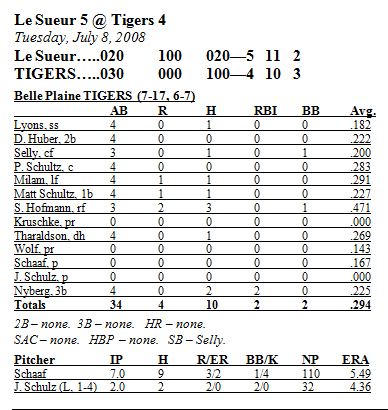 TIGERS HOTTER THAN 4TH OF JULY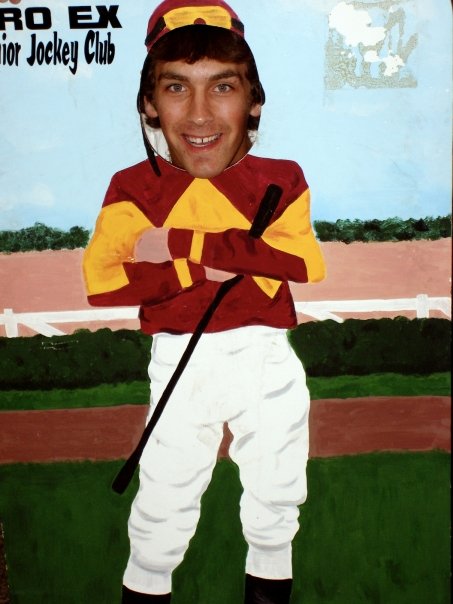 Club Has Won 7 of 9 as Playoffs Near

The Tigertown Express put three more in the win column this week, improving to 7-7 in River Valley League play and 9-17 overall. The victims were the Shakopee Indians, Cologne, and Winthrop, and gives the T-Train seven wins in their last nine outings.
Not to throw cold water on the whole thing, but the Tigers overcame 15 errors the last three games and still managed to win them all. To quote Ron Burgundy, "That doesn't make sense." Or to quote Austin Powers, "I also like to live dangerously."
Believe it or not, the Fighting Tigros still have a chance for 1st place in the RVL-Central division, but will need to have defeated Le Sueur last night (Tuesday, July 8) for that conversation to take place. Otherwise, the Tigers are still alive for a first-round home game, if they can beat out Henderson for the #2 seed.
Le Sueur is 9-5, Henderson 7-7, Belle Plaine 7-7, and Waconia 5-10. Each team plays 16 league games. Henderson has the first tiebreaker on Belle Plaine, having beaten them twice. The RVL-Central playoffs begin July 20; look for a bracket in next week's Herald.
Friday night is the RVL-DRS All-Star Game, 8:00 pm in Arlington. This is the 2nd annual event, and last year the Dakota-Rice-Scott League quieted the RVL 6-0. RVL Commissioner Ronnie Beckman is on the warpath and has demanded revenge, so much so that a press release has been issued stating his intentions of victory. (Visit www.bptigertown.com for the full press release, including the RVL All-Star roster.)
Representing Belle Plaine at the gala event are repeat selections Pat Schultz and Tim Huber. Huber will also take place in the home run hitting contest, set to begin at 7:30 pm.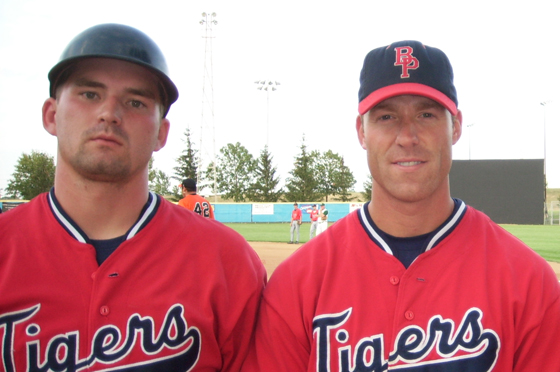 On Saturday, Mankato will visit Tiger Park at 4:00 pm – speaking of revenge, there's plenty available here, as the Twins put a 21-0 whupping on Chatfield's Finest when these teams last met in 2005. Brad Connolly, this one's for you.
On Sunday, Arlington visits for the final regular season home game of the year at Tiger Park, in what will be "Fan Appreciation Day." The game time is 2:00 pm, and prizes will be given away every inning, including 2009 season tickets. Don't you dare miss it!
Tigers 4 @ Shakopee Indians 3 (Tuesday, July 1)
Unless you had tickets for Merle Haggard at Mystic Lake, this was a can't-miss game at The Joe (Joe Schleper Stadium). Tim Huber stayed as red-hot as the very hair on his head with a first inning home run, his sixth of the year. The last time a Tiger hit six in a year it was also Huber, back in the glory days of aluminum bat baseball in 2001.
Shakopee answered with one in the bottom of the first and another in the second off starter Corey Schaaf. In the third, the Tigers used three stolen bases and RBI-singles from all-stars Huber and Schultz to take a 3-2 lead.
Schaaf allowed just two runs (one earned) in six innings before giving way to Jonny Schulz, who was touched for a one-out triple in the 7th to make it 3-3.
In the 8th, the Tiger Nine shot back with another RBI-single from Schultz, scoring Huber who had singled and swiped his third base of the night. For Huber it was his third hit of the evening, and raised his average to a cool .500 (31-for-62) on the season.
Jonny Schulz pitched like a man possessed from there on, striking out the side in the 8th and two of three in the 9th, allowing only a two-out single before closing out the ballgame. As Merle likes to sing, "Let's Chase Each Other Around the Room" to celebrate.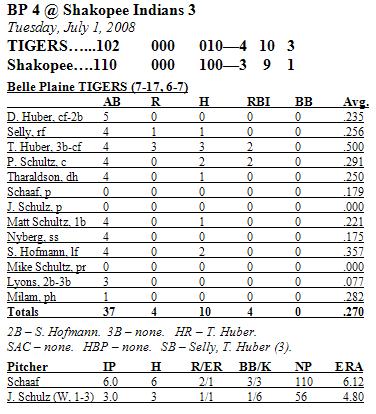 Cologne 8 @ Tigers 17 (Wednesday, July 2)
This was a weird one. The Tigers found themselves trailing 7-2 with only one hit to their credit as the 7th-inning stretch rang out from the press box. Mike Schultz worked the first six innings and although far from crisp, watched five errors committed behind him. Credit is due to Cologne starter Rob Mobeck, who struck out nine through six, but overall the Tiger performance was lackluster at best.
In the 7th, the first three Tigers reached on an error and two walks, and Mobeck was replaced. Relief, however, was nowhere to be found. Reliever #1 (thus named as part of the Reliever Protection Program) walked three men, forcing in three runs, before departing. Reliever #2 walked one more for good measure – making it six straight walks – then gave up a few more runs before wriggling out of the inning. When it was over, the Tigers led 9-7.
The pitcher of record was now Dave Feldt, and he allowed an eighth Hollander run as Brett Kruschke warmed up in the bullpen. Is that weird enough for ya?
Feldt and the Tiger faithful escaped without further damage, however, and it was back to the conga line around the bases for Belle Plaine in the 8th. Only this time, it was a hit parade, not a walk-fest. Trace Selly started the inning with a hit, and the next seven men followed suit. That's right: eight straight batters recorded a hit to begin the inning, this after the team could only muster one piddler through the first six innings.
The Red Caps finished the inning with 8 runs, and were actually a base hit away from winning via the 10-run rule. Pat Schultz doubled twice in the eighth, driving in two.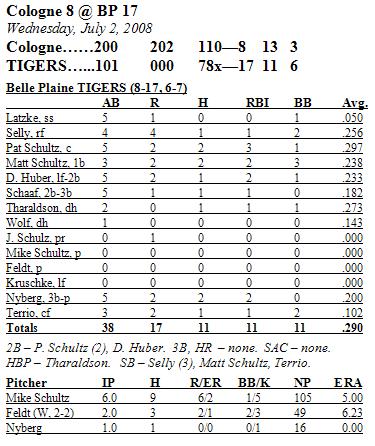 Tigers 6 @ Winthrop 4 (Sunday, July 6)
Belle Plaine rallied late not once but twice, scoring two times in both the 8th and 9th to sneak out of Winthrop with a 6-4 win. Dan Anderson went the distance on the mound for the Eagles, while Shane Hofmann worked eight quality innings before Jonny Schulz came on for the save in a 1-2-3 ninth.
Winthrop led 3-2 after five, and similar to the Mike Schultz storyline above, the defense behind Shane was matador-like. Yes, no less than a half-dozen Chatfielder miscues led to extra runs and pitches for the beleaguered Hofmann.
Anderson carried a five-hitter and a 3-2 lead into the 8th, but as the trend has been lately, the Tigers poured it on late. Dan Huber singled with two gone in the 8th, and scored on an RBI-double by brother Tim. Pat Schultz followed with a single to give El Tigro the 4-3 lead.
Winthrop answered back in the bottom of the frame when a two-out error prolonged the inning, and a wild pitch scored the speedy James Panning from third.
The baseball gods still granted Hofmann the deserved 'W', however, when two more tallies came across in the 9th. Mike Milam and Trace Selly – who both finished with two hits – singled to start the inning, and advanced on a sacrifice bunt by Corey Schaaf. #9-hitter Josh Terrio delivered his third RBI of the day when he lifted a sac fly to right, scoring pinch runner Travis Latzke. Eric Lyons then drove in an insurance run, plating Selly.
3 Homers Lift Tigers Past St. Peter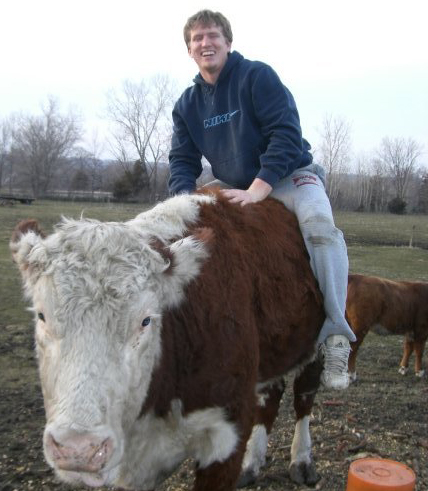 TIGER MATT SCHULTZ SAYS, "HEY LOOK! I'M RIDING A FURRY TRACTOR!"
Tim Huber Slugs Two, Scores Winning Run in 11th

The Tigertown Nine suffered a 12-2 pounding to Plato before rebounding to slip by St. Peter on Sunday, 8-7 in 11 innings, thanks in large part to three home runs. The win over the Saints gives the Tigers a 5-7 league record, 6-17 overall.
Friday's home game against New Germany was rained out, or at least that's what Channel 8 chief meteorologist Johan Jeffrey Miller reports. Since it was a non-league contest, it will not be rescheduled.
Last night, Judge Chatfield's Cowboys visited the Shakopee Indians; check www.bptigertown.com for the score and more. Tonight, the Hollanders of Cologne stop by for a 7:30 pm battle. The Tigers will enjoy the 4th of July weekend before returning to action Sunday night, 6:00 pm at Winthrop. Finally, the first place team in the RVL-Central – Mike Feeney's Le Sueur Braves – will visit for a showdown on Tuesday. The first pitch will be at 7:30 pm.
Ball fans, I encourage you to check out www.minnesotabaseball.org. The official website of the Minnesota Baseball Association, they have just revamped their site and more changes are on the way. Once there, click on the "Teams" link to see the websites for town teams all across the state. There is a ton of great information available to you, the amateur ball fan.
Finally, you can also follow the full standings for the River Valley League at their new website. The link is a little bit long, but is easily accessed via the Tiger web page. Just click on "RIVER VALLEY LEAGUE" on the left-hand side of the home page.
Plato 12 @ Tigers 2 (Tuesday, June 24)
Plato mashed Johnny Miller's squad into little bitty tiger meatballs, right from the get-go. The Blue Jays jumped on starter Mike Schultz for three in the 1st and two in the 2nd. After a scoreless 3rd, they chased him with nobody gone in the 4th after starting the inning with a walk and two singles. Two more came in to score off reliever Jason "Sour" Krause, and it was 7-0 Plato.

Krause ran into more trouble in the 6th, enough so that Brett Kruschke was summoned to the mound for the first time since 2005. Hitting 90+ on the radar gun, Plato still managed to pick up two more runs via a hit and an error, making it 12-0.

In the bottom of the frame, John Davidson should have been there to host an impromptu edition of "That's Incredible!", because Kruschke hit a sacrifice fly deep enough to right to score Erik Tharaldson from third. I'm not sure Las Vegas would even give you odds on that combination. The Tigers pushed in one more in the 6th, but it wasn't enough to stave off the ten-run rule an inning later.

Dan Huber worked a scoreless 7th, fanning two.
The Tigers collected just four hits, and added to their Powerball-like season error total with three more.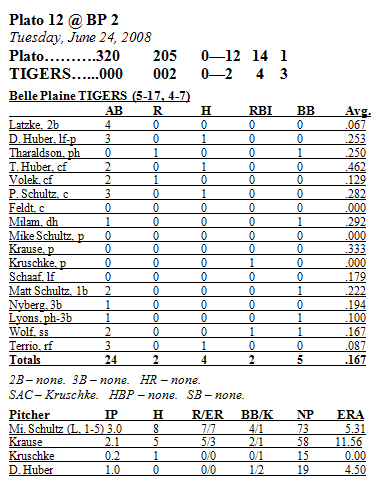 St. Peter 7 @ Tigers 8 (Sunday, June 29 – 11 innings)
El Tigre entered the game with four home runs on the season, but knocked three over the fence to nip St. Peter in 11 innings. Well, maybe I shouldn't say knocked "over" the fence for all of them – Tim Huber was credited with a controversial home run that hit the right field foul pole, in the 1st inning. Exactly where it hit was a matter of much debate amongst the two teams and fans, but most importantly the man in blue saw it the Tigers' way.
The Hube giveth and the Hube taketh away, as a pair of errors by the third baseman led to an unearned run in the 2nd and a one-all tie.
In the 4th, Jeff Miller walked and scored on a circuit blast by All-Star canidate Mike Milam, his first of the season. That made it 3-1 Tigers, and with ace Shane Hofmann on the hill, things were looking up.
That is, until the Saints batted around in the 5th, plating five thanks to five hits and a walk. After getting the last man, Hofmann turned it over to the bullpen.
Eric Lyons was effectively erratic for two innings, walking three but allowing no runs. The hometown team trailed 6-3 heading to their half of the 7th.
Dan Huber began the inning with a single, and one out later scored on brother Tim's second home run of the day – and fifth of the season. On this one, there was no doubt. The Tigers weren't finished and tacked on two more, nabbing the lead back at 7-6.
Dan Huber came on to pitch, and surrendered a run in the 8th before working a scoreless 9th and 10th. In the 11th, Dave Feldt followed the Lyons plan of walking a pair, but not allowing a run. A double play – the Tigers third of the game – saved the day.
In the bottom of the 11th, Tim Huber led off with a single and was bunted to second by Pat Schultz. On the next pitch Huber stole third on another close call, and on the very next delivery scored on a wild pitch to send the $1 Hamburger crowd home happy.
For Huber it was the capper on a great day, as he collected four hits in six trips to raise his average to a staggering .483. He scored three times and also drove in three.
Trace Selly was the only other Tiger with multi-hits – other than Ernie Stumpf, that is.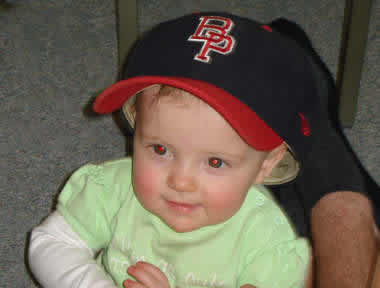 Maggie Gerrish [daughter of Molly and granddaughter of Gerry "Mize" Meyer] of River Falls, WI. turned one year old on Sunday (June 22) and more importantly, has hopped on the Tiger bandwagon. Happy Birthday, Maggie!
3 Straight Wins Precede Henderson Heartbreaker

The aimless U.S.S. Tigertown finally showed signs of life, following up last week's climactic 11-5 comeback at Gaylord with a 10-5 win at Waconia, a zany 15-12 victory at Victoria, and heartbreak hotel in a 7-5 loss to Henderson.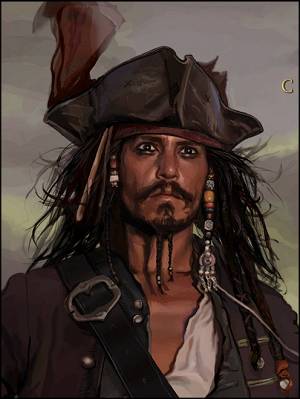 New Germany visits Tiger Park on Friday for "Dollar Hamburger Night" – game time 7:30 pm. On Sunday, the Red Caps will return to league action with a 2:00 pm visit from Captain Jack Sparrow and the St. Peter Saints. Local musician Ernie Stumpf will be dusting off the accordion for "Senior Citizen's Day" – all seniors will be admitted free of charge. Come join us for a festive afternoon at the ballpark!
On Tuesday (July 1), the Tigertown Express will pay a visit to Joe Schleper Stadium in Shakopee, to take on the Indians. The first pitch is slated for 7:30 pm.
The Tigers record is 4-7 in the River Valley League, 5-16 overall.
Tigers 10 @ Waconia 5 (Friday, June 20)
On the baseball page of the sports section, the "probable" pitchers for each day's games are listed. When it comes to Waconia, save the fifty cents – Rob Wagener will be on the mound.
Facing Wagener was Belle Plaine's surest probable – the high-hander himself, Shane Hofmann. Hofmann sandwiched a vacation in-between his last start on June 6th, so was the benefactor of an unusual two weeks of mid-season rest. (Just guessing, but I'll take the under on Wagener having had 14 days off since his last start.)
Often a thorn in the Tigers' paw, this time the visitors hopped on the bearded wonder early with three in the second and two more in the third, to stake a 5-1 lead after four. In the fifth, Tim Huber led off the inning with a circuit blast, and two batters later Wagener was given the hook.
In the sixth, Belle Plaine put things out of reach with four more runs, sending 12 men to the plate. Could this be the same team that entered with a .214 batting average? Indeed it was, and in fact it was the third game in a row the Tigers had 10 or more hits.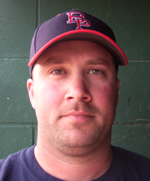 Mike Milam (pictured) went 4-for-4 to pace the Tiger attack, while Tim Huber went 3-for-5. Adam Hoffman led the squad with 3 RBI, thanks to a two-out single and a double.
Jeff Miller worked on his off-speed pitches – including the patented Dipsy Doodle – in a 3-run Laker ninth.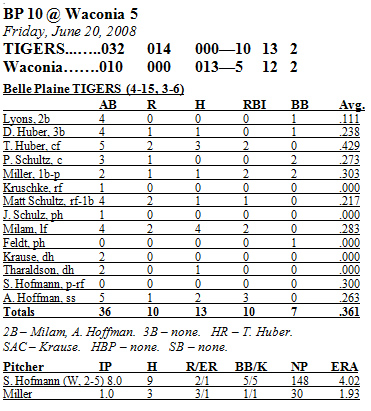 Tigers 15 @ Victoria 12 (Saturday, June 21)
I believe it was the 4th inning when the Victoria third baseman said to me, "Boy, this game is moving right along", and I knew right then he jinxed it. Just 2-0 Vics at the time, the running joke in the Tigertown dugout is that something weird always happens in the Victoria games, and now it was a sure-fire lock.
Nothing special seemed in order when the Poppitz-razzi reeled off eight runs in the 6th, sending Tiger starter Eric Lyons on his merry way, and putting the Tigers on the verge of a 10-run job with an 11-2 deficit. But then came the first installment.
Belle Plaine batted eleven in the 7th, scoring five times. After rookie Jason Krause (pictured) took on some shrapnel as part of the Vics eight run 6th, shortstop Adam Hoffman made his 2008 mound debut and worked 2.2 scoreless to send it to the 9th at 11-7. A Scooby Doo-like fog had also encompassed the field; was it a Mike Poppitz smoke screen, or the sign of something bizarre yet to come?
The 9th began with five of the first six Tigers getting a hit, the latter of which was rookie Jason Krause ignoring the "take a strike" theory and lifting a double over the left-fielder's head. Pinch runner Brett Kruschke scored the 10th run, but Dylan Nyberg was the second out at home plate and he attempted to tie the score.
However, Krause had taken third on the play at the plate, and with #9-hitter Josh Wolf up – and making his first town team start, no less – a wild pitch allowed the tying run to score. Wolf then reached via error, and aggressively took third on a base hit to left by Dan Huber, allowing Huber to also move up a base. Adam Hoffman then delivered the tie-breaker, a two-run single. A walk to Tim Huber, an RBI-single by Pat Schultz, and an RBI-double by Mike Milam finally gave the Tigers a 15-11 lead. Whew! But it wasn't over yet.
With Hoffman having shown signs of tiring, a four-run lead, a desire for his defense at short and Sunday's scheduled reliever Dave Feldt now suddenly available, the pitching change was made. However, Feldt didn't have it and partitioned a strikeout between a pair of walks and hits, making it 15-12 with one out and the bases loaded – and Victoria's heart of the order coming up in cleanup hitter Eric Winegarden.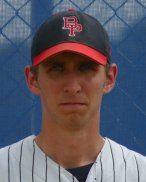 Why not have another dance with the one that brung ya?! Hoffman (pictured) came back in from shortstop, recorded the next two outs, and became what almost has-to-be the first Tiger to record the win AND save in the same game!
The hitting heroes were many for the Tigers, who lashed out a season-high 19 hits. Mike Milam went 4-for-6 with 3 RBI, meaning the Le Sueur native has gone 19-for-59 (.487) since beginning the season 0-for-20. He's nothing if not consistent! And his season average is now a robust .322.
Pat Schultz went 3-for-5 with 4 RBI, while A-Hoff also chipped in with the bat and drove in three runs for the second game in a row. Seven Tigers had multi-hit games.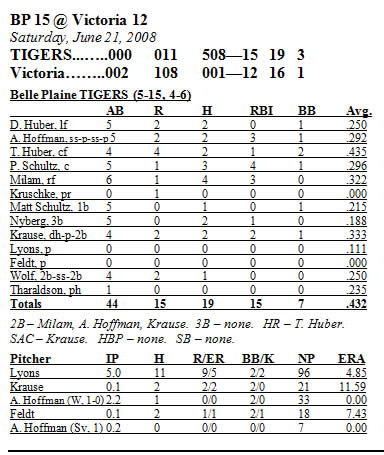 Tigers 5 @ Henderson 7 (Sunday, June 22)
Jonny Schulz started and went six innings for the hometown nine. He was unscathed through five, but gave up a three-run, two-out homer to opposing pitcher Matt Peot in the sixth. One more out and that was the afternoon for Schulz.
The long ball gave Hooterville a 3-2 lead, but manager-for-the-day Jeff Miller "willed" the Red Caps into a three-run 7th as they responded to his verbal ultimatum. Jeff Bruder knocked in the tying run before Matt Schultz delivered a clutch two-out single for a 5-3 advantage.
After a three-batter 7th, reliever Dave Feldt ran into trouble in the 8th, and his Night at the Roxbury buddy Dan Huber came on for his first mound appearance of the season (a disturbing trend throughout these last two write-ups). With one in and runners at first and second, a sac bunt moved them up to second and third. A groundout tied the game, and then a two-out, two-run tater tot shot by DH Greg Graham gave Henderson the lead in dramatic fashion. A quiet BP ninth, and that was the ballgame.
Tim Huber and Bruder both went 3-for-4 on the day, with Huber belting his team-leading third home run of the season. Henderson might be the Coors Field of the River Valley League, the way home runs fly out of there. If nothing else, they can be an honorary DRS-park. (When you can't win, you plant a cheap shot! That's how it works.)
On a positive note, the Chatfielders have raised the team batting average from .202 to .242 over the last five games, going 66-for-194 (.340) during that span.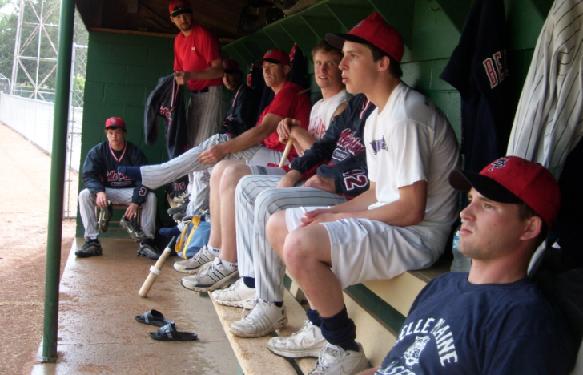 Tigers Go 1-3 on Week
Young America Game on Wednesday Cancelled
By Pat Schultz - The Tigers finished their recent 4 game stretch going 1-3 but are starting to show signs of improving and are hoping to start playing like the team that went to the State Tournament last year. The Tigers lost to Webster and Union Hill during the week with the Victoria game getting rained out for a 2nd time this season before playing 2 games on Sunday which found the local lads losing a tough game to Fairfax but rebounding for a dramatic11-5 victory over the Gaylord Islanders.

The Tigers game against Young America at Tiger Park tonight (June 18) has been cancelled due to a scheduling conflict with YA.

The Tigers have another busy weekend in store as they have three River Valley League games, all of which are on the road. Friday night the Tigers travel to Waconia who the Tigers beat earlier this year by a score of 8-6. Saturday is another attempt to make up the game with Victoria and is scheduled for 7:30 at Victoria . Sunday the Tigers will try and avenge an earlier defeat as they travel to Henderson for a 2:00pm contest.

Webster 5 @ Tigers 0 (Tuesday, June 10)
Mike Schultz got the start on the mound for the Tigers in what was to be the first of 5 games in 6 days for the local 9. Schultz, who as you may remember, helped lead the Tigers to a 9-1 victory over the Sox last season by throwing a complete game 3 hitter in the only meeting between these two teams in recent memory. Webster had no plans of letting that happen again as they came out swinging in the 1st when the Sox Brett Hoffman hit his first of 2 homeruns in the game. The Sox tallied 5 runs in the first 4 innings to chase starter Schultz in favor of Eric Lyons who worked a scoreless 5th and final frame.
The Sox sent 4 different pitchers to the mound and each baffled the Tigers more than the last. Josh Terrio had the only hit for the Tigers but was quickly erased on the base paths. After smashing 12 hits in a victory over Waconia last week at Tiger Park , the Tigers have tallied a total of 4 singles in the last 3 games, all of which were losses.
The game was shortened to 5 innings due to the fact that Tiger Park , as well as most of the town, had no power. Although many of the Tiger faithful wondered if the pinstriped warriors had been playing in the dark all night as the Tigers committed 3 more errors in the 5 inning affair.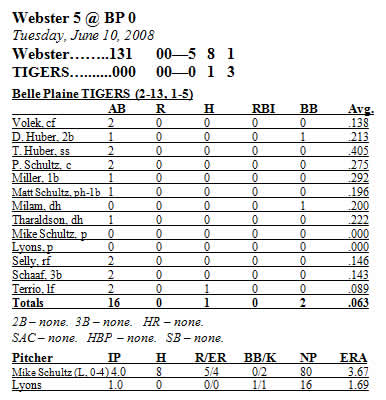 Tigers 1 @ Union Hill 10 (Friday, June 13)
The Tigers graciously welcomed back veteran Tiger shortstop Adam Hoffman as they went to battle against DRS powerhouse Union Hill Bulldogs for the 2nd time in a week. The Bulldogs handed the Tigers their ugliest defeat of the season last Saturday in the Tigertown Classic by a score of 16-4.
The Tigers sent Dave Feldt to the mound who started strong and faced only 3 hitters in the first inning. Bulldog catcher Eric Bisek got the best of Dave in the 2nd when he sent a fly ball over the short right center field fence. Feldt kept the Bulldog hitters off balance until the 4th when a combination of walks, hits and errors forced Everyday Eric Lyons to finish the 4th. Lyons threw effective in relief with 1 run in 2 and 2/3 innings. Rookie Jason Krause made his Tiger debut on the mound and recorded a scoreless 7th but the deadly combination of walks, hits and errors again allowed the Bulldogs to score 3 more runs in the 8th to put the game out of reach.
After not playing in over a month, Adam Hoffman ripped a single in his first at bat of the game and immediately made plans to start putting on his own hitting camps to rival fellow Tiger Tim Huber's. Mike Milam, Eric Tharaldson and Pat Schultz also had hits for the Tigers. The 4 hits for the Tigers dropped the team batting average to paltry .202.
The Tigers scored their only run in the 8th inning and threatened to make it a ballgame with runners on 2nd and 3rd, but a daring steal of home by Tharaldson came up just short and ended the Tigers chances.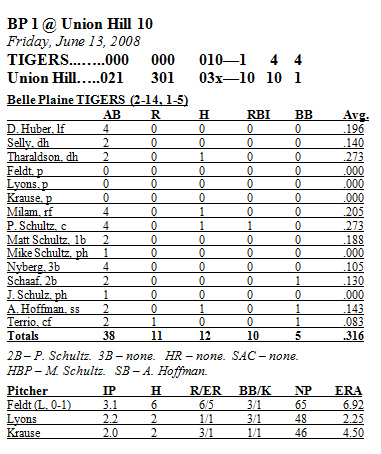 Tigers 5 @ Fairfax 6 (Sunday June 15)
Team Tigertown loaded up the wagons Sunday for two important River Valley League games with the first stop being at new league member Fairfax. Corey Schaaf got the ball from manager Miller and looked sharp early as he didn't give up a run through 5 innings. Fairfax got to Schaaf in the 6th for 3 runs and again in the 8th for 2 more runs. Johnny Schulz relieved Schaaf in the 8th and eventually got out of the jam but not before the Cardinals had tied it at 5 apiece.

The Tigers bats came alive in this game as they pounded out 10 hits and also drew 8 walks on the day. The Tigers took an early 2-0 lead in the 2nd inning on a wild pitch and a RBI single from Adam Hoffman. Another wild pitch and a Dylan Nyberg 2 RBI single in the 7th inning allowed the Tigers to retake the lead at a score of 5-3. The lead was short lived however as the Cardinals would eventually score 2 runs in the 8th and the game winning run in the bottom of the 9th to steal the victory from the Tigers.

Dan Huber helped lead the Tigers on the day with 2 hard hit doubles while Dylan Nyberg and Pat Schultz also recorded 2 hits apiece.. The Tigers played errorless ball on the afternoon and played a very solid overall game but couldn't quite pull it out at the finish.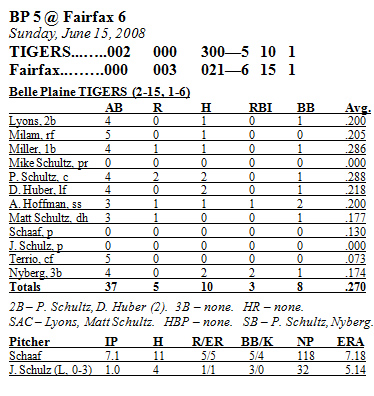 Tigers 11 @ Gaylord 5 (Sunday June 15)
After the tough loss to Fairfax , the Tigers packed their bags for the quick drive down Highway 19 for their 2nd game of the day. This contest was against the Gaylord Islanders and Mike Schultz got the nod on the hill. The Islanders threatened to make this one ugly early as they jumped out to an early 4-0 lead after just 1 inning. Schultz settled down however and was brilliant the rest of the way allowing only 1 run over the final 8 innings.

The Tigers battled back from the early deficit by scoring a run in the 2nd, 2 in the 6th and 1 more in the 7th. Things looked bleak heading into the 9th as the Tigers were still trailing 5-4 and were down to their last chance. Josh Terrio lead off the inning with a walk, Corey Schaff reached on an error and Mike Milam reached on a fielder's choice to load the bases for Tiger veteran Jeff Miller. Miller didn't disappoint as he drove a fly ball to center that had just enough on it to carry over the fence for a grand slam. The crowd went wild as Miller rounded the bases with a fist pump and a salute to the fans cheering him on. 3 more runs were scored in the inning to give the Tigers a commanding 11-5 lead which was more than enough for pitcher Schultz as he shut down the Islanders in the bottom of the 9th for the complete game victory to send the festive Fathers Day crowd home happy.

The Tigers had their second double digit hit game of the day with 7 of the 9 starters again recording hits. Matt Schultz led the way for the Tigers with 3 base hits while Corey Schaaf, Mike Milam and Dan Huber each recorded 2 hits of their own.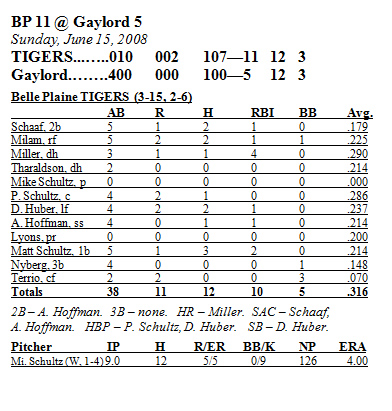 ONE STEP FORWARD and TWO STEPS BACK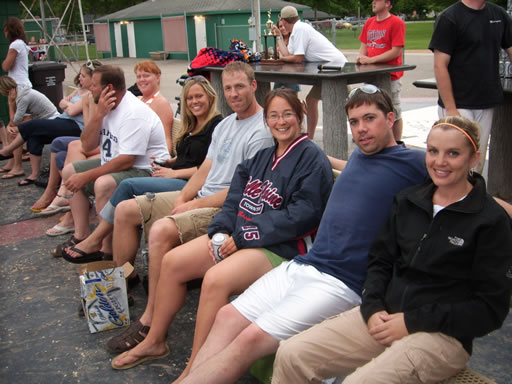 Click for Photos
Tigers Get First League Win, Drop Two in Tigertown Classic

Belle Plaine beat Waconia 8-6 last Tuesday (June 3) before going out with a whimper in the Tigertown Classic, collecting just three hits in 39 at-bats in losses to Freeport and Union Hill. Last night the Tigers hosted Webster in a non-league game; check www.bptigertown.com for the score and more.
The league win over Waconia was El Tigre's first, putting them at 1-5 in the River Valley. Overall, the Tigers sit at 2-12.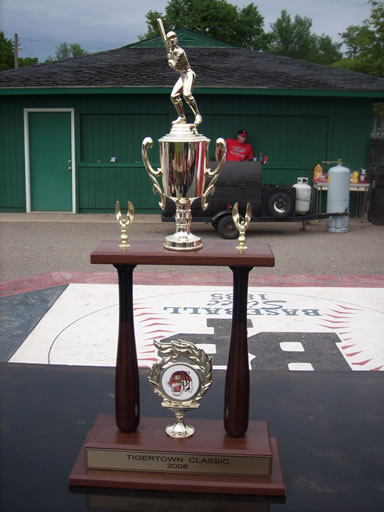 AT THIS WEEKEND'S 10th ANNUAL TIGERTOWN CLASSIC, Blue Earth defeated Freeport 8-1 to claim the hardware. This is the second Tigertown Classic title for the Pirates, who also won in 2005. Union Hill, the back-to-back defending champs, took the consolation championship with a 10-2 victory over Lonsdale.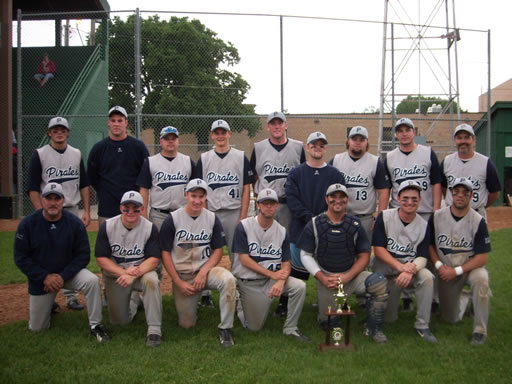 Blue Earth Pirates - 2008 Tigertown Classic Champions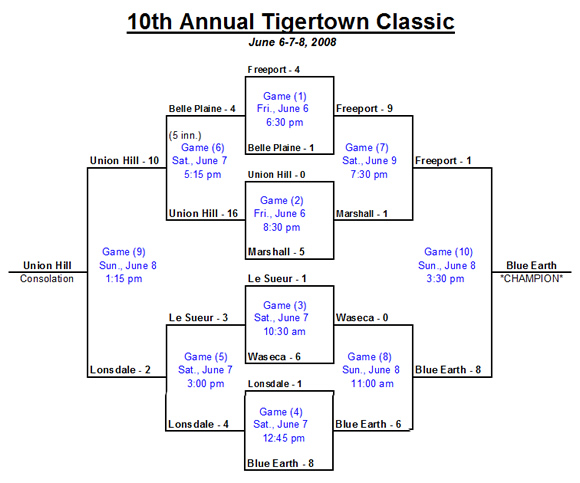 Wednesday the locals will hit the trail to Victoria, for an 8:00 pm makeup game that was originally scheduled for May 2nd. On Friday, the Tigers will reacquaint with Union Hill, who put a 16-4 pounding on them Saturday in the Tigertown Classic. This contest will be at "The Hill" and scheduled for 7:30 pm.
On Sunday, the Red Caps are scheduled for a double-dip road trip, with a 2:00 pm foray at Fairfax and a 6:00 pm game at Gaylord on the way back.
Next week you will have the musings of Pat Schultz to look forward to, as the regular scribe will be on vacation. As long as Pat doesn't turn in a hand-written article, all should go well.

Waconia 6 @ Tigers 8 (Tuesday, June 3)
Familiar face and Laker ace Rob Wagener got the ball against Johnny Miller's choice, Mike Schultz. Waconia struck first when speedy leadoff hitter Blaine Walstrom singled, took two bases on a sacrifice bunt, then scored on a groundout to shortstop.

Team Tigertown knotted it up in the 4th on a 2-out, RBI-single by Mike "Miley" Milam. The 5th inning saw Waconia plate two, and the Tigers answer with two to tie it at three. Both Belle Plaine runs came on another two-out hit, a single that Jeff Bruder muscled into centerfield.

The hometown nine plated one in the 6th on their third two-out RBI, the first town team hit for rookie third baseman Dylan "Dyl Pickle" Nyberg. In the 7th, the Tigers kept plucking by scoring for the fourth consecutive inning – an RBI single from Bruder, followed directly by an RBI double from Pat Schultz. It was a 6-3 Tiger lead with two frames to go, that elusive first league win of the year within sight.

Showing life, the Lakers batted eight men and score thrice to knot it at six. Could the Red Caps swipe back the lead by scoring for the 5th straight stanza? Could the Tiger bullpen plug the leak long enough to get out of Dodge? Why am I asking you??

Nyberg walked with one out in the 8th and scored the go-ahead run when Tim Huber reached by fielder's choice. The crusty veteran Bruder, fresh off an appearance in the Old Timer's Game, collected his third hit and fourth RBI of the night to claim player of the game honors and give the Tigers an insurance run.

Corey Schaaf gave up a leadoff single in the 9th, but retired the next three for his first save of the year. Eric Lyons picked up the first town team victory of his career, and passed out bubble gum cigars to celebrate.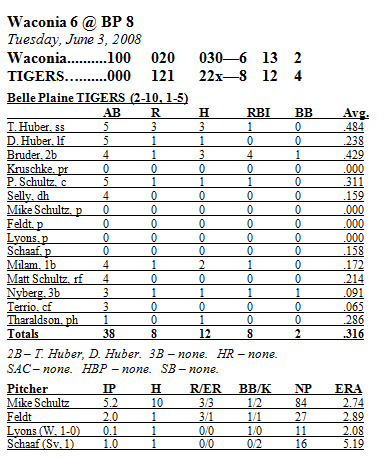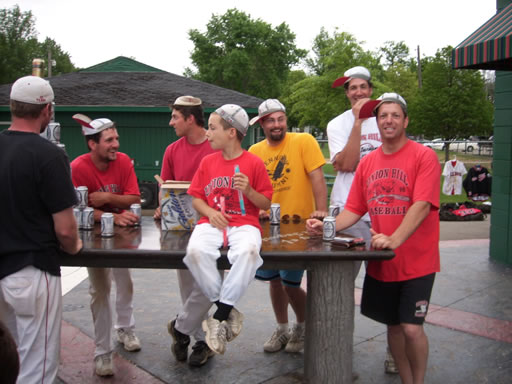 Freeport 4 @ Tigers 1 – Tigertown Classic (Friday, June 6)
With the smell of pork burgers in the air, Shane Hofmann and Tiger-killer Nate Klaphake took the mound for their respective clubs. The Black Sox broke the scoreless tie in the 4th when two unearned runs came in off Hofmann, due to a two-out error.
In the fifth, Trace Selly walked and gained second on a wild pitch, moved to third on Mike Milam's single, and scored on a fielder's choice by Nick Volek. For Milam, it was his sixth hit in his last 11 trips – making it a 2-1 deficit with two frames to go. (Tournament games are seven innings.)
Freeport shot back with a pair of runs in the sixth, and thanks to a few sterling defensive plays by Tyler Hess (a shortsop playing first base) in the bottom of the inning, Klaphake cruised home to a 7-inning 1-hitter.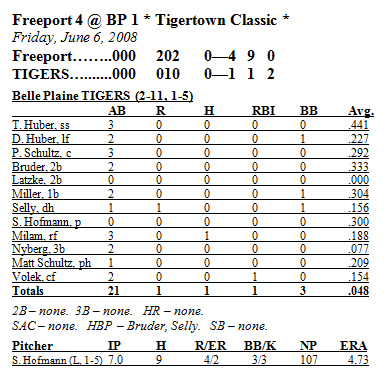 Union Hill 16 @ Tigers 4 – Tigertown Classic (Saturday, June 7)
Union Hill lost to Marshall in Round One, setting the tourney hosts up with a loser's bracket matchup against the back-to-back defending champs. The Bulldogs took out their frustrations on the Tigers, posting 5-4-0-0 and 7 runs to end this one in five innings.
Corey Schaaf, Jonny Schulz, and Dave Feldt were on the receiving end of the Union Hill onslaught, coughing up 13 earned runs between them. The team ERA shot up from 3.85 to 4.70 when all was said and done.
Speaking of team averages, the team batting average sank from an already-low .225 entering the weekend, to a highway-like .212 when it had finished. Team Tigertown collected just three singles in 39 official at-bats over those two games and twelve innings.
Mike Milam stayed hot and tallied a hit and RBI in three trips.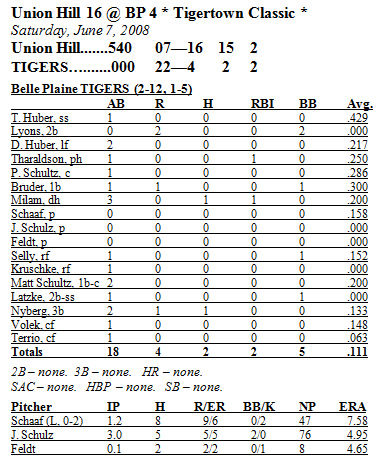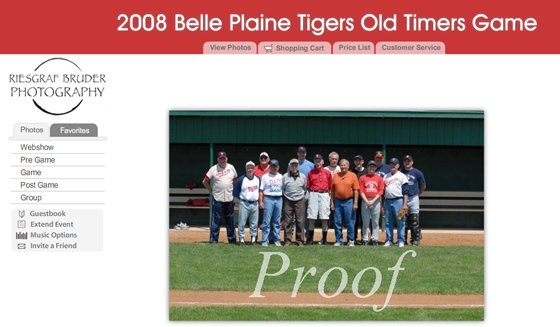 Take some time to relive the special memories from the 2008 Belle Plaine Tigers Old Timers website. Your favorite photos can be easily ordered with your credit card in a highly secure purchasing environment. Click Here to View Photos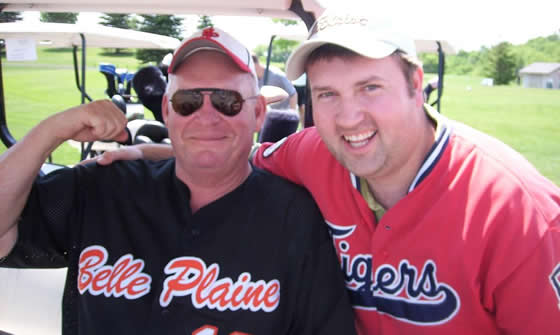 Another Busy Weekend On Tap at Tiger Park

Right on the heels of Tiger Alumni Weekend comes the 10th annual Tigertown Classic, an 8-team invitational tournament. Freeport, Union Hill, Marshall, Le Sueur, Waseca, Lonsdale, Blue Earth, and Belle Plaine will spend a busy weekend at Tiger Park.
Action gets underway Friday night at 6:30 pm, with Belle Plaine taking on the Freeport Black Sox and their four Hess brothers. Back-to-back defending champion Union Hill will butt heads with tournament staple Marshall, at 8:30 pm. Prepare your gullet, as Friday will once again be "$5 All-You-Can-Eat Pork Burger Night." This deal is valid for the duration of both games.
Le Sueur and Waseca kick off the first of five Saturday games at 10:30 am. Lonsdale and Blue Earth will follow at 12:45 pm, with the remaining winner's and consolation bracket games scheduled for 3:00 pm, 5:15 pm, and 7:30 pm. Sunday's action is slated for 11:00 am, 1:15 pm, and the championship at 3:30 pm. Please visit www.bptigertown.com for the full bracket, as well as updates through the weekend.
Last night Waconia's Lakers stopped by; check the website for a final score, if not full details. On Tuesday (June 10), the mega-homestand continues as the Webster Black Sox pay a visit. The weekday game time, as per usual, is 7:30 pm.
Last Tuesday, May 27, the Tigers of Henderson came away 12-7 winners. On Friday night, Milroy faced Chatfield's finest for the first time in 14 years, and came away 5-4 victors.
Sunday saw all three Belle Plaine representations go down – first, the Old Timer's lost 4-0 in 5 innings to Jordan's Used-To-Be's; then the Brewers beat the town team 9-4; and the night ended with Zip Zellmann's Gray Tigers suffering a 4-3, extra-inning loss to Hanska.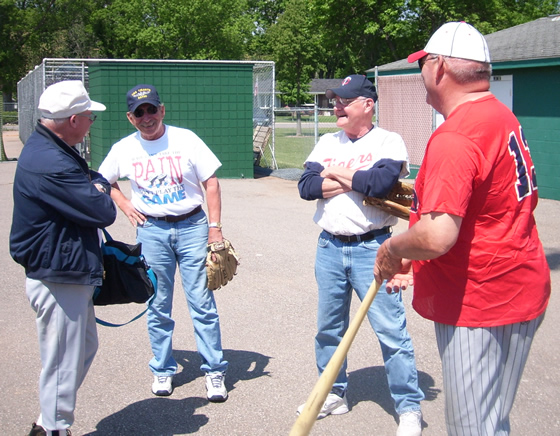 The Old Timer's Game was a real treat and a pleasure to watch. While the final linescore showed Jordan with 4-11-1 and Belle Plaine with 0-1-1, the bottom line was the fun that was evident for all involved. Dave "Greek" Wagner unleashed his nasty knuckler and went all five innings on the hill, while Pat Miller garnered the lone Tiger hit. A lot of other Tiger greats showed up and gave it their all, blue jeans be danged.
On the Jordan side, John Dolan started and went four innings, with Tom Dolan throwing the last inning while also collecting three hits and two runs scored.
Gerry "Mize" Meyer was roving PA man, while the respective clubs were led by Ron Beckman for Jordan and Brent Meyer for Belle Plaine. Former Tiger Nathan Muehlenhardt umpired. $Bill Kruschke videotaped the game and provided commentary, and the game is being planned for replay on the public access channel at 12:00 pm noon tomorrow and Friday. Be sure to tune in!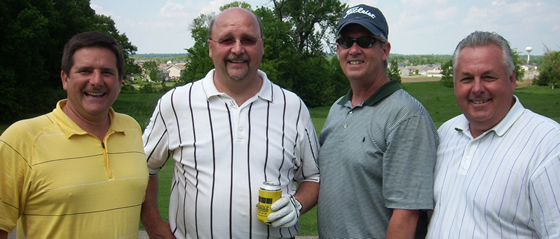 Not to be forgotten, Saturday's 5th annual "Tiger Open" golf tournament was a great time and we were blessed with oustanding weather. "Team Hartmann" – Dave & Mike Hartmann, Rick Stevens, and Doug Olson – once again took the honors, shooting an impressive 57. Congrats, and thanks to all for your support!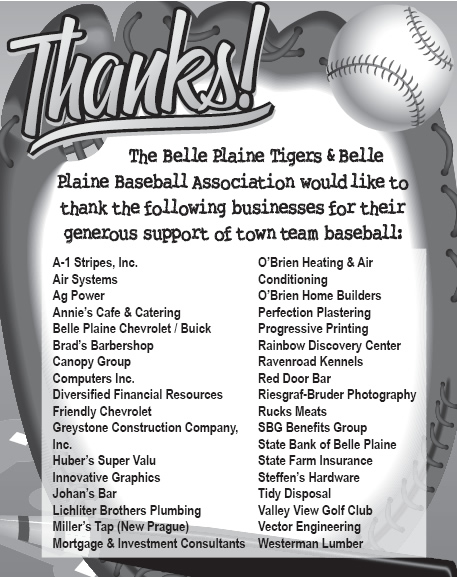 Henderson 12 @ Tigers 7 (Tuesday, May 27)
The good news – Los Tigros posted their first double-digit hit total of the season, with 13. Jeff Miller and Pat Schultz led the way with three hits apiece. The bad news – four errors for the locals led to nine unearned runs. "Nine times, Mrs. Bueller… nine times."
Belle Plaine held a 4-1 lead after three, but that tune changed in a hurry when the Men of Troy posted a seven-spot in the 4th and two more in the 5th. From there on, it was all academic.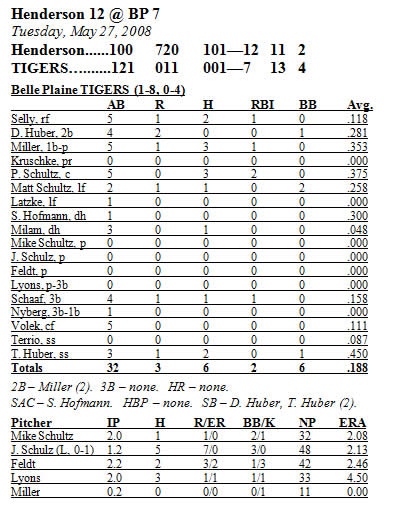 Milroy 5 @ Tigers 4 (Friday, May 30)
The Tigers wore their "championship blues", the name they were affectionately given since getting the job done in the 1994 Class 'C' state championship against these same Milroy Yankees. Would the power of this magic material be enough to propel the Tigers to their second victory of the season? Was there a "Grrr, Tiger" left in the famous Tiger head patch on the sleeve??
It looked sketchy early on, as Corey Schaaf was touched for one, one, and two runs and the T-Town Express trailed 4-0 after three. But in the fifth, the Tigers roared back with four runs, while batting around. RBI-singles by Matt Schultz and Trace Selly did the last of the damage.
Jonny Schulz relieved Schaaf after six, but was nailed with the loss when Belle Plaine's fifth error of the game contributed to the winning run. Selly and Nick Volek set the pace with two hits each for the hometown nine.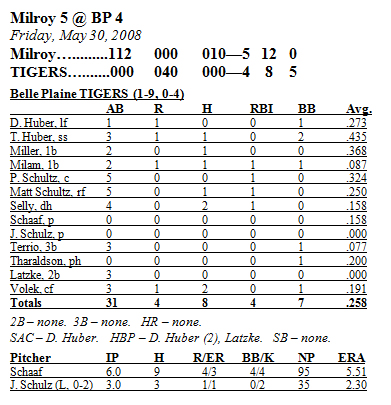 Jordan 9 @ Tigers 4 (Sunday, June 1)
The Red Caps led 2-0 after three, thanks primarily to leadoff man Tim Huber. Huber walked, stole second, and scored after a pair of groundouts in the first, then tripled in the third and scored on an astute baserunning play when a wild pitch squirted away just enough.
In the fourth, Jordan first baseman and beastly cleanup presence Cullen Bahn drove a two-run homer to left, ending Shane Hofmann's shutout bid. The score held at two until the sixth, when the Brewers chased Hofmann with a five-run outburst. From there, the teams traded a couple runs each over the rest of the game, but the final was well in hand for the Jordan contingent.
The previously mentioned Huber was pretty much the extent of the Tiger offense, and a stat-stuffer: three of our four runs, two of our five hits, a double, a triple, a walk, a hit-by-pitch, and a stolen base.
Eric Lyons made his second appearance on the mound in three games, looking sharp while going six up and six down.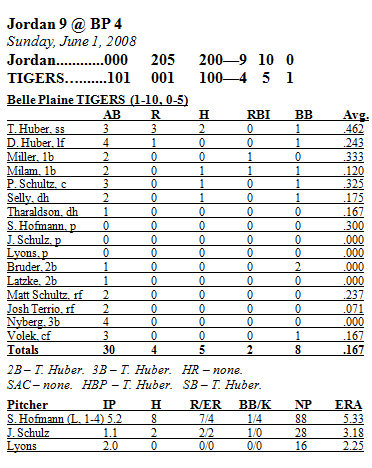 Golf Tourney, Old Timer's Game Among Highlights

The championship bunting is coming out for "Tiger Alumni Weekend", this weekend at Tiger Park. On Friday the Tigers will host Milroy, whom they haven't faced since beating the Yankees in the 1994 Class 'C' State Championship game. Game time is 7:30 pm, and it will be Dollar Beer Night.
Saturday is the Tiger Open golf tournament fundraiser at Valley View Golf Club, with registration at 11:00 am and a noon shotgun start. Dinner will be served at 7:00 pm at Neil's Rustic Room, with a 6:00 pm social hour. The price is $50 for members of Valley View, $75 for non-members. Meal-only is $15. And the good news is, it's not too late to join the fun! Contact Shane Hofmann at 952-484-2319, or show up early at registration Saturday and we can still get you squared away. For more info, visit www.bptigertown.com.
Sunday is a must-attend for all Tiger fans, as the first Old Timer's Game in 20+ years will take place beginning at 12:00 pm! Actually, show up early to watch the former players get loose – that might be as entertaining as the game itself. All former Tigers are invited – just show up and we will get you in the game. Or, just watch and hang out in the dugout, if you prefer. The game will be casual, and the emphasis is to have fun.
Jordan will be the opponent for both the Old Timer's Game and the River Valley League game, which will follow at 2:00 pm. If you still haven't had enough ball by that point, the Gray Tigers and rookie manager Zip Zellmann will face off against the Steinbach-laden Hanska Bulldogs at 6:00 pm.
On Tuesday, the Tigers will host a key RVL-Central battle against Waconia, 7:30 pm the first pitch. Kids, it's also Little League Night – all boys and girls currently playing Little League will receive a free mustard stain – I mean hot dog – for wearing their uniform top!
Over the past week the Tigers finally got off the schneid, beating Owatonna 8-2 on Friday after losing to the Prior Lake Jays 5-3 on Tuesday (May 20). Henderson visited last night (May 27), so check the website for results. Team Tigertown is 1-7 on the season, and 0-3 in RVL play. See you at the ballpark!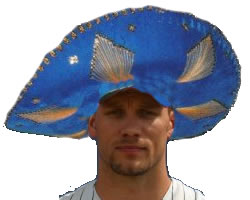 Prior Lake Jays 5 @ Tigers 3 (Tuesday, May 20)
El Tigre ran into the buzzsaw that is Joe "Tex" Chapman's 2008 Prior Lake Jays. The visitors entered the game with a 5-1 record, having outscored their opponents 63-24 – good for a whopping 10.5 runs per game average. The man given the assignment to stop this offensive onslaught was no-frills right-hander, Mike Schultz.
Schultz put forth a whale of an effort, but was victim to the Tigers' second consecutive six-error game (and third such game of the season). Belle Plaine posted five flubs in the 2nd and 3rd innings alone, which led to three unearned runs. He finished having surrendered just three hits in six innings, but was on the wrong end of a 4-1 score.
Helping keep the damage to a minimum was battery mate and brother Pat Schultz, who gunned down stolen-base threats in the 1st, 4th, and 5th innings. At that point, the Jays seemed to say, "Who is this mechanical throwing robot, sent back in time?" and put the puppies back in the kennel for the rest of the night.
The Red Caps got plucky in the 8th, scoring twice and putting runners on 2nd and 3rd with two outs. However, the score would remain and finish at 5-3, as the early game miscues loomed large.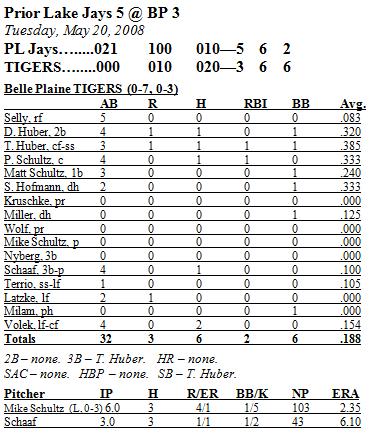 Tigers 8 @ Owatonna 2 (Friday, May 23)
Manager Johnny Miller could have quoted Blazing Saddles and said, "Alright folks – I know you're a bit confused, wondering what you're doing out in the middle of the prairie out in the middle of the night!" Or, in Owatonna, to be precise. But, from the Tigers perspective, any chance to snap the season-opening seven-game losing streak was a good one.
The miracle water must not have kicked in yet, because here's how the first five batters of the game fared against pitcher Shane Hofmann: walk, hit batsman, walk, RBI fielder's choice, RBI double. 2-0, Owatonna. YIKES! However, from that point on, would you believe the self-proclaimed ace would retire 23 of the next 24 batters? Amazing, but true!
Other than a two-out double in the third, over that stretch Hofmann was perfect for 7.2 innings. And, he finished strong, striking out four of the last eight batters he faced. The effort was buoyed by the catch of the night in the 8th, courtesy of left-fielder Matt Schultz. Jonny Schulz provided relief for Hofmann by working a 1-2-3 ninth.
Offensively, the Tigros struck out 17 times – including the sombrero changing hands three times. Smith, the Aces starter, whiffed 14 in his seven innings of work and was in a groove. Yet, the Tigers held a 3-2 led after seven thanks in large part to Jeff "Hot Dog" Miller, who delivered an RBI-double in the 4th and an RBI-single in the 6th.
Once Smith departed, a pair of Owatonna relievers struggled mightily over the final two frames, with the Tigers tacking on five more runs over that span to win going away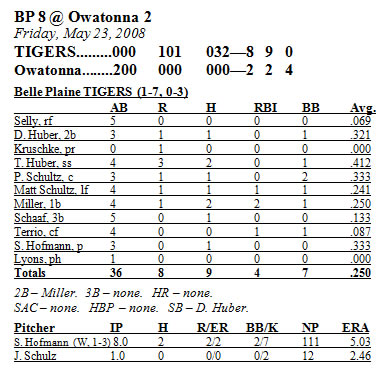 The highlight of the 2008 schedule is what the Belle Plaine Baseball Association is calling "Tiger Alumni Weekend." On Friday, May 30, the Tigers will square off against Milroy for the first time since 1994, when Belle Plaine defeated the Yankees for the Class 'C' State Championship. (This home game will also be Dollar Beer Night.)
On Saturday, May 31, is the Tiger Open golf tournament, at Valley View Golf Club. An effort is being made to round up as many fans, supporters, and former Tigers as possible. Anyone is welcome; please join us at the golf course! Details for the golf tourney - plus all things Tiger baseball - are available at www.bptigertown.com.
On Sunday, June 1, an Old Timer's Game vs. Jordan is being planned for 12:00 pm, with the current BP & Jordan town teams to face off at 2:00 pm. If you're a former Tiger and interested in playing in the Old Timer's Game, please contact Pres. Gerry Meyer or any BPBA member. It is an "Old Timer's" game, so no-one is too old to play!
Season-Opening Skid Reaches Six

Entering the past week, the Tigers stood at 0-3 after getting outscored by a combined total of 19-6. Since then, the locals have lost three more to lower their record to 0-6, although each of those losses was by two runs and a combined total of 23-17. That stat is no doubt small consolation to Tiger diehards, but provides hope that the club may finally be ready to break through.
Wednesday (May 14) saw Glencoe hand the hometown team a 10-8 defeat, while on Saturday the Tigers lost a pair at the Black Sox Tourney in Avon / Freeport – 4-2 to the Moorhead Brewers, and 9-7 to the Watkins Clippers.
Last night the Tigertown Express returned to River Valley League action, hosting the Prior Lake Jays. Check www.bptigertown.com for the score and game details.
On Friday night Belle Plaine will travel to Owatonna for a 7:30 pm affair. The squad will have the rest of Memorial Day Weekend off, before resuming RVL-play on Tuesday night, when Henderson visits at 7:30 pm. This date is tentative as the high school team could have a home playoff game; please check the town team website on Friday (as the determining games are on Thursday) for any updates to the contrary.
After that is the big "Tiger Alumni Weekend", which will receive plenty of build-up in next week's Herald. However, if you haven't already, be sure to get your foursome together today – the Tiger Open is just 10 days away!
Glencoe 10 @ Tigers 8 (Wednesday, May 14)
A 1-0 game after four, Tim Huber put the Tigers on top with a 2-run blast to right. Starter Mike Schultz cruised until the sixth, when the Brewers pasted a six-spot – half of which Schultz was responsible for. The other three runs of the inning, although unearned, were charged to Dave Feldt when he served up a two-out grand slam to Glencoe's #3 hitter, Jason Schade.
Tiger Pride battled back with three in the 7th, cutting it to a 7-6 deficit. After two more Brewer runs in the 8th and one in the 9th, the locals needed a big final frame. And they almost got it.
With two in, two gone and the bases loaded, rookie sensation Dylan Nyberg worked a full count. With the runners off on the pitch, a base hit most certainly would have tied the score and possibly lead to the winner. However, a confusing call went against the Tigers, as it appeared Nyberg fouled the ball – yet it was ruled a swing-and-miss.
Belle Plaine did break out with their first four extra-base hits of the season – Huber doubled to go along with his homer, while Pat Schultz and Josh Terrio tripled. Terrio's three-bagger led to a spur-of-the-moment foot race between he and his grandpa, with both eventually arriving safely at third.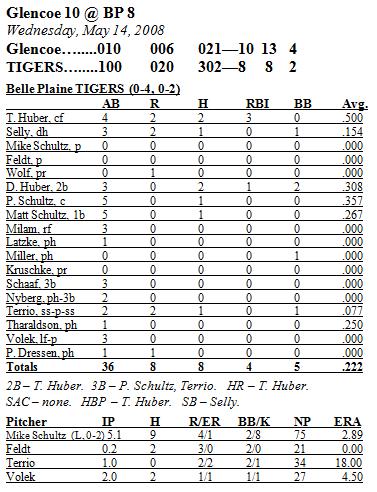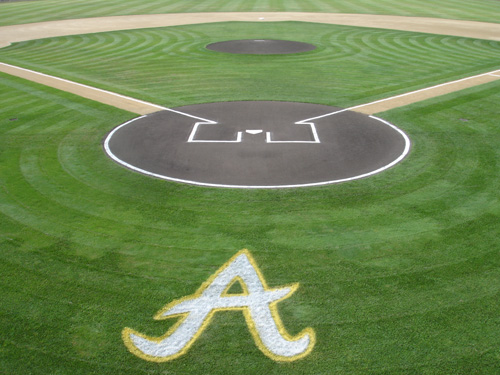 Moorhead Brewers 4 vs. Tigers 2, at Avon (Black Sox Tourney)
Although casually known as the "Freeport Tourney", three of the tournament's ten games were played in nearby Avon, due to no lights at the namesake's ballpark. The Tigers first two games – win or lose – were scheduled at Avon, with the hopes of securing a Sunday date at Freeport's beautiful new field.
It should be mentioned, Avon's park is no slouch itself. Nestled right off Hwy. 94, Team Tigertown enjoyed the chance to take in a few games at the home of the Lakers – a picturesque ballpark and afternoon, to boot.
Shane Hofmann started and gave up three runs over the first two innings, before settling down nicely. With the Tigers trailing 3-2 in the sixth, he surrendered a one-out long ball before Jonny Schulz came in to finish up.
The story of the game was a couple of golden opportunites that were wasted by the team in pinstripes. Twice – in the 4th and 6th innings – the Tigers loaded the bases with nobody out. A double play ground ball led to a run in the 4th before another ground out ending the inning, while in the 6th an infield pop-out, a strikeout, and a ground ball led to a big goose egg.
With tournament games lasting just seven innings, that was the Tigers last big chance as a leadoff walk was the extent of a final inning uprising.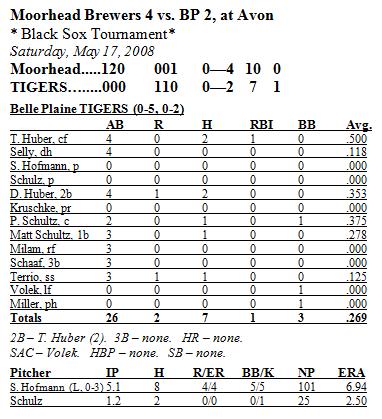 Watkins 9 vs. Tigers 7, at Avon (Black Sox Tourney)
With an 0-5 record and now dispatched to the loser's bracket of the tournament, fill-in manager Jeff Miller shook things up a little bit. While six Tiger errors weren't what anyone had in mind, the end result was a near-crazy comeback and wild finish.
Corey Schaaf started on the hill, his second appearance and first start after working 4.2 solid innings at Le Sueur on May 11th. The Clippers were done milking their chickens and slapped a six-spot on the Tigers in the third, chasing Schaaf. A three-run homer was the major blow.
El Tigre had scored twice in the 1st and answered with two of their own in the 3rd, making it 6-4. Single runs in the 4th, 5th, and 7th put the Chatfielders in a 9-4 hole with just three outs to go.
Veteran Mike Beier worked six cagey stanzas for the Clippers, before turning it over to the bullpen. One run was in and the bases loaded with two outs, when left-fielder Shane Hofmann stepped to the plate. Already having boomed a deep, RBI double in the 3rd inning, Hofmann caught hold of another one, sending a potential game-tying grand slam to the fence. It might be, it could be… but was it?!
To those in attendance, the fact that this last minute play came down to a bizarre and delayed ruling was the cherry on top of this most "interesting" fudge sundae. Hofmann's ball appeared not to go out, but it was also hard to tell and no call was made. Instead, the man in blue told left-fielder Tim Haines not to touch it, as he jogged out to take a look.
While the man in the DNR truck parked in left-field said he couldn't tell, the final decision was a ground-rule double for Hofmann, making it 9-7 Watkins with runners at 2nd and 3rd and two outs. After a walk to load the bases, a ground out to second ended the Tigers' last inning excitement and their hopes of a Sunday game in Freeport.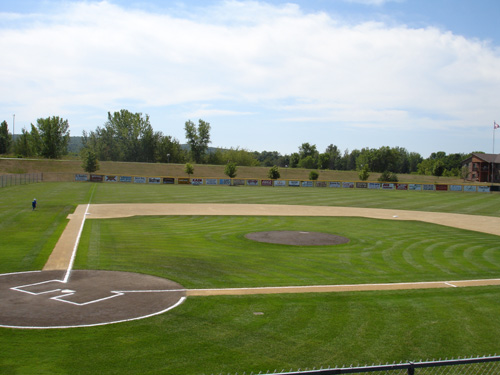 Note the left-field fence - where Shane Hofmann almost hit a game-tying grand slam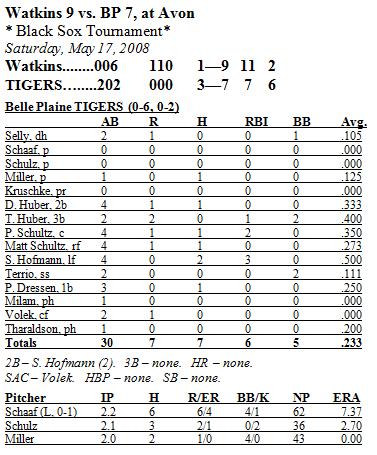 Tigers Score Twice In Each of 3 Losses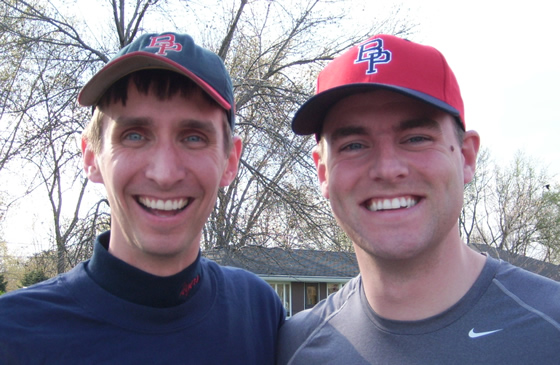 #22 Adam Hoffman and #7 Dan Weldon

The Tigers have officially come out of the gate slowly, dropping their first three games while scoring a total of six runs. The pitching has been decent – 3.81 staff ERA – and the defense sound since a rocky first game, but the bats have floundered with a .140 composite average (13-for-93) and no extra-base hits.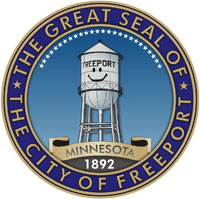 Team Tigertown will try to right the ship tonight, when the Glencoe Brewers visit for a 7:30 p.m. tussle. This weekend, the Tigers will partake in the 2nd annual Black Sox Tourney, co-hosted by Freeport and Avon. Last year, our lads played valiantly and finished 3rd in the 8-team tournament.
Belle Plaine will first pair up Saturday in Avon against the powerful Moorhead Brewers, who fashioned a 27-15 record last year before losing a first round state tournament game to Plato, the Class 'C' State Champions. The Brewers took 3rd in the 2004 State Tournament, before first round exits each of the last three years. Game time is 11:00 a.m.
The Tigers will stay in Avon to play a second game on Saturday, at either 1:15 or 3:30 p.m. against the winner / loser of Avon vs. Watkins. Sunday's game would be in Freeport, should they advance. For the full bracket click here.
On Tuesday night, the local nine will return to RVL action, when the Prior Lake Jays stop by for a 7:30 p.m. affair. See you at the ballpark!
Note: last Tuesday's (May 6) home game against New Market was rained out, and will not be rescheduled.


New Prague 3 @ BP 2 (Friday, May 9)
Hot dogs were only a dollar but hits were much tougher to come by, as Belle Plaine mustered four singles while stranding 14 baserunners in a one-run loss to New Prague. Four Orioles pitchers combined to walk a dozen Tiger batters, but only once did one of those free passes haunt.

Mike Schultz started on the mound for the hometown nine, yielding two runs over four innings while getting saddled with the loss. Jonny Schulz provided three innings of one-run relief, while Dave "Joba" Feldt looked sharp, retiring all six men he faced.

As noted, the Tigers had plenty of chances. Their most prime opportunity was also their last, when they loaded the bases with one down in the 8th, trailing 3-2. That's when the saltiest hot dog of all – Jeff Miller – hit a sharp grounder to the second baseman, who tagged out Pat Schultz and then relayed the throw to first for the inning-ending double play. Unfortunately a mysterious and spooky fog that hovered over Tiger Park at the time did not keep the man in blue from making the correct – and difficult – call on the tag-out.

Brothers Pat and Matt Schultz each tallied two hits, while Adam Hoffman and Dan Huber both reached base three times.

Dan Weldon was benched for wearing the wrong cap, but later appeared with two at-bats in right field.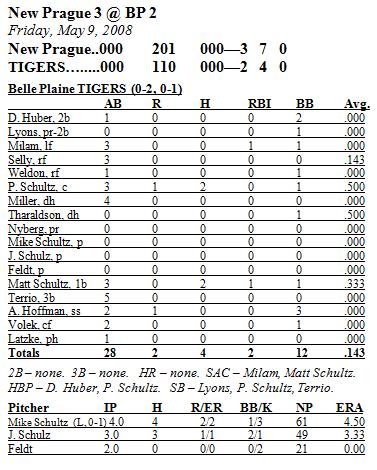 Tigers 2 @ Le Sueur 7 (Sunday, May 11)
The Tigers didn't fashion pink bats on this Mother's Day – at least not literally. Although they finished just a half-dozen singles in 34 trips, perhaps a portend of things to come was several hard-hit balls that were caught for outs.
The oft-dependable Shane Hofmann started but did not have his best stuff on this day, as he was chased with one away in the 3rd and was charged for five runs. Corey Schaaf came on in relief and did well, working 4.2 innings of two-run ball. He walked one and struck out six. Jeff Miller finished up with a scoreless ninth.
After the 3rd, the Red Caps played the Braves even – but that's kind of how Tim Brewster looks at things. The bottom line is, the early hole was too much for the Tigers to climb out of.
The Dans – Huber and Weldon – swung hot sticks and each collected two hits. Pat Schultz extended his hitting streak to three games and is batting .444 on the young season.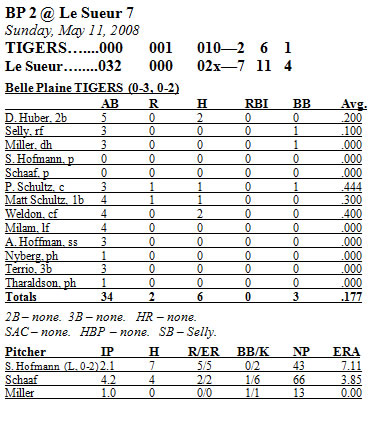 6 Errors Lead to 9-2 Loss

The luster of a perfect Opening Day afternoon was quickly erased by a hideous performance from the hometown nine, as Chaska took advantage of six Tiger errors to win in a walk, 9-2. All eight of the runs charged to Belle Plaine pitchers were unearned, but when you finish with just three hits, you might as well just accept the fact that it wasn't a good day.
The home opener against Chaska's Cubs turned into the season opener, when Friday's game at Victoria was rained out. No make-up date has yet been determined. Last night, El Tigre Train hosted New Market. Check www.bptigertown.com for the verdict and game details.
Friday night Belle Plaine will host New Prague at 7:30 pm, and it will be Dollar Dog Night. On Sunday at 2:00 pm, the boys will get back to league play, when new Tiger Mike Milam returns to his former stomping grounds of Le Sueur after 16 years in the valley.
As a public service reminder, I'd like to offer one final plug about Tiger season tickets. If you haven't got yours already, 18 home games still remain for the crazy low price of $25. And, Dugout Club passes are available for $50 if you want to add your choice of a food and beverage item at each game.
"Tiger Alumni Weekend" Note
If you are a former Tiger town team player and have not yet received a letter in the mail, please contact BPBA President Gerry Meyer at 952-873-2792, or Brett Kruschke at 612-327-2715 or bkru11@yahoo.com. You certainly don't need the invite by mail to attend – all are welcome! However, it's our goal to compile the most comprehensive list possible.
If you go to www.bptigertown.com/roster.htm, you can view a partial list of former Tiger players. If you could bring to our attention any names that are not currently listed, it would be greatly appreciated. Also, we are still seeking addresses for those names listed that show no current city. Thank you!
Chaska 9 @ Tigers 2
It bears repeating – the most magnificent day of the year so far, weather-wise, enveloped Tiger Park for Opening Day. Everything was set. And then the Tigers went out and laid an egg. Or six of them, if you will.
Three of Belle Plaine's half-dozen miscues came in the 2nd inning, setting an ominous tone. This led to four runs and a 4-0 Chaska lead, that remained through five complete.
In the sixth, the inning started with a pair of errors, leading to four more runs. By this point, the fans could be heard saying, "We waited 8 ½ months for this?!" Or maybe that was the players. I don't know, but either way, it wasn't good.
The Tiger Train did save some face late in the game, avoiding the shutout by plating single runs in the 8th and 9th. The first run came courtesy of an RBI groundout by rookie Dylan Nyberg, part of the "Wonder Twins" along with fellow rook Travis Latzke, who debuted with a pinch-running appearance.
Amateur arm-wrestling champion Erik Tharaldson collected one of three Tiger hits on the day, turning a double into a single in the 5th.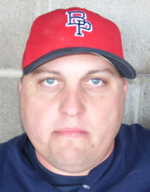 Jeff Bruder was benched for indifference, but later appeared with two at-bats from the DH-slot.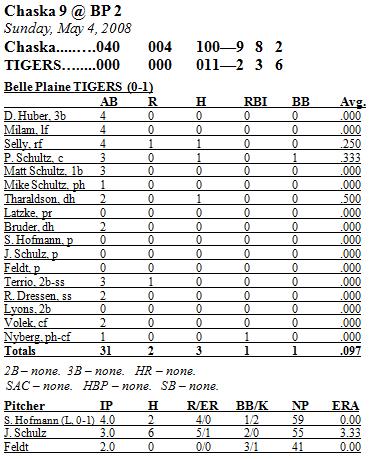 TIGERS OPENER POSTPONED
No Make-Up Date Set
Belle Plaine's Tiger Manager Johnny Miller is saddened to announce the postponement of the Tiger's season opener at Victoria Friday night due to poor weather conditions in the area. The make-up date for this game has not been set. Check back for more details.
Home Opener Sunday vs. Chaska
Belle Plaine's Tigers went 9-21 in 2006, and 22-19 with a State Tournament appearance last year. What could 2008 possibly hold for Johnny Miller's crew?
Precincts will begin reporting on Friday in Victoria. The Prairie Warriors head to the land of Mike Poppitz for a 7:30 pm road affair. On Sunday, the gates will open at Tiger Park as Chaska arrives for a 2:00 pm home tilt. If you have Opening Day garb like a straw hat or lovely bonnet, now is the time to break it out.
Tuesday night will feature another home game, against the New Market Muskies at 7:30 pm.
Speaking of home games, here comes the "big sell": Tiger season tickets are available at the gate - $25 for all 20 regular season home games. (This includes the Tigertown Classic June 6-7-8.) Regular adult admission is $3 per game, so consider the savings! I'd say that's substantial. Note: admission for seniors and students is $2, and 12-and-under are always free.
Another season ticket option is the $50 version – the "Dugout Club" – which includes the above but also a food and beverage item of your choice at each game. Let's face it, you can't go wrong.
The season tickets will remain available through the season's first month at either the ticket gate or Brad's Barber Shop.
Each season brings roster turnover, and 2008 is no different. Returning from last year's squad is Jonny Schulz, Eric Lyons, Tim Huber, Dan Weldon, Josh Terrio, Brett Kruschke, Dave Feldt, Nick Volek, Ryan Dressen, Paul Dressen, Matt Schultz, Mike Schultz, Pat Schultz, Shane Hofmann, Adam Hoffman, Erik Tharaldson, Corey Schaaf, Jeff Miller, Trace Selly, and Jeff Bruder.
New to the team are long-time Le Sueur Brave Mike Milam, and prodigal son Dan Huber, who is back after a couple years in "The City That Never Sleeps", Las Vegas. Current BPHS'ers Dylan Nyberg and Travis Latzke also look set to make their town team debuts in 2008.
Unfortunately a cast of talented ballplayers won't be back in 2008, in Brad Lawson, Peter Schuneman, Nate Hartmann, Nick Selly, and Scott Schaffler. Lawson is headed for St. Benedict this year, but will return to Momma Tiger in 2009. This is due to a college rule which doesn't allow a player and his coach – in this case, Tim Huber – to play on the same summer league team.

The Tigers will set up shop this year in the newly named River Valley League, or, oldly named, depending on how you look at it. A recent "30 Years Ago" column in the Belle Plaine Herald noted that in 1978 the league dissolved. If nothing else, you have to love the symmetry.
The RVL "Central" consists of Belle Plaine, Henderson, Le Sueur, and Waconia.
As always, check out www.bptigertown.com for all that and a bag of Funyuns. Also available there is the registration form for the Tiger Open fundraiser golf tournament, which will be held Saturday, May 31 at Valley View Golf Course. Start putting that foursome together today! Single golfers are also welcome; we will find you a team.
It will be wedding bells this Saturday for Tiger Nick Volek. CONGRATS NICK & KACIE!!!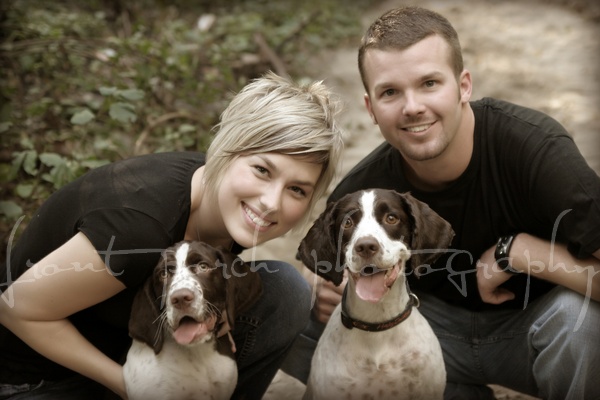 Rumor Central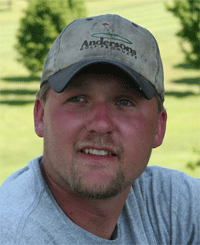 Belle Plaine, Minn. - It has been confirmed that former Belle Plaine Tiger bench warmer and relief pitcher Josh Muehlenhardt is NOT engaged. He is however moved out of Barb and Lyle's and living in sin with his significant other. When asked if a proposal was in the near future Muehlenhardt responded, "Well I suppose I should here sometime. I better before she starts charging me rent." He added, "The second income would really help out too, I have been having' a rough stretch of it lately in Sheephead up at Neil's. A couple thousand for a ring, and I get a second income. Fiscally its the right move to make." Muehlenhardt, 29, played for the Tigers back in the 1998 and 1999 summers. Muehlenhardt is rapidly advancing his way up the ladder in his profession. He is currently the assistant groundskeeper at Valley View Golf Course after working their just a shade under a decade.
Welcome Back, Dan Huber!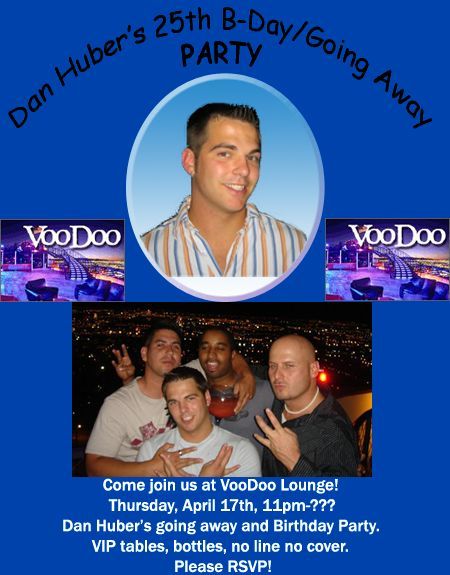 Town Team Announces 2008 Schedule, Promotions

The Belle Plaine Tigers town team has released their 2008 schedule, and promotions. The Tigers, managed by Johnny Miller, went 22-19 last year and made their first State Tournament appearance since 2001. This year's schedule contains up to 35 regular season games, plus playoffs. The regular season opener is Friday, May 2, at Victoria, with the home opener Sunday, May 4, against Chaska.
Returning promotions include Dollar Dog Night (May 9), Dollar Beer Night (May 30), Little League Night (June 3 - free hot dog for all Little Leaguers), $5 All-You-Can-Eat Pork Burger Night (June 6), Senior Citizens Day (June 29 - Seniors free admission), and Fan Appreciation Day (July 13 - free prizes every inning). A new promotion is Dollar Hamburger Night, on June 27.
The highlight of the 2008 schedule is what the Belle Plaine Baseball Association is calling "Tiger Alumni Weekend." On Friday, May 30, the Tigers will square off against Milroy for the first time since 1994, when Belle Plaine defeated the Yankees for the Class 'C' State Championship. (This home game will also be Dollar Beer Night.)
On Saturday, May 31, is the Tiger Open golf tournament, at Valley View Golf Club. An effort is being made to round up as many fans, supporters, and former Tigers as possible. Anyone is welcome; please join us at the golf course! Details for the golf tourney - plus all things Tiger baseball - are available at www.bptigertown.com.
On Sunday, June 1, an Old Timer's Game vs. Jordan is being planned for 12:00 pm, with the current BP & Jordan town teams to face off at 2:00 pm. If you're a former Tiger and interested in playing in the Old Timer's Game, please contact Pres. Gerry Meyer or any BPBA member. It is an "Old Timer's" game, so no-one is too old to play!
Belle Plaine will once again host the Tigertown Classic - the 10th annual - on June 6-7-8. This year's field is Freeport, Union Hill, Marshall, Le Sueur, Waseca, Lonsdale, Blue Earth, and the host Tigers.
The Carver Central League changed its name this offseason back to River Valley League, which it was previously known as. (Carver and Brownton left for the Crow River League, with Henderson and Fairfax joining the new RVL.) League playoffs begin on Sunday, July 20.
Season tickets will be back from the printer shortly, and there are two options: a $25 ticket which gets you a front-row seat to each of the Tigers' 20 home games, or a $50 "Dugout Club" ticket which also gets you a free hot dog or beverage at every game! (Weigh that against single-game prices of $3 for adults, and $2 for students & seniors. Kids 12-and-under are always free.) See you at the ballpark in '08!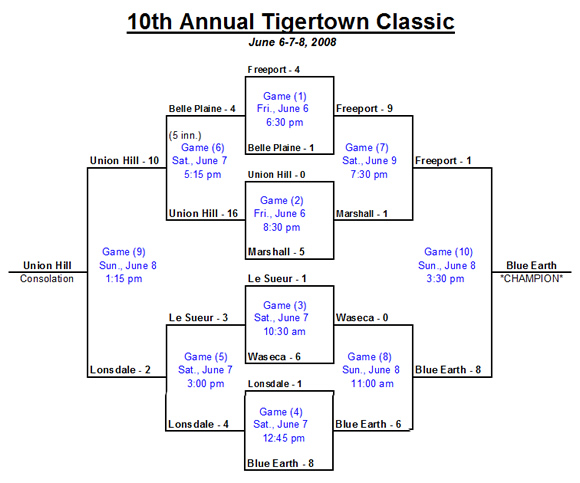 * All teams are guaranteed two games (although, not a true double-elimination format - the losers of games 7 & 8 will be eliminated despite a 1-1 record).
* Games will be seven innings, with 10-run rule in effect after five (including Championship).
* Courtesy runners are allowed for pitchers and catchers at all times.

Tom Melchior's new book
"SCOTT COUNTY BASEBALL"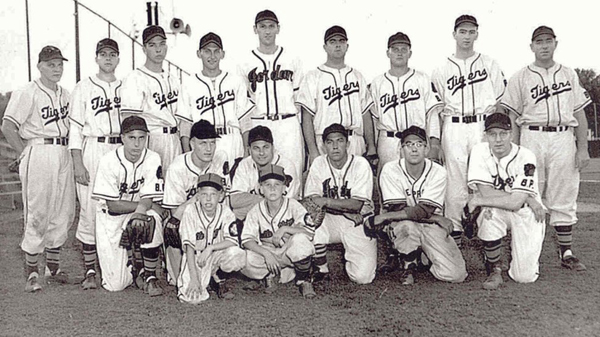 1952 Class A State Champion Runners Up - Belle Plaine Tigers
Scott County Baseball is a 488 page book with more than 300 photographs and an index of 1600 names about the history of baseball in Scott County. I have been working on the book for four years and it will be available in early spring of 2008.

The book records the history of baseball in Belle Plaine, Elko, Jordan, Marystown, New Market, New Prague, Savage, St. Benedict, St. Patrick, Shakopee, and Union Hill, including interviews and articles about outstanding players. Each chapter records the results of every state tournament game, including game summaries and statistics, as well as team photographs, player names, and game box scores when available.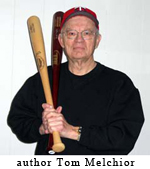 What else is included in Scott County Baseball?
The first chapter highlights the careers of the nine Scott County members in the Minnesota Amateur Baseball Hall of Fame.
Chapter two focuses on three players who had more than 1000 career hits—Paul Buss, and Ron Beckman from Jordan, and Ty Dombeck from Elko. There may be more, but none are documented.
"Kicking": Scott County baseball has a rich history. Baseball games were filled with more than base hits and strikeouts. During the years before organized leagues were formed, many players were involved in "kicking" (arguing, fighting, and quitting). Here's one of many examples of "kicking."

May 25, 1904: Belle Plaine Herald
Henderson Forfeits Game. Contest Marred by the Action of Visitors in Leaving Grounds.
"August Bosel tried rough work with Burns by blocking him, roughly pushing and rubbing in his elbow uncomfortably. He waded into his bigger antagonist. They clinched, but several Belle Plaine players near first promptly separated the combatants.
"Suddenly a fan by the name of Mr. Wiest raced across the diamond and kicked Burns in the face. A police officer arrested Wiest and removed him from the diamond. A few of the Henderson players used this arrest as a pretext for not continuing the game. The umpire forfeited the game to Belle Plaine."
For drama, nothing quite matches the thrill of watching a pitcher go after a no-hitter. This chapter includes a history of those games. The first documented no-hitter was thrown in Scott County in 1905 by Shakopee's "Shooty" Niedenfuehr and the last in 2006 by Elko's Brian Muell. Many were thrown between these years. Here's one from that chapter.

August 6, 1953
Marystown Pitcher Hurls Perfect No-Hit, No-Run Game
"James Busch, 17-year-old pitcher for the Marystown team, carved himself a niche in the Dakota-Rice-Scott league Hall of Fame Sunday when he turned in a no-hit, no-run performance against Veseli. Marystown won, 1 to 0, in the last regular scheduled game prior to the playoffs."
Were amateur ball players paid?
In 1905 Belle Plaine hired a former major league pitcher. Jordan later hired the same player. "Money, Money, Money" documents that players were hired as late as 1957.
Chapter 5 records the history of the Class A Minnesota River League teams from 1947-1957: Belle Plaine, Jordan, New Prague, Shakopee, and New Prague. Every team in the league hired at least two players legally. This chapter summarizes each team's performance, including box scores.
Many professional players took their positions on the diamonds of Scott County. Some formed all-star teams to make extra money. In September of 1947 "Babe" Barna and other Minneapolis Millers (Class AAA) took the field against the Belle Plaine Tigers. In 1948 the Shakopee Indians and a few all-stars from Jordan and Chaska took on a team of played who were banned from professional ball and played in the Mexican League. New York Giants ace Sal "the Barber" Maglie pitched for the professional all-stars.
During World War II many ball players served in the Armed Forces and only a few towns were left with enough players to field teams. A few Belle Plaine men joined the Jordan team; Prior Lake and Shakopee combined to form a team, and players from St. Benedict joined the players from Union Hill.
The chapter, "There Used to Be a Ball Team Right Here," focuses on Cedar Lake, Credit River, Eidswold, Lydia, and Shakopee's Two Bens.
"The Longest Game" includes interviews, the box score, and copies of the score book pages from the longest game ever played in the county, a 24-inning marathon between Shakopee and St. Peter in 1950.
From the late 1950 through the early 1970, players and fans eagerly awaited the arrival of that game's Northwest umpire. He brought with him copies of the "Northwest Umpires Review," which contained league standings and individual batting averages. Copies of the final issue of the Northwest Umpires Review from 1958, 1962, 1968, and 1971 are included in the book as well as the names and batting averages of the leading hitters from the River Valley and D-R-S leagues from 1961, 1963, 1964, 1965, and 1970. In 1964 Pat Devitt from Prior Lake hit .561, to lead the River Valley League, and in 1968 Dick Schmitz from New Market led the D-R-S with .403.
The price of the book is $25.00, which does not include sales tax or shipping. The book will be available in April or May. Copies may be purchased at that time from the Scott County Historical Society in Shakopee and at designated sites. Please watch for further information once I have received the books.

I plan to print 350 copies of the book. This will be a one-time printing. No books will be sold at book stores. If you would like to order a copy or copies in advance, please contact me at one of the following: tsmelch@msn.com or 952-445-4109 or
Tom Melchior
1901 125th St. W
Shakopee, MN 55379