Tigers Take 2 of 3,
Rally Late to Gut Gaylord
--by Brett Kruschke, Matt Schultz & Matt Ruehling
It was a good week for your town Tigers, despite falling to Jordan for the umpteenth time in a row. Sandwiched around that loss was a dramatic comeback victory over Gaylord and a business-like triumph at Le Sueur.
"It's getting late early out here," as Yogi Berra once said, as the Tigers (3-2 RVL) enter the stretch run after tussling at St. Peter (2-1) last night (July 14) in a key matchup. The standings for the other RVL squads: Jordan (5-0), Gaylord (4-2), Le Sueur (2-3), Arlington (2-4) and Henderson (0-6).
Tonight (July 15) at 7:30 pm our boys are back at the friendly confines of Tiger Park as Sunday's foe, Le Sueur, returns the favor. On Sunday at 6 pm the opponent will be Arlington, whom Belle Plaine bopped 11-6 on July 1. Lastly, Gaylord will seek revenge when Ruehling's Wreckers hit the road on Tuesday (7:30 pm).
Although we usually only preview a week's worth of games at a time, mark your calendar for Wednesday, July 22 for a Tiger baseball doubleheader. Belle Plaine will be part of FOX 9's "Town Ball Tour" when it hosts Henderson at 7:30 pm, but the 35-and-older Gray Tigers will play the Jordan Millers at 5 pm in part so that FOX 9 will have some live (if not slower) action as part of that hour's newscast. FOX 9 television celebrities will be in and out of Tiger Park all day and night long, with the park being featured at various points during the station's newscasts.
Also coming together on this memorable evening is the now-annual Tiger Alumni Night – there will be no game, but all alumni are invited to attend – as Dave "Greek" Wagner is honored with the unveiling of his Hall of Fame plaque amongst the other Tiger immortals. It will also be Little League Night, as Greek gives the little chippers something to dream towards.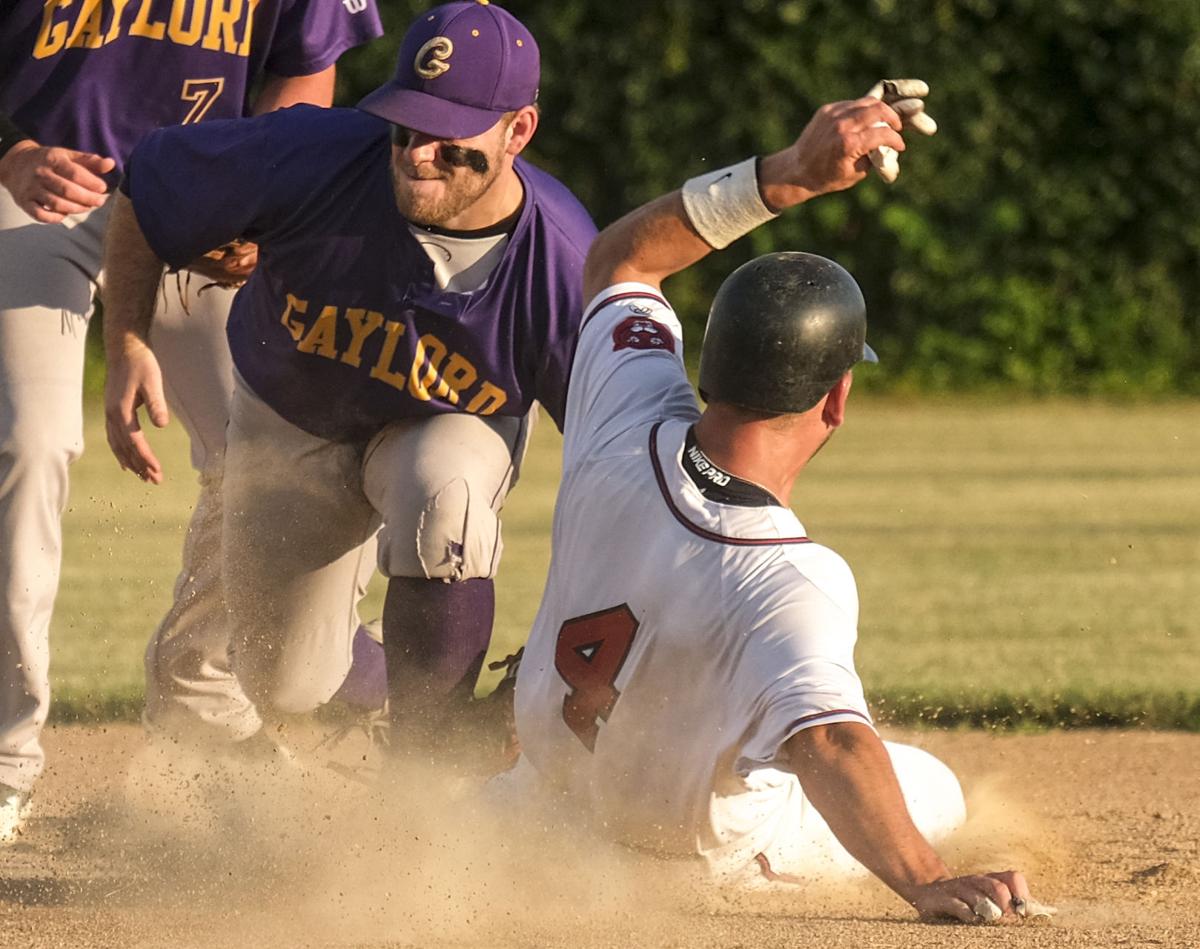 Gaylord 4 @ BP 5 (Tuesday, July 7)
Gaylord came to town for a mid-week tilt and brought current minor-league pitcher Brody Rodning, a member of the Toronto Blue Jays organization, who is out of work at the moment due to Covid-19 and the cancellation of the MiLB season. This was as close as most of your Tigers would ever get to professional baseball, and Rodning showed why. He struck out 13 batters in five innings, yielding just two hits. Despite your local ball club being on the wrong end of Rodning's reckoning, most baseball enthusiasts enjoyed watching a pitcher of his magnitude work.
With the Islanders up 3-0 in the fifth, Gaylord got their first two hitters on base and brought up their feared No. 3 hitter, Erik Goetsch. Much to the surprise and delight of the Tiger dugout, the Islanders laid down a sacrifice bunt to give away an out. Even more surprising was when they completed a suicide squeeze with their No. 4 hitter to score one run, giving away another out. One out later, the local nine had escaped what could've been a big inning – instead allowing only gave up one run. With Rodning done pitching after the fifth, this proved to be important later in the game.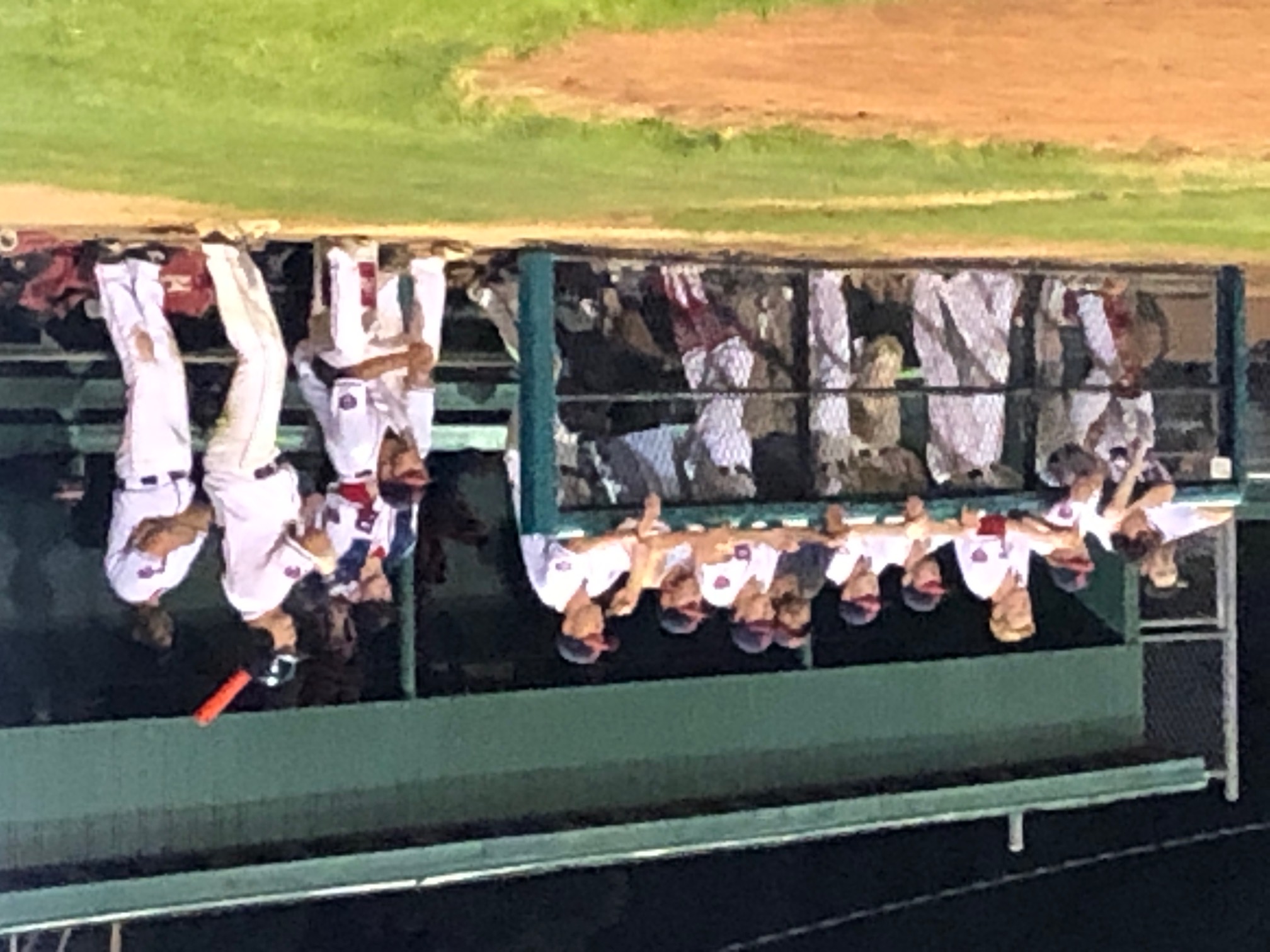 Despite quiet bats for most of the night – including a total of 19 strikeouts – in the eighth inning the Tigers scored four runs thanks to some timely hits. In the bottom of the ninth, two quick outs made it look like El Tigre would be heading for extra innings. But a base hit by Brody Curtiss, followed by a stolen base, led to a walk-off double from Derek Dahlke to complete the comeback and send Tiger fans home happy.
The locals tallied nine hits, with Curtiss and Dahlke each belting three. Dahlke started on the mound and went 2.2 innings, giving up three runs (two earned). Andrew Fisel threw the next 4.1 frames, giving up only one run. Colton Kerkow grabbed the win by throwing the final two innings without giving up a run.
BP 4 @ Jordan 12 (Friday, July 10)
The Tigers traveled seven miles up the Highway 169 corridor to take on the defending state champions, the Jordan Brewers. Fireworks erupted in the top of the first inning when Tyler O'Brien smacked a home run on the first pitch of the game. Unfortunately the flame was quickly smothered as Jordan bounced back with five runs in the bottom of the first inning, aided by five Tiger errors.
Belle Plaine used seven pitchers to get through the game, with Tiger rookie Andrew Fisel suffering his first loss of the season. Offensively, Tyler O'Brien paced the attack with three hits. Dylan Kahle, Jared Miller, Brody Curtiss and Pat Schultz all notched one, as well.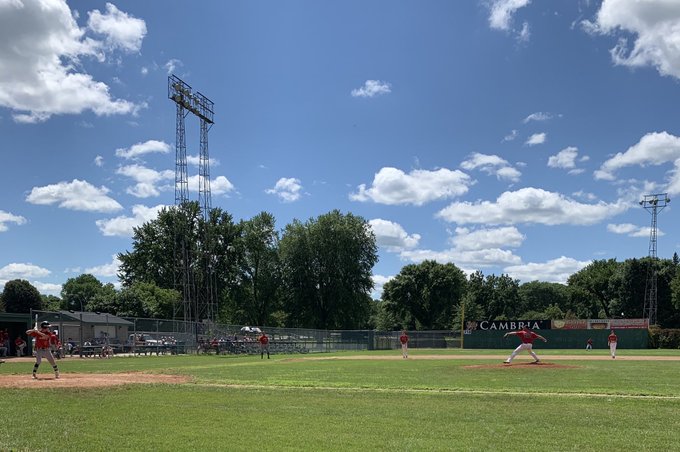 BBP 3 @ Le Sueur 1 (Sunday, July 12)
The Tigers hoped to get back on the winning track as they traveled to Le Sueur for a rare RVL afternoon battle. The game was scoreless into the fifth inning when Tyler O' Brien reached base on a two-out double before getting knocked in by ageless veteran Pat Schultz.
The teams then traded zeros until the ninth inning, when Jared Miller came up clutch with a two out two-run single. Curtiss took the ball and was magnificent, scattering four hits across 8 2/3 innings while not allowing a run until the ninth. Kerkow came in and shut the door on the Braves late rally, getting a strikeout to earn the save. Miller stayed hot with three hits and O'Brien was right on his tail, with two.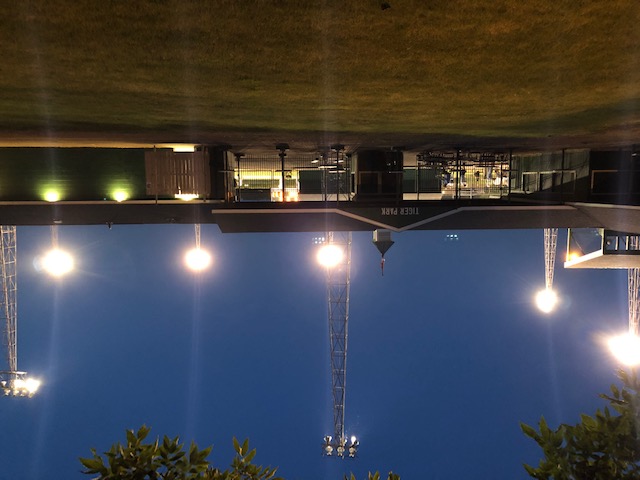 Tigers Amble Out of
Arlington with Win

--by Brett Kruschke
The Town Tigers took care of business at Arlington last Wednesday, coming away with an 11-6 victory. The decision evened their league record at 1-1 while pushing the overall mark to 2-1.
Up next for the Tigertown Express is hosting Gaylord on Tuesday, July 7
Starting on Friday, the Tigers will roar back to action with nine games in 17 days. The next three contests, however, are all on the road: Friday at Jordan (7:30 PM), Sunday at Le Sueur (2 PM) and Tuesday at St. Peter (7:30 PM).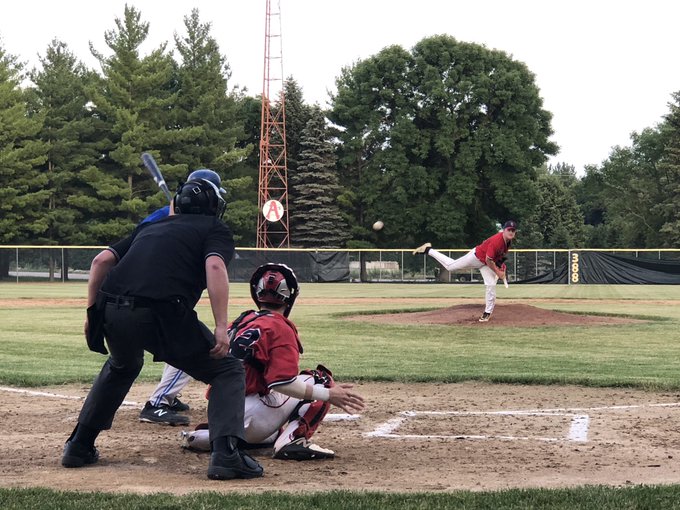 BP 11 @ Arlington 6 (Wednesday, July 1) - Box Score
Jared Miller was handed the baseball by manager Matt Ruehling and proved to be an effective tool both with a ball and bat in his hand. Miller, who has pitched in all three games this season, started the season with three hitless frames at Green Isle.
The right-hander took a 3-0 lead to the bottom of the third inning at Arlington before the score was soon tied, thanks in part to a fielding error. The Tigers got those three runs back immediately in the fourth, with Miller collecting the half-inning's lone hit.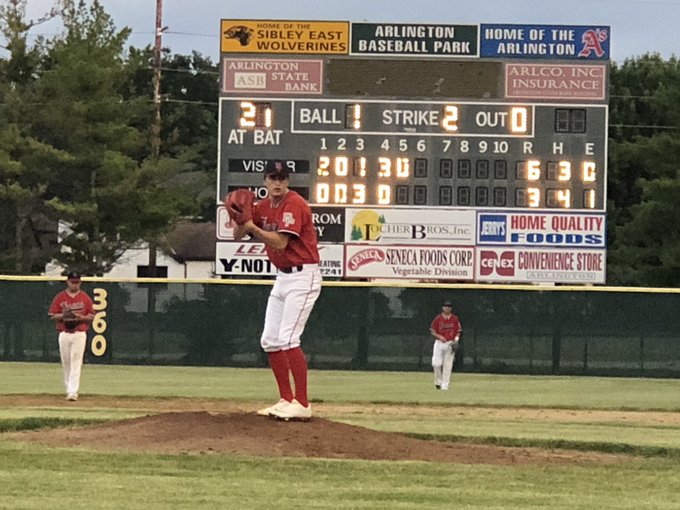 Miller tossed another goose egg in the fourth inning before turning it over to Colton Kerkow, who went the rest of the way. The rookie right-hander ran into some trouble in the ninth inning before finishing things off, registering six strikeouts on the evening.
The Tigers were hit by a pitch seven times – enough to make even former-Tiger Dave Kreft blush. Miller led the way with three safeties while Tyler O'Brien collected a pair. Cleanup hitter Jake Mercado reached base in all five plate appearances, including a rare hit-by-pitch hat trick. Jonny Vinkemeier was also plunked twice.
Tigers Test Negative
Against St. Peter

--by Brett Kruschke & Colin Schultz
In this delayed and turbulent season, the Belle Plaine Tigers waited nine days since its season-opening victory against Green Isle before taking the field a second time. The locals ultimately disappointed against St. Peter on Friday, losing 4-3 at home in a second straight one-run decision.
Team Tigertown was set to entertain Arlington on Sunday night but the game was postponed to a date yet to be determined. The Tigers will try again Wednesday, traveling to Arlington for a 7:30 pm first pitch before taking off the rest of the Independence Day weekend.
A July logjam awaits, as our boys are hoping to play 11 league games in a 20-day span. What could go wrong?! Perhaps Gray Tigers manager Zip Zellmann will have to get his ol' slingshot loose and sign a short-term contract to help out the squad.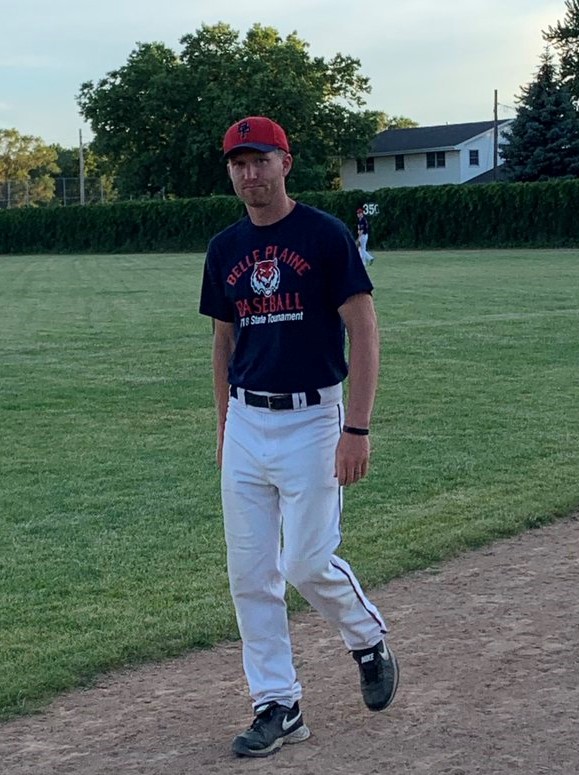 St. Peter 4 @ Tigers 3 (Friday, June 28)
Friday night's game was one for the history books. In the midst of a global pandemic, Belle Plainians still showed up in droves to support America's favorite pastime. Due to the virus, many precautions were taken such as social distancing and the selling of only prepackaged food and drink items at the concession stand.
The Tigers led 1-0 through three innings but the Saints broke a 2-2 tie in the eighth with a pair of runs, including the game-winner. Pitching for the Tigers was Brody Curtiss, Jared Miller, and Colton Kerkow.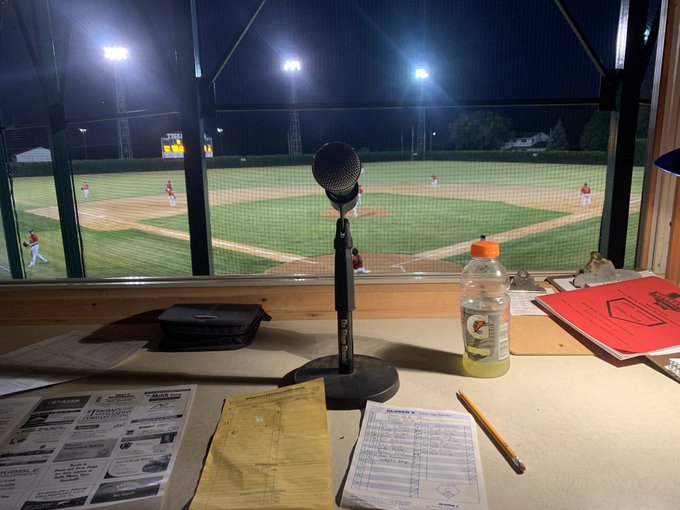 Belle Plaine put up a fight and made several solid defensive plays, such as an out at home plate by dependable catcher Pat Schultz, who seems to get older – I mean, more experienced – with each passing season. Just kidding, he's still got it. (We're cousins, so I'm allowed to tease him once in a while.)
Throughout the ballgame, BP scraped together some runs but also hindered its cause by issuing a fair amount of walks. Overall it was not a bad game, but it is still early in this very unique season. The Tigers are taking it one game at a time and hope to be able to continue to safely play the sport they love for the rest of the summer.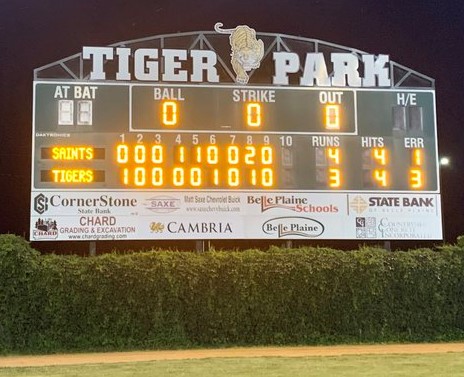 DELAYED SEASON UNDERWAY FOR TOWN TIGERS
'Green' Tigers Golden Against Irish

--by Brett Kruschke
The Belle Plaine Tigers town team, whose season was originally scheduled to start on May 1, finally got to take the field last Wednesday on a glorious evening in Green Isle. Instead of serving as the 14th game of the season, however, the locals departed Irish Yard with a 1-0 mark after a satisfying 7-6 victory.
The culprit for the season's delay, of course, has been concern over the COVID-19 virus. A litany of guidelines put forth by the State of Minnesota and instituted by the Minnesota Baseball Association are in place for players and fans – and will be for the rest of the season. They are available in full at MNBaseball.org and will also be read several times per game over the public address system.
The River Valley League's seven Class C teams will play a rejiggered 12-game schedule. Team Tigertown will open with a pair of games this weekend at Tiger Park: 7:30 pm on Friday against St. Peter, and 6 pm Sunday against Arlington. Promotions previously in place have been scuttled – at least for this weekend.
Season tickets will not be offered this season, considering there will be just six regular-season home games. Single-game ticket prices are $4 for ages 18-64, $2 for ages 12-17 and 65-plus, and no charge for ages 11 and under. Former board members: simply identify yourself at the pass gate for free entrance.
In case you forgot on purpose, Matt Ruehling's squad is coming off a 19-10 season (10-4 RVL) that ended with a 2-1 loss to Morristown, in Jordan, in Region 6C play last August 10. There are a good number of new faces in Tigertown this season, but we will save the roster review for a later date and time.
"The one constant through all the years, Ray, has been baseball. America has rolled by like an army of steamrollers. It has been erased like a blackboard, rebuilt and erased again. But baseball has marked the time. This field, this game: it's a part of our past, Ray. It reminds us of all that once was good and that could be again. Oh, people will come, Ray. People will most definitely come." – Terence Mann (James Earl Jones), Field of Dreams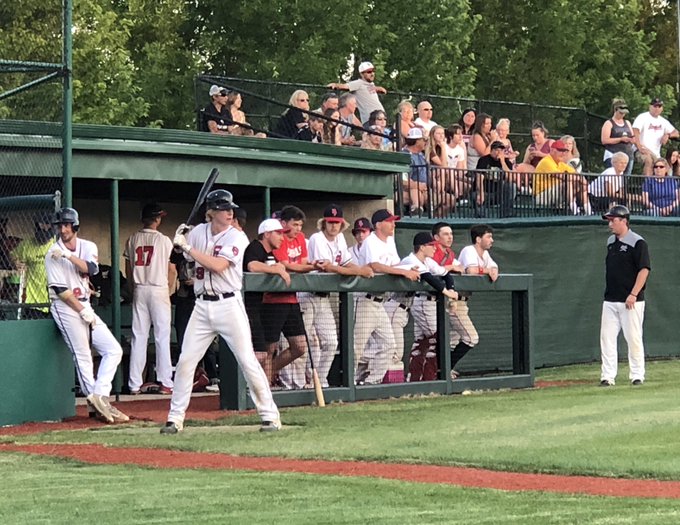 BP 7 @ Green Isle 6 – Wednesday, June 17
The first game of the season came together quickly once teams were given the go-ahead, and the Tigers and their fans couldn't have fared much better than to open the "COVID campaign" at Irish Yard, Green Isle's beautiful and cozy ballpark.
Manager Ruehling used a plethora of rookies throughout the contest, with newcomer Dylan Kahle – nephew of 1991 Tiger Rookie of the Year candidate Terry Kahle – bouncing a single up the middle for an early 1-0 lead.
Pitching was the name of the game for Belle Plaine through five innings, as starter Jared Miller (three innings) and his brother Josh Terrio (two innings) didn't allow a run or a hit. Miller used the lumber in making an additional contribution, plating a pair on a sixth-inning triple for a 3-0 lead.
The first pitch of Colton Kerkow's Tiger career in the bottom of the sixth inning was laced for a hit, and the Irish scored two times before the frame was over. The Tigers grabbed back a run in the top of the seventh before the Irish threatened again, but the inning ended when left fielder Josh Terrio hosed a runner at third base.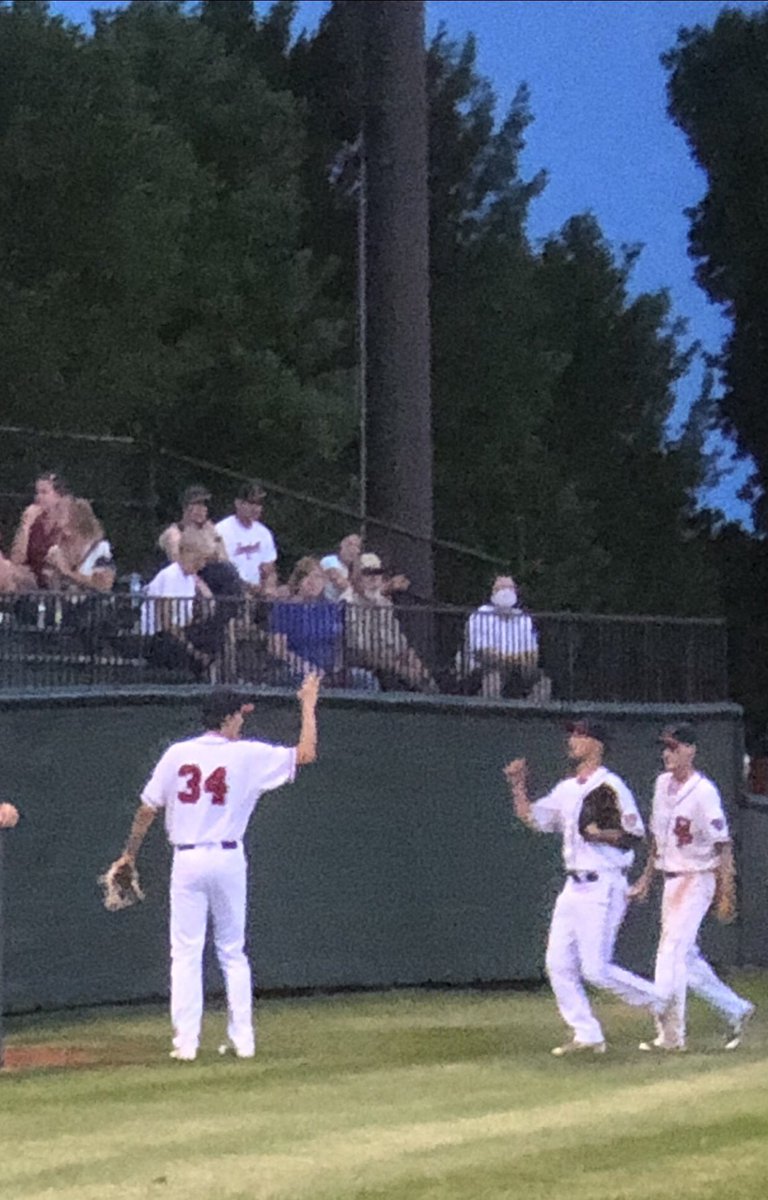 Despite the first defensive chance of the season going right through our shortstop's legs, the game was marked by terrific Tiger defense. Center fielder Tyler O'Brien had people talking both during and after the game, coming up with three diving catches.
El Tigre felt pretty comfortable after two ninth-inning runs extended their advantage to 7-3, but every run proved to be needed. Derek Dahlke worked the bottom of the ninth inning and did his best Zac Dahlke impression, allowing three runs before "tsssk-ing" the tying run at third base as the game ended with a strikeout.
According to the air-tight bookkeeping of Matt Schultz, players qualifying for their "Welcome to Tigertown" moments included Kerkow (RBI, 1.0 IP), Jack Kruger (two hits, RBI), Garrett Boblitt (2.0 IP, 1 H, 1 R), Jamie O'Brien (doing his best Brett Kruschke impersonation) and Joey Burgemeister (walk).
Derek Dahlke, in his defense, reached base in his last four at-bats with three walks and a single. Miller and Kruger both recorded multiple-hit efforts.
With Season in Limbo, Town Tigers Search for Outlets

From Belle Plaine Herald:

As COVID-19 continues to shut down beloved events around the world, the Belle Plaine Baseball Association and its associated teams, like the Belle Plaine Tigers town team, remain on ice eager for some semblance of a season to get underway.
The downtime does not mean, however, that work at Tiger Park will wait for the governor's orders. The infield and outfield grass continues to grow; the ivy lining the park's perimeter continues to need maintenance; the latex paint covering the grandstand continues to incrementally peel from the chemically weather-treated wood.
For Johnny Miller who, along with Joe Huber, maintains Tiger Park, not much has changed since COVID-19 began causing widespread shutdowns. Many are likely to come to the conclusion that Miller's efforts are part of a selfless attitude, but Miller says he's just doing his job.
"It keeps me out of trouble," Miller said. "It's just something to do. I don't fish anymore."
Now despite a lack of games taking place at the park, Miller and Huber continue to mow the field's grass about every four or five days.
Beyond the routine improvements, the association has been using the quiet time to make larger scale improvements as well. A new batting cage became a new addition to the field recently. The association added fences 20 or so feet in length in front of both dugouts, both for safety and to be a place for players to rest, according to Pat Schultz of the association.
Additionally, the association is making plans to install a 90-foot safety net in front of the fan section on the first base line.
Of course, the association would rather spend their time participating in baseball games than constructing, Schultz said, but without a green light from the state, amateur baseball associations around the state like Belle Plaine's are left without an outlet.
Schultz remains cautiously optimistic that some form of season may take shape because adult players are able to be flexible with dates, and he says the Belle Plaine town team would be happy to play a truncated season with a start date as late as July.
"Everyone's willing to play and most people are pretty sick of this," Schultz said. "As soon as we find out we're ready to play, we'll play the next day."
With town team playoffs being set for August, Schultz, who also coaches the Belle Plaine High School baseball team, says a month of games would be more than enough time to sort out rankings and determine postseason brackets, so he and the rest of the association will keep their ear to the ground for updates from the Minnesota Baseball Association and the governor's office.
For now, some town team players continue to get pitching and batting practice and independent workouts in.
But where town team players have the ability to be flexible with dates, high school players have not been as fortunate. On Saturday, May 9, the Minnesota American Legion announced that Legion baseball, which Schultz says would have stood in as a proxy season for many high school players, will not take place this summer.
The cancellation of two abutting seasons, the high school and Legion baseball seasons, will mean that players will be away from the sport for a year or more.
"You just kind of worry that kids will miss over a year of a sport and not ever come back to it," Schultz said. "That's kind of what I worry about. I hope we don't lose kids."
"I hope kids don't lose a passion for it," he later added.
The town team state baseball tournament set to take place in New Ulm is yet to be called off, and the Belle Plaine Baseball Association continues to echo the state association's sentiments that they want Gov. Tim Walz to allow a baseball season to take place. As of Monday, May 11, the state association was awaiting a reply from the governor's office regarding an open letter they submitted calling for the season to be allowed.