Sergeant Schultz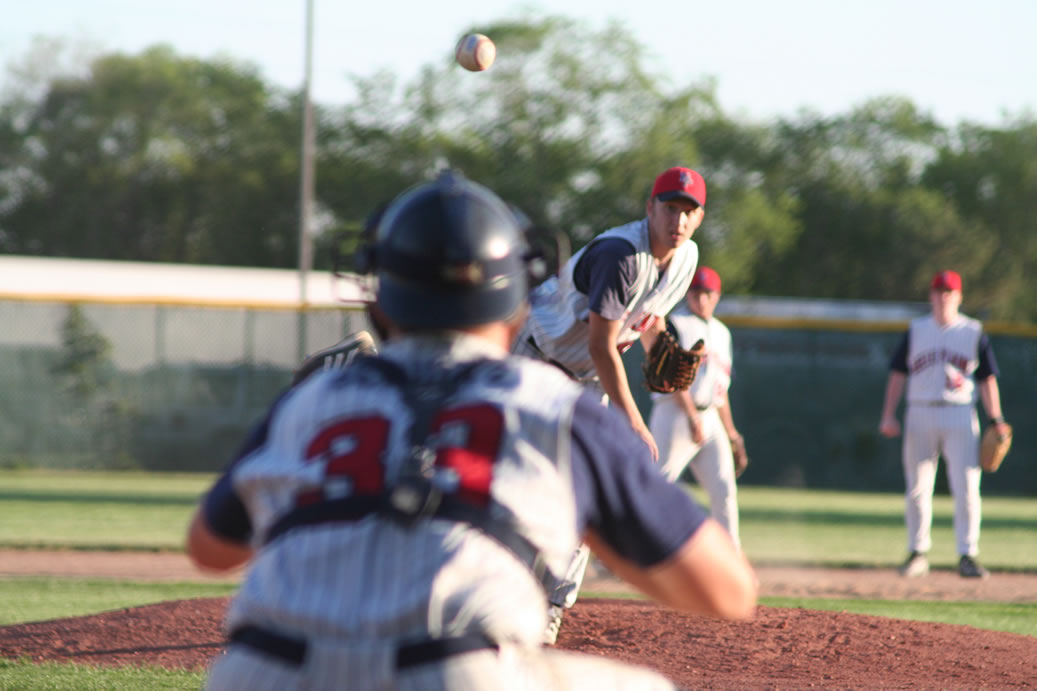 Mike Schutlz Pitches 1-0 Shutout Over Winthrop
| | | | | | | | | | | | | |
| --- | --- | --- | --- | --- | --- | --- | --- | --- | --- | --- | --- | --- |
| 6/1/06 | 1 | 2 | 3 | 4 | 5 | 6 | 7 | 8 | 9 | R | H | E |
| Winthrop | 0 | 0 | 0 | 0 | 0 | 0 | 0 | 0 | 0 | 0 | 7 | 3 |
| Belle Plaine | 0 | 0 | 0 | 0 | 0 | 0 | 0 | 1 | X | 1 | 2 | 1 |
Belle Plaine, Minn. - Team TigerTown picked up their fifth win of the season after a stellar pitching performance from Mike Schultz (1-1) who pitched nine shutout innings of ball in a 1-0 win over Winthrop. Schultz struck out eight in the game. Brother and battery mate Pat Schultz was at bat in the bottom of the eighth inning with bases loaded when he hit into a fielder's choice that lead to the Tiger's loan run following a Winthrop error. One could not look anywhere at Tiger Park without seeing a Schultz somewhere, at last count I saw seven Schultz scattered throughout the ball park.
The Tigers won the game even though they only had two hits, the first one coming in the bottom of the sixth inning. Walks and errors led to Winthrop's demise in the game. Brett Kruschke did pinch run in the game, even though there are no photos of it.
The Tigers next game will be Saturday in Henderson and hopefully all will be recovered from the Tiger Open Golf Tournament that will be held on Friday at Valley View Golf Course.
Belle Plaine TIGERS (5-4, 3-3)

AB

R

H

RBI

BB

Avg.

Schuneman, lf

3

0

0

0

1

.136

Kreft, 1b

3

0

1

0

1

.167

P. Schultz, c

4

0

0

0

0

.235

Hartmann, 3b

3

0

1

0

0

.400

Kruschke, pr

0

0

0

0

0

.000

S. Hofmann, rf

2

0

0

0

0

.571

J. Schulz, dh

3

0

0

0

0

.318

Mi. Schultz, p

0

0

0

0

0

.000

Lawson, ss

2

0

0

0

1

.200

R. Dressen, 2b

1

1

0

0

0

.143

N. Selly, ph

0

0

0

0

1

.400

Volek, cf

2

0

0

0

0

.185

TOTALS

23

1

2

0

4

.087

2B – none. 3B – none. HR – none. HBP – Hartmann. SB – none.
SAC – S. Hofmann, R. Dressen, Volek.
Pitcher

IP

H

R/ER

BB/K

NP

ERA

Mi. Schultz (W, 1-1)

9

5

0/0

2/8

128

2.14



This page was created and maintained by Nick Kornder, Sports Information Director at Northern State University. The views and ideas on this page are that of the author, and not those of Northern State University.

7