Close, But No Cigars
Late Foibles Sting Tigers Twice (--by Brett Kruschke)
May 11th, 2005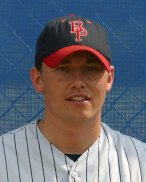 Belle Plaine dropped to 0-3 in league play for the first time in recent history, losing close contests to a pair of Class 'B' stalwarts from the Carver Central, Shakopee and Prior Lake. Against the Indians, the Tigers trailed 1-0 in the 8 th before four runs became a
5-2 loss; and at Prior Lake, the locals rallied for three in the ninth to take a 6-4 lead, only to watch the Jays score three of their own for a dramatic 7-6 win.
El Tigre is 1-3 overall, having opened the season with a well-managed 11-4 victory over New Germany.
Things don't get any easier this week for the Hometown Pluck, although they will be at the friendly confines of Tiger Park for the next four games. Tonight at 7:30 pm, the Elko Express zooms into town, fresh off a 5 th place finish in last year's Class 'C' State Tournament. As if you needed further incentive to come out and support the local nine, it will be Dollar Dog Night – hot dogs $1 all evening long. We're talking the good old fashioned, skin-on wieners that Tiger Park is famous for.
Friday is All-You-Can-Eat Pork Burger Night (for $5) at Tiger Park, 7:30 pm, against the Northfield Knights. You can also buy a single burger for regular price if you're not quite that hungry. Northfield is a top caliber club, having won three games in last year's Class 'B' state tournament and getting to the final weekend. (The '27 Yankees weren't available, so Belle Plaine has had to schedule who they could get.)
On Sunday, Team Tigertown gets back to CCL action when they host Mike Poppitz and the Class 'B' Victoria Vics at 2:00 pm. To complete the four-game homestand, the Plato Blue Jays visit at 7:30pm Tuesday. Plato was upset in their bid for state last year, but finished an impressive 20-6. After this game, our boys will not play another home game until June 5 th, so get your Tiger fix while you can.
I'd be remiss if not to mention season ticket availability for one final time – the $20 and $50 variety are available at Brad's Barber Shop, or at Tiger Park on game nights. Likewise, make tracks to www.bptigertown.com for all the latest.
Shakopee Indians 5 @ BP 2 (Friday, May 6th)
"Dollar Beer Night" and the intrigue of the new-look Tigers – not to mention a delightful evening weather-wise – led to a nice crowd for Friday's home opener. Shane Hofmann had a rare prom night off, so drew the nod against spright lefty Collin O'Brien and the always formidable Shakopee Indians.
Those arriving late from Andy's Bar & Grill missed some first-inning excitement. Lance Siedow laced a double to left, sending Jeff Jonckowski plateward, but the 7-6-2 relay (Dan Huber to Mike Dhaene to Pat Schultz) left The Earflap-less One out in a cloud of dust. Siedow was stranded at second after a Rich Rhinesmith groundout, ending the inning.
In the home half, Huber reached on an error, and Dave Kreft walked. #3-hitter MikeDhaene fisted a little blooper that landed in front of second base, but the infield fly rule was not only shockingly called, but called shockingly late. Batter Dhaene was automatically out, while poor runner "Krazy Wheels"Kreft was hung out to dry and soon tagged out. Huber advanced to third at his own risk, but was mistakenly called out on what was a temporary triple play. After much consternation and even a plea of confusion from the press box, Huber returned to third, where he promptly died on the vine when Pat Schultz bounced out to second.
Needless to say, this was not a good omen for Team Tigertown. After getting shut out at Waconia last Sunday, the Tigers ran their consecutive scoreless streak to 17 innings before Jackson Thiesfeldt's 2-out, 2-run double in the ninth. But that's how it would end – 5-2, Indians.
In between, it was a 1-0 game until the 8 th, with Belle Plaine's bats offering little resistance, and Hofmann working around doubles in each of the first four innings. Hofmann tired in the eighth, and left after the inning began with a double and a single, making it 2-0. Dan Huber, perhaps still suffering from the heat of the wig he wore during batting practice, didn't offer much relief as three more runs scored before the eighth was out.
BP @ Prior Lake (Sunday, May 8th)
Umpire "Grumpy" Steinbach may be so, but the Tigers weren't in the greatest mood either with their 0-2 league start, and turned to pitcher Dave Kreft to turn things around. Meanwhile, this was Prior Lake's first game of the year, so maybe the Tiger Train could take advantage.
Belle Plaine trailed 3-2 in the seventh but tied it up when #9 stick Tim Schuster walked, then came around to score on an RBI fielder's choice by Pat Schultz. However, the Jays answered quickly with the go-ahead run in the bottom of the frame, making it 4-3 before Kreft would end his day on the mound.
After a scoreless eighth – thanks to an efficient inning from the Bob Wickman of the Carver Central, Dave Feldt – the Tigers had three outs left to make some hay. Dan Huber began the ninth by reaching second base on an E-4, and Adam Hoffman struck out. Mike Dhaene and Pat Schultz both walked. With the bases loaded and one out, and an 0-for-4 day going, "Dandy" Dan Weldon coolly lined one down the left-field line for a go-ahead, two-run single. Weldon eventually scored on a wild pitch, making it 6-4 Tigers. Belle Plaine batted around, but left the bases loaded, a result that would soon haunt.
Jonny Schulz took the mound in search of the ever-elusive final three outs. After a leadoff single, a fly ball was launched high in the air to right, and to the surprise of many, landed on the other side of the wall. Tie game. After a gorgeous play by "Dreamy" Jackson Thiesfeldt for the first out, Jon Dudycha launched a similar skyrocket to right that was misplayed into a triple. A pinch-hit single right over shortstop Mike Dhane's head completed the comeback, and just like that, the Tigers were back in search of their first league win and the meaning of life.
This page was created and maintained by Nick Kornder, Sports Information Director at Northern State University. The views and ideas on this page are that of the author, and not those of Northern State University.